A pair of strong, comfortable welding boots is a must-have to protect your feet.
You need good footwear protection whenever you're working in a shop or industrial environment.
Aside from heavy tools and materials, welders also have to worry about burns from welding spatter, grinding debris, and molten blobs.
So we've done the hard work and picked the best welding shoes to help narrow your selection.
Let's jump straight in…
---
A Quick Comparison
Product
Image
Product
Details

Carolina INT HI

Lace shields

Steel shank

Kevlar stitching

Timberland PRO Boondock

Waterproof

Rubber covered toe

TPU soles

Dr. Martens Icon 2295

Leather & steel

Electrical Hazard Rated

Slip-on - No laces

Caterpillar Revolver

Pull on - no laces

Slip resistant

Heavy build

KEEN Milwaukee 6"

Left and right toes

Locking lace hooks

Covered heels and toes

Timberland PRO 8" MetGuard

Metatarsal/lace shield

Waterproof

Polyurethane insoles

Ariat Groundbreaker

Cowboy looks

No laces

Affordable protection

Thorogood 8" MAXWear

All day comfort

Electrically resistant

Fiberglass shanks
Best Welding Boots
Here's a list of the best boots for welders we found on the market:
1. Carolina INT HI Met Guard Leather Welding Boots - Best Overall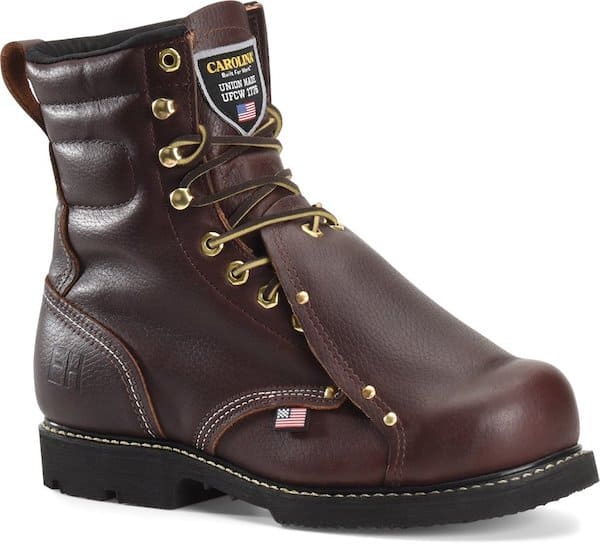 Material: Full grain leather uppers
Toe cap: Steel toe
Outsole: Vibram
Metatarsal guard
Integrated lace protector
Pros
Extremely durable
USA Made
DRi-LEX inner lining
Electrical hazard rated
Radiantex cushioned insole
Durable Kevlar stitching
Welt construction
Slip-resistant
Cons
Expensive
Can be hard on the arches
Wear fast on steel decking
Overview
Carolina Boots is known for its long-lasting, professional quality work boots with design feature specific to particular industries, including metal workers, mining, drilling, and military applications. These welding boots are union-made in the United States. The Carolina INT HI Steel Toe Cap Men's Boot is an 8-inch work boot designed for hazardous work environments. They're frequently chosen by precision machinists, industrial maintenance pros, and welders.
The Carolina INT HI Steel Toe welding boot features a full-grain leather upper and uses steel toe caps. This shoe is also equipped with steel arch shanks to protect from piercing hazards like large metal shards and screws or nails. They also have covered laces to protect from welding spatter and molten metal to minimize fire hazards. Lace covers will also prevent laces from catching on jagged edges, machinery, fixtures, or sharp corners.
Kevlar stitching for fire resistance and extra strength with an integrated metatarsal guard is also designed into the footwear. They're electrical hazard rated and equipped with a moisture-drying liner and a special insole that breathes to fight the hot conditions in a welding shop. The non-slip Vibram sole and welt construction round out a full set of robust, durable, and work-ready features.
---
2. Timberland PRO Boondock Safety Toe Welding Boots
Material: 100 percent leather
Toe cap: Composite safety toe
Outsole: TPU soles
Molded rubber toe cover
Anti-fatigue technology
Pros
Known as durable boots
Comfortable for long shifts
Oil resistant soles
Designed for harsh environments
Replaceable insoles
Cons
Heavy boots
Exposed lacing
Overview
The Timberland PRO Boondock 6 Inch welding boot has always been a favorite of workers in rugged conditions. Pipeliners, construction workers, linemen, and others swear by the all-day comfort of these durable waterproof boots. They're made of 100 percent leather for fireproof quality, long-lasting wear and feature a composite safety toe for crush protection.
There's a rubber cap over the outside of the toe on this design, which is great for limiting the amount of felt impact when you stub your toe or drop a big wrench on your foot. As far as welders are concerned, one issue with this boot is that the laces are exposed, which can become a fire hazard or be an irritation with the laces taking frequent damage. If you really like the Timberland PRO Boondock 6 Inch, one solution is a set of welding spats to cover the top of the boots.
Many owners feel the Timberland PRO Boondock water-resistant boots are heavy but frequently say the weight is worthwhile because these boots are so comfortable. These boots are known for comfort even for long shifts and grueling work schedules. Anybody who's finished the day with screaming feet knows how important the comfort factor really is.
---
3. Dr. Martens Men's Icon 2295 Steel Toe Boots
Material: Leather
Toe cap: Steel toe cap
Outsole: PVC soles
Electrical hazard resistant
Padded ankle area
Pros
Excellent value for money
Tall leg protection
Waterproof
Wellington style
Insulated boots
Industrial design
Cons
Toe leather wears quickly
Not English made
Overview
For a good, heavy set of pull-on welding boots, Dr. Martens Men's Icon 2295 Steel Toe Heavy Industry Boots are just the ticket. Doc Martens have always been big favorites in welding shops, automotive, and other heavy industrial settings. These welding work boots have genuine steel cap toes and all-leather construction. Thick, heavy lugged soles are made of PVC, designed for traction with an aggressive tread and super wear characteristics.
One of the nicest features of these Dr. Martens welding work boots is the heavy, thick padding strip that covers the ankles. This is a much-loved feature by owners, who often cite cases when this padding saved them some pain or serious injury and missed hours. Some owners didn't like the short lifespan of the leather covering the steel toe. These aren't the famous English-cobbled boots that made the legend. They're imported from China. High-quality boots, but Doc Martens are most famous for impeccable British craftsmanship.
The best feature of Dr. Marten's work boots for welders is that they are ANSI-certified and resistant to electrical hazards, a nice feature when you're playing with lightning all day long. They're also insulated, very comfortable, and have no laces to catch fire.
---
4. Caterpillar Men's Revolver Steel Toe Safety Boot
Material: Leather
Toe cap: Steel toe cap
Outsole: Rubber
Nylon liner
Slip resistant
Pros
Resist 14,000 volts
Goodyear welt design
Steel shank
Long-wearing boots
Lightweight
Cons
Need to buy insoles
Inconsistent sizing
Overview
The Caterpillar Revolver pull-on boots are a popular design. The pull-on style is great for welders because there are no laces to catch fire or snag on the metal around the worksite. In addition, they protect from up to 14,000 volts in a dry setting.
These boots have steel toes and full-grain leather construction. They use the Goodyear welt system to attach the soles to the uppers, and the Caterpillar Revolver Pull-On Steel Toe Work Boot features steel shanks in the arches. However, some users report that the shanks are narrow and uncomfortable after many hours on a ladder or walking in the sand.
With a lightweight construction, a nylon inner lining, and rubber slip-resistant soles, these work boots are known for long life and good service. Owners frequently say the insole is pretty hard and recommend buying orthopedic insoles. The main complaint with this boot centers around sizing issues, with many owners saying they run large, others saying they run small and a similar proportion saying they're sized properly.
---
5. KEEN Utility Men's Milwaukee 6" Steel Toe Welding Work Boots
Material: Leather
Toe cap: Steel toe cap
Outsole: Rubber
Toes for left and right
Electrical hazard protection
Pros
Comfortable rubber soles
Metal lace hooks lock down
Removable dual density EVA insole
ToughTec abrasion resistant leather
Fabric lining
Cons
Soles can squeak
They're heavy
Overview
One of the notable design features of the KEEN Utility Milwaukee 6 is that each side has specific toe shapes, specifically to fit the left or right foot instead of both toes being straight. This truly thoughtful design feature explains why Keen Milwaukees are some of the favorite boots among the construction and building trades.
The KEEN Utility Steel Toe welding work boots have other great features like heavy nylon fabric covering over both the heels and toes on these boots and rubber toe coverings to lessen the impact when striking the boots or kicking something into place. Locking metal lace hooks are nice, but boot laces can represent a hazard on the job as a welder.
Laces are a magnet for sparks, spatter, and grinding embers. On the plus side of the welding needs, these boots are designed for electrical hazard resistance. You can always add welding spats to cover the laces and add another layer of metatarsal protection.
ToughTec leather uppers have been treated for extra abrasion resistance and are fully lined inside with fabric, and have rubber soles for extra comfort.
---
6. Timberland PRO 53530 8" MetGuard Steel-Toe Boot
Material: 100% Leather
Toe cap: Steel toe cap
Outsole: Rubber
Impact resistant toe covering
Goodyear welt construction
Pros
Thick polyurethane insoles
Oil and Slip resistant traction
Kevlar stitching
Metatarsal guard/lace covering
Water resistant
Cons
Heavy boots
Don't breathe well
Overview
The Timberland PRO Men's 8 comes with a shield to protect your metatarsal arch. A bonus for welders is that the shield covers the laces, protecting them from hazards like spatter, blobs, and sparks. These welding work boots come with thick polyurethane insoles, a real plus when you spend long days on your feet. These are steel-toed boots with rubber soles and Goodyear welt construction.
These are 100 percent leather boots and come with a rubber-like impact covering over the toes and heels, sewn-in extra layers. This helps hold off the major issue with most steel-toed boots, where the leather wears off over the steel toes within a short time from kneeling and leaves the steel exposed, which can be a hazard if they come in contact with an electrically hot lead or molten metal.
The Timberland PRO 53530 MetGuard Steel-Toe welding boot drew complaints from some owners for their weight, and many thought they didn't breathe well enough. Timberland makes the 53530 MetGuard with Kevlar stitching, and they're also waterproof.
---
7. Ariat Groundbreaker Leather Boot
Material: 100% Leather
Toe cap: Steel toe cap
Outsole: Rubber
Breathable mesh liner
10-inch height
Pros
Western styling
Affordable protection
Pull on, no laces
Cushioned insoles
4-layer rebound arches
Cons
Run a size too large
Not durable in heavy use
Overview
Ariat is a well-known brand of cowboy boots, popular in the southern US. The Ariat Groundbreaker Welding Work Boot takes a slightly different approach than Ariat boots are usually known for, with a square-shaped steel toe and a low heel. 100-percent leather construction provides good fire resistance.
The Ariat Groundbreaker Welding Work Boot is designed specifically for the welding environment. This shoe design uses a thick, 4-layer, half-inch thick treaded rubber sole, dubbed the 4LR Rebound System. The thick rubber soles offer protection from electrical hazards and penetration by jagged bits of metal. Because this is a pull-on boot, laces cannot catch fire or snag on equipment or clutter.
They also offer classic Western styling, so you're not stuck with a "work boots" look if you frequently deal with the public or wear a company uniform. For some reason, this shoe tends to run a size large, with Ariat even saying to order a size small on its website. Some owners felt these boots weren't durable in harsh environments, but their price range is significantly less than other choices. Sometimes you really do get what you pay for. With these boots, you get more than what you pay for.
---
8. Thorogood American Heritage 8" Steel Toe Work Boots
Material: 100% Leather
Toe cap: Steel toe cap
Outsole: MAXWear rubber soles
Fiberglass shanks
Shock absorbing footbed
Pros
Oil-tanned leather construction
Thick, comfortable Poron insoles
Breathable design
Electrically resistant to 18,000 volts
Long-wearing boots
Cons
Not waterproof
Exposed laces
Overview
While it's tempting to opt for the moccasin design in this style – please avoid this! The reason is that the moc toe will catch sparks and burn the stitches out of the upper seam. The Thorogood American Heritage 8" Steel Toe Work Boots is a safer version to go with and provides a classic workplace design. MAXWear sole material is a special rubber formulation that's famous for the length of time they wear.
The Thorogood 8″ Moc Toe MAXWear Wedge Safety Toe Boot is also known for a short or even non-existent breaking-in period, a real plus with any tall boot. They're electrical hazard resistant up to 18,000 volts. They're not waterproof, and the laces are exposed, but these boots are still worth looking at because of the two-stage impact-resistant footbed and thick insole combination. Add an affordable set of welding spats to the equipment list to mitigate any hazards from the exposed laces. Using welder spats to cover the laces will also improve heat resistance and add more impact protection.
Many owners mentioned that these boots breathe well, are very comfortable when you've got long days, and loved the extra protection around the ankle. Fiberglass shanks protect your arches more flexibly than steel, making them easier on your feet, especially when you're stuck on a ladder for extended periods. The Thorogood MAXWear Wedge Safety Toe Boot is a high-quality welding boot that's always worth looking at.
---
Buyer's Guide
When you're hard at work for hours with a welding machine, you need a pair of welding boots that is more robust than your average work boot to deal with the harsh environments found where welding is done.
What kind of shoes do welders wear?
This is an important investment just like any other protective gear when you're welding. The boots you need for welding must be rugged, durable, and meet OSHA footwear requirements to protect you from hazards like fire, slipping, and electrocution and keep your feet safe.
You must consider these factors when choosing stout work boots for welding protection. Don't cut corners on this research. Buying cheap boots may cost you more in the long run.
Safety Features
To be the best welding boots, consider these safety features:
Toe protection – with steel or composite reinforcement to protect your toe or metatarsal from breaking.
Arch reinforcement – with composite, fiberglass, or steel shanks for long periods of standing and protection from piercing hazards like jagged metal shards.
Are the welding boots metatarsal guard designed? Padding, shields, and armor for the top arch of the foot are good in most shop environments. You never know when someone will drop a hammer or you accidentally sweep a box of rods off the welder cart with your welding leads.
Heel reinforcements – to ward off sharp edges and avoid getting banged by heavy objects.
Ankle armor or padding – to protect you from impacts to this sensitive and vulnerable area. Few incidents are more painful than a bruising impact or a scrape against the crown of your ankle.
Does the boot extend up the calf  – for additional stability and protection? This is another place where impacts or snagging your pants can cause painful injuries without proper protection.
Non-slip treads – to prevent a fall from slippery liquid or dust on metallic surfaces.
Laces have got to be covered. If you prefer a boot with exposed laces, you should cover them with welding spats for secure protection.
Built for Longevity and Durability
With many harsh factors in the welding environment, ruggedness is very important to the longevity and effective protection of your welding boots. They need to be made from durable, rugged, impact-resistant materials.
Electrically resistant materials such as full-grain leather, rubber, PVC, Kevlar, Nylon, and heavy fabrics are essential for proper protection. Materials must be layered, interleaved, and lock-stitched together with fire-resistant, extra-strong stitching like Kevlar.
Comfort
Your boots need to be comfortable so you will wear them. It doesn't matter how nice they are if they're uncomfortable or painful and you can't wear them. And if you're not wearing them at the wrong moment, there's going to be a price to pay, whether it's a broken foot, a nasty cut, or a burned ankle.
Thick insoles, inner padding to protect and isolate, a moisture-wicking fabric lining, and lightweight materials make your welding boots easier to wear. Rubber or flexible synthetic soles make them easier on your feet when you're standing for long periods and frequently walking over uneven surfaces, construction debris, and long distances.
Reinforced steel or composite material toes can pinch, rub, or irritate your feet at the edges of the reinforcement. Reach in there and check for a smooth transition from the safety toe into the rest of the boot's upper.
If they have shanks in the arches, there's more support to make it easier to stand on ladders and soft surfaces.
Look for extra padding around the ankles or on inner metatarsal guards that will keep your welding boots from sliding on your feet and causing blisters. Make sure the inside of the heels don't slide up and down on your foot while walking, or you'll be in a world of hurt.
Special Design Features
Over-layments: Layers on the outside of the boot help deflect impact and diminish wear. These might be rubber covering applied to the toe, extra leather over the heel, or padding along the joint between uppers and soles or around the ankles.
Shaping and Curves: Certain shapes, like moccasin toes, naturally deflect impacts by their curved shape and reinforced edges. The soles' shape and the boots' shafts matter, too.
Coverings and Shields: Some boots cover the laces to prevent them from snagging on tools, debris, or machinery. This will also prevent them from being cut, burned, or otherwise damaged. In addition, it's one more layer of metatarsal protection for your feet. Welding spats that cover the calves and boot tops can also give you this protection and add to what you already have.
Conclusion
Looking at all of the requirements covered here and checking actual real-world performance over long periods in tough environments, we're going with the Carolina INT HI Steel Toe Boots for our selection as the best welding boots overall.
The Carolinas tick all the boxes, with metatarsal guards, steel toe caps, all leather grain uppers, electrical hazard rated, generous padding, moisture-wicking liner, thick insoles, and an integrated shield for the laces. In addition, owners cite long wear and easy break-in as primary reasons for years of repeat purchases. All that, plus they're union-made in the USA.
The Timberland PRO Men's Boondock 6 Inch Composite Safety Toe Waterproof 6... may be the best combination on this list for folks that just aren't sold on the Carolina Boots selection. These boots have many loyal repeat buyers, who wear them over long periods of time on the job in tough conditions. They're reasonably lightweight, heavily praised for comfort, and these loyal buyers feel they're well worth the price.
The Dr. Martens Men's Icon 2295 steel toe heavy industry welding boots are favorites on every construction site, and so are the Caterpillar Revolver pull-on steel toe welding boots. Both are resistant to electrical hazards, have a pull-on design that eliminates lace hazards, protects calves, shields the ankle from impact, and adds stability.
The Thorogood 8 Moc Toe MAXWear Wedge Safety Toe Boot is a great option if you prefer the moccasin toe design, and they have long-lasting soles with electrical resistance to 18,000 volts. The classic, timeless styling of these professional work boots will always have its own appeal as well.
Don't compromise with your welding boots. Buy the highest quality, best-suited ones you can afford. Take the time to examine the important features and every aspect of their construction. Nothing matters more than your feet when you're on a long shift in tough conditions.
Do your homework well. That way, you'll never regret your buying decision.