Stick welding is the single fastest way to repair or fabricate steel devices.
It's also the only commonly-used process that welds cast iron effectively.
There are so many affordable 110 volt stick welders you can't check them all.
We took the challenge and found these great 110 volt stick welders for you.
---
A Quick Comparison
Product
Image
Product
Details

Hobart Stickmate 160i

Dual-voltage input

Good with 6010 rods

20 to 160 amps

YesWelder Arc Pro 165A

Auto settings

Front cover

Dual powered

Forney Easy Weld 100ST

Super light

Very compact

TIG capability

Eastwood ARC 80

Hot Start

Anti-Sticking

Under 11 Pounds

Miller Maxstar 161 S

Specific 6010 setting

Industrial grade

Anti-sticking
Best 110v Stick Welder
Here's a list of some of the best 110v stick welders I found:
1. Hobart 500570 Stickmate 160i 110v Stick Welder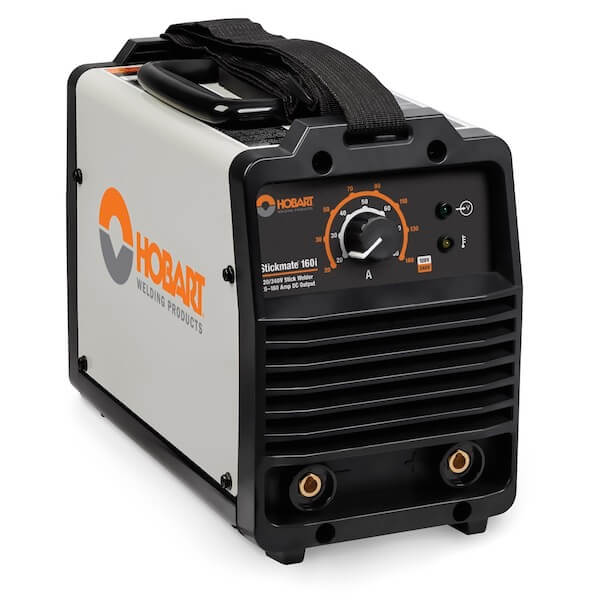 Dual 110v/240v input power
24-gauge to 1/4-inch steel
DC stick welder
160 amps max output
5-year warranty
Pros
Hot Start for easy striking
Lightweight 20 pounds
20-160 amp range
Infinitely adjustable current
Includes shoulder strap
Cons
American brand, but made in China
Top of this price range
Overview
The Hobart Stickmate 160i Arc Welder is a versatile, dual-voltage machine that can run on either 110 volts or 240 volts, letting you plug in and weld just about anywhere there's electricity. This particular model is made for Hobart in China, something to think about if you're wanting a genuine American-made machine by an American maker. It's built and inspected to meet Hobart standards, however.
There is a lot to like about this machine, including a weight under 20 pounds, an included shoulder strap, and the ability to run most rod compositions that matter. The Hobart 500570 Stickmate 160i easily handles 6010, 6011, 6013, and 7018 rods by most makers. Owners report better performance on 6010 with lower current settings. This machine has a reputation for smooth welding quality overall.
The Hobart Stickmate 160i features an infinitely adjustable amps setting, and it works well on metal from 24 gauge sheet up to 1/4-inch thick. Hobart machines are known for industrial build quality and smooth welding. This model delivers in that regard and Hobart backs the Stickmate 160i with a 5-year warranty.
---
2. YesWelder Arc Pro 165A Stick Welding Machine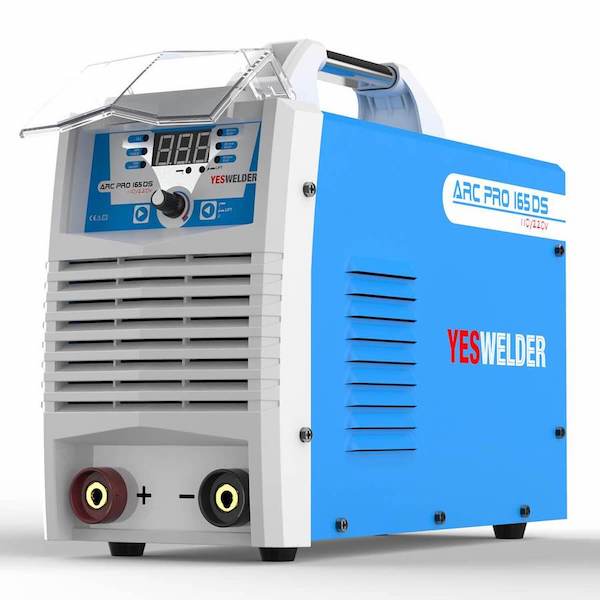 Self-setting by rod diameter
Dual-powered on 110v and 240v
Lift-TIG capable (needs parts)
VRD voltage-reduction device
Synergic welding technology
Pros
Weighs under 11 pounds
Runs 6010 rods on 240v
Good with 6013 and 7014 rods
Flip up front panel dust cover
60 percent duty cycle at 165 amps
Cons
Cheap quality ground lead
Electrode holder not the best
Overview
The YesWelder Arc Pro 165A Stick Welding Machine is an impressive 11-pound machine that features dual 110v/240 volt input power. It's got a flip-up front dust cover to keep the settings panel clean. This welder features an automatic settings feature where you select your rod diameter and the machine handles the current settings for you.
The YesWelder Arc Pro 165A Stick Welding Machine is designed to run 6010 sticks when you're using it on 240-volt power. It also handles 6013 and 7014 rods and owners report that it's a smooth-welding machine. Some owners complained of cheap ground clamps and felt the electrode clamp was also a little too cheap, but it's not real expensive to replace the clamps and the rest of the machine makes the purchase worthwhile.
This welder can also run TIG process, but you'll need to purchase a torch, regulator and a few other pieces to add that to your arsenal. The YesWelder Arc Pro 165A Stick Welding Machine has a 60 percent duty cycle at max rating on 240 volts and can run 100 percent duty cycle on 128 amps in 110 mode.
---
3. Forney Easy Weld 100ST 110v Arc Welder
Weighs just 9.7 pounds
10-90 amp output
16-gauge sheet to 1/4-inch steel
Burns up to 1/8-inch rods
30 percent duty cycle @ 80 amps
Pros
Runs both 6013 and 3/32 7018 sticks
Infinitely adjustable current dial
Arc/TIG selector switch
Compact: 12 x 5.5 x 10.5 inches
TIG capable (parts cost extra)
Cons
8-foot leads are a little short
Ground clamp doesn't contact well
Overview
The Forney Easy Weld 298 Arc Welder 100ST is a great little welder for beginners. At just under 10 pounds and about 12 by 10 by 6 inches, it's compact and lightweight. For someone without a lot of extra shop space, it's easy to store and it's easily carried to get things done around the house.
This is a 110v only machine and the power output tops out at 90 amps, good enough to run 1/8-inch rods. Owners of the Forney Easy Weld 100ST mention smooth welding on 6011, 6013 and 7018 electrodes, although with 7018 it's recommended that you stay below the 1/8-inch max diameter. Forney suggests running 3/32 rods when welding with 7018.
One of the nice things about the Forney Easy Weld 298 Arc Welder 100ST is its ability to convert to TIG capability, a great feature for this price range. You'll need to buy parts like an argon regulator and a TIG torch. The only real negatives to this machine are short 8-foot leads, and the grounding clamp has an unusual contact design. These things won't stop you from welding, and they're inexpensively fixed.
---
4. Eastwood ARC 80 Inverter 110v Stick Welder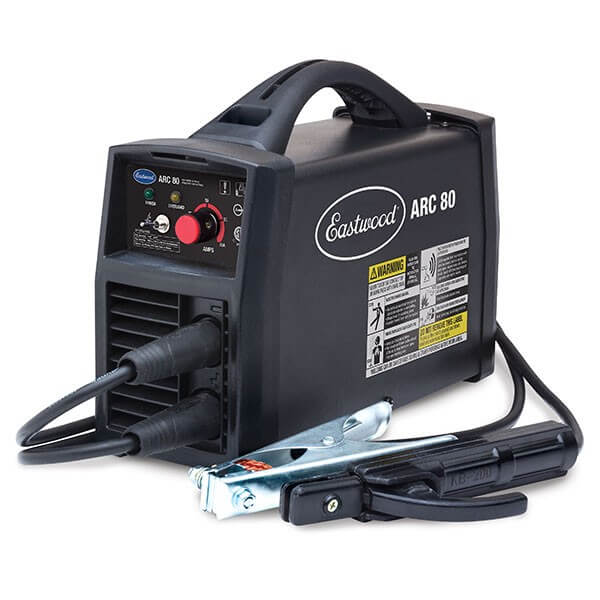 Weighs just 11 pounds
20-80 amps output current
1/16, 5/64 or 3/32 electrodes
20 percent duty cycle at 80 amps
Infinitely adjustable amps setting
Pros
Hot Start raises power at strike
Anti-sticking feature
Burns E6013, E7014, E7018 rods
24-gauge sheet to 1/8-inch steel
TIG-capable (needs torch)
Cons
110 volt only
14-gauge leads
Overview
The Eastwood ARC 80 Inverter Stick Welder is a 110-volt machine that will weld up to 1/8-inch steel with its 80-amp top end. The 20-amp lower limit will let you get down to 24 gauge sheet metal. Eastwood designed it with a 20 percent duty cycle at max power and kept the weight at 11 pounds for easy portability into places that are hard to reach.
This machine has a built-in anti-sticking feature, handy for beginners. The Eastwood ARC 80 Inverter Stick Welder also has a Hot Start feature that momentarily raises the current to simplify striking an arc. It runs 6013, 7014 and 7018 rods easily, but owners report that 6010 isn't recommended. One nice feature is TIG capability with a few extra pieces like a torch and gas regulator.
The 14-gauge lead wires could stand to be a little thicker, but the Eastwood ARC 80 Inverter Stick Welder will run rods from 1/16-inch thickness up to 3/32-inch for a wide range of useful repairs, especially in the automotive realm, giving the ability to do sheet metal body work as well as fabricating brackets and mounts.
---
5. Miller Maxstar 161 S Series Stick Welder
Dual 110v-240v input
13-foot rod connection
10-foot ground connection
Dinse connectors
20-160 amp range
Pros
Specific setting for 6010 rods
Weighs only 13 pounds
Power factor correction
Anti-sticking cuts power if stuck
Lowers voltage when not in use
Cons
Digital controls can give out
Pricey industrial arc welder
Overview
The Miller Maxstar 161 S Series Stick Welder is a premium professional machine with industrial build quality. It features a specific setting to accommodate 6010 rods, neatly taking care of one of the main complaints with lightweight inverter-type welders. You can be certain you're able to run 6010 rods and it's CSA certified, qualified to work on government jobs.
The primary buyers for the Miller Maxstar 161 S Series Stick Welder are professional welders and repair workers. One complaint offered by these users is that the digital controls can wear out or break under hard use. Professionals pay extra money to avoid this kind of problem. For the average DIY shop it's probably not a major concern.
The Miller Maxstar 161 S Series Stick Welder gives up to 90 amps output on 110 volts, is known for smooth welding and sports a nice anti-sticking feature to avoid problems with sticking electrodes when running low current. This machine also cuts the power if you do get stuck. There's also a power factor correction feature that yields the same arc characteristics and current level when switching between 110 volts and 240 volts.
---
Our Choices
We like the Hobart Stickmate 160i as the Best 110v Stick Welder for the money, with a 5-year warranty, dual-voltage input, 6010 rod capability and the fact that it's the consistent favorite pick by professional welders in need of a lightweight stick welding machine.
The Eastwood ARC 80 is affordable, reliable with good build quality and is praised by owners for smooth welding. It's got Hot Start and anti-sticking features, though it's not recommended for welders needing 6010 capability.
YesWelder's Arc Pro 165A offers a good alternative to the Eastwood, with dual-voltage input, TIG capability and the ability to run 6010 when plugged into 240v power. It's also got a 100 percent duty cycle at 128 amps on 110v.