Lincoln Square Wave TIG 200 is a time-tested TIG welder designed for home hobbyists and light shop fabrication.
But, given it's almost ten years old, it lacks some features found on newer machines and may not offer everyone the best bang for their buck.
This article will dissect the Lincoln Square Wave TIG 200's top features and its drawbacks. I'll also share alternatives that offer additional features for a lower cost.
While Lincoln Electric makes killer machines, this welder doesn't provide all features often available with several brands at a lower price.
Summary of the Lincoln Square Wave TIG 200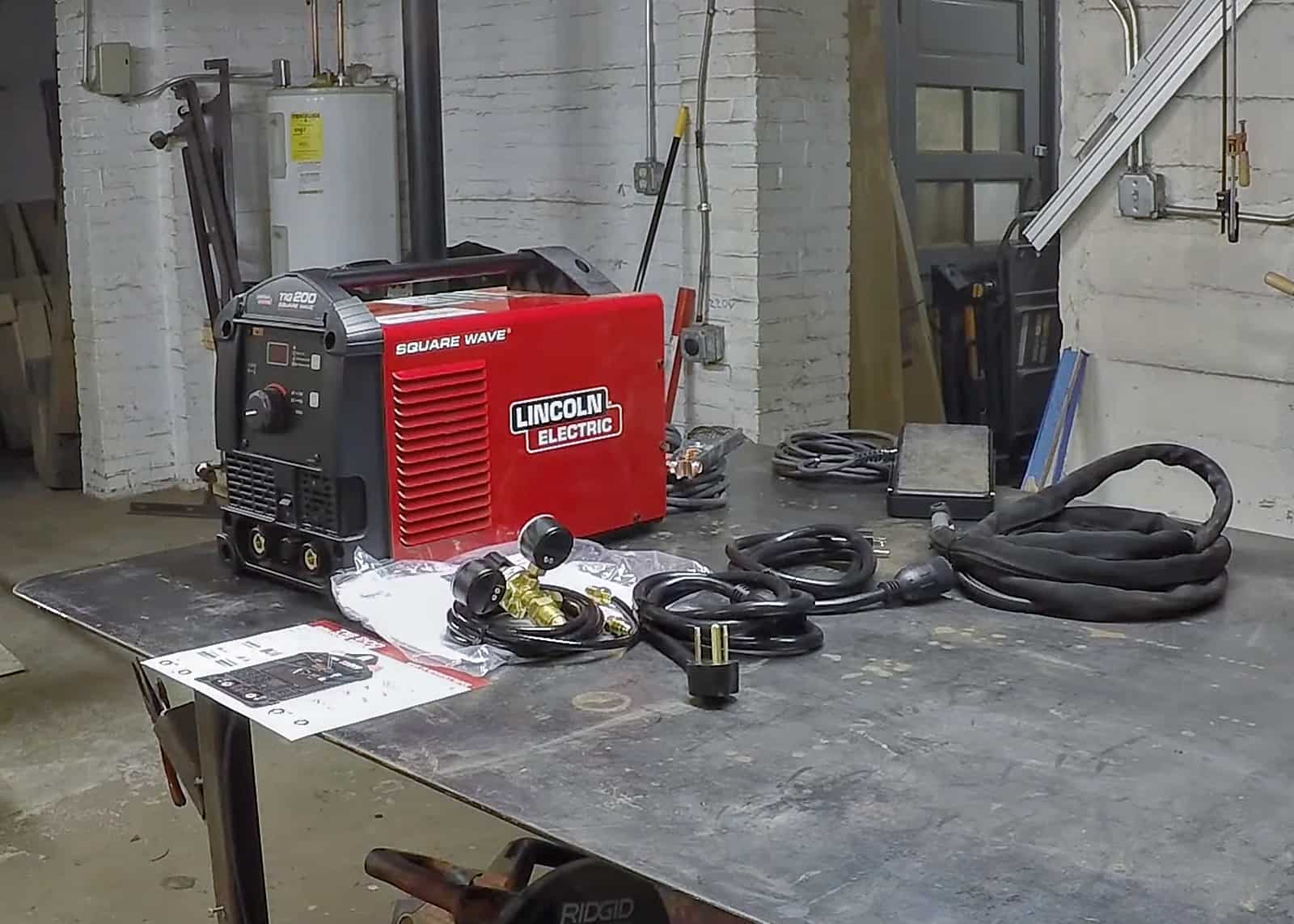 Lincoln Electric Square Wave TIG 200 is a powerful, well-made, portable welder with excellent arc quality. It supports multiple advanced TIG functions, but they're limited compared to some welders in its class.
For example, its maximum pulsed TIG caps at 20 pulses per second ("PPS"). In addition, its duty cycle is on the low end.
But not all welders need or want to play with the advanced TIG modes.
Still, having a full spectrum of functions is slowly becoming a standard for medium-priced welders like the Square Wave TIG 200.
Tech Specs
Feature
Lincoln Square Wave TIG 200
Processes
TIG, Stick
Current Output
AC/DC
Input Voltage
120V / 230V
TIG Output 120V
10-125A
TIG Output 230V
10-200A
Display
Digital
TIG Duty Cycle
25% at 200A
Pulse TIG
0.1-20 Hz
AC Frequency Control
60-150 Hz
AC Frequency
60-150 Hz
AC Wave Form
Squarewave
AC Balance
60-90 %
Starting Method
High Frequency
Machine Weight
46 lbs
Torch Included?
✅
Foot Pedal Included?
✅
Pre & Post Flow Control?
❌
Warranty
3-Year
Buy
Check
Amazon
Rating Overview
Performance: 5/5 – The arc quality is impeccable: stable, smooth, and without arc wander. I wouldn't expect anything less from Lincoln Electric. The internal circuitry is probably among the best at this price, ensuring smooth arc performance.
Power: 4/5 – While powerful with a maximum output of 200A, its duty cycle is low. So, you won't be able to make long welds on thick metal in one pass.
Features: 2.5/5 – The Square Wave TIG 200 supports advanced functions like pulse TIG, AC frequency, and AC balance control, but their operating range is lower than many other brands. In addition, it lacks functions for shielding gas flow control, no adjustable up and down slope and no memory function.
Portability: 4/5 – You can weld on the go with its weight of 46 lbs. But some competing models are lighter and more compact.
Price 3/5: – While I consider Lincoln Electric one of the best welding equipment brands, this model is now overpriced, considering its limited features and age.
User Satisfaction: 4/5 – Most users find satisfaction with the Lincoln Square Wave TIG 200, but some welders (me included) don't appreciate its limited pulsed TIG function. In addition, some people were unknowingly buying refabricated Square Wave TIG 200 units. So, be cautious and read the fine print when getting this welder. Since it's a bit old, some sellers buy used units and repair them before selling.
Manufacturer support: 4.5/5 – The crystal clear instruction manual provided with the machine and detailed online documentation on Lincoln's website will help you get started. In addition, Lincoln Electric has quality support, but you may have to wait a few weeks to get the machine serviced or replaced, depending on your location.
Overall Rating 3.5/5: – The best aspects of the Lincoln Square Wave TIG 200 are its brand name and excellent build and arc quality. But the lack of some features and limited available functions make it overpriced. Still, many prefer to spend more to get a brand-name machine, which is entirely understandable.
Pros
Excellent build quality
Dual voltage input
Stable arc
AC and DC TIG output
Pulsed TIG
AC balance
AC frequency
High-frequency start
Very easy to use
Includes a quality 17-series flex-head TIG torch
VRD support
Includes a well-made TIG foot control
USA brand
3-year warranty
Cons
Low duty cycle
Includes a basic shielding gas regulator, not a flowmeter-type regulator
TIG functions have a limited adjustability range, especially TIG pulse settings
No pre and post-flow settings
Expensive
Only supports the most basic digital display
The lowest amperage output is 10A
What To Know Before Buying the Lincoln Square Wave TIG 200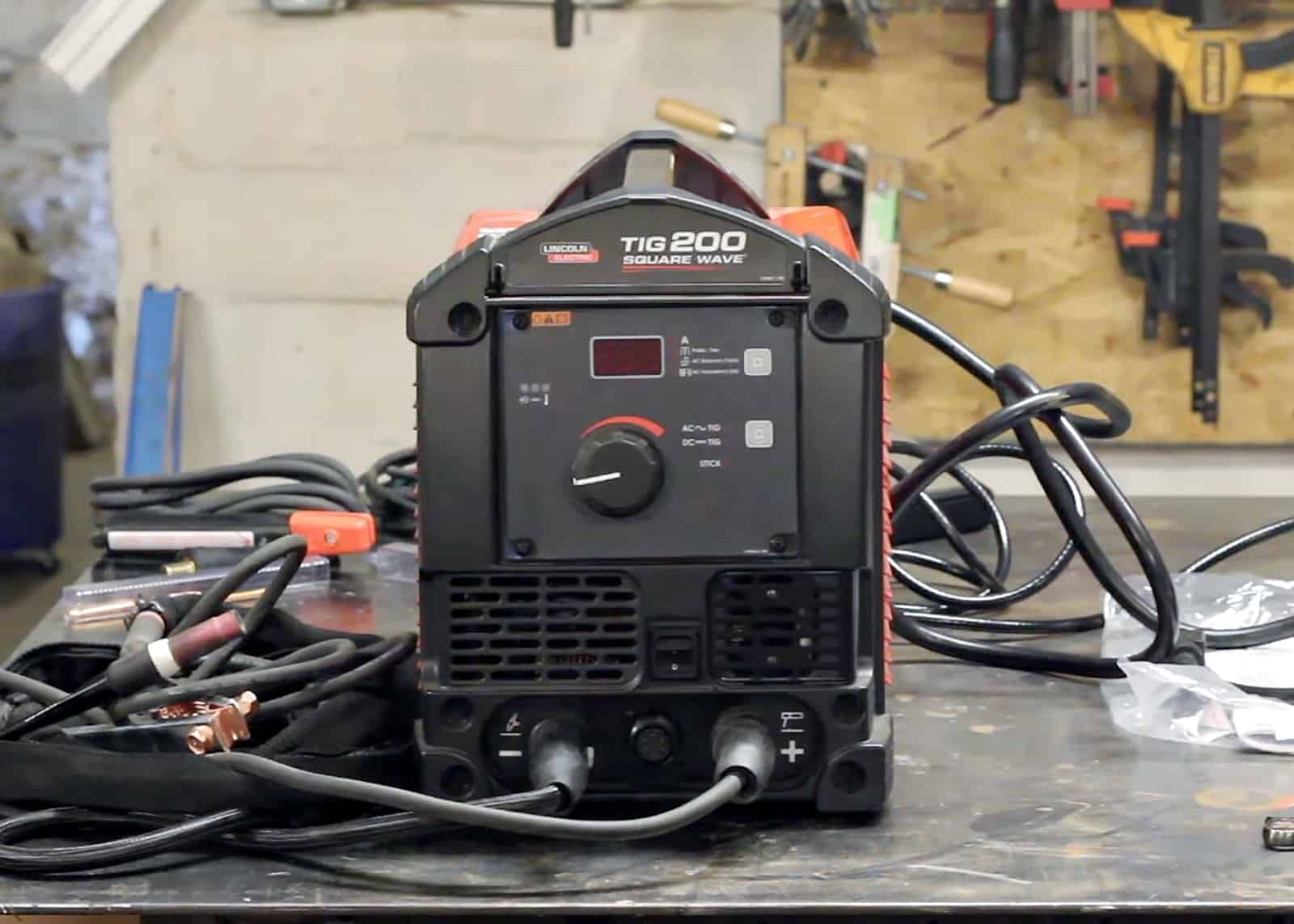 While you can get most DIY jobs done with the Lincoln Square Wave TIG 200, you should understand its limits before getting your credit card ready.
You don't want to feel buyer's remorse for a welder with a price as hefty as this one.
So, let's talk about its limitations and drawbacks before I introduce you to its strengths.
Limited TIG Functions
Yes, the Square Wave TIG 200 supports the three pillars of advanced TIG welders: pulsed TIG, AC balance, and AC frequency settings.
But its pulsed TIG can only go up to 20PPS, which may not be enough for some jobs. For example, welding stainless steel highly benefits from high PPS.
The higher the PPS, the more constricted the arc, and the more agitated the weld puddle. As a result, stainless is far less likely to lose corrosion resistance, and you'll get better weld quality and penetration.
You also can't adjust the pulse's base amps vs. background amps. Lincoln Electric has hard-coded the background current to 50% of the set amperage. So, you have no control over this setting.
Depending on your travel speed, welded metal, the thickness of the filler wire, desired weld appearance, and welding style, you may need to reduce or ramp up the background amperage. Not having this setting is like always driving a car in second gear.
Sure, you can do it, but what will you do when you enter the highway?
In addition, you can't go higher than 150Hz on AC frequency. While that's pretty good, you may need a higher frequency when welding corners or building up the edge you previously burned on thin aluminum. The higher the AC freq., the tighter the arc, which can make delicate jobs easier.
You don't need these advanced functions if you aren't a fabricator, right?
That may be true, but these functions are available at lower prices than the Square Wave TIG 200. So, I can't help but emphasize its limited functions.
No Shielding Gas Output Control
While the TIG 200 does have a pre and post-flow gas feature, it is a fixed setting and can not be adjusted. Many welders in the Square Wave TIG 200's range support shielding gas pre and post-flow adjustments for finer control. This allows you to save gas.
While this isn't a big deal, it's a sign that it's outdated and that Lincoln Electric should consider upgrading it. Many brands have included these settings in the last 5-10 years, making them a standard nowadays.
Shielding gas control lets you accurately release enough gas to soak in the joint before welding and keep the flow going after you extinguish the arc.
The pre-flow is less critical than the post-flow because keeping the shielding gas flowing over the finished weld is extremely important when welding sensitive metals like stainless steel, titanium, and high-strength steel.
So, if you do some auto-body welding, you must do this manually or with a function on the welder.
No memory Function
Memory settings are becoming standard in higher-end welders, and this is one "nice to have" feature the Square Wave TIG 200 is missing.
The convenience of having a memory function on a TIG welder cannot be overstated, particularly for professional welders or those undertaking multiple or complex projects.
The memory feature allows you to store and recall specific welding parameters such as amperage, voltage, and gas flow rates, reducing the time-consuming task of manual setup for each new welding job.
With the memory function, transitions between different materials or thicknesses become seamless, ensuring a consistent and high-quality weld every time.
This not only boosts your efficiency but also mitigates the risk of human error, letting you focus more on getting the job done rather than adjusting your settings each time.
Best Features of the Lincoln Square Wave TIG 200
While I'm critical of the Square Wave TIG 200, I can't ignore its positives. For most people, this is a great machine.
If you don't mind paying a hefty price and don't care for limited functionality, it may be an excellent choice.
Arc Quality
I don't need to say much about its arc quality. Lincoln, Miller, Hobart, ESAB, Fronius, Everlast, and similar brands play in a league of their own.
You shouldn't have any issues with arc wander and stutter with Lincoln.
Build Quality
While designed for hobbyists and light fabrication, the Square Wave TIG 200 is well-built and feels premium.
Its sturdy metal body and plastics should endure typical wear easily. The front has a large, infinitely adjustable knob that provides a smooth action as you fine-tune the settings.
The machine doesn't have a fan-on-demand. Instead, the fan runs at all times. The front, back, and side grills are large enough for significant air movement. But that also means more dust intake.
The included TIG torch is a flex-head type, making it far easier to access tight spots. I also like the torch cable protection with the zip lock.
The stick electrode holder and the ground clamp are basic. So, you might want to upgrade those at some point. But the provided TIG foot pedal is well-made and offers maximum adjustability as you weld.
Advanced TIG Functions
AC TIG – Welds aluminum and magnesium.
AC/DC TIG Pulse – Drops the average current output, which reduces the heat input and prevents warping and unfavorable metallurgical changes, like losing corrosion resistance on stainless steel. While limited on this welder, it still does pretty well on most jobs.
AC Frequency – Widens or narrows the arc, making it easier to build up lost edges and weld tight joints.
AC Balance – Modifies the penetration vs. cleaning ratio when welding aluminum. Again, limited on this machine, but you'll be able to weld aluminum for most DIY purposes.
VRD Support
The voltage reduction device lowers the open circuit voltage ("OCV") when the welder is idle.
You don't want a high OCV because you can accidentally get shocked. VRD is an advanced safety feature that's always welcome in my book.
Alternatives in this Range
You may want to consider the two alternatives from Eastwood and Everlast over the Lincoln Electric Square Wave TIG 200.
They are both less costly, include more features, and have excellent reputations and customer support.
Eastwood Elite 200 Digital TIG Welder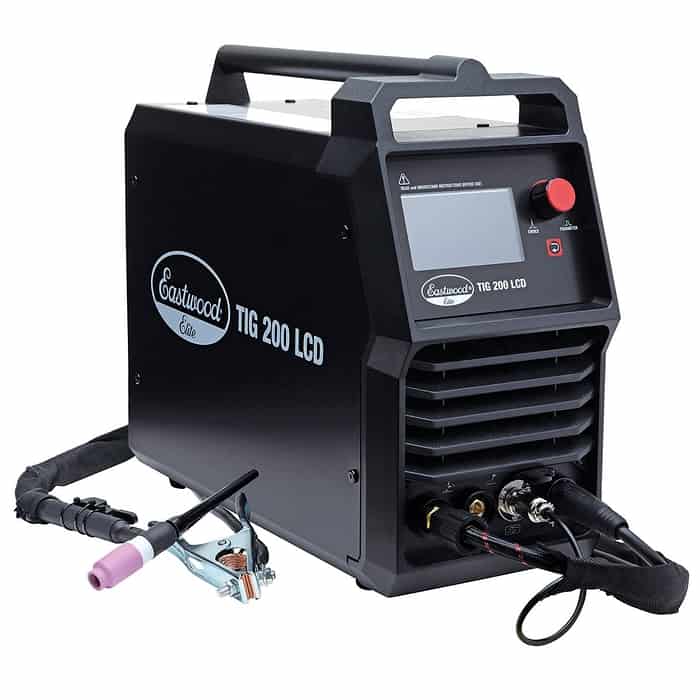 The Eastwood Elite 200 Digital TIG welder is significantly cheaper than Lincoln's model with many more adjustable features.
It has a ten times higher pulse rate (200PPS vs. 20PPS) and adjustable pulse ratio, higher AC frequency, and similar AC balance settings. In addition, it supports pre and post-flow adjustments, making it easier to weld sensitive metals.
However, Eastwood's unit has a slightly lower duty cycle, so long welds on 1/4″-thick aluminum will be challenging.
The Elite 200 Digital TIG has a large LCD screen with an intuitive menu, unlike Lincoln's unit with its small, plain digital screen. Eastwood's model also ships with a flex-head torch and a high-quality TIG pedal.
Eastwood is an American brand founded in 1978 and headquartered in Pennsylvania. So, if you prefer to avoid random imports, you don't necessarily need to go with expensive machines from Lincoln, Miller, and Hobart.
If you like fine-tuning your welding parameters, the Eastwood Elite 200 Digital TIG is a great, inexpensive alternative.
Read my full review on the Eastwood Elite TIG 200 LCD here.
Everlast PowerTIG 210EXT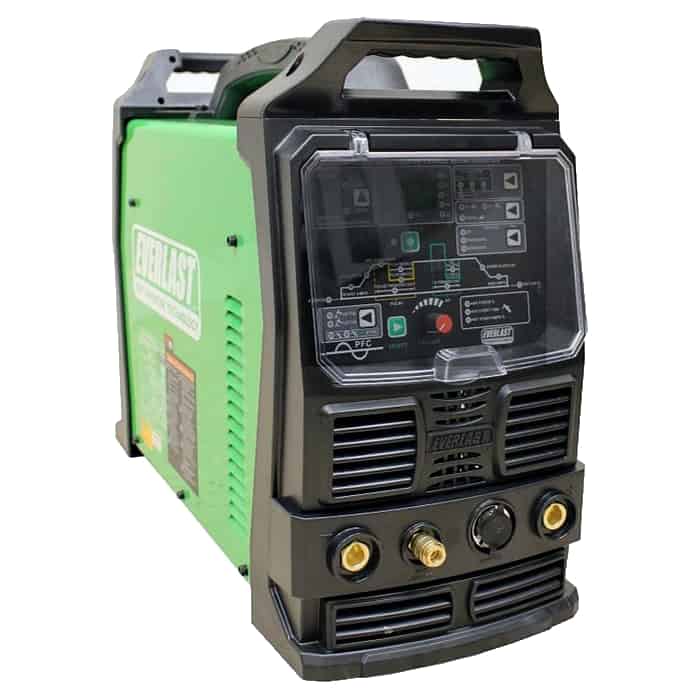 The Everlast PowerTIG 210EXT is a significantly more professional welder than the Lincoln or Eastwood machine. But setting it up is more challenging as its interface isn't as straightforward.
It's cheaper than Lincoln's unit but more expensive than the Eastwood model above. So, unless you need Everlast's functions, the Eastwood is a better choice due to its ease of use.
While Eastwood and Lincoln have squarewave technology, Everlast's model supports advanced and soft squarewave and triangular waves, providing additional versatility for aluminum.
In addition, it has a standard and advanced AC pulse, which oscillates between AC and DCEN for additional fast freezing and penetration. Also, its duty cycle is 60% at 210A for TIG, which is enough for most demanding jobs.
This is a professional welder made by a reputable USA brand. They offer a 5-year warranty, and this model is less costly than the Lincoln's unit. So, if you don't mind a more challenging setup and want maximum features, go with Everlast.
Comparing The Models
Feature
Lincoln Square Wave TIG 200
Eastwood Elite 200 Digital
Everlast PowerTIG 210EXT
TIG Output
10-200A
5-200A
5-210A
Duty Cycle
25% at 200A
20% at 200A
60% at 210A
Waveforms
Squarewave
Squarewave
Advanced/soft squarewave & triangular
Adjustable Pre & Post Flow?
❌
✅
✅
Adjustable Slope Control?
❌
✅
✅
Pulse TIG Frequency
0.1-20 Hz
0.5-200 Hz
DC:0.5-500Hz
AC:0.5-250Hz
Adv. AC pulse:0.5-9.9Hz
Adjustable Pulse Ratio?
❌
✅
✅
AC Balance
60-90%
20-80%
5-90%
AC Frequency
60-150 Hz
40-200 Hz
20-250 Hz
Memory
❌
✅
✅
Weight
46 lbs
34 lbs
62 lbs
Warranty
3-Year
3-Year
5-Year
Buy
$$$$
Check
Amazon
$$
Best
Price
$$$
Best
Price
Final Verdict
The Lincoln Electric Square Wave TIG 200 is a high-quality welder, but limited functions and a hefty price don't make it a value choice.
The Eastwood Elite 200 Digital TIG is the better value alternative if you're not a fanboy of Lincoln and my recommendation for hobbyists and shop use.
But Everlast PowerTIG 210 has significantly more advanced functions and power. So, it may be a better option if you plan to learn advanced TIG welding or work on demanding projects.