Next to your helmet, good welding gloves are the most important protection for welding.
Your hands are the closest part of your body to the welding process.
Welding produces lots of spattering, molten metal and high levels of dangerous radiation.
The wrong choice of welding gloves can result in serious burns and other injuries.
For example, thin welding gloves are much better suited for TIG welding – we have a dedicated guide on TIG welding gloves here.
For MIG and Stick, you need solid protection without losing dexterity.
Here are some great choices that won't break the bank.
---
A Quick Comparison
Product
Image
Product
Details

Revco GM1611 Black Stallion

Reinforced palms and fingers

Kevlar stitching

Cotton liner

Lincoln Electric Traditional

Full leather c overage

Kevlar stitching

5-inch wide cuffs

Rapicca Leather Forge

Double Kevlar padding

Shielded fingers

Designed for high temps

Miller MIG 271888

Cowhide body and cuffs

Kevlar stitching

Reinforcement pads

Kim Yuan Extreme

Kevlar stitching

Thick leather

Great coverage

Tillman 50L Top Grain

16-inch coverage

Kevlar stitching

Reinforcing patches

Vulcan Professional

Designed for MIG

Rest pads

Kevlar stitched
Best MIG / Stick Welding Gloves with Reviews
Here's a list of the best MIG & Stick welding gloves we found:
1. Revco GM1611 Black Stallion MIG Welding Gloves
Supple grain cowhide palms
Thick split cowhide backs
Reinforced palms, index and thumbs
Kevlar stitching
12 inches long
Pros
All-day comfortable
Take heat well
Good dexterity
Fit well over sleeves
Very flexible
Cons
Fingers wear more than others
Sizes run small
Overview
The Revco GM1611 Black Stallion MIG Welding Gloves are made of thick, flexible cowhide on the palms and the backs. They are 12 inches long with wide cowhide leather cuffs. Users praise the feel of these gloves, with many impressed by the cotton liner. Others mentioned the superior "touch" of the design, with more than a few using the same gloves for their TIG work.
With a full cotton liner inside, the Revco GM1611 gloves are comfortable to wear for extended work sessions. Owners love the seamless index finger and the trademark Black Stallion reinforcing patches on these gloves. Revco calls the reinforcement on the heel of the glove the "dragpatch" and additional reinforcing leather on the back of the cuff is named "restpatch."
The Revco gloves also feature Kevlar stitching on every seam for maximum durablilty in the high-temperature, high impact environment created by the welding processes. Owners love the durable construction and the fit on these gloves. They wear well in the fingertips and the seams stay together. Some users wish they were longer, but they do their job.
---
2. Lincoln Electric K2979 Traditional MIG/Stick Welding Gloves
Full leather construction
Kevlar stitching
Straight cut thumb
Fully lined in cotton
Cuff is 5 inches wide
Pros
Leather graphics resist wear
Thumb patch for reinforcement
Lightweight at 14.5 ounces
Shoulder grade leather for heat resistance
All day comfort
Cons
Inner liner sometimes comes loose
Stiff until broken in
Overview
The Lincoln Electric K2979 Traditional Gloves provide full leather coverage made of split shoulder cowhide. Designed for all-day comfort in the harsh professional welding environment, they're completely lined with cotton. They incorporate a straight thumb design and a reinforcing patch on the thumb to improve protection and impact resistance.
Fully stitched with Kevlar, the Lincoln Electric K2979 Traditional MIG/Stick Welding Gloves also use leather reinforcement on every seam for improved impact resistance and protection from heat. Users praise the overall length on these gloves, with many mentioning the wide 5-inch leather cuffs. They come with stylized flame graphics made of leather stitched on that make them easier to find and provide another layer of protection.
These gloves are easy to wear because the cotton liners absorb moisture and the supple grade of leather makes them very dexterous. Owners say they will be stiff until broken in, but once they are, they have great touch. Although they're built very ruggedly, they weigh only 14.5 ounces, making for durable, lightweight welding gloves, and the flames add a lot of style to the package.
---
3. Rapicca Leather Forge Welding Gloves
Full leather construction
Sleeve length is 7.5 inches
Kevlar sheet padding
Aluminum insulation
Kevlar stitching
Pros
Rated to a high temperature
Comfortable cotton liner
Double layered Kevlar padding
Shielded fingers
Puncture and cut resistance
Cons
Inner liner can come loose
Reports of weak heat protection
Overview
The Rapicca Leather Forge Welding Gloves are made with a full leather outer. The overall glove length is 16 inches, with a 7.5-inch sleeve length. Rapicca uses thick, soft and flexible shoulder split cowhide, making these gloves very thick yet retaining a great deal of flexibility. They are treated for heat, oil and fire resistance.
These gloves feature double-layered padding made of Kevlar sheeting and aluminum insulation to shield the fingers and Rapicca Leather Forge Welding Gloves provide added high-temperature protection. However, some users felt that the heat protection wasn't consistent throughout the entire glove. Rapicca advertises a temperature rating of 932 degrees Fahrenheit. That's probably higher than you would want to test them for at least the first time using them.
Rapicca Leather Forge Welding Gloves also feature extra shielding on the palms and backs. They're constructed ruggedly with Kevlar stitching. Rappica incorporated a full cotton liner over the entire inside of these gloves. Some users have complained of the liner turning inside-out when removing the gloves. That could be an issue on the job. The Kevlar sheeting also adds additional resistance to punctures, tears and cuts.
---
4. Miller 271888 MIG Welding Gloves
Split pigskin leather palm and back
Fleece lined foam padding wicks moisture
Keystone thumb shape
Kevlar stitches
23.5-inch total length
Pros
Stiff 5-inch wide pigskin cuffs
Reinforcement patches in critical spots
Pre-curved fingers
Rugged construction
Durable design
Cons
Need to cool down fairly often
Cost more than others
Overview
Owners praise these Miller 271888 MIG Welding Gloves for their durability and rugged construction. They have reinforcement patches at every critical point. These gloves are for professional welders who run MIG and stick welders all day. If you're a production welder, they will need cooling off on a regular basis. Users report these gloves build up heat. You'll need to take a break, allowing the thick cowhide outer layer to cool off.
The inside of the Miller gloves is made of fleece liner over foam. This delivers a great feeling and a secure fit. Because they're thick and reinforced, they'll do a great job of preventing bruises on your hands. They feature Kevlar stitching, which makes for secure seams that resist the harsh environment.
The fingers on these gloves are designed with a "keystone" design to better fit your thumb and the fingers are pre-curved so they're ready to work without needing a break-in period. Miller 271888 MIG gloves are a little more pricey than some others, but they are well-built with leather cuffs and extra padding.
---
5. Kim Yuan Extreme Heat & Fire Resistant Gloves
Professional welding gloves
Full cowhide leather over 1.2 mm thick
Kevlar stitching
Inner cotton liner
14 inches long
Pros
Very comfortable
Thick liner
Soft and flexible
Reach well up the arm
Sturdy construction
Cons
Won't take extreme temps
They cost more than others
Overview
The Kim Yuan Extreme Heat & Fire Resistant Gloves are made from cowhide, chosen specifically for a thickness over 1.2 mm, for softness and for flexibility. They aren't dexterous enough for TIG, but work well for stick and MIG welding. They protect well from radiation, sparks and spatter. The thick leather has a good deal of fire resistance and provides a good physical barrier. They also work well for grinding.
They're lined with thick, soft cotton, providing a great deal of comfort. Some users say the gloves aren't great with extreme temperatures. They can't be in constant contact with high-temperature metal like a fresh weld or something that's just been ground heavily. For handling parts and moving things around, they're perfect.
The Kim Yuan Gloves are very sturdy, using Kevlar stitching, reinforcing patches and incorporating heavy denim cuffs. The 14-inch length provides safe coverage well up the forearm and because they're made of such thick and soft material, they're comfortable and protect your hands well from the cuts, scrapes and bruises of long workdays in the welding environment.
---
6. Tillman 50L Top Grain Leather Stick Gloves
Kevlar stitching
Full leather coverage
16 inches long
Leather reinforcement
Seamless top grain index finger for best feel.
Wide 4-inch cuff
Pros
Also available as single left hand
Cinched elastic cuff band
Seamless forefinger
Winged thumb for a great feel and gun grip.
Fully cotton lined
Cons
A little thick for MIG work
Not intended for overhead welding
Overview
The Tillman 50L Top Grain Leather MIG Gloves offer full-length 16-inch leather coverage. The cuffs are 4 inches wide and feature cinched elastic bands to comfortably secure your wrists. A leather patch with the rough side out is used to reinforce the thumb, with a strap over the backs of your fingers.
There's Kevlar stitching in every seam on the Tillman 50L Top Grain Leather MIG Gloves and a padded leather palm. The grade of leather chosen for these gloves is soft and flexible, maintaining a sense of touch so you can feel what you're doing. Full leather construction means a high degree of protection from sparks, spatter and debris.
J. Tillman gloves are known for thoughtful design and attention to detail. Tillman 50L Top Grain Leather MIG Gloves are designed with a full cotton fleece liner. The fleece keeps moisture under control while adding an extra layer of insulation from the high heat environment. Owners like the rugged construction of these gloves. Many welders felt these gloves were a bit too thick to actually work for MIG work, but they will serve you well for stick welding.
---
7. Vulcan Professional MIG Welding Gloves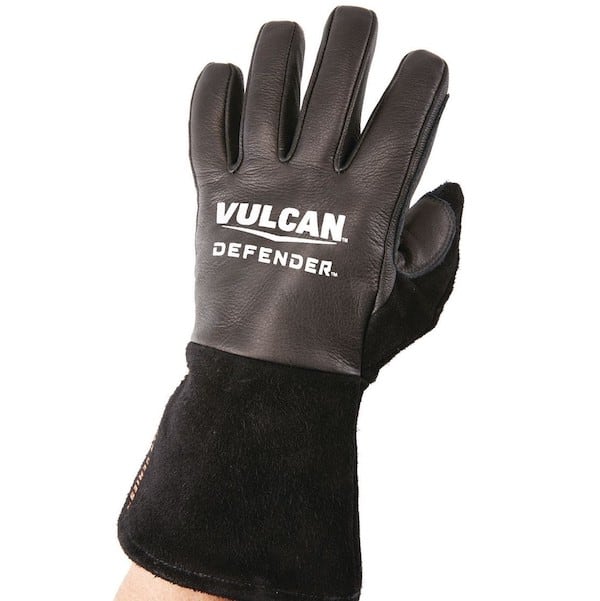 Top grain cowhide palm
Seamless trigger finger
Split leather cuff for durability
Kevlar stitching
Full lining
Pros
Designed for MIG use
Supple and comfortable
Dexterous enough for TIG
Owners compare to Tillman
Rubber rest pads on cuffs
Cons
Sizes run small
Could use more top protection
Overview
Vulcan Professional MIG Welding Gloves at Harbor Freight are designed specifically for MIG welding, with a seamless trigger finger to add comfort and reduce blisters. This is an important feature when you're spending long hours running beads. The palm and top are made of top grain cowhide leather, with the cuffs and reinforcement made from split grain cowhide, reversed to extinguish sparks well.
Inside, they've got a full cotton/polyester lining for moisture wicking and additional protection. Users praise the fit and feel of Vulcan Professional MIG Welding Gloves, although many say that the sizes run small. Because there's not an XXL size, this could be a problem for welders with larger hands. Owners frequently mentioned that these gloves are very supple and can even be used for TIG welding.
The Vulcan Professional MIG Welding Gloves drew high marks for overall comfort and durability. Every seam is stitched with Kevlar for high-heat durability and long hours of wear. Some owners feel that there needs to be more head protection on the top side of these gloves, but didn't think it was a deal-killer. One thoughtful design feature is the rubber rest pads on the cuffs of these gloves, which double as a grip to pull them on with.
---
Buyer's Guide
The best welding gloves for both MIG and stick processes combine ruggedness, protection, a dexterous feel and a reasonable price.
Gloves are a consumable item. If you weld for a living, or even do a lot of DIY or hobby welding, you'll be going through a lot of gloves as time goes by.
Cost is therefore a very important factor in your decision, but safety is the most important.
Think about which welding process you'll be doing most often. That's got to be your priority for any compromise selections you have to make concerning safety, feel, coverage and the like.
Welding Processes
Stick Welding: Stick welding is the most common form of welding and is used in the construction of heavy steel structures.
Stick welding uses electricity to create an arc to fuse metals together, so the welding gloves you wear should be able to withstand high heat and lots of sparks.
Metal Inert Gas (MIG) Welding: Similar to stick welding, MIG welding uses electricity to join the metal by forming an arc between the electrode and the metal. MIG welding requires less precision than other forms of welding, but works well for longer durations.
The welding gloves that you should pick will be able to be worn for comfort, but not necessarily precision.
There are also more sparks with MIG welding, which means that the gloves should of a tougher material (see below).
TIG Welding: TIG welding is a highly technical style of welding that demands welding gloves that allow the maximum amount of precision. We have a dedicated guide for TIG welding gloves here.
Types Of Welding Glove Materials
Now that you've got an idea of what level of precision is required for each style of welding, it's important to know which particular material impacts how you weld.
Considering that animal leather is a durable material that is non-conductive and dissipates heat well, it's no surprise that it's the go-to for welding gloves.
Each animal hide has its particular purpose:
Cowhide
The most popular welding gloves are made from cowhide due to its wide range of quality and use. Typically, cowhide is durable and comfortable but with a bit more bulk, cowhide is typically used in Stick or MIG welding. However, cowhide can harden when exposed to excessive heat, so it's not appropriate for TIG welding.
Deerskin
Just like the animal, it is derived from, deerskin welding gloves are typically soft and supple, providing a good feel and nice dexterity for accurate welds and maximum comfort.
Elkskin
The best way to think of elkskin is that it is one step above cowhide, as it will not harden nearly as fast as cowhide when exposed to high heat (meaning less hand fatigue). Typically, elkskin is used in MIG and/or stick because of its heat resistance.
Goatskin
Goatskin is practically made for TIG welding, with its superior abrasion and tensile strength, but remains soft and supple for the best accuracy.
Horsehide
While not the most popular leather, horsehide is preferred for TIG welding for its good dexterity and toughness.
Final Verdict
We've selected the Revco GM1611 Black Stallion MIG Welding Gloves as our choice for best MIG and stick welding gloves. They're extremely rugged and Kevlar stitching makes them more durable and heat resistant.
Yuan has made a point of intentionally selecting leather cuts thicker than 1.2 mm to provide a high degree of comfort and protection in its Kim Yuan Extreme Heat & Fire Resistant Gloves.
For the MIG process, the Vulcan Professional MIG Welding Gloves feature MIG specific design, seamless trigger fingers and are supple, dexterous and very rugged. Because they're from Harbor Freight, they also solve the hassle of exchanges or replacements. Harbor Freight is well known for its customer service.
Lincoln Electric K2979 Traditional gloves provide a great sense of touch, making it easier to do good work. Lincoln is always a good American brand to bet on.