It doesn't matter if you're farming, fabricating hot rods or fixing appliances. When you work with metal, sooner or later you need to weld something.
Once you start burning metal, you better have a good welding helmet on your head. The right welding helmet makes the job safer and makes a tough job easier.
The best welding helmets are light, offer high tech features and can even make you look great.
But choosing the wrong helmet could be costly and even painful. Welding will throw burning sparks and drip molten metal around the work site.
We took a close look at eight different welding helmets. Balancing cost with features and value will put you in the right gear.
---
A Quick Comparison
Product
Image
Product
Details

Lincoln Viking 3350

High impact resistance

1/1/1/1 optical clarity

Huge 12.5-square-inch viewing area

Yeswelder 302C

Plenty of viewing area

True color viewport

Compact design

Hobart 770890 Inventor

Great balance & optical clarity

Shade levels from 8-13

9.3-inch viewport

Antra AH260

Ideal entry-level helmet

Variable shading from 5-13

1.75 inch by 4 inch viewing area

3M Speedglas 9100

Professional-grade helmet

Handy side windows

Grab and go auto-on feature

Jackson Safety Insight 46131

High quality auto dark

Variable shade 9-13

2.3 inch x 3.9" viewport

ESAB Sentinel A50

Excellent clarity

Stylish shell design

Extreme comfort & balance

Miller Digital Infinity

Great clarity lens

Shield is roomy & lightweight

Huge 13.4 sq. in. viewing area
The 8 Best Helmets
Here's a list of the best welding helmets we found on the market:
1. Lincoln Viking 3350 Auto Darkening Welding Helmet
4C Lens technology for true color viewing
Auto-darkening Filter Lens
Low-profile external grinding mode switch
Continuous light sensitivity control
12.5 square inches of viewing area
4 Arc Sensors
1/25,000 second lens reaction time
Pros
High quality professional helmet
Large viewing area
Continuous light sensing: work indoors or out
Activate grind mode button with gloves on
Helmet bag, bandana, 5 outside lenses, 2 inside
Inside dials to change sensitivity and shade level
Cons
Some users say the headgear won't stay tight
Light can get inside the helmet from behind
Not enough coverage to please some welders
Overview
The Viking 3350 series is Lincoln Electric's top line auto darkening hood and is our choice as the best welding helmet overall. Lincoln says it designed these welding helmets to offer a blend of comfort, versatility and premium optics. Vision through the lens is as good as it gets on these helmets, with a 1/1/1/1 optical clarity rating and real-world colors. Most welders who buy this helmet are very happy with the optical quality as well as the variable shade levels from 5-13.
The design is optimized to distribute weight across the helmet to improve balance and make it feel lighter. Some users complain that the knob to tighten the headgear won't stay tight, meaning it slips off sometimes when bending over. This auto darkening helmet has an adapter to fit onto a hard hat.
The 3350 series comes in colorful styles ranging from racing stripes to robot heads and skull designs. The 1.2-pound weight isn't the lightest helmet on the market, but the big viewing area means more glass and that adds weight. Everything comes with a cost. Lincoln Electric is one of the most highly-regarded welding equipment companies in the business, a favorite of professional welders. View all our Lincoln welding helmet top picks here.
---
2. Yeswelder 302C Auto Darkening Welding Helmet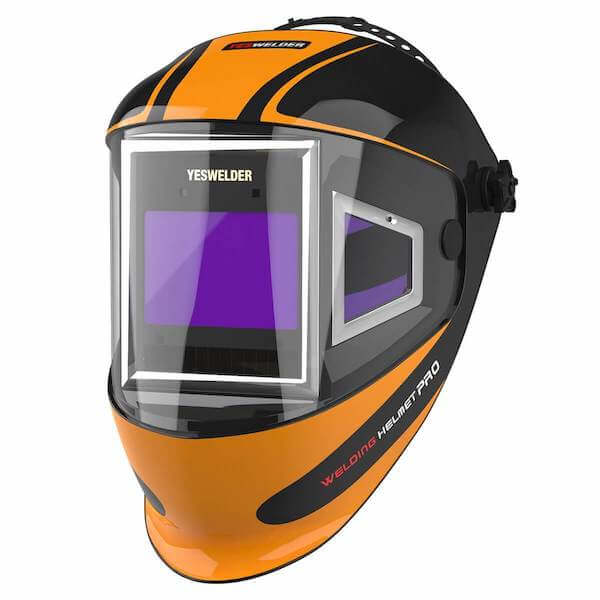 Panoramic 180 view
Auto darkening side viewports
1/1/1/1 optical clarity rating
Viewports darken independently
6 autodarkening sensors
1/25,000 second lens reaction
Pros
14.8 square inch viewing area
Inside settings controls
True color display
Solid construction
Fits into tight areas
Cons
Complaints of inadequate shade levels
Headgear is cheap
Overview
If you are looking for a better viewport, the Yeswelder 302C is the best welding helmet with a panoramic view. This design has a single large forward-facing viewport and two on the side. It provides a wide-angle view with a nearly 180-degree view angle with nothing in the way. Nearly 15 square inches of viewport is a lot of area to see what's going on. This helmet features 1/1/1/1 optical quality for less eye fatigue.
Yeswelder included 6 light sensors, so the auto dark system is never shadowed. It also features true color technology for a more realistic view. This is a practical, compact design with enough curvature to deflect impact, but the Yeswelder 302C Auto Darkening Welding Helmet doesn't look unconventional.
This helmet comes with headgear that users say is comfortable but not durable. Several owners recommend using Lincoln or Jackson replacement headgear, with some calling the Yeswelder 302C Auto Darkening Welding Helmet perfect with this change. It's still cost-effective even after this extra expense.
At Weld Guru, we can make this idea more practical, with a discount at Yeswelder when you use our coupon code: WELDGURU10
And you can put your savings into replacement headgear, making a great helmet.
---
3. Hobart 770890 Inventor Welding Helmet
Continuous IR/UV protection
Auto-darkening
Grind mode
Variable shade levels from 8-13
9.3 square inches of viewport
4 Arc Sensors
1/25,000 lens switching speed
Pros
Sensitivity & Delay Controls
Turns on and shuts off automatically
Low battery indicator
Users love its great balance & optical clarity
Headgear offers size and top adjustment
Cons
Slightly heavy at 1.25 pounds
May darken in shop lighting
Overview
Hobart has long been a major player in the welding industry. Products like the Inventor welding helmet have a lot to do with that. The controls for the auto-dark feature use dials, which are easier to use than buttons when wearing gloves.
The helmet shell, while somewhat thin, is made of polyamide nylon. This material offers light weight for its degree of protection from collision, debris, slag and sparks. The headgear offers adjustments on the top as well as the rear. That's another feature that adds some weight, but improves comfort and balance.
The Hobart Inventor does weigh slightly more than other helmets in its class. That's a result of the big 9.3-inch viewport and the magnifying "cheater lens" inside the hood. However, weight really isn't a big factor because it's well-balanced.
Hobart and Jackson are probably the most-used auto darkening welding helmets in professional shops. Comfort is the biggest reason for that. Hobart's sales volume and the fact the Inventor only comes in black account for great value at a price suitable for hobbyists.
---
4. Antra AH6-260 Auto-darkening Welding Helmet
Passive UV/IR filter works continuously
Auto-darkening filter glass
Quick Grind switch
Adjustable delay and sensitivity
1.75 inch by 4 inch viewing area
2 Arc Sensors
1/25,000 second lens reaction
Solar Powered
Optical Clarity Class: 1/1/1/2
Pros
Lightweight
Variable shading from 5-13
Solar charging with auto shutoff
Users love the headgear
Comfortable with glasses
Reaction Time of 0.00004 (1/25,000) Seconds
Cons
Thin plastic: No overhead or industrial use
Some users report being flashed mid-weld
Sometimes auto-darkens from sunlight
Overview
The Antra AH6-260 is an entry-level welding helmet that offers some unusual features for its class. It has variable shade levels from 5-13. Although the 17-ounce weight is a plus, it means the plastic on the hood is too thin for industrial use.
Getting knocked around and banging it on things when you're wearing it will wear it out pretty quickly. The thin material also means that overhead welding isn't an option in this helmet, because molten slag can burn through.
It's got solar charging for the batteries and has been certified to auto-darken and protect with MIG, TIG, plasma or arc. The filter glass is designed to protect from UV and IR whether it's powered up or not.
Several users have reported co-workers buying these helmets to replace the headgear in their expensive helmets. The AH6-260 features solar power along with the batteries.
Adjustable delay and sensitivity controls are unusual in this price range. One thoughtful design feature is an adjustable lower limit so when the hood is lowered it sits in the same spot every time.
See all our top budget welding helmets here.
---
5. 3M Speedglas 9100 Auto-darkening Welding Helmet
Improved optics make it easier to see colors
Auto-on darkening filter
9100XXi Grinding Quick Switch
Two glass darkening memory modes
3 Arc Sensors
1/10,000 second lens reaction
Pros
Professional-grade welding helmet
Grab and go auto-on lets welders work quickly
External grinding mode activation
Meets ANSI Z87.1-2010 impact standard
Handy side windows
Cons
Some users report loosening of the headgear
Matte finish can be hard to keep clean
A little heavier than other helmets in its class
Overview
One very impressive feature of the ADF 9100 XXi is reduced green appearance when viewing your work through the glass. The idea is that natural colors make it easier to see your work and manage the welding puddle. This is an expensive welding helmet aimed at professionals, however, a minor complaint from some welders is that the headgear keeps coming loose.
Powered by lithium batteries, the ADF 9100 has a grinding mode button designed to work with gloves. With adjustable shade from levels 5-13, the button lightens the glass so you can take care of other chores. The glass darkens again when you strike an arc to go back to work. When you stop welding, the optics lighten up to shade 3 darkness. The 9100XXi option offers two preset modes that give you a quick selection for memorized sets of darkness settings.
The Grab and Go feature activates the 3M Speedglas helmet at its most recent setting and shuts off the glass automatically to save batteries. Exhaust vents for your breath and side windows are among the professional features of this helmet that make it more comfortable to work in for a long time.
---
6. Jackson Safety Insight 46131 Welding Helmet
Digital filter and shade controls
Auto-dark feature
Grind mode
2.3 inch by 3.9 inch viewport
Meets ANSI Z87.1 standard
4 Arc Sensors
Powered by Lithium Batteries
Pros
Users rave over high quality auto dark
Jackson headgear is an industry favorite
Interchangeable with other Jackson shells
Cons
Some reports of skimpy neck coverage
Heavy at 2 pounds
No room for a respirator
Overview
Jackson Safety welding helmets are a common sight in fabrication shops. They're famous for the headgear setup inside, which Jackson Safety calls HaloX. Welders who prefer other brands often buy Jackson headgear to replace what's in the helmet they've got.
This is a heavy helmet at 2 pounds, which could add up to a pain in the neck if you need to weld for hours at a time. Some welders report getting sparks or sunburn above the collar from lack of coverage. Between that issue and the inability to fit a respirator inside this close-fitting helmet, this helmet might be better for smaller welders.
The Insight 46131 offers high-quality optics for its price range. Owners frequently praise the auto-darkening technology on this helmet as the best they've seen. Many love the digital shade controls, which indicate your shade level with just a quick glance.
---
7. ESAB Sentinel A50 Welding Helmet
Streamlined nylon shell design
Halo 5-point head band
Centralized pivot provides good head clearance
3.93-inch by 2.36-inch viewport
Color touch screen controls
1/25,000 lens reaction
Pros
8 separate memories
Hard hat adapter option
Very light weight
Shape is good for welding in cars
Cons
Curved front lens is costly to replace
Lens suffers from glare issues
Nylon shell scratches easily
Overview
ASAB's Sentinel A50 is an attempt to redefine the traditional welding helmet. The futuristic "space warrior" look actually serves a valid purpose. It's streamlined to allow close work like welding inside cars, cabinets and machinery.
The curved shape is also intended to improve head coverage. The curved lens is designed for good peripheral vision to avoid collisions. However, many owners report that in-close welding can result in warping damage to the lens. As a piece that's not standardized across the industry, replacements are costly. Some users complain of glare and "fisheye" effects through this viewport.
One place where ESAB seems to have hit a home run is with the 5-point headgear. This design features a basket shape that fits over the top of the head like many hard hats use. The 5-point headgear allows shifting the weight of the helmet in different directions for difficult welding situations like lying on your side.
The ESAB A50 isn't all looks, either. One nice high-technology feature is a phone-like color touch screen for the shade and sensitivity settings.
---
8. Miller Digital Infinity
Auto turn on and shutoff
Biggest viewport you can buy
Weld, Cut, Grind, and X-Mode
3-year True Blue warranty
Four separate arc sensors
Pros
X-mode eliminates sunlight triggering
Huge viewport lets you see work at an angle
Headgear is comfortable
LCD screen for adjustments
ClearLight true color filter
Overview
With 13.4 square inches of viewing area, the Digital Infinity is one of Miller's top of the line helmets. You can't buy a bigger viewport than this one, giving you the ability to see clearly when you have to fit into a tight spot and can only see the work at an angle. Miller's ClearLight Technology provides high-definition true color optics with a clarity rating of 1/1/1/2.
This helmet comes with four separate levels of shade range.
Welding mode offers variable shade from 8-13.
Cutting mode provides lens shade levels from 5 to 8.
Grind mode is shade level 3.
X Mode eliminates triggering in bright sunlight. A low-amperage welding process like TIG welding can impact variable shade filters the opposite way and the filter goes clear while you're still welding. X mode uses electromagnetic sensors to detect the welding arc instead of using light sensors, which eliminates these triggering problems.
With the InfoTrack timing record program, a help menu and Miller's 3-year warranty, the Digital Infinity is one of the finest helmets available in its price range. View more Miller helmets here.
---
What You Need To Look For in Welding Helmet
Coverage and filtering are the most important factors when choosing a welding helmet.
Here's a brief checklist to compare helmet features.
Coverage: Does it cover your neck, ears, face and scalp?
Filter Lens: Shade level higher than 10.
Auto darkening: adjustable sensitivity and shade levels.
Weight: A heavy helmet is literally a pain in the neck.
Comfort: Does the headgear have pads and stay tight?
Viewport size: Can you see to avoid collisions?
Can the helmet take debris, sparks and molten slag?
The helmet should meet safety standard ANSI Z87.1
Balance features against quality, materials and price. Paying attention to these details as you compare welding helmets should keep you in good shape. Don't be sucked in by futuristic shapes and wild decorations.
First check quality against features and buy the best you can afford. You can always paint it or add decals if you want something unique.
Welding Helmet Safety
Welding creates light in three wavelengths.
Visible light can harm your retinas with sheer brightness.
Infrared light (IR) is invisible, but heats anything it touches.
The third type is ultraviolet light or UV, also invisible.
A Welding Helmet Will Keep It Covered
IR that hits your skin can burn it just like a sunburn. Welding Helmets protect from IR damage by covering the skin on your face and neck. Check that helmets provide full coverage to protect the bare skin on the neck, face, ears and scalp from IR/UV damage, flying sparks or molten metal.
Watch What You're Doing
UV rays damage and destroy cell tissue. To protect your eyes, welding helmets have specially darkened lens to filter out harmful bright visible light, IR and UV rays. The filter lens is rated by number to indicate its shade level. The higher the number, the darker the shade and the greater the protection.
Some helmets have lenes with a single shade level. While protection is good, usually over level 10 shading, it can be very hard to see if you're not welding.
That can make it difficult to strike an arc easily without lifting the hood to watch. The problem is you can "flash" your eyes if you strike an arc accidentally while lining up the rod or wire when the hood is up.
This is why auto-darkening filters were invented. They react to the bright flare of an arc strike, darkening instantly. That way you can see to line up the work without lifting the hood, while keeping the helmet's protection when the arc flares. Passive welding helmets also do a great job, however, they work by having a fixed-shade lens, which is usually number 9 or 10.
Wrapping it up
This is a diverse selection of helmets across every price range. We're going with the Lincoln Viking 3350 series as our pick for the best welding helmet based on excellent optics, outstanding construction and a huge viewport.
The Hobart Inventor is a great choice in the lower price range and the Antra AH260 even lower, but this review is about the best helmet regardless of price. That's the Lincoln, in our book.
Other Helmet Guides