Over the last couple of decades, MIG welders revolutionized welding.
With prices at all-time lows, the problem is narrowing the selection.
A professional welder needs quality and reliability above all else.
The DIY guy is most concerned over actual price.
We've found some pro machines, and a few for home welders.
---
A Quick Comparison
Product
Image
Product
Details

Eastwood MIG 180

Excellent alternative to Hobart 210

All-metal wire drive

Tack welding feature

Hobart Handler 210

One of the most popular models

Cold electrode

Spool gun ready

Forney Easy Weld 140

Lightweight 19 pounds

Welds up to 1/4-inch plate

Convenient 120v input

Lincoln Electric Easy MIG 180

Impressive 30% duty cycle at 130 amps

Heavy-duty wire drive

Long time welder favorite

Hobart IronMan 240

Heavy-duty built frame

Made in the U.S.A.

208/240v input power

Millermatic 211

Ideal portability for professionals

Welds heavier materials easily

120/240 volt powered

Everlast Powermig 200

Includes regulator

Burn back control

Dual 120/240v power
Best MIG Welder for the Money with Reviews
Here's a list of the best MIG Welders we found on the market.
1. Eastwood MIG 180 MIG Welder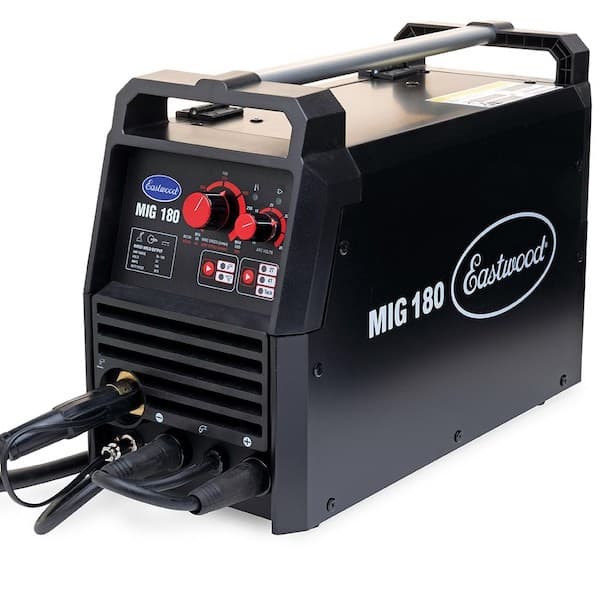 Excellent value for dual voltage
IGBT Inverter powered
Optional spool gun if needed
Tweco-style MIG gun
Includes regulator
Mounts 4- and 8- inch spools
Pros
Industry standard Tweco-type torch
Spool gun compatible
Infinite adjustment controls
Setup chart on machine door
Mounts both 4- and 8-inch spools
Cons
10-foot torch leads are a little short
Most 120v welders reach 140 amps
Overview
The Eastwood MIG 180 MIG Welding Machine is a 2021 update to the popular Eastwood MIG 175. With dual-input capability, it can now plug into either 120-volt power or 240 volts. If you don't need to weld thicker than 1/4-inch steel, you might want to opt for the Eastwood MIG 140 and save some money. That machine only runs on 110/120 volts.
This welder puts out 120 amps on 120-volt power and 180 amps when plugged into 240 volts. The lower limit for either side is 30 amps, giving you the ability to weld sheet metal as thin as 24-gauge. When you factor in the 2T/4T trigger lock for long bead runs, the Eastwood MIG 180 MIG Welding Machine is a great design for auto body repairs. One of the updates to this model is a new all-metal wire drive, which adds more durability.
The Eastwood MIG 180 MIG Welding Machine is equipped with a Tweco-compatible MIG gun, making finding parts less of a chore. It has a tack welding feature, pulsing the arc to let you get pieces set fast. This powerful dual-input machine is excellent value at this price. Its feature list compares favorably to the Hobart 210, plus you can bundle it with an aluminum-welding spool gun for less than buying them separately.
The bottom line is, this is an excellent alternative if you don't want to splash out on the Hobart 210MVP.
---
2. Hobart Handler 210 MIG Welder
Dual 120v/230v input power
Welds 24 gauge sheet up to 3/8-inch steel
25–210 amps output on 230 volts
30% duty cycle @ 150 Amps
Cold electrode when not welding
Pros
Industrial-grade aluminum drive
Spool gun ready
Lightweight at 65 pounds
Dual-gauge regulator
Handles 2- and 10-pound spools
Cons
Adjustment for wire spool takes a wrench
Max aluminum thickness is 3/16-inch
Overview
The Hobart Handler 210 MIG Welder is an industrial-quality MIG welder that's able to weld aluminum. This is a 220/240 volt machine only, which does limit it somewhat, but it does include a dual-gauge regulator.
It weighs 65 pounds, not heavy but not as light as 110/120 volt models. For safety's sake, this machine's electrode stays electrically cold until you pull the trigger. It takes 4- and 8-inch spools. The wide 25 to 210-amp output of this machine welds from 24-gauge sheet metal up to 3/8-inch steel.
This machine is spool gun ready, literally meaning all you have to do is plug in the spool gun, set polarity, load up a spool of aluminum wire and start welding. The Hobart Handler 210 MIG Welder is also available in a package deal with the spool gun included, for quite a bit less than buying the welder and spool gun separately (full review here).
If you don't need the power of the 220v or just want a 120v option, the popular Hobart Handler 140 is a great alternative. A mix of pro-level performance with DIY convenience. Its 140-amp rating is enough to weld up to 1/4-inch steel.
---
3. Forney Easy Weld 140 FC-i
Lightweight at 19 pounds
Includes 8' arc gun, 8' ground clamp
Welds up to 1/4-inch plate
Will hold 10 pound wire spools
20-amp to 15-amp adapter
Pros
Infinitely adjustable voltage
Variable wire feed speed control
Welds 24-gauge up to 1/4"
Users like the built-in fan at this price
30 percent duty cycle
Cons
Gasless flux-core welding only
Can't run hard wire with this machine
Overview
The Forney Easy Weld 140 FC-i is a great MIG welder for home use. The "FC-i" in the name means "Flux Core inverter." Inverter technology is lighter than traditional transformers used in most welders, meaning this welder delivers 140 amps even though it only weighs 19 pounds.
The one thing this welder doesn't offer is true MIG capability. Flux core wire doesn't deliver the same clean, indestructible level of welding as a gas-shielded arc. It provides shielding by evaporating flux. For the average home welder, the difference is minor.
However, if you need to weld aluminum or stainless steel, flux core wire isn't up to it and you'll need to find a MIG-capable machine.
The 140-amp rating is about as hot as you can get without stepping up to 220 volts. That's enough to weld 1/4-inch steel. The duty rating on this machine is 30 percent at 90 amps, pretty astounding on a machine in this price range.
There's probably not a MIG welder in this class that has more satisfied customers, a big reason it's the Weld Guru Weekend Warrior selection for Best MIG.
If you don't have a lot to spend, then I would recommend taking a look at our cheap MIG welders for under $500 guide.
---
4. Lincoln Electric Pro MIG 180 220v MIG Welder
Heavy duty wire drive
Brass-to-brass gun connection enhances conductivity
Fully adjustable drive system
Wide 30-180 amp welding output range
Wire Feed Speed Range: 50-500 ipm (1.3-12.7 m/min)
Input power: 220v / 240v
Pros
A long time favorite amoung welders
Spool gun ready
30 percent duty cycle at 130 amps
Durable cast aluminum wire feed drive
Includes gasless and MIG nozzles
Diamond Core makes the arc more forgiving
Cons
Only runs on 208/220/240 volt input so not as portable as a 110v model
Overview
This is a professional MIG welder by Lincoln Electric with brass-to-brass connections, solid metal wire drive and a 220v / 240 volt input. Every feature is of professional quality. The case is much thicker metal than the Chinese machines, the circuit board is enclosed and it uses stainless steel hinges. These details matter when you put food on the table with your welder.
With a welding range between 30 and 180 amps, the Easy MIG 180 can weld on everything from thin sheet metal on a car grille all the way up to frame modifications on the same vehicle, including metal up to ½-inch thick. At 130 amps, the duty cycle is 30 percent, making it unlikely you'd ever reach the point for most jobs where the automatic thermal shutoff kicks in.
The Easy MIG 180 comes with a Harris regulator and the gun has a 10-foot connection. Lincoln Electric has an arc-starting technology that's almost completely spatter-free, giving you time to dial in just the right settings for the task at hand. Lincoln includes both gasless and MIG nozzles, backing the Easy MIG 180 with a 3-year warranty.
---
5. Hobart Ironman 240 MIG Welder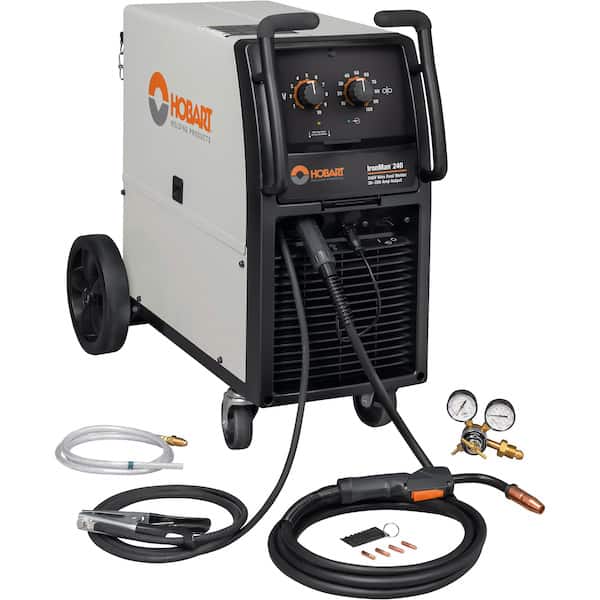 30-280 amps
Optimized arc for less spatter
Welds 24 gauge to 1/2 inch
Twelve-tap voltage control
Pros
Made in the U.S.A.
Very similar to Miller 252 but cheaper
Simple control knobs easy to use with gloves
Will take a 44LB spool of wire
Can be finely tuned for different materials
Cons
Unable to run off of a generator
Overview
The Hobart Ironman 240 is an updated version of the recently discontinued Ironman 230. The 240 is a well-reviewed welder that delivers a wide range of power from 30 to 280 amps in a heavy-duty American-made chassis.
Hobart equips the Ironman series with its "soft arc" technology for an easier striking, more spatter-free arc. If you are looking to weld aluminum, Hobart offers a package with a SpoolRunner 200 spool gun found here, for a few hundred extra bucks.
This is a full-sized platform with a 15-foot gun connection and the ability to load 44-pound spools of wire. Hobart backs the Ironman 240 with a strong five-year limited warranty.
The power adjustment has 12 settings for an easy feel when operating with gloves. This power regulator knob seems to be a problem for some users who have reported issues with the knob rotating freely and not changing the power setting.
The only downside to this model is that it can't run directly off of a generator. It interferes with the SCR firing timing of the welder. This makes it a bit less portable than some other welders, but nothing you can't workaround.
This is a quality industrial-grade welder, ideal for farm work, which has been compared to the Miller 252. It lacks the digital screen and a few other features that most people don't need, but it costs a lot less, making it an excellent value for the money.
---
6. Millermatic 211 MIG Welder
MIG/Flux Core wire-feed
Input Voltage 240VAC
Aluminum, Steel, Mild Steel
Material Thickness 24 ga. to 3/8 In
Wire .023-.035/Flux Core .030-.045 in
Pros
Light weight
120/240 volt input
Runs very quiet
Heavier materials 1/4 and 3/8"
Runs at very low amps for light gauge steel
Cons
Some owners feel the grounding clamp is too cheap
Some units have a defective wire feed spool
Overview
The Millermatic 211 is a professional MIG welding machine is one of the best MIG welders available. It's able to run from 110 or 240 inputs. When connected to the 240 side, it features a 40 percent duty cycle at 150 amps. On household 110, it delivers a 20 percent duty cycle at 115 amps.
That 115 amps will let you weld material around 1/8-inch thick, so for the home DIY enthusiast with no 220-volt receptacle, the Millermatic 211 will let you get a lot done, though it comes at a real cost.
The Auto Spool Gun Detect™ is a handy feature that will automatically detect when a MIG gun or spool gun is connected eliminating the need for a switch. It also has Thermal overload protection which will shut down the power source output, if overheating of either the main transformer or rectifier occurs.
Its real market is professionals needing portability. Rolling it around to reach different parts of a car body would be an example. Bringing it to the job site for HVAC professionals installing ductwork or repairing furnaces is another.
Considering it can weld up to 3/8-inch thick steel or aluminum, it's also portable enough to move around on a steel construction site for details like stairs and railings. It also features a solid metal wire drive.
With professional power, dual-input versatility, Miller customer service and true MIG capability, the Miller magic 211 is our Professional Pick for Best MIG.
---
7. Everlast Powermig 200 MIG Welder
Digital IGBT Inverter for low spatter
Arc force control adjusts arc characteristics
MIG, wire feed and stick welding
Dual digital displays
MIG weld up to 7/16" in a single pass
Pros
Preflow and Postflow shielding
Dual voltage 120/240 volt input
Comes with a gas regulator
Burn back control resets wire length
Wide output range
Cons
Only welds in DC mode
Cheap-quality regulator
Overview
The Everlast Powermig 200 welder offers dual voltage inputs and weighs only 35 pounds due to inverter technology. It's not only MIG-capable, you can also use it for flux core welding or as a stick welder.
When your machine can stick weld and connect gas at the same time, all you need to buy is a connector block and you gain TIG ability too, although Everlast doesn't say so.
The Powermig 200 features a burn back control, automatically adjusting the wire length at restart. 200 amps can weld ⅜-inch steel in a single pass. Dual digital displays and a low-spatter arc control system are nice features in this price range.
Preflow and Postflow improves weld quality, reducing porosity by starting the gas shield before the arc begins and cutting the gas off after the arc stops. The burn back control feature resets the length of the wire feed before you strike another arc. Another nice feature is the digital controls that give you a nice reading of exactly what your voltage and wire speed is.
Everlast includes a gas regulator with this rig and backs it with a 3-year warranty. With stick capability and the ability to use it on either household or industrial power, this is quite a bit of welder for the money.
---
MIG Welder Buying Guide
This might be the "golden age" of MIG welding. Here are the items that need to be on your checklist when you go shopping.
Duty Cycle
The duty cycle is the amount of time the welder can run continuously before needing to cool down. It's expressed as the percentage of 10 minutes the MIG welder can run.
So a 20 percent duty cycle at 90 amps would mean that when you're welding at a 90 amp rating, you can go continuously for 2 minutes before the welder needs to cool off for 8 minutes. That means if your 140-amp welder is rated for 20 percent at 90 amps, it's probably only able to weld for less than a minute at the full 140 amps.
How Much Power Do You Need?
This is the single factor that affects the cost of MIG welders. Newer 120 volt machines are able to run up to 140 amps, good enough for ⅜-inch steel. However, at that rating, the duty cycle will be fairly short. That's not a big concern for home hobbyists and weekend warriors, but it will really put a cramp in your style if you're doing production welding.
Dual-voltage machines are now beginning to provide a lot of control, at least on the 240 side, but unless you're buying big-name stuff that can get pricey, it's likely the 120 side won't provide the same quality of welds.
Related read: The best 110v MIG Welders
Does Your Job Require MIG or is Flux-Core Enough?
Although this class of welders is referred to generically as MIG welders, the technical definition is "wire feed", meaning they use a motor-driven spool to feed wire into the weld puddle. MIG means "Metal-Inert Gas" and refers to a flow of inert gas that shields the metal wire as it is consumed and melts into the puddle.
If the machine isn't able to connect and regulate a flow of inert gas like argon or carbon dioxide, it's technically not a MIG welder. An example in this review is the Forney Easy Weld 140 FC-i, which doesn't have gas shielding capability.
This is a flux-core wire feed machine. The wire that's used in these machines has welding flux embedded in the core. When it hits the arc, the metal melts and the flux is released as vapor, providing a shielding gas.
This was originally designed as a way to deal with windy conditions defeating the gas shield of a MIG torch. It's not as clean as true MIG welding but usually, the difference is minor, especially in a home workshop setting. However, with aluminum or stainless steel, the weld won't be correctly joined without true gas shielding and a quiet setting. Flux core won't be enough for these projects.
Summing It Up
In this review roundup, the welder that meets the most professional requirements at the most reasonable price for industrial-grade MIG welding is the Millermatic 211. It doesn't have every bell and whistle, but it's made for rugged work and should last for years if not decades.
If you want the best bang for your buck then we recommend the Hobart 210 MVP, especially when packaged with the spool gun, which makes for an outstanding deal. We're picking this setup as the best MIG for the money.
The Eastwood MIG 180 offers a high-value alternative to the Hobart 210 MVP. With similar features and power, it's an outstanding machine for the home shop, especially when purchased with the optional spool gun at a discount. Don't forget that Eastwood also has the 120-volt only MIG 140 model in the lineup if you don't need industrial strength. You can have this same feature list and still save some cash.
However, if you're on a budget, then look no further than the Forney Easy Weld 140 FC-i. It's got great build quality and good power in a very nice price range. This machine boasts lots of loyal fans for good reason.
Other MIG guides
Top Rated MIG Welders for Under $1000