Need to weld aluminum, copper, steel, stainless steel, titanium or thin sheet? You should know that controlling heat is essential.
No welding process controls heat better or produces finer welds than a TIG machine does.
Whether you call it TIG, Heli-Arc or TMAW, this process is top of the line.
As a two-handed method, it's the most rewarding type of welding to master. To take your craft to this level, make sure you have a capable, quality TIG welder.
A TIG machine can have quite a price tag if you're unsure what you really need. With so many machines, it's also easy to miss important features.
We combed through the multitude of machines to find the 10 best TIG welders. Let's get started.
---
A quick comparison
Product
Image
Product
Details

Hobart EZ-TIG 165i

Suitable for industrial use

Adjustable AC/DC power amp control

Super easy set up system

Eastwood TIG 200

Heavier-duty

Preflow-postflow for cleaner welds

Dual 120/240 input power

PRIMEWELD TIG225X

Well built & well reviewed

Good penetration & smooth consistency

Duel input: 110v & 220v

Miller Electric Maxstar STR

Professional TIG welder

Versitle - runs on 110v to 480v

Wide amperage range

ESAB Rebel EMP215ic

Automatic settings with override

Heavy-duty design for outdoors

Dual 120/240 volt input

Lincoln Electric TIG 200

TIG machine for aluminum

Powerful but portable machine

Excellent for a garage welder

Everlast PowerTIG 255

Pulse modulation frequency up to 500 hertz

True low amp operation

Duel AC/DC welding

Weldpro Digital TIG 200GD

Excellent reviews

A lot of features for the money

Duel input: 110/220v AC/DC

Amico TIG-160DC

Light weight welder

TIG / STICK / ARC 2-in-1 Welder

Capable of welding up to 3/8" Stainless steel

Mophorn TIG-165S

Dual input voltage 120/240

TIG Arc 2 In 1 Welder

Ideal for beginners
Best TIG Welder with Reviews
Here's a list of the best TIG welders we found on the market:
1. Hobart EZ-TIG 165i AC/DC TIG Welder – Best Value
22 gauge sheet up to 3/16-inch metal
10 to 165 amperage range power output
Fan-On-Demand runs only when needed
Gas shielding based on low amperage or high current
Includes torch and regulator
Input Voltage – 220/230/240 V
Pros
For professional TIG welders
Choose material and thickness to set up
Infinitely adjustable AC DC power amperage control
High-frequency non-contact arc starts
Gas shuts off after arc stops, cleaner welds
Cons
These are TIG welders only, no stick
Overview
Hobart's 500551 EZ-TIG 165i welding machine is a professional TIG welder for industrial use that does TIG AC/DC power welding on thinner materials like 22 gauge sheet, on up to 3/16-inch metal plate. It welds aluminum, stainless steel, chrome moly, titanium, copper and more.
The EZ-TIG name comes from Hobart's setup system. All the user needs to do is select the material to be welded, steel, stainless, aluminum, then the thickness of the metal and the system will make sure the correct settings are already dialed in. Featuring a high-frequency arc start, allowing you to strike an arc by pressing the pedal, we chose the Hobart EZ-TIG 165i as our Pro Value TIG Machine. This hf start feature prevents contamination of the tungsten electrode by avoiding any contact with the surface.
American made in Appleton, Wisconsin, the EZ TIG 165i features Hobart's 5-year warranty. The EZ-TIG has a fan system that only operates on cooling demand to avoid sucking extra dust into the machine or wasting power. This 210/220/230 input voltage welder also has a 40 percent duty cycle at its rated power. Based on inverter power, it's lightweight, easy to use and includes a foot pedal, Miller TIG torch and regulator. The Hobart 500551 Ez-TIG is a great selection.
---
2. Eastwood TIG 200 AC/DC TIG Welder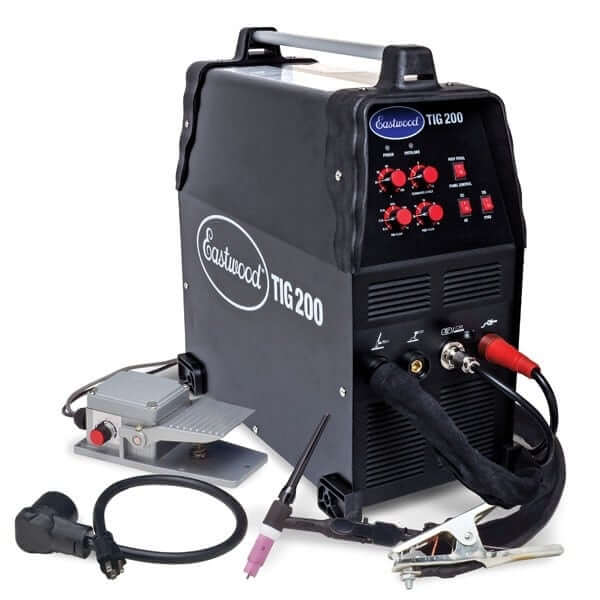 Square wave inverter
DC and AC TIG welding
Dual 120/240 input power
Welds up to ¼-inch plate
3-year warranty
Pros
High frequency pilot arc
Duty cycle 60 percent at 90 amps
WP-17 torch is the industry standard
Preflow-postflow for cleaner welds
12-foot torch connection
Cons
Users don't like the foot pedal
Overview
The Eastwood 200 is a favorite source for automobile restoration shops. It's well known for body and paint tools, metal working machinery, blasting cabinets, body hammer sets and heavy tools for frame-off restoration work. The Eastwood TIG 200 welder is heavier-duty than usually seen from equipment targeted at small shops and DIY crafters. The ability to weld in AC gives you the capability for aluminum welding.
With dual 120/240 input power, digital display and a 60 percent duty cycle at 90 amps, the TIG 200 offers more than most TIG welders in its price range. It's a true AC/DC TIG welder with high frequency no-touch arc control, capable of welding up to ¼-inch plate steel. With an industry standard WP-17 torch setup, it uses easy to find replacement parts.
The pedal control was mentioned frequently by users as something they didn't like about this welder even though they love the machine's welding capabilities. It's a standard piece that can be replaced easily to get the performance you want. Eastwood was smart enough to include preflow and postflow gas metering to put the shielding in place before and after the welding is active. This makes for higher-quality welds without porosity and oxidation. The Eastwood TIG 200 comes with a 3-year warranty.
---
3. Primeweld TIG225X AC/DC TIG Welder
Pulse Width Modulation
Inverter powered
High frequency arc starting
Includes regulator
Duel input: 110v & 220v
Pros
Has a CK17 US-made torch
Includes metal foot pedal
Extra wide 10 to 225 amperage range
200 hertz pulse frequency
3 year warranty
Overview
Primeweld's TIG225X TIG welder offers the most versatile and easy to use mix of features available on a DC welder in this price range. Inverter based hf start power with pulse width modulation delivers a 10/90 pulse ratio from 10 to 225 amps, an incredibly wide amperage range for its class.
A 200 hertz pulse frequency makes for a smooth TIG welder and adds true TIG ability for using one side of the AC cycle to clean the weld puddle. This machine has a 100 percent duty cycle at 108 amps, enough power output to weld continuously on ⅛-inch metal. It has a 40 percent duty cycle at full power rating.
Primeweld backs the TIG225X with a 3 year warranty and highly rated US-based customer service. The TIG225X ships with a metal foot control, a regulator and the much-loved CK17 American made torch with flex lines. This allows the upgrade to water cooling by purchasing the upgraded CK20 equipment.
The TIG225X is dual 120/240 volt input capable and offers a lot of adjustability with a stunning array of adjustments on the front panel. 225 amps can weld ½-inch metal plate and 10 amps can get you all the way down to 24 gauge sheet metal.
---
4. Miller Electric Maxstar STR TIG Welder – Best Overall
1- and 3-phase input voltage
Uses any power source from 110 to 480 volts
Memory card data port
Updatable software
Sleep timer powers down idle machine
Pros
One of the best AC/DC TIG welders in its class
High frequency arc starting
Settings memory makes it easy to use
10 amp low amperage power output welds thin sheet metal
100 percent duty cycle at 175 amps
Cons
Doesn't include TIG torch
Overview
The Miller MaxStar series with hf start is one of the newest additions to the Miller Electric TIG welding machine lineup, designed for professional DC TIG welders for use on stainless steel and mild steel. DC is possible for welding aluminum, but it's a welding process not often done in production environments because careful cleaning and helium/argon mix add too much expense. The MaxStar can provide a means to do it if called on, however.
The MaxStar welding machine has a standby power switch on the front panel that puts the machine into a sleep state to conserve power when it's not welding. The Miller Electric TIG Pro-Set system provides factory presets to get you up and running quickly.
The wireless remote means this AC/DC power machine is easy to use from 300 feet away without having to walk all the way back to where it's stationed just to make adjustments. This is just one more feature designed for industrial use on this amazing Miller Electric TIG welder.
Our top pick, the Miller Electric MaxStar 210 STR is a great value, featuring a wide amperage range with improved low amperage operations, allowing much smoother control when welding sheet metal. A memory card port lets you save settings between machines. Auto-Line multi-voltage input, AC and DC capability and Miller's 3-year warranty give the MaxStar 210 our Pro Choice pick.
---
5. ESAB Rebel 215ic DC TIG Welder
Flux core, MIG and TIG
Large display screen
3-year warranty
Dual 120/240 volt input
Heavy duty weatherproof case
Pros
User manual on the display
Includes MIG gun and TIG torch
Comes with a gas regulator
Automatic settings with override
On-board parts list
Overview
The ESAB Rebel EMP215ic TIG welder is designed to IPS23 standards for outdoor duty. The case is built to industrial standards for all-weather use. It's got dual 120/240 volt input, 40 percent duty cycle and is one of few multi-process TIG welders that do both MIG and TIG in addition to flux core, but it's not AC/DC power output.
ESAB equipped the Rebel 215 with a big, high resolution digital display for settings that's also got the user manual and parts list loaded into it. This easy to use machine lets you save four presets for each welding process. There's a 2T/4T switch with a trigger lock for long welds to save hand fatigue.
ESAB's Smart MIG technology adapts to individual styles, making small incremental improvements to the machine settings as you go. There's also an automatic settings feature where you input wire diameter and plate thickness and the machine processor sets up for you. This feature has an override for experienced welders and special situations.
The Rebel 215 carries a 3-year warranty and ships with Tweco MIG and TIG torches, and has a Victor regulator.
---
6. Lincoln Electric 200 AC/DC TIG Welder
Dual voltage 120/240 input
AC/DC processes
10 to 200 amperage range for TIG
Pros
20 pulses per second for heat control
60 to 90 percent AC balance control for TIG cleaning
High frequency no-touch arc starting
Includes a foot controller
Comes with a nice regulator
Cons
Quality control is inconsistent
Overview
The Lincoln Electric Square Wave TIG 200 is a 200 amp portable TIG welder for hobbyists, craftsmen, artists and small fabricators. It's easy for beginners with advanced features to take advantage of as experience grows.
This is an AC and DC machine, welding from 24-gauge sheet up to 3/16-inch plate. For aluminum, the AC TIG process on this machine has a pulse signal system for smooth filler metal deposition, yielding more beautiful work. Pulse modulation offers the ability to clean the weld puddle as it goes. It's also got adjustable AC frequency for adjustable bead width.
An easy settings interface, 40 percent duty cycle and dual 120/240 input voltage make for a convenient welding machine that can be used anywhere. Lincoln Electric offers a 3-year warranty for this welder. There are some reports of this welder failing in the shop without much use, so a good warranty offers some peace of mind.
The Square Wave TIG 200 comes with a foot pedal, a flow meter-type gas regulator, a TIG torch and a 10-foot hose.
---
7. Everlast 255EXT AC/DC TIG Welder
Dual 120/240 input power
TIG 240 volt duty cycle 100 percent at 200 amps
Multiple AC wave forms
2T/4T torch trigger lock switch
DC and AC TIG welding
Pros
High frequency and lift arc start
Pulse modulation frequency up to 500 hertz
Gas preflow and postflow for better shielding
5/90 AC balance control for weld puddle cleaning
240 electric TIG power output 3 amps to 250 amps
Cons
Comes with water cooled torch but no water cooler
Overview
The Everlast is a DC and AC TIG pulse welder with dual 120/240 volt input power with a 100 percent duty cycle at its rated power. It features gas preflow and postflow, which starts the shielding gas just before the arc strikes and then waits until after the arc is off before shutting off the gas. This keeps the weld cleaner and means less chance of porosity in the weld bead.
Everlast gave this electric TIG Welder multiple AC waveforms, which let you fine tune the arc characteristics for TIG aluminum welding. Home workshop welders might never need to decide between true sine, two kinds of square sine or triangular waveforms. However, it's nice to have the ability when your welding skills advance to the point where it's useful.
The Everlast PowerTIG 255EXT is also equipped with a digital display, settings memory and microprocessor-powered easy setup parameters. The high-frequency no-touch arc start means avoiding any contamination of the tungsten electrode. There's a stitch weld timer for doing spot welds and the Everlast PowerTIG welding machine comes with a 5-year warranty on this machine. 3 amp to 200 amp range lets you weld from 24-gauge sheet up to 3/8-inch plate.
---
8. Weldpro Digital TIG 200GD AC/DC TIG Welder
120/240 volt dual power
2T/4T hold switch
Wide 10 amp to 200 amp operating range
Comes with a foot pedal
Pros
High frequency pilot arc
200 hertz pulse modulation
Preflow/postflow for cleaner wedlds
AC and DC welding
AC balance for cleaning oxidation
Overview
The Weldpro Digital TIG 200GD TIG Welder is an easy to use TIG welder that runs on dual 120/240 volt input power and has both DC and AC TIG with 200 hertz pulse width modulation for variable bead width. The adjustable AC balance goes from 30 to 70 percent and cleans aluminum oxidation while delivering good weld penetration.
The Weldpro Digital is equipped with a CK17 torch with a flex head that uses standard American parts. There are quite a few complaints about quality issues with the heat control pedal. The Weldpro Digital TIG 200GD features a 2T/4T switch that works as a torch lock. This lets you make long bead runs without needing to hold the torch trigger down while MIG welding.
These TIG welders offer a wide 5 to 200 amp TIG AC range when using a 240 volt power source. There's up to 140 amps on 120 input. The AHP AlphaTIG 200X includes a high-frequency no-touch arc start, keeping contamination away from the tungsten electrode.
The Weldpro Digital TIG 200GD has a digital display and it's backed with a 2-year warranty and includes MIG and TIG torches, a regulator and an electrode clamp.
---
9. Amico TIG-160DC TIG Welder
Dual 120/240 volt input power
High frequency TIG torch
IGBT inverter technology
1-year warranty
Pros
15-220 amps working range
runs on "dirty power" fluctuations
Light 16-pound weight
60 percent duty cycle at 220 amps
13-foot torch connection
Cons
Doesn't include a gas regulator
Does not weld aluminum
Overview
The Amico TIG-160DC is a low cost, dual input 120/240 volt welding machine that plug into any common power supply. Rated to 160 amps DC power when running on 240, it's also capable of DC stick welding as well. The 60 percent duty cycle at 220 amps is pretty impressive for any machine in this price range. Another impressive feature on the TIG-160 is the high frequency lift-type arc start.
This is an inverter-powered welder, making for a light, powerful package. The Amico TIG-160DC is equipped with a forced fan setup to keep things running cool longer, one of the reasons it has such a good duty cycle at max power. This machine comes with a 13-foo torch lead. The electrode clamp and grounding clamp connections are each 10 feet long.
Amico ships the TIG-160 with an 8-foot argon hose and a 120 volt adapter to allow plugging into 20-amp household current. Some users weren't happy with the lack of a gas regulator, but it's not uncommon for machines in this price range to ship without one. The Amico TIG-225 comes with a 1-year warranty.
---
10. Mophorn TIG-200 TIG Welder
TIG machine or arc welder
Infinitely adjustable amperage knob
TIG amperage range from 20 amps to 200amps
Dual input voltage 120/240
Pros
Arc stick welding/argon welding switch
8-foot torch lead
Only weighs 20 pounds
Inverter powered
Lift start arc instead of scratching
Cons
Hand controller only, no foot pedal
Overview
The Mophorn TIG-200 welder is our Budget TIG welder in this roundup because for the money, there's a lot to like here. Dual 120/240 dual voltage input power, 60 percent duty cycle and 200 amp power output on a machine in this price range is simply amazing.
It also offers the ability for either TIG or stick welding process, a wide 20 to 200 amp TIG operating range, hot start and an infinitely adjustable analog amperage control.
One significant disadvantage is the lack of a pedal control. The TIG-200 uses a fingertip control instead. Unfortunately, it does not accept any available pedal system, either.
This isn't a deal-breaker given the price, but just think about it. The TIG process already takes a hand to use the torch and a hand to feed welding rod into the puddle. An added hand control doesn't make a difficult job any easier. The foot pedal has its place in TIG work.
With that said, users reported smooth welding and many were amazed at the price vs. performance value of this TIG machine.
---
Our TIG Buying Guide
Whenever you're shopping for the best TIG welder, the main factors that should determine your choice are:
What types of projects will you do the most?
What specific functions do you need?
What is your budget?
What Types of Projects Are You Planning to Do?
TIG welding is most suitable where bead appearance is important, like in bicycle frames or on truck bumpers, lawn furniture and the like. It also is the most appropriate way to weld very thin sheet metal, because stick and MIG processes put too much heat into the metal and result in burn-through.
Aluminum and stainless steel are the other main places where using a TIG welder is the best way to get the work done, because of its penetration and lack of contaminants in the weld.
What Kinds of Functions are Required for Your Work?
Although it's possible to weld aluminum with DC current, you will frequently see the rule that you must use AC output to weld aluminum. One reason for this is that AC welding allows the use of high-frequency pulses that keep the weld puddle clean. Another reason is that a primary advantage of TIG welding is heat control, a highly important factor in welding aluminum.
Options to look for in regard to available functions are AC vs DC capability, plasma cutter, ability to select the AC waveform, for example square wave or true sine wave and an adjustable pulse rate.
Multi-Process Machines Offer More Functions for Your Money
A multi-process welder can give you more versatility for the same money. Sometimes they can offer MIG or plasma cutter ability along with TIG.
How Much Can You Spend on Your Machine?
In the end, there are enough functions and technology choices available when buying a TIG to drive welder costs to the same level as building a house.
It's important to decide what functions and equipment are most important and staying under your final number to find the best TIG welder for the money. Don't forget to take the length of the warranty into account.
What to look out for
Some equipment is essentially necessary, such as a foot pedal to control heat or a flow meter-type gas regulator.
Does the TIG welder you're looking at include these items?
Will you need to buy higher-quality pieces to get the real potential out of the welder?
Check The Duty Cycle Rating
Check the duty cycle rating of the welding machines and the output power they're rated at for that percentage.
Duty cycle is the percentage of 10 minutes in which the welder can operate continuously before overheating.
A 40 percent duty cycle means you can weld for 4 straight minutes at the rated power. That's actually quite a long time to weld continuously. You will find that the more expensive American machines seem to have much lower duty cycle ratings than the less-expensive Chinese-built welders even though they cost more.
Remember the old adage about something seeming too good to be true.
This has to do with ratings methodology and the fact that the expensive big-name companies are more cautious because their equipment is used by professionals on long shifts over years in tough environments.
Gas Cylinders
Don't forget to budget in gas cylinders, the cost to fill them and optional but important parts like water cooling.
This is the Big Leagues
TIG welding is a big step up from basic welding skills, and TIG machines cost a lot more than other welders, offering obscure features not found on other machines. Educate yourself at welding forums and manufacturer's websites on what terms and functions mean before spending your money on something you don't even need.
With those factors taken into account, we believe the Miller MaxStar STR is the best TIG welder as it offers the most bang for the buck. Features like memory card storage, wireless remote control, Miller's legendary customer service and the lengthy warranty are some of the big reasons why we selected the MaxStar as our Pro Choice in this guide. Don't sleep on the Hobart EZ-TIG 165i though, as it offers excellent value.
Other TIG Guides
Recommended TIG Welders Under $2000