Feature-rich, lightweight, and inexpensive, the freshly upgraded Eastwood Elite 200 Digital TIG welder offers a lot to beginners and professionals alike.
It supports AC and DC TIG with advanced functions and includes far better accessories than expected at this price.
But the Elite 200 Digital TIG isn't without some faults and limitations.
So, I recommend you read my review thoroughly to see if this machine is for you.
(Hint: It over-delivers for most users, but professionals may struggle to get some jobs done.)
Summary of the Eastwood Elite 200 Digital TIG Welder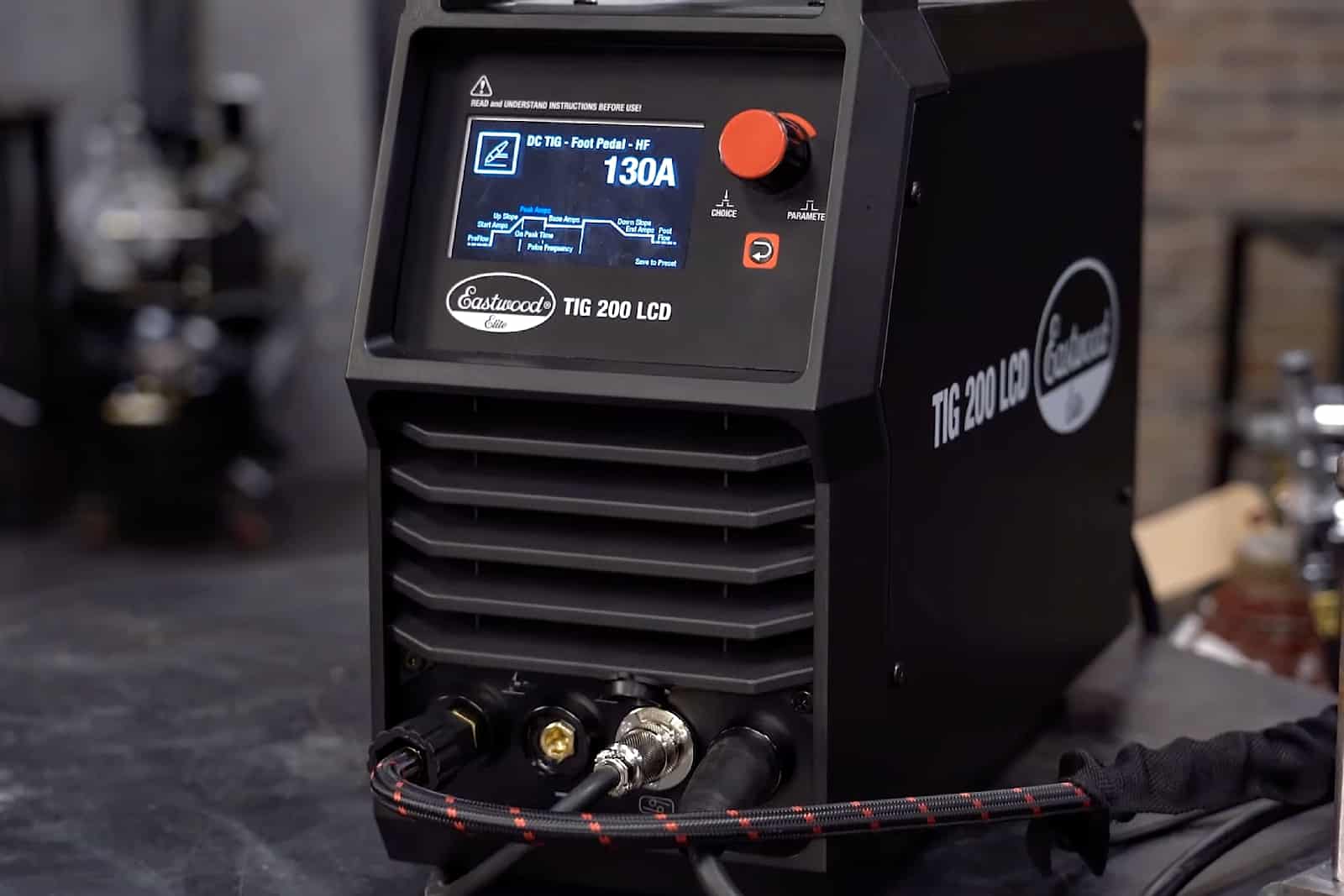 Its light and compact body and dual-voltage input make the Eastwood Elite 200 an excellent choice for pros welding on the go.
In addition, its large LCD screen with an intuitive menu makes it very easy to set up, even for complete welding beginners.
Eastwood is a USA brand with a long history, and the Eastwood Elite 200 is their best TIG welder yet. It has a very good build quality and a 3-year warranty, which is on par with the price.
However, what I find most impressive is the sheer amount of features and functions the Elite 200 Digital provides at a fraction of the big brands' cost.
Tech Specs
Feature
Eastwood Elite
TIG 200 LCD
Processes
TIG, Stick
Current Output
AC/DC
Input Voltage
120V / 240V
TIG Output 120V
5-120A
TIG Output 230V
5-200A
Display
LCD
TIG Duty Cycle
20% at 200A
Pulse TIG
0.5-200Hz
AC Frequency
40-200Hz
AC Wave Form
Squarewave
AC Balance
20-80%
Starting Method
High Frequency
Machine Weight
34.17lbs
Torch Included?
Yes
Foot Pedal Included?
Yes
Pre and Post Flow Control
Yes
Warranty
3-Year
WeldGuru Rating
★★★★ ½ 
Buy
Latest Deal on
Eastwood
Rating Overview
Performance: 5/5 – The Eastwood Elite 200 has exceptional arc quality at this price. The arc is stable and doesn't wander. The pulsed feature performs far above its price point. With some TIG skills, you can make excellent-looking welds on almost any metal and all types of joints.
Power: 4/5 – This machine offers more than enough power for most jobs. But its 20% duty cycle at 200A output isn't enough to make long, single-pass welds on thick metal, especially pipe welding.
Features: 5/5 – You won't find a TIG welder produced by a reputable USA brand with this many features at such a low cost. The Eastwood Elite 200 comes loaded with advanced functions, and they all have a wide operating range.
Portability: 5/5 – This is easily one of the most portable AC/DC TIG machines on the market. With a weight of just 34 lbs, a compact body, dual-voltage input, and a sturdy top handle, you can bring the Elite 200 wherever the job takes you.
Price: 5/5 – Considering the included functions, high-quality accessories, long warranty, and the machine's quality, I couldn't ask for a better price. Compared to Everlast, Lincoln Electric, and a few other brands, the Eastwood Elite 200's price is too low. But let's hope it stays that way, as the low price is one of the things I like the best about their brand!
User Satisfaction: 5/5 – While this is the newly launched update of their previous Elite 200 model, it satisfies most users. I don't see how anyone would feel buyer's remorse on such a powerful machine at the lowest price bracket.
Manufacturer support: 4.5/5 – The manufacturer's manual is simple to read and understand, but I did find a few areas where they could improve it. For example, you can find the TIG's 2T/4T mode selection explained on the page with stick welding parameters, which is confusing. Other than that, Eastwood's customer support is friendly and ready to help with any issue you may have.
Overall Rating 4.5/5: – I wanted to give it a 5/5 rating since you won't find this much value elsewhere. But I can't give it a maximum grade until they provide at least a 40% duty cycle at 200A.
Pros
Excellent arc and build quality
Large LCD screen
Freshly released
Includes all professional AC/DC TIG functions
Pulsed and regular AC/DC TIG output
Supports AC/DC stick welding
Highly portable
Accepts 120/240V input
Includes a flex-head torch with a 12-foot cable
Includes a high-quality foot pedal with a 16-foot cable
Comes with gas-lens TIG kit and a flow-meter type gas regulator
Lowest output is 5A
2T/4T support
HF start
Supports pre and post-flow settings
Easy to set and use
Supports memory function
Cons
Low duty cycle
Build quality is good but not "elite" as described in the machine's name
Minor instruction manual design flaws
No VRD
Using the advanced TIG functions requires some trial and error until you get the hang of them
Stick electrode holder isn't included
What To Know Before Buying the Eastwood Elite 200 Digital TIG
I don't have many negatives about the Elite 200, so I'll have to nitpick a bit. Still, you should be aware of its weak sides before purchasing.
Not Designed for Industrial Use
While the Eastwood Elite 200 is an exceptional machine in this price range, the word "elite" in its name may exaggerate some aspects.
This welder is not designed for heavy-duty use in harsh conditions, like construction sites, shipyards, off-shore platforms, and similar areas with a lot of dust, water, and humidity.
Truly "elite," high-end welders have IP23 or better protection, while Eastwood's machine has a standard IP21 protection rating. But IP23 is unrealistic at this price, so this isn't a con.
In addition, its 20% duty cycle at 200A may not be enough to weld very thick metals in one pass, depending on the weld's length.
However, you're unlikely to need a longer duty cycle for DIY jobs. Even if you weld thick metal, you don't have to do it in one take.
I know I'm nitpicking here, but just be aware that the Eastwood Elite 200 is for hobbyists and light professional use, like auto body and small welding shops.
Best Features of the Eastwood Elite 200 Digital TIG Welder
Now, let's shift our focus to its positives. The Eastwood Elite 200 is a fantastic choice for hobbyists, beginners, and professionals who don't need to weld thick materials.
It's a budget-friendly TIG welder that offers the best bang for the buck in this price range.
AC & DC TIG
You can weld aluminum, magnesium, and their alloys with its AC TIG output and steel, stainless steel, copper, nickel, and titanium alloys with its DC TIG.
So, unless you weld thick metal, the Elite 200 TIG welder is an all-around machine for almost any job.
AC & DC Stick Welding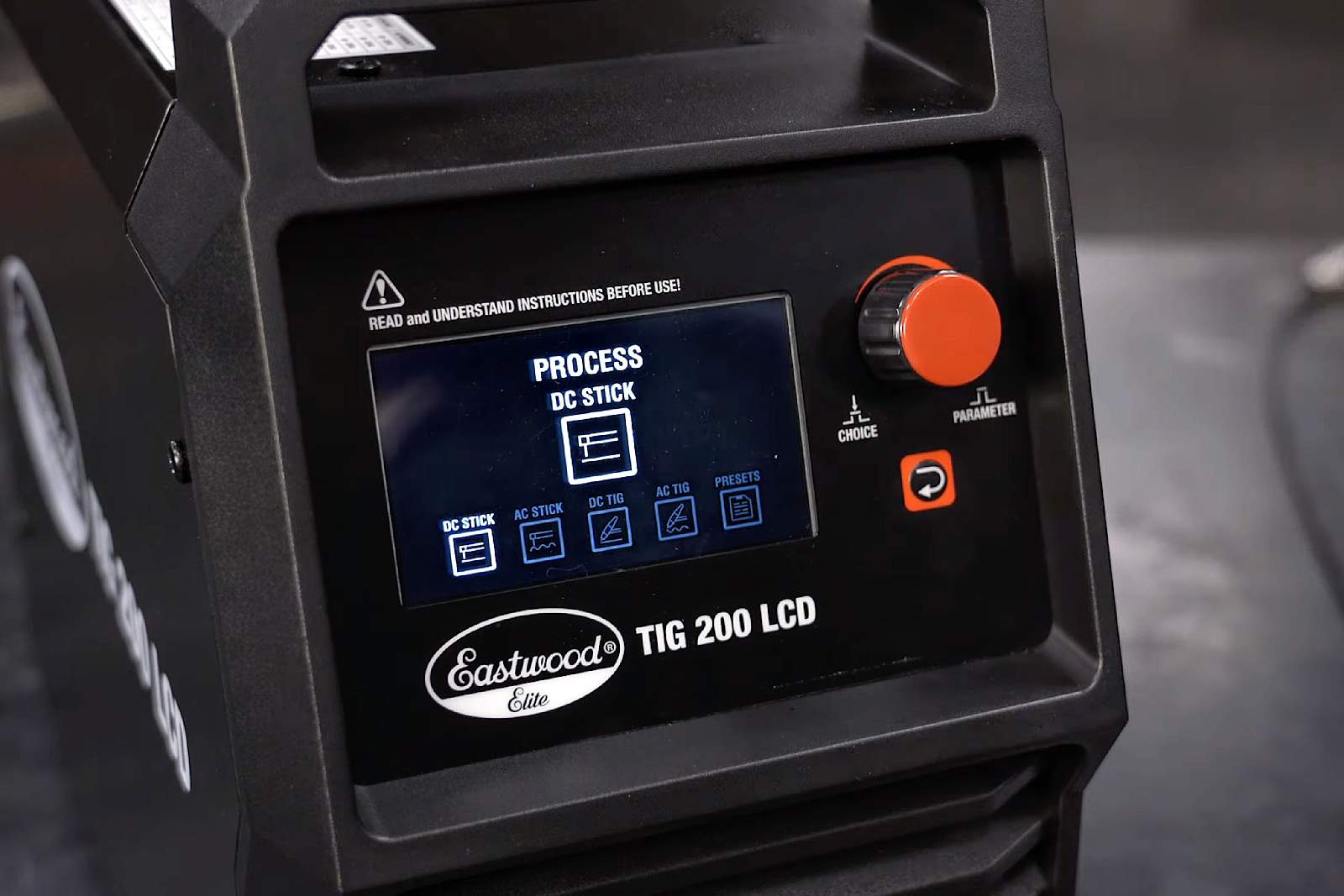 While almost every modern stick welder outputs direct current, having the "outdated" alternating stick welding current is a welcome addition. Since DC has a more stable arc than AC, many have forgotten certain AC stick output benefits.
Experienced welders use AC stick welding to solve the issue of arc blow and excessive spatter due to electromagnetic forces in the welded metal in certain joints and welded piece geometries.
Electrical current flow through the welded material can create turbulent electrical "puddles," which can "burst" and create excessive spatter when two different metal parts are seam welded in certain geometric configurations. (i.e., welding two vertical pieces to one horizontal element).
The arc blow occurs when welding magnetized metal (typically machinery parts) or when the welding circuit magnetizes metals prone to it. You can solve the excessive spatter and arc blow by using AC stick welding. While these issues are rare, having this function is useful.
Pulsed TIG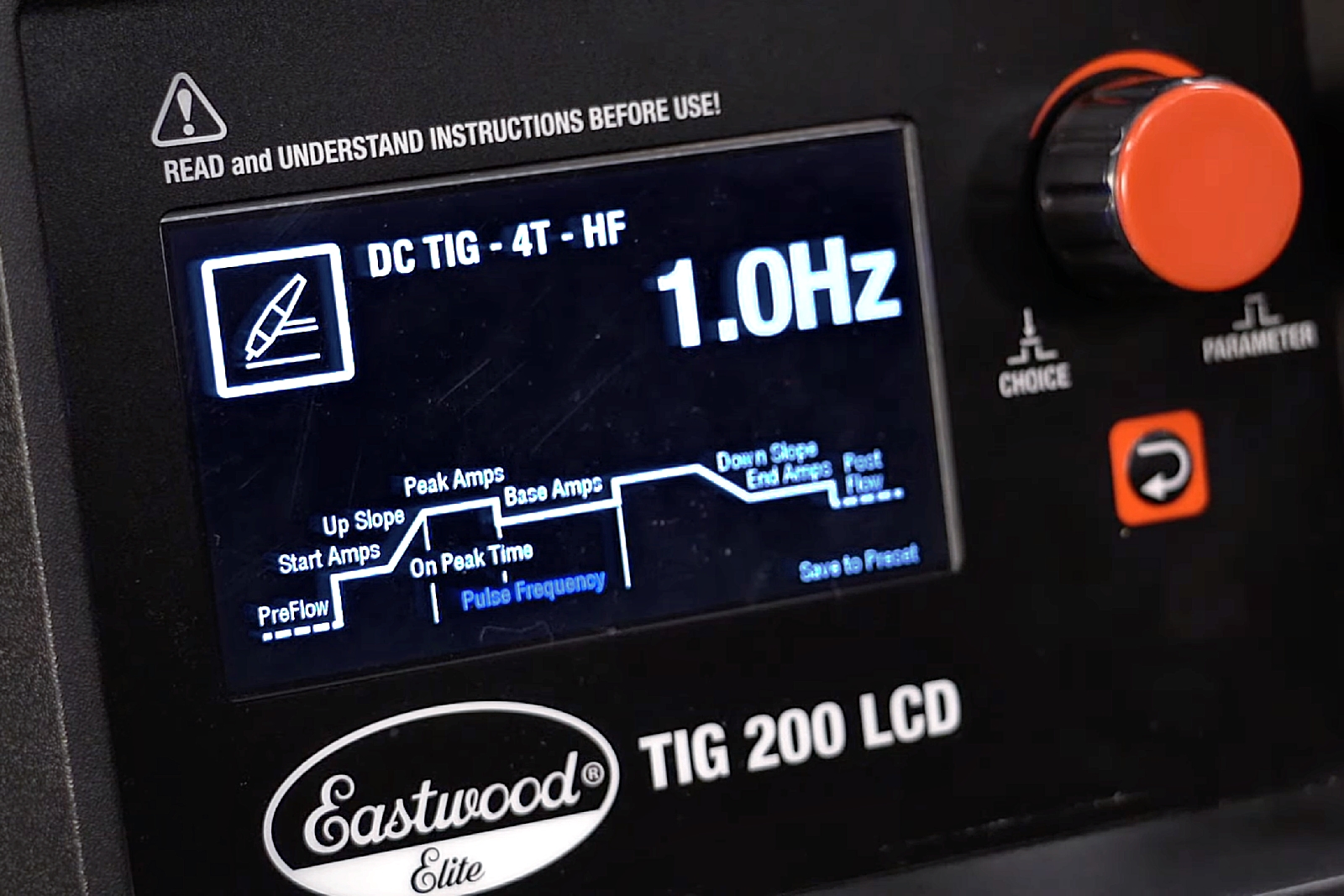 Pulsed TIG is the most beneficial advanced TIG function, which can help you prevent excessive heat input, warping, and negative metallurgical changes of the welded metal. In addition, pulse makes TIG welding overhead much easier because it keeps the puddle from falling on you.
By alternating between the peak (high) and background (low) current output many times per second (pulses), pulsed TIG reduces the average heat input while maintaining the weld penetration.
The Eastwood Elite 200 supports AC and DC pulsed TIG. So, you can pulse on stainless steel and aluminum. Both metals highly benefit from pulsed welding.
Stainless steel is a sensitive metal that doesn't like heat, especially austenitic stainless, which is what you'll weld 90% of the time. If you overheat it, the weld will look ugly and won't retain corrosion resistance. But you'll have a better chance of making aesthetically pleasing welds using high pulses per second ("PPS"), like above 100. However, some welders like using just 1 PPS, which helps to time the filler rod addition and makes it easier to achieve a stack-of-dimes appearance.
Aluminum is easy to burn through, especially thin sheets. Even using just 1 PPS makes welding thin gauge aluminum far easier.
Advanced AC TIG Functions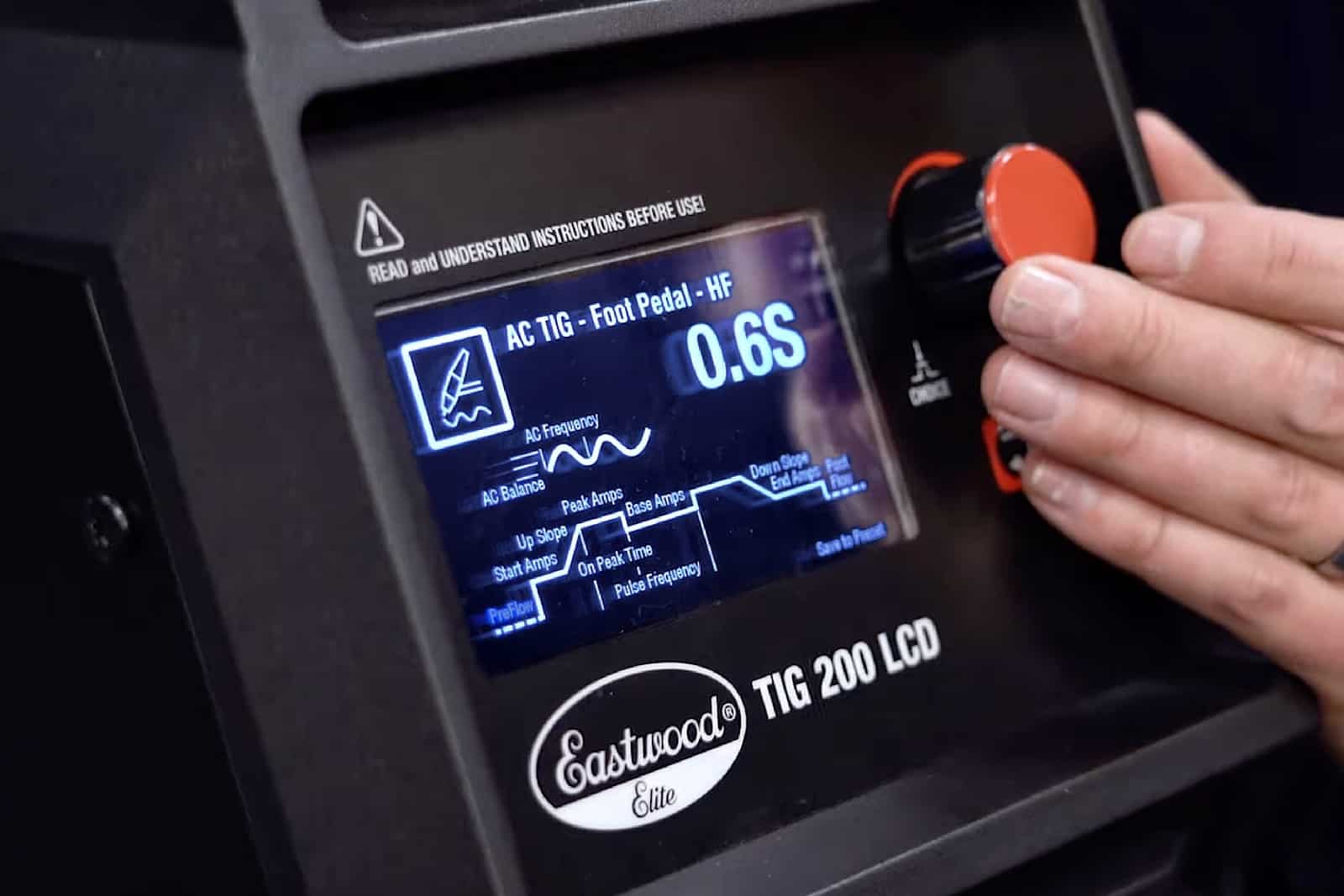 Apart from pulsed TIG, you can adjust AC frequency and AC balance. Both are important for some AC TIG welding tasks, and the Elite 200 supports a wide adjustment range.
AC Frequency – This setting narrows or tightens the welding arc, making it easier to weld edges and repair lost corners or burned thin stock.
AC Balance – This setting lets you set how much penetration (DCEN) and oxide cleaning action (DCEP) you want when welding aluminum. If you weld dirtier aluminum, you'll benefit from a higher cleaning action. But when welding thick aluminum, crank up the DCEN part of the AC.
High-Quality Accessories Included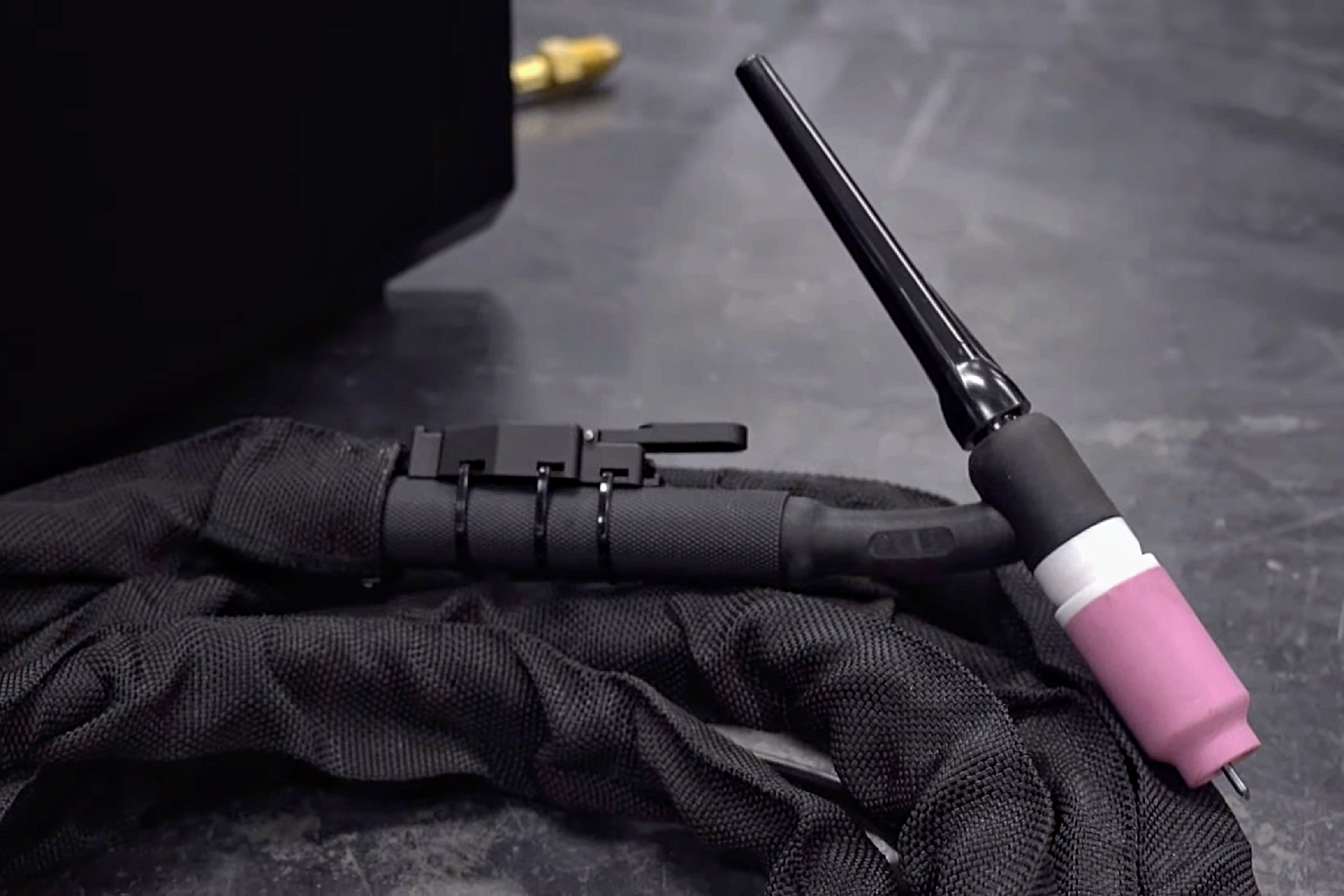 Typically, inexpensive TIG welders include a regular TIG torch with a standard collet body kit and a plain twin-gauge shielding gas regulator.
However, the Eastwood Elite 200 has a flex-head torch, a gas lens kit, and a flow-meter-type regulator. Many people get these anyway, so it's just an additional cost you have to make if you want a premium welding experience.
Luckily, Eastwood includes these from the start and cuts your costs down the line.
Flex head torch lets you access tight spots and adjust the torch to your joint and hand positions.
Gas lens kit provides better shielding gas coverage than standard collet body TIG torch consumables. It's highly beneficial for welding sensitive metals like stainless steel.
Flow-meter type regulator lets you visually confirm that the set shielding gas output is correct. Guage-type regulators can get stuck and mislead you. So, you can accidentally weld with inadequate shielding gas coverage and ruin the weld due to porosity.
In addition, the included foot pedal is sturdy, large, and sensitive enough for accurate, real-time amperage output adjustment. The pedal control has a 16-foot cable, enough to accommodate any work area.
Very Easy To Use
Thanks to its large LCD and intuitive menu, you can easily set all parameters. You may not even need to use the manual, but it explains every setting in great detail if you do.
The front panel only houses a screen and two buttons. One is a back (return) button, and the other is an infinitely adjustable knob that duals as a selection button.
The setup process is so simple that even beginners can set and weld in minutes.
Memory Function
One of the premium features you'll get with the Eastwood Elite 200 is memorizing your favorite settings.
The memory function is usually available on high-end industrial machines like ESAB Rebel models or the Miller Dynasty series, which have a drastically higher price tag.
Saving and re-using your settings makes welding much easier by pre-setting various functions for the different material types and thicknesses you usually weld.
Saved settings can also work as a great starting point. It's easy to fine-tune your functions if you need to weld slightly thicker or thinner material than the memorized setting allows.
Alternatives in This Range
The only alternative to the Eastwood Elite 200 I can suggest is the Lincoln Electric Square Wave TIG 200.
However, Lincoln's machine is not a value choice. Eastwood's unit is far cheaper and has more features.
Lincoln Electric Square Wave TIG 200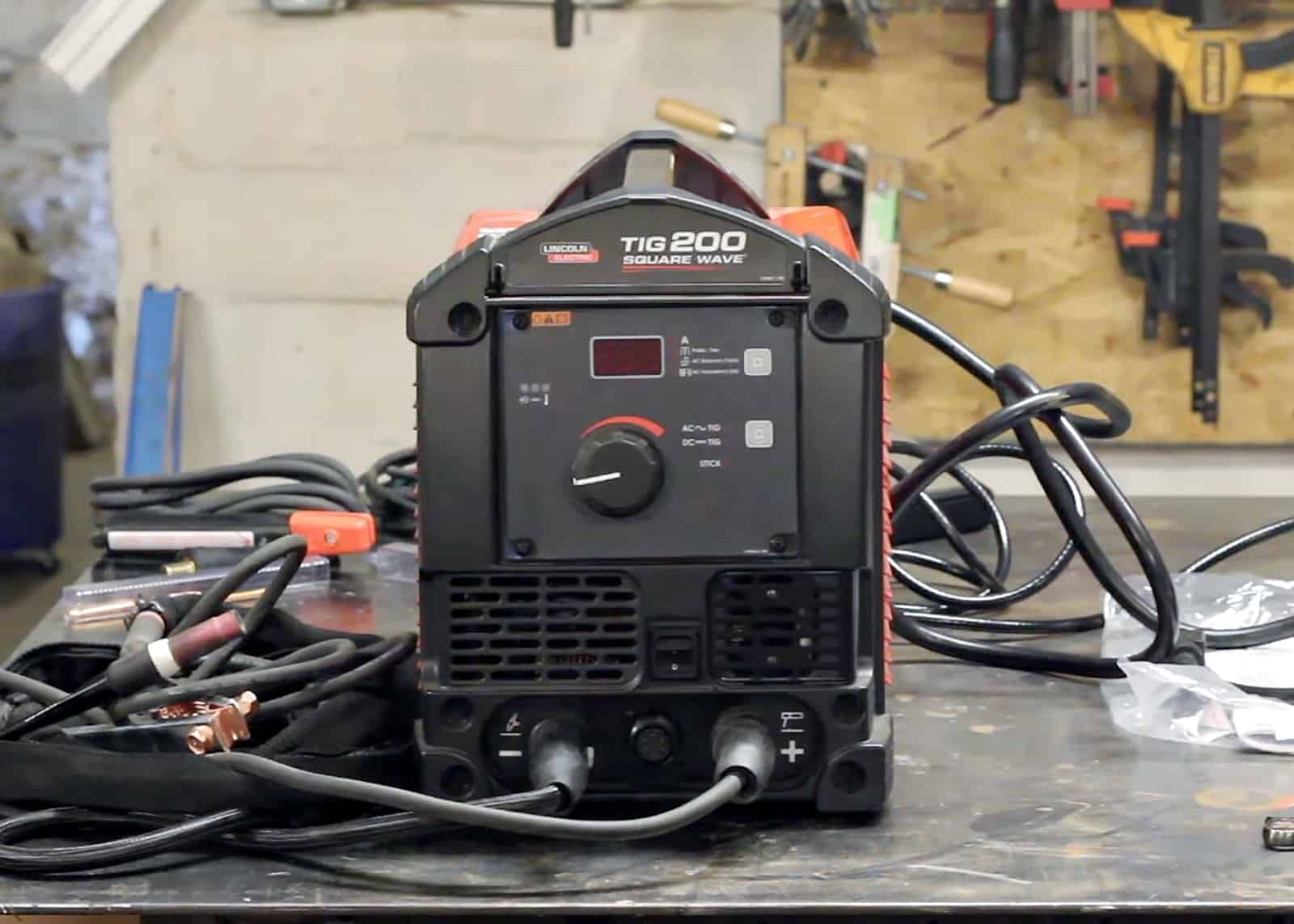 The Lincoln Electric Square Wave TIG 200 is a relatively expensive AC/DC TIG welder. It also offers the pulsed TIG, AC balance, and AC frequency settings.
However, it has limited functions compared to Eastwood's model. For example, the Lincoln Electric's unit has a ten times lower pulse frequency with a maximum of 20 PPS.
Lincoln's model has better build quality and may even last longer. It's impossible to comment on longevity since Eastwood's welder is new.
However, Lincoln's model is almost ten years old, so it's time-tested. But Lincoln's age is a double-edged sword since it has outdated function ranges, and it lacks some features like pre and post-flow settings, which are standard nowadays.
The Eastwood Elite 200 also has the advantage of a large LCD screen, while Lincoln's machine only has a small, old-fashioned digital display. Still, some people love brand-name welders, and I understand them.
You buy a Lincoln, and it should last you a long time. But Eastwood is also an American brand with a long history. So, Eastwood's lower price, same warranty length, and additional features take the lead in a head-to-head comparison.
Feature
Eastwood
Elite 200
Lincoln
TIG 200
TIG Output
5-200A
10-200A
Duty Cycle
20% at 200A
25% at 200A
Pulse TIG Frequency
0.5-200Hz
0.1-20Hz
Adjustable Pulse Ratio?
✅
❌
AC Balance
20-80%
60-90%
AC Frequency
40-200 Hz
60-150 Hz
Display Type
LCD
Digital
Memory Function
✅
❌
Adjustable Pre & Post Flow?
✅
❌
Adjustable Slope Control?
✅
❌
Weight
34 lbs
46 lbs
Warranty
3-Year
3-Year
Price
$$
$$$$
WeldGuru Rating
★★★★ ½ 
★★★★ 
Buy
Latest Deal on
Eastwood
Check
Amazon
Final Verdict
The Eastwood Elite 200 AC/DC TIG welder is probably the best budget TIG machine with professional features.
I recommend it for hobbyists, metal artists, auto body shops, and professional welders. But pros won't be able to make long welds on thick metal or work in harsh environments.
Those are the only caveats to this machine, and neither is a dealbreaker considering its low cost.