Multi-process welding machines save space, labor and money.
They do that by combining multiple welding processes into a single box.
But your shop needs the right set of processes to make a real difference.
And how do you find one for the right price that can work all day?
Here are eight multi-process welders worth taking a look at.
---
A Quick Comparison
Product
Image
Product
Details

Eastwood Elite MP200i

Spot weld timer

Dual-voltage input

Digital display

Hobart Multi Handler 200

MIG, TIG, Flux-core, stick

Spool gun ready

Great alternative to Miller 215

YesWelder MIG-205DS

2T/4T trigger lock

Dual-voltage power

MIG/TIG/flux/stick

Lincoln Electric 210 MP

Very easy to use

Runs MIG, TIG, flux core & stick

dual 120/240 volt input

Lincoln Electric LE31MP

MIG, Flux-cored, Stick, DC TIG

Fully adjustable wire drive

120 volt input power

Forney Easy Weld 140

Stick, MIG and DC TIG welding

Infinitely adjustable controls

Input: 110/120v

Weldpro MIG200GDsv

Mig/Tig/Arc

Highly rated

Dual Voltage 220V/110V

Vulcan OmniPro 220

Color LCD screen

Dual-voltage input

Savable settings
Best Multi-Process Welders On The Market
Here are eight of the best multi process welding machines on the market
1. Eastwood Elite MP200i Multi Process - Best for the Money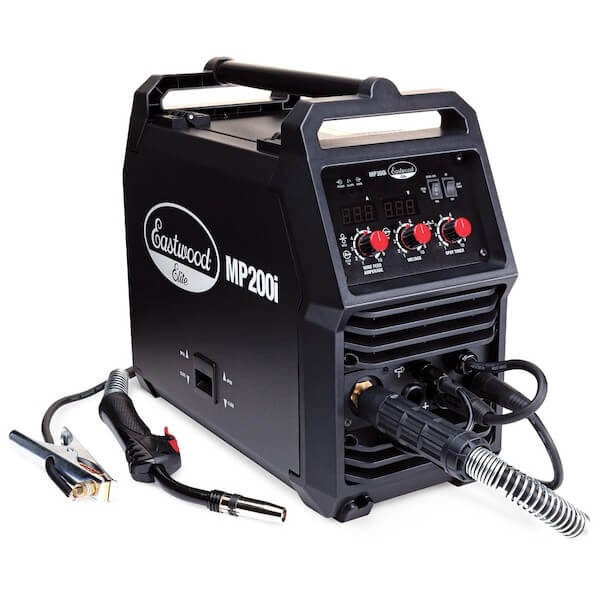 MIG, TIG and stick weld
Dual-voltage input
Spot weld timer
All-metal wire drive
Weighs 34 pounds
Pros
Includes gas regulator
Trafimet EP24 MIG gun
WP-17v TIG torch
Fits 4- and 8-inch spools
Optional spool gun
Cons
Scratch start TIG
Not foot-pedal ready
Overview
The Eastwood Elite MP200i Multi-Process Welder features dual-voltage input power, plugging into 120 or 24 volts with a 30-amp breaker circuit. This professional-quality welding machine features MIG, TIG and stick welding. On 120 volts, the MIG and TIG hit 90 amps, the stick mode 70 amps. Running on 240 volts, MIG and TIG reach 200 amps and stick to 170 amps. If you need more juice, check out Eastwood's Elite MP250i, which is designed for professional shop use, includes casters and adds some more punch at the top end.
This machine welds from 22 gauge sheet metal up to 3/8-inch steel. The Eastwood Elite MP200i Multi-Process Welder comes with a digital readout, making it easy to monitor your output numbers. Settings knobs are infinitely adjustable. As a DC TIG machine, it's not intended for welding aluminum with TIG, but Eastwood offers an optional spool gun to weld aluminum using the MIG process.
The Eastwood Elite MP200i Multi-Process Welder ships with a gas regulator for TIG shielding gas, a Trafimet ERGOPLUS 24 MIG gun, WP-17v TIG Torch, both with 10-foot connections. The arc welding electrode clamp is 13 feet long.
---
2. Hobart Multi Handler 200 Multi Process Welder
DC TIG, stick and MIG
20-200 amp range
24-gauge sheet to 3/8-inch steel
30 percent duty cycle
Quick select drive system
Pros
Excellent alternative to the Miller 215
Dual 120/240 volt power
Loads both 2- and 10- pound spools
Spool gun ready
Easy to use, only two knobs
Includes TIG torch
Cons
TIG regulator not included
No TIG foot pedal
Overview
The Hobart Multi Handler 200 Welding Machine is the company's first multi-process machine for the consumer market. If you like the Miller 215 but can't justify the price, the Multi Handler 200 offers a good alternate choice. This is a dual-power machine, able to run on either 120-volt or 240-volt input. It features an all-metal wire feed drive that mounts either 4-inch or 8-inch wire spools.
Power output for the Multi Handler 200 ranges from 20 to 200 amps. In MIG and flux core mode, it welds from 24-gauge sheet metal up to 3/8-inch thick steel plate. In stick mode, the minimum thickness is 16-gauge, with the same 3/8-inch top-end capability. TIG mode is in between the other ranges, with a material range from 22-gauge to 3/16-inch steel.
It also includes a 12.5-foot TIG torch, but unfortunately doesn't come with a foot pedal heat control. It has a plug-in interface to accept an optional Hobart foot pedal, however. As a DC TIG machine, it's not intended for aluminum, but you can easily plug in the optional Spoolrunner spool gun to weld aluminum in MIG mode. There's a 10-foot lead on both MIG gun and the stick welding electrode holder.
---
3. YesWelder MIG-205DS Multi-Process Welder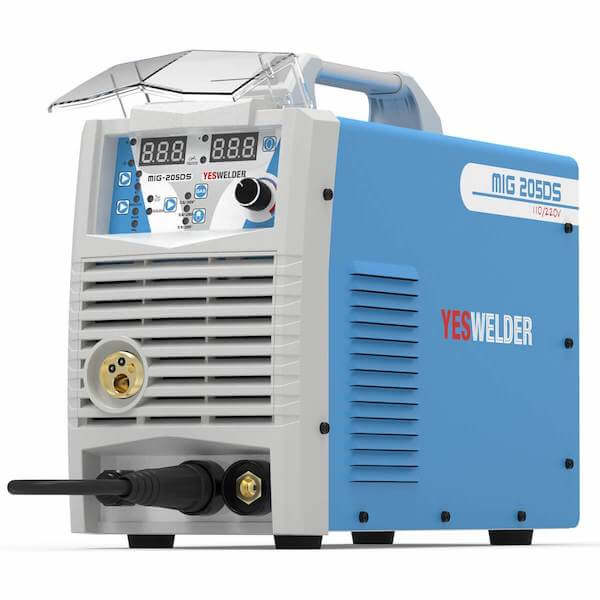 Dynamic arc adjustment
2T/4T trigger lock
Small footprint
Dual 120 and 240 power
MIG, flux-core, DC TIG, stick
Pros
Excellent value for beginners
Bright LCD display
TIG arc with lift starting
Mode selection with one button
Weighs only 33 pounds
Front panel cover flips up
Cons
Not spool gun capable
No TIG torch included
Overview
The YesWelder MIG-205DS Multi-Process Welder offers a flip-up plastic dust cover that protects its digital control panel from the harsh welding environment. The machine features a 2T/4T trigger lock, making long welding runs easier to do without causing hand fatigue. Dynamic arc control with synergic settings can monitor the arc while you weld, modifying the settings on the fly and changing variables in real time to provide a higher quality arc.
This welder offers MIG, TIG, stick and flux core processes in one box. One digital button on the control panel lets you switch easily between processes. You'll need to buy a TIG torch to run the DC TIG, but once you do, it's simple to set up. As a DC TIG, the YesWelder MIG-205DS Multi-Process Welder won't TIG weld aluminum and it can't take a spool gun for MIG aluminum work, but you can weld aluminum in stick mode with aluminum welding rods.
The YesWelder MIG-205DS Multi-Process Welder has a wide output range, delivering the capability to weld from 24-gauge sheet metal to 1/4-inch thick steel. The choice of 120-volt or 240-volt power round out a great set of features, with lots of power at a great price.
---
4. Lincoln Electric MIG 210 Multi-Process Welder
Dual 120/240 volt input power
10-foot torch connection
Color LCD display
MIG, Flux-Cored, DC Stick, DC TIG
3-year warranty
Pros
Easy onscreen setup
Very wide 20-220 amp range
Comes with a gas regulator
Includes nozzles for MIG and flux core
Internal gas solenoid
Cons
Drive spindle sometimes out of round
Doesn't come with a TIG torch
Overview
The Lincoln Electric PowerMIG 210 MP is a versatile and powerful machine. It offers MIG, DC TIG, DC arc welding and flux core processes with a very wide output range from 20 amps up to 140 amps when running on 120 volt input and 210 amps on 240 volt input. At 20 amps, you're able to weld as thin as 28 gauge with MIG and flux core, even thinner with TIG. At the other end, using 240 volt input, running 210 amps you can go to 5/16-inch thick steel plate.
One quality control issue with this machine is the wire feed spindle can be out of round, causing jams when the wire won't feed smoothly. This is a warranty issue. Lincoln will replace it, but you need to make your claim while the machine is under warranty. The only other real drawback is the lack of a TIG heat control pedal.
On the plus side, Lincoln Electric is well-known for excellent build quality and durability. The Lincoln PowerMIG 210 MP continues these traditions and Lincoln backs this multi-process welder with a 3-year warranty.
---
5. Lincoln Electric LE31MP Multi Process Welder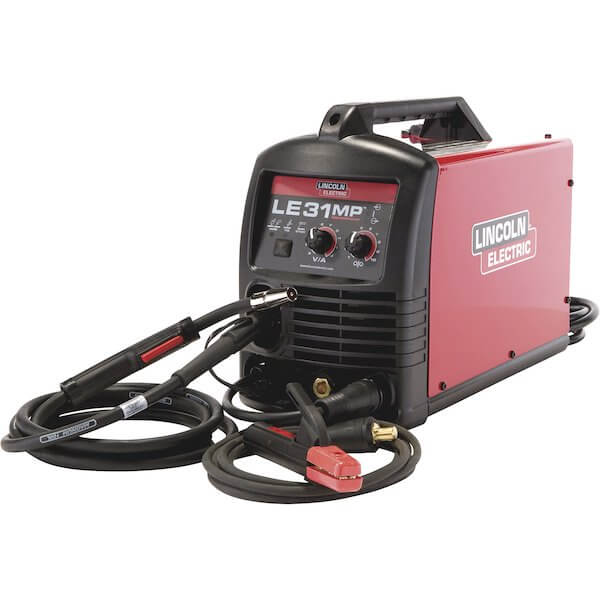 MIG, Flux-cored, Stick, DC TIG
30-140 amp welding range
120 volt input power
Cast aluminum gear box
Brass to brass torch connection
Pros
Fully adjustable wire drive
Includes a gas regulator
Drive tension indicator
24 gauge sheet up to 3/16-inch plate
Internal gas solenoid for TIG
Cons
TIG torch and pedal sold separately
Mexico made, not Buy USA certified
Overview
The Lincoln LE31MP is one very impressive multi-process welding machine. It features a solid aluminum, adjustable gear-driven wire feed that can fit either 1-pound or 10-pound spools of wire. It has an internal gas solenoid that will regulate gas when you pull the trigger for TIG use. For MIG gas, the LE31MP multi-process welder comes with an external regulator.
There's almost no downside to this versatile machine, which offers gas MIG, DC TIG, stick arc and flux core welding. One downside is that to use the LE31MP's highly-praised TIG process, you need to buy a TIG torch and heat control pedal separately (full Lincoln LE31MP review). Another is that even with high build quality, it's made in Mexico and can't meet the Buy American standard required by some government contracts.
Users love the welding quality and the construction of this machine, praising every process it runs. It's able to run from 30-140 amps output power, enough range to go from 24 gauge sheet metal straight to 3/16-inch thick plates. Lincoln backs the LE31MP with a 3-year warranty.
---
6. Forney Easy Weld 140 Multi Process Welding Machine
Stick, MIG and DC TIG welding
Infinitely adjustable controls
10 amp to 140 amp output
All metal wire drive
10-foot MIG connection
Pros
Holds 2 pound and 10 pound rolls
Welds 32 gauge sheet up to 1/4-inch plate
Infinitely adjustable controls
Generator friendly
Standard Tweco-style MIG gun
Cons
Doesn't come with a gas regulator
Needs additional parts for TIG
Overview
The Forney Easy Weld 140 is a high-quality multi-process MIG, flux core, DC stick, and DC TIG welding machine. Because it uses 120-volt input power, it's convenient to use just about anyplace that has a household current available. This machine has an all-aluminum wire feed drive that holds both 2 pound and 10-pound wire spools.
The 10-foot torch connection and electrode clamp allow plenty of choice for placing the machine in the work area, which lets you move around and do better work. One drawback with this particular machine is that to take advantage of the MIG process you have to buy a gas regulator (Forney 140 mp review here). The same is true of the TIG process, which requires an additional torch, electrodes and gas mixture.
With infinitely adjustable wire feed speed and amperage controls from 10 amps to 140 amps, the Forney Easy Weld 140 can use these processes on sheet metal as thin as 32 gauge on up to 1/4-inch plate steel or MIG 1/8-inch aluminum with a spool gun. Forney backs up the Easy Weld 140 with a 1-year warranty.
---
7. Weldpro MIG200GDsv MultiProcess Welder
MIG, stick or TIG weld
Dual digital display
Dual 120/240 volt input
IGBT inverter power
2-year warranty
Pros
Includes MIG and TIG torches
Mounts both 2 pound and 10 pound rolls
Lift-type TIG arc starting
Comes with a MIG gas regulator
13-foot TIG connection
Cons
Does not accept TIG foot pedal
TIG gas regulator not included
Overview
The Weldpro 200 Multi Function brings capabilities for TIG, MIG, flux core, and stick arc welding to your shop. This machine has an all-metal aluminum drive to provide a precision, durable wire feed. The feed mechanism can mount 2-pound wire rolls as well as 10-pound wire rolls. The inverter-type IGBT power source keeps the machine relatively light at 30 pounds.
The TIG function is a lift-type arc start, featuring 2T/4T locking trigger function to keep the arc lit for long welds. To use the machine in TIG mode, you'll need to buy the right gas regulator for it. There is no foot pedal heat control for TIG mode and this machine isn't compatible with one (Full Weldpro 200 review here). The Weldpro 200 does come with the MIG-type gas regulator. The machine includes torches for both TIG and MIG processes.
The Weldpro 200 has dual 120 and 240-volt input power with an output range of 40 to 200 amps. It's got automatic compensation for speed and amperage to maintain arc power while welding. Weldpro gives a 2-year warranty on this model.
---
8. Vulcan OmniPro 220 Multi Process Welder
Full color LCD display
10-220 amps
MIG/flux-core, DC TIG/Stick
Cast aluminum drive
Dual 120/240 volt power
Pros
Spool gun ready
Settings memory recall
132 pre-loaded programs
Automatic settings
24-gauge to 3/8-inch steel
Cons
No TIG torch or pedal
DC TIG not suitable for aluminum
Overview
The Vulcan OmniPro 220 Multi Process Welder features a 4.3-inch color LCD screen. This welder also has built-in automatic setup. Simply choose your process, material type and thickness. You can still adjust or make your own settings and this machine will let you save them to memory for later recall.
This machine offers DC TIG and stick as well as MIG and flux core processes. The dual-voltage Vulcan OmniPro 220 Multi Process Welder welds from as thin as 24-gauge sheet metal up to 1/8-inch steel on 120 volts and 3/8-inch on 240. If you want to run TIG, you'll need to buy torch, pedal and regulator. As a DC-only welder, it's not suitable for TIG on aluminum, but you can plug the optional spool gun in for aluminum with the MIG process.
The Vulcan OmniPro 220 Multi Process Welder is innovative, versatile and well-regarded by owners. Its memory feature, automatic settings and the color screen are usually not all found on one machine, especially in this price range. Harbor Freight includes 132 preloaded settings programs for instant setup as well as letting you save your own.
---
Buyer's Guide
Reasons why multi-process welders make sense:
1. Labor savings from multiple processes immediately available.
2. Space savings by combining multiple machines.
3. Cost less than purchasing several single-purpose machines.
Multi-process welding machines make the most sense for small fab outfits, auto body specialists, and home DIY craftsmen.
One-man operations can save a lot with one main and one backup machine that still costs less than a whole set of specialized machines.
Related: Best Multi-Process Welders Under $1000
Which Functions Do You Need?
There is no single standard that determines which welding processes are included. Some only have MIG and stick processes, others have several like TIG, flux core and MIG and still others will add a plasma cutter.
TIG is the best process for sheet metal, hands down. MIG and flux core can both perform well with sheet metal, but only when the arc is easily controlled and the minimum output is below 20 amps. Many sheet metal professionals prefer TIG welders that get below 5 amps.
If you intend to weld thick steel plate, stick arc and MIG processes get the best penetration. Plasma cutters are extremely useful to fabricators. It really saves money on labor when you only have to flip a couple of switches and connect a torch to cut metal right where you're working.
Saving that walk across the shop to pull a cut adds up to quite a bit of saving over two separate machines.
What's the Main Process?
The nature of welding technology is that any welding power source can run just about any process. The difference with high-end machines offering every process and multiple settings when compared to cheaper machines with two processes and basic settings is simple. One costs more.
You should decide which welding processes carry the highest priority. Each manufacturer will emphasize a primary welding mode to keep costs down. Be sure the primary function of a given machine is in line with your priorities.
Do you need to do heavy-duty welding, cut quickly and keep moving? You need a MIG or arc welder with a plasma cutter.
If you're not cutting on a frequent basis, it might be more cost-effective to buy a plasma cutter separately and get a multi-process machine with MIG, TIG and stick.
What Kind of Work Are You Doing?
If you want to TIG weld aluminum, you need a machine with AC TIG welding. The best-looking welds on aluminum with the greatest strength are from AC TIG machines.
If you're going to do a lot of outdoor work, you need to put a priority on flux core or stick arc processes.
Accessories and Options
If you don't already have the proper TIG or MIG torch, or if you need a heat control pedal for a TIG machine, these should be taken into account when comparing prices. Some machines have features like lift-type arc starts or high-frequency no-touch arc starting for plasma or TIG electrodes. These features actually help to save money by reducing the rate at which consumables wear out. You may find you don't need dual voltage input and get by with 120 volts input power.
Also read: Reviews of MIG welders
Which One's Right for You?
The best choice and value for most welders is going to be the Eastwood Elite MP200i. It's got great features, a nice set of accessories, good build quality and Eastwood's 3-year warranty, extendable to 2 more years at extra cost.
The Hobart Multi Handler 200 Welding Machine gives you big-name peace of mind, a five-year warranty and the Hobart reputation for customer service. Along with an extensive national dealer and service network you get big power, spoolgun capability and the option of plugging in a foot pedal for TIG work.
YesWelder's MIG-205DS is our budget choice for a multi-process welder, with 200-amp MIG, TIG, flux and stick power. It's got great design choices like the flip-up dust cover on the front panel and single-button switching for ease of use. It's versatile, has dynamic arc settings and it offers a lot of flexible power for the money.