Vulcan ProTIG 205 is a well-made AC/DC TIG welder with professional features but a questionable warranty and a relatively high price.
Despite its design for home hobbyists and light industrial use, I don't see it as a value choice for these applications.
Summary of the Vulcan ProTIG 205
In a nutshell, Vulcan ProTIG 205 is a pretty good attempt at a home-hobbyist TIG welder with professional features.
But, it has some limited features compared to other quality brands in this price range. In addition, it ships with medium-quality accessories, while some brands include high-end TIG torches and other equipment in the package.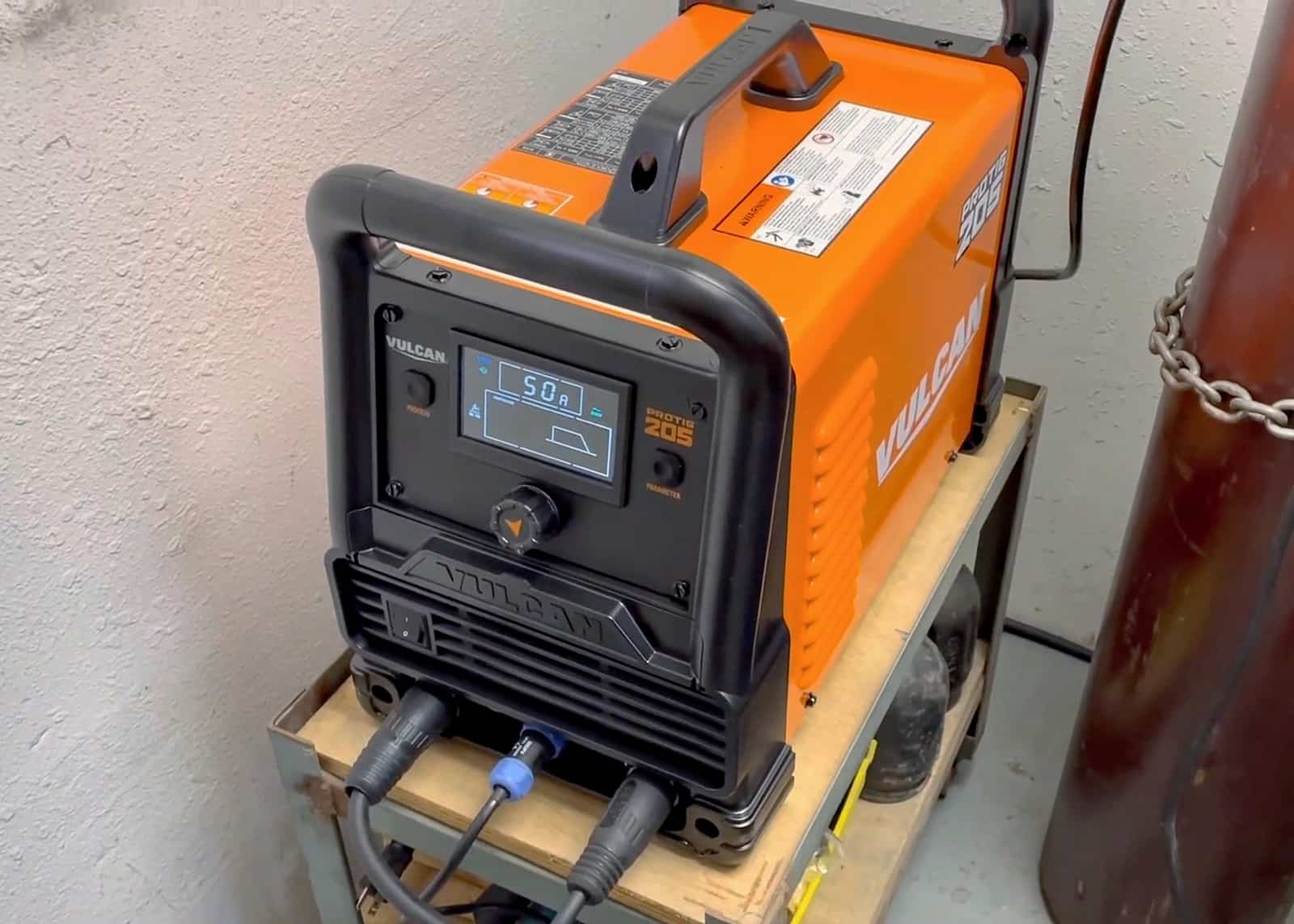 This article is a refresh of the old Harbor Freight Vulcan ProTIG 200. I like the new large display, more intuitive setup, the on-demand fan, and the addition of pre and post-flow settings.
I appreciate Harbor Freight's initiative to upgrade their old unit to stay competitive. But it's not enough when some brands offer more at the same price.
The worst part is their 90-day warranty and the lack of attention to detail, which reduces my trust in the machine's quality.
Key Tech Specs
Processes
TIG, Stick
Current Output
AC/DC
Input Voltage
120V / 240V
TIG Output 120V
10-130A
TIG Output 230V
10-205A
Display
LCD
TIG Duty Cycle
25% at 205A
Pulse TIG
0.1-50Hz
AC Frequency
50-160Hz
AC Wave Form
Squarewave
AC Balance
50-90%
Starting Method
High Frequency
Machine Weight
53lbs
Torch Included?
Yes
Foot Pedal Included?
Yes
Pre and Post Flow Control
Yes
Warranty
90-days
Price
Latest Price
Harbor Freight
Rating Overview
Performance: 5/5 – Vulcan ProTIG 205 has a stable arc with no stutter. You can lay some good-looking welds with it and achieve excellent penetration.
Power: 4/5 – Its maximum output of 205A is enough for most DIY welding jobs. But, making long welds on thick metal in one pass is challenging with its 25% duty cycle at 205A.
Features: 3.5/5 – While Vulcan ProTIG supports advanced TIG functions, some are quite limited compared to welders in a similar price range. In addition, it doesn't support memory function, so you can't save your favorite settings.
Portability: 3.5/5 – This Vulcan welder is portable but far from the lightest TIG welder.
Price: 2.5/5 – With fewer features, worse included gear, and just a 90-day warranty, the Vulcan ProTIG 205 is extremely overpriced compared to similar machines.
User Satisfaction: 4/5 – Many users like this welder from Harbor Freight. Still, some don't appreciate the poor warranty, heavy TIG torch, and relatively low TIG functions adjustability range.
Manufacturer support: 2/5 – While I like that you can take this welder to your local HF store if something is wrong with it, their warranty length is horrible. In addition, the instruction manual has multiple errors that make me question their quality control, and they never publicly shared the operating range of the welder's functions.
Overall Rating: 3/5 – Vulcan ProTIG 205 is a good welder if we disregard the high price and terrible warranty. But, even if I overlook its medium-range accessories and low pulsed TIG and AC frequency operating range, I can't see this as a value welder.
Pros
Advanced TIG functions
Great build quality
Easy to set up
Dual voltage input
Stable arc
Portable
Includes a TIG foot pedal
Fan-on-demand
LCD
Pre and post-flow settings
Large, robust handles for easier transport
Massive fan for better heat dissipation
Supports VRD
Cons
No memory function
Limited adjustability range for TIG functions
No 2T/4T and up-slope and down-slope settings
Low duty cycle
TIG torch is too heavy
Doesn't include a gas lens kit or flow-meter type regulator for premium TIG welding experience
Harbor Freight doesn't publicly show the machine's specs
Poor quality instruction manual
Terrible 90-day warranty
You need to pay more than $300 for a 2-year warranty
What To Know Before Buying the Vulcan ProTIG 205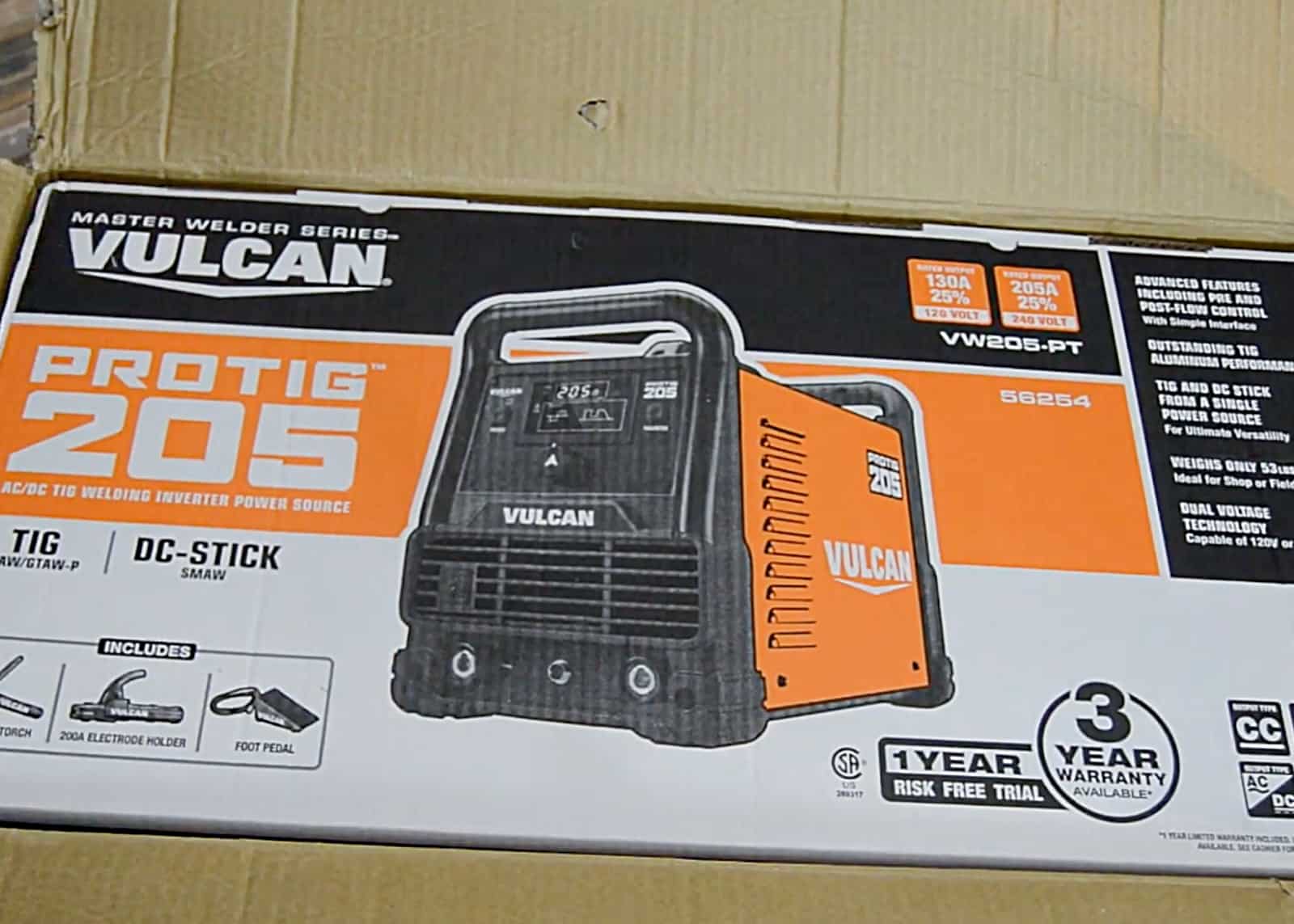 While Vulcan ProTIG 205 is a pretty good TIG welder, you must know its negatives because you shouldn't take them lightly.
I wouldn't recommend this machine since other brands offer more at a similar cost, but I'll do a full comparison with alternatives at the bottom of the article.
Meager 90-Day Warranty & Expensive Warranty Add-On
Harbor Freight provides a limited, 90-day warranty for all of their welders. But, given the hefty price tag of Vulcan ProTIG 205, buying their extended warranty is a must.
So, you'll have to pay an additional $309.99 for a 2-year warranty. The warranty bumps up the price quite a bit and makes Vulcan overpriced.
Most quality brands provide 3-year or longer warranties at this price point. If they don't feel comfortable vouching that this machine will survive over 90 days, why should you feel comfortable buying it?
Imagine if it dies on the 91st day. I don't know what I'd do.
So, I highly recommend getting an extended warranty if you buy this Vulcan model. But, paying for the warranty diminishes this welder's value.
Several brands offer better welders with the warranty included at the same or similar prices as Vulcan ProTIG 205.
So, stripping away the warranty doesn't save you any money. You just lose on features, warranty, and peace of mind.
This welder is also subject to a 20% restocking fee Harbor Freight charges when returning some of their equipment. So, if you decide to return the Vulcan ProTIG 205, you must pay a significant sum.
The Instruction Manual Has Multiple Errors & Lacks Information
I understand that manuals can have errors. Humans make mistakes. But Vulcan's manual is quite troublesome.
First, it doesn't specify the operating ranges of the machine's functions. Neither does their website. This makes the Vulcan ProTIG 205 less user-friendly and harder to compare to similar machines.
As for the errors, I found several, but some can be confusing, like this bit on the "360% duty cycle." While this is obviously a typo, it confuses beginners who don't fully understand how duty cycle works.
Another error is using the AC TIG screen menu to describe the settings of the DC TIG. It's likely a copy/paste error, but it can be confusing. You must manually check if these functions are only available on AC TIG since the DC TIG page shows an AC TIG screen.
This manual never should've passed quality control checks. I noticed these errors just by glancing at the pages.
So, how come nobody in Harbor Freight's management spotted these? I wish they paid a bit more attention to detail. Hopefully, they'll revise these in the next Vulcan ProTIG update.
Relatively Low TIG Functions Operating Range
Vulcan's advanced TIG functions work well; you can make good-looking welds with them. But be aware that their ranges are somewhat limited compared to other brands.
Maybe that's why they don't publish these numbers in their marketing.
For example, Vulcan ProTIG 205 has a TIG pulse mode that only goes as high as 50 pulses per second (PPS).
While better than Lincoln's Squarewave TIG 200, it's nowhere near other competing models, as you'll soon see.
In addition, Vulcan's AC frequency caps at 160Hz, while some brands go as high as 200Hz. These limits can make it more challenging to complete certain jobs.
While not a big deal, why pay a hefty sum for a less capable machine?
No Memory Function
This machine doesn't have memory slots to save your favorite settings.
Some welders support this, which is helpful if you often weld different metals.
But Vulcan can't recall previous settings when welding the same metal and thickness again.
Vulcan ProTIG 205 comes with typical accessories. It includes a regular TIG torch with standard consumables, foot control, and a dual gauge regulator.
But some brands include the following accessories that offer a better welding experience:
Gas lens kit – Gas lenses provide better shielding gas coverage, reducing the chances of weld porosity.
Flex-head TIG torch – Flex-head torches can adapt to your hand and the weld joint. They're particularly useful when welding in tight areas.
Flowmeter-type regulator – Flowmeter-type regulators rely on gravity to display the shielding gas flow and can't jam like dual gauge regulators.
Many people get these on their own, but all three cost over $200. Some brands like Eastwood include these, to begin with.
So, you could save some money by choosing a brand with better accessories.
Best Features of the Vulcan ProTIG 205
Now that I've addressed my concerns about this Vulcan welder, let's look at its strengths.
Advanced TIG Functions
AC TIG – Lets you weld aluminum and magnesium.
AC Frequency – Allows you to narrow or widen the welding arc. It's a great feature when welding tight joints or trying to build up a lost edge on thin metals.
AC Balance – This setting controls the ratio between penetration and cleaning when welding aluminum. The DC+ part of the AC cycle breaks the surface oxides, but sometimes, you may need less cleaning and more penetration (DC-).
DC and AC TIG Pulse – Pulsed TIG is a fantastic feature for welding thin metals, especially sensitive materials like stainless steel and aluminum. It reduces the average heat input and improves puddle control. In addition, it agitates the weld pool, aiding in weld-wetting action.
Pulse Ratio – The pulse ratio allows you to modify the ratio between the peak and background (low) amperage output in each pulse. This feature makes pulsed TIG much more applicable because you can fine-tune it to your needs.
LCD Screen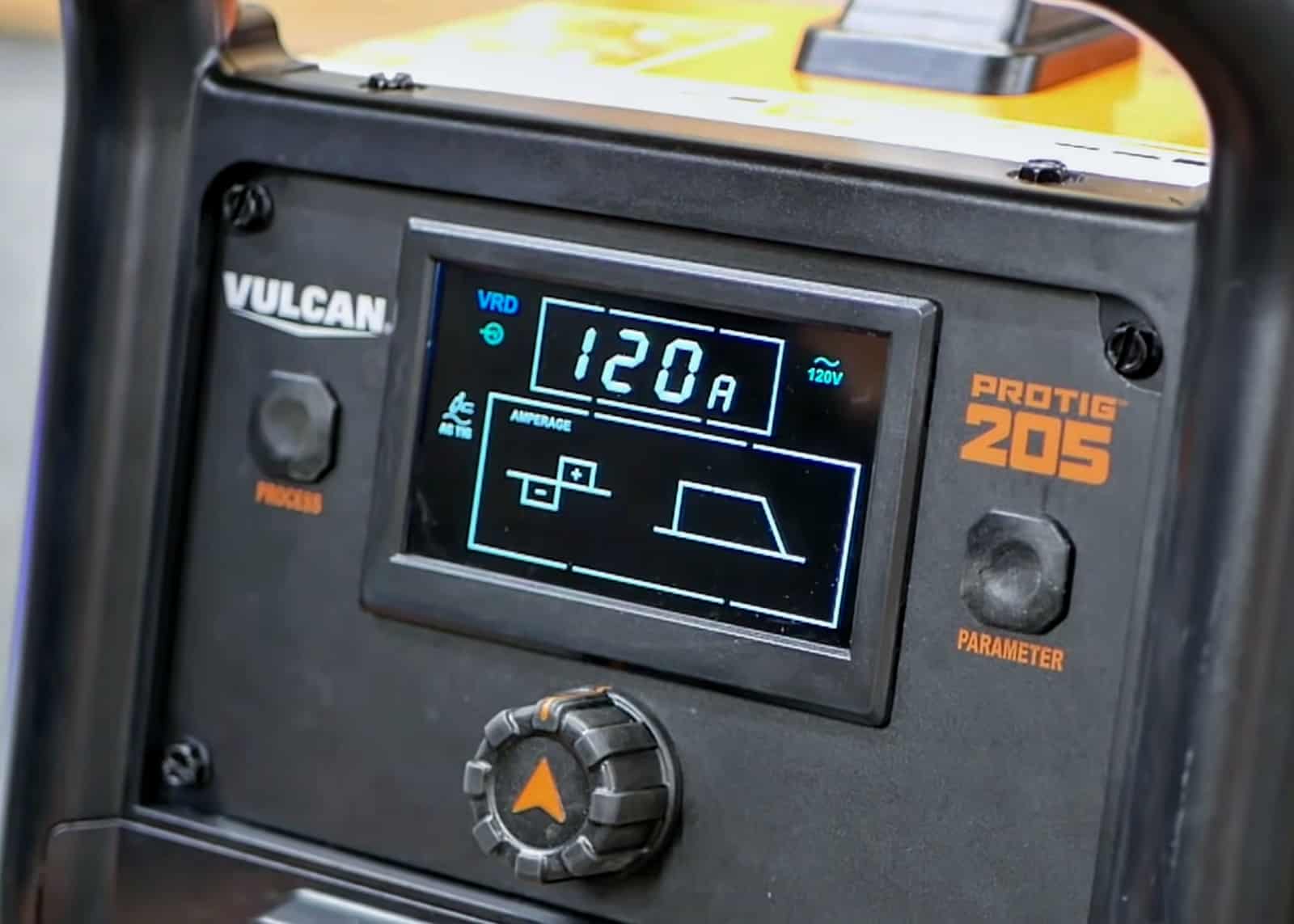 Vulcan's screen is large enough and has a good contrast for visibility.
I also like how it demonstrates the waveform and shows which part you're modifying.
On-Demand Fan
A nice upgrade from their previous Vulcan ProTIG 200 is the fan-on-demand feature. The fan ramps up once you power on the machine but quickly lowers the RPM in the standby mode.
Vulcan's fan is pretty loud when working, so it's good that it's only spinning fast when you weld.
Sturdy Build
While I'm far from satisfied with the warranty, the Vulcan ProTIG 205 looks and feels well-made.
It has a high-quality finish for metal and plastics, a large cooling fan, and thick and robust handles.
My only complaint here is the lack of protection for the front screen.
Alternatives in This Range
I strongly encourage you to consider the Eastwood Elite 200 and Everlast PowerTIG 210EXT over the Vulcan ProTIG 200.
Both offer a significantly better value, a far longer warranty, more features, and better accessories. In addition, both are reputable USA brands with excellent customer support.
Eastwood Elite 200 TIG Welder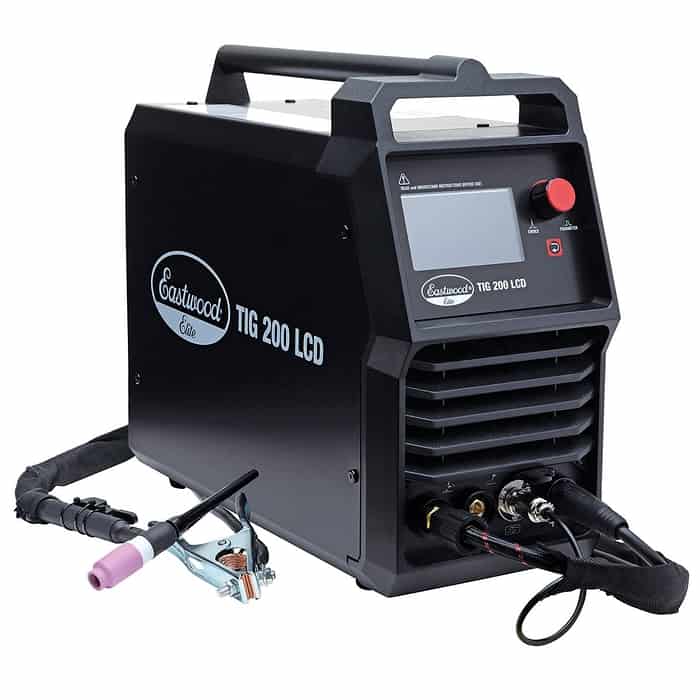 The Eastwood Elite 200 is an AC/DC TIG welder with the best price-to-quality ratio. It includes all of Vulcan's functions but with a wider operating range.
For example, it supports four times higher pulse frequency (200PPS vs. 50PPS) and AC frequency up to 200Hz. In addition, Eastwood lets you save your settings and has 2T/4T and upslope and downslope functions, unlike Vulcan's unit.
You also get premium accessories with Eastwood. It includes a flex-head 17-size torch with a gas lens kit and a high-quality flow-meter type regulator.
The Eastwood Elite 200 has the same price as Vulcan. Eastwood provides a 3-year warranty as standard. But, if you want to, Eastwood offers an additional two years for about $280.
So, you get a 5-year warranty for a lower price than the Vulcan's unit + their 2-year warranty cost.
Now that's a value welder. I hope Harbor Freight starts competing with Eastwood instead of Lincoln, so we get some more value out of the market.
In addition, Eastwood's unit is almost 20 lbs lighter than Vulcan's welder, making it a better choice for welding on the go. It also supports AC/DC stick, while Vulcan only does DC stick.
Eastwood's model has a larger screen, and settings are easier to set. Finally, Eastwood's lowest TIG output is 5A, which helps you prevent burn-through when starting the arc on thin metal.
Everlast PowerTIG 210EXT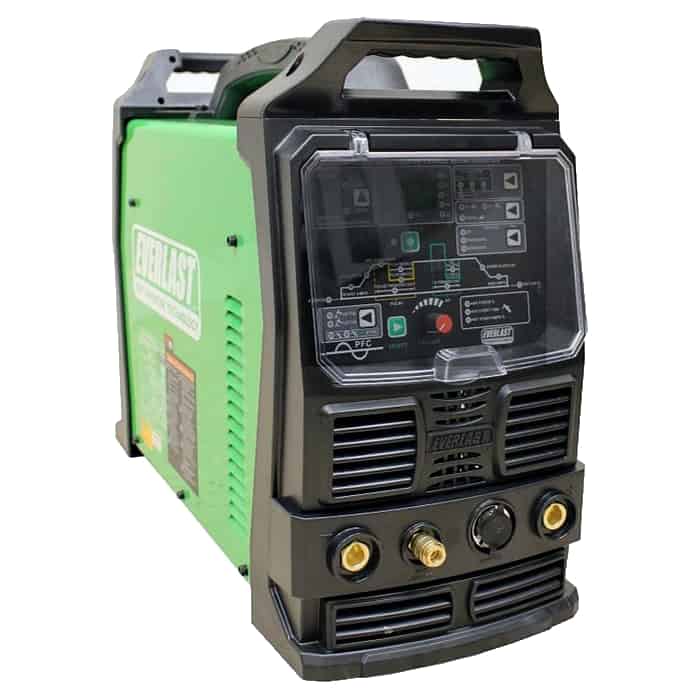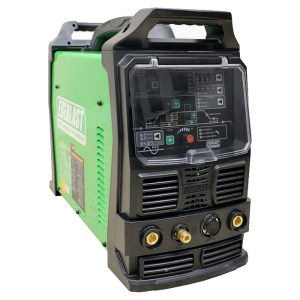 The Everlast PowerTIG 210EXT is a better welder than Eastwood's model and significantly better than the Vulcan ProTIG 205. But it's more costly and not as easy to use.
With a design for high-end applications, you're sacrificing ease of use with this machine.
Besides multiple advanced waveforms and standard AC/DC TIG pulse, Everlast's model includes an advanced pulse oscillating between AC and DC polarity.
As a result, you can make perfect aluminum welds in almost any application.
Everlast's unit also has a significantly higher duty cycle and broader operating ranges for all TIG functions. For example, its DC TIG pulse can go as high as 500PPS, while the AC TIG pulse maxes out at 250PPS.
It has a 5-year warranty and includes two quality TIG torches (regular, not flex-head), a foot control, and a flow-meeter type regulator. But it's heavier than Vulcan and almost twice the weight of Eastwood.
So, unless you need high-end functions, I recommend going with Eastwood's TIG machine.
Feature
Vulcan
ProTIG 205
Eastwood
Elite TIG 200
Everlast
PowerTIG 210EXT
TIG Output
10-205A
5-200A
5-210A
Duty Cycle
25% at 205A
20% at 200A
60% at 210A
Waveforms
Squarewave
Squarewave
Adv. / Soft squarewave & Triangular
Pulse TIG Frequency
0.1-50Hz
0.5-200Hz
DC: 0.5-500Hz
AC: 0.5-250Hz
Adv. AC pulse: 0.5-9.9Hz
AC Balance
50-90%
20-80%
5-90%
AC Frequency
50-160 Hz
40-200 Hz
20-250 Hz
Memory Function
❌
✅
✅
Weight
53 lbs
34 lbs
62 lbs
Warranty
90-Day
3-Year
5-Year
Price
$$$
Latest Deal
Harbor Freight
$$$
Latest Deal
Eastwood
$$$$
Latest Deal
Everlast
Final Verdict
The Vulcan ProTIG 205 is a pretty good welder with good performance, but its warranty is a big turn-off for me. I don't see myself paying for a 2-year warranty plan when competing welders offer a 3-year warranty at minimum for free.
In addition, Vulcan misses some features, and it has many limits on its included functions.
I recommend the Eastwood Elite 200 as an alternative if you're a hobbyist or need a portable TIG machine with professional features.
But, if you have a welding shop, the Everlast PowerTIG 210EXT is a better choice thanks to its wide operating range and additional advanced functions.