Metal cutting can be one of the most tedious and expensive tasks in fabrication.
Plasma cutters work more efficiently, making clean cuts with less heat and more precision, using a plasma torch.
Inverter technology has lowered the costs of plasma cutters. However, serious plasma cutters are still expensive.
You need a high quality air plasma cutter best suited to cutting thick metal precisely. It has to be energy efficient without costing way too much.
We've found 9 of the best models on the market to help you make sure you find the best plasma cutter.
---
A Quick Comparison
Product
Image
Product
Details

Lotos LTP5000D

Extremely good value for money

Can handle 1/2" with clean cut

110v/220v dual voltage

YesWelder CUT55DS

No-touch starting

Dual voltage powered

Includes regulator

Hobart Airforce 27i

Handles 3/8" maximum

Safe for electronics

Built-in filter and regulator

Eastwood Versa Cut 40

Professional quality

Affordable power

20-foot reach

Lincoln Plasma 20

Portable & powerful

Cuts up to ¼-inch steel

Auto refire for gaps

Hypertherm Powermax 45

Designed for production environments

Lightweight & small size

110v & 220v dual voltage

Primeweld Cut60

Continuous pilot arc

Blowback torch

Dual 120/240 voltage

Miller 375 X-Treme

Auto-Refire feature

Cuts up to 3/8-inch steel

110v/220v power source

Titanium 45A

Dual 120/240 power

12-foot torch

Built-in regulator
The 9 Best Plasma Cutters
Here's a list of the some of the best plasma cutters we found on the market:
1. Lotos LTP5000D Plasma Cutter
Dual 110v 220v input voltage
PAPST cooling system
1-year warranty
220v 50 amp output
Weighs only 26 pounds
Pros
Non-touch pilot arc
Cuts 5/8-inch mild steel plate
Includes a pressure regulator
13-foot torch hose
Duty cycle 60 percent at 50 amps
Cons
Doesn't include the connector for 120 input voltage
Cheap grounding clamp
Overview
Lotos has been driving down the price range for entry into the world of plasma cutting. The Lotos LTP5000D continues that tradition with 50 amps of power and a 60 percent duty cycle at an attractive price point. This cutter has no-touch pilot arc starting, capable of cutting up to ⅝-inch stainless steel plate.
The Lotos LTP5000D only weighs 26 pounds and comes with a 1-year warranty. It features 120 and 240 dual voltage input and a PAPST cooling system based on German technology. This machine uses an external compressor for its high-pressure cutting air. Some owners feel that the ground clamp and ground cable is made a little too cheaply.
Lotos includes a pressure regulator and air filter with the machine, already mounted inside. Using a compressed air quick connector for the air compressor, Lotos says the LTP5000D can be set up and ready to run in less than one minute.
Users give the LTP5000D high marks for its cutting performance but have reported inconsistent quality, with quite a few reports of early failures of this model (full review here). However, most also praise the Lotos warranty service for quick replacement of their plasma cutters and free shipping for the return process.
---
2. Yeswelder CUT-55DS Plasma Cutter
Non-touch Pilot ARC
Cuts up to 1/2-inch steel
110-220 volt input
10 to 55 amps output
5-7 cfm at 60 psi
Pros
Postflow cooling
13-foot torch lead
Includes air filter
60 percent duty cycle
2T/4T trigger lock
Cons
Manual is badly written
Regulator touches power cord
Overview
The YesWelder CUT-55DS Plasma Cutter boasts a 60 percent duty cycle at max power. It's able to run clean cuts on steel plates up to 1/2-inch thick. 10 to 55 amps output range is wide enough that you can cut every stage of a metal project from sheet metal to framing and reinforcement work.
A no-touch pilot arc gets you working right away, even when your metal is rusted or painted. The YesWelder CUT-55DS Plasma Cutter features dual-voltage 120/240 volt input, so it's convenient to start working with. There's an extra-long 13-foot torch connection and this machine includes a built-in air filter.
The YesWelder CUT-55DS Plasma Cutter also has a 2T/4T trigger lock for those long cuts and includes a postflow air cooling process as well. The flip-up dust cover for the settings panel is a nice touch. Some owners thought the air supply fitting should be relocated so it doesn't interfere with the power cable.
---
3. Hobart Airforce 27i Plasma Cutter
Up to 30 amp output
Max cut 3/8-inch steel plate
Internal air filter
12 foot torch lead
5-year power supply warranty
Pros
Highly portable
Built-in regulator
120 volt and 240 volt input
Drag torch arc start
Postflow air cooling after cuts
Ergonomic torch design
Cons
No torch standoff shield
Torch starts aren't no-touch
Overview
The Hobart Airforce 27i is a lightweight and portable, medium-duty plasma cutter offering professional features and quality with dual 120-volt and 240-volt input power. It's aimed at professionals and craftsmen needing to cut up to 3/8-inch steel. Hobart machines are American-made in Appleton, Wisconsin. The Airforce 27i plasma cutter is also CSA Certified.
This machine features an ergonomic torch design and 12-foot leads on both the torch and the ground lead. The Hobart Airforce 27i features a built-in regulator, air filter and water separator. Its Fan-On-Demand feature only runs the fan as needed, minimizing the amount of dust and debris drawn into the cabinet. Hobart also included an air post flow feature to cool the cut. It's designed to run on generator power, increasing its versatility for work in the field.
The Hobart Airforce 27i is one of a series of plasma cutters that includes the Airforce 40i, which also includes dual-voltage input and many of the same features. The Airforce 40i has a pilot arc feature that shuts off the torch while it's over a gap and re-strikes the arc once your torch is over the metal again. This is a great feature when cutting grillwork or expanded metal to fit.
---
4. Eastwood Versa Cut 40 Amp Plasma Cutter
40 amps output
Cuts up to 3/8-inch plate
Trafimet CB50 torch
60 percent duty cycle
3-year warranty
Pros
Industry standard consumables
20-foot torch connection
Separate pressure and power adjustments
Dual 120/240 input voltage
Only needs 5-7 cfm air volume
Cons
Short nozzle makes it hard to see
No gouging capability
Overview
The Eastwood Versa Cut 40 Amp Plasma Cutter offers high quality at great savings. Delivering 40 amps of cutting power, this machine has dual-input power, operating at either 110/120 or 220/240 volts using an N50 cable adapter. Plug the 120 cable into the N50 and the machine will automatically sense it's plugged into 240 volt power.
With a 60 percent duty cycle at full power, the Eastwood Versa Cut 40 Amp Plasma Cutter can make clean cuts on sheet metal as thin as 24 gauge. You're able to set air pressure and output power separately, providing a lot of versatility once you get used to running this plasma cutter. This machine features high frequency arc starting, so it's not a suitable candidate for a CNC plasma cutting table.
The Eastwood Versa Cut 40 Amp Plasma Cutter features a Trafimet CB50 torch with a generous 20-foot lead and it's an industry standard piece. The Eastwood Versa Cut 60, next higher in the Eastwood line, will get you the power to cut up to 7/8-inch steel at a great price, but it's a 220V only machine.
---
5. Lincoln Electric Plasma 20 Plasma Cutter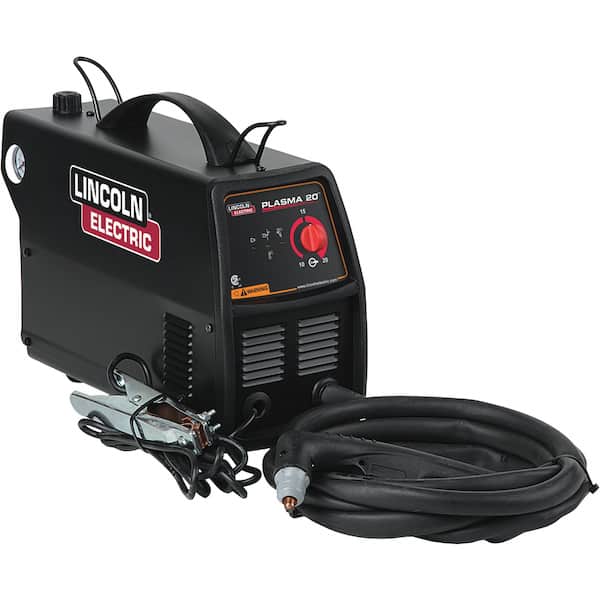 Cuts up to 1/4-inch steel
Weighs just 21 pounds
10 to 20 amp output current
1-year warranty
Pilot arc starting
Pros
No high frequency interference
Integrated hooks for wrapping leads
Auto-refire technology for cutting grates
9.5-foot torch cable
Includes air regulator
Cons
120-volt power only
3-second trigger delay
Overview
The Lincoln Electric Plasma 20 Plasma Cutter is a lightweight, portable yet powerful 20-amp plasma cutter able to cut up to 1/4-inch steel. The lower limit is 10 amps, allowing you to handle sheet metal for auto body or HVAC repairs. Rapid Arc Restrike is an automatic auto-refire technology that shuts off the torch when crossing gaps, then re-strikes when the torch is over metal again.
This machine includes a built-in regulator. The Lincoln Plasma 20 also features air preflow and postflow to cool the cut for greater precision. Some users don't like that the torch has a 3-second delay after pressing the trigger. This machine is flowing cool air across the cutting path during the 3-second start delay.
The Lincoln Electric Plasma 20 is a lightweight machine, weighing just 21 pounds. That makes it very convenient for those tight spots on vehicles and for jobs where it has to go up a ladder. Lincoln designed the Plasma 20 with a 9.5-foot torch and integrated hooks for wrapping your leads when transporting or storing the machine.
---
6. Hypertherm Powermax 45 Plasma Cutter
Lightweight and small size
Max cut 5/8-inch stainless steel plate
10 to 45 amps output
110v 220v dual voltage
3-year power supply warranty
Pros
FastConnect torch connection
Drag-cut makes plasma cutting easy
Torch disable switch for changing parts
Smart Sense auto pressure setting
Wide range of torch styles
Cons
No CPC port for computer control
High initial cost
Overview
Hypertherm is unique because cutting technology is all it sells. This is not a welding machine maker that's branching out into plasma cutting. Laser cutting, water jets and plasma cutters are what Hypertherm is all about. This singular focus on high-quality plasma cutters puts Hypertherm at the top of the industry.
Our top pick, the Hypertherm Powermax 45 produces 10 to 45 amps, enough cutting capacity to precision cut ⅝-inch thick steel plate. It's designed for industrial use to cut metals in factory environments. This machine has dual 240/480 volt power input. Smart Sensor is Hypertherm's system for automatic compressed air settings.
It has a torch disable switch for changing torch components. Quick change technology provides rapid reconfiguration of the torch style and tip sizes for clean cuts. Owners rave about quality work from the Hypertherm Powermax 45, praising the precise cutting, high inches per minute rating and smooth edges. This has a lot to do with why we chose it as the best plasma cutter.
The only downside to this model is the lack of a CPC port to control it with a computer. Fortunately, the port can be retrofitted with a kit from Hypertherm. The Powermax 45 has a 3-year warranty on the power system and a 1-year warranty on the torch.
---
7. Primeweld Cut60 Plasma Cutter
Dual voltage 120/240 input
Cuts 7/8-inch steel
5-year warranty
Continuous pilot arc
20-foot torch connection
Pros
Blowback no-touch arc start
Includes pressure regulator
Front panel air gauge
Includes height management spacer
Great customer service
Cons
Some complaints of air leaks
No settings chart included
Overview
The Primeweld Cut60 Plasma Cutter is a powerful machine, able to cut up to 7/8-inch steel in a single pass. This is a dual-power plasma cutter, ready to run on either 120 volts or 240 volts. It weighs only 21 pounds, incredibly light for a plasma cutter with this kind of power. On 120-volt power it puts out 30 amps, enough for 3/8-inch steel.
The high frequency no-touch arc starting offered by many machines will interfere with digital electronics, making them useless for computer-controlled plasma cutter tables. The Primeweld Cut60 Plasma Cutter gives you computer control ability with a blowback torch. Blowback torches use air pressure buildup on the work surface to start the torch, eliminating digital interference.
The Primeweld Cut60 Plasma Cutter uses a continuous pilot arc. This system lets you cut expanded metal and grating by shutting off the torch over air gaps and re-firing the arc once it's over metal again. It's also very effective on rusty, painted or dirty metal. Users love this machine's 20-foot torch lead.
---
8. Miller Spectrum 625 Plasma Cutter
Dual input: 110v or 220v
Auto refire technology
Automatic air pressure regulation
Duty cycle 40 percent at 30 amps on 240
12-foot torch and ground cables
Pros
Miller XT-30 ergonomic torch
X-Case storage case included
3-year warranty
Lightweight 19 pounds
Cuts 3/8-inch thick steel
Cons
Not computer controllable
Some users mention the torch hose is extremely stiff
Overview
The Miller Spectrum 375 X-Treme Plasma Cutter offers dual-voltage input power, allowing you to plug into either 120-volt or 240-volt circuits. With that kind of versatility, you can use this machine just about anywhere you need to. Miller integrated an automatic air pressure regulation system that evens out fluctuations in the air supply for even, steady cutting.
This plasma cutter includes Miller's XT30 ergonomic torch with a contoured shape and textured grip surfaces. With a 12-foot torch connection and compact size, the Miller Spectrum 375 X-Treme Plasma Cutter is easy to get into those hard-to-reach spots. Miller has equipped this plasma cutter with quick-disconnect leads for fast setup.
The Miller Spectrum 375 X-Treme Plasma Cutter weighs only 19 pounds and comes with a shoulder strap for easy handling. The 30-amp output is enough to cut 3/8-inch steel, and the 27-amp top end on the 120 volt side cuts 1/4-inch steel. The Auto-Refire technology switches the arc off when crossing gaps and restarts the torch once it's over metal. Unfortunately, the 375 X-Treme isn't capable of being computer controlled, so no CNC table for this one. Miller includes a protective carrying case with this machine.
---
9. Titanium 45A Plasma Cutter
120/240 volt Dual input
Built-in regulator
Lightweight 21 pounds
45 amps output
Cuts up to 5/8-inch steel
Pros
12-foot ground and torch
Digital display
Overload protection
Torch includes standoff
Easy setup
Cons
Consumables can be hard to find
Ground clamp is cheap
Overview
The Titanium 45A Plasma Cutter offers dual-voltage input versatility and professional quality in a great price range. 45-amp output is enough power to cut ½-inch steel. The 15-amp lower limit will cut as thin as 22 gauge sheet metal if you cut fast. Harbor Freight included a built-in regulator as part of the design, making for fast setup and quick use, however, there are some flaws with this machine (full review here).
On 120-volt power, this machine puts out 20 amps, which will limit your work to under ¼-inch thickness. Most owners recommend using the Titanium 45A Plasma Cutter on 240 for smooth cutting and reliable performance. Some users felt this plasma cutter needed a better ground clamp, but loved the 12-foot torch length. Digital settings and display make this plasma cutter simple to use and easy to check while you're working.
The Titanium 45A Plasma Cutter offers overheating protection and easy setup. The torch includes a standoff guide to keep the cutting head an optimum distance from the work surface. The built-in copper air filter improves consumables life and lets you use your existing shop air supply. This machine needs 6.6 cfm at 80-110 psi for optimum performance.
---
Plasma Cutter Buying Guide
A plasma cutter greatly improves your fabrication ability, but a cheap plasma cutter may not get the job done. Even if you don't need one for industrial use, here are the primary factors you should consider when looking for the best plasma cutter.
What Type of Cutting Are You Doing?
The work you plan to do is your main deciding factor. If you're only cutting sheet metal, you don't need a big 200 amp plasma cutter intended for 3/4-inch steel plate. For auto bodies and other light-duty chores, a smaller machine costs less to purchase and probably runs on 120 volt power for additional savings.
What Power Levels Are Required?
When considering power needs, first is output power and duty cycle. This decides the upper limit you can cut, and it's also going to determine whether you need 240 volt input or if you can get by on 120 volts. You may decide it's more versatile to have 120/240 dual voltage input power.
Do You Need an Air Pressure Source?
Some machines come with a built-in air compressor. Others require external air from a separate air compressor. Depending on the size of the plasma cutter, an onboard compressor can add significant cost. Although you may need to buy a separate air compressor, it can probably double as a power source for spray guns and air tools.
Do You Need Advanced Features?
There are a few options that add a lot of convenience to the process and make the machine easy to use.
Different Arc Starting Types: Some machines start the arc without touching, some you drag the torch to get going and others scratch start like a welder. One drawback to the high frequency no-touch type of arc starting is that it causes interference with digital equipment like digital gauges, mobile devices like phones and tablets, and interferes with computers and CNC control units.
An alternative to high frequency starting is blowback torch technology. These torches use air backpressure from the work surface to operate a switch that fires the torch. This approach delivers no-touch starts but doesn't interefere with digital devices, allowing CNC usage.
Do You Need Computer Numerical Control? CNC allows a computer control the process. This requires a special rack-type table that moves the torch on a grid system.
Does It Have Air Flow Adjustment? Some machines will allow you to set the amount of time to continue flowing air to cool the metal after you stop cutting. Others include a similar function as an automatic setting.
Specialized Automatic Settings: Some machines change air pressure or electrical current settings to match how you've equipped your torch or to adjust for changing conditions. Some have factory presets and you select material and thickness to start cutting.
Automatic Torch Re-Strike: This function allows the machine to cut across gaps in the metal surface. This can be obstructions such as bolt holes, component cutouts and materials like expanded metal, mesh or grating. An electromagnetic sensor can detect gaps in the metal surface being cut. The torch shuts off automatically as it crosses the gap, then re-strikes the arc when it's over a metal surface again.
Warranty
Warranty periods vary widely, from a few months to several years. The company behind the warranty needs to honor its commitment and provide quick service. Some brands have nationwide dealership networks, making for a quick turnaround. Others might only have one service center in the country or require shipping overseas. Make sure whether you cover the cost of shipping a machine back to the manufacturer or if the maker will bear the cost.
Related Guides
What's our favorite plasma cutter for under 1000 USD?
Now You Choose
We chose the Lotos LTP5000D Plasma Cutter as the Best Overall Choice because of the intersection of price, features, power and customer satisfaction.
We feel the Titanium 45A Plasma Cutter is a good choice because it's priced well, owners love it and if you need support with your purchase, there's a Harbor Freight down the road from you with both parts and supplies.
For those who need an industrial quality, American-made machine, you can't go wrong with the industry-recognized Hypertherm Powermax 45 or the popular Hobart 27i.
Hypertherm is the top-shelf choice for manufacturers and professional fabrication shops.
Hobart built its reputation on industrial build quality, coupled with longevity in the field.