Stick welding is the single most important welding skill.
Because it's so basic to the industry, you better be able to do it well.
But to be a good arc welder, you've got to have a great stick welding machine.
It's got to have deep penetration, controllable arc characteristics and an easy touch.
Check out these real world arc welders and burn some metal the old school way.
---
A Quick Comparison
Product
Image
Product
Details

Hobart Stickmate 160i

Hot Start feature

7018 electrodes holds well

120/240v Dual voltage input

YesWelder TIG-205DS

Includes foot pedal

Dual 120/240 input

Multiple inverters

Forney Easy Weld 180 ST

Lightweight

Dual 120/240V input

Generator friendly

Lincoln AC-225

Extremely rugged

Smooth Arc technology

Lincoln's best seller

PrimeWeld TIG225X

Consistent arc quality

Great customer service

Well known build quality

LOTOS LTPDC2000D

Multi-process

200-amp power

120/240 volt input

Everlast PowerARC 160STH

Stick and DC TIG

Only 14 pounds

5-year warranty

Titanium Stick 225

Burns 6010 rods

Thermal overload

15-225 amps
Best Stick & Arc Welder with Reviews
Here's a list of some of the best stick / arc welders we found on the market:
1. Hobart Stickmate 160i Arc Welder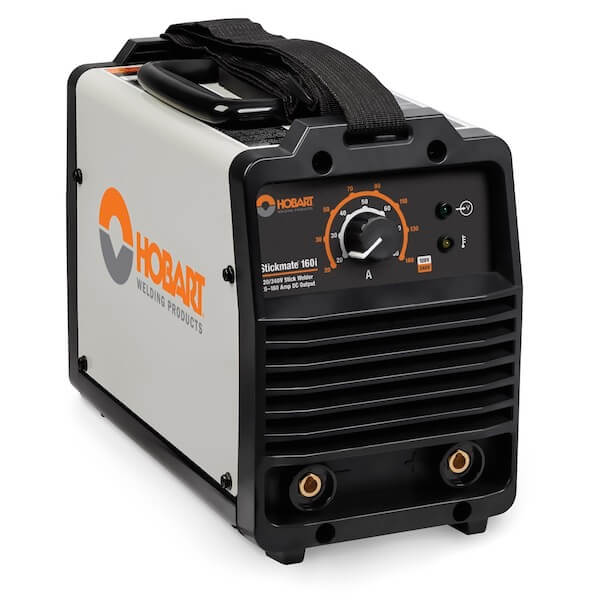 Welds up to 1/4-inch steel plate
Runs on 120 and 240 volt input
160 amp output power
DC arc welding
5-year warranty
Pros
Impressive reviews
Weighs less than 20 pounds
Hot start technology
Infinitely adjustable amperage control
Wide 20-160 amps output range
Adjustable shoulder strap
Cons
Designed in the USA but manufactured in China
Only gets down to 20 amps
Overview
Hobart is one of the oldest American welding brands, venerated for rugged construction and excellent performance. The Hobart Stickmate 160i delivers good performance, but it should be pointed out that this one is built in China. Hobart assures customers that the machine meets Hobart's exacting standards. Some buyers point out that you can buy a Chinese stick welder for half the price of the Hobart. What a Chinese brand can't offer is a nationwide network of dealerships and service centers.
Users praise the Hobart Stickmate 160i for smooth performance. The extended warranty shows Hobart's confidence in its quality. Inverter power keeps the Stickmate 160i under twenty pounds, light enough to move around the worksite with its included adjustable shoulder strap (full review here).
The Hobart Stickmate 160i has an infinitely adjustable current dial, which can adjust the output in increments as small as 1 amp. Able to run either 120 or 240 volts, the Hobart Stickmate 160i is convenient and powerful. It's capable of welding up to 3/8-inch thick steel, and the wide range of current options gets down to 20 amps.
---
2. YesWelder TIG-205DS Arc Welder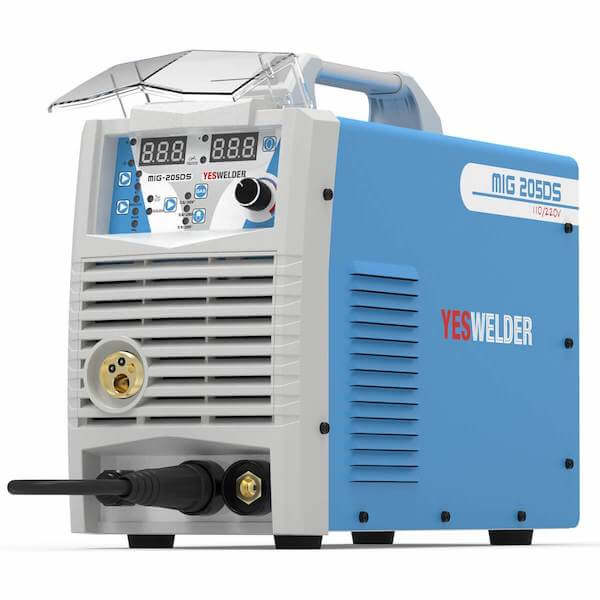 High-frequency no-touch arc starts
LCD amperage display
IGBT soft switch technology
Automatic settings compensation
Automatic temperature control
Pros
Amperage spike control
Generator friendly.
110V/220V dual voltage input.
Multiple inverters
WP-17 TIG torch
Cons
Current display reads high
120 source with 220 adapter
Overview
The YesWelder TIG-205DS is a dual-voltage welder with 120 or 240 volts input. It has 120 stick power to 140 amps, 145 amps on TIG. On 240 the stick has a 180-amp top end, the TIG 205 amps. The lower limit with TIG or stick is 15 amps. This welder has an LCD digital display (that some owners report reads too high) and automatic compensation for power fluctuations.
The stick feature can weld up to 3/8-inch steel and sheet metal down to 22 gauge. One peculiar choice with the YesWelder TIG-205DS is the power adapter to change input voltage. Most dual-voltage machines run on 240 volts by default, with an adapter to plug into 120 volts. This welder runs on 120 volts, with an adapter to let you plug into 240.
The YesWelder TIG-205DS has a dust cover over the controls, which is nice. On the TIG side of the machine, there are high tech niceties like high-frequency arc starting, soft switch technology for arc stability and overload protection. This machine ships with a 13-foot TIG torch, 10-foot stinger clamp and a 120 to 240 adapter.
You can 10% off this YesWelder by using the coupon code: WELDGURU10
---
3. Forney Easy Weld 180 ST Arc Welder
Lightweight and portable
IGBT inverter technology
8-foot connections
DC stick and DC TIG
5-year warranty
Pros
18-gauge sheet up to 1/2-inch steel
Dual purpose arc welder with TIG ability
Lift type arc starting
Weighs 14 pounds
Wide 10-180 amp output
Cons
Not compatible with TIG foot pedal
No TIG torch
Overview
The Forney Easy Weld 180 ST is a lightweight, inverter powered DC stick welder that also offers DC TIG welding capability. It's designed with generator power in mind, tolerant of "dirty power" fluctuations that are common in generator power sources This is a dual input voltage machine that can be plugged into either a 120 volt or 240 volt power source.
Forney designed the Easy Weld 180 ST arc welder with a high frequency lift-type TIG torch start to minimize contamination of the tungsten element and reduce consumable consumption. Unfortunately, you need to buy the TIG torch and gas regulator separately if you want to do TIG welding. This machine isn't compatible with a foot control pedal.
This arc welder/TIG offers a very wide 10 to 180 amp current output. The Forney Easy Weld 180 ST is capable of welding up to 1/2-inch thick steel even though it weighs only 14 pounds. The fine 10 amp minimum limit is great for welding as thin as 18-gauge sheet metal for auto body work. The Forney Easy Weld 180 ST is backed by a 5-year warranty.
---
4. Lincoln Electric AC-225 AC Arc Welder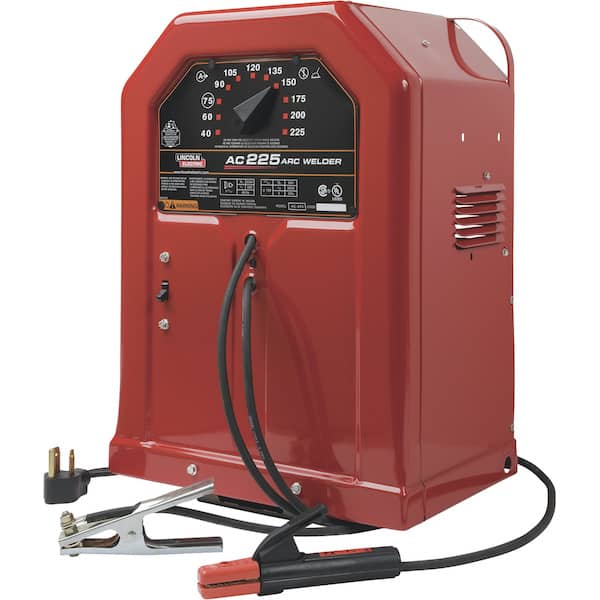 AC welder runs 6011 rods
ISO 9001 certified
Best selling Lincoln arc machine
240 volt input
40 to 225 amp current
Pros
15-foot electrode clamp
Historic "tombstone" style
10-foot ground clamp cable
16-gauge sheet to 1/4-inch plate
Smooth Arc technology
Cons
Not high tech
Weighs 99 pounds
Overview
The Lincoln AC-225 AC Arc Welder is Lincoln Electric's best seller over the company's history. There are examples on the job that have literally been running for decades. It's well-known as a durable, solidly-made welder that brings home the bacon. Lincoln Smooth Arc technology makes for easier starts than most AC welders and maintains optimum arc characteristics.
Although this machine doesn't have any high-tech bells and whistles like modern machines, its simple design means it can take the wear and tear of a workshop environment. The Lincoln AC-225 AC Arc Welder is made with a transformer power source instead of more modern inverter power, which leaves almost nothing to go wrong. It does make this model heavy, though at 99 pounds.
The Lincoln AC-225 AC Arc Welder is considered by many professional welders to be the best welder ever made. This welder has huge numbers of enthusiastic owners and an impeccable reputation in the industry. It's able to weld from 1/16-inch sheet up to 1/4-inch thick steel plate. The controls are easy, it's American-made, and it's ISO 9001 certified. If you don't mind the weight, this is a can't-miss deal.
---
5. PrimeWeld TIG225X Welding Machine
CK17 US-made torch
No-touch arc starts
10 to 225 amps output
Metal foot pedal
120/240 input
Pros
Many happy users
Includes regulator
Pulse Width Modulation
Stick and AC/DC TIG
200 hertz pulse frequency
3 year warranty
Cons
Foot pedal is a little touchy
Cheap regulator
Overview
The Primeweld TIG225X TIG welder is a well-regarded AC/DC TIG welder with advanced features, including the ability to run as a DC stick welder. This is a dual-voltage welder that runs on either 120 or 240 volts. It has a 12.5-foot electrode clamp for the stick welder, also called manual metal arc or MMA welding. The ground lead is 12.5 foot also.
When used on the stick setting, the PrimeWeld TIG225X produces 120 amps on 12 volts. When it's running on 240 volts you've got 180 amps on tap. That kind of juice will weld up to 3/8-inch plate at 180 amps, 1/4-inch at 140 amps. The lower limit of 10 amps on either source will let you weld 24-gauge sheet metal with a thin stick and the right settings.
Of course, with sheet metal, TIG is king and the PrimeWeld TIG225X is really in its element for that task. This welder has advanced AC TIG features such as pulse width modulation, CK17 torch and an AC balance feature to adjust the time spent in each side of the AC cycle, cleaning impurities from the weld puddle.
---
6. Lotos LTPDC2000D Multiprocess Stick Welder
Stick, TIG and plasma cutter
Cuts up to ½-inch steel
Welds up to 1/2-inch steel
Arc output up to 200 amps
Dual voltage input - 120 or 240
Pros
Duty cycle 60 percent
Multiprocess machine
13-foot cables
Wide current range fro 15 to 200 amps
High frequency arc start
Cons
Doesn't include a TIG foot pedal
Cheap regulator
Overview
The LOTOS LTPDC2000D is more than a 200 amp stick arc welder. It also has the ability to do 15-200 amp TIG work and includes a 50 amp plasma cutter that can go through 1/2 inch of steel. It's got dual input voltage, which lets you plug in at home or in a commercial setting with either 120 volt or 240 volt input power.
This multi-process triple threat is designed with high frequency arc starting that lets you get the arc going easily. The stick welder portion includes "soft arc" technology for easy starting. The high frequency arc starting also delivers a pilot arc feature on the TIG welder and plasma cutter.
That means no touch arc starts, saving on consumables because the TIG torch never touches the surface, eliminating the main cause of tungsten electrode contamination. One drawback is that this welder doesn't come with a TIG heat control pedal.
Both the stick and TIG modes can push 200 amps, which is enough power to weld 1/2 inch of steel. The Lotos LTPDC2000D is backed by a 1-year warranty.
---
7. Everlast PowerARC 160STH Stick Welder
Lightweight and portable
IGBT inverter technology
160 amp DC stick and TIG
5-year warranty
Weighs 14 pounds
Pros
24-gauge sheet up to 1/2-inch steel
Dual purpose arc welder with TIG ability
Lift type arc starting
8-foot electrode cable
Wide 10-180 amp output
Cons
No TIG torch or regulator
Can't use a foot pedal
Overview
The Everlast PowerARC 160STH is a powerful and lightweight DC stick welder offering both arc welding and DC TIG features.
This machine has dual voltage input that lets you plug in either on home shop 120 volt power or use heavier duty 240 volt outlets. This machine comes with a shoulder strap to make it easier to move around at the work site, leaving your hands free to handle cables and accessories.
The Everlast PowerARC 160 STH comes with an 8-foot electrode clamp as well as a 12-foot TIG Torch and argon regulator. However, one disadvantage of this machine from a TIG standpoint is that it's not compatible with a TIG heat control foot pedal. Instead, Everlast's proprietary SV17 TIG torch comes with an adjustable hand operated variable heat control.
With a very wide 10-160 amp output range, the Everlast PowerARC 160STH is quite versatile, able to weld thin sheet metal from 18 gauge all the way up to 1/2-inch thick steel plate. There's a carrying case included for the TIG torch and accessories. Everlast provides a 5-year warranty on the PowerARC 160 STH.
---
8. Titanium Stick 225 Arc Welder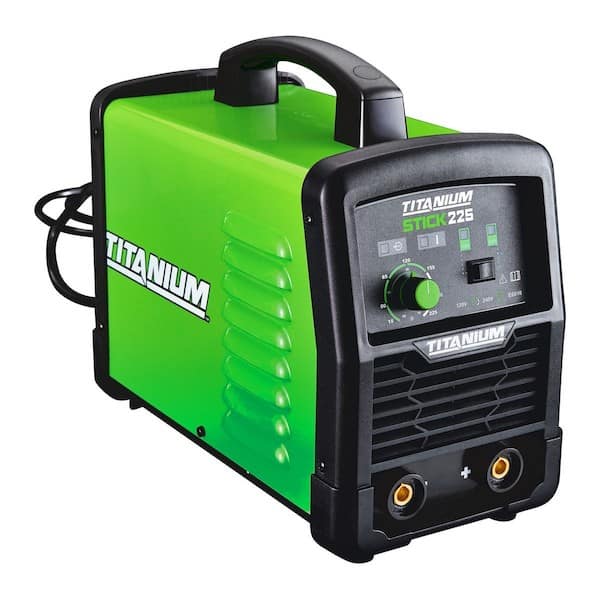 Weighs less than 17 pounds
Dual 120v-240v input power
Overcurrent protection
15 to 225 amps output
Welds up to 1/4-inch steel
Pros
Thermal overload protection
Easy Start technology
Compact footprint
Burns 6010 and 6011 rods
Infinitely adjustable power
Cons
Leads are a little cheap
Reports of leads disconnecting
Overview
The Titanium Stick 225 Arc Welder is compact, powerful and lightweight. The leads are 10 feet long for good reach. Some owners thought they could be higher quality, reporting improved performance after replacing them. This might be related to reports of leads unplugging sometimes when tugged. If you're not welding in volume, it's not likely a problem, but we feel that many modern arc welders benefit from a change of leads.
This machine offers a wide output, with a 15-amp bottom end, a nice low number for such a powerful machine. The Titanium Stick 225 Arc Welder tops out at 70 amps on 120 volts, enough power for 1/8-inch steel. When running on 240 volt power, this machine will weld 1/4-inch steel.
The Titanium Stick 225 Arc Welder surprised a lot of owners with its ease of use and smooth performance. This machine runs both 6010 and 6011 rods with ease, all the way to 1/8-inch sized rods. It's capable of 100 percent duty cycle at 100 amps on 240 volts, giving you the ability for continuous welding on 3/8-inch steel.
---
Buyer's Guide
Stick arc welding machines are the most basic of all welding technology. The machines are generally durable and long-lasting as a result.
A skilled and experienced welder can produce high-quality welds at a rapid rate, matching any MIG welder for productivity and even keeping pace with many flux-core operators.
And for underwater welding and quick jobs, they're still unmatched after over a century on the job.
Here are some of the criteria you should check when shopping for an arc welder.
Type of Work Being Performed
As with any other welder purchase, the most important consideration is the type of work you expect to do with the welder. Thin sheet metal, thin plate and thick plate all have their own things to watch for.
Some welders perform better when pumping out high amperage for thick welding tasks. Others are better at the bottom end of the output range, more suited to thin plate or sheet metal.
What Kind of Environment?
If you're going to be using a stick welder in a production or shop environment, you need an arc welder that runs on 240 volt power, with a proven track record of durable performance like the Hobart Stickmate 160i arc welder.
Some types of work lend themselves better to DC welding than they do to AC. You may have some work of each type and need a machine that does both.
Input Power Source
When you only use your welder at home and you don't need to weld anything thicker than 1/4-inch steel, a 110v stick welder is cheaper, lighter and smaller. You can carry it around your place easier and fit it into places like closets, ducting and under the car.
But if you're needing to repair backhoe buckets, field plows or semi truck wheels, you definitely need 240 volt power to generate enough current to weld thick pieces like these.
Output Current Requirements
In some ways, it's easier to figure out how to get thick chunks of metal welded than it is with thinner stuff. For that broken bucket mount on the tractor's front loader, you know you need just about all the juice you can get your hands on. In those cases, clearly you've got to get ahold of a 240 volt machine wih 200 amps or more.
But if you need to repair a rusted out panel on a washing machine, modify your home's climate control ducting or work on your project car's body, then it becomes a little more tricky.
While you want a machine that can dial the amps down to 20 or less, arc welders that run on 240 volts have far more flexible and delicate control overall than do 120 volt stick welders. On the other hand, 120 volt machines usually offer lower limit current settings that are less than the 240 volt arc welders.
So this might require a compromise. Do you go with easier to use 120 volt lower limits, or have you got the skill to make use of higher quality and finer controllability offered by 240 volt machines? Will a dual voltage machine get the job done either way? The Everlast PowerARC 160 STH offers 120/240 volt versatility and gets down to 10 amps.
Do You Want Extra Features?
While we haven't covered them much in this article, some stick welders offer arc welding combined with another process such as MIG, TIG or plasma cutting. A multi-process machine might be the answer to your needs, bringing modern technology solutions to some jobs while keeping the simplicity and proven performance of arc welding for other projects.
In Our Judgement
Based on every consideration, including price and feature set, the Hobart Stickmate 160i dual voltage stick welder is my favorite all-around stick welder. It's been around the block with many welders and is a trusted machine to carry out most jobs on the field.
The YesWelder TIG-205DS adds TIG capability with an included foot pedal, and it's generator friendly in a price range that's simply incredible.
For those that want a bit more power and the trusted reliability of a transformer stick welder, look no further than the best-selling and classic Lincoln Electric AC-225. With AC output, this welder runs 6011 rods with ease. However, keep in mind this is a heavier machine, and it is best for the workshop.
Have any other recommendations that should be on the list? Let us know in the comments below.
Other Stick Welding Guides