The Hobart Handler 125 is an affordable wire feed welder by a well-known name in the industry.
What you are getting here is reliability – not features.
This is a machine meant for hobbyists and DIY users. Not for a professional welding environment.
In short, this machine will last you a long time, it's affordable, provides excellent performance, but it has minimal features.
There are other welders on the market in a similar price range offering better specs and more versatility, however, they usually lack build quality, availability of spare parts, and warranty.
But, there are also alternatives of the same quality AND better features.
That being said, you should read my detailed review below and decide if this machine is good enough for your needs with what it offers.
Overview of the Hobart Handler 125 (500573)
With its four voltage settings, infinite wire feed control, and a reasonable maximum output of 130A, you can weld up to 3/16 in. steel with a flux core wire.
The Hobart 125 is a flux core ready welder (gasless wire).
Thanks to its in-built gas solenoid, it can weld with a solid wire and provide a whole MIG experience. But, it doesn't come with a gas regulator.
Now let's take a look at the specs and continue with a more detailed review.
What's Included
Well built ergonomic 8ft. (2.4 m) H100F2-8 gun with liner for .030-.035 in. (0.8 -0.9 mm) diameter wire.
Work cable with ground clamp 10ft
(2) – 0.030 (0.8 mm) contact tips
Molded plug Power Cord
Weld set-up chart (on the inside of the machine)
Owner's manual with installation, operation, and maintenance guidelines.
Tech Specs
Welder Type
Flux Core ready, MIG capable
Input Voltage
120V
Technology
Transformer based
Duty Cycle
25% @ 80A
60% @ 50A
100% @ 40A
Amperage Output
25 – 130A
Voltage Settings
Four preset values
Maximum Open Circuit Voltage (OCV)
28.5VDC
Weldable Materials
Mild & stainless steel
Torch Lead Length
8 ft.
Ground Cable Length
10 ft.
Mild Steel Thickness (Single-pass)
24 ga. – 3/16 in.
Wire Type & Diameter
Solid Wire: 0.024 – 0.030 in.
Knurled for Flux-cored: 0.030 – 0.035 in.
Wire Feed Settings
Infinite between min. and max.
Wire Feed Speed ("WFS")
88 – 545 IPM
Wire Spool Sizes
4 and 8in. diameter rolls
Welder Dimensions (H x W x L)
13.5 in. x 10 in. x 19.4 in.
Weight
57.5 lbs.
Warranty
5/3/1 years
WeldGuru Rating
★★★☆☆
Price
Latest Price
Amazon
Pros
Affordable
Quality build
Beautiful, stable, crisp arc
Very simple to set up and use
Infinite wire feed adjustment
Ready to weld out of the box
Excellent manual. Clearly illustrates everything you need
Hobarts 5/3/1 warranty
Built-in Contactor for your safety
Thermal overload protection
Portable
Made by a USA brand
Cons
Heavy. Yes, it's portable, but it takes muscle to move around
Only four voltage settings
Very low duty cycle
It doesn't come with a gas hose and regulator for MIG welding
No light indicator for the power state
Hobart made a wire feed mechanism mainly from plastic, unlike their usual aluminum cast full metal drive system.
Where to buy the Hobart 125
The Hobart Handler 125 is available to buy at a few different retails. There does not seem to be much difference in prices, so check them out as each retailer will run their own deals from time to time:
What you should know before buying the Handler 125
Now, pay close attention.
Since you are reading this review, you are most likely a hobbyist or someone who wants to learn how to weld for the first time.
I don't want you to make a mistake and experience a buyer's regret.
So, let's take a look at practical examples where the Hobart Handler 125 falls short and then look at some alternatives.
No spool gun support – no aluminum work
A lot of hobbyists love to try their hand at welding. If you are not using AC TIG (because it's expensive), then at least you might want to do some MIG aluminum welding.
Unfortunately, this is not possible with the Hobart Handler 125. It doesn't have a spool gun support.
You can try feeding an aluminum wire through a regular MIG gun, but this is unlikely to work, and it's not recommended. I strongly advise against something like that.
It's heavy
Hobart will assure you that their unit is lightweight and portable but let's be honest here.. 60lb is not light. Twenty years ago, it would've been considered lightweight. But honestly, when was the last time you had to carry such weight around your garage?
I get Hobart need to market themselves as "portable." But they forgot to mention that you will break a serious sweat if you need to get this welder to a third floor from the back of your pickup truck.
Low duty cycle
The Handler 125 is an affordable machine, so I won't give Hobart too much of a hard time here. In a way, a low-duty cycle is expected, but you must be aware of how this limits you.
The welder does a 100% duty cycle at 40A.
Do you know anyone who often welds at 40A? Yeah, me neither.
Their 80A at 25% is still relatively low. I wish it were at least 30%.
When welding at 80A, you can realistically expect to weld about 0.08in thickness. And with its duty cycle, you could do it for 2.5 minutes out of 10. That's a lot of downtime when you are building stuff in your garage.
Quality flaws
This is a Hobart welder, so it's built to last.
But, I don't like that they are cutting corners with this machine.
Plastic wire drive system? That's not something you'd usually expect from Hobart.
The handler 125 is a very affordable welder considering its brand, so I expected some quality reduction. But the exclusion of a MIG regulator, gas hose, and installation of a plastic drive system is something you should be aware of.
Oh, and they "forgot" a power state LED bulb. This would probably cost less than a dollar to incorporate into the production process, and it's useful, especially for new welders. You don't want to leave the unit powered once you leave the garage, right?
No advanced features
The Handler 125 is a straightforward unit. Connect your gun, ground clamp, and you are good to go.
However, not having the options like 2T/4T, tack welding, infinite voltage adjustment, and similar is limiting.
Simplicity is good, but not when you can't tailor the machine output to your liking. And frankly, having just four voltage output settings might not be enough for some of you.
Playing around with different voltage settings can modify the arc, weld bead, and penetration. So, this is something to keep in mind.
Best features of the Hobart Handler 125
I hope I didn't put you off from Hobart too much in the section above. It's just that you should be aware of its limitations as well.
Let's now take a look at the positive side before we proceed to the alternatives.
Arc quality
Hobart is known for its signature arc quality, and the Hobart 125 is doing very well on this front.
When welding, you'll love how stable the arc feels and how easily it jumps to the metal piece. The smooth, crisp sound of fresh bacon hitting the frying pan is nothing compared to how sparkling the arc is.
The beads look nice, penetrate well, and are easy to stack like dimes. Granted that you have at least some basic welding experience.
Simplicity oriented
I explained above how simplicity can be limiting but let's consider the other side of the coin.
To weld with the Handler 125, all you have to do is install the wire roll, attach a gun and a ground clamp, choose the voltage from one of the four available settings, and choose a wire feed speed.
This is a straightforward process, especially if you use its welding parameter chart found on the inside of the machine.
Safety features
The Hobart Handler 125 comes with protective features for both you and the machine.
If you push it to its limits and it starts overheating, as some new welders do by accident, the machine will perform a self-resetting thermal overload. In other words, it will turn off before any damage occurs to the power transformer.
On the other side of things, the built-in contactor will keep the wire electrically "cold" until you pull the trigger on the MIG gun. This prevents any accidental arc discharge or electrical accidents you could get exposed to.
Alternatives in this Range
Now, as I promised, let's take a look at some alternatives.
Hobart is a high-quality brand, but it's not the only one. Furthermore, this is not their best welder by a long shot so let's see what else you can get in a similar price range.
Best value alternative: Eastwood MIG 140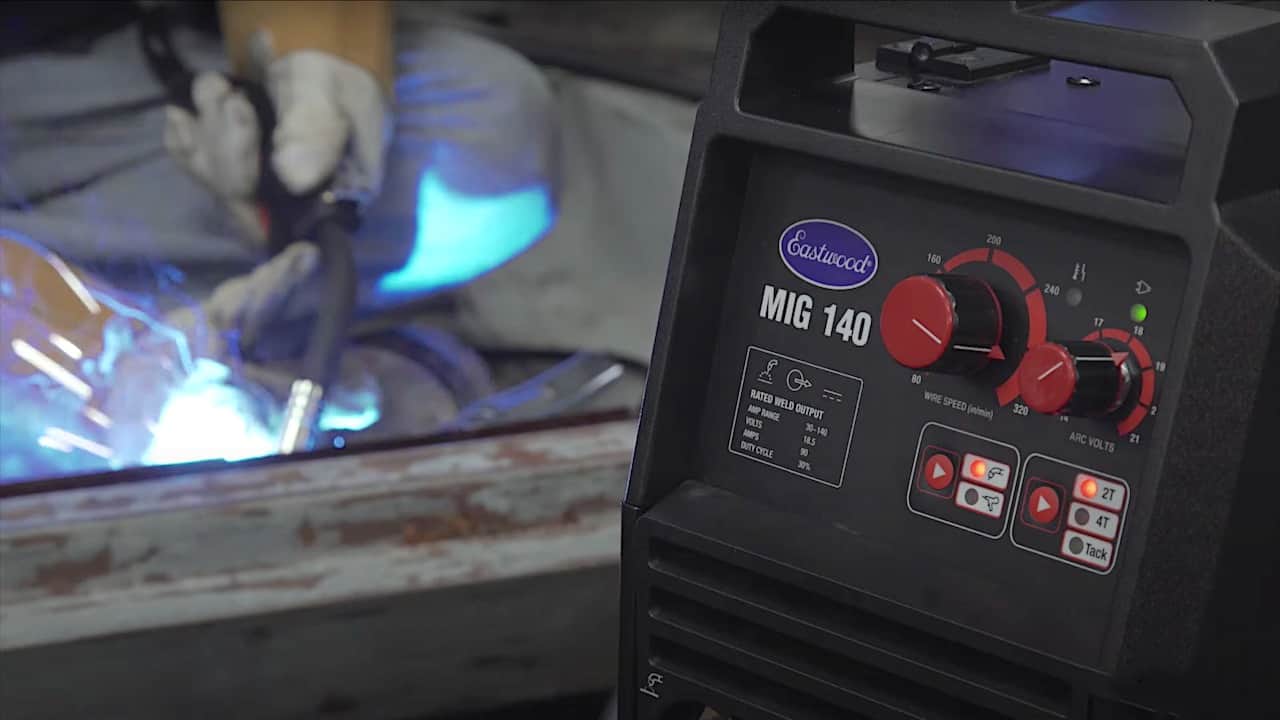 The Hobart Handler 125 is pretty good and all… But the Eastwood MIG 140 is simply better.
The Eastwood MIG 140 has excellent build quality, with spare parts easily available. It has a three-year warranty, and it comes in slightly cheaper than the Hobart 125.
They didn't cheap out on any elements like wire drive system either, and the Eastwood MIG 140 has many valuable features the Hobart is missing.
So, you may want to consider Eastwood's welder as an alternative.
Eastwood's R&D never sleeps. This model has been revamped multiple times since its release in 2009. They upgraded it earlier in 2021 to implement the latest IGBT inverter technology.
This welder is an obvious choice. But let me put this data in a table to compare the main differences side by side.
Hobart
Handler 125
Eastwood
MIG 140
Spool Gun Support
❌
✅
MIG ready out of the box
❌
✅
Metal wire drive system
❌
✅
Power indicator LED
❌
✅
Amp output range
25 – 130 A
30 – 140 A
Duty cycle
80 A at 25%
50 A at 60%
40 A at 100%
90 A at 30%
65 A at 60%
50 A at 100%
2T/4T
❌
✅
Weight
57.5 lb
24.15 lb
Warranty
5/3/1
3 Years
Price
$$
Latest Price
$$
Latest Price
Other alternatives
Besides Eastwood, there are other alternatives. But they do not represent a value choice. Still, tastes in brands differ amongst welders, so it's a good idea to get you familiar with other choices.
The Hobart 140, Lincoln 140, and Lincoln Handy MIG are the closest price and machine capabilities alternatives.
Let's check them out in the table below. I outlined the main differences between these machines.
Hobart
125
Hobart
140
Lincoln
140
Lincoln
Handy MIG
Amp output range
30 – 125
25 – 140
30 – 140
35 – 88
Duty cycle
80 A @ 25%
90 A @ 20%
90 A @ 20%
70 A @ 20%
Weldable mild steel thickness
24 ga – 3/16 in
24 ga – 1/4 in
Up to 5/16 in
24 ga – 1/8 in
Infinite voltage control
❌
❌
❌
❌
Spool gun support
❌
❌
✅
❌
Everything included for MIG & FC welding
❌
✅
✅
✅
Warranty
5/3/1
5/3/1
3 year
1 year
Price range
$$
Latest Price
$$$
Latest Price
$$$$
Latest Price
$$
Latest Price
As you can see, the other alternatives are still not as good as the Eastwood 140. The Lincoln 140, for example, has native support for a spool gun, but it doesn't have infinite voltage control. It's double the price of the Hobart Handler 125 and the Eastwood 140, and it has a duty cycle on the low end.
I'd say that the Hobart 140 or Lincoln 140 are your best bet if you are really into these brands. But they are expensive and not justifyingly when compared to the Eastwood alternative.
Conclusion
To wrap this up, I'd like to remind you of what I said at the beginning. With the Hobart Handler 125, you are mostly buying the brand name and the associated quality. Not features.
Unfortunately, Hobart skipped a few corners too much on this one for me to keep a blind eye. Installing a plastic drive roll system is a no-no, regardless if it's of high quality. I am sure that they haven't used some poor cheap plastic. Still, metal is metal, and Hobart should stick to what always worked and the quality they are known for.
Other than that, the weight is just ridiculous in this day and age.
I'd seriously encourage you to consider Eastwood 140. It's 50% lighter, has a better duty cycle, equal arc quality, it's cheaper, and has additional features for better arc control and penetration.
That's it for this review. I hope I helped you pick a suitable machine for your needs. Welding is a beautiful trade and an even better hobby.
So take everything you've read here into consideration before making any hard buying decisions. If you felt anything was missing from this review, please let us know in the comments below.