The Lotos LTP5000D is a budget-friendly plasma cutter aimed at hobbyists, DIY metalwork, and beginners.
It features a non-touch pilot arc and can cut stock up to 3/4 inch thick.
It's a low-priced machine with decent quality. So, you can't compare it directly to high-end brands. But in terms of cutting thickness and portability, it often outperforms the well-known brand names, with worse cut quality.
That's okay considering its price point, in this review, you can learn all about its pros, cons, and determine if it's suitable for your needs.
Overview of the LOTOS LTP5000D
Amongst home hobbyist metalworkers, the LTP5000D is one of the best-selling plasma cutters. That's because it's inexpensive, includes a pilot arc, and makes decent cuts.
It comes with a pre-installed air-filter regulator, works on both 110 and 220V inputs, has a digital screen, and allows for fine-tuning of the amperage output. It's also lightweight, portable, and straightforward to use.
The pilot arc is its best feature that allows you to start the arc without touching the metal. This extends the consumable life, makes better cuts, and lets you use a plasma cutter in unorthodox ways, like cleaning the cutting dross just by applying a little bit of plasma arc on it.
What's included
Plasma cutting torch NCP133, 3ft long, 3 prong connection
Grounding clamp and cable, 6ft
Pilot arc cable
Pre-installed air filter regulator
220V plug that's preinstalled
A few extra consumables
User manual
The package lacks the pigtail converter for using the machine with a 110V input. The adaptor model number is "PT01," and you have to buy it separately from Lotos.
I wish they included it because hobbyists will mainly use this unit at home. This is not a big deal, especially since they clearly state that it's sold separately. So if you don't have a 220V outlet, be sure to order one of these along with the unit.
The unit doesn't come with many additional consumables. But at this price range, that's expected. You can opt for a more extensive package with consumables, but that'll cost you a bit more.
Tech specs
Machine Type
Pilot arc plasma cutter
Input Voltage
110/220V
Output Current Type
DC
Technology
Inverter
Amperage Output
110V: 10 – 35A
220V: 10 – 50A
Duty Cycle
220V: 60% @ 50A
Cuttable Materials
Mild steel, stainless, aluminum, copper
Max clean-cut thickness
1/2 inch
Max severance thickness
3/4 inch
Clamp Cable Length
6 feet
Plasma Torch Cable Lenght
13 feet
Gas Supply
Clean, dry, oil-free air
Gas Inlet Pressure
3.6scfm @ 65psi
Dimensions (H x W x L)
12 in. x 6 in. x 15 in.
Weight
20 lbs
Warranty
1 Year
Weld Guru Rating
★★★★☆
Price
Latest Price
Amazon
Pros
Powerful plasma cutting capabilities
Affordable
Time tested brand for budget-friendly, imported cutters
Decent customer service
Non-touch pilot arc for improved cutting experience
Pre-installed air filter
Built-in air pressure gauge on the front
Dual voltage support
Powerful at 110V input
Lightweight and portable
Long plasma arc torch leads
Leads are not built-in, which is good at this price range (you can change them)
Infinitely adjustable knob for power output
Digital screen for precise amp output selection
High-quality PAPST cooling system
High duty cycle
Quiet
Cons
Post-cutting dross and residue
Pig-tail converter not included
Short ground cable length
Eats through consumables quickly
Not compatible with third-party consumables
Excessive sparks when cutting thick metal, arc fails to penetrate fast enough
The cut is too wide due to the large orifice on the torch
Many users report poor support after the warranty expires, even if you wish to pay for a repair
What Is the Difference Between the Lotos LTP5000D and LT5000D?
These are basically the same units, except the LTP model features a pilot arc. The LTP5000D is a preferred model unless you really must go with the cheaper LT5000D.
Without the pilot arc, the LT5000D requires you to physically touch the metal with the tip of the plasma torch to start the arc. This is the least favorable arc initiation method because you can't cut dirty metal with it, and your consumables will wear out way faster.
Lotos
LTP5000D
Lotos
LT5000D
Pilot arc support
✅
❌
Cut dirty, rusty, painted metal
✅
❌
Guides and stand-off support
✅
❌
Cutting power
Up to 50A
Up to 50A
Plasma Cutting Torch Cable Length
13 feet
10 feet
Weight
20 lbs
22.5 lbs
Price
$$
Latest Price
Amazon
$
Latest Price
Amazon
What to Know Before Buying the LOTOS LTP5000D
The first thing you need to do is set realistic expectations for this plasma cutter. Given the price, you can't expect flawless performance, durability, or a clean cut.
Having said that, the LTP5000D is a good value if your work won't suffer due to the limitations described below.
Cut Cleanliness
This plasma cutter cuts fine considering its price. But many people expect a completely clean cut. The LTP5000D will only do clean cuts with thinner metals.
While the spec sheet says it can do 1/2 inch with a clean-cut, there will be some residue at the newly made edge. Depending on the speed of travel, this residue may be removed using just a simple file, or at times, an angle grinder.
If you don't expect it to perform like a Hypertherm or a Miller machine, you will likely be satisfied with this affordable unit. Just make sure to file down the edge when you cut anything thick.
Arc Behavior
There will be a lot of sparks when cutting with this unit. So you should work away from anything you don't want to be covered in them.
The orifice opening at the tip of the torch seems to be a bit too large. This causes the plasma arc to be less focused and wider. As a result, the cut will be thick and the metal will spark up like fireworks, especially with the thick pieces.
A wide-cut means less precision, which adds to my previous point about how this unit can't compare to brands that cost 5-10 times more. Plasma cutters and their torches are very complex. I appreciate that Lotos brought the costs down, but you should also expect erratic arc behavior and less precision if you do buy this inexpensive unit.
Build Quality
This is a rather well-made unit for the money. However, there are areas where Lotos can improve, even if it means slightly increasing the price.
The ground clamp is just 6 feet long, while the plasma cutting torch is more than double the length. I don't understand why, though. It would be better if they just evened the leads out at about 10 feet.
A short ground clamp forces you to keep the unit a maximum of 6 feet away while cutting makes a ton of sparks. If the unit is this close to the work, the sparks and metal dust will get sucked in through the air vents.
You should probably plan on upgrading to a better ground clamp anyway. Get this clamp from Hobart and get a longer cable from Lotos to significantly improve your experience.
Besides the lead issues, the consumables are on the lower quality side as well. They wear out quicker than expected, so you should probably stock up.
Lotos LTP5000D Red vs Brown models
The Lotos LPT5000D red model is the older version, and it's discontinued. A current brown version is an improved unit with more features and up-to-date inverter technology.
The brown version also features a new digital screen, a built-in air filter, a pressure gauge on the front, a better design, an improved cooling system, and inverter improvements.
They don't use the same consumables and accessories either. The brown model's consumable sets are "PCS22, PCS33, and PCS77." So, don't confuse them with the red's sets "PCON20, 40, and 90."
Top Features of the LOTOS LTP5000D
If you don't mind the quality cuts that inevitably come with budget machines like this one, you are likely to be satisfied with this plasma cutter.
So, let's look at the Lotos LTP5000D best features and see how hobbyists will benefit from this budget-friendly cutter.
Cutting Power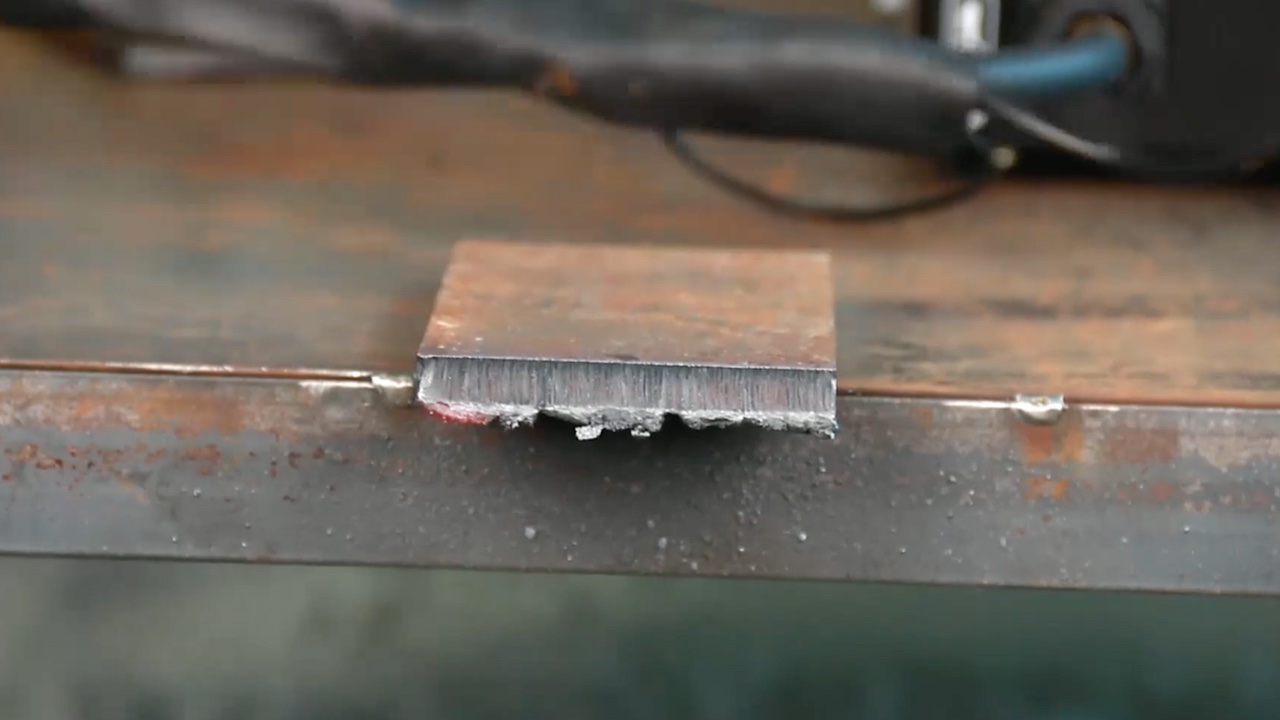 While the cut may not be surgically clean, it sure cuts thick. This plasma cutter will cut 3/4 inch steel as it promises. Many cheap plasma cutters have big numbers in the specs, but this unit can actually do it.
I find the amount of power in the entire Lotos LTP line astonishing. You should also check out their LTP6000, LTP7000, and LTP8000 models and their cutting power. While its cut may not be the cleanest, the LTP8000 will sever up to 1 1/2 inches.
That's an immense amount of power for a hobbyist-level machine. You also get cleaner cuts with less dross if you get the more powerful LTP models. So that's another good reason to consider the higher-up models, which are affordable.
I love how Lotos dared to step into the high-end power output market. I can't imagine how a professional fabrication shop would use their models for heavy-duty workloads. They are not built for that kind of work and would probably break if exposed to an industrial environment. But a hobbyist can benefit from the robust amperage output by cutting thick or thin metal, fast.
To conclude the power overview, I must say that I'm impressed with the 60% duty cycle at maximum amperage output. This means you don't have to wait around until your machine cools down. Still, since this is a low-end unit, I would err on the safe side and try not to exceed the duty cycle limits.
Pilot Arc
The pilot arc is the second-best feature of the LTP5000D. It allows you to cut dirty metal, a premium feature reserved for more expensive plasma cutters.
The non-touch ability allows you to initiate the arc even if the torch tip is not close to the metal. So, it's not like a High-Frequency (HF) start that needs metal proximity for the arc to make the jump.
By cutting metal without physical contact between the torch tip and the metal piece, your consumables last longer, and there will be less spatter and residue.
Additionally, the pilot arc allows you to use guides and stand-offs. Without this ability, you are unlikely to produce quality results, especially if you are a beginner.
Stand-offs allow you to drag the torch across the metal without touching it with the torch tip. Guides give you wheeled support for the torch and help you cut straight and curved lines like a pro.
To be fair, using guides is also possible with a non-pilot arc plasma cutter. But it's far less efficient, and the results are not as good.
Portability
This unit weighs just 26 bs and comes in a compact size. It has a built-in plastic handle that makes for easy transport, allowing anyone to carry this unit anywhere.
The dual voltage ability additionally improves its versatility. You can cut at home or in the field using a generator.
While many cheap plasma cutters are lightweight, Lotos has the advantage of high power output while still keeping the portability element intact.
LOTOS LTP5000D vs Primeweld CUT50DP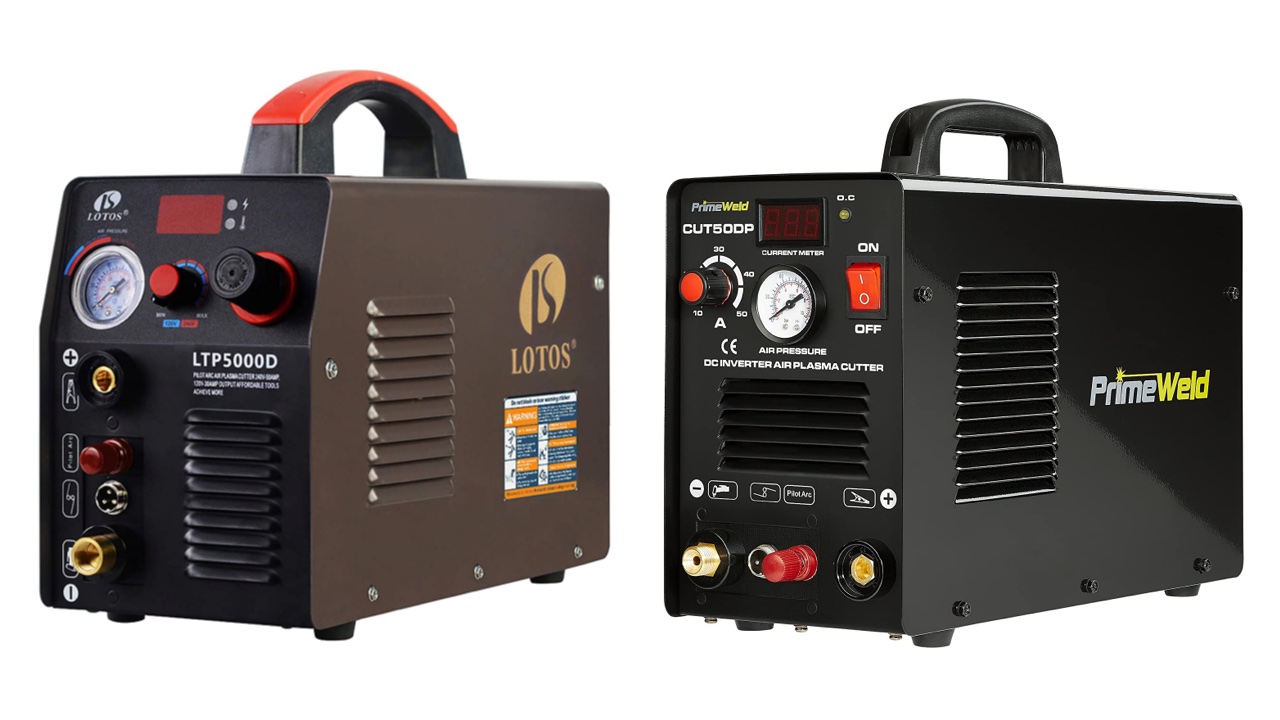 The Primeweld CUT50DP is an excellent competitor to Lotos LTP5000D. It has many advantages, but also disadvantages in a direct comparison.
Primeweld's model has a higher output at 110V, industry-standard consumables for the torch, and a longer ground clamp cable. These are pluses compared to the Lotus unit.
The CUT50DP also includes a beginner-grade welding mask and a brush. For me, these are a waste of resources and a marketing stunt. But some people may find this addition useful. I would rather they used their resources for additional machine improvements.
One last point, Primeweld's model uses an HF arc start, which means that you have to get it near the metal to start. So, it doesn't support a full pilot arc experience. It has similar cut quality; the arc can misbehave at times, causes a lot of sparks, and leaves dross when cutting thick metal.
Lotos
LTP5000D
Primeweld
CUT50DP
Amperage Output
110V: 10 – 35A
220V: 10 – 50A
110V: 10 – 40A
220V: 10 – 50A
Maximum cut
Clean: 1/2 in.
Sever: 3/4 in.
Clean: 1/2 in.
Sever: 3/4 in.
Clamp Cable Length
6 feet
10 feet
Plasma Torch Cable Lenght
13 feet
13 feet
Standardized consumables
❌
✅
Full pilot arc experience
✅
❌
Weight
20 lbs
24 lbs
Warranty
1 year
3 year
Price
$$
Latest Price
Amazon
$$
Latest Price
Amazon
Final Verdict
The LOTOS LTP5000D is a good plasma cutter on the low end of the budget range. Lotos did a good job overall, but they are not without competition.
Other brands, like Primeweld, offer similar quality. So, you can choose based on some nuanced differences between the models. Primeweld's strongest point is their lengthy warranty, while the Lotos offers a full pilot arc experience.
Lotos has stood the test of time as the budget brand. Their affordable lines have been among the best-selling welders/cutters for years, and it has stayed that way today. As long as you have realistic expectations, and don't need a machine for high-quality work, you'll be satisfied with the Lotos LTP5000D.