The Miller Digital Infinity offers the biggest view area in the industry and excellent color transmission. This makes it one of the more useful welding helmets for professionals.
While Miller priced this helmet in the middle of the pack, it comes with a lot of high-end features. It's an excellent choice and provides a mix of practicality and affordability.
This Miller Digital Infinity welding helmet review will cover the flaws, top features, and even some alternatives. That way, you can determine if this helmet is for you.
Overview of the Miller Digital Infinity
The Miller Digital Infinity is a professional welding helmet focusing on viewing range, color, and light transmission. Besides the huge 13.4 sq. in. view screen, it includes X-mode, weld time tracking, high adjustability levels, and a moderate TIG rating.
Its headgear is well designed, but not everyone loves its comfort and adjustability. Plus, the helmet is a bit heavier than others, thanks to the large view area. Miller's ClearLight technology provides outstanding color transmission for a helmet in this price range. It's similar to the ESAB Sentinel A50, but with a bit less of a bluish tint. This Miller Digital Infinity helmet is well known because of this feature. Many welders find the difference to be night and day when comparing the Digital Infinity to conventional green tint auto-darkening filters ("ADF").
What's Included
Miller Digital Infinity welding helmet
5 pcs outside cover lenses
2 pcs inside cover lenses
Helmet bag
Clip-on top comfort cushion
Cheater lens adapter
2 pcs CR2450 Lithium batteries
Instruction manual
I love how they included a total of 7 replacement cover lenses. Considering the size of the front lens, replacements will cost more compared to welding helmets with a smaller viewing area.
The inside lens is not as big and doesn't easily get scratched, so two replacements are enough. However, Miller's welding hood package is pretty basic and in line with competing helmets. For example, Lincoln's Viking 3350 comes with almost the same accessories.
Another thing worth mentioning is that the bag doesn't fit tightly. So you might need a better bag if you work in a dusty environment.
Tech Specs
Type
Auto-darkening
Shell Material
Nylon
Optical Class
1/1/1/2
Viewing Area
13.4 sq. in.
UV/IR Protection
At all times
Lens Shade Range
DIN 5-8/8-13
Light State
Shade 3
Shade Control
Internal
Grind Mode
✅
External Grind Button
❌
Arc Sensors
4
Switch Time
1/20,000 s
Sensitivity Control
Adjustable for varying ambient light and welding arc
Delay Time
0.1 – 1.0 s
TIG Amp Rating
≥ 5 amps AC/DC
Power Supply
Solar cell and CR2450 lithium replaceable batteries
Standards
ANSI Z87.1+, CSA, CE
Weight
1.44 lbs.
Warranty
3-Year
Weld Guru Rating
★★★★★ (5/5)
Price
Latest Price
Amazon
Pros
Excellent durability for heavy-duty welding environments
Top-of-the-line color transmission
Affordable considering the included high-end features
Biggest viewing area of all available welding helmets
4 independent arc sensors
Easy to use digital controls
Miller's X-mode for next-level welding experience
AutoSense eliminates the hassle of manually setting sensitivity levels (manual is also possible)
Exclusive InfoTrack mode to track your welding time
Comfortable, ergonomic, multi-adjustments headgear
Inside LED warning light for grinding mode
Support for cheater lenses, PAPR system, hardhat adapter, and a torch kit
Available in a range of designs
Optional magnifying glass attachment available
Cons
A bit heavier than most helmets in this price range
No external grind mode button
Some people find headgear hard to adjust
Not designed for overhead welding
What To Know Before Buying The Miller Digital Infinity
While this is a very good helmet, you should be aware of a few issues. Miller made a great compromise between price and quality with the Digital Infinity line. Most of the high-end features work great, but there is some room for improvement.
Most welders prefer the external grind mode control. This is especially important when MIG or stick welding since there is a lot of grinding involved.
The internal grind mode button requires you to take off the helmet and go through the trouble of tightening the headgear again. This reduces your productivity and can leave you rather frustrated, especially if a deadline is squeezing you for time.
However, not every professional welder does a lot of grinding. For example, if you make TIG welds on pre-cleaned metal, you won't need to grind much. So, consider your entire workflow to estimate if the internal grind mode button is a dealbreaker.
Headgear and Weight
The large ADF adds to the weight of this welding helmet, but that's not the main reason some people find it heavy. The issue mainly resides in the headgear. While designed for comfort and adjustability, the headgear fails to distribute the helmet's weight properly.
However, most people will not have an issue with it, even with a full day under the hood. Still, if you find it difficult to wear a welding helmet of a similar weight before (1.44 lbs), you might find this helmet exasperating. I'd recommend that people with neck issues, migraines, or those with a weaker neck and upper back area consider a lighter helmet for full-time work.
The headgear allows for a wide range of adjustability, but it's difficult to tune it properly. Plus, once you achieve comfortable adjustments, it'll require readjusting from time to time. The hood won't always stay upright, so you must be mindful of your head's tilt and momentum. If you sway your head downwards, the chances are good that the hood's mechanism will fail to keep the shell locked in the upright position.
That being said, many satisfied users did not experience these issues and found the oversized headgear padding comfortable. If you don't mind a slightly heavier helmet and can be mindful of the shell's position, you are likely to be happy with the Digital Infinity.
Best Features of Miller Digital Infinity
Let's move on to what makes this helmet great. The large number of useful features make this welding hood an excellent value for the money, especially considering that many are unique.
Miller's X-Mode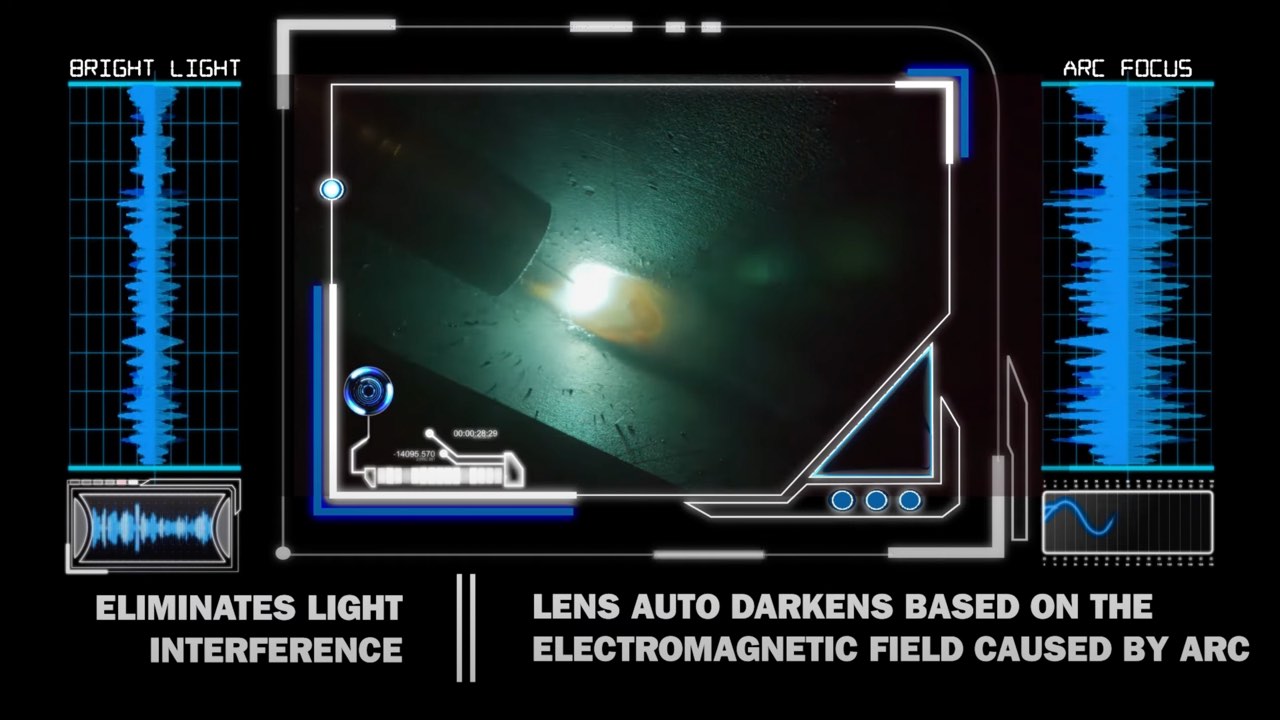 Miller's X-mode is almost universally loved by users. It eliminates light interference by changing the way the ADF is triggered. Instead of using arc sensors to trigger the ADF as they detect UV/IR radiation, the X-mode detects the electromagnetic field caused by the arc.
This is a complete game-changer, especially for outside welding. When using the X-mode, sun rays or any other ambient light sources can't trigger the ADF. So out-of-position welds with a light source above you is not an issue.
X-mode is especially useful when TIG welding. This helmet will detect even the lowest TIG amperages if you use X-mode instead of standard mode. It won't matter if you are working in a highly illuminated environment, either. This allows you to shine as much light as you want at the welded piece because the X-mode detection is not triggered by light.
Experienced welders love this feature. Many problems they "learned" to live with, like sunlight interference, no longer need cause frustration. This is not the only Miller welding helmet with X-mode detection, but it's among the more affordable ones.
Excellent Color and Light Transmission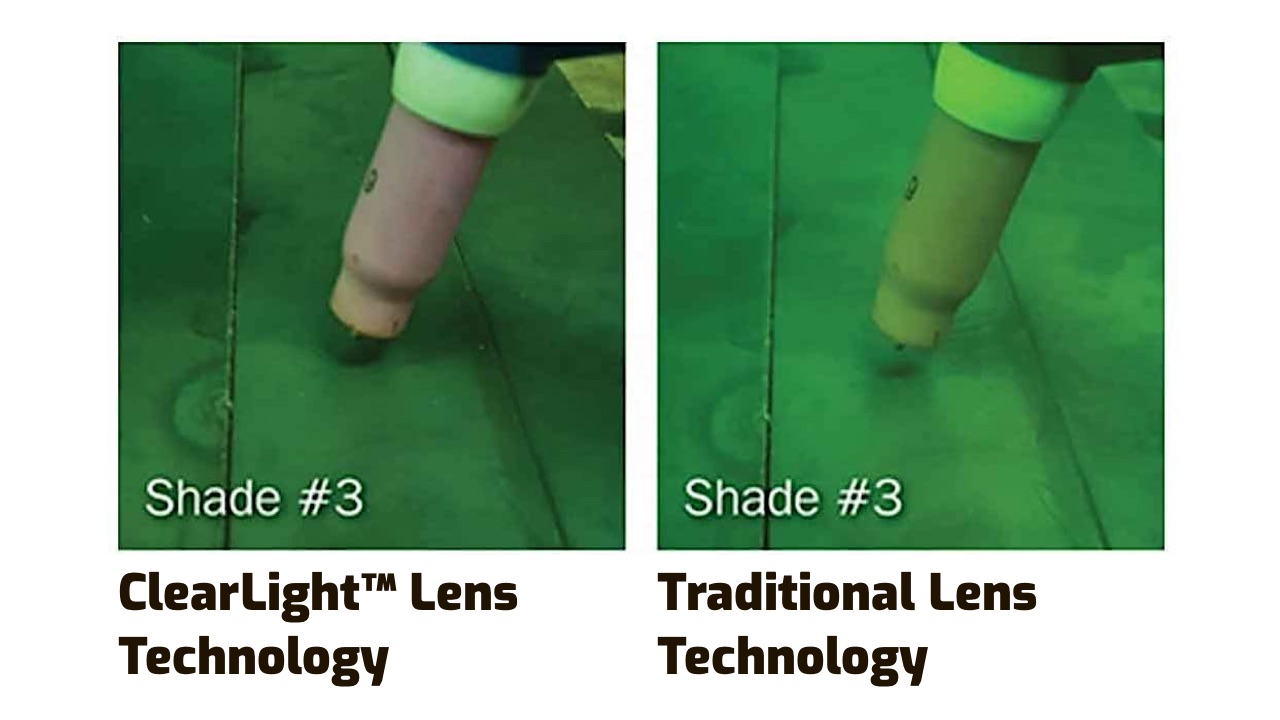 Thanks to Miller's ClearLight technology, this welding helmet provides exceptionally clean and accurate color transmission. In this price range, many brands offer their take on improved light and color transmission. So, while Miller is not the only one, this Digital Infinity model provides a huge improvement over the standard green-tinted ADF.
When the ADF darkens, it provides a high-definition view of the arc, weld puddle, and surroundings. Most colors feel true, and this allows you to make better judgments. Seeing the tiniest of bubbles forming in the weld pool may mean that you need to increase the shielding gas, modify the arc, or do something else depending on the job at hand. Also, seeing the actual color and shape of the arc lets you precisely monitor its heat, cone width, and if you've burned a significant amount of impurities.
Professional welders benefit from an auto-darkening helmet that lets them see things clearly. Having additional contrast between the metal piece, arc, weld puddle, and filler metal gives you significantly more control. As a result, you'll get better results with fewer rejected welds.
Biggest View Area You Can Get
With its 13.4 sq. in. view area, this helmet provides the widest field of view on the market. This allows you to see everything, even in tight spaces. When your head movement is restricted, you can even keep the weld in your field of view.
In the course of a typical workday, having such an extensive viewing range means less head-turning, which relieves strain on your neck. Additionally, the claustrophobic feeling is significantly reduced compared to the small view area found on regular welding helmets.
Adjustability
The ADF is straightforward and intuitive to adjust. I particularly love the layout of the haptic inside controls and that it's easy to make adjustments without removing my welding gloves.
The helmet also has a wide range of sensitivity and delay time settings. These settings come in handy when working with low amperages and in bright environments. Most helmets have similar settings, but Miller's hoods offer precise and reliable adjustments.
InfoTrack – For Data Nerds
The Miller Digital Infinity comes with an InfoTrack feature that measures your arc on time and arc count. While this is something you might like as an individual, it's also very useful in business.
If you run a small welding shop, it's very beneficial to have an overview of your welder's productivity. If you are creative with this feature, you might even be able to figure out your most profitable jobs, and focus on those.
Plus, if you are a hobbyist welder, it's helpful to know how much welding time your project takes to complete. Anyone who likes to analyze data to structure their work accordingly will like the InfoTrack feature.
Alternatives to the Miller Digital Infinity
Miller Digital Infinity is a pretty good mid-tier welding helmet for professionals. But there are alternatives. Choosing a welding helmet is a very personal and critical decision. So let's look at some options in a similar price range.
Miller Digital Infinity vs Elite
The Miller Digital Elite is one of the most popular auto-darkening welding helmets that Miller has ever produced. It's cheaper than the Infinity reviewed above, significantly lighter, but has a much smaller viewing area. Still, the viewing area is good compared to budget models, and many pros do use it daily.
Other than these few differences, it shares most features with the Digital Infinity. The X-mode, ClearLight lens, and shade 3 light state. However, the InfoTrack feature is missing, probably to cut down the costs.
Miller Digital Infinity vs ESAB Sentinel A50
The ESAB Sentinel A50 is a very different helmet design. It doesn't use a standard square lens, but instead features a large spherical front cover lens. This provides more light transmission and a broader view angle.
This helmet has an outside grind mode button, lower weight, better weight distribution, excellent light and color transmission, a better TIG rating, and amulti-adjustment headgear. However, its light shade is darker at DIN4. Also, the front lens is easy to damage, and expensive to replace. Even so, the Sentinel comes close to being the perfect mid-priced welding helmet for professionals.
Miller Digital Infinity
ESAB Sentinel A50
View Area
13.4 sq. in.
9.27 sq. in.
TIG Rating
≥ 5 amps AC/DC
≥ 2 amps AC/DC
Light State
Shade 3
Shade 4
Grind Mode Button
Inside
Outside
Lens Type
Square
Spherical
Weight
1.44 lbs.
1.40 lbs.
Price
$$$$
Latest Price
Amazon
$$$$
Latest Price
Amazon
Miller Digital Infinity vs Lincoln Viking 3350
The Lincoln Viking 3350 competes well with the Digital Infinity, especially since it's cheaper. It has the highest optical class rating of 1/1/1/1 and it's lighter. Plus, the 3350 has 4C lens technology which does a similar job as Miller's ClearLight, an external grind button, and an extra-large viewing area (but still smaller than the Digital Infinity).
Miller Digital Infinity
Lincoln Viking 3350
View Area
13.4 sq. in.
12.5 sq. in.
TIG Rating
≥ 5 amps AC/DC
≥ 2 amps AC/DC
Light State
Shade 3
Shade 3.5
Grind Mode Button
Inside
Outside
Optical Class
1/1/1/2
1/1/1/1
Weight
1.44 lbs.
1.31 lbs.
Price
$$$$
Latest Price
Amazon
$$$
Latest Price
Amazon
Final Verdict – How Good is it?
There is no perfect welding helmet. You'll always have to make compromises, especially when buying budget and mid-tier equipment.
While the Miller Digital Infinity owns the biggest view area and X-mode as advantages over competing models, it's heavier and doesn't have an external grind button.
But still, it made it onto the list of recommended welding helmets you should buy.
In my opinion, if you weld outdoors and/or in bright environments the X-mode feature on the Digital Infinity will be a huge feature for you. But if you don't need the X-mode, then Lincoln's Viking 3350 is a great alternative. The ESAB Sentinel A50 will be your best choice if you are TIG welding most of the time, thanks to its excellent visibility and low TIG rating.
If I missed any valuable points about the Digital Infinity, please let me know in the comments below.