There is one simple truth when doing metal fabrication work…
You routinely must cut your stock to size before you can weld.
Plasma cutting is safe, fast, and precise compared to oxy-fuel torches, grinders, and band or chop saws. Plus, it easily cuts tight curves and odd shapes and works with a variety of metals.
Also, the Primeweld CUT60 works with a CNC plasma cutting table for repeated runs of precision-cut parts or complex artwork. As a bonus, the CUT60 price is competitive. So, it might be worth looking if you are in the market for a new plasma cutter.
Quick Overview
What's Included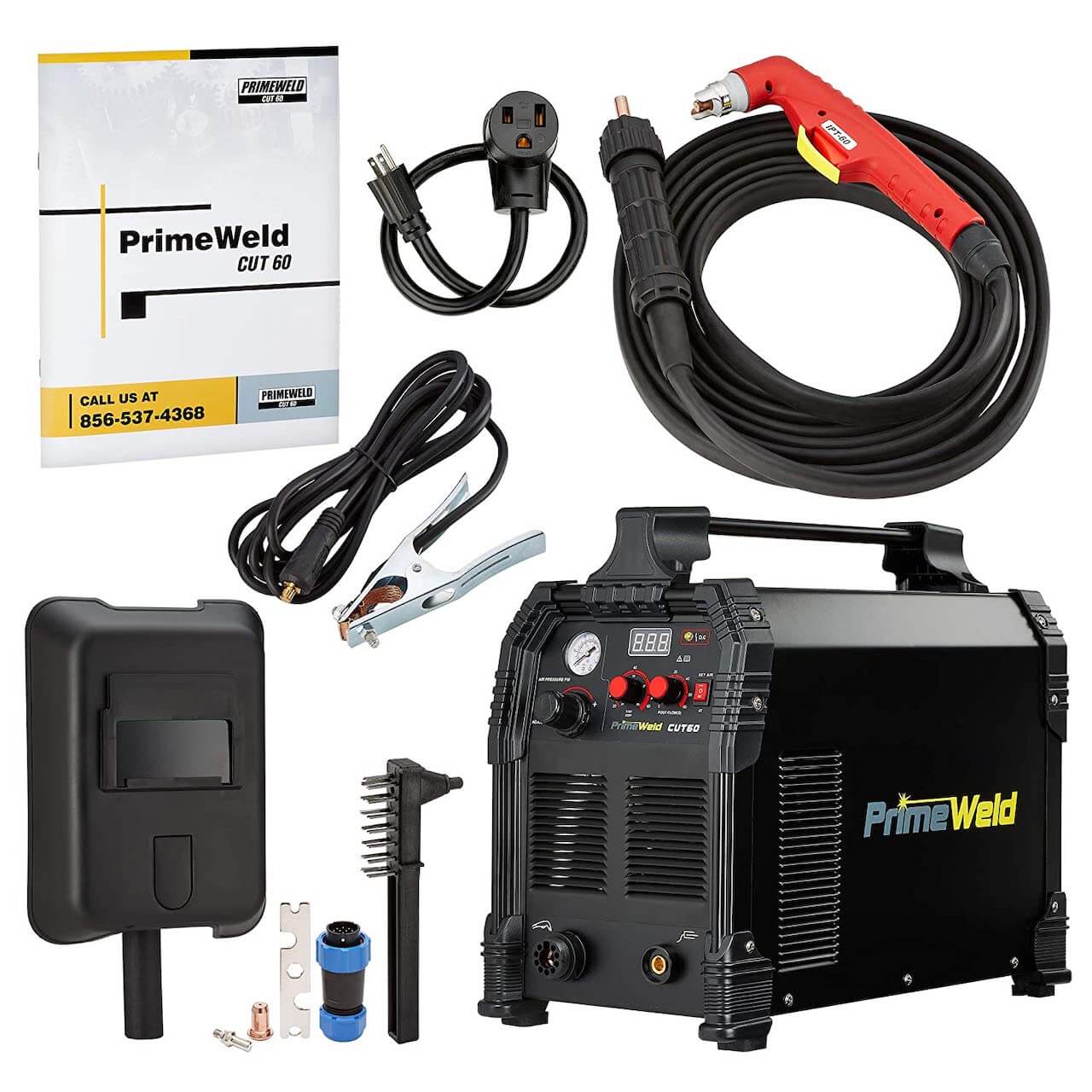 Ground Clamp with 12 feet cable
220v to 110v power adapter
Hand-hold mask and hammer brush
CNC Plug
IPT60 Cutting torch
User manual
Technical Specifications:
Input Voltage
120V / 220V
Electrical Input Connector
120V: 5 – 15P NEMA
220V: 6 – 50P NEMA
Blow-back Start
✅
Arc Start Mode
Non-HF, no contact
Torch Lead
20 feet
Duty Cycle
120V: 60-% @ 30A ( 92V)
100-% @ 23A (89.3 V)
220V: 60% @ 60 A (104V)
100% @ 46A ( 98.4V)
Amperage Output
120V: 20 – 30 A
220V: 20 – 60 A
Rated Voltage
120V: 92V
220V: 104 V
Cutting Thickness
120V:1/3 in. (8 mm)
220V: 4/5 in. (20 mm)
Operating Air Pressure
55 – 75 PSI
CNC Port
✅
2T/4T Control
✅
Nozzle Inside Hole
0.043 in. (1.1. mm)
Dimensions
20.5 in. x 10.4 in. x 16.5 in.
Weight
33.5 lbs.
Warranty
3 years
WeldGuru Rating
★★★★
Price
Latest Price
Amazon
Pros
Blowback Pilot Torch (does not interfere with electronics like a cellphone, computer, or CNC circuitry)
Continuous Plasma Arc (for perforated stock or mesh cutting)
20 ft torch lead
CNC port included
Dual input power (120V or 220V)
Voltage and Post Flow Controls
Front Panel Air Pressure Gauge
Digital Power Display
2T/4T Torch Trigger Lock
3 Year Warranty
Cons
Plastic parts may not hold up in industrial environments
A bit larger than competing units
Parts for "generic" IPT60 torches seem to have slightly different threads
Alternatives To Consider
The Primeweld CUT60 is an interesting option, especially if you intend to use a CNC plasma cutting table.
But if that is not important to you, there are a couple of other products worth considering.
YesWelder CUT65DS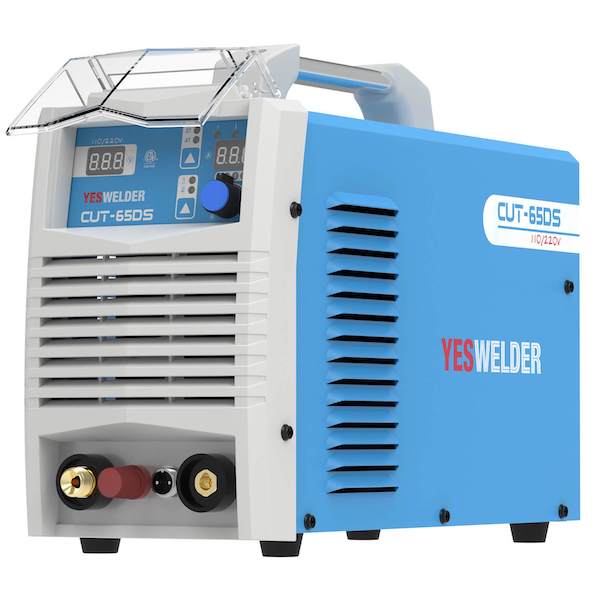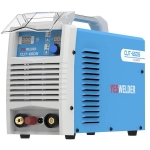 The Yeswelder CUT65DS can save you a few dollars if you shop around compared to the Primeweld CUT60.
Plus, the CUT65DS only weighs 21.75 lbs. So, if you value portability, the CUT65DS is more compact, lighter, and a better choice.
While lighter and a few dollars less, you do not give up much other than the CNC port. The 2T/4T control found on the CUT60 is included, as well as the blow-back start and dual voltage input options.
So, if you do not need the CNC port included on the CUT60, this CUT65DS is a fine option and better if you need a compact light unit.
On the downside, the torch lead is only 13 feet long. But keep in mind, this unit is to move around to get it into place for the needed cuts. Also, it will not cut metal over 5/8 inches in one pass.
You can 10% off the Yeswelder Store using: WELDGURU10
Eastwood Versa Cut 60
For those who need power, the Versa CUT 60 may be a better choice.
It only runs on 220V, but it is made to take on the thicker metal, and it cuts up 7/8 inch steel in a single pass. Users are often impressed by how this plasma cutter mows through 1/2 inch steel with ease.
This plasma cutter also includes a TrafimetCB70 cutting torch and includes a tip-mounted guide. So, you can find parts just about anywhere, and the tip guide works well when using a straight edge to cut perfect, neat lines.
This unit is heavier at 45 lbs. and only runs on 220V. So, you can move it if you need to, but it is not as easy as with the Yeswelder CUT65DS. Also, you will not find many extras. Eastwood designed a straightforward plasma cutter for those who need power and like to keep it simple.
Side-by-Side Comparison
PrimeWeld CUT60


(good value)

YesWelder CUT65DS


(cheaper)

Eastwood Versa Cut60


(extra power)

Dual Voltage Input
✅
✅
220v
Blow-back Start
✅
✅
⛔
2T/4T
✅
✅
⛔
Max Cut
3/4″
5/8″
7/8″
Torch Lead
20 ft
13 ft
20 ft
Air Gauge Position
Front
Connector
Front
CNC Port
✅
⛔
⛔
Mesh Mode
✅
✅
⛔
Size
20.5 x 10.4 x 16.5″
16 x 6.3 x 11″
17.7 x 7.5 x 13.6″
Weight
33.5 lbs
21.75 lbs
45 lbs
Price
Latest Price
Amazon
–
Latest Price
Yeswelder


(10% discount: WELDGURU10)

Latest Price
Eastwood
–
What You Should Know Before Buying the Primeweld CUT60
There are a few things you need to know in advance of handing over your money for the Primeweld CUT60.
Price
While the price is attractive for the features included, you can get a plasma cutter for less money.
If you do not need the CNC port, it may be worth it to shop around a little.
Cut Thickness
If you cut over 1/2 inch often, you may find that you will need multiple passes on many cuts. The unit handles multiple passes well, so that is not an issue. But PrimeWeld made some claims early on they seem to have dialed back on the max severance cut.
The user manual now has settings up to 3/4 inch, which seems to be in line with user experiences. In general, once you get near or over 1/2 inch, you need to crank the air up, and you will be moving pretty slow.
So, if you cut thicker metal regularly, you may want a unit that cuts in one pass better on the thick stock.
Torch Parts
There seems to be a very small difference in the threads on this IPT-60 torch included with the Primeweld CUT60. Users reported that parts bought online for an IPT-60 torch had to be returned. You will be limited to buying from Primeweld or other specialized shops that sell parts for this torch.
Top Features that Make the CUT60 Great
Dual Power Input Options
The ability to run on 120 or 220 volts lets you use this plasma cutter just about anywhere. Since it is light enough to transport if required, this is advantageous to have.
Torch Lead
The torch lead is 20 feet long. This is nice when doing longer cuts; you will not be constricted and have to stop in the middle of a cut.
Air Control
You get both an air gauge and air adjustment dial on the control panel. With many plasma cutters, the air supply controls the air pressure, and it is not always easy to see or adjust. But with the Primeweld CUT60, you can see what you are running and easily adjust if necessary right at the control panel.
CNC Port
You can't beat the fast, precise work a CNC table can do for reproducing production parts or intricate artwork. However, to use a plasma cutter, the unit needs to interface with the CNC.
The CUT60 comes with a CNC port, ready to automate those repetitive cuts and increase your productivity.
Perforated/Mesh Mode
When cutting mesh or perforated pieces, this plasma cutter stops the arc at voids then restarts when it comes to more metal. In the past, this stop/start cycle made grinders and oxy-fuel torches your best choice to cut things like mesh or expanded metal.
But this mesh mode feature allows you to easily cut mesh or perforated metal with the PrimeWeld CUT60 plasma cutter.
Blow-back Arc Start
When using a CNC, the HF start on many plasma cutters is a problem. The electrical interference generated plays havoc with all electronics like your phone or a CNC controller.
So, you need a plasma cutter with a blow-back start to keep the interference down and not interfere with the electronics. Since the Primeweld CUT60 comes with a CNC port, it is no surprise it also uses a blow-back start.
2T/4T Control
Let's face it, for long cuts, 4T control is nice to have. The Primeweld CUT60 includes this feature and gives you the choice of using 2T or 4T control with your cuts.
For shorter cuts, pull the trigger and cut, then release when the work is complete (i.e., 2T).
With longer cuts, you can use 4T. Pull the trigger to start and release, then continue to cut. When done, pull and rerelease the trigger to stop. This mode lets you make the long cut without holding the trigger the whole time.
Conclusion
While not an industrial unit, the Primeweld CUT60 will work well for small to medium-sized shops. Users like DIYers, automotive restorers, artists, and handymen who need a capable cutter with some advanced features should look at this unit.
In particular, if you do repetitive or production work and want to interface your plasma cutter with a CNC table, this plasma cutter brings smaller shops a decided advantage.
Loaded with additional features like 2T/4T control and mesh cutting, this plasma cutter has the potential to take a shop to another level. It is not the cheapest plasma cutter, but it is also not the most expensive.
So, it depends on your needs as to whether or not this is the right plasma cutter for you. The features found in the Primeweld CUT60 will appeal to some, but others will find they do not need them.
There are cheaper and more powerful options in this price range. So, be sure to identify your needs first, then match those with the plasma cutter that works in your shop.
Related: Top Rated Plasma Cutters Overall