The Titanium Plasma 45 is a fine plasma cutter, but you should be aware of its multiple shortcomings and one major caveat.
In this article, you will learn about its pros, cons, and possible alternatives offering better features at a lower price.
Overview of the Titanium Plasma 45
With 40A of cutting power and a smooth, stable arc that makes excellent cuts, it's one of the better plasma cutters on the market. However, it's costly compared to competitors with similar quality, especially since some brands provide more functionality.
This lightweight, dual voltage input plasma cutter satisfies those who need a metal-cutting solution on the go. Thanks to its build and cut quality, it can even perform when used in a professional environment.
But it doesn't provide the best duty cycle. The poor duty cycle is most apparent when running on a 120V power supply, limiting it to thin-section cuts for only a couple of minutes.
It also omits a few features expected at this price, making it overpriced. For example, it has no 2T/4T option, and the warranty is poor.
What's Included
The Titanium Plasma 45
Ground clamp, 12 feet
Plasma torch, 12 feet
240V to 120V adapter
Spare copper electrodes and cutting tips
Instruction manual
Tech Specs
| | |
| --- | --- |
| Machine Type | Inverter plasma cutter |
| Input Voltage | 110/240V |
| Output Current Type | DC |
| Technology | Inverter |
| Amperage Output | 110V: 15 – 20A, 240V: 15 – 45A |
| Duty Cycle | 110V: 35% at 20, 220V: 50% at 45A |
| Cuttable Materials | Mild steel, stainless, aluminum, copper |
| Max clean-cut thickness | 5/8 inch |
| Max severance thickness | 1 inch |
| Clamp Cable Length | 12 feet |
| Plasma Torch Cable Lenght | 12 feet |
| Gas Supply | Clean, dry, oil-free air |
| Recommended Gas Inlet Pressure | 4.2scfm @ 80-110 PSI |
| Weight | 21.3 lbs |
| Warranty | 90-days |
| Weld Guru Rating | ★★☆☆☆ |
| Price | Check Here |
Pros
Powerful
Lightweight and portable
Great build quality
Makes clean cuts
Dual voltage
Digital display
Cons
Low duty cycle compared to other models
Built-in air filter (makes it easier to break)
It doesn't detect input voltage automatically
No 2T/4T selection
Poor warranty
What To Know Before Buying The Titanium Plasma 45
While this plasma cutter makes beautiful cuts, there are drawbacks to keep in mind. So, let's review these deficiencies to help you determine if this plasma cutter works for you.
Doesn't Offer the Highest Duty Cycle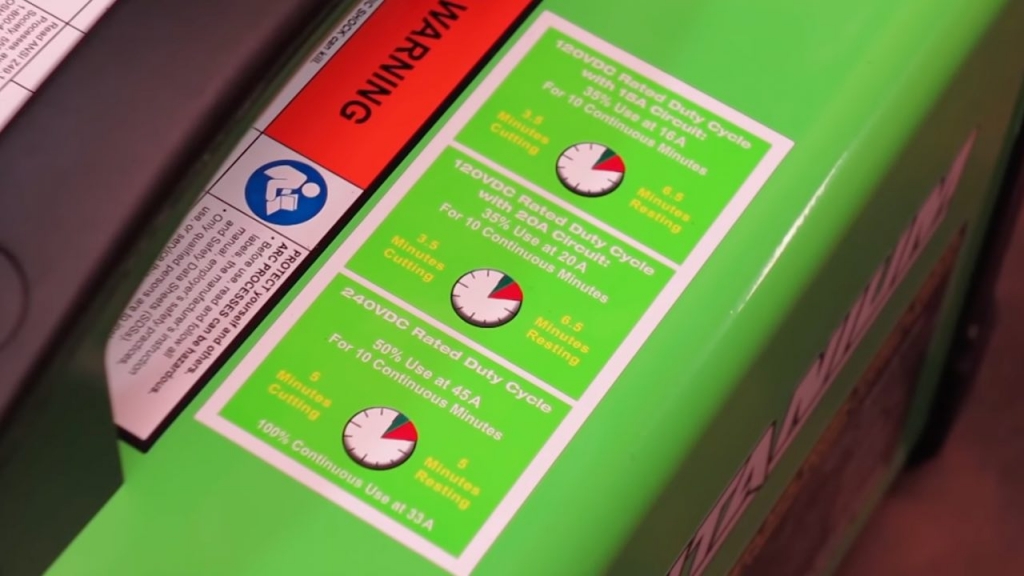 The Titanium Plasma 45's duty cycle compares to Hobart and Miller plasma cutters, costing much more. However, it doesn't compete well with plasma cutters "in the middle of the pack," which is where it sits price-wise.
YesWelder, Everlast, Eastwood, Weldpro, and other competing brands offer better duty cycles. The Titanium Plasma 45 can only cut for 3.5 minutes at 20 amps of output while running on a 120V input. The situation is even worse if you have a 15A circuit breaker because its 35% duty cycle maxes out at 16A.
The duty cycle may work if you are a hobbyist. But it is something you should know since other models offer more working time. You may want to consider them, and our best alternative is reviewed later in the article.
Built-in Air Filter on the Back of The Unit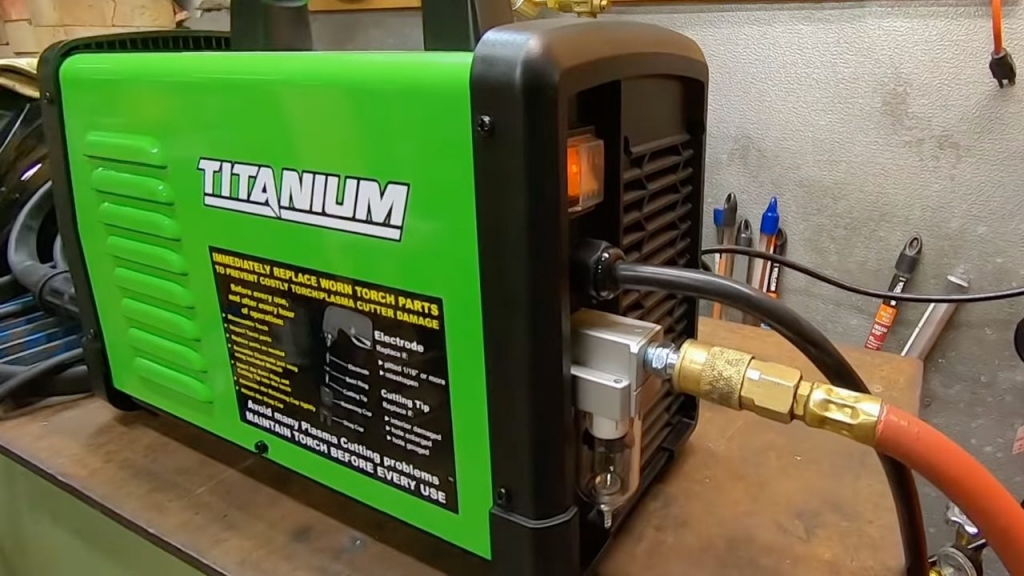 A built-in air filter makes setup easy since no assembly is required. But it's also an accident waiting to happen. A plasma cutter air filter is a sensitive piece of equipment that breaks easily if accidentally bumped or hit.
Metalwork is rough work, and it's not the best idea to move a plasma cutter around with the air filter attached. Plus, moving tools or metal pieces near the machine risks hitting this delicate part. Accidental bumps can break it off or shatter the plastic, moisture-collecting cup.
Almost all plasma cutters have a removable air filter so that you can store the machine when dormant or in transit. More professional units place the air filter inside the unit, protecting it from accidents.
Titanium's approach does neither. If you accidentally break the air filter on another model, you can easily replace it. But this Titanium model requires disassembling the machine to remove the air filter. At a minimum, they could have provided a removable metal housing around the filter for protection.
Missing Features
This plasma cutter does not detect the input voltage automatically. You need to manually flip a switch on the front panel to match the voltage of your outlet. But I expect auto-detection in an expensive plasma cutter. Even the cheapest machines like the Lotos LTP5000D automatically detect the voltage input.
Of course, you can't compare the Lotos's quality with the Titanium plasma cutter. But it makes it clear that Titanium should have included auto-voltage detection given the unit's price.
What I find even more troubling, there is no 2T/4T setting, which is a must for plasma cutting work. Unlike welding, plasma cuts require a long time to complete. Cutting a sign out of thin sheet metal or crafting metal art pieces can take anywhere from 3-5 minutes, and having the 4T mode would help. The 4T allows you to cut without keeping the torch trigger pressed, which reduces hand fatigue and enables you to make more precise cuts.
Also, there aren't any airflow modifications available. You can't modify the post-cutting airflow time that cools the consumables, and there is no ability to check the airflow before cutting.
In this price range, Titanium should include the missing features discussed above.
Poor Warranty
While this plasma cutter has excellent build quality, the manufacturer's 90-day warranty doesn't inspire confidence. A short warranty is unacceptable at this price. Cheaper plasma cutters from reputable brands offer at least a 2-year warranty.
Harbor Freight does offer a paid warranty extension of 2 years. But this further increases the price of an already overpriced machine.
Also, the strict warranty limitations are unreasonable and not well thought out. Page 10 of the instruction manual notes that failure to follow the duty cycle limitations voids the warranty. The note is odd since the page explains the basics of the duty cycle calculation.
Considering this machine has thermal overload protection that turns it off if you exceed the duty cycle, I don't see why that should void the warranty. Plus, it raises how Habor Freight will service you if there is a problem. It appears they gave themselves an out with this disclaimer.
Review of The Top Features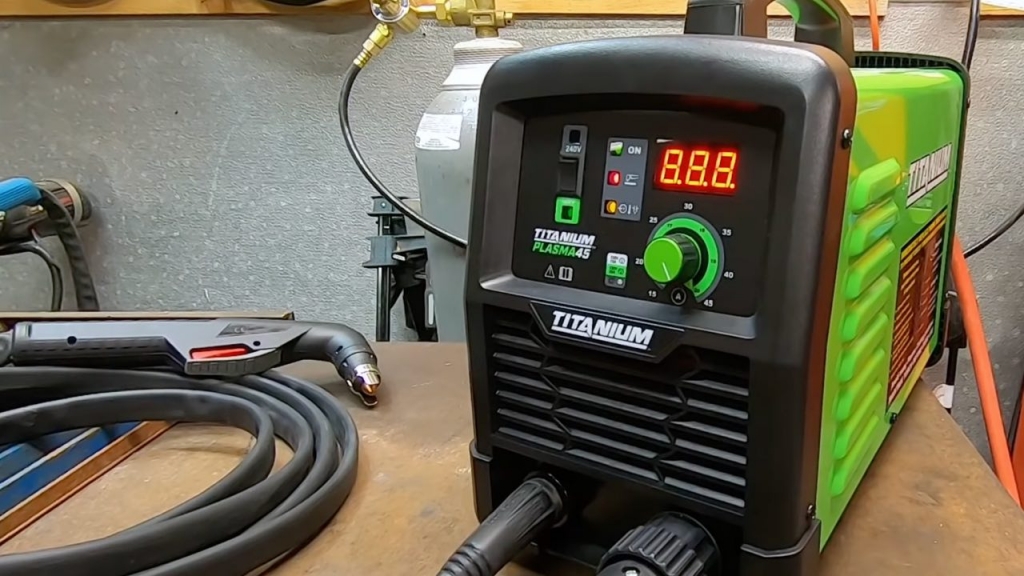 The Titanium Plasma 45 is a good plasma cutter except for the weak warranty and a few missing features. So, before we present an alternative model, let's review what makes this plasma cutter a good choice.
Cutting Power
The Titanium Plasma 45 has a lot of cutting power. It cuts fast and clean, leaving a dross-free edge, except when it cuts metal over 5/8 inch thick. So, if you need to cut thicker metal and want a clean edge, this plasma cutter is a good choice.
Easy to Use
While short on functions, the Titanium Plasma 45 is an easy-to-use plasma cutter. The front panel has a voltage switch, a digital display, LEDs for diagnostics, and an infinitely adjustable amperage output knob.
The ground clamp and plasma torch are simple to plug into the unit, and the torch is easy to operate and assemble. The built-in air filter makes setting up the cutter easier, but this convenience can lead to damage, as discussed earlier. Considering the poor warranty, it's probably not worth the added convenience.
Build Quality
This plasma cutter is well made and is probably one of the best Titanium inverter-based units. The sheet metal housing and the sturdy plastics make it rugged and ready to handle most environments. Unfortunately, the exposed air filter is a critical weak point that can jeopardize the entire build.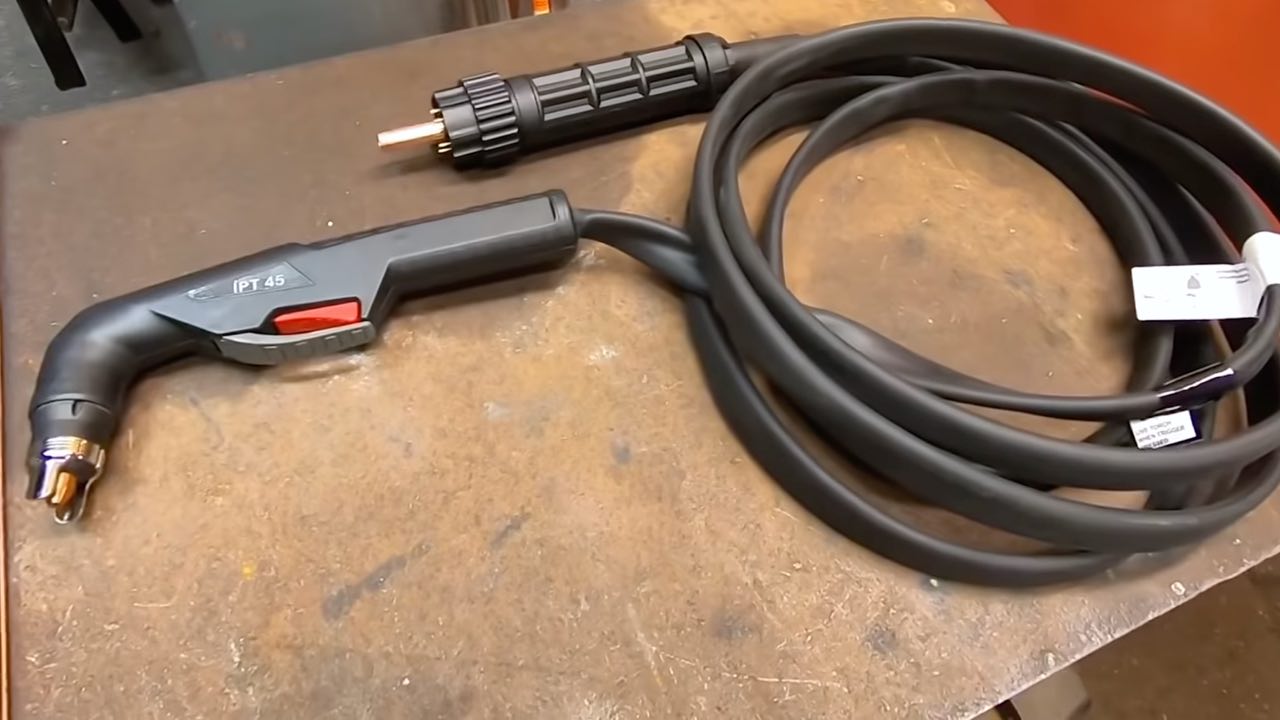 The plasma cutter comes with a professional-grade torch that includes a drag cup, making it easier to use and prolonging consumable life. The torch head houses a high-quality electrode, cutting tip, and a swirl ring under the retaining protective cup.
The ground clamp is also quite good, considering it can handle only 45A. But I wish it had copper contact points for better conductivity. Still, most plasma cutters on the market come with basic ground clamps, so it's in line with the competing models.
A Real Alternative
While the Titanium Plasma 45 is an excellent plasma cutter, we believe that it's overpriced, and some competing models offer better value. The YesWelder CUT-65DS is our choice because it offers a similar build and cut quality, more features, and costs less than the Titanium model.
YesWelder is a brand specializing in affordable, hobbyist-level equipment. But some of their machines, like the CUT-65DS, can be used for light fabrication, too. So, let's see how the Titanium Plasma 45 compares to a cheaper, more powerful unit.
YesWelder CUT-65DS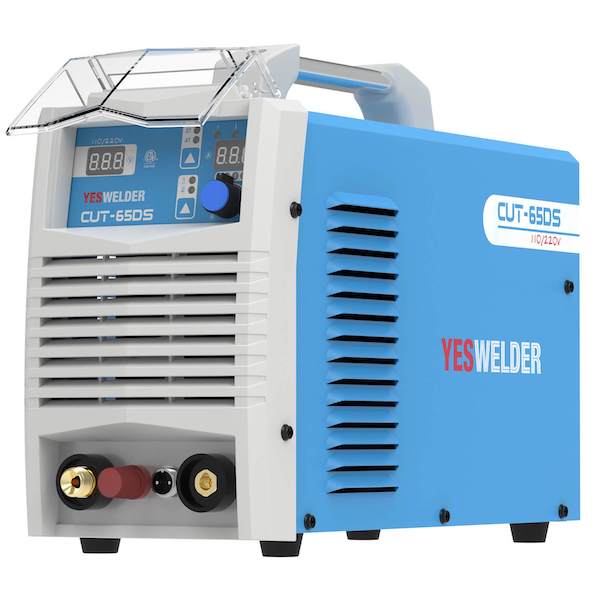 Offering up to 65A of cutting power, YesWelder's model can input more energy into the metal. In particular, its 100% duty cycle at 45A and 60% at the maximum output are where it significantly outperforms the Titanium Plasma 45.
The YesWelder CUT-65DS supports advanced features like 2T/4T, post-cutting airflow adjustments, gas check, and automatic voltage detection. It also has two digital displays and an infinitely adjustable knob for simple operation.
This plasma cutter uses a non-touch pilot arc which means you can start the cut away from the metal. You don't need to touch the torch tip to the metal for the current to make the jump. Instead, the arc ignites freely through the air. This is a fantastic feature because you don't have to ensure the metal is clean from rust and paint. Plus, you can cut the metal sideways and bevel thick sections for welding purposes.
It also has a blowback arc start, not the more common HF start, which is better for CNC cutting. HF starts can interfere with sensitive electronics like laptops, PCs, smartphones, etc.
The included torch rivals Titanium's included gun, and the CUT-65DS's air filter is not built-in. You can disassemble the air filter along with the leads and pack everything for safe transport and storage. In addition, the provided torch lead is one foot longer than Titanium's lead.
With a lower price, higher duty cycle, more features, and similar build quality, the YesWelder CUT-65DS is a model worth your attention. It provides more value and a better cutting experience.
Alternatively, if you don't need the CUT-65DS cutting power, the YesWelder CUT-55DS offers a similar experience for an even lower price, but with a high-frequency pilot arc start.
Titanium Plasma 45
YesWelder CUT-65DS
Amperage Output
15-45A
15-65A
Duty Cycle
50% at 45A
100% at 45A, 60% at 65A
Arc Start Method
High Frequency
Blowback
Post Cutting Airflow Modification
❌
✅
2T/4T Function
❌
✅
Automatic Input Voltage Detection
❌
✅
Gas Check Functionality
❌
✅
Cutting Torch Lead Length
12 feet
13 feet
Air Filter Regulator
Built-in
External
Warranty
90-Day
1 year
Weld Guru Rating
★★☆☆☆
★★★☆☆
Price
$$$$
Check Here
$$
Best Deal Here
Final Verdict
Thanks to an excellent build and arc quality, the Titanium Plasma 45 is a decent plasma cutter. However, in our opinion, it is not a value choice.
YesWelder provides slightly lower build quality, but its torch and cut are as good as the Titanium. With the additional benefits that YesWelder offers, its low price makes it a better deal.