YesWelder supplies power in their dual-voltage TIG-255P DC TIG welder and advanced functions. But this machine especially helps when welding thin, fragile metal and jewelry thanks to its unique cold TIG welding feature.
As one of the least expensive TIG welders on the market, the TIG-255 is surprisingly loaded with digital functions.
So, let's dive in and see if this machine is as good as it appears at first glance.
We'll cover the advantages and disadvantages of the TIG-225P, and explain some of the included functions like pulsed TIG and cold spot welding. 
A Quick Overview Of The Yeswelder TIG-225P
YesWelder designed the TIG-225P for hobbyists, DIY metal artists, and professionals who weld thin materials.
This ultra-light and compact DC TIG welder packs a punch with 225 amps supported by a 60% duty cycle. But its ability to supply a low amperage output of just 5A is even more valuable to professional TIG welders since it prevents burning thin stock.
The YesWelder TIG-225P also has a digital display, intuitive user interface, DINSE plugs, standard TIG torch connector, infinite adjustability, a large fan for heat dissipation, and a rudimentary TIG foot pedal. Plus, it can stick weld should you need it.
What's Included
YesWelder TIG-225P 
WP-17V TIG torch with consumables
WP-9 TIG torch with consumables
Stick electrode holder
Ground clamp
Shielding gas hose
TIG foot pedal
220V to 110V adapter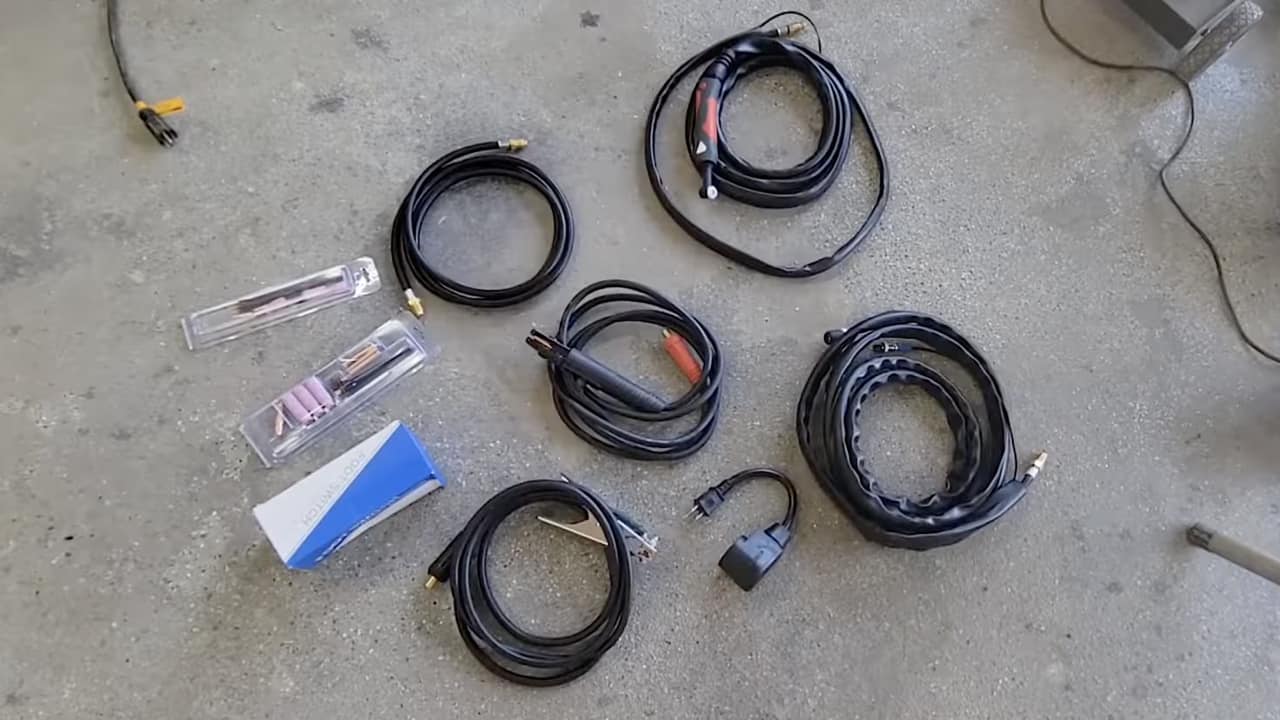 Unfortunately, the package doesn't include tungsten electrodes or a shielding gas regulator. But, we are pleasantly surprised to see TWO included TIG torches. That's not something you see every day with entry-level or professional welders.
For most welding jobs, you'll use the standard WP-17V TIG torch. However, to weld fragile stock and access tight spaces, the WP-9 TIG torch is indispensable.
Tech Specs
Welder Type
DC TIG, Stick
Input Voltage
110/220V
Output Current Type
DC
Technology
Inverter
Amperage Output
TIG: 5A/10.2V – 225A/19V
Stick: 5A/20.2V – 225A/29V
Duty Cycle
60% at 225A
100% at 174A
Pulse Frequency
0.1-99Hz
Pulse Peak Current Duration
10-90%
Pulse Background Current 
5-225A
Pre-Flow
0.1-3s
Post-Flow
0.5-20s
Upslope/Downslope
0-10s
Cold Welding Time
1-500ms
Cold Spot Time
100-990ms
Weldable Materials
Mild steel, stainless steel, copper
Weldable Mild Steel Thickness (Single-pass)
Up to 5/16 in.
TIG Foot Pedal Support
✅
2T/4T
✅
Welder Dimensions (H x W x L)
12.7in. x 7.3in. x 14.9in.
Weight
19lb
Warranty
1 year
Weld Guru Rating
★★★★☆(4/5)
Price

See Best Price




10% discount with code: WELDGURU10
Pros
Affordable
Good build quality
Intuitive and easy to use
Supports Pulsed TIG welding
Cold TIG welding function
Includes TIG foot control
2T/4T for short and long welds
Low amp output of just 5A
Long duty cycle
Upslope and downslope for better heat control
Excellent post-flow shielding gas interval
Two included TIG torches
Dual voltage support
High Frequency and lift TIG arc starting methods
Digital display
Ultra-portable
1-year warranty
Cons
The included TIG foot pedal is cheap and very basic. Professionals will replace it immediately.
Not including the shielding gas regulator requires an additional investment.
The user manual barely mentions the cold TIG welding function, even though it's the machine's defining feature.
Where to Buy It (with a discount)
The Yeswelder TIG-225P can be bought from Amazon, however, you will usually find it cheaper on their website with a current running deal.
On top of this, you can use the discount code WELDGURU10 to get an additional 10% off (yes, you can use the discount code on top of any current running deals!).
What Should You Know Before Buying the Yeswelder TIG-225P
This TIG welder has relatively fewer shortcomings than other brands. While affordable and feature-rich, no welder is "perfect," and the TIG-255P does have some cons to consider.
It Doesn't Weld Aluminum
To TIG weld aluminum, you must use an AC output. The YesWelder TIG-225P is a DC-only machine, limiting you to welding carbon steel, stainless steel, and copper.
The inability to join aluminum is not a con because AC TIG is unrealistic at this price. If you must weld aluminum or magnesium, you need to consider alternatives. Another relatively low-cost machine from YesWelder is the AC/DC TIG-250P, which can weld all metals, including aluminum.
If you need AC TIG, then check out these TIG machines.
Additional Costs
Many brands include the shielding gas regulator. Unfortunately, the YesWelder TIG-225P lacks one. Luckily, YesWelder sells an inexpensive flow meter regulator, which is much better than regular dual-gauge regulators.
You'll also have to buy tungsten electrodes. We recommend the blue, 2% lanthanated tungsten for most work because it's non-radioactive, unlike the red, thoriated tungsten. But, if you plan to weld thin stock often, the gray, 2% ceriated tungsten is also a great choice. Most brands omit tungsten electrodes; they are consumables, so it's understandable. But still, it's nice to weld as soon as you open your package and have to wait for tungsten electrodes to arrive separately.
Flimsy TIG Foot Pedal
The included TIG pedal works just fine. But it is small and fragile. Professionals won't be satisfied with it, while hobbyists will benefit from it until they "outgrow it." For the price of the YesWelder TIG-225P, it's a miracle they included any foot control at all.
Just remember that you'll likely need to upgrade the TIG pedal at some point. YesWelder does sell a pretty good foot pedal if you're interested.
TIG Cold Function Is Not Explained
The user manual mentions the TIG cold welding in two short paragraphs. Both are useless. Since this is a relatively new function in the TIG welder market, especially in entry-level machines, YesWelder should have provided clear, detailed instructions in the manual for this function. But don't worry, we'll explain how this feature works in a bit.
Pulsed TIG Is Limited
While we are happy that the YesWelder TIG-225P offers pulsed TIG welding at a low cost, we must mention that its maximum pulse frequency of 99Hz is far below industry standards.
The YesWelder TIG 250P AC/DC has pulsed frequencies up to 200Hz, which is much better. Some costly machines even offer frequencies up to 1000 Hz.
However, most beginners and professionals can complete almost every job with 99Hz. Many welders prefer just 1Hz for the pulse setting. So, this does depend on your style. Some people love ultra-low pulses per second, while others like to crank up this setting as high as possible to get a very focused arc.
How The Yeswelder TIG-225P Compares
There aren't many similar DC TIG welders on the market, which makes the YesWelder TIG-225P rather unique. Miller, Lincoln, Hobart, ESAB, or well-known brand names simply don't provide comparable units in price or features.
The Lincoln's Invertec V160-T TIG welder is the closest you can get, which costs more than five times the YesWelder TIG-225P. So, none of the brand names offer comparable features at a reasonable price.
Budget brands like PrimeWeld, WeldPro, Lotos, and others also don't offer competing models. Their TIG welders are too expensive or don't include pulsed TIG at this price.
We feel like the best model for comparison is the Eastwood Digital TIG 200. This is an AC/DC welder, so it can weld aluminum, unlike the YesWelder TIG-225P. However, the Eastwood model is twice the price. So, unless you need to weld aluminum, YesWelder makes a more cost-effective choice. 
Both the Eastwood Digital TIG and the YesWelder TIG-225P support pulsed TIG. And they both include a foot pedal, high-frequency arc start, 2T/4T, upslope/downslope, and pre/post flow settings.
But Eastwood's welder doesn't have the cold spot TIG ability. Instead, it has a regular spot timer, which works similarly, but is far slower than the quick flash welding provided by the TIG-225P. So, YesWelder's machine has the advantage with proper cold TIG welding.
Feature
YesWelder
TIG-225P
Eastwood
Digital TIG 200
Output Current
DC
AC/DC
Amp Output
5-225A
10-200A
Duty Cycle
60% at 225A
25% at 200A
Pulsed TIG Range
0.1-99Hz
0.1-800Hz
TIG Spot Welding
Flash up to 0.001s (true cold TIG welding)
Only as low as 0.01s
Warranty
1-Year
3-Years
Price
$$


See Best Price




10% discount with code: WELDGURU10

$$$$


See Best Price
Review Of The Top Features
Now that we've discussed some cons of the YesWelder TIG-225P and how it compares to the rest of the market let's explore the top features to help you decide if this welder is for you.
Cold Spot TIG Welding
Cold spot TIG welding provides swift spot welding. This function lets you make a flash weld at one-thousandth of a second. As a result, warping, burn through, or discoloration is almost impossible, even with the thinnest materials.
This feature is called "cold" spot welding but still uses an electric arc and heat to melt the material. There is a big difference between this welding method and actual cold welding.
We mentioned how the Eastwood Digital TIG 200 supports a quick spot welding mode of 0.01s, but this wouldn't qualify as true cold spot TIG welding. The YesWelder TIG-225P makes spot welds ten times faster than Eastwood's model.
There aren't many TIG welders in the world with this feature. So, if you weld fragile sheets or jewelry, the YesWelder TIG-225P is a perfect choice.
Pulsed TIG Welding
You can dramatically improve stainless steel welds with GTAW-P by lowering the overall heat input into the material. Depending on the set pulse frequency, the pulsed TIG alternates between high and low (background) amperage many times per second. As a result, it's easier to prevent excessive heat input, focus the arc, and achieve the famous "stacked dimes" appearance.
While we wish YesWelder had included a higher maximum pulse frequency, having any pulse settings is welcome at this price. If you prefer a low pulse in the range of 0.1-10 pulses per second ("PPS"), you will be delighted with the YesWelder TIG-225P. But, even if you prefer using high PPS above 200Hz, the 99Hz will provide a familiar feel. The arc won't be as narrow or focused, but you'll still benefit from improved welding speed.
High-Frequency Start
Many entry-level DC TIG welders offer lift arc start only, forcing you to touch the workpiece with the tungsten tip. As a result, the metal may get contaminated, especially if your tungsten electrode has a sharp point.
But the YesWelder TIG-225P includes a High-Frequency ("HF") arc start. This means the tungsten doesn't need to touch the welded part physically. Instead, bring the tungsten tip close to the joint, press the button on the TIG torch, and the HF arc will jump the space between the two. HF starting is the cleanest method to initiate an arc when TIG welding. This is so important that this YesWelder machine wouldn't qualify for professional work without an HF arc.
The TIG-225P also supports lift-arc stars as an option. This helps when welding near sensitive electronics when HF interference can be a potential problem.
Low Amperage Output
While the 225A output at a 60% duty cycle is impressive, the low end of the amperage range of 5A grabbed our attention.
Such a low amperage output is usually found in more expensive machines. It offers exceptional heat input control when welding whisper-thin material. Most welders in this price range from Eastwood, Weldpro, Primeweld, and similar brands can only go as low as 10-15 amps.
Stick Welding Features
Every DC TIG welder can also stick weld. Just hook up the stick electrode holder and the ground clamp via the DINSE plugs, and you're good to go.
However, the TIG-225P includes hot start and anti-stick functions to improve arc starting and reduce arc outage while welding. As a result, their stick welding feature is easier to use than most other budget TIG welders with a stick welder option.
Digital Display and Intuitive Front Panel
The digital display lets you fine-tune every setting and know exactly how many amps you use. But not every brand includes it at this price. So, we are glad YesWelder continues its tradition of providing a visual output with its machines in the TIG-255P.
The controls for pulsed TIG, cold spot TIG, and stick welding are easy to set thanks to a printed diagram pattern on the front panel. Each process has a selector button to cycle through the LEDs, an improvement over the YesWelder TIG-250P that placed too many cyclable settings under the control of one button.
On-Demand Fan
Some people may not care about this, but having a on-demand fan reduces the noise in your workshop/workspace dramatically.
Unlike some cheap fans that run constantly when the machine is on, the on-demand fan only runs when you are welding.
Conclusion
If you need to weld thin materials, the YesWelder TIG-225P is the best inexpensive welder you can find. Cold TIG spot welding is indispensable when fusing ultra-thin material as low as 1mm. You cannot weld such thin materials with any other arc welding process.
Even professional welders and jewelry makers can use the TIG-225P, not just hobbyists. If you don't frequently use its maximum amperage, there isn't much to worry about if you weld in clean conditions. This YesWelder machine should last you for years.
However, if you run a welding shop and plan to weld thick and thin metal, that's a different story. Considering the low cost of this welder, the basic IP21S protection class, and the one-year warranty, pros should get something more durable. Still, it may be cost-effective in some shops if you use the TIG-255P only for thin welding.