When you need a top-quality welding helmet, 3M Speedglas deserves a look.
3M was the first company to make auto-darkening welding helmets in 1981 and still makes state-of-the-art, no-compromise helmets today, focusing on outstanding craftsmanship, innovative design, and superior optics.
3M has a range of helmets to suit your needs, whether beginner or professional.
Today, I'm breaking down 3M's helmet ranges to help you decide which 3M Speedglas works best.
Understanding 3M Welding Helmets
Before we dive into the specifics, I'll take a quick look at the ranges offered by 3M.
Each design caters to different needs and preferences.
9100 Series: The 9100 series is the cream of the crop for 3M welding helmets. These helmets have multiple features and are perfect for professional welders who demand the best. They offer a wide viewing area, side windows for enhanced peripheral vision, and even a tack welding comfort mode.
9002NC: The 9002NC's design prioritizes versatility. These helmets are lightweight and compact, ideal for tight spaces and overhead welding. They don't have all the bells and whistles of the 9100 series, but they still offer good protection and comfort.
SL: The SL series focuses on being lightweight. These helmets are perfect for welders who value comfort and mobility. They don't have the advanced features of the 9100, but they still provide reliable protection and a comfortable fit.
100 Series: If you want your welding helmet to make a statement, the 100 series is for you. These helmets come in various graphic styles, allowing you to show off your personality while staying safe on the job.
3M 10V: The 3M 10V welding helmet is a great choice for a budget-friendly option without sacrificing quality. It offers reliable protection, a comfortable fit, and an affordable price.
Here's a quick comparison between the different 3M models:
Speedglas
9100
9100 FX
9100-QR
9002NC
SL
100
Viewing Area (in²)
V:6.66
X:8.82
XX:12.5
XXi:12.5
V:6.66
X:8.82
XX:12.5
XXi:12.5
V:6.66
X:8.82
XX:12.5
XXi:12.5
8.82
6.29
6.29
Natural Color
✅
✅
✅
✅
❌
❌
Side Windows
Option
✅
✅
❌
❌
❌
Tack Weld Mode
✅
✅
✅
❌
❌
❌
Flip-Up
❌
✅
❌
❌
❌
❌
Exhaust Vents
✅
✅
✅
✅
❌
❌
Hearing Protection Option
✅
✅
✅
✅
✅
✅
Hard Hat Option
✅
✅
✅
✅
❌
✅
Auto-On Option
✅
✅
✅
❌
✅
❌
PAPR Version
✅
✅
✅
❌
❌
❌
Price
See on Amazon
See on Amazon
See on Amazon
See on Amazon
N/A
See on Amazon
6 Best 3M Welding Helmets – A Closer Look
Now that you understand the different ranges, let's look closely at each model.
1. 3M Speedglas 9100 – Best All-Around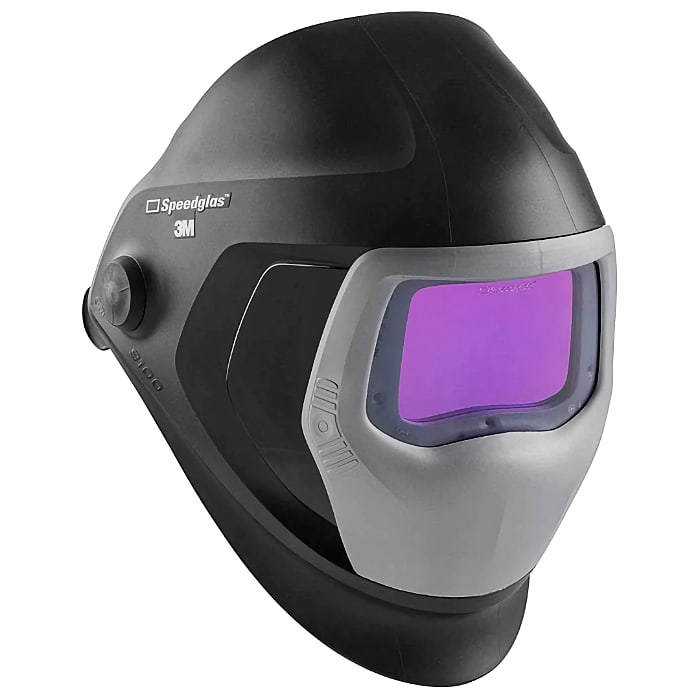 Pros
Large viewing area
Side windows option enhances peripheral vision
Well-padded headgear distributes head pressure evenly
Easy-to-use shade and sensitivity controls
Tack Mode intermittent darkening
Cons
Higher price point compared to other models
Some users report the hood lowers too easily
The 3M Speedglas 9100 is the top choice for a good reason. It offers a large viewing area, up to 12.5 square inches, with XX and XXi viewports and superior optical clarity. The helmet also features optional side windows, adding peripheral vision.
One of the best features of the 9100 series is a tack welding viewport mode, which lets you leave your helmet down when tack welding, saving time and lessening fatigue.
The optional XX viewport offers three sensitivity levels for MIG, TIG, or SMAW. Grinding adjustments are easy to do while wearing gloves. Auto-darkening adjusts from levels 8 through 13. The XXi viewport adds even better optics with true-color technology.
The V model screen has more than 6.6 square inches of viewing area. Next higher is the X, with 8.8 square inches. The "XX" has nearly twice the viewing area of the 9100 V, delivering a huge 12.5 square inches.
Side windows in shade level 5 enhance peripheral vision. This helps prevent collisions and loss when running long beads, such as vehicle frames. Batteries can last up to 2000 hours.
Among professionals, there are few complaints. Sometimes, the swivel doesn't hold the hood tight, letting it swivel down unexpectedly. There was a complaint for some welders with lens fogging. All 9100 series helmets now feature exhaust vents to prevent this. The 9100 is also available in a PAPR respirator version.
---
2. 3M Speedglas 9100 FX – Best Flip-Up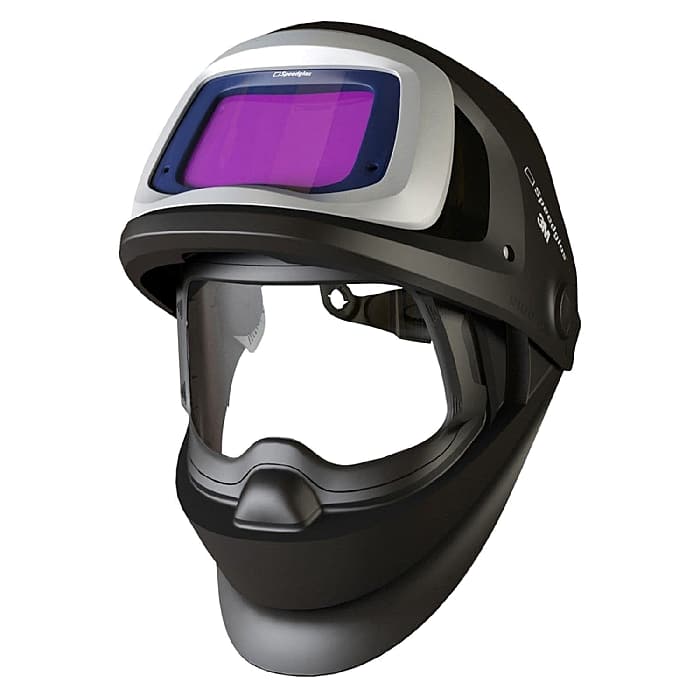 Pros
Flip-up design for easy switching between tasks
Large viewing area and excellent optical clarity
Side windows for enhanced peripheral vision
Tack welding mode for convenience
Double crown straps for better weight distribution
Padded front headband eases pressure on the forehead
Cons
Slightly heavier compared to other models
Flip-up cover adds weight to the front
Easy to raise front cover by accident
If you need a flip-up welding helmet, the 3M Speedglas 9100 FX fits the bill. The 9100 FX has an integrated flip-up visor. Switching between welding and non-welding tasks is easy, even with the helmet on.
The 9100 FX offers all the same features as the 9100, including the optional XXi viewport and side windows.
The "FX" in the name refers to the flip-up front cover. Some users have problems with the flip visor, such as accidentally raising it or trying to raise it but triggering the auto-dark instead. This is mostly getting used to a new helmet.
The Speedglas 9100 FX also has an integrated head cover to deflect sparks from above, behind, or on the sides, protecting even inside the helmet. Extra features and accessories mean this helmet comes at a premium. The FX version is also available as a PAPR version.
---
3. 3M Speedglas 9100-QR – Best Head Protection
Pros
Excellent head protection
Comfortable fit
Wide field of view
Quick Release feature for easy removal
Cons
Higher price point than other 9100 helmets
The 3M Speedglas 9100-QR is ready to work with a hard hat.
The Quick Release (QR) feature lets you remove the welding helmet without removing your hard hat, adding safety, convenience, and time savings.
Otherwise, this helmet is the same as the other 9100 helmets.
---
4. 3M Speedglas 9002NC – Best Slim Helmet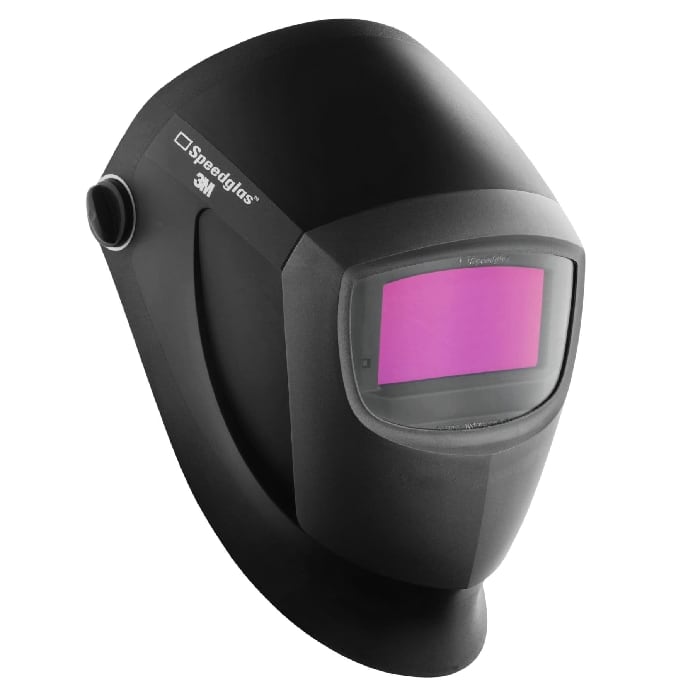 Pros
Slim, lightweight design
Excellent visibility
Comfortable fit
True-color technology
Cons
Some users may find the headgear adjustment slightly tricky
Not as much coverage as the Speedglas 9100
Smaller viewport area than 9100
No PAPR version
No tack weld mode
The 3M Speedglas 9002NC is a great choice for a lightweight, slim welding hood. Owners report a comfortable fit and great view with true-color technology. The slim design provides easy positioning, especially in tight spots like tanks, boxes, and chassis-type frameworks.
The 9002NC is considerably slimmer and not as deep as the Speedglas 9100, the path to lighter weight and better handling. However, the tradeoff is less coverage around your neck, shoulders, and ears. Some welders report the headgear gives them problems with adjustment, but it's not a deal breaker for them.
---
5. 3M Speedglas SL – Best Lightweight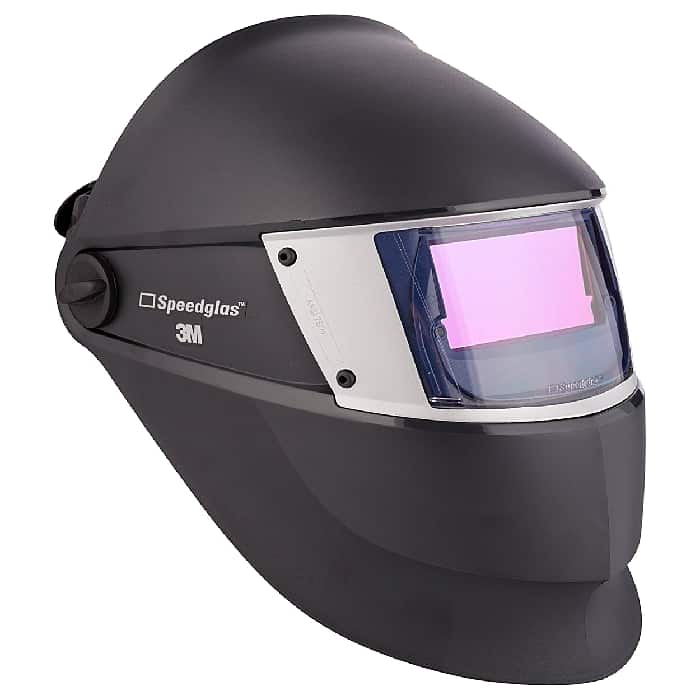 Pros
Lightweight design
Durable shell
Reliable auto-darkening filter
Cons
Some users may find the headgear less adjustable compared to other models
No PAPR version
No side windows
No truw color lens
No tack weld mode
When you need a super light welding helmet for straightforward bench work or just want to rest your neck for a bit, the 3M Speedglas SL is just the ticket. This helmet is perfect for long, flat welds.
The usual 3M quality is evident in its construction, shape, and outstanding optics. The viewing area is smaller than the 9100 and 9002NC at 6.29 square inches, but so is the price.
Users report great optical quality, reliable auto-darkening, and durable construction. The headgear is generally comfortable but less adjustable than the more costly helmets.
---
6. 3M Speedglas 100 – Best Graphic Styles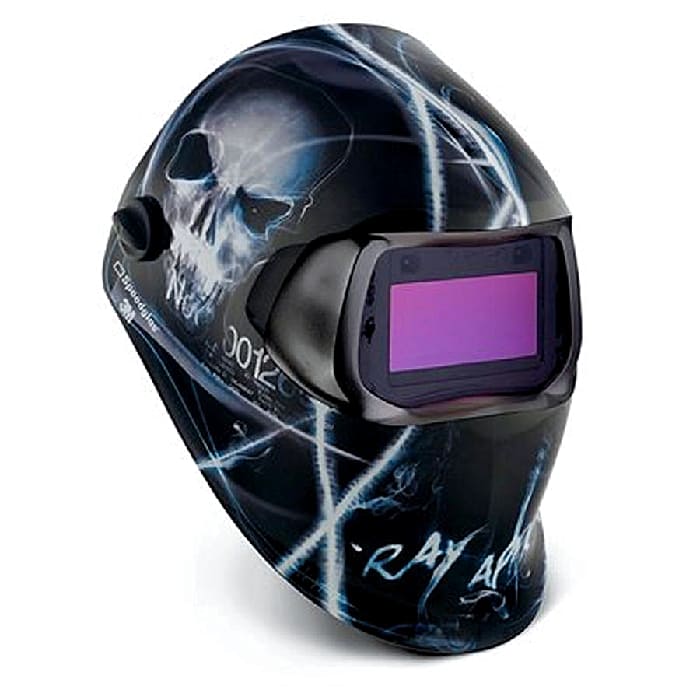 Pros
Wide range of graphic styles to choose from
Excellent optical clarity
Comfortable fit
Cons
Limited features compared to higher-end models
Better value options at this price point
No PAPR version
No side windows
No true color lens
No tack weld mode
The main claim to fame for the Speedglas 100 is a great selection of graphics. Personalizing your gear is always cool and has a practical side that you shouldn't dismiss lightly.
Different colors and graphics make it easy to keep track of your expensive gear in a crowded shop. It prevents loss, wasted time, and theft and makes it easy for coworkers to identify you quickly when on the job.
3M Speedglas 100 owners often mention a comfortable working fit and outstanding optical clarity. This is the same 6.29 square-inch viewport as the Speedglas SL and 10V.
---
Wrapping It Up
Welders highly recommend the 3M Speedglas 9100 and 9002NC for their advanced features and superior protection.
The 3M Speedglas XXi viewport option is the most popular version of the 9100 models because it combines the largest viewing area with 3M's excellent true-color technology and clear, high-speed optics.
Professionals claim it's worth the money. The availability of PAPR versions of such excellent helmets is the icing on the cake.
If you're looking for a budget-friendly option without compromising on quality, the 3M 10V welding helmet is hard to beat, with great optics, good coverage, and a lightweight design.
If you're considering other welding helmets, then take a look at my list of top-rated welding helmets here.
Related Guides