A welding helmet under $200 is not going to buy you a top-end model like a 3m Speedglas.
However! With a $200 budget, you can certainly find some very good models that are not far off the top dollar helmets.
Be careful not to venture into the budget territory with some helmets being notoriously unreliable that lack basic features.
We've done the hard searching and put together a selection of popular and proven welding helmets that won't cost you a dime more than $200.
Let's get straight to it…
---
A Quick Comparison
Product
Image
Product
Details

Miller Digital Performance

1/1/1/2 Optic Clarity

True color technology

Auto on/off

Yeswelder Panoramic

True color technology

Designed for tight spots

Big 180 view

Hobart Inventor

Well balanced

Great headgear

1/1/1/2 optical clarity

ESAB Savage A40

External grind mode

5 amps TIG sensitivity

True color technology

Jackson Insight

High quality auto dark

Famous HaloX headgear

2.3 inch x 3.9" viewport
Best Welding Helmets Under $200
Here's a list of some of the best welding helmets we found for under $200:
1. Miller Electric Digital Performance Auto Darkening Welding Helmet - Best overall
Three separate sensors
Rechargeable lithium batteries
Three modes of operation
Low charge indication
ClearLight technology
Pros
Quick releasing lens cover
Lightweight construction
Solar powered
Auto on and off
Viewport 7.2 square inches
Cons
Not for overhead welding
Complaints hood won't stay up
Overview
The No products found. Auto Darkening Welding Helmet features auto on and off, activating when you pick it up and turning off after a time at rest. The lithium-ion batteries are recharged by solar power. The viewport has 7.2 square inches, fairly large for this price range. It's also equipped with Miller's ClearLight Lens Technology, which offers a true-color view of the weld puddle instead of the usual greenish tint.
Owners rate this lightweight welding helmet highly for comfort. The Miller Electric Digital Performance Auto Darkening Welding Helmet has an optical clarity rating of 1/1/1/2, giving excellent clarity while welding is underway. Miller gave the Digital Performance three arc sensors for great flash protection. One problem mentioned by some owners was that the hood won't always stay in the raised position without fiddling around with the tension adjustment.
The Miller Electric Digital Performance features three shade modes. Weld Mode uses shade levels 8-13, Cut Mode uses shade 5-8, and Grind Mode uses shade level 3. Miller also offers a separately available hard hat adapter for this helmet. For less than $200, this helmet is a top pick.
---
2. Yeswelder Panoramic Welding Helmet - Best bang for your buck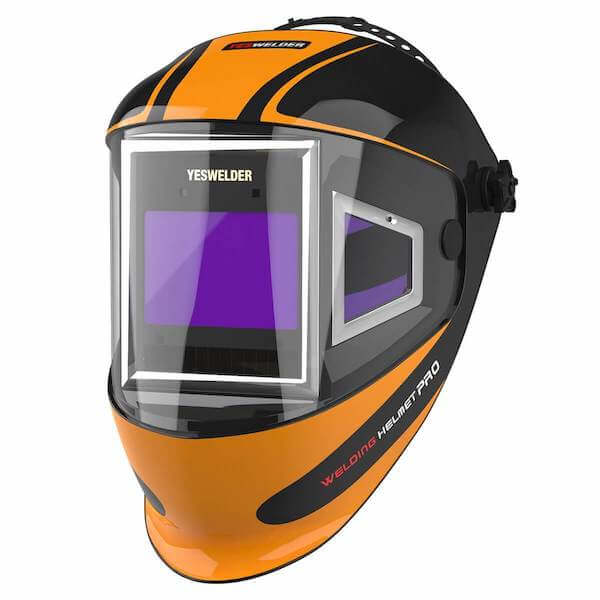 Viewport is 14.8 square inches
True color technology
Controls are inside
Fits in tight spots
6 darkening sensors
Pros
Side windows auto-darken
Optical clarity rating 1/1/1/1
Independent viewport activation
Rugged construction
Offers a 180 view
Cons
Cheap quality headgear
Doesn't shade for DC TIG
Overview
Another auto-dark welding helmet under the $200 mark is the Yeswelder Panoramic. It offers excellent value at this price range thanks to the full 180 degrees panoramic view with three separate viewports — each viewport auto-darkens independently of the others. There are almost 15 square inches of viewing area. On top of the huge view, the lenses are rated at 1/1/1/1 optical quality.
There are 6 arc sensors on the Yeswelder Panoramic Welding Helmet to avoid shadowing the auto-dark system. With true color technology, you can view your weld puddle in real-world color, making a real difference in your ability to produce high-quality work. This helmet features a good design for tight spots, with compact size and good curves that look high-tech but not weird.
Owners love the comfort level, but a few complain about the cheap quality headgear. The usual fix is installing Jackson headgear, and you've got a very comfortable, lightweight helmet with a great view and inexpensive price range. We can make this move easier for you with our discount coupon code. Put in WELDGURU10 during checkout, and you can put your savings toward your new headgear for a great helmet at a low cost.
---
3. Hobart Inventor Auto-Darkening Welding Helmet - Popular choice
4 flash sensors
Auto on/off
Low charge indicator
Viewport has 9.3 square inches
Variable 8-13 shade level
Pros
Lightweight nylon shell
Settings use dials
Has a grind mode
5 amps TIG sensitivity
Great headgear
Cons
Not for overhead work
May go dark in bright lighting
Overview
The Hobart Inventor is one of the most popular welding helmets for less than $200. It features a lightweight, polyamide nylon shell which makes it a well-balanced helmet, but because it's so light, Hobart recommends against overhead welding with this helmet. The comfortable, highly adjustable headgear gets high ratings from owners, with a topside crown height adjustment as well as headband size adjustment.
The settings controls are on the inside of the Hobart Inventor Auto-Darkening Welding Helmet under the viewport, and Hobart elected to go with dials instead of buttons. For some welders, the dials are easier to use than buttons are when you're wearing gloves. There's a grind mode button along with sensitivity and delay controls and adjusment for shade levels 9-13. Hobart also equipped this helmet with 1/1/1/2 optical clarity, outstanding for a welding helmet in this price range.
The Hobart Inventor Auto-Darkening Welding Helmet features a reaction time of 1/25,000th of a second, very fast for this class of helmet. This helmet is sensitive down to 5 amps for DC TIG use, which many helmets at this price level can't detect. It's also cheater lens compatible and comes with a 2-year warranty.
---
4. ESAB Savage A40 Black Welding Helmet
External shade control
4 arc sensors
True color technology
High tech, lightweight shell
7.7 Square-inch viewport
Pros
Optical clarity 1/1/1/2
Delay and response controls are inside
External grind mode button
5 amps TIG sensitivity
Solar powered
Cons
Triggered by LED lighting
Doesn't charge the battery
Overview
Another respected helmet in the sub $200 category is the ESAB Savage A40 as it features true color technology, providing real-world colors at an affordable price. The auto-darkening function is sensitive down to 5 amps for DC TIG. Not all auto-darkening helmets will react consistently to low-amperage TIG arcs, especially DC TIG because the arc simply isn't as bright as those of other processes.
This helmet offers a nice range of features for its class. The ESAB Savage A40 Black Welding Helmet has a reaction time of 0.07 milliseconds and its optical clarity rating is 1/1/1/2. Combined with the 7.7 square inch true color viewport, it's very easy to see your work and improve your quality. Although it features a lithium battery and solar power, the Savage A40 doesn't charge the battery.
The ESAB Savage A40 Black Welding Helmet variable delay adjustment lets you decide how long to keep the viewport darkened after you stop welding. One issue mentioned by owners was a tendency for the auto-darkening to triger in bright LED lighting. ESAB credits the design inspiration for this helmet to its radically-styled Sentinel A50, which is a more upscale helmet for professional welders.
---
5. Jackson Safety Insight Auto Darkening Welding Helmet - Excellent comfort
4 Arc Sensors
9 square inch viewport
Digital controls
Lithium batteries
Grind mode
Pros
Industry favorite headgear
Outstanding optics
Ultra lightweight nylon shell
Jackson shells are interchangeable
Shade levels 9-13
Cons
Could be sturdier
Not for overhead work
Overview
Jackson Safety makes some of the most common welding helmets out there. The Jackson Insight Variable Auto-Darkening Welding Helmet is known for its comfortable HaloX headgear. It's often transplanted into other brands of helmet. With this headgear and the ultra lightweight nylon shell, the Jackson Insight is well-suited to long work shifts. It's also reported by owners to be well-balanced on the head.
The Jackson Insight Variable Auto-Darkening Welding Helmet gets a lot of praise for high-quality optics and great auto-darkening performance. The controls are inside and feature digital readings that tell you the current shade level, delay and sensitivity settings at a glance. Some owners reported that the helmet was too short at the bottom to provide good neck coverage.
The outer shell on this helmet is interchangeable with other Jackson helmets. This provides an option for something a little heavier duty for tasks like overhead welding. This shell is too lightweight to use for overhead work. The Jackson Insight Variable Auto-Darkening Welding Helmet uses the HLX100 shell. You can swap in the HSL100 shell for overhead welding and swap the filter into the heavier shell.
---
Conclusion
Although you pick up any high-end helmets, when you have a budget of $200, you can expect to find some excellent models.
In the end, we chose the No products found. as our favorite overall because of its combination of Miller's outstanding ClearLight true color technology, high optic clarity, comfort, price range and rechargeable lithium-ion batteries.
The Yeswelder Panoramic offers a good alternative, with the 180-degree view and discount code featured in its description, that saves you some cash to put Jackson headgear into it.
The Jackson Insight is an industry standard and the HaloX headgear is famous for all the right reasons.
If you want to spend a bit more then, then take a look at these auto-darkening welding helmet reviews.