Most of us who pick up a torch and start burning metal aren't professionals. The vast majority of welders don't make their living on it and never will.
Sometimes it's not worth 300 bucks for a professional welding helmet when it will spend most of its life hanging on a peg.
However, eye damage and radiation burns are no joke, but these risks are easily controlled if you take your time and shop your equipment wisely.
Cheap doesn't always mean crap. So we've put this list together to help you narrow down your choice for choosing the best budget welding helmet that will actually last.
---
A Quick Comparison
Product
Image
Product
Details

Yeswelder LYG-M800H

Huge viewport

True color technology

Highly rated & very popular

Antra AH6-260

A top-selling budget model

Adjustable sensitivity

Available in a range of designs

Deko Pro DX-800S

Good size viewport

Has a 1/1/1/2 rating

Excellent feedback from users

Tanox ADF-206S

Great value for the money

Optical class rating of 1/1/1/2

Handy grinding mode

TACKLIFE PAH03D

Big true color filter

Fast reaction time

Good for TIG

Chicago Electric Standard

Auto on/off

1/20,000 second reaction

Solar-powered
Best Budget Welding Helmet under $100 with Reviews
Here's a list of the best budget welding helmets we found:
1. Yeswelder LYG-M800H Auto Darkening Welding Helmet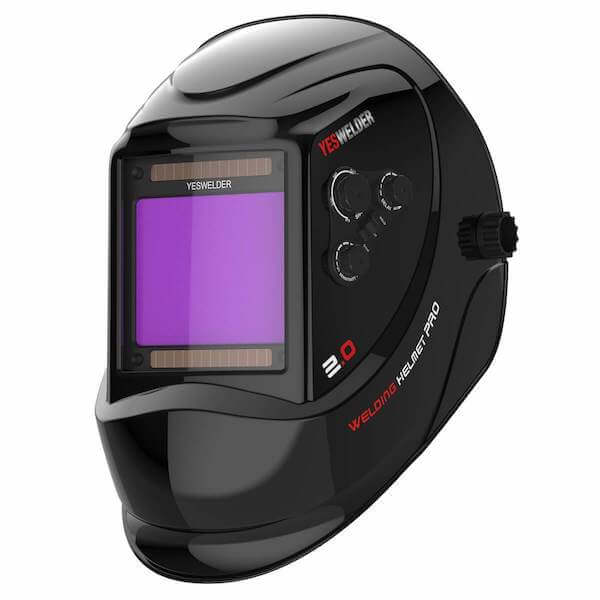 13.4 square inch viewport
1/1/1/2 optical clarity
Truecolor lens
External controls
Shade, sensitivity and delay settings
Pros
Shade levels 4-13
Solar rechargeable
Long battery life
Autodarken self-check
Auto power on/off
Best Budget Helmet for under $100
Cons
Cheap headgear
Doesn't sense DC TIG arc
Overview
One of our favorite budget models. This helmet features a huge 13.4 square inch viewing area. The Yeswelder M800HP Auto Darkening Welding Helmet with True View integrates true color technology for a display that's much closer to real-life colors instead of the usual green color found in most welding helmets. It offers outstanding clarity with a 1/1/1/2 optical rating. Owners of this helmet report that this lens doesn't always darken consistently for DC TIG welding but does work for AC TIG.
The Yeswelder M800HP Auto Darkening Welding Helmet darkens in 1/10,000th of a second, and Yeswelder designed this one with external settings controls for easy access with gloved hands. Sensitivity, reaction speed, and auto-darkening delay times feature stepless, continuous dial controls for easy use while wearing the hood. There are reports by owners that the headgear isn't especially durable. This issue can be solved with affordable replacement headgear such as the Jackson 370 while still maintaining a reasonable cost.
We've got a coupon code for 10 percent off using the discount code WELDGURU10 during checkout, making this inexpensive option even more affordable.
---
2. Antra AH6-260 Cheap Auto Dark Welding Helmet
Passive filter gives consistent performance with or without power
Easily adjustable delay and sensitivity controls
Designed for TIG, MIG, MAG, Flux Core, MMA and plasma cutting
Viewing size of 3.86" x 1.78"
Shade range within 4/5-9/9-13
Pros
Passive UV/IR filter works continuously
Light design weighs 1.01 pounds, easing neck strain
Low DC TIG amperage rating
Quick Grind switch
Solar power for longer battery life
Cons
Some complaints of the lens not darkening
Darkens prematurely on HF arc starts
Overview
With solar power to lengthen battery life, replaceable batteries and lightweight, the Antra AH6-260 is our choice for the best budget welding helmet. It's got a battery indicator, something that's often missing on helmets that cost twice as much. Another nice touch is a test button to check the auto-darkening before you actually strike an arc.
The filter works as a passive shade 13 lens when not powered, so you can work even if the batteries are down. Antra includes an automatic turn-on and shutoff feature, which is quite handy when you're in a hurry to get to work. The ADF system includes a delay in the power-off function. It stays powered on for 10 minutes before going to sleep.
Four separate sensors make it less likely that you'll block the arc flash from activating the ADF. The 1/25,000th-second reaction time of the auto-darkening feature is actually the standard for far more expensive helmets. To top it all off, the 1/1/1/2 optical clarity rating is outstanding for a helmet in this price range.
---
3. Deko Pro DX-800S Orange Solar Powered Welding Helmet
Auto darkening filter
1/1/1/2 optical rating
Meets ANSI Z87.1-2010 and EN379 4/9-13 standards
Solar-assisted for longer battery life
Viewing size of 3.85'' x 3.15''
Shade Range: DIN 4, Variable 9-13
Pros
Light weight suitable for long work periods
Comfortable headgear
12.1-square-inch viewing area
If batteries fail ADF goes to shade level 16
Manual shade and sensitivity settings
Cons
Some reports of shade level fluctuating during use
Headgear is non-standard
Overview
The Deko Pro Solar is another welding helmet with a 1/1/1/2 optical clarity rating at a great price. The rounded corners make it easier to get into and out of tight spaces. It extends downwards for good neck coverage. The bottom of the skirt curves outward, making this helmet easier to use than most when you need to lower your chin to see the work.
Most users really liked the headgear in the Deko Pro, but many felt it was a little too cheap, suggesting the Jackson 370 headgear when it comes time for new headgear. A few owners mentioned fluctuating shade levels in the filter during long welds.
A huge 12.1-square-inch viewing area with manual shade level and sensitivity settings adds a lot of value at this price. Light weight, solar power and passive shade level 16 just add to a great buy. ANSI Z87.1-2010 and EN379 4/9-13 compliance combine with a bold, unique look to really put an exclamation point on our value pick.
---
4. Tanox ADF-206S Budget Welding Helmet
Optical clarity rating of 1/1/1/2
4 separate arc sensors
Shade level settings ftom 5-9 and 9-13
Pros
Large viewing area
Comes with a hard hat adapter
Includes 16-inch Welding Gloves
Sensitive to TIG arc down to 5 amps
Cons
Some complaints the hood won't stay up
Lens retainer is plastic
Overview
A helmet in the under-100-dollar range that includes a hard hat adapter and 16-inch welding gloves is pretty hard to ignore. These extras alone are potentially worth half the cost of the helmet itself. Tanox is really going the extra mile to take on the competition here.
Weld Guru pulled a clean sweep in this budget helmet review. Every helmet we looked at offers an optical clarity rating of 1/1/1/2. The Tanox ADF-206S stands with the rest in this regard. One minor complaint by several owners was that the helmet wouldn't stay raised. Tanox needs to improve the tighteners on the swivel.
This helmet has a generous viewing area and auto-darkening sensitive enough for TIG welding down to 5 amps. Like several other helmets in this review, Tanox equipped this welding helmet with 4 separate arc sensors. When you take the included gear into account, relatively few complaints and optical specs that match the rest of the class, this helmet is hard to pass up.
---
5. TACKLIFE PAH03D Welding Helmet Auto Darkening
1/25,000-second reaction time
Settings are inside
1/1/1/1 optical clarity
Shade level 3-13
11.4 sq. in. viewing area
Pros
Standard size lens
Weighs less than a pound
Adjustable tilt angle
AC/DC TIG down to 3 amps
Low profile pivot point
Cons
Flimsy headgear
Quality conrol issues
Overview
The TACKLIFE PAH03D Welding Helmet is a lighweight, inexpensive helmet with some good features. It offers top-rated 1/1/1/1 optics for less eyestrain from long stints at work. This filter is very fast reacting at 1/25,000th of a second reaction time. Shade level for grinding mode is Level 3, and there are two shade range settings from 3-9 and from 9-13.
The sensitivity is adjustable on the TACKLIFE PAH03D Welding Helmet and so is the delay time, with all settings adjustments located on the inside of the helmet, safely away from the welding process. Some owners didn't like the grind mode switch being located inside, however, feeling that it hurt productivity. Many owners mentioned cheap headgear, complaining of durability, opening or closing problems and too much flex. Switching the headgear with a grinder shield or replacement from a big brand are common fixes.
Besides those details, most owners praised this helmet for its lightness and especially for the true color lens and large viewport. Replaceable batteries and the value of these features for an inexpensive true color helmet are the deciding factors for a lot of buyers.
---
6. Chicago Electric Standard Auto Darkening Welding Helmet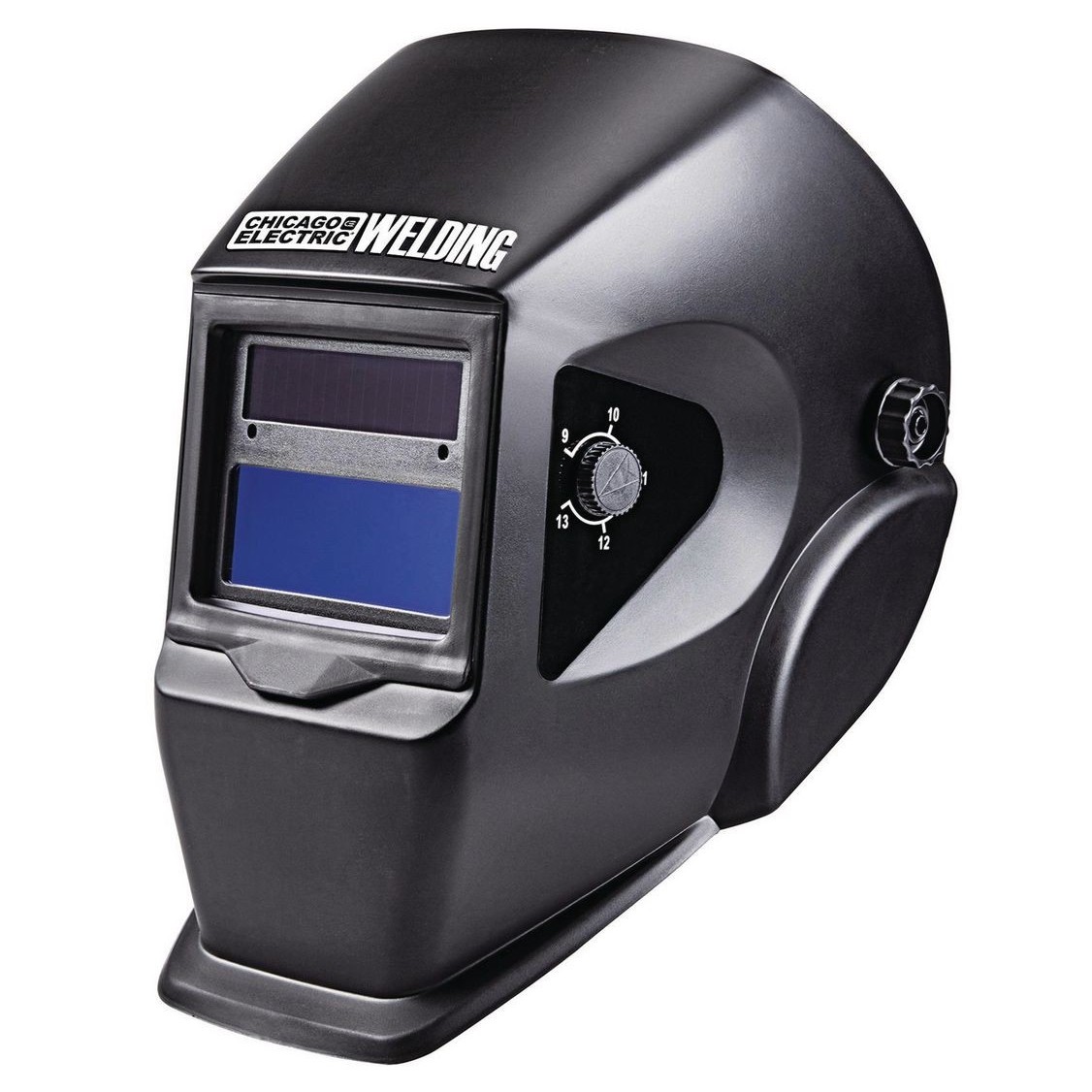 1/20,000th second switching
Dual arc sensors
6 square inch viewport
Shade level 9-13
Adjustable delay time
Pros
Auto on/off
Lightweight 21.3 ounces
Ratcheting, cushioned headband
Solar cells last 6 years
External shade knob
Cons
Sensitive to bright sun
Batteries are not replaceable
Overview
The Chicago Electric Standard Welding Helmet is a good, basic helmet in an entry-level price range. It's lightweight, only weighing a few ounces over a pound. This helmet features solar power with long-lived batteries that have a 6-year service life. Some buyers didn't like that the batteries weren't replaceable, but they are constantly charged by the solar cells. Six years is a long life for a welding helmet in this class.
Harbor Freight went with an external shade knob for the Chicago Electric Standard Welding Helmet, making it easy to adjust while wearing gloves. Some welders prefer internal adjustment, but that's largely a matter of preference. This helmet has a resting shade level of 4, and the auto-darkening function can be set from levels 9 to 13. Some users reported their helmets were sensitive to bright sunlight, but the adjustable delay time might help cope with that.
The Chicago Electric Standard Welding Helmet has dual arc sensors to prevent missing the arc flash, auto-darkening within 1/20,000thof a second. That's class-leading reaction time. It features an auto-on/off feature to save power. The reaction delay is adjustable, and it's got 6 square inches of viewing area.
---
What to Look For in a Budget Welding Helmet
The feature list in this price range has continued to grow at a rapid rate. Technology is always trickling down from higher-priced helmets. Quality has continued to rise as well.
The most important things to check are how effective the filtering is and the coverage offered by the welding helmet. No matter how little it costs, it's still a very serious piece of safety equipment. Even with a spending limit, it's got a job to do, and this is no place to cut corners.
Coverage: Will this helmet completely cover your face, ears, and neck? IR and UV radiation will burn exposed skin.
Auto-darkening: 1/25,000th-second reaction time.
User-adjustable sensitivity and shade levels.
Lightweight: Even hobbyists can wear a helmet for several hours at a time.
Safety Standards: The helmet should meet safety standard ANSI Z87.1
Construction: Make sure the helmet protects from molten slag and sparks.
Narrow Your Choices
Durable materials and high quality should always take top priority over the feature list. Find out whether the headgear in the welding helmet is well padded and balances the weight of the helmet. Check what users are saying about whether a helmet is very slim. It might be too small to wear for larger people. This also applies in the other direction. If a helmet is too large for your head, it can let light in from behind, making it hard to see what you're doing.
It's a good idea to join some online welding forums. That lets you read what other welders are saying about helmets. Members who are professional welders will often answer questions from amateurs. This is free education for the taking.
Wrapping it up
With a little patience and some care, you can find a good helmet for part-time welding at an affordable price.
Check over the choices in this review again, ask friends and relatives, and join some online welding groups. You'll find exactly what you're looking for without compromising on either safety or your budget.
When we look over this selection of budget welding helmets under 100 bucks, the Yeswelder LYG-M800H is our favorite cheap pick.
The Chicago Electric Standard Auto Darkening Welding Helmet is also a great choice in this price range, with a very quick 1/20,000 second reaction time, solar power, auto on/off, and external shade level adjustment.
Other Helmet Guides
Top rated welding helmets overall