Flux core welders have changed everything for the DIY welder and small shops
These inexpensive, yet powerful machines let you weld everything from auto body sheet metal to serious steel plate.
There are so many machines out there, it's easy to miss out on great features or pay too much for not enough power.
We've done the homework so you don't have to. Check out these 5 great little flux core welders.
---
A Quick Comparison
Product
Image
Product
Details

YesWelder 250A MIG Pro

Front panel cover

MIG, TIG and stick

Euro-type connection

Eastwood MIG 135

Wide output range

Excellent value

Includes regulator

Hobart Handler 140

Miller Regulator

All metal drive

Quick select roller

Lincoln Easy MIG 180

2- and 10-pound spools

All-metal drive

30% duty cycle - 130 amps

Hobart Handler 210

120/240-powered

Quick change roller

Includes regulator

Forney 140 MP

MIG/TIG/Stick

Only 25 pounds

Generator ready
Best Flux Core Welder with Reviews
Here are 5 of the best flux core welders your money can buy.
1. YesWelder MIG Welder 250A MIG Pro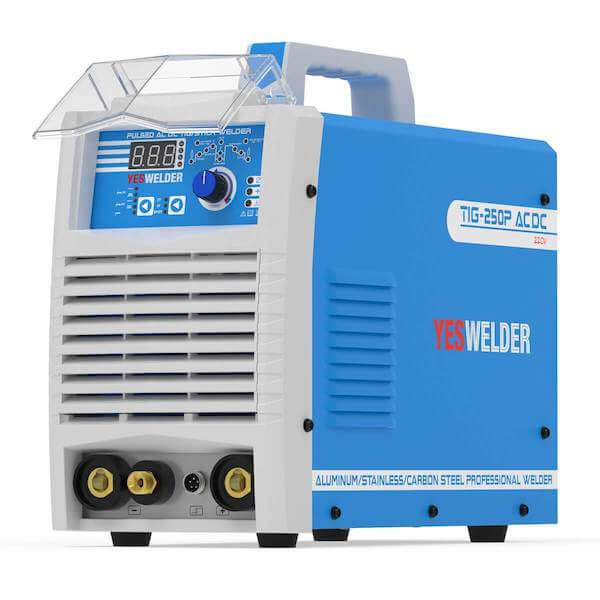 20-225 amps output
TIG, MIG and stick
28-gauge to 1/2-inch steel
10-foot connections
K15 MIG gun
Pros
Euro-style Dinse connector
Synergic or manual settings
Lift-type TIG arc starting
Includes 3 wire rollers
Flip cover on control panel
Cons
No TIG accessories
No regulator
Overview
The YesWelder MIG Welder 250A MIG Pro is a multi-process welding machine featuring flux-core and MIG along with stick arc and TIG capability. This 240-volt machine has an output range of 20 to 225 amps. That's enough to weld 1/2-inch steel, with a light enough touch for 28-gauge sheet metal.
The TIG uses a lift-type arc start, but the YesWelder MIG Welder 250A MIG Pro doesn't include any TIG equipment like a regulator, TIG torch or heat control pedal. Although it's called an aluminum welder, there's no connection for a MIG spool gun to do this with. MIG is the best way to weld aluminum with DC current, but there are likely to be feed problems trying to run aluminum wire the full distance.
The YesWelder MIG Welder 250A MIG Pro also includes an electrode clamp for stick arc welding, offering another potential way to weld aluminum by using an aluminum electrode. Users generally give this machine high marks for its flux-core welding. There are three different wire spools included. You'll need to buy a regulator and shielding gas to use it as a MIG welder.
---
2. Eastwood MIG 135 Flux Core Welder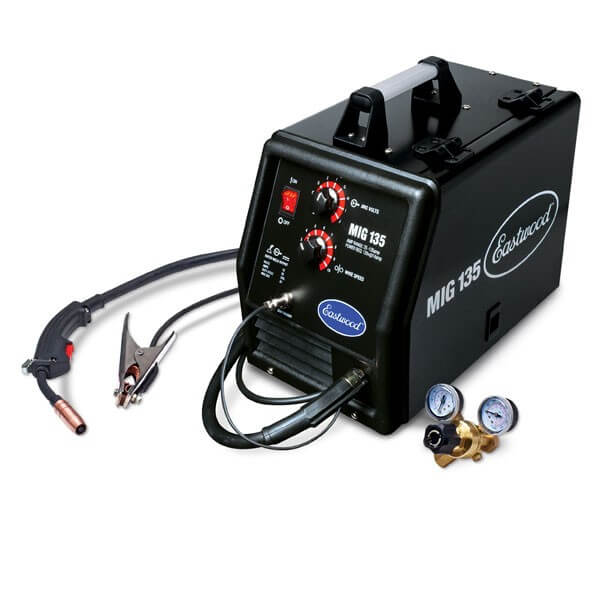 25 to 135 amps output
Tweco-style MIG gun
Spool gun-ready
24 gauge sheet to 1/4-inch plate
120-volt input
Pros
20 percent duty cycle - 90 amps
Includes hose and regulator
Settings infinitely adjustable
Mounts 2 pound and 10 pound spool
Setup chart included
Cons
Drive gear is plastic
Flux-core spool is extra
Overview
The Eastwood MIG 135 Welder is a high quality, affordable machine that mounts both 2-pound and 10-pound wire spools. It's a great alternative to the Hobart 140 and it's got a quick-release spool design. This machine includes a hose and a gas regulator so you're MIG ready, but if you want to run flux-core welds, you'll need to buy a drive spool for flux-core, available separately. This machine comes in under 500 bucks and comes with a Tweco-type MIG gun that's easy to find parts for.
The settings are infinitely adjustable rather than stepped to certain values, great for adjusting your weld quality on the fly. The Eastwood MIG 135 Welder includes a settings chart to make those changes quickly when changing from one task to another. Some users don't like the 10-foot connections and the plastic wire drive.
The Eastwood MIG 135 Welder puts out up to 135 amps, good for 1/4-inch steel. The lower limit of 25 amps will let you work on 24-gauge sheet metal like what's found on modern vehicles. Eastwood offers an optional spool gun for welding aluminum. This machine gets high marks from users and it comes with a 3-year warranty. For more details, see our full review here.
---
3. Hobart Handler 140 Flux Core Welder
MIG or flux core
Runs on 120 volts
25–140 amps
Handles 24 gauge sheet to 1/4 in mild steel
Wire speed 40 to 700 IPM
Pros
Solid metal wire drive
5 power level settings
infinitely adjustable wire speed
Includes a Miller regulator
Comes with a 10-foot Miller gun
Cons
Need a wrench to adjust spool tension
Wire feed knob can be sensitive
Overview
The Hobart Handler 140 combines professional quality and convenient home shop features. With an output current range of 25 to 140 amps, it's able to run welds on 24-gauge sheet metal and also weld 1/4-inch steel in one pass. This machine can be converted from straight gasless flux core to full gas MIG welding. Hobart includes a high quality Miller gas regulator.
Because the Hobart Handler 140 runs on 120 volt input power, you can plug it in anywhere you go. It will run on a 4000 watt generator. It can use either 4-inch or 8-inch wire spools and you're able to select different gauges of welding wire. Hobart equips the Handler 140 with a solid metal wire feed drive. One thing users didn't like about this machine was that it takes a wrench to set the spool tension. A wing nut here would have been a better idea.
With a lot of power for a 120 volt machine, professional build quality, compact size and weight with a 3-year warranty, the Hobart Handler 140 is Hobart's most popular welder and a great choice for craftsmen.
---
4. Lincoln Electric Easy MIG 180 Flux Core
30-180 amps
Brass-to-brass gun connection
All aluminum wire feed
24 gauge up to 3/16-inch plate
10-foot mig gun
Pros
Adjustable drive system
Numeric drive tension indicator
Built-in gas solenoid valve
Settings chart on the door
Mounts 4- and 8-inch spools
Cons
Reports of inconsistent wire feed
Some don't like weld quality at max
Overview
The Lincoln Electric Easy MIG 180 is a 240-volt flux-core welder that has an internal gas solenoid to double as a MIG welder. The machine is easy to use, with a settings chart on the cabinet door and only two knobs. The power setting is set by clicking to taps at five preset levels. The wire feed is adjustable from 50 to 500 inches per minute. There are reports of feed problems, but they seem to be related to the quality of wire.
Lincoln's smooth-arc starting technology makes it easy to strike an arc. The Lincoln Electric Easy MIG 180 adjusts current dynamically for a better arc. 30 amps will get down to 24-gauge sheet metal while the 180-amp top end welds up to 3/8-inch steel plate. Some owners say you can weld 1/2-inch steel in flux-core mode.
The Lincoln Electric Easy MIG 180 has a precision all-aluminum wire drive and housing for hassle-free wire feed. The torch connection gun connections are brass-to-brass, minimizing any current loss and delivering more power at the work piece. It mounts both 4-inch and 8-inch wire spools and has a 10-foot gun. If you're looking for a cheaper alternative, you want to compare this to the Eastwood 175.
---
5. Hobart Handler 210 Flux Core Welder
120 or 240 volt input power
24 gauge sheet metal to 3/8-inch steel
Has 7 power level settings
30 percent duty cycle
210 amp output
Pros
Quick change drive roller
10-foot MIG gun
Accepts 4-inch or 8-inch spools
Built-in gas solenoid
Includes gas regulator
Cons
Spool change needs a wrench
Cheap gas hose
Overview
The Hobart Handler 210 is designed to be easy to use and it's built to industrial standards by one of the top names in welding machines. Hobart designed the Handler 210 with a solid metal wire feed drive for precise control and includes a gas solenoid and dual-gauge regulator to convert to full MIG operation with gas shielding.
The Handler 210 is designed for dual input voltage, either 120 or 240 volts and it comes with an adapter that lets you switch power sources simply by changing the connector. With 7 power level settings and 10 feed speeds, the Hobart Handler 210 can weld thin 24-gauge sheet metal for auto body work. Turn the heat up and increase the speed and you're ready to weld 3/8-inch steel plate.
Hobart machines are favorites among steel workers and fabrication specialists because they have a strong reputation for reliability. User reports for the Hobart Handler 210 MIG and flux core welder are no exception. This machine comes with 10-foot leads, handles both 4-inch and 8-inch rolls and is backed by Hobart's 3-year warranty.
---
6. Forney 140 MP Welding Machine
Welds 24-gauge sheet to 1/4-inch plate
Wide 10 to 140 amp output range
30 percent duty cycle at 90 amps
Built-in live fan
3-year warranty
Pros
10-foot MIG gun
Takes 4-inch and 8-inch spools
Weighs only 25 pounds
Infinite adjustment on voltage and feed
Runs MIG, wire, TIG and stick
Cons
No TIG torch
No regulator or hose
Overview
The Forney Easy Weld 140 Multi-Process is a 3-in-1 machine (Stick/MIG/TIG). It's lightweight at 25 pounds and easy to use. The adjustments for current level and feed speed are infinitely adjustable. The current level ranges from 10 to 140 amps. You can weld thin auto body sheet metal from 24-gauge thickness on up to 1/4-inch steel plate.
This machine is gas MIG capable, although you have to buy a gas hose and regulator separately. One thing that users didn't like was that the TIG process on this machine isn't compatible with a foot pedal. It does use a standard 25 series TIG torch. Unfortunately, the TIG torch is another accessory you have to buy separately.
This review is about flux core welding, however. In that regard the Forney Easy Weld 140 MP gets stellar reviews from users. It uses Forney's Easy Start technology for scratch-starting the arc and produces clean, beautiful welds with great penetration. This machine accommodates both 4-inch and 8-inch spools, features a metal drive and is backed with a 1-year warranty.
---
Buyer's Guide
Flux core welding machines open up a whole world of welding to beginners, amateurs and professionals alike.
Some can be multi-purpose machines like the YesWelder 250A MIG Pro that can run MIG, flux core, TIG and arc welding.
Others only offer wire feed welding but are still great workhorse welders.
What is Flux Core Welding?
Gas shielded welding allows for clean welds without oxidation or impurities by keeping oxygen out of the welding process. With MIG welding, an inert gas is fed to the welding process by a hose and it flows around the metal electrode, forming an atmosphere that doesn't let oxygen into the weld.
If you're welding outside and there's a breeze, it can blow the shielding gas away and leave your weld susceptible to oxidation and porosity. The way engineers have solved this problem is by creating a welding wire that has a hollow core and filled it with a flux mixture. This flux core wire works the same way the flux on an arc welding stick electrode works. When the metal gets hot and melts, the wire melts the flux core, which turns to gas and shields the weld.
So in some ways, flux core welding is actually better than MIG welding, because a breeze won't ruin your weld the same way it will with a MIG machine. Of course, with too much wind, you just can't weld, but flux core welders can give great results in breezes that won't let a gas MIG machine produce good work.
Do You Need MIG or Can Flux Core Work?
One thing about flux core welders is that MIG machines can run flux core, but not every flux core welder can run as a true gas MIG machine.
This point can be confusing because many flux core machines that run only as wire feed welders are labeled using the word MIG in their model names, but aren't actually a true MIG machine. This is an important detail to pay attention to if you want to try MIG welding later on.
How Thick is Your Metal?
The thickness of the metal you'll most often weld is the single biggest factor in choosing your best flux core welding machine.
If you're going to be welding nothing but metal that's 1/4-inch thick or less, you only need 130-140 amps.
If you want to weld anything thicker, you're going to need a machine like the Hobart Handler 210 that can weld up to 3/8-inch steel with over 200 amps of output. It can also be converted to a true gas MIG machine if needed.
Input Power Sources
A 120 volt powered welder can only deliver about 140 amps maximum. That's only going to get you up to 1/4-inch steel. If you're mostly going to be welding sheet metal or thin plate like gate hinges, a 120 volt machine will serve you well.
If you will need to weld thick metal for trailer frames, pipe fencing or equipment repairs, you'll need a lot more power.
You'll have to move up to a 240-powered machine in that case, or buy a dual input welder that runs on either 120 or 240 volts to be able to generate enough current for thick metal.
Some welders like the Forney EasyWeld 140 MP can run on generators, provided there's enough wattage to produce the current needed. Also, some flux core and MIG welders need so-called "clean" energy with a low distortion rate in the current output. Some welders are able to run on "dirty" power sources so that's a feature that makes it easier to run on generators and might be desirable.
Wrapping it up
We've selected the Lincoln Electric Easy MIG 180 for our top machine in this guide because of its outstanding quality, industrial ruggedness, dual voltage input power, high output current and it can be run as either a MIG or flux core welder.
The Eastwood MIG 135 Welder is an impressive value in its price range and if you don't need to weld metal thicker than 1/4-inch it should serve your needs quite well.
Related reads: