Whether DIY metalwork or pro, a MIG welder is the affordable way to get the job done.
If you don't need a gas MIG system, flux core welding is an inexpensive alternative.
You don't want to spend more than you have to, but you need quality and power.
You're looking for TIG adaptability, a wide range of settings or the latest arc controls.
Check out the machines we looked at that beat your thousand-dollar ceiling.
---
A quick comparison
Product
Image
Product
Details

Hobart Handler 210

Aluminum wire feed

Includes regulator

Dual input voltage

Eastwood MIG 250

All-metal drive

High quality Trafimet torch

Includes gas regulator

Hobart Handler 190

Powerful & highly portable

Highly rated

220v / 240v input only

Weldpro 200 Multi

Trigger lock for long welds

Includes a regulator

Multi-process welding

Forney 140 FC-i

Extremely popular budget model

Ideal for the DIYer or novice

110v / 120v input only

Lincoln Easy-MIG 180

All-metal drive

Professional quality, DIY simplicity

Mounts 2 and 10 pound spools

LOTOS MIG175

Excellent value for money

Spool gun included

220v / 240v input only
Best MIG Welder Under $1000 with Reviews
Heres some of the best MIG welders we found for under $1000
1. Hobart Handler 210 MVP MIG Welder
25-210 amps output range
Dual 120/240 volt input
Mounts 4- and 8-inch wire rolls
Spoolgun ready
4 power ranges on 120, 7 on 240
Pros
10-foot MIG torch and grounding
Includes dual-gauge gas regulator
Quick-select wire drive
Solid aluminum wire feed
Easy polarity changes
Cons
Weighs a lot
Some wire feeding issues
Overview
The Hobart Handler 210 MVP MIG Welder is an industrial quality, heavy duty mig welder with dual 120 volt and 240 volt power input. MVP stands for "Multi-Voltage Plug" and it enables you to quickly put the machine into action by plugging the 120 volt plug into a 240 volt power source using an adapter.
Featuring a solid metal drive with three groove selections, the Hobart Handler 210 MVP MIG Welder offers choices for two sizes of solid wire for gas MIG use and an additional drive groove for flux-core wire feed. This machine does have some wire feeding problems at times, but user reports indicate this can be solved by experimenting with different brands to find the best MIG wire for your application.
The Hobart Handler 210 MVP MIG Welder features an output range from 25 to 210 amps on 240 input and up to 140 amps on 120 volt power. There are four output settings on 120 power and seven on 240. This machine comes with a dual-gauge gas regulator, 10 foot leads and easy polarity changes for fast changeover from gas MIG to flux-core welding.
---
2. EastwoodMIG 250 Welder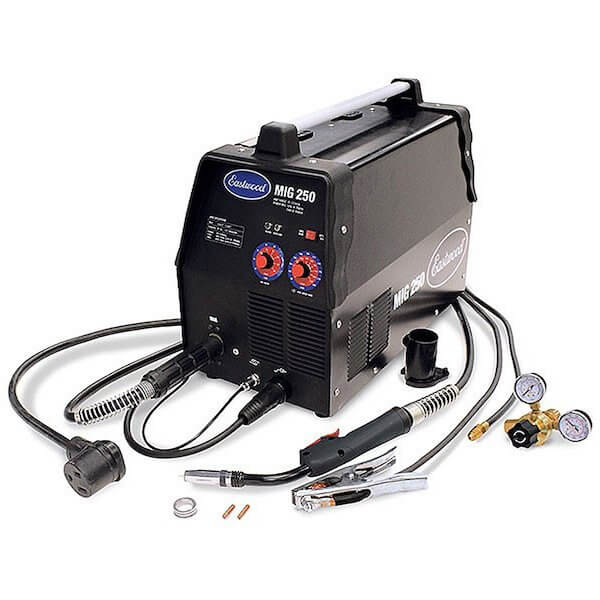 60 percent duty cycle at 250 amps
Infinitely adjustable from 30-250 amps
4-inch or 8-inch wire spools
Trafimet ERGOPLUS24 10-foot torch
Dual 120 volt and 240 volt input
Pros
20 gauge sheet up to ½-inch plate
Optional spool gun for aluminum
10-foot torch and ground leads
Includes a gas regulator
All-metal drive mechanism
Cons
Needs a 50 amp dedicated line for 240 power
Some reports that it lacks penetration at full power
Overview
The Eastwood MIG 250 Welder provides professional performance for the home shop. This is a dual voltage machine with 120 volt and 240 volt capability. It will weld from 20 gauge sheet metal up to 1/4-inch plate on 120 volts and 1/2-inch plate on 240. The power and the wire speed are both infinitely adjustable from 30 to 250 amps. Eastwood offers a similar machine for 240-only power at a lower price.
This machine features a solid metal drive that loads 4-inch and 8-inch spools. Eastwood offers an optional spool gun for added aluminum capability. The Eastwood MIG 250 Welder comes with a gas regulator and a 10-foot Trafimet torch and ground connections. One issue for some shops is that the 240 side of the machine requires a dedicated 50-amp line, so that's a requirement that could add to the overall cost of the machine.
Owners are very satisfied with the Eastwood MIG 250 Welder's performance in general, but some reported a lack of penetration with the settings adjusted to full power and speed. That may be a reflection on the need for a 50-amp dedicated line.
---
3. Hobart Handler 190 230V MIG Welder
25 to 190 output amperage
7 voltage selections
Weld 24 gauge sheet to 5/16-inch plate
Includes dual-gauge regulator with gas hose.
10-foot grounding clamp
Pros
30 percent duty cycle at 130 Amps
10-foot torch connection
Built-in gas solenoid valve
Spool drive mounts 4- or 8-inch spools
Optional spool gun plugs in with no kit
Cons
Some reports of wire feed binding up
Preset power levels, not infinitely adjustable
Overview
Hobart's Handler 190 is a professional, industrial-grade welding machine that only runs on 240 volt input, which is one of the main differences compared to the 210. It's MIG ready right out of the box, shipping with a two-gauge Miller regulator and a 10-foot gas hose.
It will weld sheet metal from 24 gauge thickness all the way up to single-pass ​runs on 5/16-inch steel plate. Hobart's optional SpoolRunner spool gun plugs right in with no kit needed, giving instant aluminum MIG capability.
The Handler 190 offers 7 voltage settings, a double spool drive with a quick change feature and 10-foot connections for both the work lead and the MIG torch.
When you consider the fact that it features a 30 percent duty cycle at 130 amps, most welders will never experience a thermal shutdown on this machine.
This MIG machine will mount either 4-inch or 8-inch double-groove spools and comes with a gas control solenoid built in.
With its 5-year warranty, the included MIG gear and its optional instant spool gun plugin capability, the Hobart Handler 190 is definitely worth a serious look. It's our choice for the best 240-volt-only MIG welding machine.
---
4. Weldpro 200 Amp Inverter Multi Process Welder
Multiprocess MIG/TIG/arc/flux core
Dual 120 and 240 volt input power
Synergic design with dynamic arc
Dual digital displays
Optional spool gun for aluminum
Pros
High-frequency lift start TIG
13-foot TIG torch
10-foot MIG torch
2T/4T trigger lock for long welds
Includes gas regulator
Cons
Not foot pedal-compatible
Auto arc blows out sheet metal
Overview
The Weldpro 200 Multi Function welder combines arc, flux-core, MIG and TIG into a single box. The TIG process offers genuine lift-type arc starts. This machine has 120 volt and 240 volt dual input power. On 120 it will provide up to 140 amps output, and 200 amps at 240 volt power. This is enough to weld from 25 gauge sheet metal on TIG up to 1/2-inch plate on 240 flux and stick processes.
The wire feed mounts 2 pound and 10 pound wire rolls. The Weldpro 200 Multi Function MIG welder has an all-metal wire drive. There's a 2T/4T trigger lock feature to limit fatigue during long bead runs. The TIG isn't capable with a foot pedal heat control. Weldpro includes a MIG gas regulator in the box.
The Weldpro 200 Multi Function welder features synergic design that dynamically alters power and feed speed while you're welding to maintain a nice arc. This can work against you when welding thin sheet metal, however, with reports of the machine blowing through sheet metal. Fortunately, you can turn off the synergic settings technology for these kinds of jobs.
---
5. Forney 140 FC-i 120V MIG Welder
Welds from 24-gauge sheet to ¼-inch plate
Built-in fan
Wire gun and ground clamp are both 8 feet
Adapter connects from 20-amp to 15-amp
Pros
30 percent duty cycle at 90 amps
Voltage and wire feed are infinitely adjustable
Holds 10 pound wire spools
Weighs only 19 pounds
Cons
No gas MIG capability
Won't run hard wire
Overview
When you've been around in the American marketplace for 88 years, you've got to be doing something right. This machine is one of the first that Forney has aimed at the amateur home workshop craftsman. We chose this machine as our Value Pick in our "Best MIG Welders for the Money" roundup.
The 140 FC-i is powered by an inverter instead of a transformer to deliver 140 amps of DC current from 120 volt household power at a very affordable price. With a 30 percent duty cycle at 90 amps, this welder has a lot of satisfied fans. It's not intended to be a professional tool for industrial welding. For one thing, it doesn't offer true gas MIG capability. It's strictly flux core wire feed only.
The 140-amp setting can weld ¼-inch steel, but that's pushing things pretty hard for a 120 volt welder. However, 90 amps will get you single-pass welding on ⅛-inch plate for 3 minutes at a time.At the other end of the spectrum, 20 amps is fine enough to let you weld 24-gauge sheet metal for restoration work or appliance repairs.
---
6. Lincoln K2698-1
Wide 30-180 amp welding output range
Smooth arc starts with minimal spatter
Weld 24 gauge up to 3/16-inch
Numeric drive tension indicator
Ground cable and torch are both 10 feet
Pros
30 percent duty cycle at 130 Amps
10-foot torch connection
Built-in gas solenoid valve
Spool drive mounts 4- or 8-inch spools
Optional spool gun plugs in with no kit
Cons
Some reports of inconsistent wire spool feeding
Overview
With simple 2-knob tapped control, Lincoln Electric Easy-MIG 180 welders are easy to set up for gasless, flux-cored welding. They're designed for deep penetration on thicker steel, or gas-shielded MIG welding on thin-gauge steel (stainless or aluminum). They feature smooth-arc starts with minimal spatter and a wide 30-180 amp welding output range. You can MIG-weld sheet metal from 24-gauge up to 10-gauge in a single pass.
The special, precise wire drive gives brass-to-brass gun connections for enhanced connectivity and full adjustment to reduce the chances of wire tangling and crushing. The Lincoln Electric Easy-MIG 180 welders' Power Chassis funnels in airflow to cool power systems, structurally secures key components, and traps wires and cables to avoid unnecessary abrasion. Some owners have reported issues with the wire feed kinking flux-core wire, but that seems to be related more to wire quality than the machine itself.
The Lincoln Easy-MIG 180 is a good all-around compromise between professional quality and DIY convenience, and is also an alternative to the Hobart 190. This machine comes with a built-in gas solenoid and mounts either 4-inch or 8-inch wire spools. Lincoln offers a spool gun for aluminum wire that plugs in with no kit needed.
---
7. LOTOS MIG175 MIG Welder
Cast aluminum wire feed drive
Includes a regulator
Fits 4-inch or 6-inch spools
Welds mild or stainless steel from 18 Gauge to 1/4-inch
DC welds aluminum up to 3/16-inch
Pros
Includes gas connector hose
Comes with a spool gun for feeding aluminum wire
Good customer service from Lotos
240 volt transformer means better amperage control
Cons
Many reports of broken hinges on arrival
Poor packaging results in dents during shipping
Overview
The LOTOS MIG175 ships with a spool gun, regulator and gas hose, making it completely ready to weld aluminum out of the box. However, the box itself seems to be a problem. There are a lot of user complaints of machines damaged in shipping. Many complain of dented cabinets and broken hinges.
LOTOS does seem to be responsive to customer service issues, with many users giving good marks for company efforts to make good on these damages.
This machine is a 240 volt transformer-powered true gas MIG that delivers 175 amps and fine control down to 18-gauge sheet metal. With a 10-foot spool gun included, LOTOS delivers an aluminum-capable gas shielded MIG machine at less cost than some makers charge for a plain flux core wire feed welder.
It loads either 4-inch or 6-inch wire spools and 175 amps can theoretically weld ⅜-inch aluminum, though at that setting the duty cycle would be about 10 percent. However, this is probably the only welder available in its price range that includes a spool gun. Get a respirator and you're ready for aluminum.
---
The Under-$1000 MIG Buying Guide
The most amazing thing about the 1000-dollar price point is the sheer number of machines on the market.
Here's how you sort through the chaos to get the right machine in your shop.
Power Needs
110/115/120 Volt Machines
With 120-volt power, you're limited to about 140 amps, still enough to get a lot done. Most household circuits aren't capable of just plugging in and running a welder without blowing a breaker. The most common breaker size in American homes is 15 amps. You need at least 20 amps to run a welder, with 30 amps even better.
Related read: 110v MIG Welder Reviews
220/230/240 Volt Machines
If you have a 30-amp dryer circuit that runs on 240, you can plug in a pretty powerful machine and get control and power for that roll cage in your dune buggy and beautiful sheet metal work, actually able to do pro work or earn extra money.
Duty Cycle
Duty cycle is the percentage of 10 minutes you can weld continuously before the welder needs to cool. The Forney 140 FC-i is rated 30 percent at 90 amps. That means it will run for 3 minutes continuously at 90 amps. At the full 140 amps, that might drop to only 1 minute, probably less before it shuts off to cool down.
Accessories and Other Points to Ponder
Spool gun – For welding aluminum, you'll need a spool gun that mounts near the torch. Aluminum wire is soft and kinks up when fed from the spool position in the cabinet.
Repair and maintenance – Chinese machines have attractive pricing, but some use parts unique to that maker. Look for industry standards like Tweco gun parts and European or American connectors.
Weight and Size – How hard is it to move the machine around? 60-120 pounds for a 240 machine is common.
Warranty – This is both a high tech device and a heavy tool that may get kicked, knocked over, banged around by other tools and stop working.
The Hobart Handler 210 MVP is our choice for Best MIG Welder under $1000. It's got industrial build quality, dual-voltage input convenience along with an all-metal drive mechanism. The Eastwood MIG 250 offers an alternative with similar features and synergic arc control.
If you're looking for multi-process capability, the Weldpro 200 is a great choice.
For more MIG machine picks, check out the Best Mig Welder Overall