Few tools will expand your repair capability like a welding machine.
You used to need a lot of space, electricity and money to own a welder. But modern 110v welders will do everything you need for most repairs.
Now there are so many 110 machines it can take days to find a good one.
You want features, quality and enough power to get the job done right. What you don't want is an unreasonable price tag or any safety issues.
We spent all those days for you to sort out the 110v market. Take a look at these great MIG welders we found for you to choose from.
---
A Quick Comparison
Product
Image
Product
Details

Eastwood MIG 180

Spool gun ready

Improved wire feed

2T/4T trigger lock

Hobart Handler 140

Metal feed mechanism

Professional quality

Miller regulator

Weldpro MIG200GDsv

Multiprocess welder

Includes torches

Dynamic arc control

Forney Easy Weld 140 FC-i

Great price range

Generator friendly

Ultra lightweight

Lincoln K2278-1

Pre-connected

Easy settings

Great for learning

Titanium MIG 170

Inductance control

Spool gun ready

Dual-voltage input
The Best 110v MIG Welders
Here's a list of some of the best 110v MIG welders we found:
1. Eastwood MIG 180 - 110v MIG Welder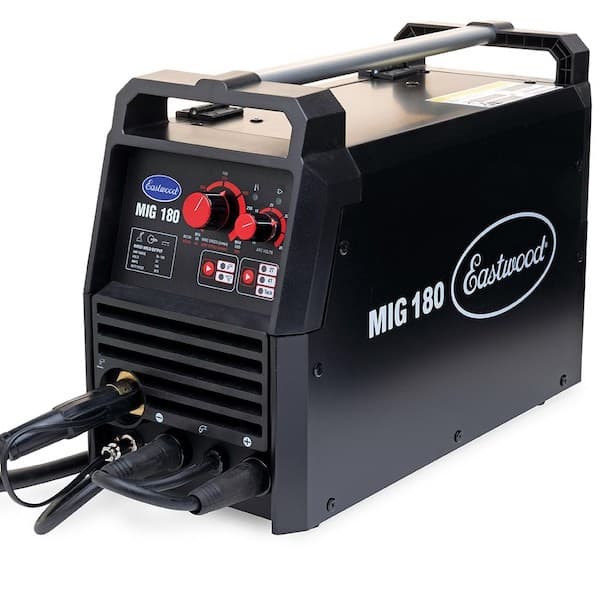 Dual input 110v or 220v
24 gauge up to 5/16-inch steel
30-180 amps output
2T/4T trigger lock
Quality all-metal drive system
Pros
Tack weld setting
Generator friendly
Spool gun ready
Weighs under 26 pounds
Tweco-style torch- easy parts
Cons
Only 120 amps on the 110 side
Some feel regulator is cheap
Overview
The Eastwood MIG 180 Welding Machine has dual power, running on either 110 volts or 220v, giving you more flexibility as to where you can work. 110v input lets you weld at home, and if you need more power or want to do some chores at work, the 220 side makes that easy. If you don't have access to 220-240 power or prefer 140-amp current instead of 120 amps on 110v, you should take a serious look at the Eastwood MIG 140, a 110v-only machine.
The Eastwood MIG 180 Welding Machine offers some improvements over its earlier MIG 175 version, including a better drive system to fix the inconsistent wire feeding that owners experienced with the MIG 175. The MIG 180 also features higher output, tack weld mode for low-power operations, and infinitely adjustable controls. And in my opinion, it beats out the more expensive Hobart 210.
This machine is generator friendly and it's spool gun ready, enabling you to MIG weld aluminum with the optional spool gun. The Eastwood MIG 180 Welding Machine is available as a discounted bundle with the spool gun. Eastwood integrated a 2T/4T trigger lock, suitable for auto bodywork to run long beads on sheet metal as thin as 24 gauge.
---
2. Hobart Handler 140 MIG 110v Welder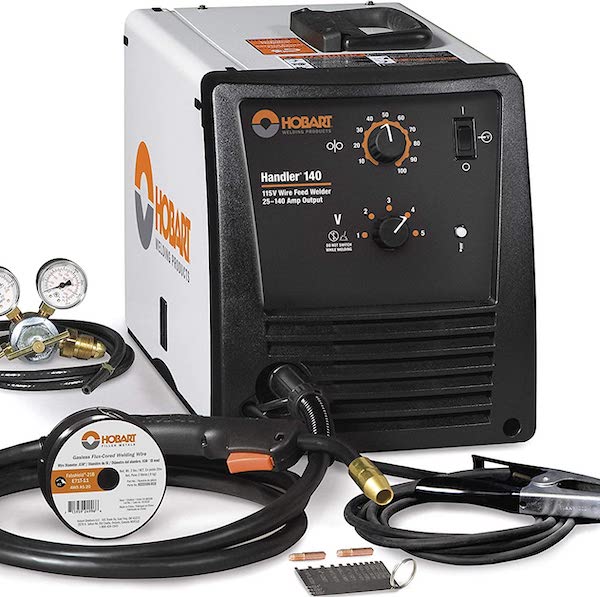 24 gauge sheet to 1/4-inch steel
Generator friendly
20 percent duty cycle at 90 Amps
MIG and flux core
25–140 amps
Pros
Only weighs 65 pounds
Industrial-grade ground clamp
Aluminum wire drive
Miller brand regulator
High quality MIG torch
Cons
Inconsistent quality
Wrench needed to adjust tension
Overview
One of the most popular 110v models available. The Hobart Handler 140 can run on a 4000-watt generator, allowing you to get out of the house or shop and get work done on your property where there's no 110/115/120 input available.
The Hobart Handler 140 MIG 110v Welder features a three-groove drive system, allowing the selection of two different size solid MIG wires or a flux core wire. This machine can mount either 4 inch or 8 inch wire spools. Hobart builds industrial machines for professional welders, and it shows in the build quality of this machine.
The Hobart Handler 140 MIG 110v Welder provides 25 to 140 amp power, a range that will weld from 24 gauge sheet metal all the way up to 1/4-inch steel. The duty cycle is 20 percent at 90 amps. Some users mentioned minor quality issues such as disconnected wires. Other users didn't like having to use a wrench to adjust the spool tension instead of a wing nut like other welders.
Hobart includes a high-quality Miller brand gas regulator for the MIG process, and the Hobart Handler 140 MIG 110v Welder comes with a 3-year warranty.
---
3. Weldpro MIG200GDsv 110v Multi Process/MIG Welder
25-200 amp output
MIG, TIG and stick
Dual 110-240v input
Digital display
2-year warranty
Pros
Includes MIG gas regulator
Comes with MIG and TIG torches
13-foot TIG connection
Mounts 4 and 8 inch rolls
Lift-type TIG start
Cons
TIG gas regulator costs extra
Not foot pedal capable
Overview
The Weldpro MIG200GDsv 110v Multi Process Welder provides MIG, TIG, flux-core and stick arc capability in a single box. Weldpro includes both a MIG and TIG torch with this machine, as well as a MIG gas regulator. The lightweight design only weighs 30 pounds. It features a durable all-aluminum wire drive mechanism that mounts both 4 inch and 8 inch wire spools.
This a dual-voltage input machine, allowing you to plug into a 110-120 volt or 220-240 volt source. When running on 110v MIG, you can weld from 25 to 140 amps output. That's enough to get you from 24 gauge sheet metal up to 1/8-inch steel. On 240-volt power, the Weldpro MIG200GDsv 110v Multi Process Welder can get you up to 3/8-inch thick steel.
If you want to run TIG, you're going to need a TIG gas regulator, which costs extra. The Weldpro MIG200GDsv 110v Multi Process Welder can't use a foot pedal for heat control (full review here), but it does have a 2T/4T trigger lock for long TIG weld runs. This machine uses a lift-type arc start for TIG and has automatic arc control.
---
4. Forney Easy Weld 140 FC-i MIG 110v Welder
Flux core only
Weighs only 19 pounds
All metal wire drive
Infinitely adjustable settings
10-140 amps
Pros
Generator friendly
32 gauge sheet to 1/4-inch plate
Great price range
Takes both 4 inch and 8 inch spools
Tweco-style MIG torch
Cons
Not gas-capable
Connections only 8 feet long
Overview
This machine is an inexpensive, yet highly capable machine that represents great value. The Forney Easy Weld 140 FC-i MIG Welder is a versatile flux core-only box with a wide output range. Although it's not MIG capable, this machine gets you 140 amps of wire-feed flux core welding right away. It's worth considering the fact that the flux core process is better than MIG for outdoor welding anyway when it comes to breeze resistance.
The Forney Easy Weld 261 MIG Welder will weld the thinnest sheet metal of any machine in this roundup at 32 gauge thickness, making it excellent for auto body and duct work. At the other end of the power range, 140 amps will weld 1/4-inch plate steel. It can mount both 4 inch and 8-inch wire spools, however, one drawback is this is a cheap gasless welder, so the wire drive is made from all plastic (full review here).
The power level control on the Forney Easy Weld 140 FC-i MIG Welder is infinitely adjustable within its range from 10 to 140 amps. It comes with 10-foot MIG torch and grounding clamp. The speed adjustment for the wire feed is also infinitely adjustable.
---
5. Lincoln K2278-1 MIG Handy Core 110v Wire Feed Welder
MIG gun included
35-88 amp output
Cold electrode wire
Beginner's flux core machine
12 month warranty
Pros
Easy settings system
Great for sheet metal
Factory-connected leads
Four settings ranges
Welds up to 1/8-inch
Cons
Duty cycle is only 20 percent at 70 amps
Some owners say the ground clamp is cheap
Overview
This is an inexpensive, high quality flux core welder aimed at beginners. The Lincoln Electric K2278-1 Handy Core features an easy settings system that lets users quickly set up. The machine comes with the leads already attached from the factory. The welding gun is already set up and ready to use. It's possible to start welding within minutes of unpacking.
The Lincoln Electric K2278-1 Handy Core is a great machine for whipping out quick repairs around the household such as torn metal on patio tables or planters. You can quickly take car of brackets and exhaust work on motorcycles, yard equipment and handle automotive repairs. It's capable of welding metal up to 1/8-inch thick, to easily take care of gate hinges, assemble angle iron for tables and plant stands or repair pool fencing.
The Lincoln K2278-1 Handy Core comes with a 10-foot connection and ground clamp. Some owners report the ground clamp is of cheap quality, but they're easy and inexpensive to replace. Lincoln is probably the biggest name in welding, with a nationwide network of dealerships including big box and farm supply stores.
---
6. Titanium MIG 170 MIG 110v Welder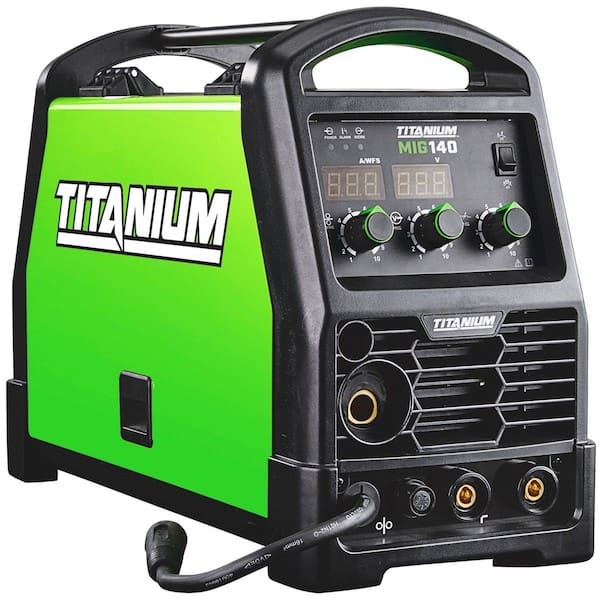 Dual voltage 110v / 240v input
30-170 amp range
All-metal wire drive
Digital Display
24-gauge sheet to 3/8-inch steel
Pros
Spool gun ready
Inductance control
Lightweight 24 pounds
Change wire without tools
2- to 12-pound spools
Cons
MIG gun lead is very stiff
Ground clamp is cheap
Overview
The Titanium MIG 170 MIG Welder is a powerful, inexpensive MIG machine that also runs flux core. The dual-voltage input power gives you go-anywhere versatility, letting you plug in at home with 110-volt convenience while allowing 240-volt use as needed. If you don't need the dual voltage with 140 amps, then you should consider the Titanium MIG 140 machine to save a few extra bucks.
The Titanium MIG 170 is lightweight at only 24 pounds, making it easy for you to move around as needed to reach tight spots or transport to the job. The 30-amp bottom end will weld as thin as 24 gauge sheet metal. On 110v you can weld up to 1/8-inch steel at 140 amps. The 240 side will reach 170 amps to weld up to ⅜-inch thick in a single pass.
The Titanium MIG 170 MIG Welder features a digital display for easy setup and monitoring and it's spool gun ready. Just plug in the optional spool gun without any changes to MIG weld aluminum up to 1/4-inch thick. The all-metal wire drive features no-tool spool changes and mounts from 2-pound to 12-pound spools.
---
Conclusion
There are lots of 110v MIG machines on the market these days. Some of them are incredibly inexpensive, others seem to have unbelievable features.
There are a few simple rules of thumb for this class of machine.
You want quality first, power level second, and pricing third.
The very cheapest machines on the market might not last more than a single welding session, and because they're generic imported machines, they often can't be repaired. Every technical pursuit has a minimum price of entry.
110-120 volts will only get you 140 amps output. This is a scientific fact.
We've included two machines with power in the near-200 amp class, but to get that much juice you need to plug into 220-240 volts. This kind of flexibility comes at extra cost, but can be well worth the price.
We chose the Eastwood MIG 180 as the best option for a machine that offers the option of professional-grade power and quality along with the versatility of 110-volt capability. This machine is also ready to plug in a spool gun to MIG weld aluminum and Eastwood offers this machine with the optional spool gun included for less than buying them separately.
When it comes to quality, you don't have to spend a big number to get it. Your best bet in this regard is to go with a big domestic brand name, because they have to deliver or they're going to be hurting in the market before long.
These brands have large networks of dealers in the USA, Canada and Mexico and can repair your machine within a short time if necessary.
The Titanium MIG 170 has warranty, parts and supply service available at any Harbor Freight store, which are located in towns of every size, especially those near interstate highways.
With thrift and value in mind, we're recommending the Forney Easy Weld 140 FC-i MIG Welder, also known as Model 261, as the best choice for a budget welder, because it's got great value and quality in a great price range, coupled with the ability to expand its capabilities over time.
There is always a place for a minimum cost, low-power welder in the shop for quick repairs or for learning how to weld. The Lincoln Electric K2278-1 Handy Core is a great machine for beginner-level welders but might not deliver the power or control that more experienced welders might need.
Other Guides
Top Rated MIG Welders – Best Overal Picks