Every MIG welder needs a good set of MIG pliers in the toolbox.
Reliable MIG welding pliers will allow you to remove the nozzle, loosen the contact tip, remove weld spatter and cut wire with ease.
Bad quality pliers will lease you frustrated having to replace them each time.
To save you the time of researching, I've dug into the market and found the best MIG pliers you can depend on.
Let's jump straight in…
---
A Quick Comparison
Product
Image
Product
Details

Welper YS-50

Professional grade

The original MIG pliers

Made in Japan

Eastwood MIG Pliers

Spring loaded

Knurled grabbers

Hardened cutters

IRWIN VISE-GRIP 8-Inch

Spring loaded

Dipped handles

Lifetime warranty

YESWELDER 8"Anti-Rust

Anti-rust finish

HRC60 hardness

Nickel plated

Strong Hand 8-Inch

Built-in hammers

Fine and coarse files

Nozzle grabber

Lincoln K4014-1

Ergonomic design

Soft silicone handles

Flat and crowned hammer
Best MIG Welding Pliers With Reviews
Here's a list of the best pliers for MIG welding:
1. Welper YS-50 MIG Gun Pliers
6-function design
Side cutters for wire
Spatter-removing jaws
Drop-forged tool steel
Nozzle remover
Pros
Spring loaded handles
Square tips to draw wire
Bushing changer
Integrated hammer
MIG gun tip changer
Cons
Top of the price range
Cutters wear fast on 316 stainless
Overview
Welper YS-50 MIG Gun Pliers are a favorite of professional welders, known for both comfort and quality. This is the original MIG-specific pliers design, made in Japan. The name is a contraction of "welder's helper," one indicator of how much use they get at the average workshop. They might be a little expensive for those just starting out, but they're certainly worth considering when it's time to replace your original set.
The Welper YS-50 MIG Gun Pliers' MIG-specific functions include square-shaped jaw tips that work great for removing slag and spatter from the nozzle of your MIG gun. Some reviewers mention that the cutters can wear fast with 316 stainless wire, but actually so can everything else.
Welper YS-50 MIG Gun Pliers make it easy to grasp both the tip and the nozzle to remove and install. An integrated hammer works for those times you need to tap something or remove slag. Many career welders mention using the Welper pliers for 10 years or more on the job. There's also a nice leather holster available to keep this professional-quality tool at the ready.
---
2. Eastwood MIG Welding Pliers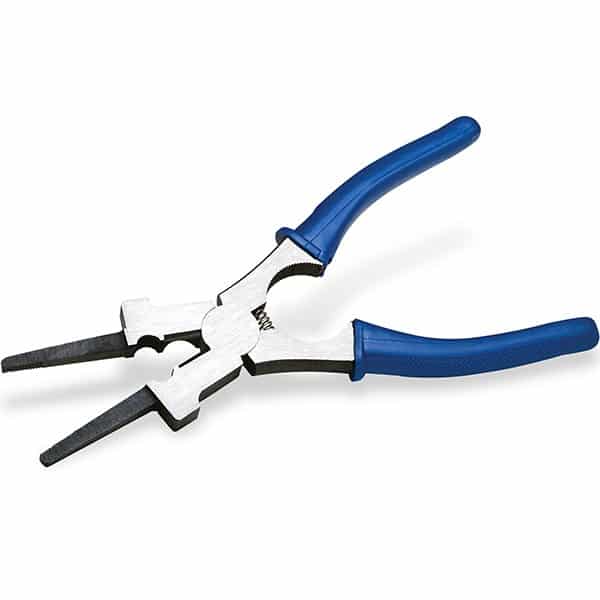 Square tips
Knurled grabbing surfaces
Rubberized handles
Round recess for nozzles
Spring loaded
Pros
Comfortable grips
Solid construction
Hardened cutter edges
Tip and nozzle changers
Needle nose jaws
Cons
Grips can come loose
Outer surface of jaws is smooth
Overview
Eastwood MIG Welders Pliers are another tool among the quality automotive and fabrication tools offered by restoration supplier Eastwood. Along with their nice range of quality welders and helmets, Eastwood carries this nice set of MIG welder pliers. They feature rubberized handles and spring loaded tension to make them easier to operate while wearing gloves.
The narrow needle-nose shape is squared off at the tips. There are two circular recesses included behind the jaws, a large one for the nozzle and another for the tip. The recesses have knurled surfaces to enhance gripping ability when grabbing these parts for removal and changing out. The Eastwood MIG Welders Pliers have smooth surfaces on the outside of the jaws, where some MIG pliers feature knurling or file teeth.
Eastwood MIG Welders Pliers always get good reviews from owners for the value and quality offered in their price range. This is a worthy companion to Eastwood's quality line of MIG welders, which we've covered in our MIG welder reviews. If you're ordering an Eastwood welder, it's always a good time to add a pair of these pliers to your shipment.
---
3. IRWIN VISE-GRIP 8-Inch MIG Plier
Specially-designed nose
Induction-hardened cutters
8-inch length
Maintenance/slag hammer
Spring loaded
Pros
Rubber dipped grips
Spatter-cleaning jaws
Multiple grabbing surfaces
Tip-changing jaws
Lifetime warranty
Cons
Outside of jaws not grooved
Spring sometimes too long
Overview
Vise-Grip is a familiar name to just about every worker in any crafts profession. Mechanics, construction, technicians and welders are all professionals who've got multiple Vise-Grip pliers in the tool box. The Irwin Vise-Grip 8-Inch MIG Plier will go well next to the ones already in your box.
The Irwin Vise-Grip 8-Inch MIG Plier features built-in hammer surfaces to tap on parts or remove slag. The squared-off needle nose jaws work well for removing splatter. This tool doesn't have knurling or file teeth on the outside surface of the jaws like some do. The handle grips are rubber-dipped rather than the sleeve type found on many other designs, lessening the likelihood the grips will slip off over time.
The spring-loaded jaws are easy to operate while wearing gloves, although some owners report the spring in the Irwin Vise-Grip 8-Inch MIG Plier is sometimes too long, preventing the jaws from closing completely. That can get in the way of cutting wire, but the spring can be removed and clipped a little shorter to fix this issue. Irwin backs this tool with a lifetime warranty.
---
4. YesWelder 8" Welding Pliers, Anti-Rust MIG Welding Pliers
HRC60 Rated Steel
Nickel plated
Knurled nozzle changers
Soft cushion grips
Spring-loaded
Pros
Sharp edged jaws
Anti-rust finish
Hardened cutters
Two hammer heads
Needle nosed with teeth
Cons
Can be very stiff
Only has flat hammer
Overview
Like some other MIG pliers, YesWelder 8″ Anti-Rust MIG Welding Pliers feature square needle nose jaws with sharp edges to clean your MIG nozzle with a quick twist. There are two circular gripping surfaces, a small one for contact tips and a large spot for removing and working on nozzles. The gripping surface of the jaws is also knurled to prevent slipping.
The YesWelder 8″ Anti-Rust MIG Welding Pliers are made from high-carbon steel with an HRC60 hardness rating, so they should take years worth of wear. The cutting edges are also hardened and these pliers are finished in nickel plating for anti-rust characteristics. The grips are molded, but fit onto the handles over a hilt-like protrusion to keep them from slipping off.
One of the only things that owners didn't like was that the YesWelder 8″ Anti-Rust MIG Welding Pliers can be very stiff or tight when you first use them. They are spring-loaded, so that goes away with use and some owners recommend light grease, penetrating oil or similar lubricants. While this tool does feature two hammering surfaces, both are flat-faced, rather than one face being crowned.
---
5. Strong Hand 8-Inch MIG Welding Pliers
Integrated hammer
Built-in file faces
Ergonomic handles
Levering v-notch
Hardened cutter
Pros
Rounded hammer face
Flat hammer face
Coarse pattern file
Fine pattern file
Tether chain
Cons
Right-handed only
Grips will slip off
Overview
Strong Hand 8-Inch MIG Welding Pliers feature ergonomically designed handles, helping to keep fatigue and bruising to a minimum. This is a thoughtful design, integrating two hammer faces with both coarse and fine metal files that are great for cleaning the inside diameter of torch nozzles. The cutting jaws line up nicely and cut a good square chisel tip, whether you're cutting solid or flux core wire.
One issue reported by several owners of the Strong Hand 8-Inch MIG Welding Pliers is the handle cover grips coming off sooner than expected. This is easily remedied with some silicone or Gorilla Glue. These pliers will take a lot of abuse, and most owners preferred them to standard MIG welper pliers.
The Strong Hand 8-Inch MIG Welding Pliers also have a diamond v-shape designed into the jaws for gripping and pulling nozzles off while servicing your MIG gun. There's also a tethering chain to attach these pliers to your torch stand or MIG cart, but owners report the chain is weak. Another minor issue that's easy and cheap to solve and doesn't detract from the overall value or usefulness of this product.
---
6. Lincoln Electric K4014-1 MIG Welding Pliers
Drop forged steel
Curved to fit your hand
Spring loaded
6-function design
Soft silicone grips
Pros
Built-in files
Two hammer faces
Side cutters
Nozzle grabber
Tip handler
Cons
Don't open as far as others
Only designed to hold one way
Overview
Lincoln Electric K4014-1 MIG Welding Pliers are a great buy for this price range, giving you a well-designed set of drop-forged MIG pliers in a reasonable price range. They've got the usual features offered by MIG pliers in this class. The jaws are a needle nose design with square tips for cleaning spatter out of the MIG gun nozzle.
This design features serrations on the outside of the jaws, unlike many others. This offers a lot more options for servicing your MIG gun and cleaning spatter than smooth jaws do. There are two circular areas with knurling for working on nozzles and contact tips. The hammer surfaces on the Lincoln Electric K4014-1 MIG Welding Pliers consist of one flat face and one crowned face. The handles are ergonomically shaped and feature soft silicone grips.
The Lincoln Electric K4014-1 MIG Welding Pliers don't open quite as far as some other pliers do, and some owners feel that they're uncomfortable to use if you need to flip them over, for instance if you need the flat hammer face. This is one of the drawbacks with ergonomic handle designs.
---
MIG Pliers Buyer Guide
When you're in the market for a new set of MIG welding pliers, look for precision and durability first. Also, consider the tasks you're going to be performing during the work.
High Quality Manufacturing
Precision is important to the quality and speed of your work.
Jaws close tightly and meet squarely
Cutters close evenly along the cutting edge
No loose side to side movement while using
Check for hardened steel
Comfortable and durable grips
Useful Design Features
Consider what your pliers have to do when servicing your MIG gun.
Grasping parts
Drawing and cutting wire
Cleaning spatter off nozzle inside and out
Filing surfaces
Tapping parts or removing slag
Twisting, adjusting, straightening nozzles and tips
Given these tasks, you want a tool with good gripping surfaces in useful shapes, efficient cutters, sharp-edged jaws, comfortable handles, at least one hammer face and the tool needs to be a convenient size and weight.
Related read: How to reduce spatter when MIG welding
Our Choices
We feel that the professionals using these tools day in and day out know best, and with that in mind, we've chosen the Welper YS-50 MIG Welding Pliers as our Premium Pick. They check off all the boxes and have a proven track record.
The Eastwood MIG Welding Pliers are a great alternative if you want to save a little cash over the Welper pliers without giving up good quality.
The Lincoln K4014-1 MIG Pliers offer ergonomic handles, two different hammer faces and soft silicone grips in a reasonable price range.