Welding is an important skill, but to be a great fabricator you need a plasma cutter.
Plasma cutters are a cost-effective way to add amazing skills to your arsenal.
They don't take much space and don't add a lot of heat, maintenance costs or cleanup.
They're also easy to learn and fast to put into production.
We researched the market to bring you these plasma cutters under $1000
---
A Quick Comparison
Product
Image
Product
Details

Eastwood Versa-Cut 60

Cuts 7/8-inch plate

20-foot Trafimet torch

High frequency arc starts

Yeswelder CUT-55DS

Affordable power

HF pilot torch

Warranty 1 year

Hobart Airforce 12ci

Lightweight

No-touch arc starts

Runs on 120 volts

PrimeWeld CUT60

CNC-ready

Blowback torch

Trigger lock for long cuts

Forney 250P Plus

Runs on 120 power

Onboard compressor

Easy settings

Titanium 45A

Torch lead 12 feet

Dual-voltage input

Regulator included
Best Plasma Cutters Under $1000 with Reviews
Here's a list of the best plasma cutters you can buy for under $1000:
1. Eastwood Versa-Cut 60 Amp Plasma Cutter
20-60 amps output power
28 gauge sheet to 7/8-inch steel
60 percent duty cycle at 60 amps
20-foot torch connection
Trafimet CB70 torch
Pros
Standard consumables, easily found
3-year warranty
Weighs only 45 pounds
Internal air/water separator
30-day money back guarantee
Cons
Not good for CNC plasma tables
50-amp circuit is high for DIY shops
Overview
The Eastwood Versa-Cut 60 Amp Plasma Cutter is an affordable, high-powered machine. 20 to 60 amps of output power can cut metal as thin as 1/64-inch thick (24 gauge) up to 7/8-inch steel plate. This machine runs on 240-volt power and requires at 50-amp circuit breaker, higher than the usual 20-30 amp rating of most home workshops. Eastwood also offers the dual-voltage Versa-Cut 40 plasma cutter if you'd rather have a choice between 120 and 240 power.
One of the great features of the Eastwood Versa-Cut 60 Amp Plasma Cutter is the 20-foot torch connection, making it easy to reach your work and move around larger pieces like car projects and equipment repair. Even better, Eastwood included the outstanding
Trafimet CB70 torch.
The Eastwood Versa-Cut 60 Amp Plasma Cutter features an internal water separator. While the high frequency arc starting is very convenient when working manually, it will interfere with digital electronics like cell phones and computers. This makes the Versa-Cut 60 unsuitable for use on a CNC plasma cutter table. The Versa-Cut 60 is backed by Eastwood's 3-year "no hassle" warranty and comes with a 30-day money back guarantee.
---
2. Yeswelder CUT-55DS Plasma Cutter
Dual 120/240 input voltage
Can cut 1/2-inch plate
High-frequency torch
Includes AG60 torch
2T/4T locking trigger
Pros
Torch connection is 13 feet
20-second postflow time
Aluminum handle
Includes an air filter
Comes with spare consumables
Cons
External air required for heavy cuts
Not CNC table compatible
Overview
The YesWelder CUT-55DS Plasma Cutter uses the Longevity AG60 torch for reliable and accurate cutting. Some owners felt the airaflow was restricted by the cheap air supply hose., possibly because of the cheap air hose. YesWelder designed in a flip-up shield that covers the control panel. The 55-amp cutting power is a nice middle ground between 50 and 60 amp machines, bringing enough power to cut 1/2-inch steel at an affordable price range.
A high-frequency pilot arc improves the lifespan of consumables. However, this kind of starting system doesn't work with with a CNC table because of high-frequency interference with digital electronics. The YesWelder CUT-55DS Plasma Cutter ships with a 120-volt main connection ahd an adapter for 240 volts YesWelder backs this machine with both a 1-year warranty and 30-day money back guarantee.
---
3. Hobart Airforce 12ci Plasma Cutter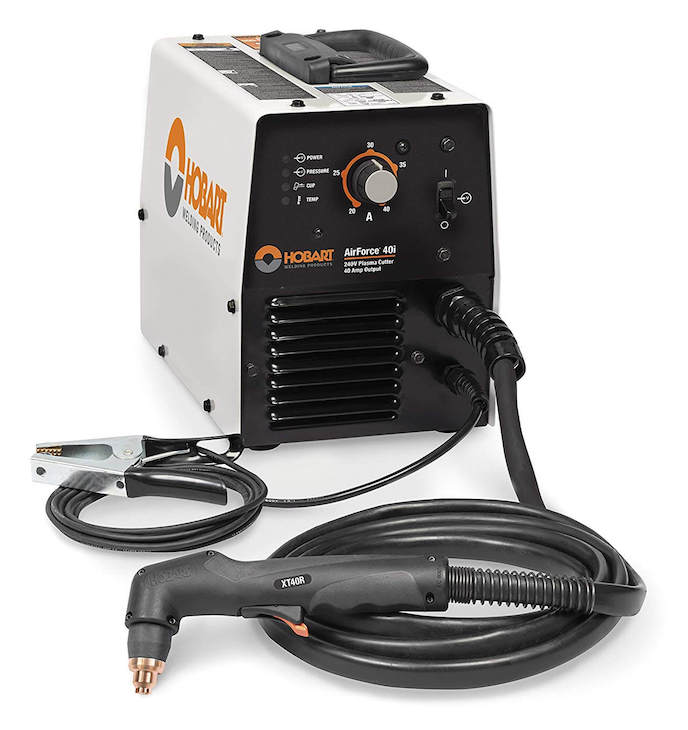 120 volt power
5-year warranty
Fan-On-Demand saves power
Cuts 3/16-inch steel
12 amp output power
Pros
Lightweight plasma cutter
Ergonomic torch design
12-foot torch hose
No-touch arc starting
Post flow cut cooling
Cons
Complaints about low air pressure
Cutting capacity isn't great
Overview
The Hobart Airforce 12ci plasma cutter offers advanced pro features. Post flow air cooling keeps the air flowing once you finish cutting. The AirForce 12ci Fan-On-Demand feature helps keep dust and debris out of the case and saves power. It's designed to be lightweight, rugged, and easily portable.
This plasma cutter runs on 120 volts, with just enough power to cut through 3/16-inch steel on 120-volt input power. That's enough power to take on hefty household repairs on appliances, gates, fencing, and garage doors. Professional air conditioning and heating techs can carry this plasma cutter into a house and plug it into the homeowner's power without blowing circuits. The built-in air compressor is another nice touch, eliminating the expense, clutter, and trouble of a stand-alone compressor to provide the needed cutting pressure.
The no-touch pilot arc start and ergonomic torch combine with the automatic settings system to make the machine easy to learn for beginners. Hobart backs the AirForce 12ci plasma cutter with a 5-year warranty, underscoring its status as a serious professional tool built to industrial standards.
---
4. PrimeWeld CUT60 Plasma Cutter
Continuous pilot arc
Dual input 120/240 volts
CNC compatible
PT60 blowback torch
Air postflow timer
Pros
2T/4T trigger lock
Euro-style central connector
20-foot torch length
No-touch arc starting
3-year warranty
Cons
On/Off switch is in the rear
Power cord is a little short
Overview
The PrimeWeld CUT60 Plasma Cutter offers a lot of power. The 60 amp max rating is capable of cutting up to 7/8-inch thick steel. The lower limit of 20 amps works down to 26 gauge sheet metal. It's got dual-voltage input with 120 and 240-volt input power. There's a standard 3-pole 240 power cord, and an adapter cable to plug into 120 outlets.
If you're wanting a plasma cutter for use on a computer-controlled CNC plasma cutting table, the PrimeWeld CUT60 Plasma Cutter is completely compatible for CNC use. Machines that use high-frequency arc starting will interfere with the digital electronics in computers. This machine uses a 20-foot PT60 blowback torch, which uses air pressure to start the arc when you hit the trigger (full CUT60 review here).
The PrimeWeld CUT60 Plasma Cutter features a continuous pilot arc, which lets you cut material like expanded metal, honeycomb and grating. When the arc crosses into space, the torch shuts off until it hits the next solid spot and strikes the arc again. PrimeWeld owners are very loyal, with high praise for its build quality, performance and customer service.
---
5. Forney 250 P Plus Plasma Cutting Machine
120 volt input source
3-year warranty
15 foot power cord
Cuts 1/8-inch steel
12 amp rating
Pros
Controls are easy to use
Runs on generator power
15-foot torch line
Drag cut starting
Integrated consumables storage
Cons
Not good for volume jobs
Compressor isn't the strongest
Overview
Built to professional standards, the Forney 250P Plus has drag torch arc starting. Plasma cutters without a drag torch can be difficult to use because the torch needs to stay a certain distance off the cutting surface to provide high quality cutting. With drag torch ability, the torch head can be placed directly on the metal and literally dragged to make the cut.
Another nice thing about the light-duty Forney 250P Plus is the built-in air compressor. Some users aren't happy with the air pressure maintained by the onboard compressor. This is a lightweight plasma cutter at 43 pounds. The 120 volt power source means this plasma cutter can be plugged in anywhere.
While it will work fine for occasional cuts like in-home repairs, it takes too long to start a cut to be useful for production work. There's a delay of a few seconds between striking the arc and starting the cut that adds up when making multiple separate cuts in a day. The Forney 250P Plus carries a 3-year warranty and has integrated consumables storage.
---
6. Titanium 45A Plasma Cutter
12-foot leads
Cuts 5/8-inch thickness
Regulator included
Weighs just 21 pounds
20-45 amps
Pros
Torch standoff included
Easy to set up
Lots of dealers
Includes copper air filter
Dual 120/240 volt input
Cons
Cheap quality ground clamp
Sometimes hard to find torch parts
Overview
The Titanium 45A Plasma Cutter features easy setup to get you up and cutting right out of the box. Harbor Freight includes a built-in regulator and a copper air filter with this machine. The grounding clamp isn't the best quality, but they're easy to swap and affordable, high-quality replacement clamps are available at Harbor Freight, hardware stores and your closest welding supply.
This machine offers both 120-volt and 240-volt power. When running on 120-volt input, the Titanium 45A Plasma Cutter reaches up to 20 amps output power, enough to cut 1/4-inch thick steel. On 240 volt power this machine is able to cut up to 1/2-inch steel with 45-amp power. Owners say you'll get the best results cutting on 240 power. The lower limit on either setting is 15 amps, which can get you down to 22-gauge sheet metal for auto body work.
The Titanium 45A Plasma Cutter is equipped with a 12-foot torch connection. The digital display is bright, easy to read and simple to use, with an overload protection feature. Harbor Freight includes a torch standoff on this machine to maintain proper air gap off the work surface.
---
Buyer's Guide
When you're searching for an inexpensive plasma cutter under $1000 bucks, it's important not to let price stand as the defining factor when shopping for the right machine. What you need is the highest quality in your price range.
When two plasma cutters offer the same features and the same quality based on reviews and warranty, that's when you let price decide.
What Kind of Features Do You Want?
While some advanced options are beyond the reach of this price range, there are still a few luxuries to make your workday easier.
Arc Starting Types
Some plasma cutters can start cutting without touching the metal. Others use a feature called drag cutting to get going.
Some machines use a system called blowback starting that combines features of drag cutting and no touch systems.
High frequency no touch systems can interfere with nearby digital equipment like phones and computers. Blowback starting is one big advantage of the PrimeWeld CUT60 Plasma Cutter.
Do You Want Air Flow Adjustment?
A few plasma cutters in this class offer a feature called postflow that continues the flow of air over the cut for a few seconds after you stop to cool the metal faster. This makes for a cleaner appearance to the cut edges. This feature is found on the Forney 250P Plus plasma cutter, for instance.
Air Compressors
Plasma cutting requires a blast of compressed air to complete the cut by blowing through the molten metal. If you don't have a separate compressor, you'll have to account for the cost of one, or buy a plasma cutter that includes a built-in compressor. If you want a model that includes an onboard air compressor, then we recommend the Hobart AirForce 12ci.
What Type of Project?
The most important part of any plasma cutter choice is the type of work you need to do.
If you're never going to cut metal that's 1/2-inch thick, you don't need 50 amp power.
If you are going to need that ability, a 12 or 15 amp cutter isn't going to do the job.
If you haven't already got a welder and you need one, it might be practical to consider a multi-process welding machine that offers plasma cutting and welding in one package.
Input Power Sources
There are quality plasma cutters that run on 110/115/120v and some that run on 220/240v, and also machines that can run on either power source. In the United States, residential power can be wired at points in the house for 240v. It's common to wire a laundry room or garage for a 240 volt power source to run dryers, deep freezers and power tools on 240 volts. In either case, you generally need to have 20 amps available to run a plasma cutter or welder without blowing breakers, and 30 amps is even better.
110/115/120 volt
When you see power ratings of 110, 115 or 120v, they all refer to standard U.S. household current, which is actually 125 volts AC. These designations are relics of a bygone era prior to the 1920s when the U.S. power grid was still developing. Electricians call household current 120 volt systems.
Because it costs less to make an inverter system that runs solely on 120 volt power, plasma cutters that operate exclusively on 120 volt input are less expensive than machines that run on 240 or dual power input. Obviously, the laws of physics mean that you can only get a certain amount of cutting power out of a plasma cutter that runs on 120 volts and no more is available.
Generally, the most cutting power you're going to see out of a plasma cutter running on 120 volts is about 12 to 15 amps which is enough is you're cutting 1/4-inch or 3/8-inch plates. Welding works differently, so a welding machine can make about 140 amps on household current, good enough to weld 3/16-inch steel.
220/240 volt
If you want to cut metal thicker than 1/4 inch, you'll need 240v power. These can produce up to 50 amps of cutting power, enough for 1/2-inch steel, and in some cases up to 5/8-inch steel.
Similar to the situation with the 120 volt rating, 220 is an outdated label for what is actually 240 volts. Occasionally you will see references to 208 volt or 230 volt power. 208 volt power is a commercial and industrial type of power that can be wired in different ways to produce up to 230 volts in settings like large retail or factory locations. When it comes to portable plasma cutters under $1000, 208 volt power doesn't apply. 230 is a number also sometimes seen as a description for 240 volt residential power.
Because the inverter or transformer unit has to be heavier duty, 240 volt plasma cutters and welders are quite a bit heavier than 120 volt machines are. Combination plasma cutters that run on dual 120/240 volt input power sources are usually even heavier and bulkier to allow for safe power handling.
Most dual 120/240 input machines include an adapter for one plug or the other, although some require you to rewire the machine for the power source you want to use.
Which One Is For You?
We've picked the Eastwood Versa-Cut 60 as our best plasma cutter under $1000. It's affordable for the DIY shop, but built and backed well enough for professionals. Owners love this machine and the 60-amp output will cut 1/2-inch steel without any strain on the machine.
The YesWelder CUT55-DS is also a great plasma cutter well under $1000, with high-frequency torch starting. YesWelder came up with a thoughtful compromise between full 60-amp power and the affordability of a 50-amp plasma cutter. The 13-foot AG60 torch and the flip-up dust cover on the front panel are both nice touches in this price range.
The Titanium 45A Plasma Cutter brings you 45-amp power and includes a torch standoff, regulator and air filter. Throw in Harbor Freight's customer service and stores everywhere, along with satisfied owners and this one looks like a great deal.