As a welding pro, there's nothing as important as stick welding skill.
Every other electric welding skill depends on arc welding knowledge and experience.
Because of this, you have to have a good stick welding machine to keep your skills sharp.
That can be hard to do unless you're able to find a solid machine you can afford.
So we've put together six cheap stick welders for under $500 that are great for daily work while keeping you sharp.
---
A Quick Comparison
Product
Image
Product
Details

Eastwood Elite MP140I

Spot welding timer

Trafimet MIG gun

Stick, MIG and TIG

Hobart Stickmate 160i

Under 20 pounds

120/240-volt input

Dealers nationwide

YesWelder TIG-205DS

Comes with foot pedal

Dual-voltage power

Multiple inverters weld longer

Primeweld CT520D

Stick and TIG welding

Plasma Cutter

13-foot connections

Lincoln AC225

Best selling Lincoln ever

Super durable

Auto Arc Control

Forney 180 ST

TIG and Stick

Dual 120/240 input

14-pound lightweight
Best Stick Welders Under $500
We looked everywhere to find you five cheap stick welders for less than 500 bucks.
1. Eastwood Elite MP140I Multi Process Welder
Stick, TIG and MIG welding
Welds up to 3/16-inch steel
Duty Cycle 30 percent at 90 amps
Timer feature for spot welding
Infinitely adjustable controls
Pros
WP-17v TIG Torch
Trafimet ErgoPlus 15 MIG gun
12.5-foot Electrode clamp
10-foot connections
Optional spool gun available
Cons
140 amp maximum
No TIG pedal
Overview
The Eastwood Elite MP140I Multi Process Welder is a 3-in-1 welding machine, offering MIG and TIG processes as well as stick welding. The maximum output is 140 amps, which is all you can get out of 120 volts and enough to weld 3/16 thickness. This machine uses a Euro central type connection for easy process and polarity switches.
On MIG it gets down to 30 amps, which works good down to 26 gauge sheet metal. The TIG function reaches down to 20 amps, getting even thinner with less heat, down to 22 gauge. The stick process goes down to 30 amps. The Eastwood Elite MP140I Multi Process Welder is praised by owners for a smooth arc that's easy to keep in the groove.
The Eastwood Elite MP140I Multi Process Welder comes with a WP-17v TIG torch, an industry-leading Trafimet ErgoPlus 15 MIG gun and a 13-foot electrode clamp for stick welding.  Eastwood offers an optional spool gun for welding aluminum with the MIG process. Because this is a DC TIG machine, it's not intended for TIG welding aluminum. Users say it welds aluminum well with aluminum rods.
---
2. Hobart Stickmate 160i Arc Welder
Dual input 120 volts or 240 volts
Output current 160 amps
DC stick welder
5-year warranty
Hot start technology
Pros
Weighs under 20 pounds
Welds 1/4-inch steel plate
Infinite amp settings control
20-160 amps output current
Shoulder strap included
Cons
This is one Hobart not made in America
Stick welding process only
Overview
Hobart welders are known and respected for industrial quality construction that's rugged and durable. The Hobart Stickmate 160i keeps this tradition going, with great reviews of its performance by owners. Most buyers looking for an American brand expect it to be made in America,.
This welder is made and inspected to Hobart specifications, but it's manufactured in China, which means it can't meet the requirements of the Made In USA certification required for many government jobs.
Unlike most Chinese welders, however, the Hobart Stickmate 160i benefits from the nationwide network of Hobart dealers and service centers. So if you don't need the Made In USA certification, this welder appears to be up to Hobart's tough standards, based on its 5-year warranty.
The Stickmate 160i weighs less than twenty pounds, light enough to move around with the included shoulder strap. It can run on 120 volt or 240 volt power and weld 3/8-inch steel. With an infinitely adjustable dial for the current settings that can make adjustments in 1 amp increments, the Hobart Stickmate 160i arc welder features Hobart's Hot Start technology.
---
3. YesWelder TIG-205DS Stick/TIG Welder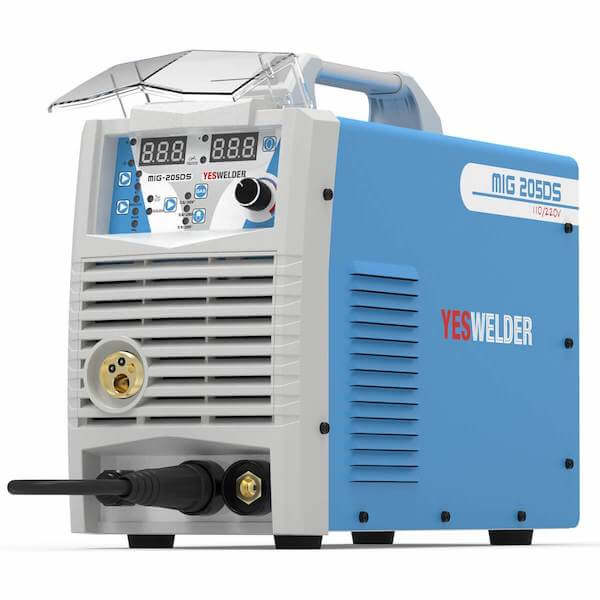 IGBT inverter power
Dynamic settings compensation
Auto temperature control
110V/220V input
Amperage spike control
Pros
No-touch starts
LCD digital display
Generator ready
Multiple inverters
WP-17 TIG torch
Cons
Current display shows high
120 power with 220 adapter
Overview
The YesWelder TIG-205DS is a stick welder with a TIG welding feature. It's one of the cheapest stick welders on our list. Powered by either 120 or 240 volt input, this machine puts out 180 amps in stick mode on 230 power to easily weld up to 3/8-inch thickness. The TIG function produces 205 amps on 240 power. 120 power gives you 145 amps with TIG and 140 amps on stick mode.
This machine features an LCD digital display to make the settings easy to monitor. The YesWelder TIG-205DS has a 60 percent duty cycle at max power. On either welding process the lower end is 15 amps, good enough for sheet metal work on auto body or ductwork. YesWelder equips this welder with automatic settings compensation that dynamically change settings while you weld to maintain good arc quality.
The YesWelder TIG-205DS features an adapter that goes from the base 120-volt input to plug into 240 outlets. The dust cover over the control panel is a nice feature. High-frequency arc starting makes welding easier. This welder comes with 10-foot electrode clamp for stick welding rods, a 13-foot TIG torch and even comes with a TIG foot pedal. For a cheap stick/tig welder under $500, it's received a lot of good feedback from users.
---
4. Primeweld CT520D Multiprocess Arc Welder
Stick welder with TIG and plasma cutter
60 percent duty cycle
1-year warranty
200 amp stick and TIG
Dual 120/240 volts input
Pros
50 amp plasma cutter
Cuts and welds 1/2-inch steel
Easy adjustability
13-foot welding lead
Easy arc starting
Cons
TIG control pedal not included
Not a no-touch TIG/plasma start
Overview
The PrimeWeld CT520D is a 200 amp DC stick welder that also features a DC TIG welder and a 50 amp plasma cutter in the same machine. With a DC amperage range from 10 to 200 amps, the CT520D is able to weld sheet metal as thin as 24 gauge and up to 1/4-inch thick steel plate. The plasma cutter can go through 1/2-inch thick steel with a cutting range from 10 to 50 amps.
The electrode clamp for the arc welding sticks has a 13-foot cable and so does the TIG torch. The plasma torch connection is also 13 feet. The PrimeWeld CT520D uses a drag torch technique to start the plasma arc. The dual input voltage allows the convenience of connecting to household current while also bringing the power, versatility and fine control of 240 volt input to the table.
While some users don't like the fact that this multi-process arc welder doesn't ship with a TIG control pedal, it does receive very high marks from owners for its stick welding performance and Primeweld is famous for outstanding customer service.
---
5. Lincoln AC225 Stick Welder
Classic "tombstone" arc welder
All time best selling Lincoln welder
AC stick welder
40 to 225 amp output
240 volt power
Pros
16-gauge sheet up to 1/4-inch steel
Lincoln Smooth Arc technology
10-foot ground clamp cable
15-foot electrode cable
Certified to ISO 9001 standard
Cons
It's very heavy
Lacks features of more modern designs
Overview
The Lincoln AC225 is a legendary and durable welder. It holds the distinction as Lincoln's greatest selling welder of all time. There are Lincoln AC225 stick welders from the 1970s still pulling all-day duty every day in fabrication shops across the country. Lincoln backs the AC225 with a 3-year warranty.
AC welding takes a little more skill to master than DC does, and transformer power sources weigh a lot more than inverter machines. Old-fashioned transformer technology is the main reason these machines last so long. Compared to circuit boards, semiconductors and digital processing chips, there's not a lot to go wrong with a big chunk of copper wrapped in wire.
Durability and classic style are great, but how does the AC225 weld? There's a reason this welder is often mentioned as the best one ever built. There aren't a lot of bells and whistles, but this old tombstone will weld just about anything you put in front of it. The Lincoln AC225 comes with Lincoln's Smooth Arc technology for easy starts and automatic arc maintenance while you're burning.
---
6. Forney 180 ST Stick TIG Welder
Lightweight at 14 pounds
Highly portable
DC stick and DC TIG
5-year warranty
IGBT inverter power
Pros
Dual purpose arc welder with TIG ability
High frequency lift arc
10-180 amp current adjustment
Includes regulator and accessory case
Welds from 18-gauge sheet to 1/2-inch steel
Cons
Can't connect a TIG foot pedal
No gas regulator
Overview
The Forney Easy Weld 180 ST is a lightweight 14 pound dual purpose stick welder. This is a DC arc welder with TIG capability included. It runs on 120 or 240 volts input, delivering 10 to 180 amps of DC current. It accommodates generator power, tolerant of "dirty power" frequency fluctuations that often make it hard for welders to work on standard generator power.
This is a powerful machine that can run single pass welds on 1/2-inch steel and at 10 amps lower limit, it also provides fine TIG quality on sheet metal as thin as 24 gauge steel. That's fine enough to weld on auto body sheet metal with a stick welder. If you do want to use the TIG side of the machine, it doesn't ship with a TIG torch or a gas regulator, so those items would need to be purchased separately. This particular machine doesn't accept a TIG foot control pedal.
The stick welding side gets great reviews for smooth and easy-starting arc welding. The Forney Easy Weld 180 ST maintains Forney's high standards of industrial quality build and comes with a 5-year warranty.
---
Buyer's Guide
Because stick welders have a much simpler design than other welding machines, they are much more durable and rugged than other types of welders. This makes them suitable for primitive field conditions and for situations where cost is a factor.
As the most basic type of welding skill, it's easy to master arc welding at the beginner level, though like most types of welding, there's always a new trick to learn.
However, if you don't currently have welding skills, stick welding is the fastest type to learn and you can be immediately productive, making repairs and fabricating parts effectively within a few days' worth of practice.
There are a few things to keep in mind when shopping for a stick welder, and because of the simplicity of design, you can find a lot of machine for less than $500.
What Kind of Work Are You Doing?
Like many tools and especially with technology-based machinery like arc welders, the single biggest factor in your decision should be finding the most appropriate solution to the work at hand.
If you have a need to weld sheet metal, you need a machine that's able to provide low amperage levels or you'll blow through the metal. In this case you need to find something that can reach down to 10 amps to run smaller-diameter rods or go with a multi-process machine that offers MIG or TIG capability in addition to stick. In this buying guide, the Primeweld CT520D provides TIG capability and a 10 amp lower limit.
At the other extreme, if you expect to be welding on trailer frames, truck suspension, backhoe buckets or farm tractor implements, you're going to need a lot of juice to get the kind of penetration you need to weld steel that's as much as ¼ to ½ inch thick. That's going to take at least 140 amps and more is even better.
Where Are You Welding At?
Depending on where you plan to use a welder, you may need to consider the power source and whether your leads or power connection are long enough to reach your work. On a construction site or in a fabrication shop, there are a lot of impact hazards like falling tools, being kicked or bouncing around on carts and in truck beds.
One consideration in this case is the power levels. On a commercial site, you need a machine that can use 240 volt input power, so it needs to at least accept dual 120 volt/240 volt connections or just accept a straight 240 volt power source. Alternatively, if you do not require a 240v power source, then opt for a dedicated 110v sticker instead – this will save you money.
Another issue is the durability of the welder.
Is it rugged enough to take a beating and keep working? It may also need to be made in the USA to meet certification standards for certain government contracts. The Lincoln AC225 meets both of these conditions in great style.
What Kind of Extras Can You Get
Because stick welders are fairly simple and inherently inexpensive, it's possible to get machines that offer features like extra welding processes like TIG, MIG or plasma in addition to straight arc welding.
You should also take into account the accessory equipment you'll need to buy so you can use the welder, like leads, clamps, chipping hammers, welding helmet and similar items that will get you to the finish line. Some welders include a lot of this kind of equipment in the price and that should be taken into account when comparing the final bill.
The Last Word
We've chosen the Eastwood Elite MP140I Multi Process Welder for our Best Choice in this guide. It offers an outstanding combination of power, affordability, high quality, ease of use and is backed by a 5-year warranty.
is a market-leading favorite that does one thing well, and that's stick welding. If you're reading this strictly to find a great stick machine, this one is a great choice.
The YesWelder TIG-205DS Stick/TIG Welder offers some great features, especially for its price range. There's a dust cover for the control panel, an included TIG foot pedal, dual input voltage and big 200-amp power. YesWelder machines are liked by their owners and this one features multiple inverters, an imaginative and elegant solution that dramatically increases its duty cycle over the competition.
Of course, for all-day production stick welding you can't beat the Lincoln AC225 stick welder because it's built a stellar reputation over decades on the job. There are examples of this arc welder on the job right now from the 1970s, still doing daily duty in the workplace. This is an extremely rugged design that's proven itself on countless sites and in countless situations. As long as you're not needing any specialty welding, this thing will handle just about any job you put in front of it.