The TIG process is known for the finest heat control of any type of welding.
It takes a lot of practice to get proficient at TIG welding.
Second, TIG welders cost a lot more than other machines do.
That means adding TIG skills to your craft can get very expensive.
But we found 6 machines that let you TIG weld affordably for less than $1000.
---
A Quick Comparison
Product
Image
Product
Details

Eastwood TIG 200

Top-end features under $1000

Popular with auto mechanics

120v or 240v input

Yeswelder TIG 250P

Very popular at this price point

No touch arc starting

2T/4T trigger lock

Weldpro Digital TIG 200GD

Foot pedal included

Preflow and postflow gas

Trigger lock feature

Primeweld TIG225X

Upgradeable to water cooling

Adjustable bead width

Wide power range

Everlast Power i-TIG 201

Includes pedal

Lift and no-touch starts

5-year warranty

Vulcan ProTIG 205

Pedal start stick arc

Includes regulator

Dual 120/240v power
Best TIG Welders Under $1000
Here's a list of some of the best TIG welders we found for under $1000:
1. Eastwood TIG 200 AC/DC Welder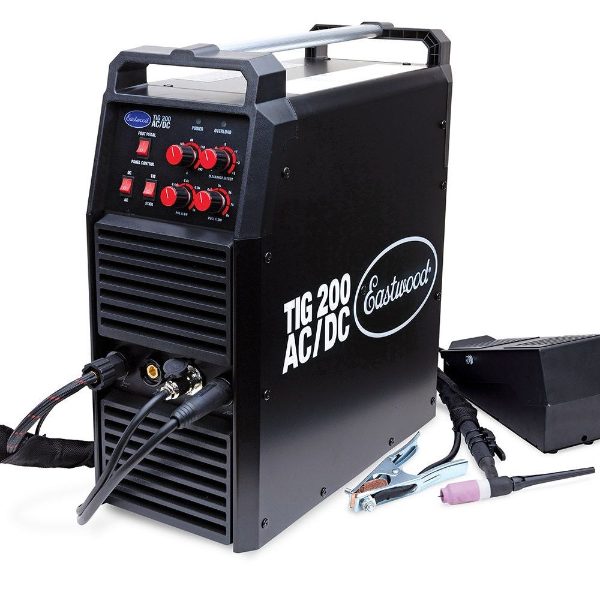 AC/DC TIG
Dual voltage input 120v or 240v
Upgraded foot pedal
Welds aluminum
Upgraded gas flow meter
Wide 10 to 200-amp range
Pros
Weighs only 45 pounds
Preflow-postflow gas control
Upgraded flex head WP-17 torch
Updated 16-foot pedal lead
High frequency arc starting
Cons
No 2T/4T trigger lock
No pulse width modulation
Overview
The Eastwood TIG 200 AC/DC TIG Welder is one of the most affordable TIG welders that delivers the ability to weld aluminum and steel from 16-gauge sheet metal up to ¼-inch thick. It's just the ticket for fabricating or rebuilding brake caliper mounts and accessory brackets under your hood. An AC/DC TIG brings you the power to build tube frame chassis, motorcycle and bicycle frames and the ability to repair broken or cracked aluminum parts.
This machine was just upgraded recently in July 2021. Now the Eastwood TIG 200 AC/DC TIG Welder has a better foot pedal, a new design with rocker action for finer control. Eastwood also saw fit to upgrade the gas flow meter to a higher-quality unit, addressing another frequently-mentioned ownership grievance. This is a true square-wave TIG machine, providing that extra touch for weld puddle cleaning and finer arc control.
The Eastwood TIG 200 AC/DC TIG Welder is equipped with a WP-17 style torch, now sporting an upgraded flex head and gas lenses, with collets to handle electrodes up to 1/8-inch. The duty cycle is a lot tougher now than it was before. It's rated at 60 percent when running 190 amps on 240-volt power and 143 amps on 120 volts.
---
2. Yeswelder TIG 250P TIG Welder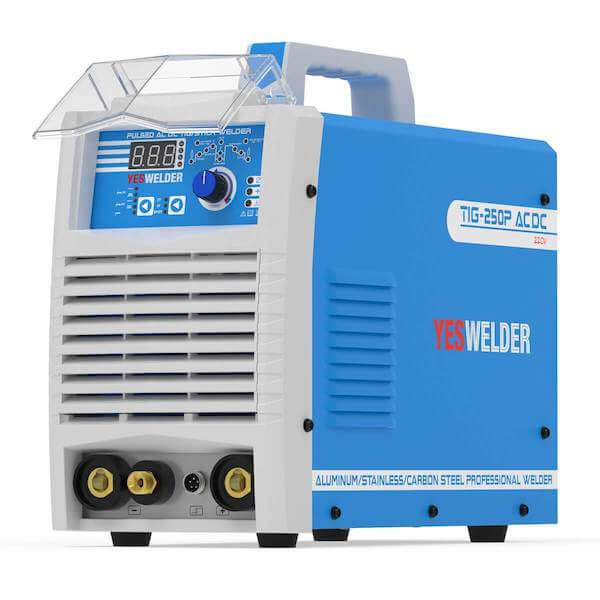 Includes foot pedal heat control
Pulse width modulation
Upslope/downslope control
Adjustable pulse frequency
5-250 amps output
Pros
Suitable for aluminum and stainless steel
Runs 6010 rods for arc welding
2T/4T trigger lock
Spot weld timer
Offers lift and no touch starts
Cons
Some feel footpedal is stiff
No regulator included
Overview
The Yeswelder TIG 250P TIG Welder is an affordable welder with professional features. It offers DC and AC TIG for aluminum welding capability, along with pulse frequency control for bead penetration and pulse width modulation to control bead width. It's got a stick arc welding mode, with the ability to run 6010 welding rods for high-strength applications.
This machine offers both high-frequency no-touch arc starting and lift starts for the TIG arc. The Yeswelder TIG 250P TIG Welder features slope adjustments, which let you adjust the arc current to start soft with lower power levels, increasing to full power after starting. The end slope level is also adjustable for more heat control and improved quality.
The Yeswelder TIG 250P TIG Welder offers 5 amps output at the lower limit, cool enough for very thin 32 gauge sheet metal. It's got a 2T/4T trigger lock to reduce hand fatigue on long runs and comes with a foot pedal to simplify heat control. Another useful feature is a spot weld timer, allowing you to duplicate factory manufacturing methods on sheet metal such as auto bodies and appliances.
---
3. Weldpro Digital TIG 200GD AC/DC TIG Welder
Dual 120/240 volt input power
200 hertz pulse frequency
Includes foot pedal heat control
TIG and stick welder
AC/DC welding modes
Pros
High frequency no-touch arc starts
Come with CK17 Superflex Torch
Preflow and postflow for better shielding
2T/4T trigger lock switch
AC balance control cleans oxidation
Cons
Some users report substandard performance on 120V
Intermittent quality issues with gas regulator
Overview
The Weldpro Digital TIG 200GD is another cheap AC/DC TIG and stick welder featuring 200-hertz pulse width modulation for controllable bead width focus. It runs on dual 120/240-volt input power. The TIG 200GD offers an adjustable AC balance from 30 to 70 percent, cleaning aluminum oxidation while providing good weld penetration.
This machine has a wide 10 amp to 200 amp AC TIG range when running on 240-volt input and up to 140 amps on 120 power. Weldpro designed the TIG 200GD with a high-frequency no-touch arc start, preventing contamination of the tungsten electrode.
It comes with the popular CK17 Superflex Torch that uses standard American parts and includes an optional torch heat control. This is a nice touch because there are a few reports of poor quality on the included heat control pedal. There's also a 2T/4T switch that functions as a torch lock, allowing you to complete long welds without having to hold down the torch trigger in MIG mode.
Overall this is a great cheap AC/DC TIG welder, and you are not going to find much better for under $1000.
---
4. Primeweld TIG225X TIG Welder
High frequency arc starts
Regulator included
Inverter power
Dual 120 and 240 volt input
Pulse Width Modulation
Pros
Comes with a metal foot pedal
10 to 225 amp output range
200 HZ pulse width frequency
Additional finger-operated heat control
US-made CK17 torch
Cons
Can't use 6010 or 6011 rods
Manual is unreadable
Overview
The Primeweld TIG225X TIG Welder features inverter-based power and high-frequency arc starts, although this one is a scratch start rather than a lift or no-touch arc start. This machine offers 10/90 pulse ratio to clean the weld with one side of the AC sine wave. There's also full pulse width modulation for controlling bead width and quality.
This welder has a power output range from 10 amps to 225 amps, a very wide output range. The Primeweld TIG225X TIG Welder offers a duty cycle of 100 percent at 108 amps, enough to weld continuously on 1/8-inch steel rated at 40 percent under full power at 225 amps output (full TIG225X review here). This welder comes with a metal foot pedal heat control, a gas regulator and an American made CK17 torch with flex lines. This setup can be upgraded to water cooling.
The Primeweld TIG225X TIG Welder has a huge number of adjustments available. With both AC and DC TIG capability, this machine can weld aluminum and the wide power range allows welding sheet metal as thin as 28 gauge as well as metal up to 1/2-inch thick.
---
5. Everlast Power i-TIG 201 TIG Welder
Dual 120/240 volt input power
DC TIG and stick welder
5-year warranty
12-foot TIG torch
5 amp to 200 amp range
Pros
Choose lift start or high frequency no-touch
Adjustable pulse control to 250 hertz
Comes with heat control pedal
Includes gas regulator
Adjustable stick arc force
Cons
DC only welder
Complaints of poor customer service
Overview
The Power i-TIG 201 is a DC TIG welder featuring dual 120/240 volt input, shipping with a heat control pedal, 12-foot 26 series TIG torch, 10-foot electrode clamp and argon gas regulator.
It has a lot of features for its price. Everlast says it's on a level with the Miller MaxStar and Lincoln Invertec TIG welders. The MaxStar starts near five times the cost and the Invertec near three times.
This welder offers similar features, but Everlast has yet to invent any major welding processes or electronics technology and doesn't offer a coast-to-coast American-based dealership and service network. There are some valid reasons why American welders cost more. Research and development aren't cheap.
This machine does offer 200 amps in DC 240 TIG mode, welding 5/16-inch plate in a single pass. The 5 amp minimum will handle 22 gauge sheet metal, allowing fine work on auto body and ducting. There have been complaints of inconsistent quality control and poor customer service with Everlast, but the company does back the Power i-TIG 201 with a 5-year warranty, which provides some peace of mind.
---
6. Vulcan ProTIG 205 TIG Welder
AC/DC TIG and stick
Dual 120 volt/240 volt power
10-250 amps output
Handles up to 5/16-inch thick
A/C balance control
Pros
Pulse width modulation
Welds aluminum and stainless steel
Includes regulator
Comes with foot pedal heat control
High frequency arc starting
Cons
Torch lead is only 10 feet
Pedal is stepped, not gradual
Overview
The Vulcan ProTIG 205 TIG Welder is Harbor Freight's top model in its TIG lineup, with 205 amps of AC/DC TIG output, enough to weld 5/16-inch steel in a single pass. This is a dual 120/240 volt machine, with 130 amps on tap when running on 120-volt power. This welder's duty cycle is rated at 25 percent at max output. Stick mode tops out at 175 amps on 240 volts, 80 amps on 120 volts.
This machine offers both AC Balance and pulse frequency adjustments, professional settings that serve to keep the weld puddle clean and let you control your bead characteristics. The Vulcan ProTIG 205 TIG Welder includes a foot pedal heat control with a 25-foot lead. Some owners don't like this pedal because it adjusts the amperage level in steps instead of a smooth, gradual feel.
The Vulcan ProTIG 205 TIG Welder features a 2T/4T trigger lock to ease hand fatigue on long bead runs. It also offers a pulse current signal, pulsing the current on and off to keep the heat down when welding thin metal. Pulse frequency is fully adjustable. If you're in need of a dual-input, AC/DC pulsed TIG but don't need 205 amps, check out the Vulcan ProTIG 165 for most of the same features at substantially less cost.
---
Under-$1000 TIG Buying Guide
The low-cost TIG marketplace is getting crowded. These are things you should be thinking about while shopping.
Power Needs
Input Power – Do you need dual 120/240 volt capability? If your chosen machine isn't going to output more than 140 amps, you can get by with 120 power. If you need to move your welder around to different sites and aren't sure whether you will have 120 or 240 power, you need dual input voltage.
AC/DC – If you want to TIG weld aluminum, that's an AC process and you need an AC/DC machine. If you're only welding steel, a DC TIG machine will do.
Output Amperage
Thin sheet metal is the real province of TIG welding, due to its highly controllable heat level. MIG, flux core and stick arcs produce too much heat and burn through thin sheet. Welding thinner than 24 gauge sheet metal means reaching down to 5 amps or less.
At the other end of the output scale, 140 amps can weld 3/16-inch steel in a single pass and you can get that from a 120 volt input source. Anything more is going to require 240 volts. For ⅜-inch steel you'll need 165 amps and welding ½-inch material in a single pass will take 200 amps.
Options and Accessories
Optional process modifications include pulse modulation, different types of arc starting and adjustable AC balance control.
Pulse width modulation allows adjusting the width of your weld bead. Pulse frequency helps control the quality and ease of welding. By pulsing the current on and off, it can be easier to weld uphill by allowing the weld puddle to cool momentarily.
High Frequency arc starts make it possible to start an arc without touching the workpiece, by starting a momentary high frequency current that causes the arc to jump. This can interfere with CNC machinery, phones and computers.
Lift starting means a light touch on the workpiece, lifting the electrode to start the arc and doesn't produce interference.
AC balance is the relative amount of time spent in each cycle of alternating current, either less or more time on positive or negative polarity. This cleans surface oxidation to keep impurities out of the weld puddle.
Accessories like heat control pedals and water coolers are not included with some welders. Sometimes accessories need replacement with higher quality pieces.
Wrapping It Up
We've chosen the Eastwood TIG 200 as our choice for Best TIG Welder under $1000. It's got plenty of features, thoughtful design and user reviews are overwhelmingly positive.
The Vulcan ProTIG 205 is a professional machine offering advanced features without the painful cost of bigger names, and the Vulcan ProTIG 165 is even more painless.
The YesWelder TIG250P has AC/DC capability, pulse, slope and brings a foot pedal with it, making a very attractive alternative choice.
For more information on TIG welding