Once called Heli-Arc for its helium shielding, TIG means Tungsten Inert Gas.
The American Welding Society now calls it Gas Tungsten Welding or GTAW.
Whatever you call it, TIG is a skill worth having.
But you need the right machine to do it properly and they're not cheap.
Before laying out the cash, read our guide to the best TIG welders for less than two grand.
---
A Quick Comparison
Product
Image
Product
Details

Eastwood TIG 200 Digital

Best pro features at this price

Welds up to 1/4" steel

Programmable memory

Yeswelder TIG 250P

Foot pedal heat control

Both lift and no-touch arc starting

2T/4T trigger lock

Lincoln Square Wave TIG 200

Dual 120/240 input

No-touch arc starts

Victor Regulator

Weldpro Digital 200GD

Excellent reviews

Great features, great price

Dual input: 110/220 volts

Miller Multimatic 215

Includes regulator

Stick, MIG and DC TIG

120v/240v input power

ESAB Rebel 215ic

MIG, TIG, Flux core, stick

Auto setup

TIG torch and MIG torch

Forney 421

AC/DC TIG

High frequency starts

Amptrol torch
Best TIG Welders Under $2000
Here are some of the best TIG welders you can buy for under $2000:
1. Eastwood TIG 200 Digital AC/DC Welder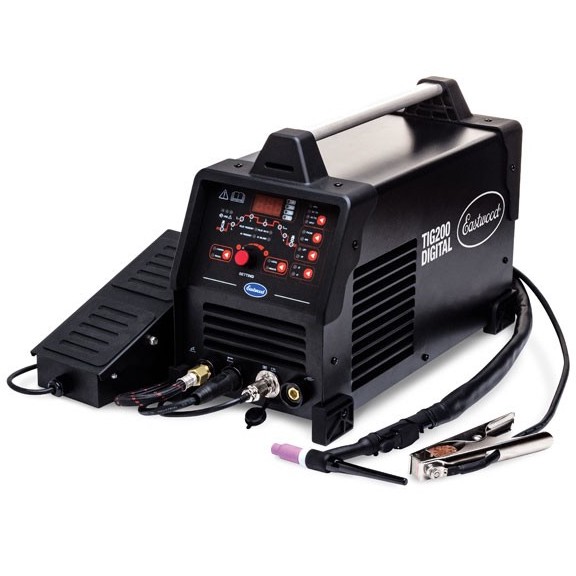 10-200 amps output
28 gauge up to 1/4-inch steel
Infinite foot control
2T/4T trigger lock
AC/DC TIG and stick
Pros
Includes gas regulator
5 factory presets
15 programmable presets
Pulse width modulation
Spot weld feature
Cons
Doesn't accept water cooling
Control pedal isn't precise
Overview
The Eastwood TIG 200 Digital AC/DC Welder is aimed at the serious DIY home shop. There's a foot pedal with variable heat control. Some users feel the pedal doesn't have a good "feel" and could offer more precision. This 240V machine puts out 10-200 amps. You can weld sheet metal down to 24 gauge, one area where TIG really shines. You're also able to hit up to 1/4-inch steel to handle roll cages, frames or equipment repairs.
The welder comes with a gas regulator and features a 2T/4T trigger lock switch, easing fatigue on the finger control when making long runs. The Eastwood TIG 200 Digital AC/DC Welder uses a standard CK17 TIG torch. AC/DC output allows TIG welding aluminum and pulse width modulation lets you fine-tune your bead characteristics like width and height for finish-quality welds.
The Eastwood TIG 200 Digital AC/DC Welder is programmable on all settings so you can save up to 15 presets to recall just the setup you need without a lot of fiddling. Eastwood has also included 5 presets to make the initial setup relatively quick and easy. If you want to save a few hundred dollars and don't need the digital version, check out the standard TIG 200 here.
---
2. Yeswelder TIG 250P TIG Welder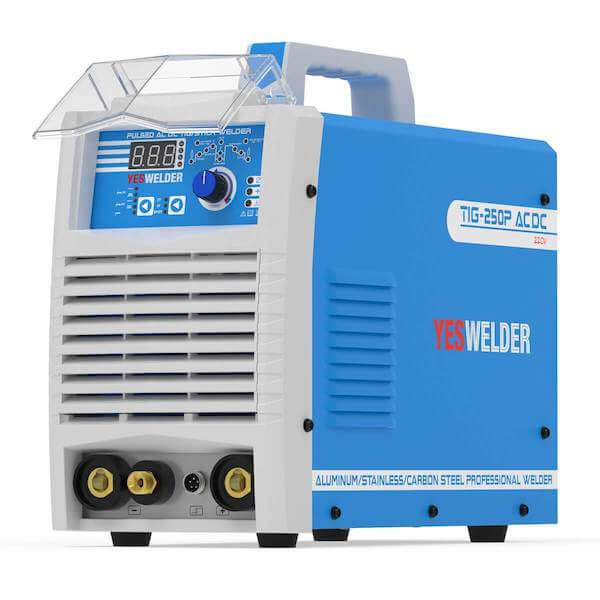 Pulse frequency setting
AC/DC TIG and stick arc
Upslope/downslope control
Foot pedal included
5- to 250-amp output
Pros
Has a timer for spot welding
Welds stainless steel and aluminum
Both lift and touch starting
Handles 6010 rods in stick mode
2T/4T torch lock
Cons
Regulator not included
Foot control is stiff
Overview
The Yeswelder TIG 250P TIG Welder has a 2T/4T trigger lock to limit hand fatigue, only one of an array of professional features at an affordable price. It's also got a spot weld timer, giving you the ability to duplicate factory welds on auto bodies and metal cabinetry like washing machine skins. With a lower output of 5 amps, it's cool enough to work with 32 gauge sheet metal, a very thin material.
This welder has a choice of high frequency start methods, either no-touch or lift starting to suit your needs. The Yeswelder TIG 250P TIG Welder has also got upslope and downslope adjustments. These let you set the arc current to start soft with low power, then go to full power after starting. The end slope level brings the heat down more gradually to maintain weld accuracy.
The Yeswelder TIG 250P TIG Welder delivers professional features at affordable cost. It has both stick and AC/DC TIG for aluminum welding capability, as well as a pulse frequency adjustment and pulse width modulation for adjusting bead characteristics. It's also capable of running 6010 welding rods for high-strength applications on the stick side.
---
3. Lincoln Square Wave TIG 200
Dual 120/240 volt power
No-touch arc starts
Does TIG and stick welding
Up to 200 amps in TIG mode
Includes a Victor regulator
Pros
20 pulses per second heat control
60 to 90 percent AC for TIG cleaning
Comes with the foot controller
Welds AC and DC
170 amp stick arc on 240
Cons
Owners report issues with quality control
10-foot hose connection is a little short
Overview
The Lincoln Square Wave 200 offers AC and DC TIG welding, doubling as a stick machine, too. Dual input power gives the versatility to plug in at home or on commercial 240 volt sites. The TIG 200 Square Wave offers a lot of power with 200 amp TIG on 240 power and a 170 amp stick arc.
High frequency arc starting keeps the tungsten electrode clean with no-touch starts. It welds from 24-gauge sheet to 3/16-inch plate.
For aluminum work, the AC TIG process features pulse width modulation to control bead width. Adjustable AC balance cleans surface oxidation and keeps impurities out of the weld puddle.
Some owners have reported early failures with this machine, but grade Lincoln highly for customer service. The TIG 200 Square Wave comes with Lincoln's 3-year warranty.
This welder is designed with a settings interface that's easy to use. Just choose material and thickness, the processor does the rest.
If you are looking for a professional alternative to the Eastwood TIG 200, this is your choice.
---
4. Weldpro Digital TIG 200GD Welder
120/240 dual voltage input
10 -200 amps output
Shielding gas preflow/postflow
200 hertz pulse feature
2T/4T trigger lock
Pros
AC/DC TIG
High frequency arc starts
Includes foot pedal
AC balance for cleaning weld puddle
Includes CK17 Superflex Torch
Cons
Pedal isn't high quality
120 volt performance not smooth
Overview
The Weldpro Digital TIG 200GD TIG Welder comes with an industry-leading CK17 TIG torch with a flex head that uses standard American-made consumables. It's equipped with a 2T/4T trigger lock to reduce hand fatigue, and it comes with a heat control pedal. Some users aren't happy with the pedal quality, but it's a standard 7-pin design so it can be replaced later with something nicer.
This machine runs on either 120 or 240-volt input power for use-anywhere versatility. Some users report that performance on 120-volt power isn't as smooth as they want, but these reports aren't commonplace. The Weldpro Digital TIG 200GD features 200 HZ pulse width modulation to control the width and height of your weld beads. There's also an AC balance feature, adjustable from 30 to 70 percent to deoxidize your weld puddle when working with aluminum (full TIG 200GD review here).
The Weldpro Digital TIG 200GD has high-frequency arc starts and a wide 5-200 amp operating range, good for 28 gauge sheet metal up to 1/2-inch steel plate. Weldpro has packed a lot of features into this box for your money.
---
5. Miller Multimatic 215 TIG Welder
120 or 240 volt input power
DC TIG, MIG or stick welding
Two gas connections
3-year warranty
Color LCD screen
Pros
Includes gas regulator
Comes with MIG gun and electrode clamp
Auto spool gun detect
Post flow for clean welds
Smooth arc starting
Cons
DC only machine
No TIG torch included
Overview
The Miller Multimatic 215 is a professional multi-process DC TIG, flux core, MIG and stick welder. It's got dual 120/240 volt input power and two gas connections, one for TIG and one for MIG.
Auto-Set Elite lets you get the right settings by entering material and thickness. When you're done welding a pass, the machine will flash a "HOLD" message and show the actual volts and amps you were welding at for a few seconds, before reverting to the settings you saved.
As a DC-only welder, it's not suitable for TIG welding aluminum, but you can weld aluminum using MIG with an optional spool gun for aluminum wire. The machine includes automatic detection when a spool gun is plugged in.
The Multimatic 215 has a post-flow feature that maintains a flow of shielding gas after you stop welding to allow the weld puddle to cool without contacting the atmosphere. This machine loads either 4-inch or 8-inch wire spools and is backed by a 3-year warranty.
---
6. ESAB Rebel 215ic TIG-Welder
Multi-process TIG, MIG, flux and stick
Includes gas regulator
Backed by a 3-year warranty
Automatic settings system
User manual is in the memory
Pros
120 and 240 input voltage
Includes both a TIG torch and MIG gun
Big display is easy to read
Built for outdoor use
Parts list on the display
Cons
All processes are DC only
No foot pedal control
Overview
The Rebel 215 from ESAB comes with a large display that features color menus and high resolution. The memory on the display unit holds the user manual and a parts list. Although it only does DC TIG, it's also capable of MIG, stick and flux core welding. It comes with a 2T/4T switch that functions as a torch trigger lock to prevent fatigue on long bead runs.
The Rebel 215 comes with four settings memories for each process and operates on either 120 volt or 240 volt input power. ESAB's Rebel series welders are made for rugged outdoor use and they're built to IPS23 standards. They include an automatic settings mode that only requires wire diameter and metal thickness to set itself up. Because it's a DC machine, welding aluminum is easiest with an add-on MIG spool gun.
ESAB also included its Smart MIG technology that adapts to your welding by making small changes to the settings as you weld to improve the arc performance. The Rebel 215 comes with Tweco TIG torch and MIG gun, a Victor gas regulator and a stick electrode clamp. This machine has a 3-year warranty.
---
7. Forney 421 TIG Welder
AC/DC TIG and stick
5-220 amps output
Amptrol TIG torch
28 gauge sheet metal up to 1/2-inch steel
120/240 volt dual input power
Pros
AC balance weld cleaning
Pulse width modulation
15-foot cables
Includes gas regulator
High frequency arc starts
Cons
Pedal not included
Weighs 58 pounds
Overview
The Forney 421 TIG Welder is a new offering from Forney. This is a great machine for home workshop use, with dual voltage input power in both 120 and 240 volts. On 120 power it will make up to 140 amps of stick or TIG power and on 240 volts it puts out up to 220 amps. This machine can weld from 28 gauge sheet metal up to 1/2-inch steel plate. 5 amps is fine enough to do modern auto bodies, which are thinner than older cars.
This welder offers pulse width modulation for better control over your weld bead characteristics. The Forney 421 TIG Welder also has adjustable AC balance for weld puddle cleaning. This is a professional feature for the best quality welds when TIG welding. While Forney didn't include a pedal-type heat control, they did give you an Amptrol torch with finger-operated heat control.
The Forney 421 TIG Welder includes t he gas regulator and with 15-foot connections all the way around, you won't have any problems setting up and reaching your work. With both stick and AC and DC TIG available, you're ready to weld aluminum right out of the box.
---
Related: Best TIG Welders Overall
The Under-$2000 TIG Buying Guide
TIG machines cost more than other welders, because they offer a lot of adjustments. Heat control, oxidation cleaning and bead width are just a few adjustments not seen with other welding processes.
Budget
In this case, we started with a ceiling of $2000, which buys a lot of features and power. Many machines in the $1000 to $2000 range offer 120/240 volts input, AC balance and pulse width modulation. Most come with a TIG torch and heat control pedal. If you're more interested in lower-priced welders, take a look at our Best TIG Welders Under $1000 buying guide
Material Types
If you're planning to TIG weld aluminum most of the time, you'll need AC/DC capability. If you're not worried about TIG welding aluminum, a DC machine with MIG capability can weld aluminum with a spool gun. For TIG on steel and stainless steel, DC will get the job done.
Advanced Features
With a $2000 ceiling, you're able to shop for advanced options.
AC balance adjustment: Uses the percentage of AC cycle time spent in the positive cycle to blast oxidation off the surface. The negative cycle penetrates the metal, keeping impurities out of the weld puddle for a stronger, cleaner weld.
Pulse width modulation: This allows you to set the frequency of current pulsing in hertz, or pulses per second to affect the bead width. You can turn the frequency lower for a narrow bead or crank it higher for a wider bead
Waveform selection: Some machines allow you to choose a true sine wave AC cycle, square wave or a modified wave like a triangular sine waveform. These factors affect the welder's ability to use generator power and the level of heat and penetration.
Our Judgement Call
Our purpose with this review is finding the Best TIG Welder under $2000. We selected the Eastwood TIG 200 Digital AC/DC Welder as the best machine for the most people. It's got a wide range of settings for every situation. Programmable presets, updated foot pedal, regulator and a new flex head torch are icing on an already-amazing TIG cake.
The Forney 421 TIG Welder is also an
interesting choice, with AC/DC TIG, infinitely adjustable Amptrol control and dual 120/240 volt power source, and it's affordable, too.
More TIG buying information: