If you want to maximize your welder's utility, you need to put it on wheels.
But good welding carts are expensive, with so many styles and options to choose from.
You're never sure whether a cart's going to safely hold up the weight of all your equipment.
We've looked into what's on the market and here are the best welding carts we found.
---
A Quick Comparison
Product
Image
Product
Details

Klutch Deluxe 3-Drawer

3 Drawers

Enclosed storage

Holds full-size bottle

Metal Man Dual Bottle

400 lbs capacity

Plenty of room for two boxes

Has caster brakes

Eastwood MIG/TIG Plasma

Integrated Rod Holder

Holds up to 125CF Gas Bottle

Powder coated steel

Lincoln-Electric K2275-3

Fits all Lincoln brands

Holds 130 pounds

80-cubic-foot cylinder

Metal Man UWC1

Angled top shelf

Reversible handle

Powder coated finish

Klutch 2-Tier

Handy Locking cabinet

Holds up to 7in. dia. bottle

Single bottle only
6 Best Welding Carts With Reviews
Here's a list of some of the best welding carts we found online:
1. Klutch Deluxe 3-Drawer Welding Cart with Drawers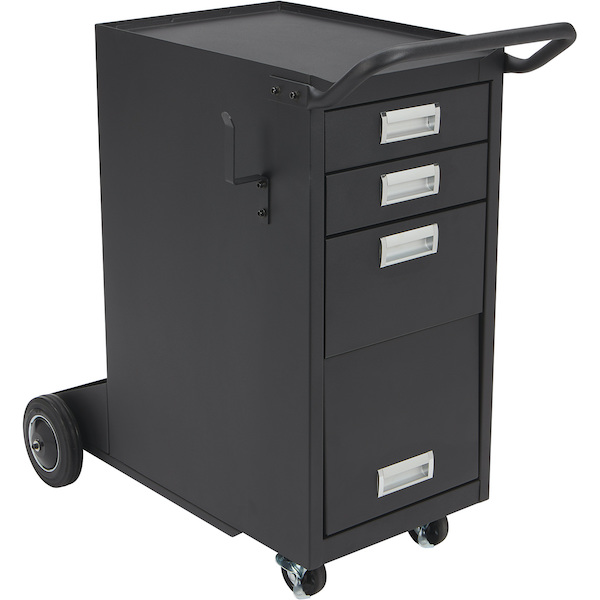 3 storage drawers, 1 storage cabinet
150-lb. capacity
3-inch front casters, 6.3-inch rear wheels
30-inch work height
20 x 14-inch top surface
Pros
Drawers with ball bearing slides
Sturdy powder coat steel
Cylinder rack to secure shielding gas
Integrated cable wraps
Bottom drawer sized for a welding helmet
Cons
Rear wheels are cheap
Front casters a little small for some people
Overview
At 87 pounds, the Klutch Deluxe 3-Drawer Welding Cart is sturdily made of heavyweight steel sheet metal. This is a handy design for workplaces with open space because it's got two drawers 2 inches high, a deeper 5.375-inch drawer that can hold a helmet, and an enclosed compartment. Your stuff will be protected from smoke, dust, and debris, out of sight yet readily accessible.
The Klutch Deluxe 3-Drawer Welding Cabinet drawers are all 10.75 inches wide, and the top one is 10 inches long. The other two are 15.25 inches long. The compartment is 12 inches wide, 9 inches high, and 18.5 inches long. The top surface measures 14 inches wide by 19 inches long. This cart also holds a big 9.5-inch gas bottle, and it's rated at 150 pounds holding capacity.
The Klutch Deluxe 3-Drawer Welding Cabinet gets high marks from owners, but some felt the front casters were too small for this much weight. In addition, the rear wheels were singled out as being cheap, fitting the axle somewhat loosely. These owners bought more suitable wheels at their local hardware store.
---
2. Metal Man UWC4 Dual Bottle Welding Cart
Fold down handle
2 cable wraps
400 lb. capacity
Powder coated 18-gauge steel
Cart holds one 10-inch or two 7.5-inch cylinders
Pros
One of the few carts with dual bottle holders
Universal — fits most welders
Bottom shelf has 18 inches clearance
Top shelf 15.25 x 22.5 inches
Can hold two welders
Brakes on front casters
Cons
Poor assembly guide
Folding handle unpopular
Overview
The Metal Man UWC4 Dual Bottle Welding Cart weighs 59 pounds, but it holds much more than it weighs. With 18 inches of clearance on the bottom tray, it can easily hold both a welder and a plasma cutter. In addition, you're able to configure the cart to hold a single 300cf bottle or two 150cf bottles. The top of the cylinder rack is removable to provide room for a wire feeder spool.
With a top-shelf measuring 15.25 x 22.5 inches and the bottom shelf at 15.50 x 21.88, the Metal Man UWC4 Dual Bottle Welding Cart lives up to its name. UWC stands for Universal Welding Cart, and you have a lot of room and options to work with. Capable of holding 400 pounds, it's got the capacity to mount a toolbox along with everything else.
The Metal Man UWC4 Dual Bottle Welding Cart has good feedback from owners, but the folding handle was not a favorite feature. Metal Man explains that the handle is made to offer optional clearance. Also, as the company points out, the handle has latches, and it's designed to pull, not push this cart. With a cart that's capable of carrying 400 pounds, some prefer to push.
---
3. Eastwood MIG/TIG Plasma Welding cart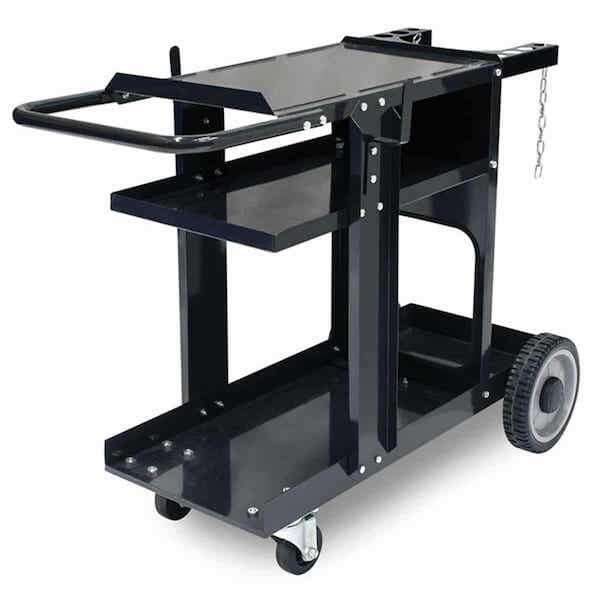 TIG rod holder for 6 tubes
Top shelf designed to open cabinet door
Powder coated finish
Cut to allow rear routing of plasma connections
Holds up to 125 Cubic Foot gas bottle
Pros
Holds up to 350 pounds
Steel construction
Cable hook on each side
20-inch length top shelf
Caster wheels on front
Cons
Some users feel it's not heavy enough
Shelves are slippery with no rubber
Overview
The Eastwood MIG/TIG Plasma welding cart will store a welder on the top shelf, tools on the middle shelf and a plasma cutter on the bottom. The 16 inch wide, 20 inch long top tray will fit Eastwood's Mig135, Mig250, Mig175, and Tig-200 welders. The top shelf has built-in clearance for the side access door. The gas bottle storage on the 26-inch long floor includes six cut outs to store TIG filler rod.
This 36-inch tall cart is designed to support up to 350 pounds (even though it only weighs 35 pounds), but some users say that with a welder, plasma and 125 CF bottle the Eastwood MIG/TIG Plasma welding cart felt a bit flexy. You might want to go with an 80 cubic foot bottle if you're also going to have a big welder and a 60 amp plasma cutter along with cables and tools for each.
The 16 x 20 bottom shelf on the Eastwood MIG/TIG Plasma welding cart is angled up at the front and accepts Eastwood's Versa Cut plasma cutters. This shelf also features cutouts to allow routing the cables for the plasma cutter out the rear of the cart.
---
4. Lincoln-Electric K2275-3 Portable Welding-Cart
Holds 80 CF gas cylinder
130 pound capacity
30 x 11.75 x 27 inches
All-steel construction
Weighs 25 pounds
Pros
Angled top shelf
Bottle cutout instead of chain
Handle doubles as cable wrap
Fits Lincoln, Century and Marquette welders
Holds up to 7-inch diameter bottle
Cons
Lighter gauge sheet metal
Bottle can interfere with welder
Overview
The Lincoln  Electric K2275-3 Welding Cart is designed specifically to hold all Lincoln brands of portable welders, including Century and Marquette brands. The tank holder on this cart features a hole cut through the top tray instead of the usual chain to hold it upright. Most carts of this type use a chain to secure the gas cylinder instead.
Featuring an angled, 11.75 inch wide tray on top and a flat bottom of the same width, the 25-pound Lincoln Electric K2275-3 Welding Cart has a tray the same width on the bottom, but the bottom shelf is 27 inches long compared to 19 on top. There's plenty of room for a helmet, torches and some tools.
The Lincoln  Electric K2275-3 Welding Cart is 15.5 inches tall at the front, but the tall, upright handle is 30.5 inches tall and it's designed to double as a cable wrap. This cart holds up to 130 pounds. Some owners feel the metal thickness on this cart is too lightweight. Others didn't like the bottle holder, which uses tabs at the bottom to keep the bottle from moving. The bottle also interferes with storage space on the bottom shelf.
---
5. Metal Man UWC1 Two Tier Universal MIG Welding Cart
2 tier welding cart
20.25 x 12.5 inch top shelf
Cylinder rack and chain
2-inch casters, 6-inch wheels
18-Gauge steel
Pros
Powder coated steel
Designed for easy maneuvering
Slanted top shelf
Capacity 110 pounds
Holds a 7-inch gas cylinder
Cons
Instructions are weak.
Short height restricts bottle size
Overview
The 25-pound Metal Man UWC1 Universal welding cart is 32 inches tall and 16 inches wide, with room for a welder up to 18 inches deep. This is a 2-tier design with an angled top shelf. This is another cart that has a reversible handle to improve clearance to handle a wider variety of welders. The six-inch rear wheels are sturdy enough for the rated load, but the front casters should be larger than 2 inch diameter to roll over cords or concrete joints.
One thing to be aware of when using an angled shelf is that a tall-box welder shape will potentially reach into the cylinder area at the rear of the Metal Man UWC1 Universal welding cart. One owner with an AHP AlphaTIG 200x solved this issue by adding a piece of 1/2-inch thick board at the back of the angled tray.
The Metal Man UWC1 Universal welding cart holds a gas bottle up to 7-inch diameter, but its short height means you many want to go with a shorter 90 cubic foot bottle. There are two chains to secure your shielding gas cylinder.
---
6. Klutch 2-Tier Heavy Duty Welding Cart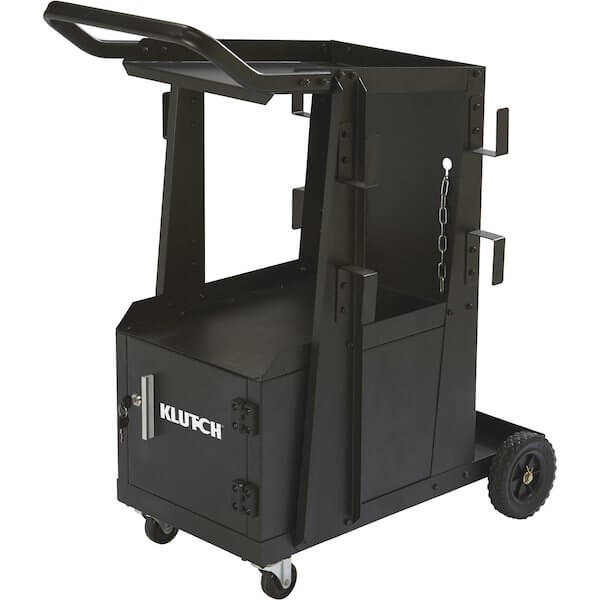 Top shelf 18.75" long, 13.75" wide
Bottom shelf 19.5" long x 13.75" wide
All steel
Bottom has 15.5-inch clearance
Holds 150 pounds
Pros
Hard rubber wheels
Front casters
Lockable 13.5" x 19.5" x 12" cabinet
Heavy-gauge sheet metal
4 cable wraps
Cons
Tiny 2-inch front casters
Assembly instructions are terrible
Overview
The 45-pound Klutch 48410 2-Tier Welding Cart features an unusual design, with a safe-like locking cabinet draw instead of a third shelf. This can be handy to keep your small, valuable belongings like tools, phone and wallet from tempting otherwise honest passers-by. The lockbox is also just large enough for most welding helmets at 13.5 inches wide, 19.5 inches long and 12 inches tall.
The Klutch 48410 2-Tier Welding Cart comes with hard rubber wheels all around. The rear wheels have a six-inch diameter, but the front caster wheels are only 2 inches in diameter, and many owners mentioned the need for larger casters in front to avoid being stopped by cords and hoses etc. This cart tips the scales at just over 45 pounds.
One issue reported by owners of Klutch welders was that the connections wouldn't clear the front pull handle on the Klutch 48410 2-Tier Welding Cart. These owners resolved the issue by mounting the handle upside down. Both shelves are 13.5 inches wide. The top shelf is 18.75 inches long and the second shelf is 19.5 inches long. There's room at the rear for a gas cylinder up to 7 inches in diameter.
---
Wrapping it Up
We went with the Klutch Deluxe 3-Drawer Welding Cabinet as our selection for the best cart in this roundup. It's heavy-duty, has a lot of storage in good variety, and the drawers and enclosed cabinet protect your stuff from prying eyes and shop dust.
The Metal Man UWC4 Dual Bottle Welding Cart is a great choice for anyone who wants to carry two machines or mount a toolbox. 400 pounds is a very high weight rating. That's as much as many car transmissions and motorcycle engines weigh. We'd never do such a thing, but it's one way to envision what that kind of weight is like.
One of the best all-around choices is the Eastwood MIG TIG Plasma welding cart, with quality construction, useful design and a reasonable price range.
The Klutch 48410 2-Tier Welding Cart is also worth considering, with its integrated locking cabinet.
Any of these carts will improve productivity by consolidating all your gear and making it mobile into the bargain. Your advantage will be more efficient work.
Related read: Best welding tables