If you're going to run straight beads, your work has to be stable.
If your work is detached or small, you have stability issues to deal with.
You can't hold onto it because it's extremely hot, with current running in it.
You need something to clamp it to, something that can take the abuse from the most powerful welders.
We've put together a list of some of the best welding tables around. Below is a quick comparison table followed by reviews.
Don't forget to check out the information buying guide for welding tables at the bottom of the reviews.
---
A Quick Comparison
Product
Image
Product
Details

BuildPro Modular

Industrial grade

Holds two tons

Limitless potential

Eastwood Adjustable

Popular model

Easy to move

Adjustable angles

Klutch 2x3

Holds 600 pounds

Benchtop usable

Includes fixtures

Dewalt Adjustable

1000 pound capacity

Foldable legs

Carrying handle

Strong Hand Nomad

Combine with other Nomads

Holds 350 pounds

Highly mobile

Eastwood Plasma

Rugged construction

Replaceable slats

250 pound capacity
Best Welding Tables With Reviews
Here's a list of the best welding tables we found on the market:
1. BuildPro Modular Welding Table
78 inches long, 36 inches high
38 inches wide, can be widened
5/8-inch steel top plates
5/8-inch holes, 1-3/4-inch slots
4400-pound capacity
Pros
Top plates are precision ground
Advanced fixturing sets available
Top can be adjusted wider
Leveling feet
Heavy steel construction
Overview
The BuildPro Modular Welding Table is an extremely heavy duty industrial grade table, designed for busy fabrication shops. It's made of heavy-gauge welded steel with adjustable leveling legs. The top is precision ground, 5/8-inch thick steel plates fastened to four heavy steel beams. The plates can be reset to make the table wider. The top plates on the table feature 5/8-inch holes drilled in a 2-inch grid pattern.
The plates on the BuildPro Modular Welding Table are 1-3/4 inches apart, forming slots that provide even more gripping edges for your fixtures. There are also holes drilled into the ends of the plates allowing BuildPro fixtures to be attached from the end. It has a huge amount of flexibility for nearly limitless fixturing, especially considering the amazing assortment of BuildPro modular fixtures, available separately. This design allows you to create a production line to fit any space by combining parts in different ways.
The downsides to the BuildPro Modular Welding Table are price range and weight. The price range is manageable enough for a working shop with a lot of fabrication to do. This table weighs in at 680 pounds, so it's going to take a forklift or a power tailgate to get it off the truck.
---
2. Eastwood Adjustable Cheap Portable Welding Table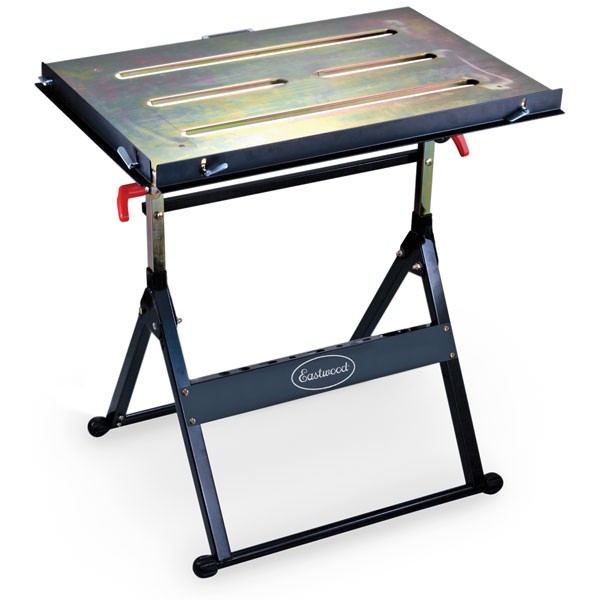 14 gauge steel surface
30 x 20 inch working area
33 inches tall
Holds 350 pounds
Weighs only 30 pounds
Pros
All steel construction
Adjustable top angles
Versatile slotting for clamps
Foldable for storage
Zinc coated work surface
Cons
Too light for volume work
No height adjustment
Overview
A convenient and sturdy table, the Eastwood Adjustable Portable Welding Table offers nice features in a great price range. Top dimensions are 30 by 20 inches. The table is made of 14 gauge steel and it's zinc coated to protect it from heat damage and rust. There are four slots, two long ones and two short ones, each an inch wide. Eastwood designed the slots for C-clamps, making it quick to set up and weld.
The Eastwood Adjustable mobile welding Table holds 350 pounds, plenty for the home DIY guy or rancher who can't get to the tailgate of his pickup. You could hold a stripped down V-8 engine block on this stand. Yet it only weighs 30 pounds and it's foldable, easy to store and easy to transport. The top is adjustable to three angles.
For such an affordable table, the Eastwood Adjustable Portable Welding Table is well designed and quite sturdy. It's probably not for production work day in and day out, but would get you through a tough spot for a while. The only other thing we'd like to see is the ability to adjust the height.
---
3. Klutch 2x3 Welding Table
36 x 24 inch top
33.25 inches tall
Top is 4mm thick
Frame is 2mm thick
Weighs 70 pounds
Pros
16mm holes in 2-inch grid
Can be used on a benchtop
24 piece fixturing kit
Leveling feet on legs
600 pounds capacity
Cons
Not galvanized
Cheap fixtures
Overview
The Klutch 2×3 Welding Table is a heavy-duty, inexpensive table designed for advanced DIY shops and light-volume fabrication. The top is made of heavy 4mm steel and the frame is made of 2mm steel, yielding a 70-pound weight with a holding capacity of 600 pounds. The top is 36 inches by 24 inches and it's got 16mm holes (3/4-inch) in the top, on a standard 2-inch grid pattern.
Speaking of fixturing, the Klutch 2×3 Welding Table ships with a 24-piece fixture set for round or square stock, consisting of:
4 threaded adapters
4 stop bases
4 magnetic rests
8 V-blocks
4 inserted clamps
While the height of the table is not adjustable, the legs can be shortened to use on a bench top as well as in its standard floor configuration. The legs have adjustable leveling feet on them, and can be replaced with threaded type casters. The provided fixture set is a little cheap, but considering they're even included at this price, the Klutch 2×3 Welding Table is a great choice for the casual home welder, although we'd like to see a top with adjustable angles.
---
4. Dewalt Adjustable Portable Steel Welding Table
Capacity 1000 pounds
Can be used on bench top
18 by 46 inch surface
36 inches tall
Weighs 40 pounds
Pros
Foldable legs
Cord minder
Grounding stud
Tool ring
Carrying handle
Cons
Tool ring interferes with storing on end
Giant sticker in the way of setup
Overview
The Dewalt Adjustable Portable Steel Welding Table has a long rectangular table top with holes, 18 x 46 inches. It's made of heavy 14 gauge steel, with a 1000 pound capacity. The legs fold for storage and feature a double locking system. It's designed to use on a bench top, or with the legs extended, the height is adjustable in 1-inch increments from 28-36 inches.
This table weighs 40 pounds  with a built-in carrying handle. There is a tool ring built into one end of the Dewalt Adjustable Portable Steel Welding Table to hold your torch, hammer or other tools while you work. Dewalt included a grounding stud on the end of the table as well. Some owners pointed out the tool ring and grounding stud interfere with storing the table on end. Another, slightly odd complaint is a huge sticker that covers much of the table. Several owners said it took longer to remove the sticker than it did to assemble the  table.
The Dewalt Adjustable Portable Steel Welding Table has an array of slots and 3/4 inch holes in the surface, very versatile for clamping your work. It's a high quality tool with thoughtful design.
---
5. Strong Hand Nomad Portable Welding Table
30 x 20 inches
26-32 inch height
Three 1.1 inch slots
Adjustable top angle
Thick 14 gauge steel
Pros
Only weighs 43 pounds
350 pounds capacity
Connects to other Nomad tables
Folds for storage
Casters for easy movement
Cons
Minor hardware issues
Only one leg leveler
Overview
The Strong Hand Nomad Portable Welding Table offers a thoughtful design with useful features such as the ability to connect the table to other Nomad tables. They're designed to use a central tabletop piece that attaches to a Nomad at each end, creating a single table 80 inches long.
This table has three clamping slots over an inch wide. Its working surface is 30 inches long by 20 inches wide and made of rugged 14 gauge steel. The Strong Hand Nomad Portable Welding Table height is adjustable between 26 and 32 inches. It's also got a top that can be angled at 30 degrees or folded for storage. There are two casters for easy positioning.
The Strong Hand Nomad Portable Welding Table has one adjustable foot to help level the table, but should probably have two. It's very sturdy, weighing only 42 pounds but able to support 350 pounds. Some owners complain of faulty fasteners, but these complaints aren't common. No fixture hardware comes with this table, but it's compatible with the very high quality BuildPro fixtures, also made by Strong Hand. This is a great choice for an inexpensive table to take on the truck to do field repairs.
---
6. Eastwood Plasma Cutting Table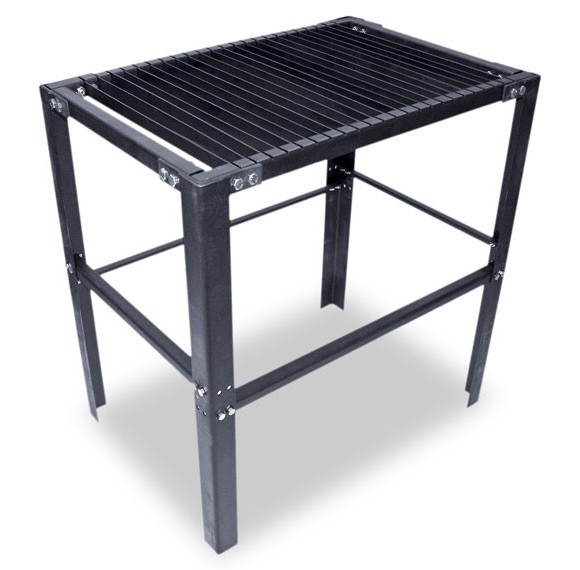 30 x 21-inch work surface
32 inches high
23 slats in work area
Made of carbon steel
Holds 250 pounds
Pros
Specific for plasma cutters
Slats are replaceable
1/8 steel construction
Weighs only 38 pounds
Works for oxyacetylene cuts
Cons
Doesn't fold up
No casters
Overview
With the proliferation of plasma cutters in the DIY arena lately, we felt that at least one plasma cutter table belonged in this lineup. The Eastwood Plasma Cutting Table can also double as a welding table. It's capable of supporting 250 pounds and it's made from 1/8-inch thick carbon steel. Even with the thick construction and a stout brace running around all four legs, this table only weighs in at 38 pounds.
The Eastwood Plasma Cutting Table features 23 replaceable 1-inch wide carbon steel slats in its 30 by 21-inch work surface, providing space for the torch plasma to blow dross and sparks down through the surface. The slats can be flipped over once they're damaged, allowing longer use until they need replacement. The replacement set is available through Eastwood's website.
Eastwood enjoys a good reputation in the car restoration business, and the Eastwood Plasma Cutting Table is a good example why. This 32-inch-tall table is designed specifically for plasma cutting, offers thoughtful features, rugged construction and can also be used with oxyacetylene torches. Tools and fixtures that solve specific problems for craftsmen are where Eastwood makes its money.
---
Buyers Guide: Welding Tables
When you're shopping for a good welding table, you need to think about how it's used and what that means to the table's design.
Materials
One thing you'll notice right away is that welding tables are made of metal, usually steel, although there is the rarely-seen aluminum example here and there. There are three main reasons for this.
Strength and Durability
Nothing takes abuse so well and so cheaply as steel does. It's easy to design an inexpensive table that will remain stable, hold a lot of weight and take rough treatment like hammers and grinders dish out.
Heat Absorption and Dissipation
Welding and grinding create a lot of heat and high temperatures, sparks, and molten metal. Steel can absorb these hazards without catching fire or taking significant damage. When it gets too hot to work, you can take a break, let it cool, and you're ready to go again.
Electrical Conductivity
Last but certainly not least, steel and other metals conduct electricity, providing a workspace with minimal setup. You can attach the ground lead to the table and complete the welding circuit by clamping the workpiece to the table. This provides a more productive workflow.
What makes a good welding table?
Apart from the obvious need for metal construction, there are desirable features that help create a productive workspace where you can perform your craft.
Sturdiness
Metal objects can be pretty heavy. Your welding table needs to support several hundred pounds. Look for leg and frame designs that promote rigidity and stability. Sturdy construction is a must.
How thick should a welding table be?
Tabletops are where the action takes place, which will take thick stuff to do the job. Most quality tables feature at least 14-gauge sheet metal, punched and bent to lend stiffness. Some tables even use thick plate steel, like the 5/8-inch steel plates found on the BuildPro Modular Welding Table.
Thick plate steel can absorb a lot of heat over a high volume day and afford the occasional torch or grinder shot without slowing down the work to repair the table. For the more casual DIY welder, heavy Gauge sheet can hold up well.
Welding Table Dimensions
You must have enough space to work comfortably, but you often need to fit your welding table into limited floor space.
You'll notice most of the tables featured in this guide fit into 3 feet square.
The Dewalt Adjustable Portable Steel Welding Table can be a solution if your only option is a narrow but long space, like against a wall.
Height is also important to consider to avoid repetitive stress injury to your back.
Usability Features
Welding tables feature slots, holes, and other means to attach clamps and fixtures to hold your workpiece securely.
Consider whether one layout serves your needs and preferences better than another does.
Some tables are foldable for storage, have casters for mobility or the ability to set the top at an angle. Others feature extras like tool holders, cord and hose guides or storage, and items like grounding studs.
Welding Table Accessories
Certain accessories make welding tasks a lot easier. Does that table come with fixtures, clamps, a carrying handle, cord storage, shelving, or an exhaust hood? These are all things that make your job easier and could add to your out-of-pocket cost if not included.
Related read: Best Welding Cart
Conclusion
We selected the BuildPro Modular Welding Table as our best choice overall because we feel it's simply the best available, bar none. While it's likely too costly and massive for the average home shop, it's easily affordable for a working shop and ready for the production line.
Our value pick is the Eastwood Adjustable Portable Welding Table, a high quality, inexpensive, and feature-packed choice that will serve any home crafter well.
The Dewalt Adjustable Portable Steel Welding Table is also worth a look for those with limited space, and it offers features not found on the other tables that serve well in a work truck scenario.