With its fantastic looks, best-in-class color transmission, and excellent comfort, the ESAB Sentinel A50 is one of the best professional-grade helmets on the market.
Finding affordable, premium welding helmets is hard. But the A50 is one of the few with a great price to quality ratio.
It's not the most expensive hood, but it offers some of the best features for precision work.
In this article, you'll learn about its cutting-edge features, as well as a few of its flaws, to help you figure out if this helmet is right for you.
Overview of the ESAB Sentinel A50
This helmet is made for professionals who work on high-precision welds. The Sentinel A50 offers a crystal clear viewing experience with true-color light transmission.
It's lightweight, comfortable, and made to last thanks to the high-impact resistance nylon shell.
An LCD touch screen display on the inside allows you to control useful settings, and an outside button lets you quickly switch between grinding and welding.
What's Included
A50 Helmet
3 spare front clear lenses
A dedicated carry bag for the helmet
Sentinel doo rag to keep sparks out of your hair
Quick start guide
User manual
The Sentinel A50 comes with pretty basic accessories. It's good that they include the three additional front clear lenses. But I wish they added at least one replacement inside cover lens as well.
However, some competing brands offer even fewer accessories. For example, Optrel's Panoramaxx comes with just one front replacement lens.
Tech Specs
Type
Auto-darkening
Helmet Material
High Impact Resistance Nylon
Settings Controls
LCD Touch Screen
Optical Class
1/1/1/2
Viewing Area
3.93 in. x 2.36 in.
UV/IR Protection
DIN13 at all times
Lens Shade Range
DIN 5-8/9-13
Light State
Shade 4.0
Shade Control
Internal
External Grind Button
✅
Sensors
4
Switch Time
1/25,000 sec.
Sensitivity Control
Low-High with infinite adjustability
Delay Time
0.1 – 1.0 sec. (adjustable)
TIG Amp Rating
≥ 2 amps AC/DC
PAPR Ready
✅
Power Supply
Solar cell and 2 x CR2450 lithium replaceable batteries
Standards
DIN plus; CE; EN175; EN379;
EN166; ANSI Z87.1; CSA Z94.3;
AS/NZS1338.1
Weight
1.4 lbs.
Warranty
3-Year
WeldGuru Rating
★★★★★ (5/5)
Price
Latest Price
Amazon
Pros
Accurate color transmitting helmets
Allows you to see delicate details when welding
5-point headgear adjustability for optimal fit
Ratchet system for fast headgear adjustment
Excellent weight distribution makes the helmet feel lighter than it is
Sparks/slag slide off the front spherical surface
Designed to fit various head sizes and shapes
Durable LCD touchscreen on the inside
External grind mode button
Ability to save settings in memory
Hard hat adapter compatible
Low profile for maximum head clearance
Durable – made for heavy-duty work
Top-of-the-line experience when TIG welding
Large viewing area
Eye-catching design
PAPR ready
Cons
Expensive
The touchscreen display requires you to take off the gloves
You may experience glare on the inside
Front lens may get scratched if placed face down because it's flush with the body
Replacement front lens are more expensive and less available than any standardized lens
Your view may get slightly distorted when moving due to the light transmitting through the curved front lens
Sensitivity adjustment is difficult to tune correctly if other people are welding around you
Where to buy
What To Know Before Buying The ESAB Sentinel A50
This is an excellent helmet, no doubt, but there are a few areas where ESAB can improve.
Before you jump the gun, let's address its negatives in detail. Since it's expensive, you should thoroughly understand Sentinel's drawbacks.
Curved Front Lens – A Double Edge Sword
The front lens is one of the best things about this helmet, but it can also be a source of frustration.
First, they are more expensive and less available when compared to the standardized front lens you will see with many brands and makes. This wouldn't be that big of a deal if Sentinel's front lens weren't susceptible to scratching.
Since the front lens is flush with the body, it's the first thing to come in contact with whatever surface the helmet is placed on. If you don't have a habit of properly setting your helmet on the table or other surfaces, you are likely to scratch it.
The second issue regards light transmission. The curved lens may distort your view when moving. This is not that big of a deal but something to keep in mind. Welding is typically a steady action, so this won't be an issue when laying beads.
Also, you can experience a light glare visible on the curved lens surface from the inside. This can be problematic if it interferes with your welding view. You can fix this by repositioning yourself or manipulating the light source causing the glare. This doesn't happen often, but it's something to expect with any curved lens helmet.
Touchscreen – Looks Good but Not Practical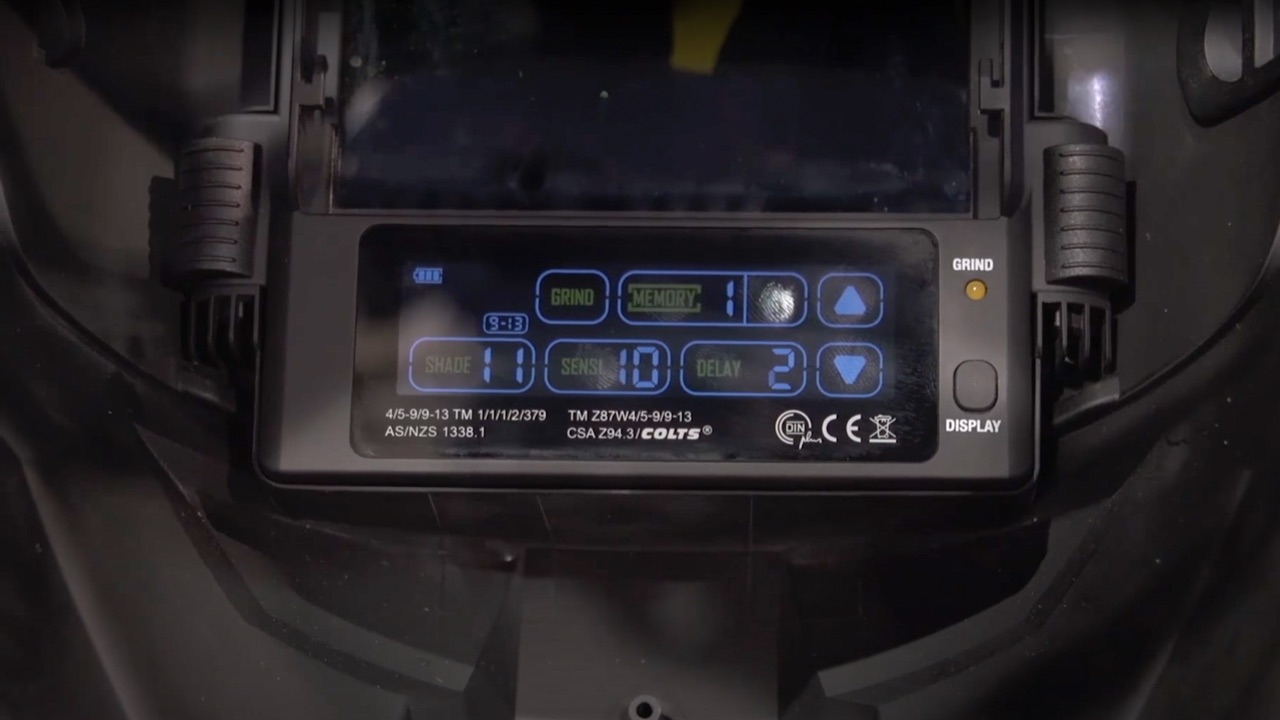 Some people love the modern feel the LCD touchscreen adds to the helmet. The high-quality screen feels premium when you use it.
However, you can't use a touchscreen with welding gloves. When you want to adjust a setting, you'll have to remove the helmet. That's pretty standard. But now you have to remove your gloves as well. This increases the effort on your part and reduces your productivity.
Additionally, the LCD can get damaged. It's a less robust solution when compared to the standard screen and buttons other helmets use.
Review of The Top Features
It's not an overstatement to say that this helmet can drastically improve your work quality and welding experience. So, if you find the above-described issues acceptable, you'll be able to enjoy Sentinel's excellent features fully.
True-Color Experience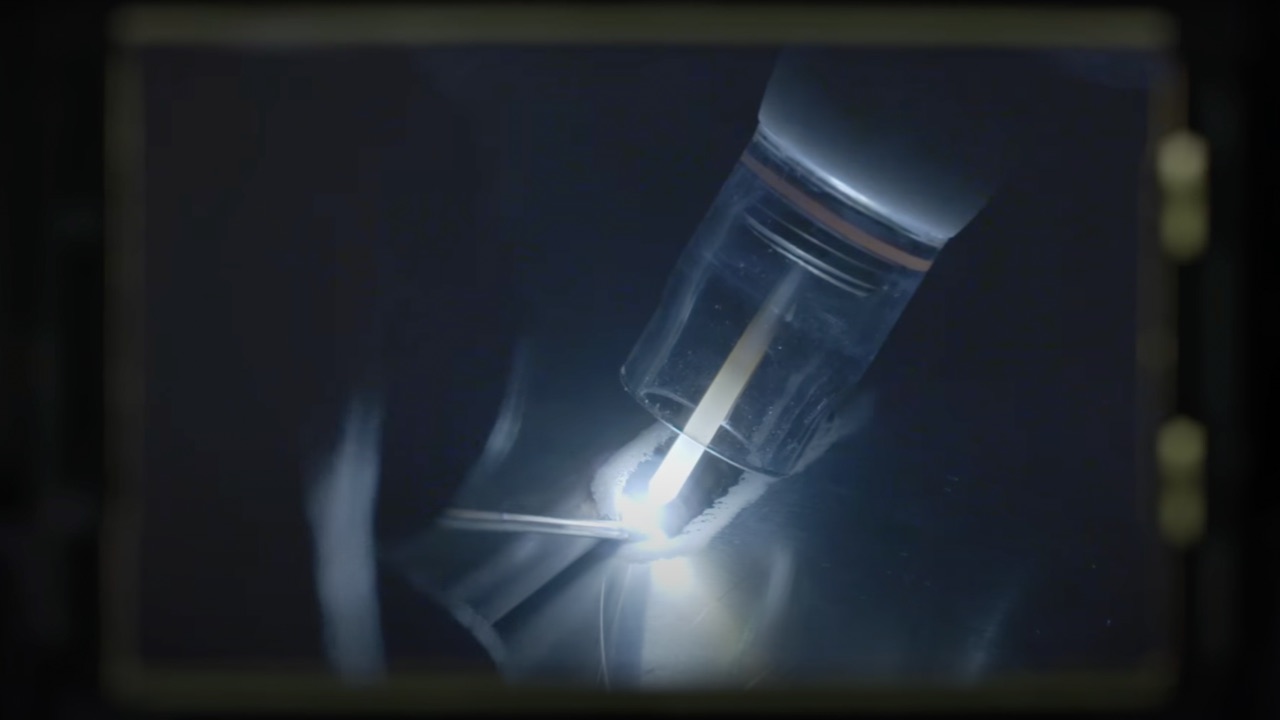 Thanks to ESAB's high-performance auto-darkening filter (ADF), the Sentinel A50 provides welders with state-of-the-art color and light transmittance.
Unlike the typical green filter you'll find in most welding helmets, the Sentinel has a very clear view with a sharp blue tint overlay. While every color does receive this slightly bluish tint, it's much better than almost every other welding helmet in the market.
You'll be able to see the tiny differences in shapes and even the slightest scratches on the metal. This means that the weld puddle is completely clear, and you'll see if the smallest bubbles form underneath it.
Such a clear view of what you are doing brings tremendous value. Seeing a tiny change in the arc's color, shape, direction, or volume gives welders a complete understanding of what's happening as they weld.
This is most useful when TIG welding stainless steel, aluminum, or other specialty metals. For example, if you burn an impurity and your arc has a slight change in color or shape, you'll immediately know something is wrong.
Halo Headgear
ESAB designed their Ergonomic Halo headgear from the ground up. It's very comfortable, but it's also durable. Welders have owned these helmets for years, and every element of the headgear remained almost as good as new.
The most interesting thing about this headgear is the way it handles the helmet's weight. Nothing feels out of alignment, and you don't get that feeling that one side is too heavy after a while.
Many people find wearing this helmet effortless, and balance is the primary reason why. The helmet is light but feels much lighter than it is, thanks to an even grip over the entire head and its weight distribution along the contact points.
The five-point headgear offers infinite adjustability to reduce pressure load and help you find the sweet spot for your head shape. I particularly like the ratchet-style adjustment on the back of the headgear that lets you quickly put the helmet on and off.
Spherical Front Lens
While the spherical lens has its drawbacks, it's what makes this model so successful. Thanks to its size and curvature, the lens captures more light than almost any other helmet on the market. This improves visibility, especially when in the grind mode.
Another spherical lens advantage, it repels sparks and other debris. This is especially useful when doing overhead welding, as the debris will slide off to the side. However, I wouldn't recommend the Sentinel A50 for heavy overhead work. Lens will wear out, and as I said earlier, replacement is expensive.
Sentinel Looks Awesome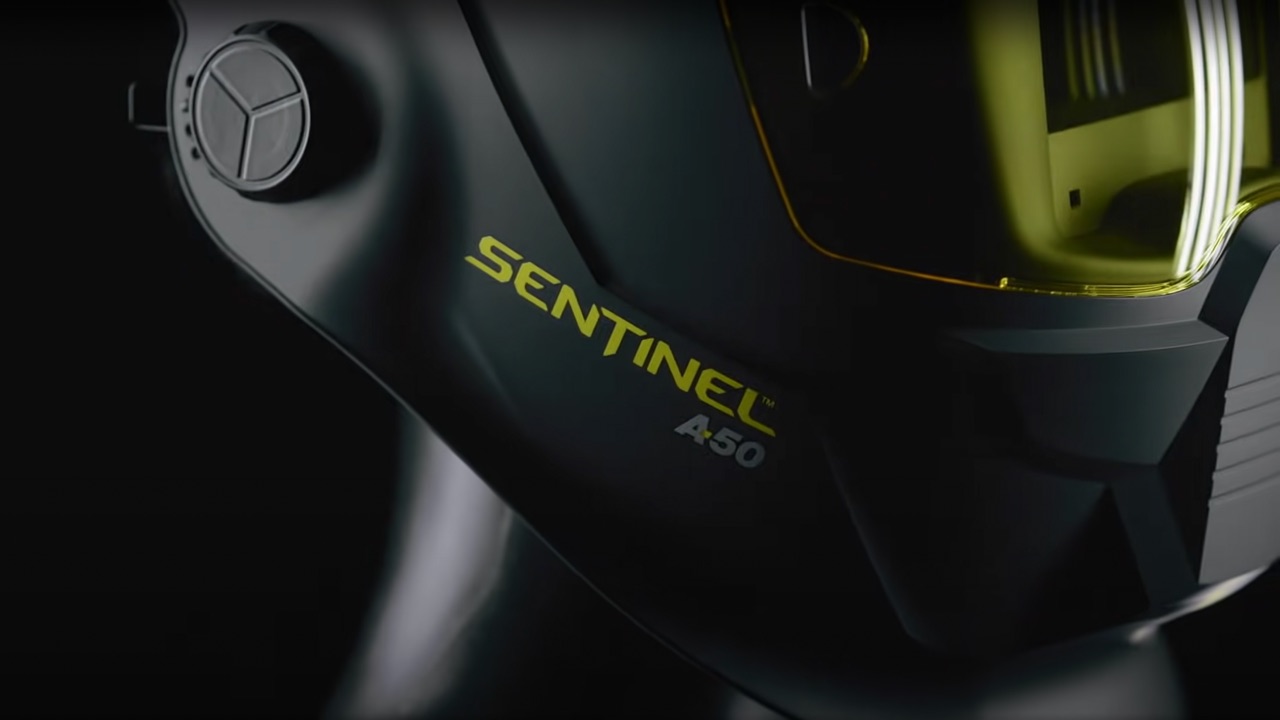 This may not directly improve your work, but it sure will make you feel great whenever you see your reflection. ESAB really knows how to design their products, and they showed their full abilities with this helmet.
One of the first things people notice is just how great Sentinel looks. Welders love the stormtrooper feel, especially if coupled with a sturdy, tight, leather welding jacket. Nothing wrong with looking good while welding, right?
Alternatives to Consider
Sentinel A50 is a great helmet, but you may want to consider alternatives in a similar price range. Some offer a decent match in features. But they also have significant differences.
ESAB Sentinel A50 vs Speedglas 9100 (06-0100-20SW)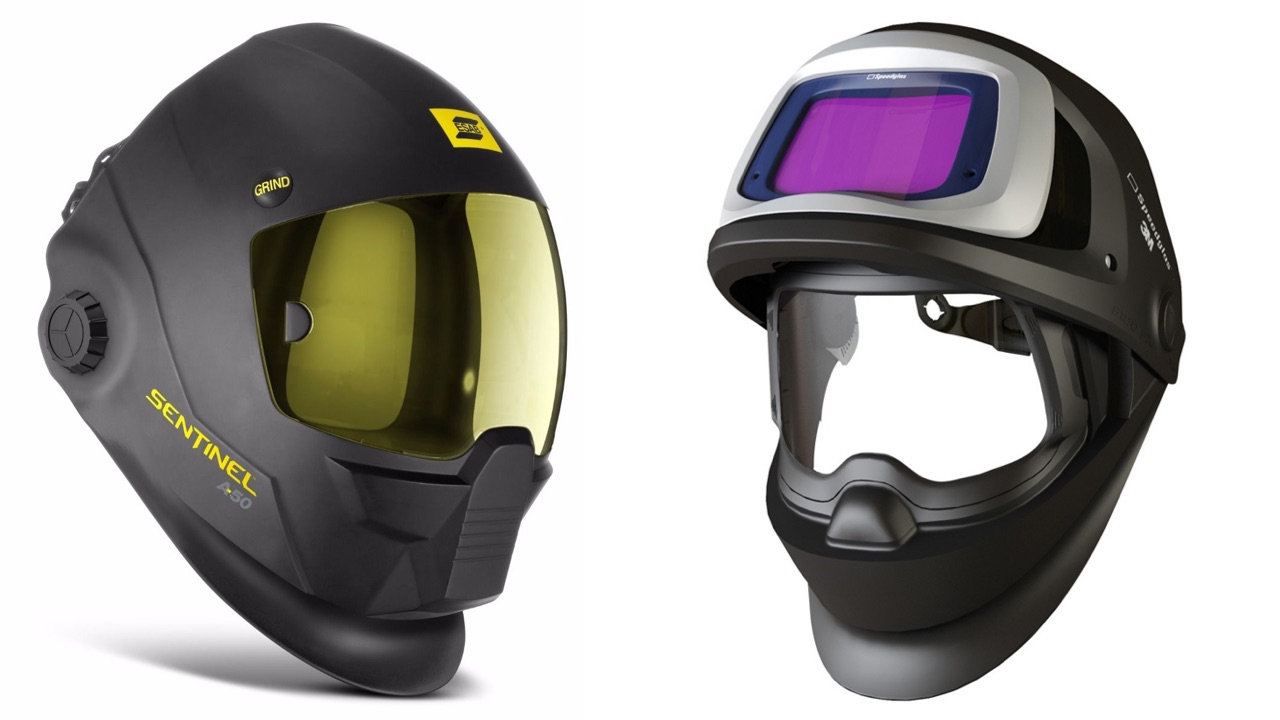 This Speedglass 9100 model doesn't have a true-color view, and the view area is smaller. Plus, it and costs more than the Sentinel.
However, 3M is well known as a brand that offers industrial-level equipment. Their helmets are meant for heavy-duty welding in everyday environments like manufacturing, marine, and mining. In terms of durability, the 9100 helmets are probably more resilient than the Sentinel.
Additionally, it offers an even lower TIG rating than the Sentinel for better reaction time when you start with low amps. It will trigger the ADF with less than 1A, while the Sentinel requires a minimum of 2A. This is only a deal-breaker if you own a TIG welder that can start with less than 2A and if such precise work is on your daily agenda.
ESAB
Sentinel A50
Speedglas 9100
(06-0100-20SW)
Viewing Area
3.93 x 2.36 in.
2.1 x 4.2 in.
Light State
Shade 4
Shade 3
Side Windows
❌
✅
Spherical Lens
✅
❌
External Grind Button
✅
❌
Switch Time
0.04-0.075 ms
0.01 ms
TIG Amp Rating
≥ 2A
≥ 1A
Price
$$$
Latest Price
Amazon
$$$$
Latest Price
Amazon
ESAB Sentinel A50 vs Optrel Panoramaxx
Optrel Panoramaxx 2.5 is the closest competitor to the Sentinel A50. Similarly priced, it offers some excellent features that the Sentinel does not. But, it also has its flaws.
Feature-wise, the Panoramaxx offers more than the Sentinel. It's got a better true-color view, a light shade of 2.5, automatic shade selection and sensitivity adjustments, an in-built micro-USB rechargeable Li-Po battery, and more adjustable points for tilt and depth.
It also features a curved front lens, but it's not flush with the surface, so it doesn't scratch as easily. The helmet is ultra-light, but the headgear doesn't feel as evenly balanced; the weight distribution is not as good, probably because there are so many adjustment points that you need to tinker around until you find the sweet spot.
It also doesn't have a ratchet adjustment and won't correctly fit people with a large head. Additionally, the headgear won't handle flipping up and down smoothly. It may get stuck or slide down occasionally, forcing you to tighten or loosen the side gears.
ESAB Sentinel A50
Optrel Panoramaxx
Light State
Shade 4.0
Shade 2.5
Switch Time
0.04 – 0.075 ms
0.07 – 0.07 ms
Sensors
4
5
Power Source
Solar+Repleacable CR2450
Rechargeable Li-Po
Auto Shade Selection
❌
✅
Weight
1.4 lbs.
1.16 lbs.
Price
$$$
Latest Price
Amazon
$$$
Latest Price
Amazon
Also read: Top Rated Optrel Welding Helmets
Final Verdict
The ESAB Sentinel A50 is an excellent welding helmet you should consider, but the Optrel Panoramaxx offers more features at the slight expense of comfort and headgear quality. However, the shade 2.5 on Panoramaxx gives it a significant advantage and makes it worth your attention.
The 9100 series from 3M are meant to take heavier workloads and thrive in industrial environments. So, unless you are doing heavy-duty work, you are better off with the Sentinel or Panoramaxx at this price range.
Also Read