The inexpensive Chicago Electric Flux 125 welder offers a standard welding experience for beginners. But it's outdated compared to newer budget entry-level welders.
This welder and its specs belong in the era before the first-ever inverter welders hit the commercial marketplace. It only outputs AC, weighs 38 lbs, and is a 125A flux-core welder, making it one of the heaviest "portable" welders with low amperage output.
In this article, you'll learn about the areas I find troubling, some of its pros, and an alternative I recommend for much better value.
Overview of the Chicago Electric Flux 125
The low price of this welder is tempting. But some competing models offer more features at the same price. Also, the Chicago Electric Flux 125 has a low-duty cycle and weighs almost three times more than its competition, like the YesWelder model, which I'll review later in the article.
The Flux 125 can weld up to 3/16 in. thick metal, which is fine for a low-budget machine. But it uses an outdated "min/max" switch for amperage control.
Many competing models have amperage output and wire feed knobs for total control, and some even provide a digital display for a better welding experience.
What's Included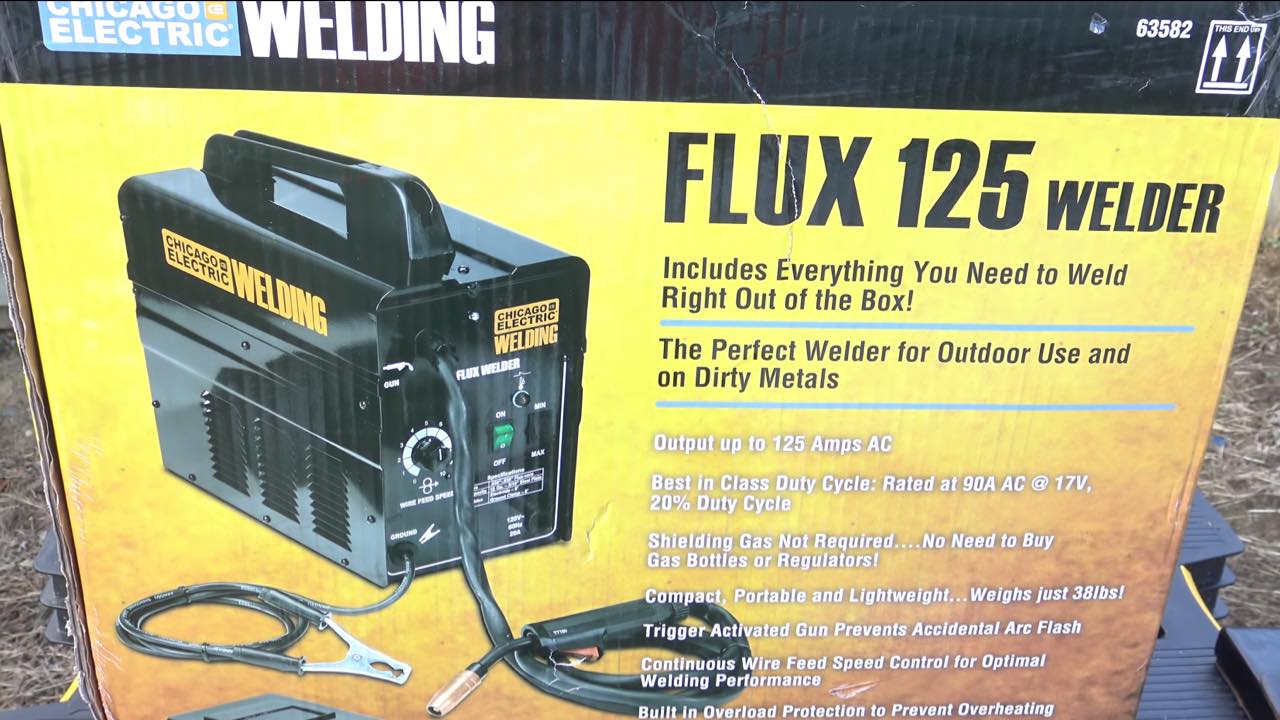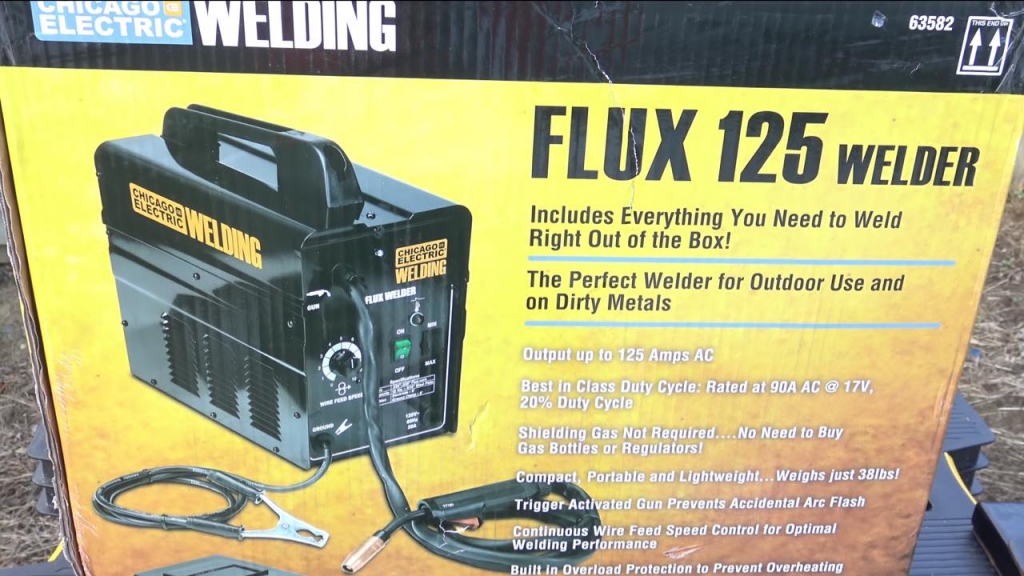 Chicago Electric Flux 125
Built-in Flux-core gun, 6 feet
Built-in Ground clamp, 6 feet
Spare contact tips
Instruction manual
It's normal for bargain welders to include no or few extras. So, the limited package contents are no surprise here.
However, the 6-foot leads are below-average length. I also don't appreciate the built-in nature of the leads. You can't replace them readily as it requires opening up the machine and wiring skills. 
The provided ground clamp is pathetic, while the MIG gun is in line with the price. The worst thing about the cheap clamp is that you can't replace it quickly since it doesn't use the standard bolt and nut wire connection.
Also, the ground clamp lacks copper contact points, so it doesn't provide maximum conductivity. Without copper contacts, you must grind the metal well for the best electrical connection.
But cleaning the base metal thoroughly negates one of the advantages of FCAW. (Flux-cored welding accommodates rust and other contaminants, reducing the need to grind.)
Tech Specs
Welder Type
Flux-Cored
Input Voltage
120
Output Current Type
AC
Technology
Transformer
Amperage Output
60A – 125A
Duty Cycle
20% at 90A
Wire Drive Rolls
.030″ /.035″ V-Knurled Roller
Wire Feed Speed Range
Unspecified
Wire Feed Settings
Manual
Wire Spool Capacity
2 lb spool
Weldable Materials
Mild steel
Weldable Mild Steel Thickness (Single-pass)
Up to 3/16 in.
Open Circuit Voltage (OCV)
27V
Welder Dimensions (H x W x L)
14-1/4in. x 8-1/4in. x 14-3/8 in.
Weight
38 lbs.
Warranty
90-days
Weld Guru Rating
★☆☆☆☆
Price
Best Price
Harbor Freight
Pros
Decent quality welding arc
Infinitely adjustable wire feeding speed
Simple to use
Good build with an entire metal body
Cons
Very heavy and bulky
AC current only
Short, built-in leads
Poor ground clamp
Low open circuit voltage
Low duty cycle
Unspecified wire feeding speed range in inches per minute
No digital display
Poor warranty
What To Know Before Buying The Chicago Electric Flux 125
The Chicago Electric Flux 125 has multiple flaws that hinder your welding experience. You should know how these shortcomings affect your work. But you should also know many competing models don't have most of these negatives.
So, let's review where it falls behind the competition to help you decide if this welder is for you.
Low Duty Cycle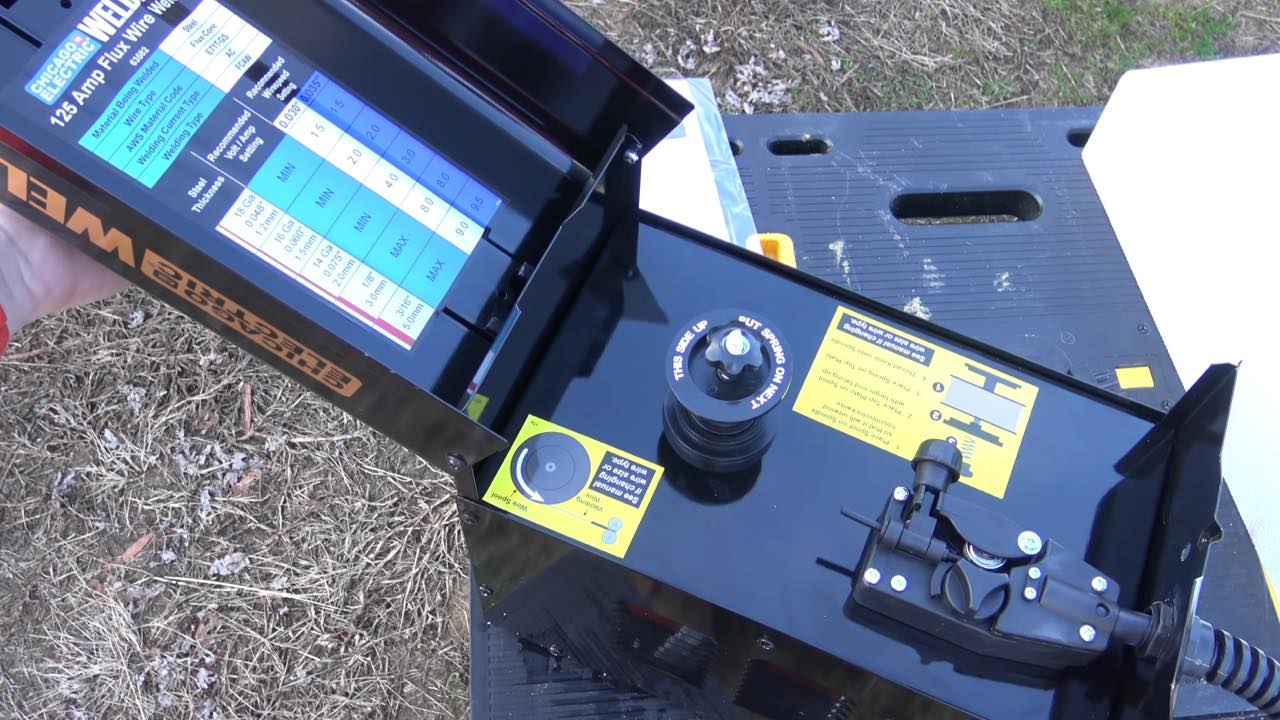 The Flux 125 offers a duty cycle that lets you weld for 2 minutes using a 90A output, then wait an additional 8 minutes for the welder to cool down. The welding time is even lower if you use the maximum amperage output of 125A.
While this satisfies the needs of many hobbyists, you cannot complete every DIY project with short welds. If you are welding a gate, patio, or garden elements like benches, flower, and veggie frames, you must make many longer welds. But then you will bump up against the duty cycle.
So, for DIY enthusiasts, this is not a dealbreaker. However, since many competing models let you weld longer, purchasing something that will handicap you doesn't make sense.
Not Very User Friendly
While this welder is not hard to operate, it misses a few things. Without a digital display, the wire feed speed is determined with arbitrary numbers around the knob. Plus, it uses a "min/max" power switch for your amp output, which unnecessarily complicates the experience.
Having a digital display is not a must-have for inexpensive welders. But since many brands provide it, you can get it if you look around. A primary digital readout helps beginners learn how amperage output impacts the penetration, bead, and arc on different metal thicknesses.
Instead, this welder uses a "min/max" button in tandem with an infinitely adjustable wire feed knob to control your welds. The min or max amps are poor for beginners developing their welding techniques.
If you don't know the precise amperage your settings provide, you'll always have to stick to the recommended settings chart, which doesn't help you develop your welding skills.
Heavy and Bulky
This is a transformer-based welder. It's heavy because of the transformer core located inside the unit. While the Harbour Freight labels it as "lightweight and portable," that's only true if measured by 2010 standards.
Sure, you can lift it and move it around. But 38 lbs is too heavy for a small amperage output welder. If it were a multi-process machine with a high-duty cycle, just under 40 lbs. would be average weight. But it is a 125A flux-cored welder, period.
While you can use this welder on the go, it wouldn't be our first choice. YesWelder's model that we review later in the article, and other brands, offer significantly lighter units at the same or lower prices. With inverter technology advances, and manufacturers competing to make the lightest possible welders, there isn't a reason to go in the opposite direction.
Design Issues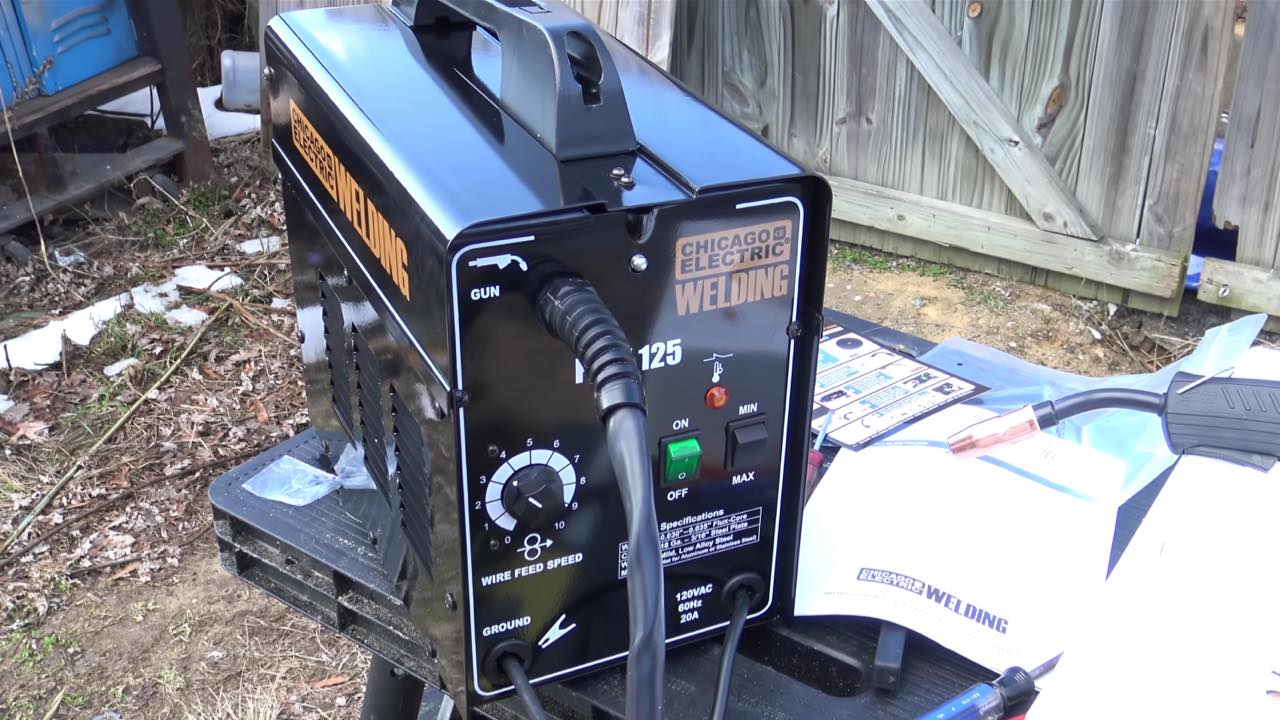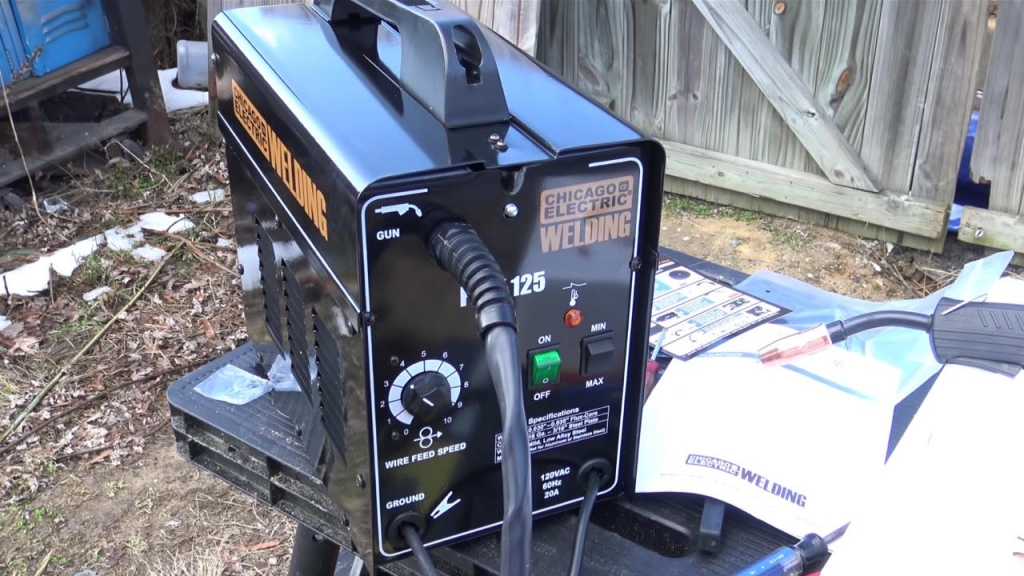 The Flux 125 has integrated leads, making them formidable to change if damaged or if you become unsatisfied with the short 6 feet MIG gun and ground cables. Many cheap machines have a similar issue, but this is something to consider.
The next big design issue involves the wire feed system. The Flux 125 uses a horizontal wire feed mechanism situated beneath the top cover. This design limits the diameter of the wire spool it can accommodate, so a 4 in. diameter spool (2 lbs) spool is the max.
Considering the size of this welder, it could have easily housed a vertical wire feeding system on the side of the unit, as most portable welders do. So, it unnecessarily limits you to small wire spools.
To be fair, it's possible to accommodate the 10 lbs wire spools. But the wire liner leader gets kinked because larger spools provide a tight fit, and Chicago Electric doesn't officially support it.
Substandard Warranty
The Chicago Electric Flux 125 is not the best-built welder out there, and its 90-day warranty is significantly shorter than other brands offer. Typically, a budget welder guarantees the unit for at least 1-year, so the 3-month period is substandard.
Thankfully, Harbor Freight does offer a 2-year paid warranty extension. But buying the additional coverage increases the price of this overpriced unit. You are better off getting a similarly priced machine with a better warranty. Chances are you will also be able to get more features, too, without additional expense.
Review of The Top Features
The Flux 125 has its downsides, but many beginners may find it a good choice if the warranty and other issues are not dealbreakers.
While other welders offer better value for the money, the Chicago Electric Flux 125 has its pros as well. So. let's take a look at them, too.
Solid Metal Casing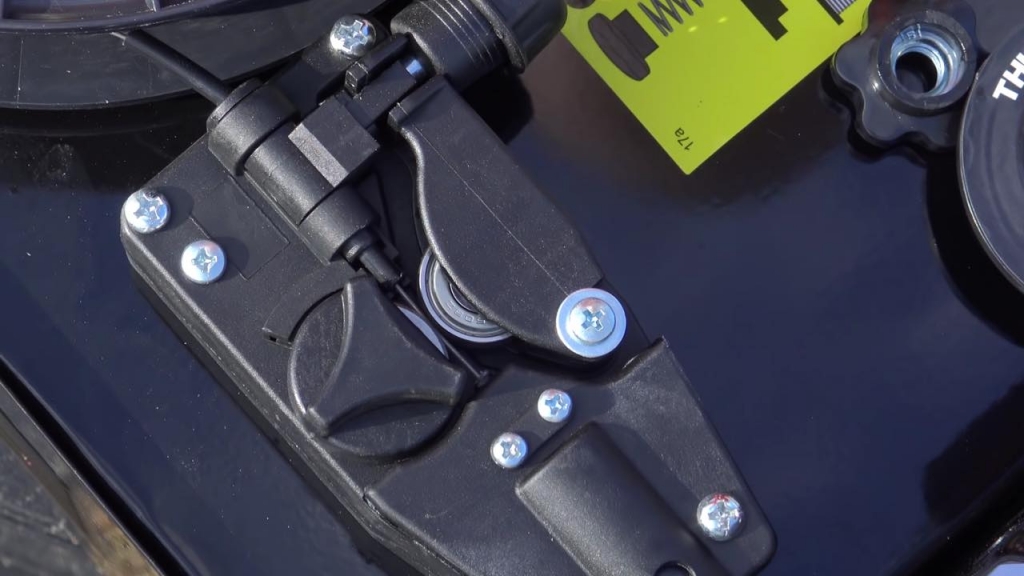 If you dislike plastic housings, the Flux 125 has you covered. With thick metal front, sides, and back, the only plastic you'll see is the handle on top, the buttons on the front and plastic wire drive.
However, this does have its downsides too. A heavy, fully metal build may damage your other equipment as it bounces around in the bed of your truck. Plus, it can be a hazard to your feet if it falls from a welding cart or table.
Adequate Welding Arc
Inexpensive FCAW machines often have an erratic arc. But the Flux 125 has a decent, stable arc that fits its price well. You'll find it easy to stack beads as long as you follow some welding technique basics.
So, the arc is suitable for learning to weld because you won't have a hard time adapting to a more stable arc if you decide to buy a better quality machine in the future.
Better Value Alternative
The Flux 125 certainly has its market niche, and I believe that the YesWelder 135A gasless welder provides a better value.
This competing model comes with more features and a lower price. It does share some cons with the Chicago Electric unit, but it's significantly cheaper, has a more extended warranty, and has better specs.
Yeswelder 135 Welder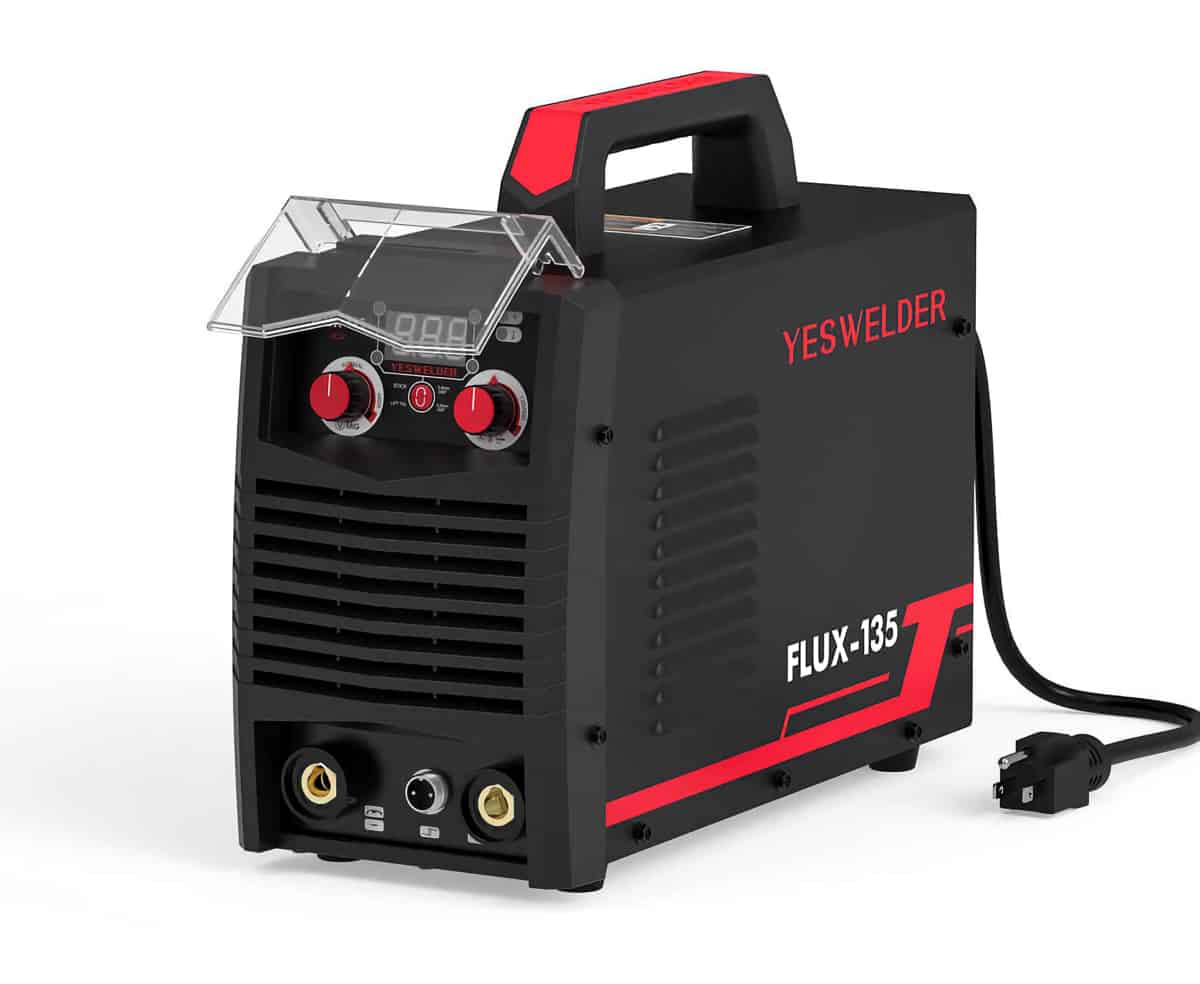 Designed for hobbyists and beginners just starting to weld, the YesWelder 135 supports DC lift TIG and stick welding, not just flux-cored like the Flux 125.
Plus, it uses inverter technology, allowing much more features, lighter weight, and better specs than the transformer Chicago Electric unit.
Its Synergic MIG feature automatically sets your wire feed speed and voltage. But it also lets you manually modify the voltage output in a range of -5V to 5V. This feature is excellent, considering how inexpensive it is, teaching beginners how to fine-tune their welds by modifying the wire feed speed and the voltage.
The YesWelder 135 also uses the 4-in. spools. But the wire feeding system is placed on the side of the welder, not on the top. So, the unit is significantly smaller than the Flux 125.
Yeswelder, unfortunately, integrated the MIG gun into the unit. But the ground clamp, stick electrode holder, and the TIG torch are not and can be swapped easily.
This flux core welder also includes a digital display and puts out higher amps than the Chicago Electric Flux 125. But more importantly, the YesWelder 135 has a significantly longer duty cycle, 60% at 135A output. This improved duty cycle lets you weld hobbyist-level projects with little to no downtime.
You will need a 16A circuit breaker to run the YesWelder 135A, while the Chicago Electric Flux 125 requires a minimum of 20A. Installing a 20A breaker is a pain and costly, so you save additional money with the Yeswelder 135A if you already have an outlet with a 16A breaker.
This unit doesn't have a settings chart inside the case, so you must use the instruction manual or experiment on scrap metal. Yeswelder recently updated the 135A to provide the different welding processes and refine the inverter. T
heir customer support is quick to respond if you have any issues, and YesWelder provides well-reviewed hobbyist-grade equipment.
With a one-year warranty, significantly lower weight, more welding power, better duty cycle, additional features, two additional welding processes, and longer leads, the YesWelder 135 is excellent value at this price.
Feature / Welder
Chicago Electric Flux 125
YesWelder 135A
Welder Type
Flux-Cored
Flux-Cored, TIG, Stick
Technology
Transformer
IGBT Inverter
Current Output
AC
DC
Amperage Output
60-125A
20-135A
Duty Cycle
20% at 90A
60% at 135A
100% at 104A
Required Circuit Breaker
20A
16A
Digital Display
❌
✅
Synergic MIG
❌
✅
Output Voltage Adjustment
❌
✅
Lead Length
6 feet
8 feet
Weight
38 lbs
14 lbs
Warranty
90-days
1-year
WeldGuru Rating
★☆☆☆☆
★★☆☆☆
Price
$$
Best Price
Harbor Freight


Price excludes extended warranty

$$
Check
Amazon
—
Check
Yeswelder


10% discount: WELDGURU10
Final Verdict
The Chicago Electric Flux 125 is a decent flux-core welder if its flaws are not a problem for you. But it's now an old machine that only outputs AC and trails the competition in many crucial areas.
So, in our opinion, the YesWelder 135A is a better value for the money. This becomes especially true if you purchase the Harbour Freight extended warranty. In that case, the YesWelder will cost around the same, and it is a good alternative you should consider.
If you have any experience with the Chicago Electric Flux 125, please let us know in the comments below.