MIG welding is easy to learn and it brings the ability to weld steel, stainless steel, and aluminum into any workshop. Plus, for auto body shops, car enthusiasts, DIYers, or operations that are not industrial or high output operations, there are many affordable choices.
For example, if you have a 230V plug available, you can buy the Eastwood MIG 175 or Lincoln Electric Easy MIG 180 for under $800. Two good welders, but there are differences that might matter in your shop.
So, we have assembled all the essential information in this easy-to-read article that provides the strengths and weaknesses of both, allowing you to easily identify which one is right for your shop.
Note: The Eastwood MIG 175 has been upgraded to the MIG 180. It is still available to buy, however, it will soon be discontinued. You can read the
full Eastwood MIG 180 review here
.
Side-by-Side Comparison
Eastwood MIG 175
Lincoln Easy MIG 180
Image
Welder Type
MIG, Flux Core
MIG, Flux Core
Input Voltage
210- 240 V
208/230 V
Duty Cycle
30%@ 130A (20V)
30% @ 130A (20V)
Amperage
30 – 175A
30-180A
Voltage Control
Infinite
5 Positions
Wire Feed Speed Control
Infinite
Infinite
Weldable Materials
Mild Steel, Stainless, Aluminum
Mild Steel, Stainless, Aluminum
Mild Steel Thickness (Single-pass)
24 gauge to 5/16 in.
24 gauge – 3/16 in.
Aluminum Thickness
14 gauge to 1/4 in.
22 gauge to 3/16 in.
MIG Torch Cable Length
8 ft.
10 ft.
Work Clamp Lead Length
8 ft.
10 ft.
Wire Thickness
0.023 – 0.030 in. solid wire
0.030 – 0.035 in. flux-cored wire
0.025 – 0.035 in. solid wire
0.030 – 0.045 in. flux-cored wire
Wire Feed Speed
59-472 ipm
50-500 ipm
Wire Spool Sizes
4 in. and 8 in
4 in. and 8 in
Spool Gun Ready
✅
✅
Spool Gun Included
✅
⛔
Welder Dimensions
(H x W x L)
15.75 in. x 10.75 in. x 17 in.
14 in x 10.15 in x 18.2 in
Weight
62 lbs
56 lbs
Warranty
3 years
3 years
User Ratings
★★★★
★★★★★
Price
Latest Price
Eastwood
Latest Price
NorthernTool
Eastwood MIG 175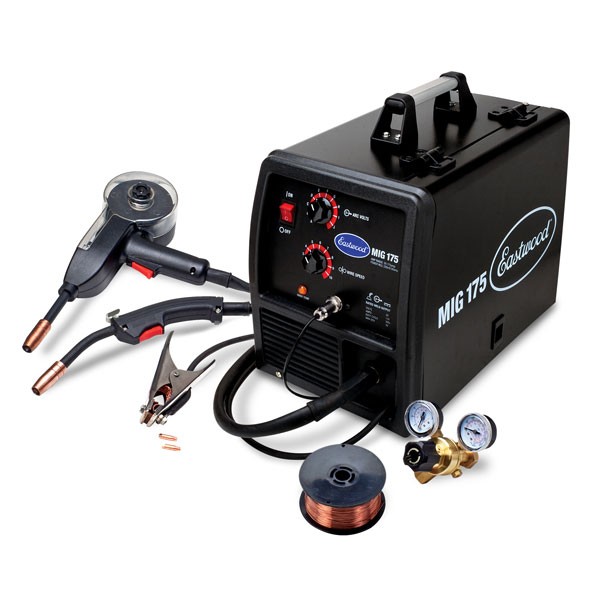 The Eastwood Company was started by a young car enthusiast to serve the auto restoration and customization hobbyists market. Over the years, they gained a good reputation and the product lines grew to include welders.
The Eastwood MIG 175 is one such offering that is noticeably less than the Easy MIG 180. For the car or welding enthusiast/hobbyist, you get a lot of features that you actually can use at a good price.
For example, need to tweak the volts for a perfect weld? With the Eastwood welder, you can turn to any setting between the min and max on the dial. You have "infinite" choices. With the Lincoln unit, you must choose and use one of five preset voltage choices.
Another great bonus, a spool gun is included. The competing Lincoln welder is spool gun compatible, but you have to pay extra for the option.
Also, you give up nothing when it comes to the duty cycle. Both the Eastwood MIG 175 and Lincoln Easy MIG 180 have a respectable 30% @ 130v rating to keep you welding.
The supplied Tweco style MIG gun also uses common, easy to find parts. Need something late in the day or on the weekend? You can pick up most of what you need at a big box store.
So, given the budget-friendly price and the inclusion of a spool gun, those on a budget with a DIY, auto restoration, hobbyist, or similar workshop, will appreciate the favorable price to performance ratio that this solid MIG welder offers.
What's Included with the Eastwood MIG 175
The Eastwood 175 comes with a generous package that includes:

MIG 175 Welder
Torch Assembly 8' lead
Spool Gun with 9′ cable
MIG Wire (0.030 in.)
Aluminum Wire (0.035 in.)
Gas Regulator with hose
8′ Ground Clamp
Hand-held shield
Wire brush
2 lb. spool of 0.030" steel MIG wire
1 lb. spool of 0.030" aluminum wire
(2) Contact tips
Contact tip wrench
User Manual
DVD
3-Year "No Hassle" Warranty
Eastwood MIG 175 Compared to the Lincoln Easy MIG 180
Pros
Infinite voltage settings between min and max
Tweco style gun with common, easy to find parts
Decent duty cycle
A spool gun is included in the original purchase
Rated for thicker stock
Cons
Gun and ground leads are a bit short
6 lbs. heavier
Cannot run on 208V
Manual does not recommend using pure CO2 with the supplied regulator
Where to buy
There are limited retailers you can buy the Eastwood 175 from. The cheapest place is the official Eastwood online store. They usually run promotions from time to time, so keep a lookout for those.
You can also find it on Amazon, however, I noticed they do not run as many promotions as the official store.
Lincoln 180 Easy MIG
Lincoln has manufactured welders for 100 plus years. They are well-known on a global scale and make a wide range of welders and welding accessories.
With a decent duty cycle and the ability to handle a wide range of stock thicknesses, you will find the Easy MIG 180 in light fabrication shops, farms, auto body garages, and home workshops.
Lincoln manufactures the Easy MIG 180 with modern electronics. For example, it runs on a 208V input. If your power supply is 208V, then your choice is the Lincoln since the Eastwood cannot operate with 208V.
The Easy MIG 180 is rated for 24 gauge to 3/16 inch stock in one pass. But it is possible to weld ½ inch steel using the self-shielded Innershield® wire in multiple passes. Plus, it is rated down to 22 gauge aluminum. So, if you do a lot of very thin work, the Easy MIG 180 merits a look.
Also, the supplied regulator runs pure CO2 if you purchase a needed adapter. That is something the Eastwood literature makes clear, but the manual does noticeably omit it. If you plan on using straight CO2, the supplied Easy MIG 180 regulator and hose are recommended for 100% CO2.
Note regarding the Lincoln MIG 180 brand names:
Lincoln Electric makes multiple versions of The Easy MIG 180 welder which creates some confusion. You will find a variety of 180 models under different names branded for specific vendors. But most share identical features and specifications. These include:
Weld-Pak 180 (Home Depot)
MIG-Pak 180 (Canadian Tire)
Easy-Mig 180 (multiple outlets)
Pro-Mig 180 (Lowes)
What's Included with the Lincoln Easy MIG 180
Magnum® 100L gun 10 ft. (3.0 m) lead
Work clamp and 10 ft. (3.0 m) cable
0.025 in (0.6 mm) contact tips (Qty. 3)
0.035 in (0.9 mm) contact tips (Qty. 3)
Gasless nozzle for Innershield® welding
Gas nozzle for MIG welding
Spindle adapter for 8 in. (203 mm) diameter spools
Harris® 3000290 Gas Regulator
52 in. (1.3 m) gas hose for use with Ar/CO2 or CO2 gases. (For use with CO2 shielding gas, requires a gas bottle adapter.)
Sample spool of .025 in. (0.6 mm) diameter SuperArc® L-56® premium MIG wire
Sample spool of .035 in. (0.9 mm) diameter Innershield® NR®-211-MP flux-cored wire
Learn-To-Weld DVD
User Manual
3-year Warranty
Lincoln 180 Easy MIG compared to the Eastwood MIG 175
Pros
6 lbs. Lighter
Works on 208V or 230V
Can run CO2 with the included regulator (if you buy a needed adapter)
Longer leads on gun and ground
Rated for 22 gauge aluminum
Cons
A spool gun is not included
Fewer voltage selections
More expensive
Confusing marketing under different names
Where to buy the EasyMIG 180
There are a few more retailers that sell the Lincoln EasyMIG 180 compared to the Eastwood 175.
There's no point in me listing the cheapest place at this moment in time, as all retailers run their own promotions from time to time and this can change quite frequently. Here are some places to check:
Eastwood 175 vs Lincoln Easy MIG 180: What's different?
Voltage Control
Eastwood offers "infinite" control from the min to the max setting. In contrast, the Easy MIG 180 has 5 preset voltage settings that you must use.
For fine-tuning a weld, the infinite control is far more usable and makes finding the perfect settings easier. For example, a horizontal weld is different than a vertical weld, and with the Eastwood MIG 175, you can tweak both the voltage and wire feed speed to make better welds.
If you want an almost identical Lincoln welder that does include "infinite" control, you should consider the Power MIG 180C. The "C" in the name stands for continuous, or infinite control, of the voltage setting on the control panel. But it is even more expensive than the Easy MIG 180.
Power
The Eastwood does not run on 208V, so if you have that as your power supply, the Lincoln is your only choice.
As for output, the Lincoln does put out 180A to Eastwood's 175A, a small difference. The power output of both is low compared to more expensive machines but is plenty for smaller shops.
Control Panel
Both control panels are similar with an on/off switch and two dials that can be operated with gloves. The minor difference is the Eastwood orients the dials vertically and the Lincoln sets the dials horizontally.
But on the Eastwood, you also have an "over temp" light. It lets you know when you need to let the unit cool to protect the circuitry. The Lincoln simply shuts off and does not have a light to indicate when it has cooled off to use again.
MIG Torch and Ground Cable
Both the Eastwood and Lincoln welders include Tweco style MIG guns with parts you can find in any welding supply and most big box stores. The Lincoln includes 6 contact tips, while Eastwood includes 2 contact tips in the box. Also, both welders include a decent ground clamp.
The difference between the two welders is the lead length. The Lincoln welder provides 10-foot leads, while the Eastwood comes with 8 feet. For some, that extra 2 feet may be important. But both units can be upgraded with longer leads, as many welders prefer more than a 10-foot lead.
Spool Gun
If you need a spool gun, the Eastwood MIG 175 includes it in the original purchase. With the Lincoln Easy MIG 180, it is an option you have to pay extra for. This makes the price gap between the Eastwood and Lincoln welders even larger if you do a lot of aluminum work.
Regulator
Out of the box, the Easy MIG comes with a regulator and hose rated for use with Argon, Argon blends, and pure CO2. For some, this is a plus as CO2 is cheaper to run.
Eastwood does not recommend the included regulator for use with 100% CO2. But in the settings chart for the MIG 175, you do find listings for using pure CO2. You just need to upgrade the regulator.
Conclusion
Included in your original purchase, the Eastwood MIG 175 provides infinite voltage control and a spool gun. Plus it includes an overheat light not found on the Lincoln. Add an attractive price tag, and many welders embrace this capable unit for the impressive price to features ratio.
The pricing of the Lincoln Easy MIG is higher. But the Lincoln Easy MIG 180 will be your choice if you must run on 208V. Also, if you want to run pure CO2 right out of the box, the Lincoln regulator and hose lets you do that.
However, infinite voltage control and a spool gun are key features users want, and you can have them for less money with the Eastwood MIG 175. If you want to run pure CO2, just swap out the regulator. The savings compared to the Easy MIG 180 easily offset a new regulator.