Small shops and welding enthusiasts may start with a 120V welder. But if your welding hobby or small business is more serious, you need better power and the ability to weld thicker stock.
That means moving up to 240V on a budget without losing the ability to weld thinner stock.
The Eastwood MIG 180 fills those needs nicely. This recently introduced, affordable machine will eventually replace the popular Eastwood MIG 175.
It keeps the best of the old MIG 175 while adding some valuable improvements, establishing the new Eastwood MIG 180 as an exciting option.
But because it is so new, you may not know much about this dual voltage MIG welder. Fret not; I've done the research and summarized all you need to know below.
Quick Overview of the Eastwood MIG 180
What's Included
MIG 180 Welder
MIG Wire Spool 0.030 (0.8mm), 4 inch (2 lbs)
Gas Regulator
Gas hose
9.5′ Ground Clamp
NEMA 5-15P to NEMA 6-50R Adapter Cord (240v to 120v), 2′
MIG Torch and Nozzle with 8.5′ lead
0.030″ (0.8mm) Contact Tip
Additional contact tips (.030″ and .035″)
Face shield with lens and handle
Welding brush/hammer
Contact tip wrench
Instruction Manual
3-Year "No Hassle" Warranty
Technical Specifications
Welder Type
MIG & Flux Core
Input Voltage
120V & 240V
Required Circuit Breaker
30A
Duty Cycle @ 120V
30% @ 90 Amps
60% @ 65 Amps
100% @ 50 Amps
Duty Cycle @ 240V
30% @ 180 Amps
60% @ 130 Amps
100% @ 100 Amps
Amperage Range
120V: 30 – 120 Amps
240V: 30 – 180 Amps
Voltage Control
Infinite between min. and max.
Weldable Materials
Mild steel, stainless, aluminum
Steel Thickness (Single-pass MIG)
24 ga. – 5/16 in.
Steel Thickness (Single-pass Flux Core)
20 ga. – 1/4 in.
Aluminum Thickness
14 ga. – 1/4 in. (w/ optional spool gun)
Wire Feed Speed Control
Infinite between min. and max.
Wire Sizes
0.023"– 0.035" (Solid)
0.030" – 0.035" (Flux core)
Wire Feed Speed ("WFS")
120V: 80 – 280 IPM
240V: 80 – 551 IPM
Wire Spool Sizes
4-in., 8-in., up to 11lbs.
Spool Gun Ready
✅
Lead Length
Torch: 8.5 ft.
Ground: 9.5 ft.
Dimensions
18" X 8.5″ X 13.25"
Weight
25.3 lbs.
Warranty
3 years
Price
Check Best Price
Here
Pros
Affordable
2T and 4T options
Tack weld mode
Control panel now has indicator lights
IGBT inverter technology makes the unit compact, light, and portable
Infinite voltage ("heat") and wire feed speed control
Weld up to 5/16 in. thick steel
Spool gun ready, can weld aluminum up to 1/8 in. thick with the added option
Package deal (spool gun and welder bundled) saves some money
Easy polarity changes, just swap the Dinse plugs on the front of the machine
Tweco-style MIG torch uses standard, easy to find parts
Regulator and gas hose included
Ground clamp jaws connected with a braided wire strap
Quick Set chart on the wire compartment door
Cons
On/Off switch is on the rear of the unit
30% duty cycle @ 90A may be too low for some users
Knurled roller for flux-core wire is not available at this time
Ground and torch leads may be too short for some users
MIG welding aluminum as supplied is possible, but users who frequently work with aluminum should buy the optional spool gun
Eastwood MIG 180 vs MIG 175 – What's Changed?
The most significant change has come from the newer IGBT inverter-based tech, which replaces the old transformers. This also lowered the weight and made the unit a bit more compact.
Read: Inverters vs Transformers
With a tad more power, the MIG 180 now also runs on 120V or 240V input power. Plus, it includes a better duty cycle.
A metal wire housing mechanism adds durability, and you now have more trigger control options. Plus, the convenience features (e.g., spool gun switch on the control panel, toolless polarity changes) make the welder easier to use.
The significant changes between the MIG 175 and MIG 180 are summarized in the table below.
MIG 180
MIG 175
Technology
IGBT Inverter
Transformer
Dual Voltage Operation
✅
⛔
Weight
25.3 lbs
62 lbs
Amperage Range
30 – 180A
30 – 175A
Duty Cycle
30% @ 180A
30% @ 130A
Wire Feed Mechanism Housing
Metal
Plastic
Spool Gun Switch
Button on Control Panel
Switch Inside the Wire Compartment
Tack Mode
✅
⛔
2T & 4T Trigger Control
✅
⛔
Overload Light
✅
⛔
Polarity Changes
Switch Lead Plugs on Front without Tools
Change Wires Inside Wire Compartment w/ Wrenches
RRP
$549.99
Best Deal Here


(spool gun is optional)

$549.99
Now Discontinued
What to Know Before Buying the Eastwood MIG 180
Stock Thickness
Eastwood recommends this welder for applications like auto restoration and metal fabrication work. But if you have the budget and expect to work with stock thicker than 5/16 inch regularly, you may want to spend the extra for a more powerful welder that can handle thicker material.
Consumables
You receive enough consumables in the box to get started (a 2 lb. roll of wire, 3 contact tips, and 1 nozzle). But if you expect to do some serious welding, you need more than this.
So, consider adding any necessary consumables to your initial order. Also, don't forget to get a bottle of gas.
MIG Welding Aluminum
The included chart includes settings for MIG welding of aluminum from 17 ga. to 1/8 inch. That may lead you to try and MIG weld aluminum.
But, if you plan on working with aluminum often, just go for the spool gun package. Avoiding the tangled wire and birdnesting is worth it.
Things that make the Eastwood MIG 180 Great
IGBT Tech
The MIG 180 uses IGBT inverter technology, and it is much lighter because of it. IGBT inverters also produce a smooth, user-friendly arc. Plus, this welder can also run on a generator (10 KW minimum).
Dual Power Input
The old MIG 175 ran on 240V, but the updated MIG 180 can run on 120V or 240V. More options to plug in mean you have greater freedom in how and where you use your welder.
Lightweight
The MIG 180 weighs in at just over 25 lbs., a fraction of the weight of welders running with transformers.
If you carry or move your welder often, this welder makes the task easy. It even includes a sleek hand incorporated into the top of the unit.
Tack Mode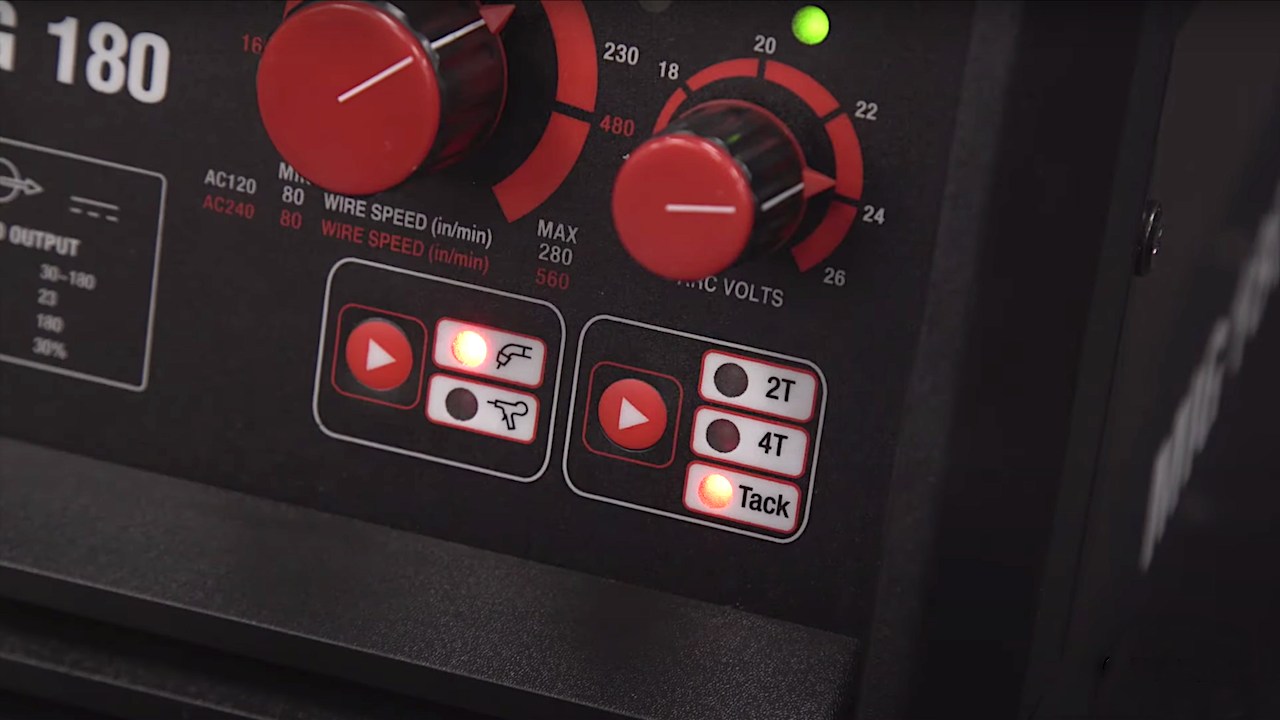 Frequent tack welding beats on a welder's components and can be hard on the operator, too. Plus, consistently getting the right timing can be a challenge, which results in varied tack weld quality.
But with the included "timed" tack mode, the 180 lets you make consistent tacks. You get a consistent 1/2 second long tack weld with less effort and fewer demands on the welder's internals.
2T or 4T Modes
Long welds tire your trigger finger, and your hand can get hot with standard 2T operation.
But with 4T, you pull then release the trigger to start welding. You can then move your hand back and make the weld.
To stop, you pull and rerelease the trigger.
This feature is not expected on welders at this price point. But Eastwood included 4T on the MIG 180, and it helps anyone who makes long welds, novice or expert.
You can read more on the details of the 2T and 4T feature here.
Control Panel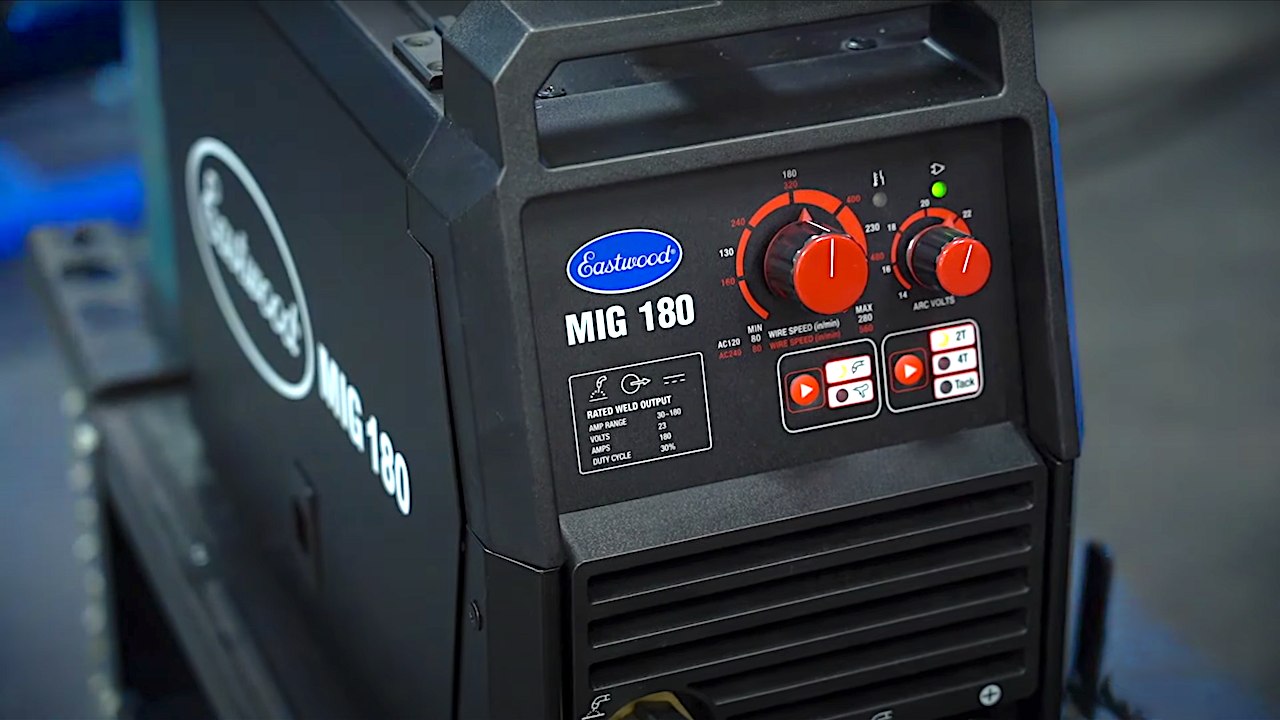 The control panel provides a clean, easy-to-use setup. Two knobs and two blister buttons occupy the front panel. That is it for controls.
The knobs offer infinite control of the WFS and voltage. Tweakers love the ability to nudge their settings for the perfect arc without being limited by taps.
But novice welders will also love the simplicity in setting just two knobs as indicated on the included settings chart. It does not get much easier.
The first of the two buttons set the MIG 180 for a spool gun or MIG torch. The second button selects the tack, 2T, or 4T mode of operation.
Indicator Lights
The old MIG 175 came with a lighted power switch to let you know when it was on. It also had an overload light to let you know when the unit overheated.
The MIG 180 retains these lights, although the lighted power switch is now on the back of the unit. To let you know the power is on, the control panel now has a separate, green power-on light.
It also has a high temp light on the panel that turns red when you exceed the duty cycle.
The blister buttons also use indicator lights to identify your selection. This is handy since you do not need to open the wire compartment to see your selections. You can tell from a distance, at a glance.
Price
The MIG 180 price compares well to other dual voltage welders with the same performance.
In fact, it costs less and has more features. If you think that is an exaggeration, check the prices yourself.
The reasonable cost makes this welder accessible to a wider audience.
Optional Spool Gun Bundle
You were not able to buy the MIG 175 without the spool gun which added a little cost to the package.
Now, Eastwood offers the MIG 180 with or without a spool gun. This brings down the cost of the welder if you do not need to weld aluminum.
Buying the bundle does save you some money. In fact, some competing welders without the spool gun cost more than this bundle.
If you already own the MIG 175, then good news – the spool gun is compatible with the MIG 180.
Tweco Style Torch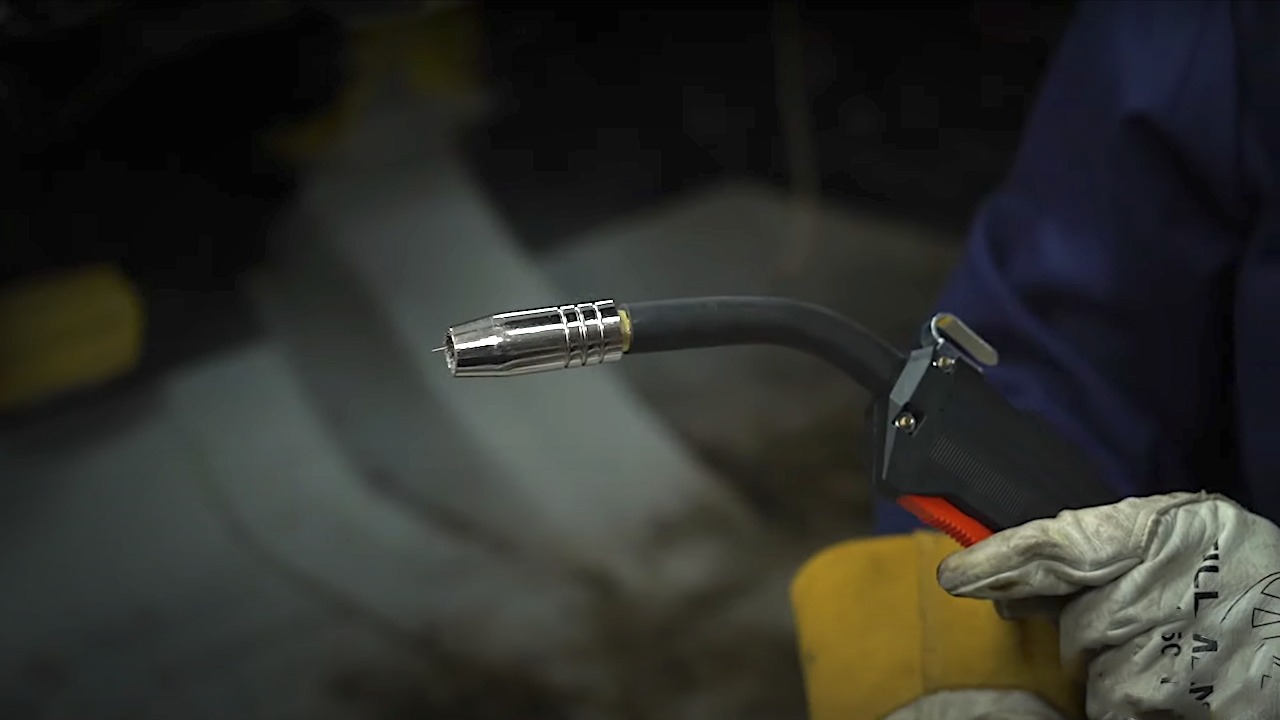 The MIG 180 includes a Tweco-style torch. So, you can find parts just about anywhere.
That includes big-box stores, which come in handy after hours, or if it is difficult for you to locate a local welding supply store.
Toolless Polarity Changes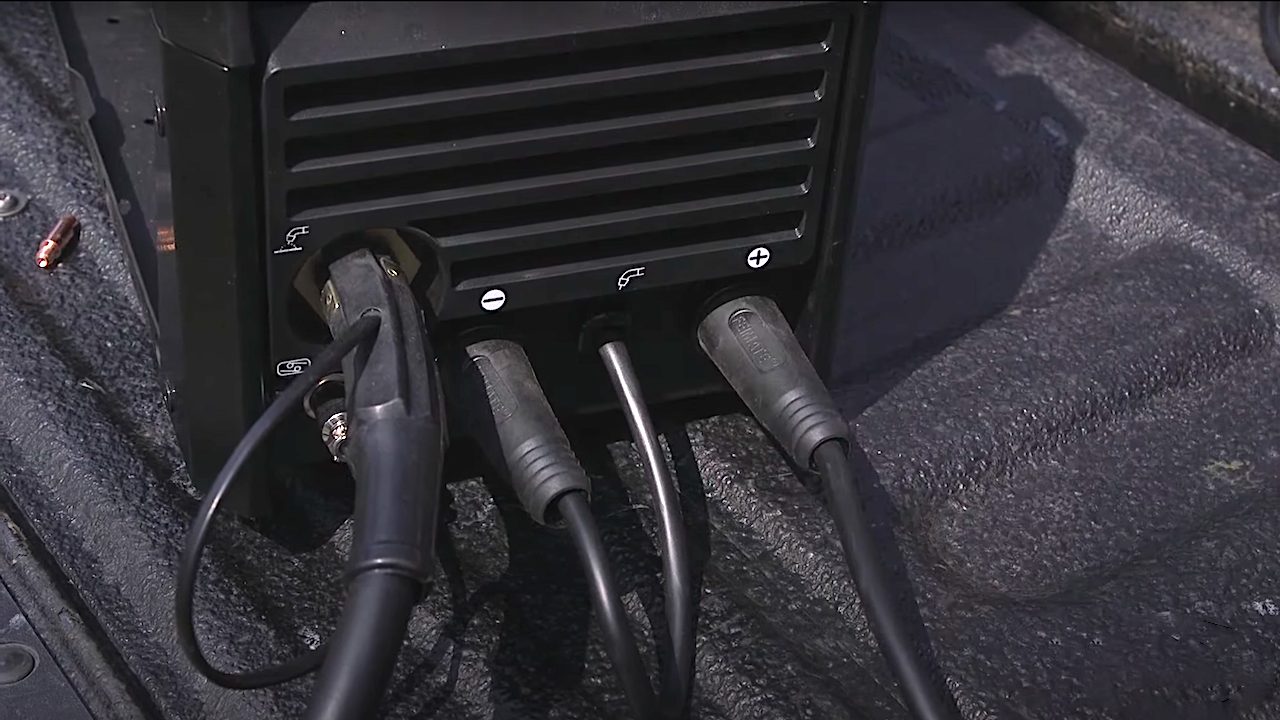 Eastwood made switching polarity for gasless welds on the MIG 180 a snap, or more precisely, a twist.
Simply unplug the gun lead and ground cable on the front of the machine, and swap them in the negative and positive sockets.
No hard-to-access bolts and no tools. Plus, you can see with a glance at the front of the machine how your polarity is set—no need to open the wire compartment door.
Things That Can Still Be Improved
Leads
Eastwood supplies leads less than 10 feet on the MIG 180. This will likely annoy some, and a few users may even decide to replace or modify the leads.
No one likes to be excluded from welding in hard-to-access places or anyplace else where longer leads are needed.
Wire Spools
The rolls of wire you can use are limited to 11 pounds. Some of the 8-inch rolls can weigh more than this, and the spool for the wire should be beefy enough to accept the heavier rolls.
Flux-cored Drive Roller
Eastwood recommends using the smallest groove on the supplied roller for flux-cored wire. But this roller contains smooth grooves for solid wire. These are not typically used for softer, flux-cored wire.
No knurled roller is offered for the MIG 180 at this time (confirmed with Eastwood). I suspect this may be an issue for those who weld outdoors or anywhere else where using a shielding gas will be difficult. Only time will tell if the use of the smallest, smooth groove is sufficient.
Alternatives in this Price Range
The MIG 180 bundle with the spool gun costs less than both the Hobart Handler 190 and the Handler 210 – without spool guns. But the performance is similar.
However, there are some important differences which are highlighted in the table below.
Eastwood
MIG 180
Hobart
190
Hobart
210
Power
30 – 180A
25 – 190A
25 – 210A
Input
120V / 240V
240V
120V / 240V
Steel Thickness (Single-pass MIG)
14 ga – 5/16 inch
14 ga – 5/16 inch
24 ga. – 3/8 in.
Duty Cycle
30% @ 180A
30% @ 130A
30% @ 150A
Dual Voltage Operation
✅
⛔
✅
Tack Mode
✅
⛔
⛔
2T and 4T Mode
✅
⛔
⛔
Voltage Control
Infinite
7 Taps
7 Taps
Technology
IGBT Inverter
Transformer
Transformer
Weight
25.3 lbs.
68 lbs.
79 lbs.
Price
$$
Best Deal Here
on Eastwood
$$$
See Price
on Amazon
$$$$
See Price
on Amazon
Conclusion
The MIG 180 builds on the success of the popular MIG 175. Like its predecessor, it meets the needs and budgets of serious welding enthusiasts, small auto restoration shops, and light metal fabricators. But now you can use 120V or 240V to power the new MIG 180. This new model even made it onto our list of best-value MIG welders you can buy overall.
The most noticeable change made by Eastwood, they switched from transformers to IGBT inverter tech to run the welder. This move improved the duty cycle. Plus, replacing the transformers has dramatically reduced the weight. So, the MIG 180 is easy to move and transport.
For added durability, a new metal wire drive housing was added. But Eastwood included new features that make this welder easy and convenient to use, too. For example, they moved the spool gun switch and toolless polarity changes to the front of the machine.
When you factor in the price, you realize the value of all the features packed into this new welder. If you run a small shop that does not weld overly thick stock, the upgraded Eastwood MIG 180 should be on your list of welders to consider if you are in the market.
Other Eastwelder Reviews
Eastwood Elite MP200i Multi-Process Review