Late in 2020, Eastwood replaced their MP250i multi-purpose welder with the Elite MP250i.
This change brought useful upgrades to the TIG welding process. But that begs the question, what else has changed?
The Eastwood Elite MP250i overall is an impressive package at a great price point, but I dug into the details to see if it's really worth it.
This article contains all the information required to assess if the new Elite MP250i multi-purpose welder meets your shop's demands.
Quick Overview
What's Included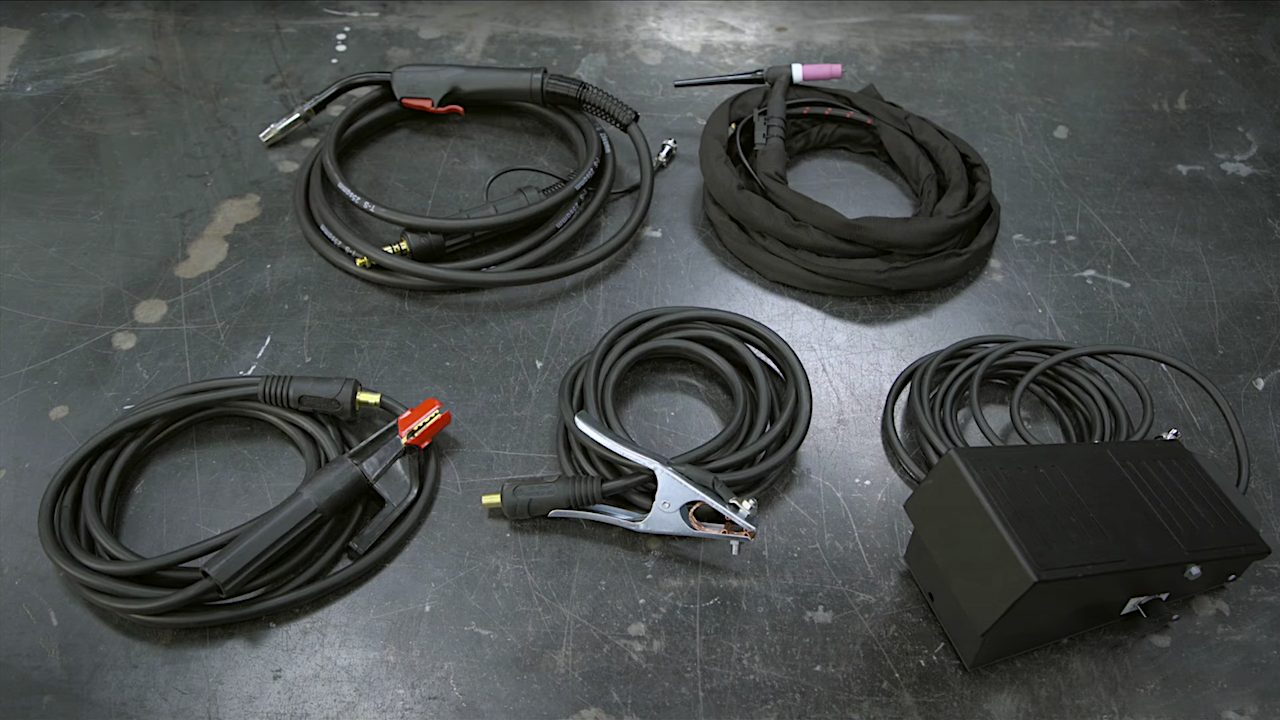 (1) Elite MP250i Welder
(1) Front Caster Assembly
(1) Rear Wheel/Gas Cylinder Tray Assembly
(2) Gas Cylinder Brackets
(2) Gas Cylinder Chains,36" [0.9m]
(2) Cable/Hose Hangers
(1) Foot Pedal Ass'y, 15.9' [4.85m] Cable
(2) Shielding Gas Hoses, 4.6' [1.4m]
(2) Shielding Gas Regulators
(1) TIG Welding Gun (WP17) with 12' [3.65m] cable
(1) #5 Gas Nozzle (5/16") (installed in TIG Gun)
(1) Short Black TIG Cap (installed on TIG Gun)
(1) 3/32" [2.4mm] Collet Body (installed in TIG Gun)
(1) 3/32" [2.4mm] Collet (installed in TIG Gun)
(1) MIG Gun (ERG024) with 14.8' [4.5m] Cable
(1) 0.030" [0.8mm] Contact Tip (installed in MIG Gun)
(1) Ground Clamp with 14.8' [4.5m] Cable
(1) Electrode Holder with 14.8' [4.5m] Cable
(1) Adapter Cord. 24" [0.6m]
(1) Spare 0.030" [0.8mm] MIG Gun Contact Tip
(1) Spare 0.035" [0.9mm] MIG Gun Contact Tip
(1) #6 TIG Gun Gas Nozzle (3/8")
(1) #7 TIG Gun Gas Nozzle (7/16")
(1) Long Black TIG Gun Cap
(1) TIG Gun Collet, 1/16" [1.6mm]
(1) TIG Gun Collet, 5/64" [2.0mm]
(1) 3/32" x 6" [2.4mm x 150mm] Tungsten (Red)
(1) MIG Contact Tip Wrench
(1) 2mm Hex Key(1) Welding Mask
(1) Hammer/Brush
(1) User Manual
Technical Specifications
Welder Type
MIG, DC TIG, Flux Core, Stick
Input Voltage
120V / 240V
Circuit Breaker Size
120V: 20 amp 60Hz
240V: 50 amp 60Hz
Duty Cycle
60% @ 140 Amps (120V)
60% @ 250 Amps (240V)
MIG Amp Range
120V: 50 – 140 Amps
240V: 50 – 250 Amps
TIG Amp Range
120V: 15 – 140 Amps
240V: 15 – 250 Amps
Stick Amp Range
120V: 25 – 140 Amps
240V: 25 – 250 Amps
Voltage Control
Infinite between min. and max.
Weldable Materials
Mild steel, stainless, Chromoly, aluminum
Mild Steel Thickness (Single-pass MIG)
24 ga. – 1/2 in.
Stainless Thickness (Single-pass MIG)
20 ga. – 1/2 in.
Chromoly/Stainless Thickness (Single-pass DC TIG)
24 ga. – 3/8 in.
Mild/Stainless Thickness (Single-pass Stick)
17 ga. – 1/2 in.
Aluminum Thickness (Single-pass Spool Gun)
14 ga. – 1/4 in.
Wire Feed Speed Control
Infinite between min. and max.
Wire Feed Speed ("WFS")
78 – 629 IPM
Wire Sizes
0.030"- 0.045" (Solid)
0.30" – 0.045" (Stainless)
0.030" – 0.045" (Flux core)
0.030" – 0.035" (Aluminum)
Wire Spool Sizes
8-in. and 12-in.
Dual Gas Bottle for MIG & TIG
✅
Spool Gun Ready
✅
TIG Foot Pedal
✅
Lead Lengths
MIG Torch: 15 ft.
TIG Torch: 12 ft.
Stick Electrode: 15 ft.
Ground: 15 ft.
Foot Pedal 16 ft.
Power Cord 10 ft.
Dimensions
30″ x 29″ x 15″
Weight
160 lbs. (97 lbs. for the "bare" welder)
Warranty
3 years
Price
See Best Deal Here
Eastwood
Pros
Runs on both 120V and 240V for convenience
Powerful, welds up to 1/2 inch thick steel
Wide amp range goes low enough to support welding of thin metal
Inductance control to regulate penetration and width of your welds
60% duty cycle @ 250A
Dual roller wire drive mechanism
Long torch/ground leads
Dual gas system, no swapping bottles when changing to/from MIG or TIG
Handy 2T and 4T modes
Voltage reducing device ("VRD") prevents shock when replacing electrodes
HF start for TIG welds
Includes TIG foot pedal
Onboard storage for torch/ground leads and TIG rods
Spool gun ready
Square wave technology increases time in the cleaning and heating phases of the current's wave
Easy, toolless polarity changes
Quick feed button for MIG wire to make setup of the torch fast and easy
Can be run off of a generator
Built-in caster wheels and gas bottle(s) holder
Cons
On/Off switch is on the rear of the unit
TIG is DC only (i.e. not for aluminum)
Spool gun is not included, and adds to the cost
No knurled roller for flux-core wire
Wire with diameters less than 0.030 inches are not usable
Heavy, not the most portable unit
Eastwood MP250i vs Elite MP250i – What's Changed?
Many of the features on the new "Elite" MP250i remain the same as the older unit it replaced. For example, the duty cycle is still 60% @ 250A. But there are some key differences.
Noticeably, Eastwood upgraded the TIG welding process. Also, the new Elite MP250i now includes a handy, dual gas system.
Elite MP250i
MP250i
TIG Weld Start
High frequency ("HF")
Scratch
TIG Foot Pedal
✅
⛔
On-Board Storage
✅
⛔
Dual Gas System
✅
⛔
Dimensions
30″ x 29″ x 15″
36" x 21" x 31"
Weight
97
96
Price
$1599.99
See Best Deal Here
Eastwood
$816.99
No Longer
Available
What should you know before buying the Elite MP250i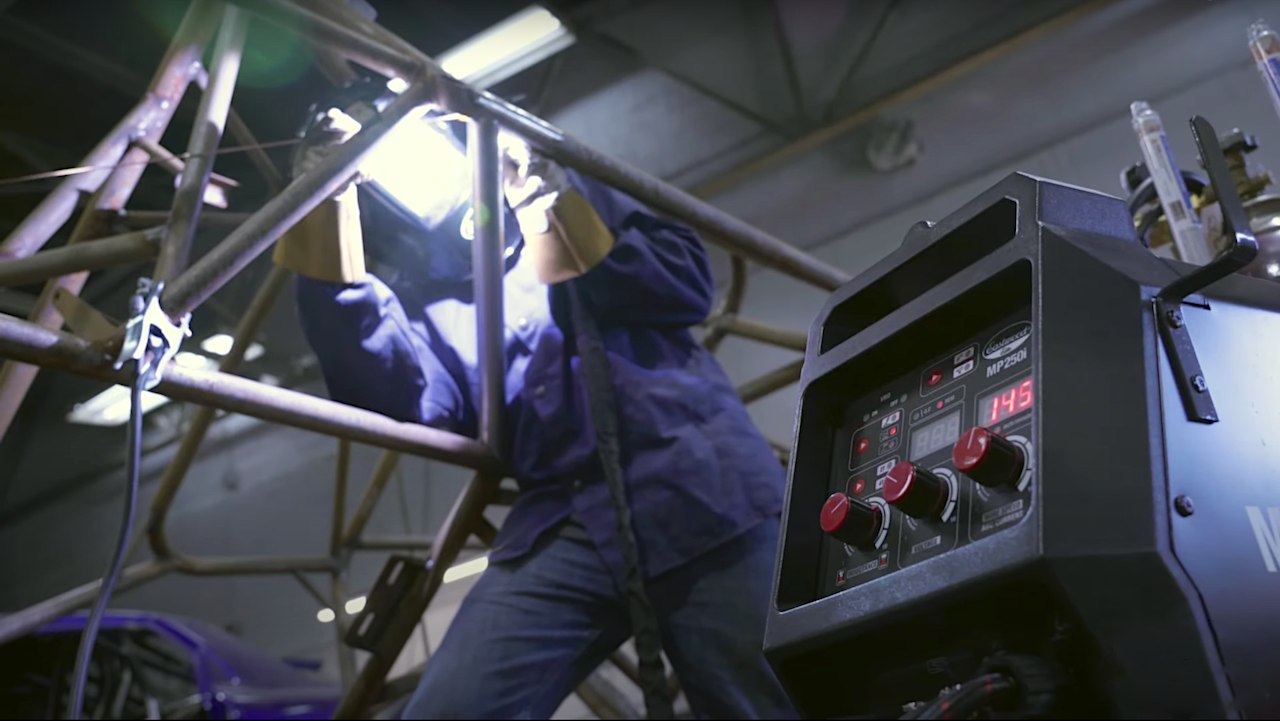 Welding Aluminum
The Eastwood Elite MP250i does not support an AC TIG process, so you cannot TIG weld aluminum. Plus, pushing the aluminum wire through the nearly 15-foot MIG torch lead is almost impossible. So, you must use a spool gun with this welder to weld aluminum.
Weight
If your work regularly demands loading up the welder to head out to work, the Elite MP250i may not be your welder. The core unit weighs just under 100 lbs., and loaded up, it weighs 160 lbs. That is not what I would call easy to load and unload from a truck.
Consumables
You do get some consumables so that you can try out the Elite MP250i after the unboxing. But to conduct serious work, you need more than what comes with the welder. Add the consumables you will likely use to your initial to avoid running around to find them later.
Features that Make this Model Great
Wide Power Range
With an amperage range of 25 to 250 amps, this welder handles stock 24 ga. to 1/2 thick. So, this welder tackles all kinds of tasks, from customization to metal fabrication work.
Duty Cycle
For a machine priced competitively, a 60% duty cycle at 250A is impressive. You want to weld, not stand around waiting for the welder to cool. The strong Elite MP250i duty cycle keeps you productive.
Power Input Options
The Eastwood Elite MP250i provides versatility with three options to power up this machine. You can run on 120 or 240-volt input power. And if that is not available, you can run on a generator (requires a 12,000 Watt Generator running at half power and a 7200-watt running at full power).
Control Panel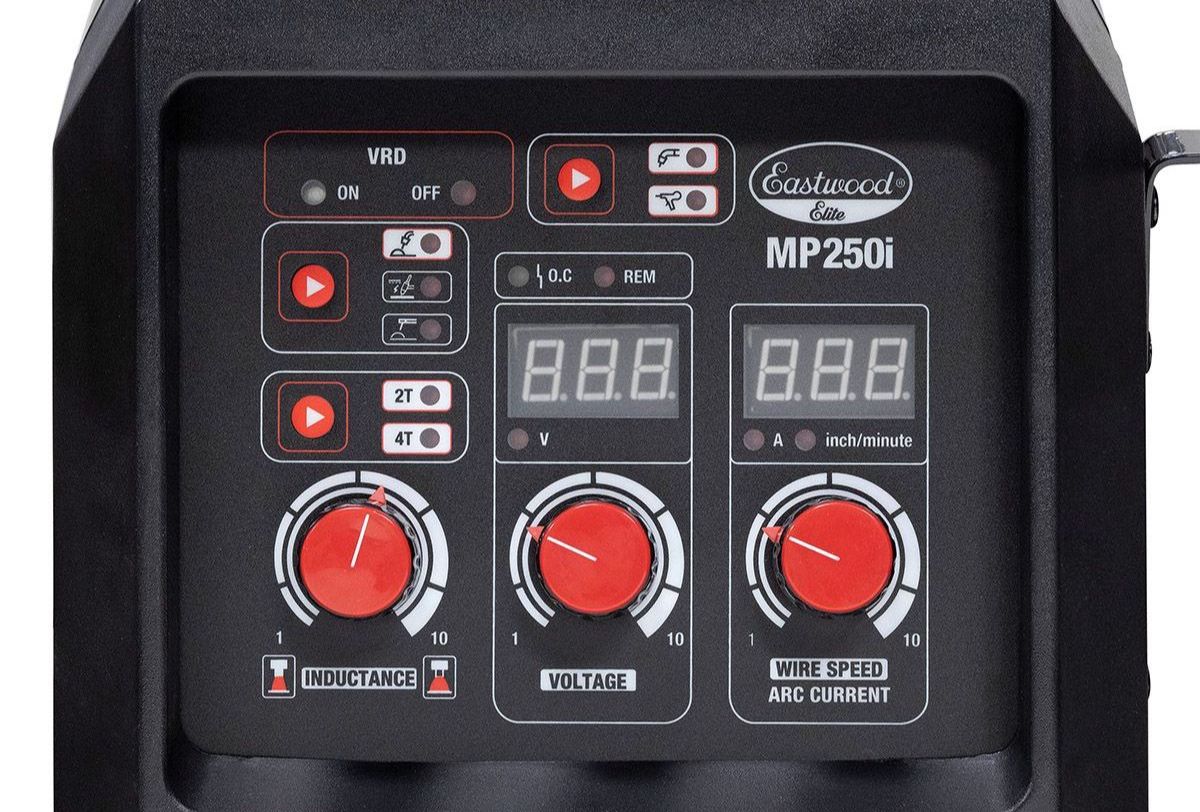 Eastwood designed a sleek, straightforward control panel. There are 3 buttons and 3 dials to make adjustments. For most tasks, these are well labeled and easy to use.
The one exception is the VRD function, which lowers the voltage to prevent premature arcs and shocks to the operator while changing electrodes. It is a bit unusual to turn on and off when in stick welding mode, but the welding chart printed on the unit includes directions.
Square Wave Inverter Technology
This subject can get technical. But in simple terms, a square wave inverter lets the oscillating electrical wave spend more time in the cleaning and heating phase. This results in a better quality bead and better arc control.
Dual Roller Drive Wire Feed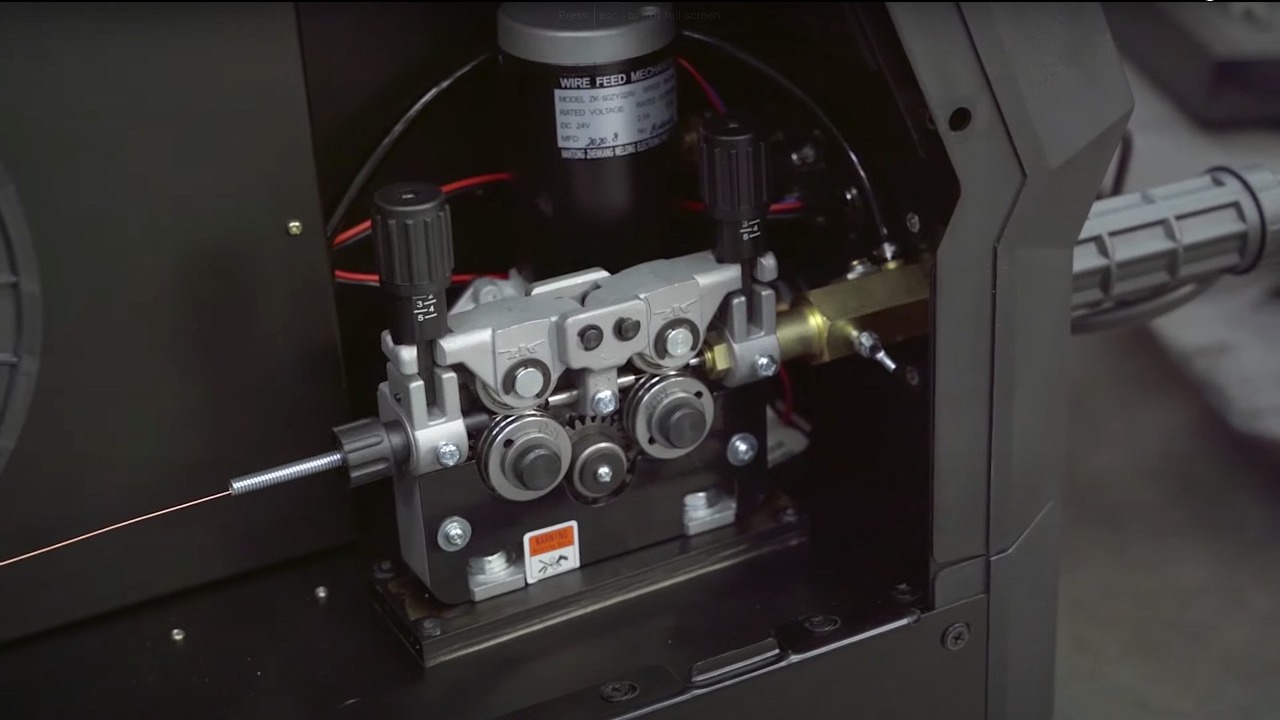 Unlike some lesser-quality welders, this machine uses a dual roller mechanism to drive wire through the 15-foot MIG torch lead reliably.
Inductance Control
For improved control over your arc, the Elite MP250i includes inductance control. This is a nice surprise for the price, and it is very useful. You can tune the arc for better penetration or make the bead wide and flat. It is up to you with a turn of a knob on the control panel.
True DC TIG
TIG welding with the Elite unit includes an HF start and a foot pedal to control your heat as you weld. These were two of the major upgrades when the Elite MP250i replaced the old MP250i. You no longer scratch start or TIG weld with a fixed amperage output.
Dual Gas System
Swapping bottles every time you changed between the MIG and TIG processes with the old MP250i required some effort. But that is gone with the new Elite unit, which includes a dual gas system. This eliminates bottle swaps and keeps both bottles with the welder.
2T and 4T Trigger Control
The Eastwood Elite MP250i includes a 4T option, so you do not need to hold the trigger during long welds. That means your finger does not get tired, and you can move your fingers back from the heat if things get a bit too hot.
(2T is the standard mode of operation; pull and hold the trigger to start welding and release the trigger to stop. But when in the 4T mode, you pull and release the trigger to start, then pull and rerelease the trigger to stop.)
Convenience
A quick wire feed button inside the wire feed compartment lets you easily run wire through the lead to the torch tip. So, there is no need to pull the torch trigger when installing a new roll of wire.
Then there are the easy, toolless polarity changes that make swapping over to the gasless, flux-core process quick and easy. Simply swap plugs on the front of the machine.
Plus, all the leads are longer than most. That means you have more reach, reducing how often you need to move the welder.
Also, a voltage-reducing device ("VRD") is included to prevent premature arcing or shocks when changing electrodes. You can turn this feature on or off, depending on how you prefer to work.
Price
Lastly, Eastwood prices its welders to be competitive, and the Eliter MP250i is no exception. Compared to other welders with the same features, the price usually beats out its competition and provides excellent value for money.
Built-in Cart
While this unit is on the heavy side, it includes casters that turn the welder into its own cart. The Elite MP250i also includes a bracket for two gas bottles and keeps the cylinders "attached" to the welder. This makes rolling your rig around the shop with gas and accessories a snap.
Onboard Storage
Onboard storage is a major plus with the "Elite" unit. Lead hooks allow you to coil and hang your torches and ground leads easily on the welder. Plus, there is room on top of the unit to keep your foot pedal and added storage for TIG rods.
Things That Can Be Improved
Wire Feed Rollers
There are two issues with the wire feed system. First, this welder may not satisfy you if you do fine work and need feed wire less than 0.030 in. There is no available roller for wire less than 0.030 in.
Second, there is no knurled roller available for the Elite MP250i. Eastwood claims it is not needed, and the supplied roller works with solid and flux-core wire. But it does raise a few eyebrows.
Power Switch
The power switch resides on the back of the unit. I may be in the minority with this nitpick, but it should be on the front with the other controls. Reaching around to find the switch buried under the gas bottles is not ideal.
TIG Torch Trigger
The inclusion of a TIG foot pedal adds user control. But finger-trigger control of the amps would be nice, too. There are those inevitable times when you are out of position, and a foot pedal simply does not work.
AC TIG
It may not be possible without adding too much cost, but an AC TIG process would be nice. Without it, the clean, professional beads you get with TIG-welded aluminum are not possible using the Elite MP250i's spool gun.
If you require AC TIG then check out other multi-process welders listed here.
44 lb. Rolls of Wire
For a machine clearly designed to tackle various jobs, including metal fabrication, the inability to handle 44 lbs. rolls of wire jumps out. Eastwood clearly states this machine can use 8 and 12-inch rolls of wire. But then they recommend against using 44 lb. rolls.
The inability to use the heavier 12-inch rolls is confusing and a bit odd. Eastwood should beef up the spindle to accommodate 44 lbs. rolls, which users want to use.
Conclusion
If you run a shop that deals with a wide variety of tasks, the multipurpose Eastwood Elite MP250i welder can be your go-to unit in the shop. It has a wide amperage range, allowing you to take on stock as thin as 24 ga. or as thick as 1/2 inch.
This machine also includes plenty of convenience and safety features that actually aid and benefit your work. Plus, it offers all this at an affordable price.
In short, this multipurpose welder offers a lot for the price if you are comparing it to something like the Lincoln 256. The MP250i can fit into any customization or metal fab shop looking for an affordable, powerful machine. But the potential users may also include DIYers and enthusiasts who need a hefty, versatile unit in their shops.
If you do not need this sort of power, then you can save some money by checking out the smaller Elite MP200i.