Eastwood recently replaced their multiprocess MP200i welder with the dual voltage Elite MP200i.
But what else changed when the MP200i was replaced with the "elite" unit?
That is a good question. Luckily, the research needed to find an answer has already been done for you.
What follows contains all the necessary information to see if the Elite MP200i replacement unit suits your needs.
Quick Overview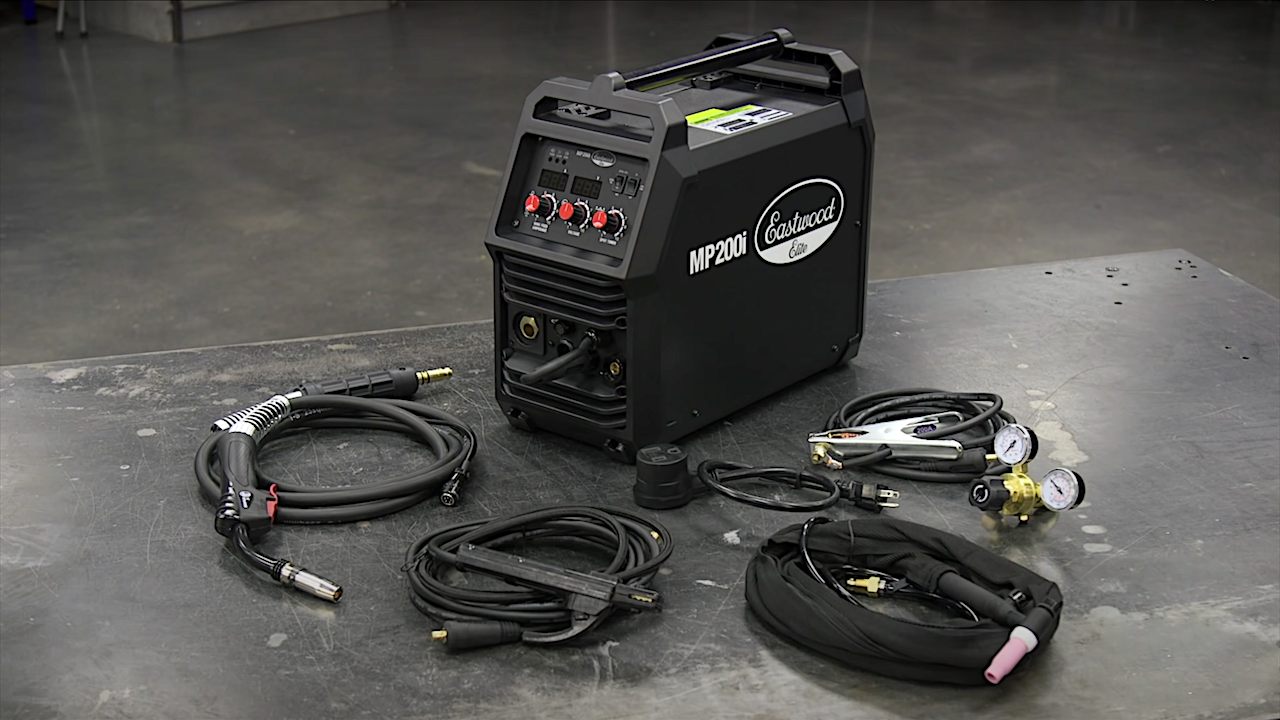 What's Included
(1) – MP200i Dual-Voltage, Multi-Process Welder
(1) – Adapter Cord, 12 Ga., 3' [0.91m], 120Volt 30 Amp Plug/NEMA 50R Receptacle
(1) – Shielding Gas Regulator
(1) – Shielding Gas Hose, 4.6' [1.4m]
(1) – Ground Clamp with 10' [3m] Cable
(1) – Trafimet ERGOPLUS 24, Tweeco Style, MIG Torch with 10' Lead.
(1) – 0 .030" contact tip installed in MIG Torch
(5) – Spare 0.030" Contact Tips
(1) – Electrode Holder with 12.5' [3.8m] Cable
(1) – WP-17v TIG Torch with 10' [3m] Cable
(1) – 14' [4.3m] Gas Line
(1) – #4 Gas Nozzle (1/4")
(1) – #5 Gas Nozzle (5/16")
(1) – #6 Gas Nozzle (3/8") (Installed)
(1) – Short Black Cap (Installed)
(1) – Long Black Cap
(1) – Collet Body, 1/8" [3.2mm] (Installed)
(1) – Collet, 1/16" [1.6mm] (Installed)
(1) – Collet, 1/16" [1.0mm]
(1) – Collet, 1/16" [2.0mm]
(1) – 1/16" x 6" Tungsten (Gray)
(1) – Welding Wire Spool, 2lb., 0.030" Solid Wire
(5) – Welding Rods, 1/8" E6013
(1) – User Manual
Technical Specifications
Welder Type
MIG, scratch TIG, Flux Core, Stick
Input Voltage
120V / 230V
Required Circuit Breaker
20A @ 120V
50A @ 240V
Duty Cycle
40% @ 90 Amps (120V)
20% @ 200 Amps (230V)
MIG Amperage Range
120V: 30 – 140 Amps
230V: 30 – 200 Amps
TIG Amperage Range
120V: 30 – 70 Amps
230V: 30 – 170 Amps
Stick Amperage Range
120V: 30 – 70 Amps
230V: 30 – 170 Amps
Voltage Control
Infinite between min. & max.
Weldable Materials
Mild steel, stainless, aluminum
Mild/Stainless Thickness (Single-pass MIG)
24 ga. – 3/8 in.
Mild/Stainless Thickness (Single-pass Flux Core)
18 ga. – 3/8 in.
Aluminum Thickness (Single-pass MIG)
16 ga. – 1/8 in.
Mild/Stainless Thickness (Single-pass MIG)
18 ga. – 3/8 in.
Wire Feed Speed Control
Infinite between min. & max.
Wire Feed Speed ("WFS")
0 – 500 IPM
Wire Sizes
0.023"- 0.035" (Solid)
0.030" – 0.035" (Flux core)
0.030" – 0.035" (Aluminum)
Wire Spool Sizes
4-in. and 8-in.
Spool Gun Ready
✅
Lead Lengths
MIG Torch: 10 ft.
TIG Torch: 10 ft.
Stick Electrode: 12.5 ft.
Ground: 10 ft.
Dimensions
20.5" (D) x 12.8" (W) x 23.6" (H)
Weight
34 lbs.
Warranty
3 years
Price

Lastest Deal




on Eastwood

See Best Deal Here
Eastwood
Pros
Excellent value
Runs on 120V and 230V (30A circuit)
Light, portable unit
Spot timer
Control panel indicator lights
Latest IGBT inverter technology makes the unit compact, light, and portable
Infinite voltage ("heat") and wire feed speed control
Weld up to 3/8 in. thick steel
Spool gun ready, can weld aluminum up to 1/4 in. thick with the added option
Spool gun switch is on the control panel
Easy polarity changes, just swap the Dinse plugs on the front of the machine
Tweco-style MIG torch uses standard, easy to find parts
Regulator and gas hose included
Ground clamp jaws connected with a braided wire strap
Quick Set chart on the wire compartment door
3-year no-hassle warranty
Cons
On/Off switch is on the rear of the unit
No hooks or cable storage
TIG is DC, scratch only (i.e. not for aluminum)
20% duty cycle @ 200A may be too low for some users
Knurled roller for flux-core wire is not available at this time
Ground and torch leads may be too short for some users
MIG welding aluminum as supplied is possible, but users who work with aluminum frequently should buy the optional spool gun
Eastwood MP200i vs Elite MP200i – What's The Difference?
People noticed some differences when Eastwood replaced their MP200i with the Elite MP200i. The most obvious is the inclusion of a dual power input option on the new welder.
So, the Elite MP200i is versatile in more ways than one. It also gives users many options to power up the welder, including running off of a generator.
You may also notice the dimensions and weight vary slightly. The Elite MP200i includes the latest IGBT technology and offers a smooth and stable arc.
Plus, a couple of changes were made for clarity, durability, and ease of use. These can be easy to overlook. But all of these changes are summarized below.
Elite MP200i
MP200i
Input Power
120 or 230V
230V only
Polarity Change Over
Tool-less via dinse plugs on the front of the welder
Tools required to change lugs inside the wire compartment
Multiuse Display Labeling
Amps, IPM, and spot timer noted on the multi-use display
Multi-use display labeled simply as amps
Wire Drive Housing
Metal
Plastic
Dimensions
20.5" (D) x 12.8" (W) x 23.6" (H)
17.7″(D) x 9.4″ (W) x 13.8″ (H)
Weight
34 lbs
27 lbs
RRP
$899.99


Lastest Deal


Best Deal Here
No longer available
What should you know before buying the Eastwood MP200i
Stock Thickness
The Elite MP200i welds 24 gauge to 3/8 stock in one pass. If you need to work with thicker stock, you will have to conduct multiple passes. Or, you could opt for a more expensive welder with more power.
If you do want to weld thicker stock, you could consider the Eastwood Elite MP250i, which welds up to 1/2 inch stock in a single pass.
This model also includes additional features like 2T and 4T trigger operations.
TIG Welding
The Elite MP200i only offers DC TIG welds with a scratch start. So, you can make those neat TIG welds on thin stock and stainless steel. But you cannot TIG weld aluminum with this welder.
Spool Gun Option
Simply plug a spool gun directly into this unit and flip a switch on the control panel to weld aluminum. The setup is quick and easy.
But the spool gun does not come with the welder. So, be prepared to purchase the spool gun option if you work with aluminum often.
Consumables
With any new welder purchase, you should think about your consumables. With this unit, you get enough to start, but you will need to pick up wire, electrodes, tips, etc., soon.
For those who want to think ahead, adding them to your initial purchase of the welder is best.
One example, if you expect to easily weld 3/8 inch steel out of the box, don't. You do get a 2-pound roll of 0.030-inch wire. But not the 0.035 wire you need for metal over 3/16 inch thick.
So, think ahead and add consumables for your intended work. Checking the weld setting chart can help see what wire, tips, and gas you need. (You can find the weld settings chart here.) Also, do not forget to pick up any bottles of gas you will need.
Drive Rollers
Those who read descriptions carefully notice the lack of a knurled roller option. This is unusual and since a knurled roller is the defacto standard when using flux-core wire.
Eastwood claims their drive is powerful and can run flux-core wire with the supplied roller (with smooth grooves). I, along with others, wonder about this statement. Only time will tell.
Features that Make The MP200i Great
Price
To make the versatility of the Elite MP200i even more attractive, Eastwood prices this unit very competitively. The features-to-price ratio rank high for this welder, which is why it made it on the list of multi process welders under $1000.
As an example, the Millermatic 215 compares directly based on the power and duty cycle. But it is about twice the cost. While the 215 includes a few more features, the 215 excludes a TIG torch, which is included with the MP200i. The 215 simply does not compare on a feature-to-price ratio.
Another example is the Lincoln Power MIG 210 MP. It compares fairly well to the MP200i performance specs (e.g. the 210 MP welds up to 5/16 inch stock and has a 25% duty cycle @ 200A). But the 210 MP also does not include a TIG torch, and it costs hundreds more.
Amperage Range
For the cost, the 20 to 200 amp range impresses. That lets you work with a wide range of stock thicknesses. This unit gives you versatility and expands what your shop can do.
Dual Input Voltage Capable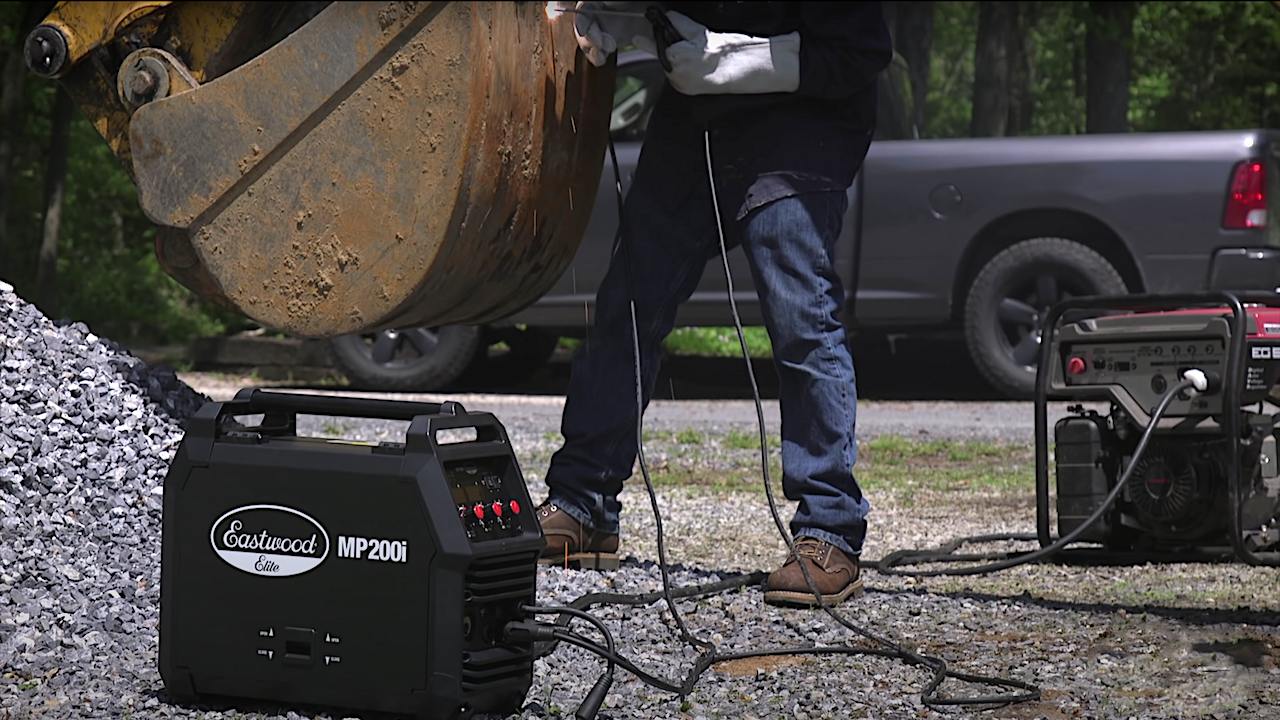 The old MP200i only ran off a 230V power input. But the Elite MP200i accommodates dual power inputs and the ability to run off of a generator.
Weld when and where you have to; you have more options to power this unit compared to the old MP200i.
Tweco Style MIG Torch
Finding parts for a proprietary torch can be difficult, say after hours or on a weekend. But with a Tweco-style torch, you have more options to find parts in a pinch, including big box stores.
Adjustable Spot Timer
For tack welds or other short repeatable tasks, the included spot timer lets you set an exact time for consistency. You can adjust the time from 0.1 to 10 seconds.
Digital Displays
You turn the knobs to adjust things like WFS, volts, amps, IPM, etc. But the dual digital displays provide you accurate readings for precise settings. Plus, with a quick glance at the welder control panel, you can easily double-check what you have selected.
For the record, the first display shows various settings like WFS, amps, or time. The second displays the voltage.
Since the multi-use display varies on which parameter it shows, it can be confusing at times. But the newest version of the Elite MP200i includes labels for the multi-use display to remind you that it shows IPM, amps, or time, depending on what process you are using.
Toolless Polarity Changes
For those who weld outdoors often or anyone who needs to weld gasless, Eastwood made polarity changeovers for flux-core welding about as simple and easy as possible.
Simply swap the Dinse plugs on the front. Plus, with a glance at the front of the welder, you can check if you properly switched polarity without opening the unit's door.
Details that Can Be Improved
Cable Storage
This may be a nitpick, but there are no hooks or places to store/hang your cables. It would be nice to include something to help keep the cables neat and out of the way.
Leads
For some users, the leads are too short. Some may disagree, thinking we are being harsh. But the truth is your welds may not always be easy to get at. Longer leads would make the Elite MP200i even more versatile, which would be a great addition.
TIG Welding
Of course, having a TIG welding machine that can switch over to an AC output to handle aluminum is nice. But this is not possible with the Elite MP200i. This feature was likely excluded to keep costs down. But it is an obvious wish list item.
Related: Best Multi Process Welders with AC for TIG
Also, the absence of an HF start is hard to miss. This unit scratch starts only. A foot pedal is also missing. This unit would benefit from adding an HF start and foot pedal.
Dual Gas Inputs
For a machine that can TIG and MIG weld, it is nice to have dual gas inputs to eliminate bottle-swapping. In the future, it would be a definite improvement if Eastwood included dual gas inputs in the future.
How the Elite MP200i Compares
Side by side, the Elite MP200i compares to the Miller Millermatic 215 fairly well. But besides being priced significantly less than the Millermatic 215, there are some other major differences.
These differences, and some important similarities, are summarized in the table below.
Eastwood
Elite MP200i
Miller
Millermatic 215
Manufactured
Overseas
USA
Power Output
20 – 200A
30 – 230A
Max Steel Single Pass Thickness
3/8 in.
3/8 in.
Duty Cycle
20% @ 200A
20% @ 200A
Display
Digital
Color Screen
Spot Timer
✅
⛔
TIG Torch Included
✅
⛔
Auto Spool Gun Detect
⛔
✅
Auto-Fan
⛔
✅
Dual Gas Input
⛔
✅
Weight
34
38
Price
$$


See here


Best Deal Here
$$$$
See here
Conclusion
As the Elite MP200i replaced the old MP200i, it brought some interesting improvements. As a result, users now get an upgraded machine that is easier to use, more durable, and even more versatile.
This dual voltage, multiprocess welder (MIG, TIG, flux-core, and stick) puts out good power and welds up to 3/8 inch thick stock in one pass. But it also includes useful touches that you may not expect in an attractively priced machine.
Eastwood states that they built the Elite MP200i for professionals and serious welding enthusiasts. They appear to have backed up that comment by including useful features like a digital display, a spot timer, a metal wire drive housing, and toolless polarity changeovers.
While not an "industrial" welder, the Eastwood Elite MP200i fills the needs of auto restoration shops or similar operations well. Since it is affordable, this flexible welder could also easily serve in a DIYer's or welding enthusiast's workshop.
In short, anyone looking for a capable, multiprocess welder on a budget should consider the dual-voltage Eastwood Elite MP200i. If you weld aluminum often, consider adding the spool gun. Even with the added spool gun cost, this "Elite" welder offers a lot at a competitive price.
If you think you need more power, Eastwood has the larger MP250i which I reviewed here.
Other Eastwood Welder Reviews