With a 60% duty cycle at 250A, the Eastwood MIG 250 keeps you welding with plenty of power to take on a wide range of jobs. Plus, you spend less time waiting around for the unit to cool off.
Also, compared with other dedicated MIG welders with a comparable power range and duty cycle, it sells for a lot less.
With these interesting parameters, the MIG 250 will likely pique some interest at a first glance. Especially for anyone needing a new MIG/fluxed core welder to anchor their shop.
However, in July 2021 Eastwood updated this interesting welder.
The update created some confusion on what the new version of the MIG 250 offers. With that in mind, we dug deep and unpacked all the sorted details into this one easy-to-read review for your convenience.
Quick Overview of The Eastwood MIG 250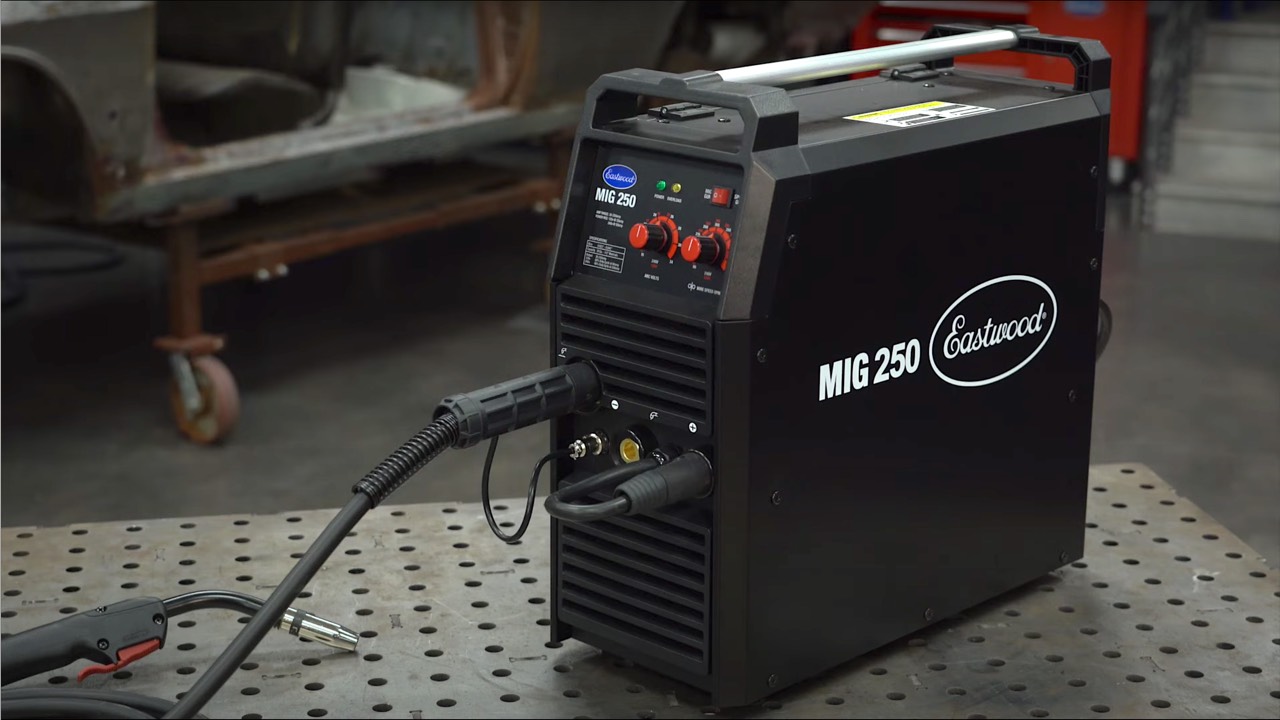 What's Included:
MIG 250 Welder
Trafimet ERGOPLUS24 MIG torch with 8' lead
Ground Cable (9.5') with Clamp
Shielding Gas Regulator
Shielding Gas Hose
Extra Contact Tips: (2) .030″ and (2) 0.040"
8″ Wire Spool Adapter
120/240 VAC Adapter Cord
Handheld Face Shield
Combo welding Brush and Hammer
Contact Tip Wrench
ER70S-6 MIG Wire Spool, 0.030" (0.8mm), 2 lbs. (1kg)
0.023" to 0.045" (0.9 / 1.2 mm) Drive Roller
Instruction Manual
Technical Specifications
Welder Type
MIG, Fluxed Core
Input Voltage
120 or 240 V
Run on Generator Power
✅
Duty Cycle
60% @ 250 A (21.5V)
Amperage
50 – 250A
Voltage Control
Infinite between min and max
Wire Feed Speed Control
Infinite between min and max
Weldable Materials
Mild Steel and Stainless Aluminum (w/ spool gun)
Mild Steel Thickness (Single-pass)
20 gauge to 1/2 in.
Wire Thickness

Steel: 0.023 – 0.45 in.
Flux Core: 0.30 – 0.45 in. Aluminum: 0.030-0.35 in.

Wire Feed Speed
80-530 IPM
Wire Spool Sizes
4-in. and 8-in
Spool Gun Ready
✅
Dimensions
20.07 in. x 8.66 in. x 19.69 in.
Weight
46 lbs.
Warranty
3 years
Price
See The Best
Deal Here
Pros
Dual voltage input
Runs on generator power
50 to 250A output power
60% duty cycle
Affordable
Simple setup and controls appeal to first-time welders
Spool gun ready
Portable
Easy polarity changes via dinse plugs on the front of the machine
All-metal (cast aluminum and steel) wire drive mechanism
Infinite wire feed speed and voltage control (i.e., no taps to limit you)
Uses 4 and 8-inch wire rolls
Auto thermal overload protection
3 Year Warranty
Cons
Torch Lead and Ground cable less than 10 feet long
No advanced features like 4T trigger control
Need to pay extra to buy a spool gun
Gas diffuser gets brittle and breaks easily if jarred or banged while hot
What You Should Know Before Buying
Additional Items You Will Need
While Eastwood includes just about everything you will need in the box to get welding, you will need additional supplies.
Let's start with the obvious one, you need a bottle of gas to MIG weld.
But beyond that, you will need more consumables. You get the bare minimum in the box to get started.
So, pick up contact tips, feed wire, or whatever parts and consumables that wear out and need frequent replacement.
Short Torch Lead and Ground Cable
While the 8-foot torch lead and the 9.5-foot ground cable are sufficient, leads at least 10 feet long would have been appreciated. For some, the supplied torch and ground lengths will be too short and you may need to replace these if you need longer leads.
Gas Diffusor
The included shielding gas diffusor does present an issue when it gets hot from welding. You need to take care to not bang or shock the torch. If you do, the gas diffusor can break.
For this reason, you may want to keep a few spare gas diffusers in stock just in case.
Eastwood sells them on their site and you may want to add an extra or two to your order if you do buy this welder.
No Advanced Features
The design of the MIG 250 is clean and simple. Eastwood kept things straightforward to make setting up your welder easy and fast.
Ensure the MIG gun/spool toggle is set right and set your voltage and wire speed with the two knobs. That's it, you're done. There are no other settings to worry about.
The simplicity makes this a great welder for users who like basic controls and new welders.
But that also means more advanced features like 4T trigger control, pre or post-flow gas settings, and digital displays are not included.
Features that Make the Eastwood MIG 250 Great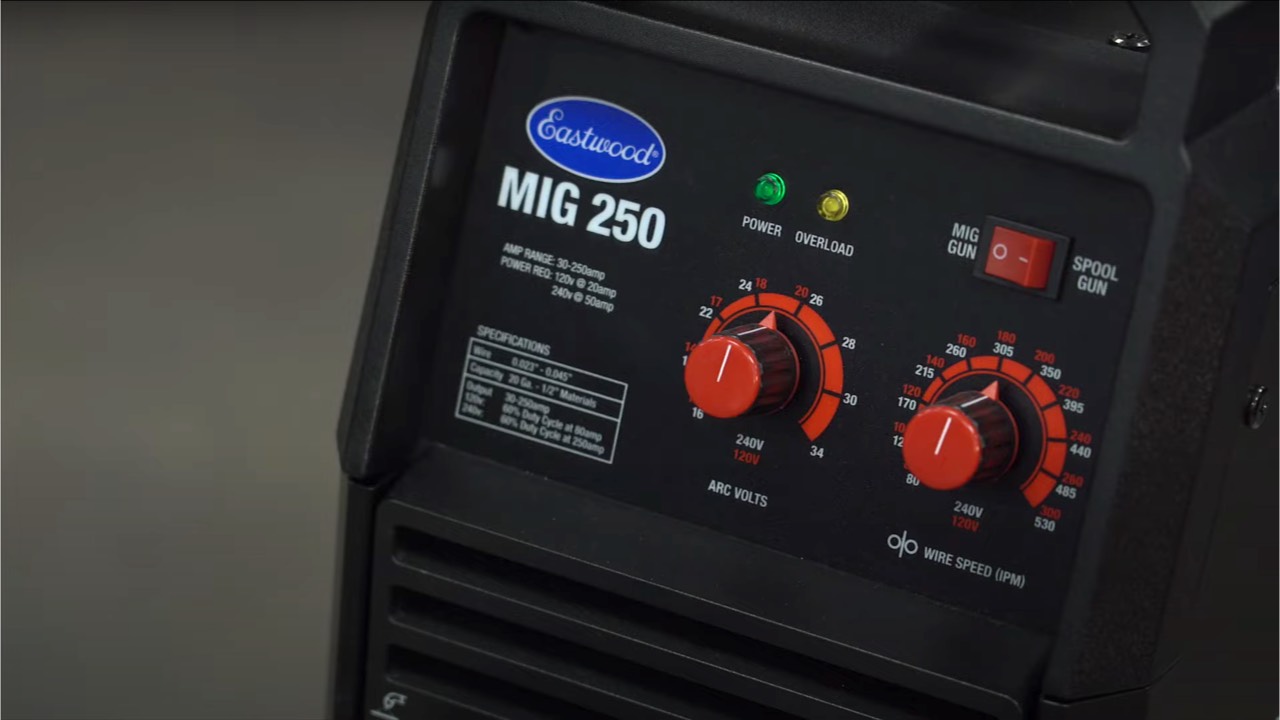 Price
As a tool supplier for the automotive restoration industry, Eastwood made a splash in the welder market over the past few years. Compared to the big names like Hobart, Lincoln, and Miller, their welders hold their own as in the important specifications and features. But they cost less.
The MIG 250 is about half the cost of similarly dedicated MIG welders from more well-known welder manufacturers. In some cases, you can add the optional spool gun and still not spend as much you would on the base unit from the big-name manufacturers.
Power
With a power range of 50 to 250 amps, you can weld 20 gauge or 1/2 inch thick steel in a single pass, with one welder. This welder is versatile and lets you tackle a wide amount of jobs. So, the MIG 250 can be the go-to welder in many small to medium shops.
Duty Cycle
To make use of the MIG 250's wide power range, you also get a 60% duty cycle at maximum power (i.e., 250A). That is better than some of the competing brands that cost more.
A high duty cycle means more welding time. No one likes standing around to let the machine cool enough to weld again after the thermal protection is tripped.
Trafimet ERGOPLUS24 MIG Torch
This particular torch includes a ball and socket at the base of the torch, plus a strain relief spring.
That means you can tilt and adjust the torch without stressing the lead interface with the torch. A small thing but in tight spaces, it is good to have so you don't fight the gun to get the torch in the right position.
Also, the torch uses easy-to-find consumables that you can find just about anywhere, including big box stores.
Multiple Power Input Options
If you travel to the work or to a buddy's garage, flexibility with the power source options makes life easier when you want to weld.
Or maybe you just have not yet run 240V out to your shop. Luckily, with the MIG 250, you can run on 120 or 240 volts. (Just keep in mind the output power is also less when running on 120V.)
Do you say sometimes you don't even have a wall outlet? No problem with the MIG 250. You can use a generator to run this welder (Eastwood recommends around 12,000 running watts).
You have three handy options when it comes to input power.
Portable and Rugged
For those who need to move their welder around often, this unit is not overly large and only weighs 46 lbs. It definitely qualifies as portable.
Eastwood also constructed the MIG 250 to be rugged to take the wear and tear that also comes with being portable. They even included a large handle on top to make picking up and carrying the welder easy.
This is the one "major" change Eastwood made in the MIG 250 when they updated it. They wanted to streamline the form factor while retaining the power and duty cycle of the "old" 2014 version of the MIG 250.
Warranty/Service
The Eastwood name may be new to some welders since they are best known in the car restoration market. That may create hesitancy in some when it comes to considering the MIG 250 as an option for their shop.
But Eastwood offers a 3-year warranty. A strong warranty can provide some peace of mind. A review of Youtube videos, customer comments, and product reviews show they honor their guarantees. Actual feedback is almost all strongly positive.
Also, when you have a question, you get a prompt answer from someone in their U.S.-based office. The good customer service and strong warranty come with every welder Eastwood sells, which can make your investment in one of their welders a little more comforting.
Alternatives in this Range
Direct comparisons for this welder are difficult as there are few dedicated MIG welders with the specific power range, duty cycle, and portability found in the MIG 250.
Most units with the same amount of power and duty cycle are big and heavy.
But Hobart, Miller, and Lincoln have fairly similar MIG welders (based on power and duty cycle), and the key differences are summarized in the table below.
Eastwood
MIG 250
Hobart
Ironman 240
Lincoln
Power MIG 260
Power Input
120V/240V
240V
208/240/460/575V
Run on a Generator
✅
⛔
⛔
Output Amps
50 – 250A
30 – 280A
30 – 300A
Duty Cycle
60% @ 250A
60% @ 200A
40% @ 250A
Technology
Inverter
Transformer
Transformer
Wire Feed Spools
4 and 8 in.
4, 8, and 12 in.
8 and 12 in.
Polarity Change
Dinse plugs on the front of the unit
Inside wire compartment
Inside wire compartment
Digital Display
⛔
⛔
✅
Spoon Gun Included
⛔
⛔
✅
Weight
46 lbs.
186 lbs.
300 lbs.
Price Range
💲💲
See Latest Deal
on Eastwood
💲💲💲
Lastest Deal on
Northern Tool
💲💲💲💲
Lastest Deal on
Northern Tool
Conclusion
For shops that require a dedicated MIG welder, the Eastwood MIG 250 offers a solid duty cycle and generous power range.
Combine this welder with the optional spool gun and you can even take on aluminum.
Adding its price, flexible power input options, and portability, and this welder easily accommodates Eastwood's intended audience of auto restoration, car racing, and welding enthusiasts.
However, included details like the Trafimet Ergoplus24 torch take this unit to a level beyond the small shop.
This welder may satisfy medium or even some larger shops thanks to its 60% duty cycle at 250A. This is not an industrial welder, but it's no wimp, either.
If you need a basic, dedicated MIG/flux-cored welder that does not break the bank, the Eastwood MIG 250 might be a good choice in your shop.
There are no advanced features, but in many cases, the features found in the recently updated MIG 250 are all that you will need.