For some shops, a dual voltage TIG welder that handles 24 ga. to 3/16 inch thick steel, stainless steel, and aluminum covers most jobs. But add an arc welder for the occasional odds and ends, and all the bases are covered.
For example, DIYers, welding hobbyists, shop teachers, and car enthusiasts rarely need more than this. Two interesting welders that give you all this in one unit are the Eastwood TIG 200 AC/DC and the Lincoln Electric Square Wave TIG 200.
If you are interested in adding one of these to your shop, it can be a difficult choice. Both of these welders are portable, run on 110V or 230V, output AC current, and come with a 3-year warranty. However, there are some significant differences.
With that in mind, we dove deep and collected all the details so you would not have to. Then we assembled the information into this easy to read article so you can effortlessly determine which of these two welders works best for you.
Side by Side Comparison
Eastwood TIG 200 AC/DC
Lincoln Square Wave TIG 200
Image
Welder Type
TIG, Stick
TIG, Stick
Stated Input Voltage
110 / 220v
110 / 220v
Duty Cycle
60% @ 190 A (220V)
25% @ 200A (230V)
Output Amperage
10 – 200A
10 -200A
Current Output
AC/DC
AC/DC
Manufactured In
China
Mexico
Weldable Materials
Steel, Stainless, Aluminum
Steel, Stainless, Aluminum
Weld Thicknesses
1/16 – 3/16 in.
(brochure claims 1/4 in.)
24 ga. – 3/16 in.
Foot Pedal
✅
✅
Trigger Switch on Torch
✅
⛔
Stick Electrode Holder
⛔
✅
Square Wave Technology
✅
✅
Pulse
⛔
✅
Pre and Post Flow Control
✅
⛔
Clearance/Cleaning Setting
✅
✅
High-Frequency Start
✅
✅
Welder Dimensions (H x W x L)
20.0 in. x 9.8 in. x 19.1 in.
14 in x 10.75 in x 19.25 in
Weight
45 lbs.
46.5 lbs
Warranty
3 years
3 years
Price
Latest Price
Eastwood
Latest Price
Amazon
Eastwood TIG 200 (20565)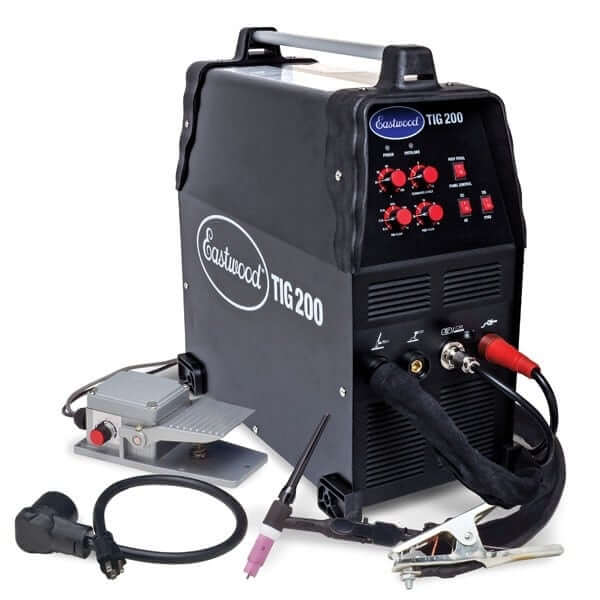 Automobile fabricators and car enthusiasts know the Eastwood name.
Since the company's inception, they "served the burgeoning market of auto restoration and customization hobbyists."
The Eastwood TIG 200 AS/DC was designed and manufactured to augment their mission statement. So, it is no surprise that this welder is great for rookie welders, DIYers, and auto fabricators.
One of the first features you will notice, the unit carries an attractive price tag. While prices vary depending on where you shop, it is less than the Lincoln Square Wave TIG 200.
As for features, you get a surprisingly good duty cycle (60% @ 190 A (220V), which is better than the Lincoln offering. Plus, you can adjust the pre and post gas flow. This is not possible on the Lincoln welder.
Another attribute not found on the Lincoln, Eastwood included a trigger switch on the torch. If you are out of position and unable to use the foot pedal, you can flip a switch, set your amps on the control panel, and use the trigger switch.
Eastwood offers a stick electrode holder as an option. While the machine is designed for TIG welding, the addition of arc welding provides even more flexibility.
While not a welder for industrial applications, this welder meets the needs of its intended users and provides a favorable price to performance ratio.
Related read: Eastwood TIG 200 Reivew
What's Included
The Eastwood TIG 200 comes with a generous package which includes:
Eastwood TIG 200 Compared to Lincoln Electric Square Wave 200
Pros
Better duty cycle
Finger switch on the torch
Infinite pre and post flow gas control
Affordable
More extras in the box
Cons
Stick electrode holder not included
No pulse mode
Small, hard to use foot pedal
Welders are one of many automotive fabrication and body shop products
Where to buy
The official and cheapest place to buy the Eastwood TIG 200 is from the Eastwood online Store.
It is also sold on Amazon, although Eastwood does not run as many deals on here.
Lincoln Electric Square Wave TIG 200 (K5126-1)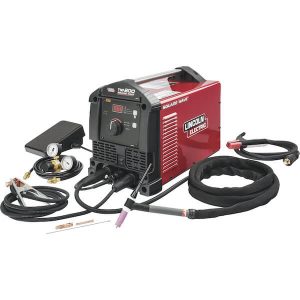 Lincoln Electric has manufactured welders and welding accessories for a long time and their name is well known in the welding community.
The Square Wave TIG 200 meets the needs of DIY, hobby, light fabrication, automotive, and educational shops. The control panel is clean and easy to use while still providing advanced features, like pulse mode that makes it easier for novices to get up to speed faster.
Also, the Square Wave TIG 200 foot pedal provides good control. It is bigger and easier to work with compared to the competing Eastwood welder.
This welder is more expensive than the Eastwood unit. But the Square Wave TIG 200 also comes with a stick electrode holder in the box.
For a straightforward, easy to use welder, the Square Wave TIG 200 offers reliable performance for first-time welders, auto enthusiasts, teachers, and DIYers. The 25% @ 200A (230V) duty cycle is low and prevents it from being used in industrial or high production situations.
What's Included
Square Wave TIG 200 welder
PTA-17 Series 150 Amp Air-cooled TIG Torch with Flexible Head and Ultra-Flex™ Cable Assembly with TIG Torch Parts
Foot Amptrol™
Regulator/Flowmeter with Gas hose kit
Stick Electrode Holder
Ground Clamp and Cable
120/230V Input Cords
Lincoln Electric Square Wave TIG 200 Compared to Eastwood TIG 200 AC/DC
Pros
Digital display
Pulse control
Better foot pedal
Includes stick electrode
Established manufacturer in the welding market
Cons
More expensive
No trigger switch on torch
No pre or post flow gas control
Shorter duty cycle
Arc on start up is strong
Where to buy
The Square Wave 200 is more widely available to buy. You can pick it from the official online store as well as all the usual welding supply stores online, including Amazon.
Eastwood TIG 200 vs. Lincoln Square Wave TIG 200: Main Differences
Controls/Display
The controls are a major difference. The Eastwood unit uses rocker switches and dials, which are usable with gloves.
The Lincoln Square Wave TIG 200 employs a digital display, a single dial, and two blister buttons. Press the right button, spin the dial to set the selected attribute, and start welding. Plus, the digital display is easy to read at a glance.
If you want modern, simple to use controls, and an easy to read display, the Lincoln will have an edge over the TIG 200 AC/DC welder. If you would like a digital display in a similar Eastwood welder, the TIG 200 Digital AC/DC is worth a look if you can run it on 240v.
Torch/Trigger Switch
Lincoln and Eastwood both include a flexible torch head, which is convenient and allows you to get just the right angle.
However, if you are out of position, you may not be able to use a foot pedal. The Eastwood welder gives you the option to use the foot pedal or a trigger switch. Flip a switch and simply set your amps on the panel of the TIG 200 AC/DC and you can start an arc with the trigger switch.
Of course, when using a trigger switch your amps are fixed. No adjusting as you go like with a foot pedal. But you have the freedom to access those hard to get to positions and weld.
Arc Start-Up
Both units use a high-frequency start to keep things controlled when you start an arc. But the Lincoln surges more as it starts and less experienced welders may have a tough time preventing scorching or blow through on thinner materials.
Unfortunately, neither unit includes the ability to adjust the starting amps. So, if you are a novice and plan on working with thin stock, the Lincoln welder may present you with more of a learning curve.
Pre and Post Gas Flow Control
The Lincoln welder comes with fixed pre and post gas flow times. It is not adjustable.
In contrast, the Eastwood welder allows you to adjust the pre and post gas flow (pre: 0.1 to 1.0 sec; post: 2 to 8 sec.). For those who want or need pre and post gas flow, the Eastwood is the clear choice of these two welders.
Pulse Mode
The Lincoln Electric Square Wave TIG 200 includes a pulse feature, the Eastwood TIG 200 AC/DC does not.
This feature is adjustable. You can set the pulses per second, but not the pulse "on" time like you will find on more expensive welders.
Pulse mode makes learning to weld a little easier. So, new welders might be willing to pay more for Lincoln if they want to speed the learning process.
Duty Cycle
The duty cycle lets you know how long a welder can run before it needs to cool during a ten minute period.
For example, the Lincoln has a stated duty cycle of 25% @ 200A (230V). This means it can run 2 ½ minutes before it needs to cool for 7 ½ minutes. The Eastwood has a duty cycle of 60% @ 190 A (220V). Or it runs for 6 minutes, then cools for 4 minutes.
Note the amperage is not exactly the same. The Eastwood is rated at with a slightly lower amperage and as the amperage goes down, the duty cycle goes up. However, the duty cycle of the Lincoln rates 60% @ 130A (230V), confirming the Eastwood has a better duty cycle.
Stick Welding
Both units can arc weld. The Lincoln is more expensive, but it includes the stick electrode holder with the initial purchase. If you decide to buy the Eastwood unit, you will need to buy the stick electrode holder separately.
Foot Pedal
The supplied foot pedal on the TIG 200 AC/DC welder is harder to use and many users decide to replace it with an upgrade option offered by Eastwood. Also, you must set the amps with a dial on the foot pedal, which is not always convenient.
The foot pedal included with the Square Wave TIG 200 is larger and easier to use. Also, you set the amps on the control panel of the unit.
Price
Lastly, and sometimes the deciding factor, as you may already know, even when you add the optional stick electrode holder to the Eastwood TIG 200 AC/DC welder, your wallet will like the Eastwood welder's price. It is less expensive and the choice for the budget-conscious.
Conclusion
Eastwood priced the TIG 200 AC/DC aggressively and that means you get a favorable price to performance ratio. Even with adding the optional stick electrode holder. In addition, you get a machine with a duty cycle over twice as long, compared to the Lincoln.
Plus, you get a trigger switch on the torch with the Eastwood machine and it allows for adjustment of the pre and post gas flow. Lincoln Electric does not include either of these features in its offering.
The drawback of the TIG 200 AC/DC is the substandard foot pedal. You may need to upgrade it if you want precise amp control as you weld.
The Lincoln Electric Square Wave TIG 200 simplifies the welding process with a clear digital display and easy to use controls. In addition, the included pulse mode makes welding easier for new welders and helps them get through the learning curve faster.
Lincoln includes the on/off switch on the front instead of the back, again for ease. Plus, you get a larger, more usable foot pedal.
A short duty cycle makes the Square Wave TIG 200 appropriate for occasional use, like in a DIYer's or autobody shop. But it also prevents it from use in heavy or industrial applications.
If you think we missed any other important details when comparing these models, please us know in the comments below.
Final note & disclaimer: WeldGuru is reader supported, and we may earn a commission on the links to retailers in this article at no additional cost to you. This helps us publish new content and keep it free to access for everyone.