When you want or need neat, clean welds, that usually involves using a TIG welder. The same is true of thin or small parts, the precise control associated with TIG welding allows you to do that work, too.
But, many of us have heard TIG welders are expensive, out of reach for small to medium-sized shops. Plus, they have a reputation for being power-hungry and only for the bigger shops.
Or are they? There are affordable TIG welders that can expand a workshop's capabilities, run on 110 or 200V input power, and work without dying in a few months.
For example, many shops can afford the Eastwood TIG 200 AC/DC, but it brings key features and benefits in a well-built TIG welder. While not an industrial unit, read on to find out if this TIG welder is right for your small to medium-sized shop.
Quick Overview of the Eastwood TIG 200 AC/DC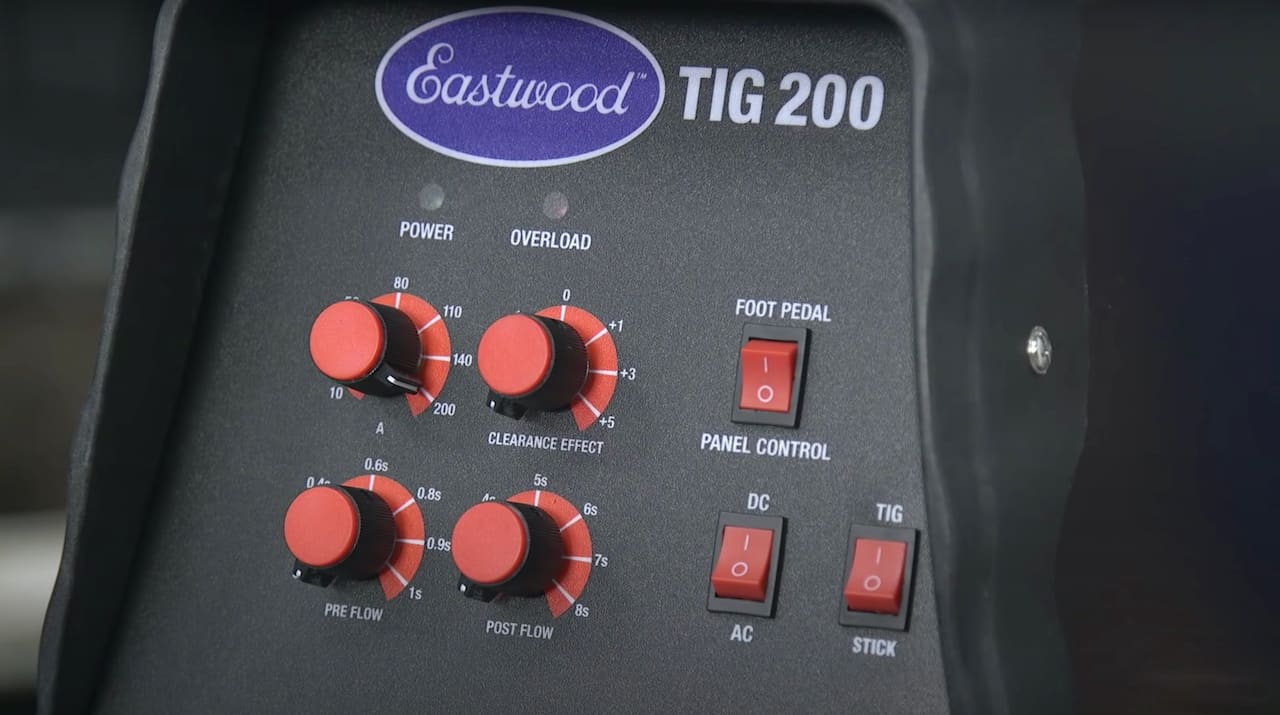 What's Included
TIG 200 AC/DC Welder with NEMA6-50P Plug
Shielding Gas Regulator & Hose
Ground Cable with Clamp (10')
TIG Torch (17 Series) (12′)
Foot Pedal for Amperage Control
110-120 VAC to 220-240 VAC Adapter Plug
Instruction Manual
Hand-Held Shield
Hammer/Brush
#7 Gas Nozzle (7/16")
#6 Gas Nozzle (3/8")
#5 Gas Nozzle (5/16") (Installed)
Long Back Cap
Short Back Cap (Installed)
3/32" Collet Body (Installed)
3/32" Collet (Installed)
2mm Collet
1/16" Collet
3/32" Red Thoriated Tungsten
3/32" Green Pure Tungsten
Technical Specifications
Welder Type

TIG & Stick

Stated Input Voltage

110-120 / 220-240 V

Duty Cycle
60% at 145 A (110V)
60% @ 190 A (220V)
Output Amperage

10 – 200A

Current Output

AC/DC

Manufactured In

China
(designed in USA)

Weldable Materials

Steel, Stainless, Aluminum

Weld Thicknesses in Settings Chart

1/16 – 3/16 in.
(brochure claims 1/4 in.)

Foot Pedal

✅

Trigger Switch on Torch

✅

Stick Electrode Holder

⛔

Square Wave Technology

✅

Pulse

⛔

Pre and Post Flow Control

✅

Clearance/Cleaning Setting

✅

High-Frequency Start

✅

Welder Dimensions (H x W x L)

20.0 in. x 9.8 in. x 19.1 in.

Weight

45 lbs.

Warranty

3 years

Price
Check Latest Price
Eastwood
Pros
Runs on 110-120V or 220-240V input power
10-200A of current output
Can be powered by a generator
Light and portable
Square wave, inverter-based design
Good duty cycle
High frequency starts
Finger switch on the torch
Gas regulator and hose included
Infinite pre and post flow gas control
Can stick weld with optional electrode
Affordable
Good warranty
Cons
Stick electrode holder not included
4T option is missing
No pulse mode
Flexible torch head is an optional upgrade
Small, hard to use foot pedal
Foot pedal upgrade is expensive
No water-cooled torch option
Argon gas only
Where to buy the TIG 200
The best and cheapest place to buy this machine is the official Eastwood online store.
They do sell this machine on Amazon, however, you'll find they do not run the same deals on there.
What You Should Know Before Buying the Eastwood TIG 200
Stick Welding
We all appreciate versatility, and this TIG welder can double as a stick welder. However, you should know that the electrode holder for SMAW welding is not included.
You must purchase an electrode holder separately. If you plan on using the stick welding feature, factor the cost for an electrode holder into your costs.
Foot Pedal
TIG welders know the importance of a good foot pedal and the included foot pedal works in most instances. But many do not like the dial to set the maximum amps being located on the foot pedal, which means bending over or getting down on the floor to change the setting.
Also, when doing a lot of TIG welding, some users find the pedal small and not as precise as they would like. Some have even replaced the foot pedal for this reason.
If you want a better foot pedal, Eastwood does allow you to upgrade the pedal. But it is a bit pricey and the upgrade could stress tighter budgets.
Pulse Mode
A pulse mode alternates between a high and low current as you weld. This prevents overheating, or burning through, thin materials and helps to prevent warping.
On thicker stock, it also helps you get better penetration with a thinner bead and less heat. While in this mode, you use less current and that allows for a longer duty cycle with the machine.
The pulsing action also helps to clean the weld. So, there are advantages to having a true pulse mode on a machine (i.e. not just pulsing the foot pedal).
However, the TIG 200 AC/DC does not include a pulse mode. It does, however, have a "clearance" knob that gives you a way to control the heat of your arc.
The amount of penetration and cleaning can be tweaked with the clearance knob. In essence, it is a simplified version of the pulse feature, with less control. Tweak the penetration up, which lowers the cleaning action. Or lower the penetration and increase the cleaning.
If you need a true pulse feature (e.g. where you can adjust the width and height of the pulse) to work on delicate or very thin work, you may want to look at Eastwood's TIG 200 Digital AC/DC welder, which does include true pulse control.
2T and 4T
When using a torch, on some machines, the torch trigger can be used with a 2T or 4T method. The designation refers to whether you "touch" the trigger twice or four times.
With the 2T method, you press the trigger to start your arc. Hold the trigger for the entire weld, and finally, let go of the trigger when you want to stop the arc.
For long welds, the 4T feature can be useful. You touch the trigger to start the arc, then release it. Run your bead, and when done, press then release the trigger again to stop. You don't have to hold the trigger down as you weld and your finger does not get tired.
The Eastwood TIG 200 AC/DC uses a 2T method. Along with the HF starts (see below for more on the HF feature), it makes starting and running a bead simple. But it does not include a 4T option. For those who do long runs using the torch trigger, this could be an issue.
Top Features of the Eastwood TIG 200 AC/DC
Price
TIG welders can get pricey. But the Eastwood offers the TIG 200 AC/DC at a great price that brings TIG welding to shops on a tight budget.
If you do not need the AC output current, you can save even more money by considering Eastwood's TIG 200 DC welder, which only provides a DC output current.
Portable
The size resembles a hard-side suitcase. It is not compact, but not too big either. Add to that it only weighs 45 pounds, and you can move the unit around if needed. Eastwood even included a nice handle on the top to make picking it up easy.
Versatile Input Power Supply
One of the issues that can arise when taking your welder to the work, finding a power supply. As already stated, you can move this unit around when necessary. That's nice. But you can also run the TIG 200 AC/DC on 120 or 240 volts (the adapter plug is included). That's flexibility.
So, bring this welder to where it is needed since finding a standard wall outlet is usually not that hard. Or, getting 220V out to your shop may be impossible. The ability to run on both voltages lets you use this welder with the input power supply you have.
As a bonus, when no outlet is available, you can also run the TIG 200 AC/DC on a generator (7,400W min, but 12,000W recommended by Eastwood). You have plenty of options for input power, which is not true of every welder.
Dual Output Currents
A fair amount of welding is done using a DC output current. But when welding aluminum, it is well known that you should use an AC output current.
With the Eastwood TIG 200 AC/DC, that is no problem. You have the option to use either output current, AC or DC, meaning you can tackle more tasks using this one welder.
Duty Cycle
When compared to more expensive units, you can appreciate this unit's smaller price tag. But many assume that means a low duty cycle. Something like 20% if you are lucky.
However, Eastwood shunned that pessimism and built the TIG 200 AC/DC to carry a 60% duty cycle at 190 A (220V). That's not anything to sneeze at, and smaller shops will find this meets or exceeds their needs.
10 – 200 Amps of Power
Budget welders can leave users less than impressed. That often happens when you realize the power range is just not what you need.
Most assume that means the max amps are too low. And of course, having ample power is important. With the Eastwood TIG 200 AC/DC, you can go up to an impressive 200A. This means you can tackle up to ¼ inch thick stock in a single pass.
But the low end can be important, too, when dealing with thin stock or delicate pieces. Eastwood built the TIG 200 AC/DC to go down as low as 10A, for when you need it.
This output amperage meets the needs of most small or medium-sized shops. Just keep in mind, to get the most power out of the unit, you will need to use the 220V power input option.
Torch and Ground Clamp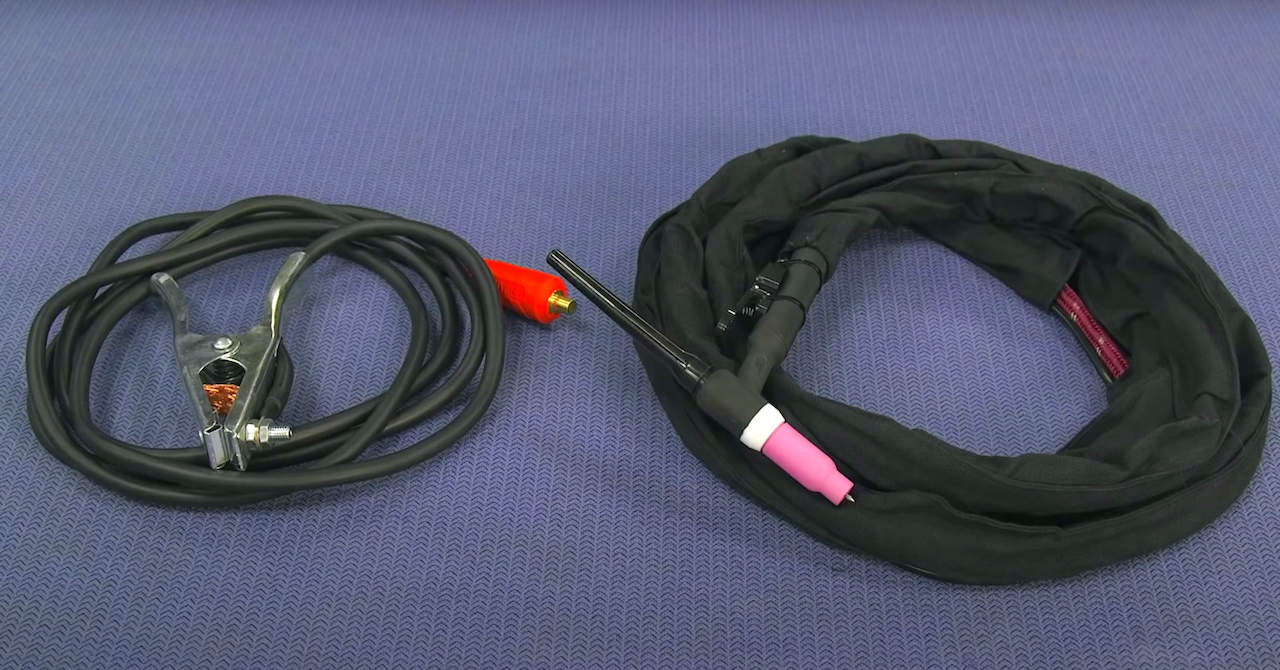 Conflicting information was posted regarding the lead lengths. So, for the record, the lead for the ground clamp is 10 feet long and the torch has a 12-foot lead (not 14 as reported in some places).
The ground clamp will satisfy all but the most discriminating. It does come with a braided wire strap to connect the jaws and Eastwood provided adequate quality for it to hold up in most shops.
The P 17 torch does not have a flexible head, but you can find parts for it just about anywhere, even on weekends or after hours. That's appreciated by weekend warriors. (For those who are asking, no, the trigger switch does not vary the current output. It is an on/off trigger only.)
High-Frequency ("HF") Arc Start-Up
On some of the online boards discussing the TIG 200 AC/DC, a popular question involves whether or not this a lift start unit. That is because, at this price point, a high-frequency ("HF") start would be unusual, which is typically found on only professional/dedicated TIG welders.
But this welder comes with a high-frequency start. That means, set your tip over the spot you want to start at, pull the trigger or press the foot pedal, and you are off and running. No scratch or lift necessary. The bottom line, you have better arc control during starts.
Pre and Post Gas Flow Control
One of the things necessary for a TIG weld to work, argon gas that shields the weld from reactive gases in the air. It is crucial to a strong, quality weld. That involves keeping the start and end of the bead blanketed in argon gas just before and after the arc.
To make that easy to do, Eastwood gives users of the TIG 200 AC./DC pre and post flow gas control. You can set these flows to properly shield the weld you are doing, without wasting argon gas.
Warranty
A good warranty shows a manufacturer believes in the quality of their product. Eastwood understands that and tackles that issue with a two pronged attack.
First, they provide a 60-day trial. You can try the unit, and if not happy before the end of the trial period, return it no questions asked. Not every manufacturer makes this offer.
Second, the Eastwood TIG 200 AC/DC comes with a 3-year no-hassle warranty. Based on customer comments, they take this commitment seriously. If you look, you will be pleasantly surprised with the positive comments on how they solved problems and satisfied customers.
For those looking for a TIG welder, but are nervous about making a large purchase, service and warranties may be important. If that is you, the warranty and service offered by Eastwood are something you should check out on your own to ease those nerves.
What Other Users Are Saying
One of the more repeated things users say, this unit is easy to use. The dials and switches are clearly labeled and minimal for a TIG welder. The unit starts smooth and allows even new welders to lay down nice beads.
In fact, those new to TIG welding often say they are surprised to see how good a bead they create using the TIG 200 AC/DC. That includes aluminum, too. So, this machine is a good first TIG welder for newcomers.
User comments also point to the weakest part of this welder, the foot pedal. Most found it usable. But a few thought it was a bit stiff and hard to control. Others went to the extreme of replacing it.
However, for the price, the foot pedal is not a deal killer. In fact, the majority of comments praised the price to performance ratio of this machine. One user summed it up best by saying this TIG welder is "the best bang for the buck."
Another interesting repeated comment for those who are interested in this welder, the duty cycle is not overstated. Multiple users note how surprised they are to have never tripped the duty cycle of the machine.
Alternatives to Consider
Eastwood TIG 200 vs TIG 200 Digital
If you know you'll have access to a 240v power supply then it's worth considering the digital version, the TIG 200 Digital AC/DC.
The key differences are highlighted below.
| | Eastwood TIG 200 | Eastwood TIG 200 Digital |
| --- | --- | --- |
| Power Input | 120V / 240V | 240V only |
| Dimensions (H x W x L) | 20 in. x 9.8 in. x 19.1 in. | 13 in. x 8.5 in. x 18.5 in. |
| Weight | 45 lbs. | 60 lbs. |
| Pulse Mode | ⛔ | ✅ |
| Digital Display | ⛔ | ✅ |
| "Large" Rocker Style Foot Pedal | Optional Upgrade | ✅ |
| 4T | ⛔ | ✅ |
| Latest Price | Check Here | Check Here |
Vulcan ProTIG 205
The Vulcan ProTIG 205 from Habor Freight is more of a direct alternative and costs a little more, but comes with some interesting additional features.
Compared to the Eastwood TIG 200 AC/DC, the two have a number of similar features, but the key differences are highlighted below:
| | Eastwood TIG 200 | Vulcan ProTIG 205 |
| --- | --- | --- |
| Dimensions (H x W x L) | 20 in. x 9.8 in. x 19.1 in. | 16 in. x 10.5 in. x 20 in. |
| Weight | 45 lbs. | 53 lbs. |
| Pulse Mode | ⛔ | ✅ |
| Digital Display | ⛔ | ✅ |
| Stick Electrode Holder | Not included | Included |
| "Large" Rocker Style Foot Pedal | Optional Upgrade | ✅ |
| Twist Lock Power Cord | ⛔ | ✅ |
| On-Demand Fan | ⛔ | ✅ |
| Thickness Gauge | ⛔ | ✅ |
| Front Storage Compartment | ⛔ | ✅ |
| RRP | $749.99 | $999.99 |
| Latest Price | Check on Eastwood | Check on Harbor Freight |
Lincoln Square Wave TIG 200
Another premium choice TIG welder that get's compared to the Eastwood TIG 200.
We already have detailed comparison on these two, which you can find here.
Conclusion
You do not have to go without a TIG welder if your shop needs one. The Eastwood TIG 200 AC/DC can be obtained for less than many competing units without sacrificing what a TIG welder can do best.
When you consider the price, all the features packed into a welder that produces good-looking welds make the TIG 200 AC/DC one of the best values for a TIG welder. But you also get a no-hassle 3-year warranty for peace of mind.
This easy-to-use machine is great for beginners while still offering the capabilities that advanced welders want and need. If you are someone who aggressively works the pedal, consider adding the optional foot pedal upgrade.
The duty cycle maybe a little too low for larger, industrial shops. But, the TIG 200 AC/DC will be at home in small to moderate-sized shops, as well as some larger shops that do not need a higher amp output or duty cycle.
Eastwood caters to the auto restoration/customization market. But artists, mechanics, DIYers, and ranchers/farmers, will find this capable TIG welder hits a sweet spot for them as well.