The Forney Easy Weld 140 FC-i is a hobbyist-grade fluxed-core welder. It's priced accordingly for what it offers and built well.
It's not without flaws; however, it's better than most welders at the low end of the price range.
As long as you get this welder for the right kind of workload, you will be satisfied.
In this article, you'll learn the strengths, who it's for, and a few issues that should have been corrected, even at this price point.
Overview of the Forney Easy Weld 140 FC-i (261)
The 140 FC-i is a wire feed welder. This means that you can't do actual MIG welding because it doesn't have a gas line support. You are limited to fluxed-core welding.
But, it's a very inexpensive machine aimed at beginners, DIY enthusiasts, and light fabrication use. Forney made a good blend of features while cutting costs to make a great welder with an attractive price tag.
The machine performs well and has more control over the arc than most budget-priced welders. It's portable and has a rugged build. Mind you, it's not for heavy-duty work, but it's more durable than what you'd expect.
What's Included
Forney 140 FC-i
8 ft. MIG gun
8 ft. ground clamp
20A to 15A adapter
An additional contact tip
User manual
Tech Specs
Processes
Flux-core only
Input Voltage
120V
Generator Requirements
Minimum 4,000W continuous output
Recommended Circuit Breaker
30A (min. 20A)
Technology
Inverter IGBT
Duty Cycle
30% @ 90A
Amperage Output
Max. 140A
Voltage Settings
Infinite between min. and max.
Weldable Materials
Mild steel
Torch Lead Length
8 feet
Ground Cable Length
8 feet
Mild Steel Thickness (Single-pass)
Up to 1/4 inch
Wire Drive Rolls
030" and .035"
Wire Feed Settings
Infinite between min. and max.
Wire Spool Sizes
2, 10 lb. rolls
Welder Dimensions (H x W x L)
12 in. x 8.125 in. x 16.75 in.
Weight
19 lbs.
Warranty
1 Year
Weld Guru Rating
★★★★☆
Price
Latest Price
Amazon
Pros
Affordable
Built for beginners
Lightweight and portable
Good build quality
Above-average MIG gun for the price
Infinite voltage and wire speed adjustments
Built-in rugged handle
Multiple built-in vents for airflow
Duty cycle and power state lights
Accepts 10lbs. wire rolls
Simple to use, start welding 2 minutes out of the box
All-metal casing with corner protectors on all 8 corners
Cons
For light use, limited to 120V welding with 140 amp output
Plastic wire drive feed system
Short power cord
No support for full MIG process
Unable to weld aluminum or stainless steel
Low duty cycle
The actual wire speed
Where to buy
There are a few retailers selling the Forney 261 140 FC-i, and they all run deals from time to time. So it's worth checking them all to see where currently has the best deal:
What To Know Before Buying the Forney Easy Weld 140 FC-i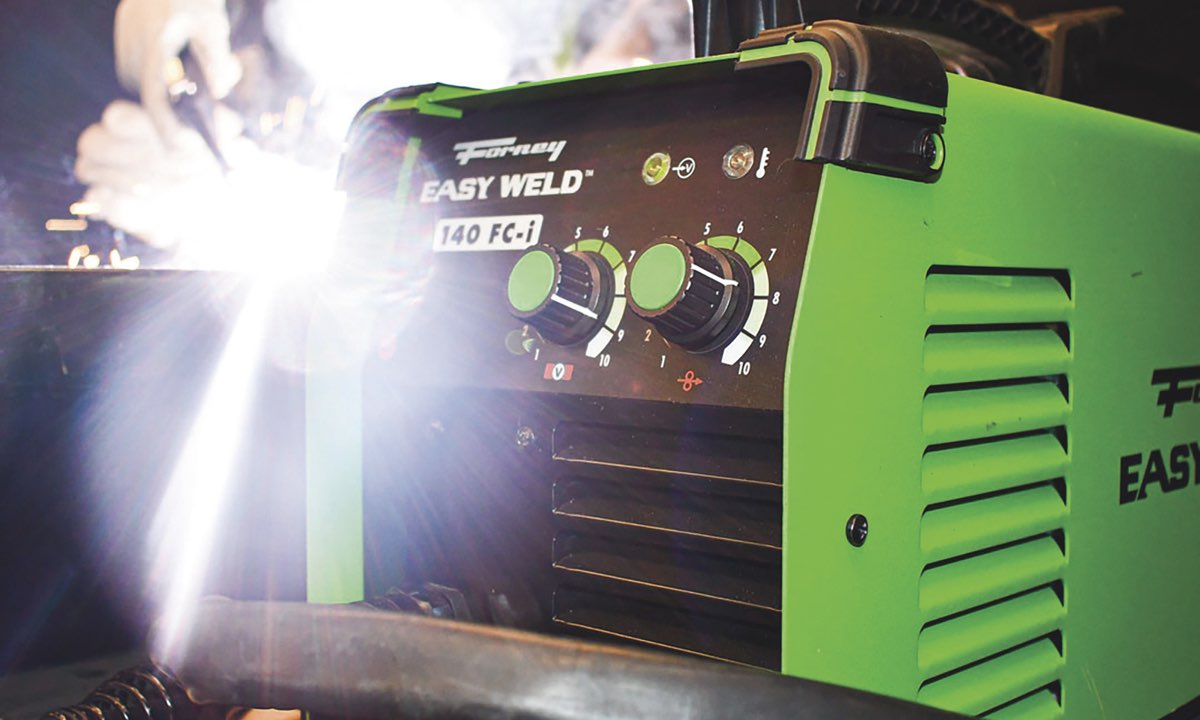 This is a budget welder, so you must understand that Forney intentionally cut corners to lower the price. That leaves one question lingering. What does this welder offer, and is it good enough for my work?
That's how you should consider the 140 FC-i limitations. They are not the brand's fault. Forney did a great job streamlining this well-made unit while keeping the essential elements needed by hobbyists.
No Ability to MIG or Weld Aluminum
This is a wire feed welder. That means you can't do gas-shielded MIG welding. Flux-core produces similar results, but MIG is less hot and has less spatter.
Further, with different gas blends, you can achieve different results. Using a tri-mix gas like argon-helium-CO2 can give you significantly different results than using 100% CO2 or 100% argon, for example.
Also, there is no spool gun support since the use of shielding gas is not supported. So, you are unable to weld aluminum. Many hobbyists love the idea of playing with aluminum. If you are one of them, consider a different welder.
Plastic Wire Feed System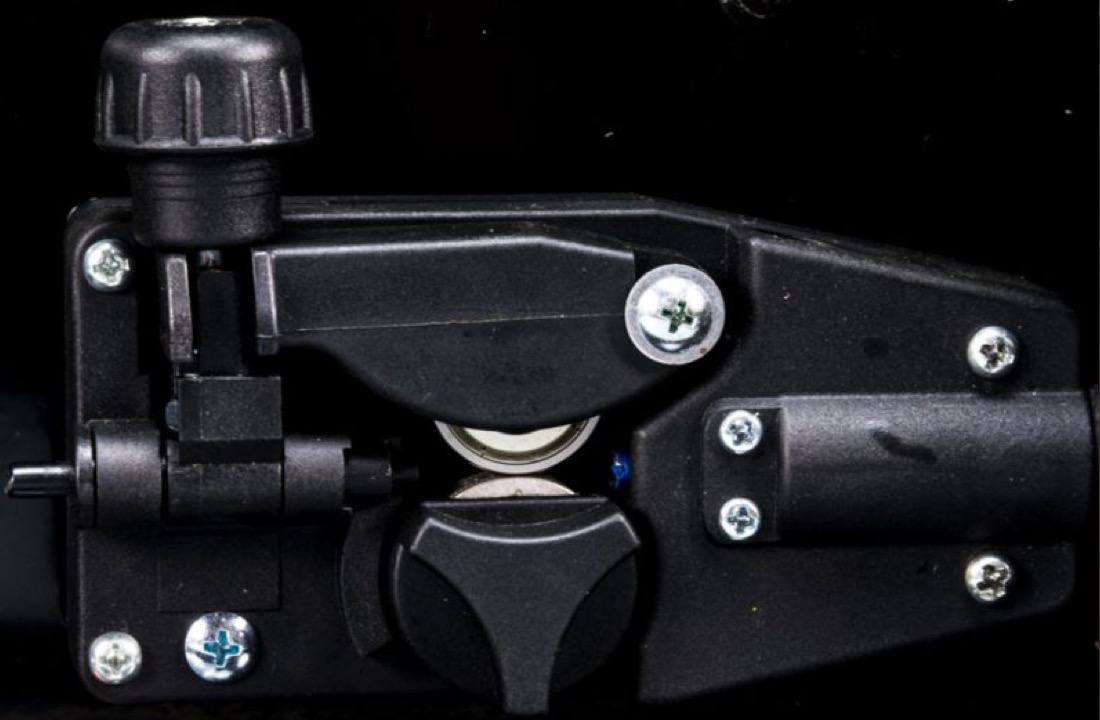 This unit has a plastic feed system that holds double wire drive rollers. That's one of the more significant quality cuts found in this unit.
Many budget machines now use a full metal drive, like the Eastwood 140 MIG, for example. Its metal drive system is likely to last longer than a plastic system. So, I wish Forney had ditched the plastics when they were designing this welder.
If your wire feed system breaks, your welder will be hindered. Therefore, it's always better when a wire feed welder has a full metal drive system.
However, this is a hobbyist grade welder; it's not made for everyday work. If you take good care of it, it should easily last long enough to pay for itself, and then some.
Short Leads
The Forney 140 FC-i has leads on the shorter side. At just 8 feet, you need to pay more attention to where the sparks are flying, especially when fluxed-core welding.
If you want your welder to last longer, keep it as far away from the weld as possible. You don't want sparks, metal dust, debris, and molten slag splattering on it.
Sure, this is a 140 amp machine, so there won't be any big molten metal droplets flying around. But there will be lots of sparks, so I wish the leads were at least 10ft long. This would prevent the machine from damage and sucking up metal dust.
Unknown Wire Speed
I don't like Forney's unspecified wire feed speed. They should've included the actual wire speeds in the manual since they haven't printed it around the knob.
The knob has simple values from 1 to 10, but that doesn't tell you the wire inches per minute you are feeding to the torch.
This creates a problem. If you are a hobbyist welder, you are likely to follow some YouTube tutorials on building something. When someone tells you, "just use about 250 IPM wire speed with 100A," you won't be able to follow along.
Forney is not the only brand to leave us in the dark regarding the actual wire speed. However, many brands now print this information directly on the unit instead of an arbitrary 1 to 10 scale. For example, you can typically see this with Eastwood's machines.
However, many other brands like Hobart, Lincoln, or even Miller, won't print it out on the machine, but they still include it in the manual. But Forney chose to omit it.
Review of The Top Features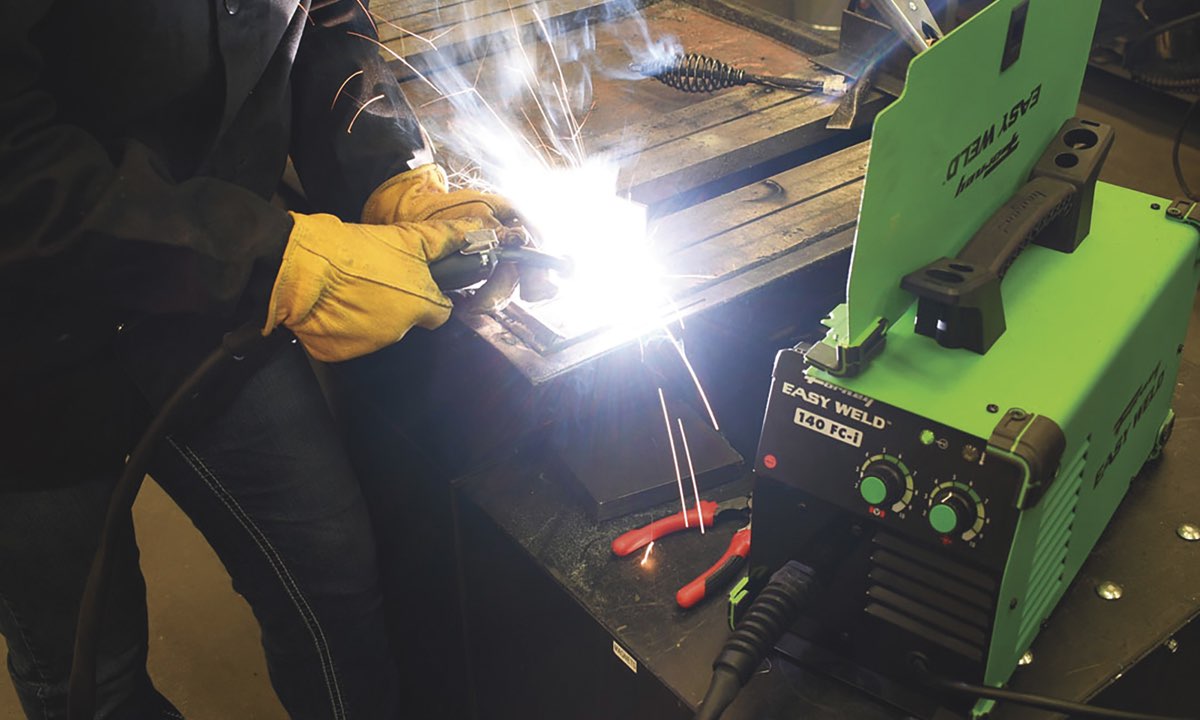 Okay, now it's time to see why this welder is a good overall value.
Forney made a great entry-level machine ticking off many boxes while remaining quite affordable.
Ease of Use
One of the strongest sides of this little welder is how straightforward it is to get it up and running.
You can literally start welding in less than 2 minutes once you get it out of the box. Still, it's advisable to read the manual first.
The front panel features two infinite adjustment knobs for voltage and wire speed, and you have a power on/off button at the back of the unit.
Installing a wire spool is straightforward and the torch and ground clamp is built-in. So, you don't even need to connect them.
Portability
With its 19 lbs and compact size, you can take this little welder anywhere.
It's one of the lightest welders you can get in the budget category. Even the Lincoln Electric K2188-1 weighs about 3lb more while offering far less welding power (just 88A).
Plus, the Forney's built-in handle is very well made. It's built from rigid plastic and has a robust frame construction.
So, if you are looking for a decent flux-core unit for welding on the go, the Forney 140 FC-i is the way to go.
The build quality
On inspection, the 140 FC-i doesn't feel cheap. Apart from the plastic wire feed system, the rest of the machine is well made and surpasses its price bracket. The MIG gun is quite good, while the ground clamp could've been a bit thicker.
The frame is made from sturdy metal, and the unit features rugged protection in all eight of its exposed corners. So you don't have to worry when you throw it in the back of your truck.
While the duty cycle of this unit is relatively low, the multiple air vents help it cool down faster. This is a nice touch by their engineers. The machine has air vents front, back, and on the side opposite of the spool compartment.
Oh, and speaking of wire, it can accommodate 10lb spools. Few budget machines have that capability. This will let you buy bigger spools and save money because the more wire you buy, the cheaper the spool.
Good Reputation
This welder has thousands of reviews, and almost all are positive. Regardless of where you look, Amazon, Home Depot, Tractor Supply, etc., just about everyone loves this machine.
It's one of the best-selling fluxed-core welders on the market. Thanks to its vast user base, Forney's welder was thoroughly tested in real-world use.
This means the 140 FC-i gives you a model that has completed millions of welds. A high number of units were sold, and actual buyers got the job done with it.
Alternatives in this Price Range
Let's evaluate a few alternatives you can consider. Since we are at the low end of the price range, we are pretty limited.
I believe Forney is your best bet. But even so, I will show you a couple of alternatives. Some might be interested in them. But I think it paints a clear picture of why the 140 FC-i is a good value machine.
Forney Easy Weld 140 FC-i vs Titanium Easy Flux 125
While the Titanium Easy Flux 125 is cheaper, it's not the best value for the money. You are better off investing just a few bucks more for the Forney 140.
The Titanium 125 doesn't have as much welding power, can't accommodate 10lb spools, forcing you to keep buying smaller rolls, it's too vertical (I'll explain below), its leads are even shorter, and it's not as rugged.
It's got a very thin ground clamp that's likely to burn up fast, so you may need to make an additional investment. Also, the MIG gun is quite flimsy.
I especially didn't like its wire feed mechanism. It's placed on top of the unit instead of on the side, accommodating only small spools. It's limited by the unit's width instead of length.
The unit is vertical in shape. I guess they went with that design to make it appear very compact. However, while it has a small footprint, this makes the welder relatively easy to tip over.
Plus, since its leads are only 6ft long, you can easily pull on the welder by accident and possibly break it. And to state the obvious, the 6 ft. leads are long enough to distance the machine away from the source of sparks.
Forney Easy Weld 140 FC-i
Titanium Easy Flux 125
Amperage output
140A
125A
Duty cycle
30% @ 90A
30% @ 90A
Mild Steel Thickness (Single-pass)
Up to 1/4 inch
Up to 3/16 inch
MIG gun & clamp leads length
8 feet
6 feet
Wire Spool Sizes
2 lbs, 10 lbs
2 lbs
Price
$$$
Latest Price
Amazon
$$
Latest Price
HF
Hobart Handler 100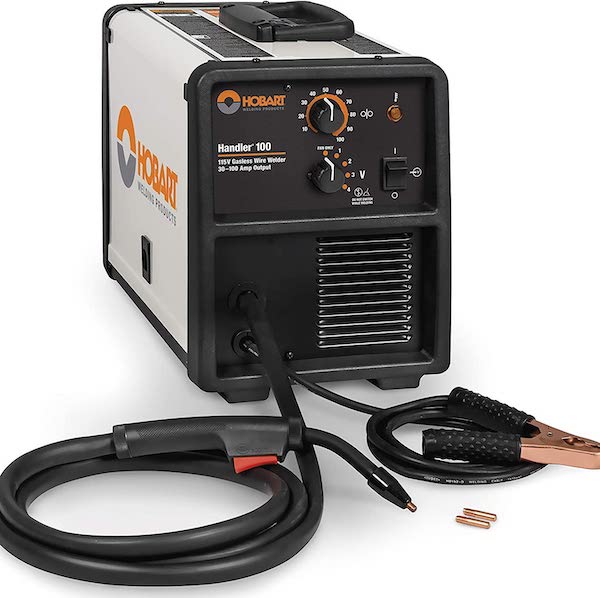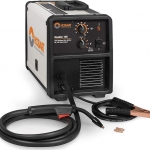 It isn't easy to compare the Hobart Handler 100 with the Forney 140 FC-i in terms of value.
That's because Hobart offers better build quality and a longer warranty. But, on the other hand, it outputs significantly less welding power.
This means that you must pick between quality and welding power. While Forney is good quality and you are unlikely to be disappointed as a hobbyist, you can choose the Hobart to get a high-quality machine.
That being said, Hobart is only an option if you are satisfied with 100 amps of power. And let's be honest, you will need more power at some point, even as a hobbyist. So, I don't think that Hobart's machine is a good option for most people.
If you want Hobart's premium quality, it's probably best to consider one of their more expensive options. That's because you'll have a more usable power output, rather than being limited to just thin stock if you go with the Handler 100.
Besides, the Hobart unit is heavier. It also lacks infinite voltage control and a power-on light indicator.
Forney Easy Weld
140 FC-i
Hobart
Handler 100
Amperage output
140A
100A
Duty cycle
30% @ 90A
20% at 80A
Voltage control
Infinite
Four fixed values only
Mild Steel Thickness (Single-pass)
Up to 1/4 inch
Up to 3/16 inch
Weight
19 lbs.
48 lbs.
Warranty
1 Year
Hobart's 5/3/1 warranty
Price
$$$
Latest Price
Amazon
$$$
Latest Price
Amazon
Final Verdict
The Forney Easy 140 FC-i brings users good value, as long as you understand this welder's limits. This fluxed-core welder runs on 120V and outputs 140 amps, which limits it to lighter applications.
If you are a power user, consider something stronger. But if you are a beginner, hobbyist, or you need something portable for occasional welding on the go, the affordable 140 FC-i is an excellent choice.
Other Forney Reviews