Forney offers the Easy Weld 140 MP as an affordable multi-process welder.
In general, they focused more on the build quality than adding lots of features to this unit. But it still places some quality beads with what it does have.
Like all welders, the 140 MP has some limits and lacks certain features, so make sure you read the entire review to see if this welder is right for you.
Additionally, we'll also look at an alternative that offers some features that Forney does not.
Overview of the Forney Easy Weld 140 MP
Overall, this multi-process welder is well made for hobbyists, beginners, and light fabrication/maintenance.
It's a 120V input welder, so it's designed to work in your home garage or other places where a 240V outlet is missing. Plus, a regular 20A circuit breaker will do just fine.
The 140 MP can weld with MIG, DC TIG, stick, and fluxed-core processes. It runs these processes well with a special emphasis on MIG and flux. Additionally, it offers a lift TIG start which is better than scratch start TIG found with machines that include it just to look good on a spec sheet.
It's portable, rugged, and has some advanced features like a full metal wire feed and infinite adjustability knobs. Also, it's competitively priced. But competing machines try to rival its quality-to-price ratio.
What's included
Forney 140 MP unit
10 ft. MIG gun
8 ft. electrode holder
8 ft. ground clamp
20A – 15A adapter
One additional .030 in. contact tip
The box contents are a bit scarce. While I understand Forney tried to keep costs down, they omitted the shielding gas regulator, gas hose, and a TIG torch. That's cutting a bit too deep in my opinion.
Plus, it doesn't come with any welding wire or electrodes for stick. I wish they added at least a 2 lb spool of fluxed-core wire since they don't provide you with the gas regulator needed for MIG. That way, you could weld right out of the box.
On the other hand, many other brands do the same, especially with multi-process machines. Brands tend to cut accessories to reduce costs and make their machines' prices competitive.
Tech specs
Welder Type
MIG, Flux Core, DC TIG, Stick
Input Voltage
120 V
Generator Requirements
4,000W+ output
Recommended Circuit Breaker
30A (min. 20A)
Output Current Type
DC
Technology
Inverter IGBT
Amperage Output
10-140A
Voltage Output
12 – 23V
Duty Cycle
MIG: 30% at 90A, TIG: 30% at 110A, Stick: 30% at 80A
Weldable Materials
Mild steel, stainless steel
Clamp Cable Length
8 feet
Electrode Holder Length
8 feet
MIG Gun Cable Length
10 feet
Weldable Thickness (Single-pass)
MIG: up to 1/4 in.
TIG: up to 3/16 in.
Stick: up to 1/8 in.
Wire Drive Rolls
.023" and .030"
Wire Feed Settings
Infinite between min. and max.
Wire Feed Speed ("WFS")
79 – 197 IPM
Wire Spool Sizes
2, 10 lb
Stick Electrodes Diameter
Up to 1/8 in.
Spool Gun Ready
No
Welder Dimensions (H x W x L)
12in. x 8.125in. x 16.75in.
Weight
20.30lb
Warranty
1 year
Weld Guru Rating
★★★☆☆
Price
Latest Price
Amazon
Pros
Affordable
High-quality build
Stable welding arc
Infinite amperage/voltage output and wire feed adjustments
Lift TIG start
Created with beginners in mind
It doesn't overheat quickly, thanks to multiple air vents
Lightweight and portable
Built-in rugged handle
Accommodates 10 lb wire spools
Handles most stick electrodes well, even the E308L for stainless steel
Rugged casing with additional protection at all 8 corner points
Excellent user manual
Printed quick set-up chart on the inside of the machine
Cons
No ability to weld aluminum
Limited package
Low duty cycle
Low wire feed speed on the high end
The included MIG gun and ground clamp could be better at its price point
Where to buy
There are a few retailers selling the Forney 140 MP, and they all run deals from time to time. So it's worth checking them all to see where currently has the best deal:
What to Know Before Buying the Forney Easy Weld 140 MP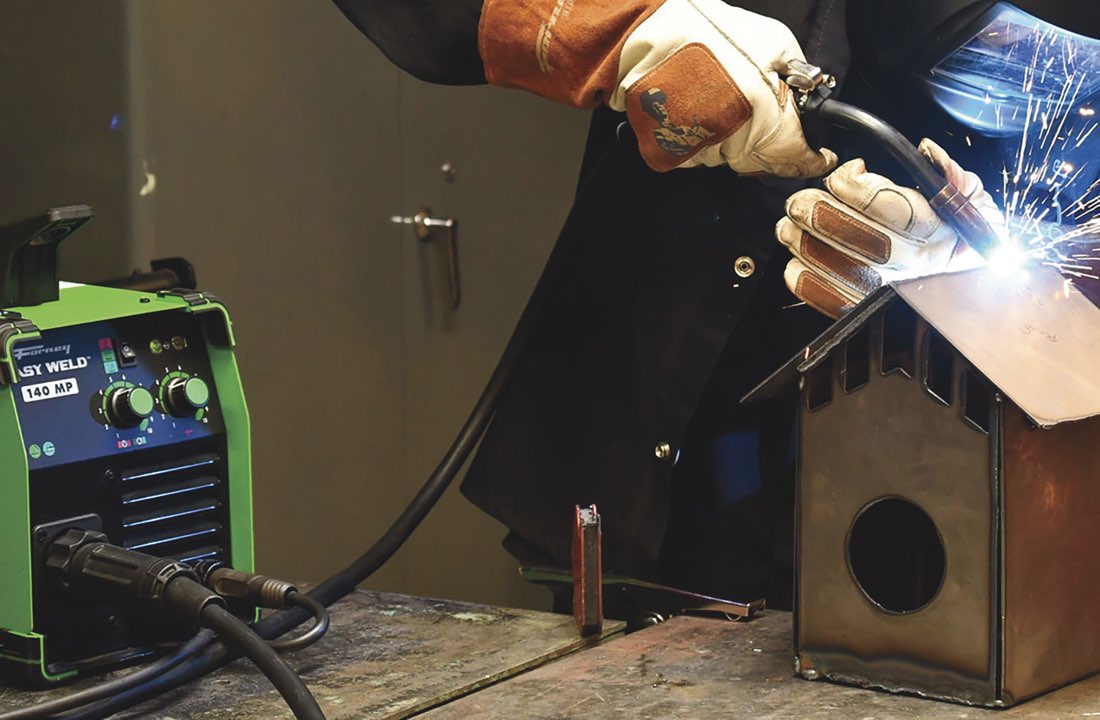 Now, let's examine some of this unit's limitations. That way, you'll be able to tell if it can handle your intended work.
While there are welders that offer a better price-to-quality ratio, Forney is still a very good choice as long as you don't need to do things it's not designed for.
Can't Weld Aluminum
The 140 MP doesn't support a spool gun, and of course, AC TIG is unrealistic at this price point.
Related: Find Top-Rated Multi Process Welders with AC/DC Here
They also clearly state in their manual that it can't weld aluminum with stick either. Not that you'd want to anyway, because welding aluminum with the stick process is the worst possible way to do it.
Still, the Forney 140 MP doesn't have any aluminum welding support. So, keep that in mind when considering this multi-process unit.
Many people love to do aluminum DIY projects because this metal is so attractive. And if you are into that stuff, stick around because I will show you an alternative below that welds aluminum, and it's in a similar price range.
Low Duty Cycle
Surprisingly, this machine has the highest duty cycle for TIG. This is strange because that's the process you are least likely to use. Since it's just a basic DC TIG with no advanced settings, like pre/post flow and low amp start, it's only suitable for light work and learning.
MIG welding will give you about three minutes of work at a 90A output before you need to let the machine cool for another seven. That's quite low, especially if you need to crank it to its maximum output of 140A. Depending on the ambient heat, you will experience weld times lower than two minutes.
Minor Quality Issues
This welder is built well for its price range, so this is not a rant against Forney. It's just a helpful overview of some minor issues you should know when considering your purchase.
The MIG gun and ground clamp feel a bit cheap, even at this price point. It's a very similar gun to the one built into the Forney 140 FC-i, which is a significantly cheaper welder.
Additionally, the MIG gun lead is 10 feet long, which is suitable for a hobbyist welder. But the ground clamp is only 8 feet long. For some, that may be limiting.
The shorter ground also means sparks and metal dust will settle down nearer the unit and get sucked in through the vents. So, it's always good to use longer leads and keep the unit away from the welding arc.
But these are minor issues as you can always replace the ground clamp lead with a longer one, and you will be good.
What Makes the Forney 140 MP Great
Now that we've reviewed the shortcomings, let's examine how this welder can enrich your garage and get you welding with ease.
Built for Beginners
This machine is straightforward; you don't have to bother yourself with exact voltage, amperages, or wire feed speeds. The infinite adjustment knobs provide a simple 1-10 range that lets you adjust these settings like a pro. However, if you need the exact numbers, you'll find the actual specs in the manual.
The wire feed setup is effortless and well-detailed in the instruction manual. Furthermore, the entire wire setup is minimal and doesn't look confusing like with some welders.
The front panel is intuitive, uncluttered, and you'll get the hang of it as soon as you see it. Your process selection is made via a simple switch, while the adjustment settings are handled with the two knobs on the front.
Build Quality
This is one of the best multi-process welders on the market in this price range regarding build quality. It seems like this was Forney's primary focus. They could've added some other features and made the machine less reliable, but I am glad they decided to invest in durability instead.
The machine uses a full metal wire feed system made of stamped aluminum. It's durable and designed with simplicity in mind.
The wire spool spindle has multiple parts, and they all fit together well. Nothing is flimsy, loose, and it seems like it will handle wear over time. This is important because the unit can use 10 lb spools. With that weight applying rotational force, it's good to have a quality spindle.
Otherwise, due to momentum, the spindle can become loose, This can lead to wire nesting issues, also known as bird nesting (if the wire gets tangled up inside the welder, it looks like a bird's nest).
Forney included a full metal casing to house the unit. It's quite rugged, especially at the corners where they installed protective rubber points. So you won't have to worry about lowering this unit on the concrete floor or being too gentle when putting it away..
Versatility
Able to use MIG and fluxed-core processes, the 140 MP gives you many options when welding steel.
With the wire feed welding options, you can try different gas mixes and see what you like the best. For example, with MIG welds, most people love 75%Ar/25%CO2, but there are other gas blends. Each will give you different results.
While I said earlier that the TIG is limited, it is good enough for beginners. You can do mild steel, stainless, copper, and chrome-moly. This is a good way to try these metals, especially since it's lift TIG capable. You don't have to worry about the tungsten contaminating the weld if you learn the proper lifting technique.
When stick welding, it can handle 6010s (no advanced work), 6011, 6013, 6014, 7018, and 308L. That's more than enough versatility for a beginner.
Portability
The 140 MP is a portable welder you can easily run off a generator. Although, you'll need a minimum output of 4000W on a 120V receptacle.
This unit is so small and light that you can carry it easily with a single hand thanks to its inbuilt handle.
If you need a welder for work on the go, the Forney 140 MP is a good choice.
Alternative to Consider: Eastwood Elite MP140i
The Forney 140 MP is a very good welder, but I want to let you know of a better deal for a similar multi-process welder from Eastwood. I believe their Elite MP140i offers more value and costs about the same. You should consider it as an alternative, and here is why.
Eastwood included spool gun support (can weld aluminum), digital displays, and even better user manual, and offers a 3-year warranty. The MP 140i also comes with everything included (TIG torch, gas regulator, etc.), and integrates a spot welder feature.
Like the Forney 140 MP, the MP140i has a full metal wire feed, a quick set-up chart, and accepts 10lb spools. It's a bit more expensive, but it's well worth it considering all the additional features and three times the warranty.
Plus, the MP140i comes with multiple accessories. You'll spend more money if these are bought separately from the Forney unit. The Eastwood Elite MP140i costs less if you need all the accessories.
There are too many accessories to name them all. Still, some of them are different TIG torch collet sizes, starting tungsten electrodes, 6013 stick electrodes, 2 lb MIG wire spool, different diameter gas nozzles, MIG gas regulator, etc. Plus, it has longer leads for MIG, TIG, Stick, and the ground clamp.
Eastwood upgraded this unit earlier in 2021. Now it uses the latest inverter technology, so you get the newest tech and best inverter welder performance.
In comparison, Forney just doesn't provide the same value for the money. The Eastwood Elite MP140i is a strong competitor as a multi-process unit at this price range. It's no wonder the MP140i is one of the most popular Eastwood machines.
Forney Easy Weld 140 MP
Eastwood Elite MP140i
Amperage Output
10-140A
MIG: 30-140A, TIG/Stick: 30-70A
Duty Cycle
MIG: 30% at 90A
TIG: 30% at 110A
Stick: 30% at 80A
30% at 90A
Spool Gun Support
❌
✅
Spot Weld Timer
❌
✅
Ability to weld every process out of the box
❌
✅
Warranty
1 year
3 year
Price
$$$
Latest Price
Amazon
$$$
Latest Price
Eastwood
Final Verdict
Forney is well known for its affordable, quality, entry-level machines. If you decide to go with the Forney Easy Weld 140 MP, you'll most likely be satisfied.
But I'd encourage you to consider the Eastwood MP140i. Even if you don't need to weld aluminum, you can get all the consumables, a TIG torch, and a 3-year warranty for just a few more.
Plus, with these inexpensive machines, the warranty matters a lot. Forney offers a 1-year warranty because that's how long they are confident their unit will last. So, it's a good idea to get the welder with three times the warranty.
Other Forney Reviews