The Hobart Handler 210 MVP is a powerful, dual voltage MIG welder. When it first launched, it was one of the best buys for hobbyists and professionals.
The combination of features found in the 210MVP makes it a good fit for small to medium-sized shops. In fact, you may have run across one or two in use. That is due in part to Hobart's heritage as a welding manufacturer, and the 210MVP comes with their strong 5/3/1 warranty.
However, it is slowly starting to lose its place as the best MIG welder in this price range. It uses older transformer technology, weights too much, and misses many advanced functions competing brands offer at lower prices.
In this article, you'll learn about its pros and cons. But we will also provide alternatives that offer more power and features with similar build quality and a strong warranty.
Quick Overview of the Hobart Handler 210MVP [500553]
What's Included
10 ft. (3m) HR-100 gun
10 ft. (3m) work cable with clamp
Built-in gas solenoid valve and dual-gauge regulator with gas hose
Spool hub assembly accommodates 4 or 8 in. spools
Sample spool of .030 in. self-shielding flux-cored wire
.030 (0.8mm) contact tips
Quick Select™ drive roll for .024 in. (0.6 mm) or .030/.035 in.
Power cord with 5-15 P (115 V, 15 A) and 6-50 P (230 V, 50 A) MVP (TM) plugs
Welding guide
Material thickness gauge
Owner's manual
Technical Specifications
Manufactured
USA
Welder Type
MIG, Flux Core
Input Voltage
115 V
230 V
Technology
Transformer based
Duty Cycle
20% @ 90A (115V)
30% @ 150A (230V)
Amperage Output
25 – 140A (115V)
25 – 210A (230V)
Voltage Settings
4 Fixed Positions (115V)
7 Fixed Positions (230V)
Weldable Materials
Mild and stainless steel, Aluminum
Torch Lead Length
10 ft.
Ground Cable Length
10 ft.
Mild Steel Thickness (Single-pass)
24 ga. – 3/8 in.
Aluminum Thickness
18 ga. – 1/4 in. (w/ spool gun)
Wire Thickness
0.023 – 0.035 in. (steel)
0.030 – 0.045 in. (flux cored)
0.030-0.035 in. (aluminum)
Wire Feed Settings
Infinite between min. and max.
Wire Feed Speed ("WFS")
40 – 770 IPM
Wire Spool Sizes
4-in., 8-in.
Spool Gun Ready
✅
Welder Dimensions (H x W x L)
12.375 in. x 10.625 in. x 19.5 in.
Weight
79 lbs.
Warranty
5/3/1 years
Price

Price on Northern Tool




(with free delivery)


—
Price on Amazon
The Good & Bad
Pros
Puts out 210A, can weld ⅜ in. steel in one pass
Beautiful Hobart's arc quality
Sturdy and built to last
Goes down to 25A for stock as thin as 24 gauge
Simple to learn and use
All metal wire feed mechanism
Infinite wire speed control
Spool gun ready handles up to ¼ in. aluminum
Simple, toolless wire size changes
Weld settings chart on the inside of the wire compartment door
Advanced electronic circuity protection
Strong 5/3/1 warranty
Cons
One of the heaviest "portable" MIG welders in the 200A power range
Significantly lower duty cycle than competing models
Switching from MIG to flux-cored welding requires opening up the side door and rewiring the polarity
It doesn't use standard DINSE sockets, which is not acceptable at this price
The ground clamp lead is integrated
No digital display
It doesn't offer infinite voltage adjustability, making it impossible to perfectly dial in the weld in every situation
It misses useful features like 2T/4T that competing brands include
Not for those who weld thick (i.e. over 1.4 in.) aluminum
Where you can buy the Hobart 210
Like many Hobart welders, they are available from a range of retailers. Each retailer runs deals from time to time, so it is worth checking where has the current best deal:
What You Should Know Before Buying the Handler 210 MVP
Portability/Weight
The Hobart 210 MVP is a bit difficult to move around given that it weighs almost 80 lbs. It is possible to transport because it's not a massive transformer like Hobart Ironman 240 that's truly not portable. However, the Hobart 210 is too heavy for today's standards to be considered portable.
Many other brands offer similar models with a much lower weight. The transformer core does add to the longevity, but if you value portability, you should consider alternatives. 
Duty Cycle
The Hobart's duty cycle of 20% at 90A with 150V input and 30% at 150A with 230V input is good enough for hobbyists. But this is not really a cheap welder, so I wish it provided at least 50% at 150A.
One of the competing models cheaper than the Hobart 210, has a 60% duty cycle at 250A, and it doesn't lag behind in other areas either (we'll cover it later in the article). That's why I wrote earlier that the Hobart 210 is losing its place at the top. Such low specs are not the standard anymore.
Fixed Voltage Settings
With its seven fixed voltage output points, Hobart 210 will offer pretty good adjustability. At the time of its release, this was exceptional. Today, it's outdated. Many brands provide infinite voltage output adjustments, allowing you always to tune your welds perfectly.
Hobart knows this. That's why they updated their Ironman 230 to 240 model and switched from fixed voltage points to infinite adjustments. I hope they'll upgrade their iconic Hobart 210 as well. But, until then, brands that offer this level of arc control have the edge over this Hobart model.
No DINSE Connectors For Polarity And Ground Clamp
While Hobart 140 could pass as a cheap hobby welder, the 210 MVP is relatively costly. It's certainly expensive enough to support standard DINSE plugs, right?
Well, unfortunately, the Hobart 210 has an integrated ground clamp and no DINSE plugs. Hobart's Multi-Handler 200 certainly uses them, and so does their Stickmate 160i, so why didn't their MIG 210 get the same treatment? If there are no DINSE plugs and the ground clamp is integrated, the process of switching polarity is more complicated. Instead of just plugging and unplugging the connector, you have to open the wire spool compartment and rewire the polarity for flux-core or MIG welding.
Spool Gun not Included
We are not complaining that the spool gun is optional for the price. But we felt it should be added here to let you know; if you plan on welding aluminum, you need to buy the spool gun separately or buy the package with the spool gun – as this is cheaper.
Also, with the spool gun, you can weld up to ¼ in thick aluminum. That may be thin for those who do a lot of aluminum fabrication work.
Best Features of The Hobart 210 MVP
Ease Of Use
Look at the control panel, and what do you see? Two knobs and an on/off switch. That's it. One dial sets the voltage, and the other sets the WFS.
Setup for this welder takes seconds, and you would be hard-pressed to find one that is easier to use. There is even a thermal overload light that comes on when you trip the thermal protection. Again, convenient as you wait till the light goes out to start welding again.
Output Power
Do not assume because this welder is easy to set up and use means that it has no power. It puts out 210 amps and can weld ⅜ steel in one pass. For many shops, that is all they need.
Yes, if you are welding up army tanks, ⅜ will not be thick enough. But for most of us, the power in this unit is plenty. But, if you must weld thicker than that, our alternative pick can weld up to 1/2 in.
Voltage Input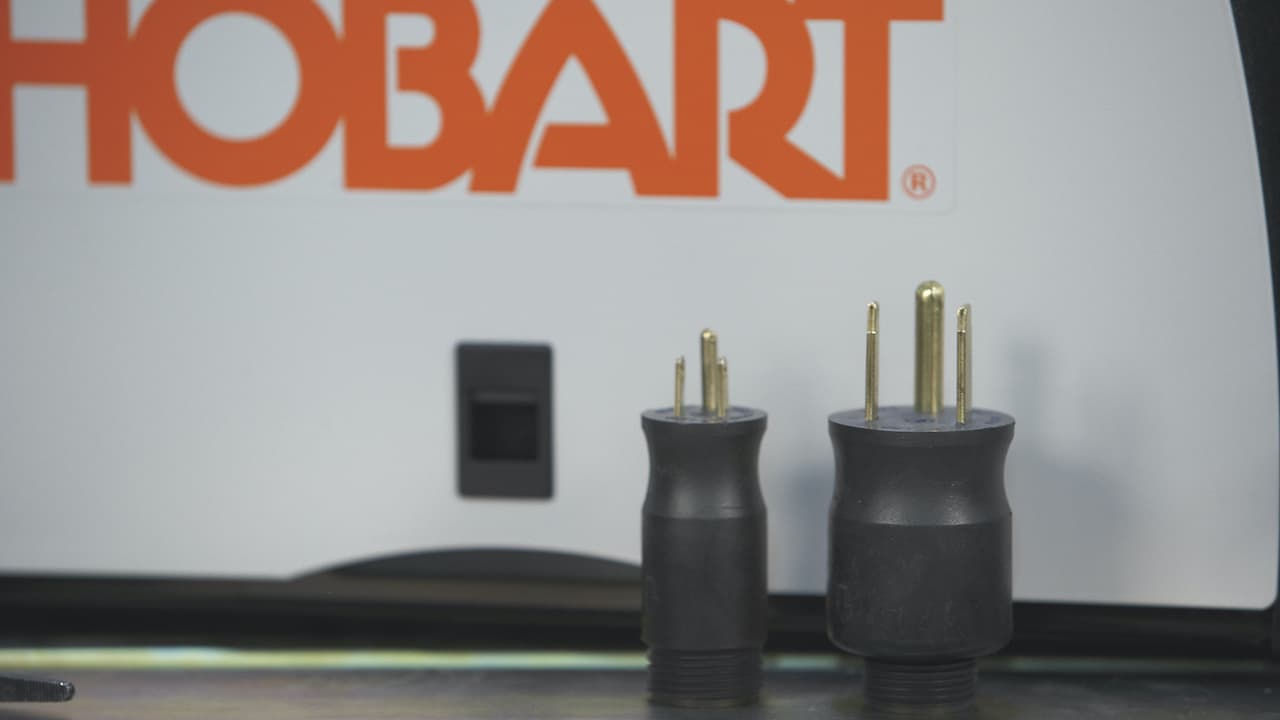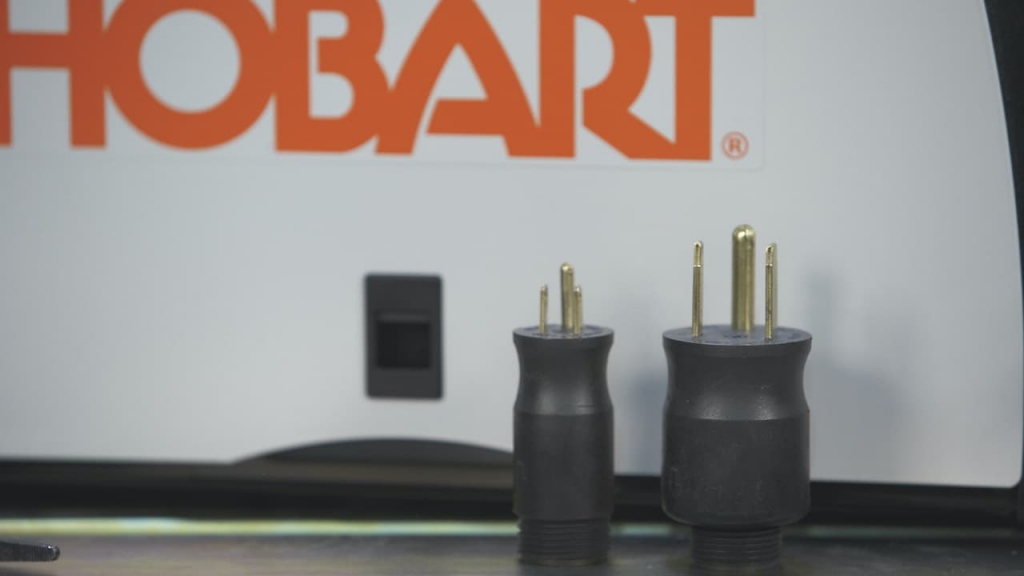 The 240V wall plug can be a bane to some shops. It is not always easy or affordable to run a high voltage line/plug into your shop. When you have to go to mobile, that becomes even more of a problem. The odds of a 240V plug being where you need it are almost nada.
But with the 210MVP, you can use 120 or 240 volts to run the unit. The MVP plugs swap out in an easy-to-use system. Just unscrew the retaining nut at the base of the plug, swap in the new plug, and tighten the retainer nut.
No wall outlets at all? No problem for the Handler 210MVP. It can also run on generator power. (Hobart recommends a minimum of 6000 continuous watts of output power.)
Wire Feed Mechanism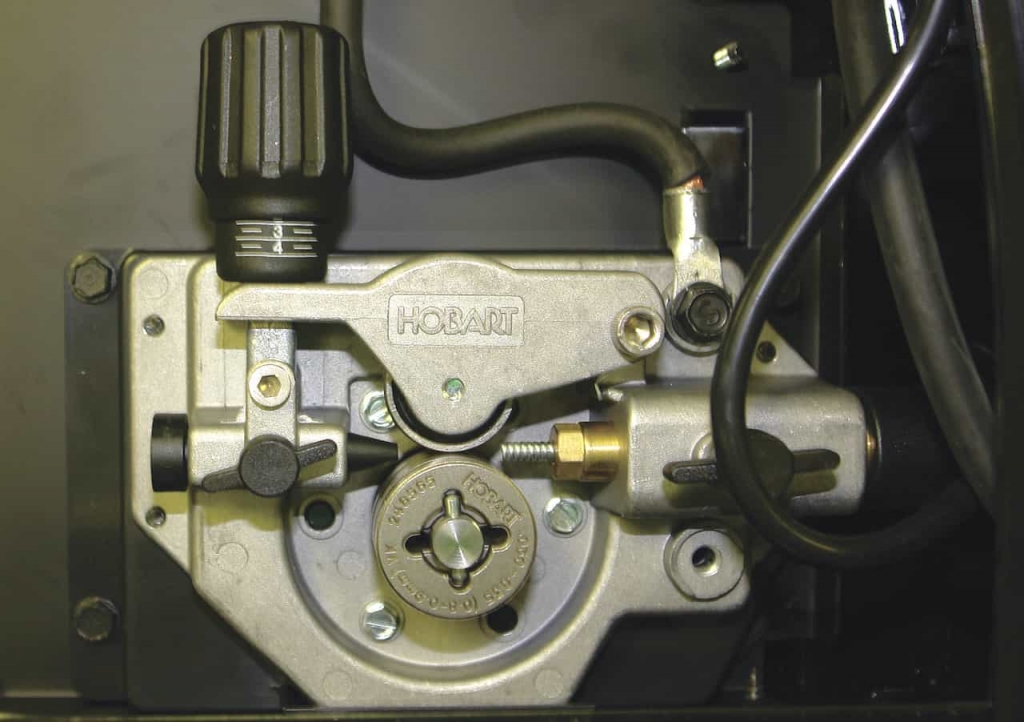 One of the things Hobart became known for is its QuickSelect wire feed system. They constructed the mechanism from all metal parts and made it simple to change the roller for different wire sizes, using only your fingers.
This wire feed setup works well. So well, in fact, many users comment how surprised they are with how easily and reliably it works.
Welds Aluminum
"Affordable" MIG welders often cannot accept a spool gun. But the Hobart 210 MVP comes with the electronics built-in and the port ready to receive one.
It gives you the ability to weld ¼ in. thick aluminum in a single pass when you add the optional spool gun.
Alternatives To Consider
While we respect what Hobart has achieved with their iconic Hobart 210 MPV, we have to point out that there are welders with better specs today. We hope Hobart updates the 210 model eventually, but it doesn't offer the best value for the money for now.
The two best models for comparison are Eastwood MIG 250 and 180. The Eastwood 250 offers more power, and it's just slightly cheaper than Hobart, while the 180 model is significantly cheaper but has less power than Hobart.
The Eastwood MIG 250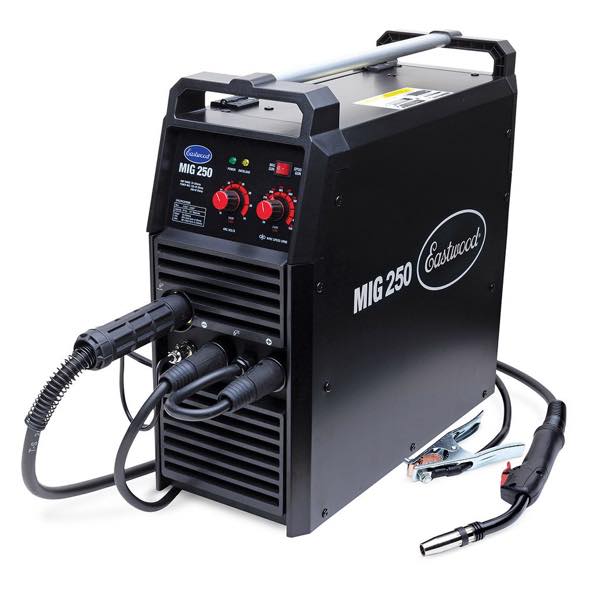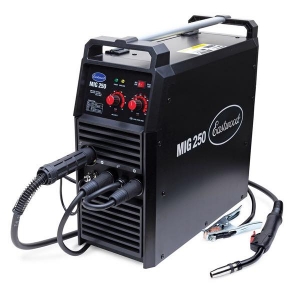 The Eastwood MIG 250 is a dual-voltage inverter MIG welder capable of welding 1/2 in. thick steel in a single pass. It's backed by a 3-year warranty and has a similar arc and build quality as Hobart.
The impressive 250A output coupled with a 60% duty cycle lets you weld thick elements for a long time. This welder is meant for professional applications. The 100% duty cycle at 194A means that you can weld indefinitely the same thickness as Hobart, allowing you to run a serious welding shop.
It supports infinite voltage and wire feeding speed adjustability, giving you much better adjustability than Hobart. Additionally, it does use standard DINSE plugs, making the polarity change effortless.
The welder is lightweight and portable at 46 lbs. It comes with a high-quality Trafimet ERGOPLUS24 MIG torch and a heavy-duty ground clamp.
Unlike Hobart 210, the Eastwood 250 includes some helpful functions like 2T/4T, tack welding mode, and a quick feed button. The 2T/4T lets you switch between standard (2T) and a four-touch (4T) mode that lets you weld without holding the MIG gun trigger. This is especially useful considering its extreme duty cycle. You can weld long welds without getting hand fatigue or hitting the duty cycle.
The tack welding mode lets you make consistent tack welds regardless of how long you keep the trigger depressed. This is helpful for sheet metal work and when modifying car body parts like fenders.
The Eastwood 250 is cheaper than Hobart 210, has a 3-year warranty, and has a similar build quality. With its 250A, impressive duty cycle, and helpful features, it's definitely worth your attention, which is why we had to compare it head to head with Hobart.
Eastwood
MIG 250
Hobart Handler
210 MVP
Technology
IGBT Inverter
Transformer
Weldable Mild Steel Thickness
Up to 1/2 in.
Up to 3/8 in.
Amperage Output
50-250A
25-210A
Duty Cycle
60% at 250A
100% at 194A
30% at 150A
15% at 200A
DINSE Sockets
✅
❌
Integrated Ground Clamp
❌
✅
Infinite Voltage Adjustability
✅
❌
2T/4T
✅
❌
Tack Weld
✅
❌
Weight
46 lbs
79 lbs
Warranty
3-Years
5/3/1
Price
$$
Best Price
Eastwood
$$$


Price on Northern Tool




(with free delivery)


—
Price on Amazon
The Eastwood MIG 180
The Eastwood MIG 180 costs less than half of Hobart 210. Its maximum output is 180A, 30A less than Hobart, but its duty cycle is significantly higher. Additionally, it's three times lighter and supports all advanced features as its bigger brother, the Eastwood 250.
We wanted to provide a cheaper alternative in case you don't need the full welding power of Eastwood 250 or Hobart 210. Below is a full comparison table.
Eastwood
MIG 180
Hobart Handler
210 MVP
Technology
IGBT Inverter
Transformer
Weldable Mild Steel Thickness
Up to 5/16 in.
Up to 3/8 in.
Amperage Output
30-180A
25-210A
Duty Cycle
60% at 130A
100% at 100A
30% at 150A
15% at 200A
DINSE Sockets
✅
No
Integrated Ground Clamp
❌
✅
Infinite Voltage Adjustability
✅
❌
2T/4T
✅
❌
Tack Weld
✅
❌
Weight
25.3 lbs
79 lbs
Warranty
3-Years
5/3/1
Price
$
Best Price
Eastwood
$$$


Price on Northern Tool




(with free delivery)


—
Price on Amazon
Conclusion
For an easy-to-use, reliable MIG welder with 210A of power, the Hobart 210MVP is still a good option.
But as welding technology advanced, other brands started providing more for a lower price.
The Eastwood welders are the best examples of reliable machines that have a significant edge over Hobart at this price range.
If you have any experience with the Hobart 210, please let us know your thoughts in the comments below.