People come in all shapes and sizes. So do MIG welders.
Some are thoroughbreds, refined and expensive. In contrast, others are more like workhorses. The Millermatic 211 is one that comes to mind. It is versatile but still pricey.
What if there was a viable alternative that cost less? Well, there is, the Hobart Handler 210MVP.
MVP stands for "multi-voltage plug," which means it runs on 120 or 240 input voltage. Plus it can weld up to ⅜ in. thick steel, and with the optional spool gun you can handle ¼ in. aluminum.
The combination of features found in the 210MVP makes it a good fit for small to medium-sized shops. In fact, you may have run across one or two in use. That is due in part to Hobart's heritage as a welding manufacturer and the 210MVP comes with their strong 5/3/1 warranty.
So, you may say, that all sounds great on paper. But what do you really get when you buy this popular model? Glad you asked, we assembled all the information you need to find out below.
Quick Overview of the Hobart Handler 210MVP [500553]
What's Included
10 ft. (3m) HR-100 gun
10 ft. (3m) work cable with clamp
Built-in gas solenoid valve and dual-gauge regulator with gas hose
Spool hub assembly accommodates 4 or 8 in. spools
Sample spool of .030 in. self-shielding flux-cored wire
.030 (0.8mm) contact tips
Quick Select™ drive roll for .024 in. (0.6 mm) or .030/.035 in.
Power cord with 5-15 P (115 V, 15 A) and 6-50 P (230 V, 50 A) MVP (TM) plugs
Welding guide
Material thickness gauge
Owner's manual
Technical Specifications
Manufactured
USA
Welder Type
MIG, Flux Core
Input Voltage
115 V
230 V
Technology
Transformer based
Duty Cycle
20% @ 90A (115V)
30% @ 150A (230V)
Amperage Output
25 – 140A (115V)
25 – 210A (230V)
Voltage Settings
4 Fixed Positions (115V)
7 Fixed Positions (230V)
Weldable Materials
Mild and stainless steel, Aluminum
Torch Lead Length
10 ft.
Ground Cable Length
10 ft.
Mild Steel Thickness (Single-pass)
24 ga. – 3/8 in.
Aluminum Thickness
18 ga. – 1/4 in. (w/ spool gun)
Wire Thickness
0.023 – 0.035 in. (steel)
0.030 – 0.045 in. (flux cored)
0.030-0.035 in. (aluminum)
Wire Feed Settings
Infinite between min. and max.
Wire Feed Speed ("WFS")
40 – 680 IPM
Wire Spool Sizes
4-in., 8-in.
Spool Gun Ready
✅
Welder Dimensions (H x W x L)
12.375 in. x 10.625 in. x 19.5 in.
Weight
79 lbs.
Warranty
5/3/1 years
Price
Latest Best Price
(with free delivery)
The Good & Bad
Pros
Affordable
Puts out 210A, can weld ⅜ in. steel in one pass
Goes down to 25A for stock as thin as 24 gauge
Simple to learn and use controls
7 voltage taps with 230V, 4 voltage taps with 115V
All metal wire feed mechanism
Infinite wire speed control
Uses proven transformer technology to power the welder
Spool gun ready handles up to ¼ in. aluminum
Simple, toolless wire size changes
Easy polarity changeovers
Weld settings chart on the inside of the wire compartment door
Advanced electronic circuity protection
Strong 5/3/1 warranty
Cons
Heavier than some other MIG welders
Not for those who weld thick (i.e. over 1.4 in.) aluminum
Where you can buy the Hobart 210
Like with many Hobart welders, they are available from a range of retailers. Each retailer runs deals from time to time so it is worth checking where has the current best deal:
What You Should Know Before Buying the Handler 210 MVP
Portability/Weight
The Handler 210MVP is portable. Along with the dual input voltage, you have options as to where and how you can work with this unit. That includes using a generator if you need to.
But it weighs 79 lbs. That is because it uses tried and true transformer technology, which does add weight.
So, if 80 lbs. is a bit too heavy in your book to move around, keep that in mind if you consider this welder. But there is a handle on top which makes moving this welder around fairly easy, including throwing in your truck, if you can deal with the weight.
The carry handle even folds down out of the way when not being used. This pretty handy when loading the welder into a vehicle for transportation, since the "case" takes up less space.
Duty Cycle
One of the reasons we consider this welder a good MIG unit for small to mid-sized workshops, the duty cycle is less than machines rated for industrial or heavy use.
If you run your welder non-stop, this unit will not run constantly without tripping the thermal protection.
Spool Gun not Included
For the price, we are not complaining that the spool gun is optional. But we felt it should be added here to let you know; if you plan on welding aluminum, you need to buy the spool gun separately, or, buy the package with the spool gun – as this is cheaper.
Also, with the spool gun, you can weld up to ¼ in thick aluminum. That may be thin for those who do a lot of aluminum fabrication work.
Best Features of The Hobart 210 MVP
Price
As noted in the introduction, one of the first things people notice about this welder is the price. It is low for a unit that puts out 210 amps and welds ⅜ steel in a single pass – and that's comparing it to the Miller 211.
But this welder also comes with some other key features; ones that you will actually find useful. The most significant ones are detailed below.
If you are looking for further value, then you may want to consider the Vulcan MIGMax 215 from Harbor Freight.
Ease of Use
Look at the control panel and what do you see? Two knobs and an on/off switch. That's it. One dial sets the voltage, and the other sets the WFS.
Setup for this welder up takes seconds and you would be hard-pressed to find one that is easier to use. There is even a thermal overload light that comes on when you trip the thermal protection. Again, convenient as you just wait till the light goes out to start welding again.
But Hobart also included a comprehensive welding settings chart on the welder. For the welds you do all the time, sure you do not need a chart. But for those welds you may not do often, a starting point at your glove tips is very convenient. Plus, new welders will use the chart often.
Output Power
Do not assume because this welder is easy to set up and use means that it has no power. It puts out 210 amps and can weld ⅜ steel in one pass. For many shops, that is all they need.
Yes, if you are welding up army tanks, ⅜ will not be thick enough. But for the majority of us, the power in this unit is plenty.
Voltage Input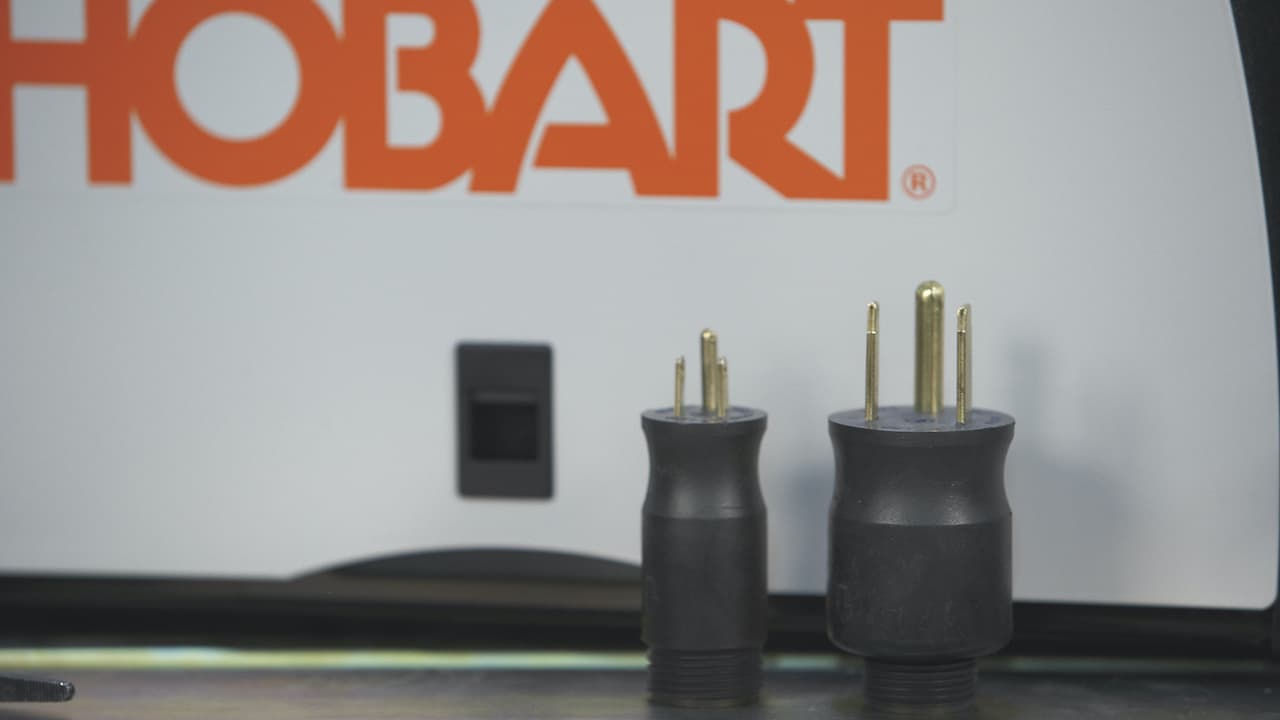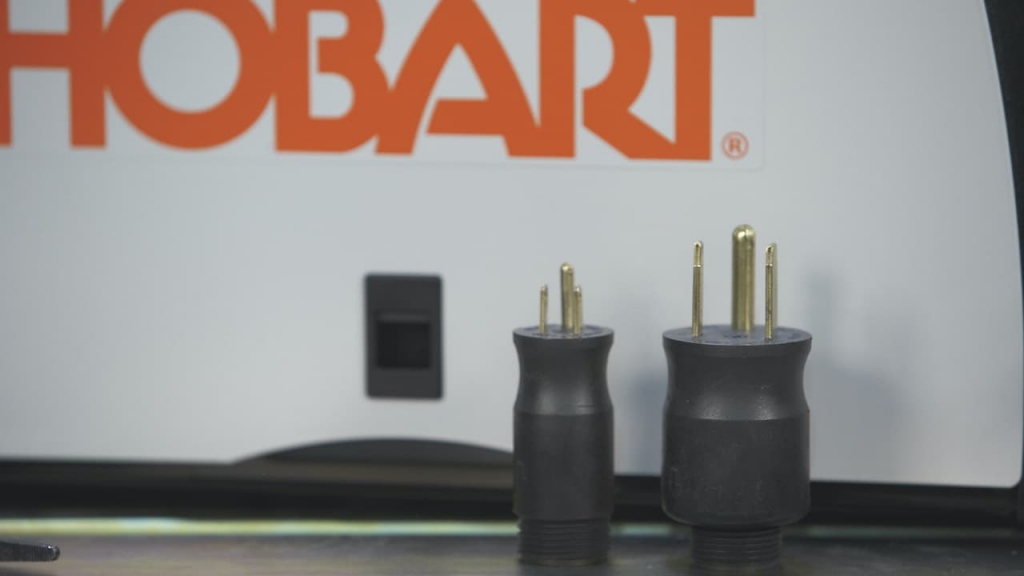 The 240V wall plug can be a bane to some shops. It is not always easy, or affordable, to run a high voltage line/plug into your shop. When you have to go to mobile, that becomes even more of a problem. The odds of a 240V plug being where you need it are almost nada.
But with the 210MVP, you can use 120 or 240 volts to run the unit. The MVP plugs swap out in an easy-to-use system. Just unscrew the retaining nut at the base of the plug, swap in the new plug, and tighten the retainer nut.
No wall outlets at all? No problem for the Handler 210MVP. It can also run on generator power. (Hobart recommends a minimum of 6000 continuous watts of output power.)
Wire Feed Mechanism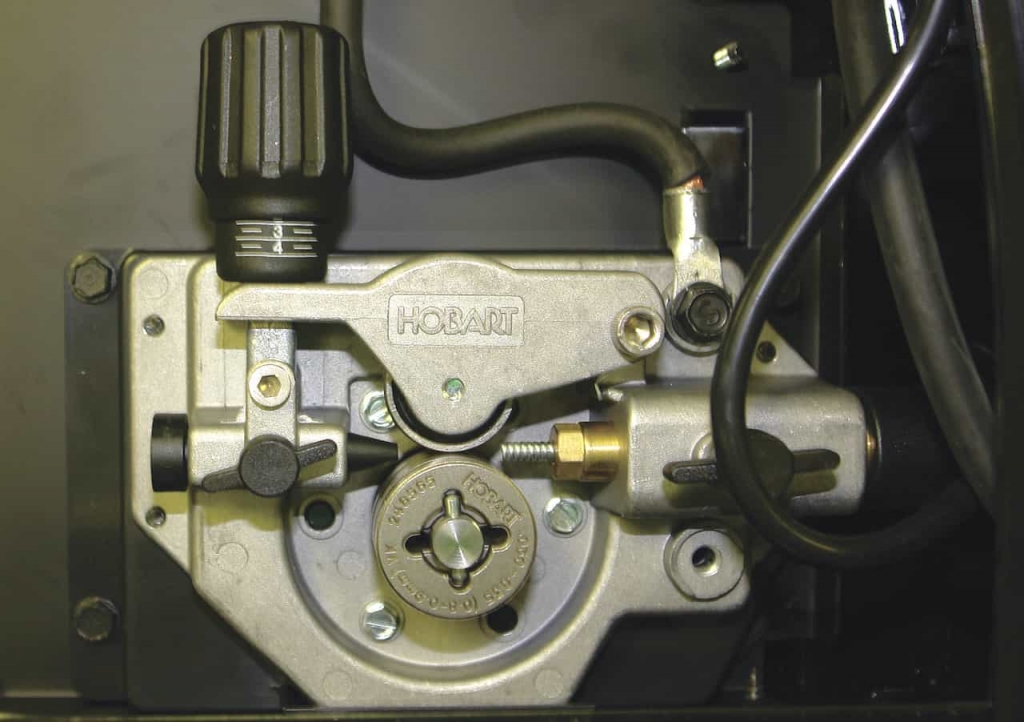 One of the things Hobart became known for is its QuickSelect wire feed system. They constructed the mechanism from all metal parts and made it simple to change the roller for different wire sizes, using only your fingers.
This wire feed setup works well. So well, in fact, many users comment how surprised they are with how easily and reliably it works.
Welds Aluminum
"Affordable" MIG welders often cannot accept a spool gun. But this affordable workhorse comes with the electronics built-in and the port ready to receive one. It gives you the ability to weld ¼ in. thick aluminum in a single pass when you add the optional spool gun.
What other users say about the Hobart Handler 210MVP
Summarizing what users are saying can be a challenge at times, this is not one of them. The overwhelming number of 210MVP users say the same thing. This welder is easy to set up and use.
The manual that comes with the unit is well written and the setting guide included right on the welder help newbies get up to speed fast. Experienced welders like they are spending time welding, not programming a computer.
Plus, the arc control and bead quality compare well to more expensive machines, and that includes with aluminum, too. Many users are surprised by this, expecting it to be less than what they found with their "favorite" welders used in the past.
One other repeated comment, the wire feed mechanism works well. Some even mentioned they did not know how "cheap" other wire mechanisms were until they used this welder. The QuickSelect system has earned a good reputation for a reason.
Conclusion
For an easy-to-use, reliable MIG welder with 210A of power, the Hobart 210MVP is hard to beat.
It uses multiple power sources to run and can be used just about anywhere. Plus, you can add an optional spool gun and weld aluminum as well.
With the included power, this unit handles ⅜ in. steel in a single pass. But on the low end, you can go down to 25A and weld 24 gauge stock. Small to medium-sized shops will appreciate this versatility. To provide you with a sense of security, Hobart backs things up with a solid warranty.
Also, the QuickSelect mechanism works well. Changing your wire size is fast and painless. That goes for changing the polarity as well. Hobart made sure to give you good access to the wires and terminals for easy, quick polarity changes.
Hobart designed simplicity into almost every feature on this welder. It even lets you know when it is overheated, and when it is ready to go again. If you want to weld, and not fiddle with the settings, the 210MVP is a great choice. It even made it as one of the top picks in the MIG welder reviews guide.
The duty cycle is too low to consider this for larger, more industrial shops. But metal sculptors, farmers/ranchers, maintenance shops, contractors, boat and auto mechanics, and DIYers will value this affordable, reliable workhorse that handles just about all of their welding needs.