At the back end of 2020, Hobart released their first multi-process welder – the Multi-Handler 200.
Multiprocess welders have been around for a while for a good reason. Why buy multiple machines and maintain them all? The freedom to weld with different processes using just one machine means less maintenance and out-of-pocket costs.
So, when a well-known manufacturer like Hobart (owned by the well-known Miller Electric) releases a new multi-process welder, it will get some attention. Especially when it comes to Hobart's proven Quick Select wire drive and the ability to MIG, TIG, Flux Core, and stick weld.
Quick Overview of the Multi-Handler 200 (500578)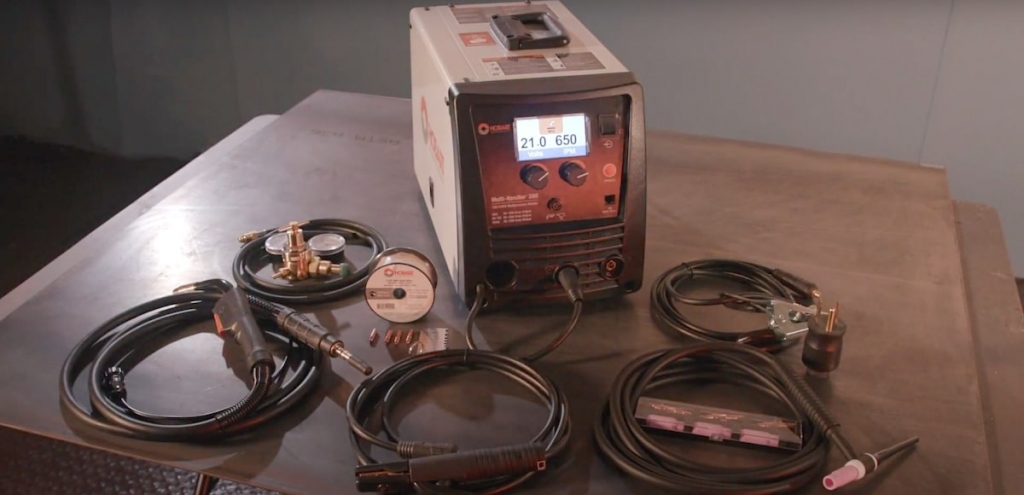 For shops that perform DIY/hobby, automotive, farm/ranch, and metal art/sculpture work, this Multi-Handler 200 brings 200A and a wide variety of welding processes in one simple-to-use unit.
The electronics use inverter technology, which makes it light, and it runs on both 120 and 240 volts. The Multi-Handler 200 also comes with a bright LCD color display and simple controls that are intuitive and easy to set up while wearing your gloves.
For improved MIG and flux core starts, Hobart included "run-in" technology. This feeds wire more slowly before the arc strikes to make your starts smooth and reduce the initial spatter.
It appears Hobart not only intended to make the Multi-Handler 200 use many welding processes. They also strived to enhance how you weld while improving the weld quality in a unit that costs less than you might expect.
Let's take a closer look…
What's Included
10 ft. (3m) HR-100 gun
10 ft. (3m) electrode cable with heavy-duty holder
10 ft. (3m) work cable with clamp
12.5 ft. (3.8 m) TIG torch with backcap, nozzle
Insulator nozzles (#4,#5,#6), collet, collet body, and electrode with 1/16 and 3/32 in. tungsten
Power cord and MVP plugs for 120 and 240 V
Built-in gas solenoid valve
Dual-gauge regulator with gas hose.
Sample spool of .030 in. (0.8 mm) solid wire
Quick Select (TM) drive roll for .024 in (0.6mm) or .030/.035 in. (0.8/0/9 mm) solid wire, and .030/.035 in. (0.8/0.9 mm) flux-cored wire
.030 and .035 contact tips
Material Thickness Gauge
Technical Specifications
Manufactured In
China
Processes
MIG, Flux-Core, Stick, TIG (DC)
Display
Digital, Color LCD
Input Voltage
120 or 240 V
Duty Cycle
MIG/Flux Core:
40%(120 VAC 100 A @ 19.0 Volts DC)
15% (240 VAC 200 A @ 24.0 Volts DC)
40% (240 VAC 140 A @ 21.0 Volts DC)
TIG:
20% (120 VAC 140 A @ 15.6 Volts AC/DC)
20% (240 VAC 200 A @ 18.0 Volts AC/DC)
Stick:
40%(120 VAC 80 A @ 23.2 Volts AC/DC)
15% (240 VAC 170 A @ 28.0 Volts AC/DC)
Amperage
MIG/Flux-cored: 30–200 A
TIG: 20–200 A
Stick: 30–200 A
Voltage/Amperage Control
Infinite
Wire Feed Speed Control
Infinite
Weldable Materials
Mild and Stainless Steel, Aluminum
Mild Steel Thickness (Single-pass)
24 ga. – 3/8 in. (MIG, Flux Core)
22 ga. – 3/16 in. (TIG)
16 g. – 3/8 in. (Stick)
MIG Wire Thickness
0.024 – 0.035 in. solid wire
0.030 – 0.045 in. flux-cored wire
MIG Wire Feed Speed
60 – 650 ipm
Tungsten diameter (TIG)
1/16 and 3/32 in.
Electrode Sizes (Stick)
3/32 to 5/32 in.
Wire Spool Sizes
4-in. and 8-in
Spool Gun Ready
✅
Unit Dimensions (H x W x L)
13.4 in. x 10.6 in. x 20.8 in.
Weight
38.4 lbs.
Warranty
5/3/1 years
Price

See Best Deal
Northern Tool
(free delivery)
Pros
All-in-one MIG, Flux Core, TIG, and Stick Welder
Dual power input, 120V or 240V
Up to 200A of power
Simple control panel that is glove-friendly, just 2 dials and one process button
Run-in technology slows the wire feed before arc initiation for improved, smooth starts and reduced spatter
Quick, easy setups and changeovers
Color LCD digital display is bright and easy to read
Light, portable unit
Can run pure CO2 gas
The fan is quiet when not welding
Cons
DC TIG only, Cannot TIG weld aluminum
IP21S, rated for indoor use, not intended for outdoor use or storage
TIG foot pedal not included
No auto-set function like the Miller 215
CO2 tank adapter not included
Where to Buy
There are a few different retailers you can buy the Multi-Handler 200 from.
Blain's is usually the cheapest but it's worth checking the other retailers as they run deals from time to time.
What You Should Know Before Buying The Multi-Handler 200
DC TIG Welding
This unit is capable of DC TIG welding but not AC TIG welding.
That means you cannot TIG weld aluminum with the Multi-Handler 200. If you need those pristine aluminum welds that TIG welding provides, the Multi-Handler 200 cannot do that.
However, you can add the SpoolRunner 100 spool gun to this welder if you do a lot of work with aluminum.
TIG Foot Pedal
Anyone who TIG welds regularly knows the value of the foot pedal. But Hobart did not include a foot pedal as part of the Multi-Handler 200 package.
If you want one, you will have to buy it separately.
Use and Storage Environment
Upon reviewing the user manual, Hobart strongly stated this unit is for indoor use only.
Of course, that does not mean it will not work outside. But Hobart clearly warns against wet conditions and severe temperature swings. It is best to store the unit in a covered, climate-controlled area.
There's No "Auto-Set" Function
If you compare this to the Miller Multimatic 215, then one feature that the Multi-Handler 200 lacks is an "auto-set" function that automatically sets your welder to the proper parameters. All you have to do is set the wire/rod/tungsten size, set the material thickness, and start welding.
Unfortunately, the Multi-Handler 200 does not come with this function; however, the Miller Multimatic 215 does cost more.
Use of Pure CO2 (100% CO2)
Some welders like to use pure CO2 when MIG welding. While there are some drawbacks, you do get good penetration, and it costs significantly less.
Fortunately, you can run pure CO2 with the supplied regulator. But you must purchase an adapter to attach the regulator to the CO2 tank that uses a different thread. For some reason, the adapter is not included.
Top Features of The Multi-Handler 200
Ease of Use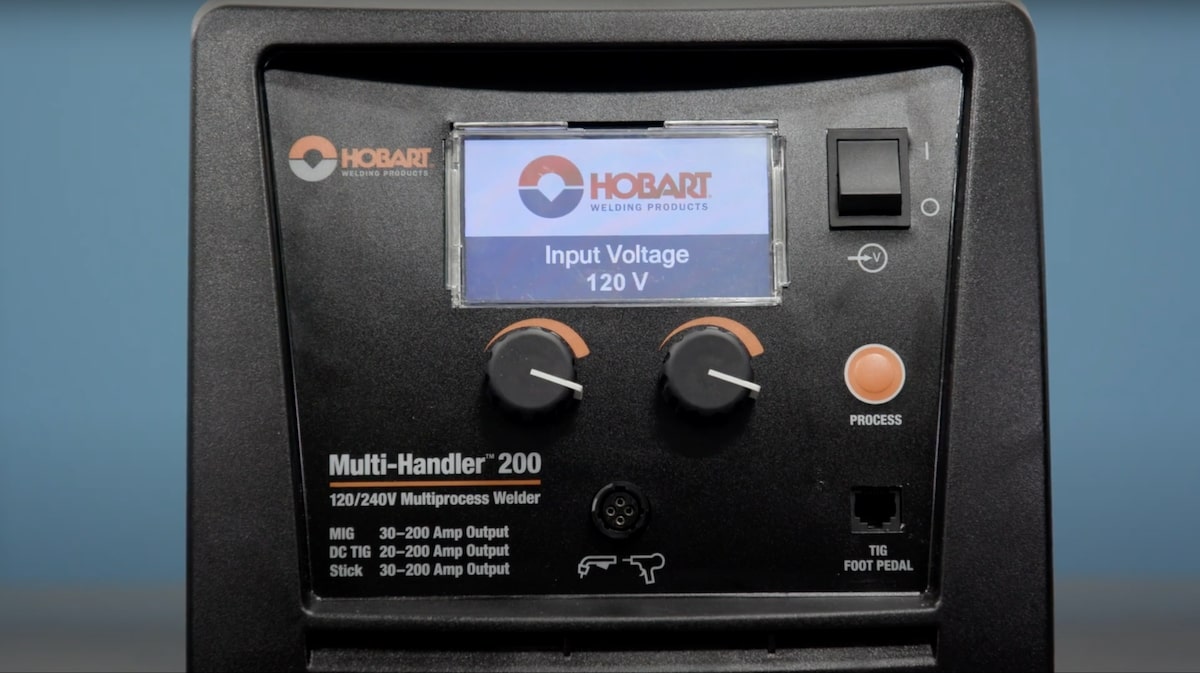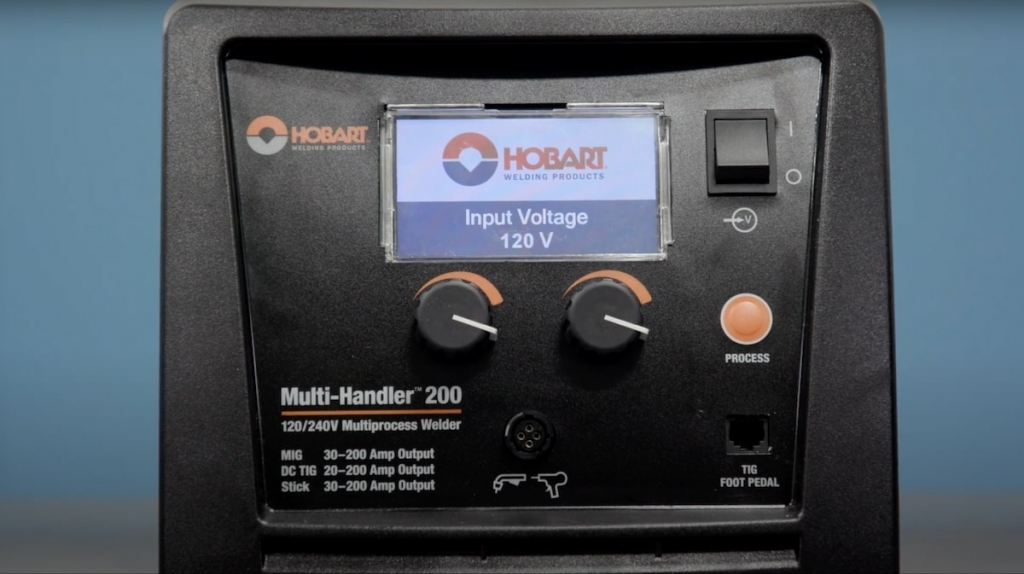 The control panel is well laid out and uncluttered with an on/off switch, a process button, and two dials. A color LCD panel sits at the top and produces bright, easy-to-read information to display the settings.
To use, you simply connect the leads to the right ports, select your welding process, and adjust the settings (e.g., volts and WFS for MIG or the amps for TIG). Hobart also includes a weld settings chart on the inside of the wire feed door for handy reference.
If you need to tweak your settings, both dials can be infinitely controlled between the max and min. Most find the settings chart helpful to get started, but they need to nudge the WFS and volts or amps a little to get that perfect arc. With this unit, that is possible.
Run-in Technology and Quick Drive System
The "run-in" feature slows the wire feed speed when you pull the trigger until an arc is formed. It is a simple concept to keep the excess wire out of the way at the start of a weld. This makes starting a weld "smoother" and keeps that initial spatter down.
Then as you weld, the Quick Drive roller delivers wire to your weld puddle in a reliable, smooth manner.
It should also be noted; the Quick Drive system has been on the market for a while. It earned a good reputation with fewer instances of birdnesting and other problems that can plague MIG welders. If you do a lot of MIG welding, it is a good feature to feed your wire.
Portable
For those who need to move around, this unit weighs just under 39 pounds. Hobart also includes a handle on top that folds out of the way when not in use. Plus, it runs on 120 or 240 volts. So, you can easily bring it to work and use the available outlets.
The housing would not be considered tiny. But it is still compact enough to load up and take to the job if needed.
If you want to use it on a cart, the rubber feet on the bottom let it sit on the shelf securely. You can roll it around your shop with the rest of your welding equipment should you need to do that, too.
Color LCD Display
The display is easy to take for granted until you need to see it from 10 feet away. This unit's display is bright, and the numbers are large. You can easily see your settings, even from a distance.
Versatile
A lightweight, compact unit like the Multi-Handler 200 that can MIG, TIG, flux core, and stick weld qualifies as versatile. But add the dual input voltage feature, and you have the freedom to take on work just about anywhere.
But Hobart designed even more flexibility into this welder. For instance, the supplied regulator can run various shielding gasses, including pure CO2 (if you buy a special adapter).
The unit also has accessories for the various welding processes that allow you to tackle sheet metal and thicker stock.
If you take on a large amount of aluminum work, this unit accepts the SpoolRunner 100 spool gun, which plugs directly into the unit. No control boxes or adapters are needed.
Except for AC TIG welding, this machine can take on just about any welding task you would find in situations like:
DIY / Home Hobbyist,
Racing,
Automotive Customization / Restoration,
Farm and Ranch, and
Metal Art / Sculptures.
What Other Users Are Saying
Hobart recently released this unit. At the time of writing this, there are not many reviews for it. But there is talk on sites like Reddit, and the chatter makes it clear this welder is garnering interest.
Users did comment on how smooth this welder is. The advanced electronics make for a stable, controlled arc. But this is also due partly to the run-in technology that improves your arc startup and the Quick Drive system that gets the wire to the weld puddle effortlessly.
One reviewer noted, "I have welded with Millers and Lincolns for years and can say this machine seems just as stable as any other in all processes."
The features found at this price level are also surprising to many. One reviewer went so far as to say, "All in all, this is a steal for what you get."
Another repeating comment concerns Miller Electric, who owns Hobart. Both companies have a good reputation for standing behind their welders. Their 5/3/1 warranty is one of the best in the industry, and users are more comfortable with Hobart/Miller, which is known for its good service.
Where To Buy
There are not loads of retailers to choose from at the time of writing this as it is still new. This will change as time goes on as retailers stock up.
Here are a few that I found that had stock at the time of writing:
Conclusion
Multitaskers risk becoming a jack of all trades and master of none. However, the Hobart Multi-Handler 200 performs MIG, flux core, TIG, and stick weld as well or better than many stand-alone machines.
Except for AC TIG welding, you get just about every welding technique you could need in one machine at a fair price. That would be enough for many users, but Hobart included a bevy of features with this machine, making it a user-friendly product.
You get 200A of power and useful features like dual power input, simple controls, easy setup, run-in technology, the Quick Drive wire feed, and a color LCD screen. Plus, if you need to add a spool gun, this machine is up to it.
In short, the feature set is quite remarkable for a light, versatile welder at this price level. It is not an overstatement to say the price-to-feature ratio for this welder heavily favors the buyer. Plus, you are backed by a good 5/3/1 warranty from one of the most respected names in the industry.
If you run a DIY, automotive, farm/ranch, or art/sculptor shop, put this unit on the shortlist of products that you should evaluate when you are in the market for a welder. You will not be disappointed.
Related: Find More Multi Process Welders
Resources