Welders know the Lincoln Electric product line includes some worthy machines.
That includes versatile, multi-process welders that appeal to smaller shops, like DIYers, farmers, and auto restoration shops.
One such welder is the LE31MP, which runs on 120v and can MIG, TIG, flux-cored, and stick weld.
If you want to know if this welder right for your shop, this article contains all the information you need to find out.
A Quick Look at the Lincoln LE31MP (K3461-1)
What's Included
Electrode holder with 10 ft. cable for stick welding
Magnum® PRO 100L gun and 10 ft. (3.0 m) cable assembly with brass connection and 8-pin trigger connector (K530-7).
.025 in. (0.6 mm) tapered contact tips (Qty 3) (KH831)
.035 in. (0.9 mm) tapered contact tips (Qty. 3) (KH833)
Gasless nozzle for Innershield® welding (KH836)
Gas nozzle for MIG welding (KH835)
Spindle adapter for 8 in. (203 mm) diameter spools (KH720)
.025 – .035 in. (0.6 – 0.9 mm) wire diameter dual track drive roll for MIG and flux-cored welding (KP2948-1)
Harris® 3000290 Gas Regulator (S25805)
52 in. (1.3 m) hose (S19303) for use with Ar/ CO2 blend gases. (For use with CO2 shielding gas, order a Lincoln Electric S19298 CO2 shielding gas bottle adapter.)
Sample spool of .025 in. (0.6 mm) diameter SuperArc® L-56® premium MIG wire
Sample spool of .035 in. (0.9 mm) diameter Innershield® NR®-211-MP flux-cored wire
Work clamp and 10 ft. (3.0 m) cable
Instruction manual
Quick Start guide
Technical Specifications
Welder Type
MIG, DC TIG, Flux-cored, Stick
Input Voltage
120V
Circuit Breaker Size
120V: 20 amp 60Hz
Duty Cycle
60% @ 95 Amp s(MIG)
60% @ 115 Amps (TIG)
60% @ 80 Amps (Stick)
Amperage Range
30 – 140 Amps (MIG)
10 – 120 Amps (TIG)
25 – 90 Amps (Stick)
Voltage Control
Infinite between min. and max.
Weldable Materials
Mild and stainless steel, aluminum with optional spool gun
Steel Thickness

24 ga. – 3/16 in. (MIG)
18 ga. – 5/16 in. (Flux-cored)
Up to 3/16 in. (Stick)
Up to 1/8 in. (TIG)

Aluminum Thickness (Single-pass Spool Gun)
18 ga. – 3/16 in.
Wire Feed Speed Control
Infinite between min. and max.
Wire Feed Speed ("WFS")

40 – 500 IPM (MIG)
40 – 400 IPM (Flux-cored)

Electrode Diameter (i.e. wire, rod, or stick)

0.025- 0.035 in. (MIG)
0.030 – 0.35 in. (Flux-cored)
0.040, 1/16, and 3/32 in. (TIG)
Up to 3/32 in (Stick)

Wire Spool Sizes
4-in. and 8-in.
Spool Gun Ready
✅
TIG Torch & Foot Pedal Included?
⛔
Lead Lengths
10 ft.
Dimensions
13.6 x 8.9 x 18.1 in.
Weight
34.5 lbs.
Warranty
3 years
Overall User Rating
★★★★★
(4.8/5)
Price
See Best Deal Here
Northern Tool
(free shipping)
Pros
Very portable multi-process welder
Can MIG, flux-cored, and stick weld right out of the box
Easy, toolless polarity changes, swap plugs on the front of the unit
Strong 60% at 90 amps duty cycle (Better duty cycle than most 120v MIGs on the market)
Spool gun ready
Supports TIG foot pedal and unit recognizes when it is plugged in, switching to TIG setting automatically
The control panel is clean and simple to use
One of the most popular multi-processor welders for homeowners
Cons
On/Off switch is on the rear of the unit
TIG is DC only (i.e., not for aluminum)
A spool gun is an option and adds to the cost
TIG torch and foot pedal is an option and must be purchased separately
The user manual is subpar
Lincoln LE31MP vs Power MIG 140 MP – What's The Difference?

Before diving into this review, I wanted to clarify the difference between the Lincoln LE31Mp and Power MIG 140 MP, as there have been some people asking this question.
In a nutshell, there is no difference between the LE31MP and Power MIG 140 MP other than the name. These two welders are identical. Even the size and weight are exactly the same. The Lincoln LE31MP is slightly cheaper though. So, why the two different names?
Well, Lincoln Electric sells through several outlets, both online and in-store. Sometimes the units must be branded differently for specific markets. I suspect the LE31MP is branded for certain users like the DIYers and farmers (based on the retailers Lincoln Electric links to).
What You Should Know Before Buying the Lincoln LE31MP
Power
The LE31MP brings various welding processes and lets you tackle a variety of different jobs. But it is not powerful enough to handle thick stock. If you intend to weld over 3/16 inches often, you should look at a machine with more power, such as the Lincoln Electric Power MIG 210 MP.
TIG Accessories
Keep in mind that Lincoln does not include the TIG torch or foot pedal. (Some of the competing units do include the TIG torch.) So, you will incur an additional cost on top of the base unit price to add the torch and pedal to the LE31MP. This should be added to your budget.
Spool Gun
You cannot TIG weld aluminum with the LE31MP, only MIG.
So, if you intend on welding aluminum, be sure to add the cost for a spool gun into your budget. It is not included with the welder.
Price
This is not the most expensive welder on the market and would be considered as a "cheaper multi-process welder". Prices vary among the retailers so shopping around may save you some money. Read below for my recommended alternative.
Consumables
As is the case whenever you buy a new welder, do not forget to add the consumables you need. Nothing aggravates welders more than putting down the torch of their new welder to run around and try to find some tips or wire. Oh, and make sure you have the right gas.
Features that Make this Model Great
Portable
Since this unit runs off a 120V power supply (w/ 20A breaker), you eliminate the 240v receptacle limitation and can weld in more locations.
Taking this welder to work is also convenient because of the small, light form factor. The LE31MP embraces portability and even includes a built-in carry handle on the top of the unit.
Versatile
For some shops, their welder must be flexible to take on varied tasks. With multiple processes, the LE31MP can stick or flux-cored weld outdoors. Or, MIG weld thinner stock in an auto restoration shop. Add the TIG accessories and spool gun, and you get even more abilities.
Easy to Set Up
The control panel on the LE31MP is about as simple as it gets. One button and two knobs. This panel will please those who like clean, straightforward controls with no clutter.
The console also features handy indicator lights, including one to let you know when the unit has tripped the thermal protection. The light also lets you know when the machine has cooled as the light goes off when it is ready to weld again.
Duty Cycle
The duty cycle of the LE31MP beats out most of the competing units. 60% at 95 amps is actually quite impressive for a compact, 120V powered machine.
Wire Drive Mechanism
The housing for the wire drive is cast aluminum, as are the gears driving rollers. The tension adjusting knob is clearly marked, and the setup of the wire feed system is simple, even for novice users.
Overall, the wire drive mechanism is solid for a machine in this price range.
Easy Polarity Changes
One of the welcome changes to many modern welders is the use of plugs on the welder's front to change polarity: easy access, no tools, and less aggravation.
I was pleased to see Lincoln included the toolless polarity change feature on this welder.
Good MIG and Stick Welds
Users consistently remark on the stability and ease when MIG welding. The arc is stable, and the spatter is kept to a minimum. Plus, the stick welding performance pleases users, too.
However, users found the TIG torch a bit hard to start and use. As a scratch start machine, I guess that should be expected. So, you will need to practice a bit before you get good results with the TIG process.
Auto TIG Pedal Recognition
While the TIG pedal is purchased separately, it works well once you have it. On plugging it in, the machine even recognizes the pedal and switches the settings automatically over to the TIG process. Convenience and ease like this are always a nice touch.
Things Can Be Improved on the LE31MP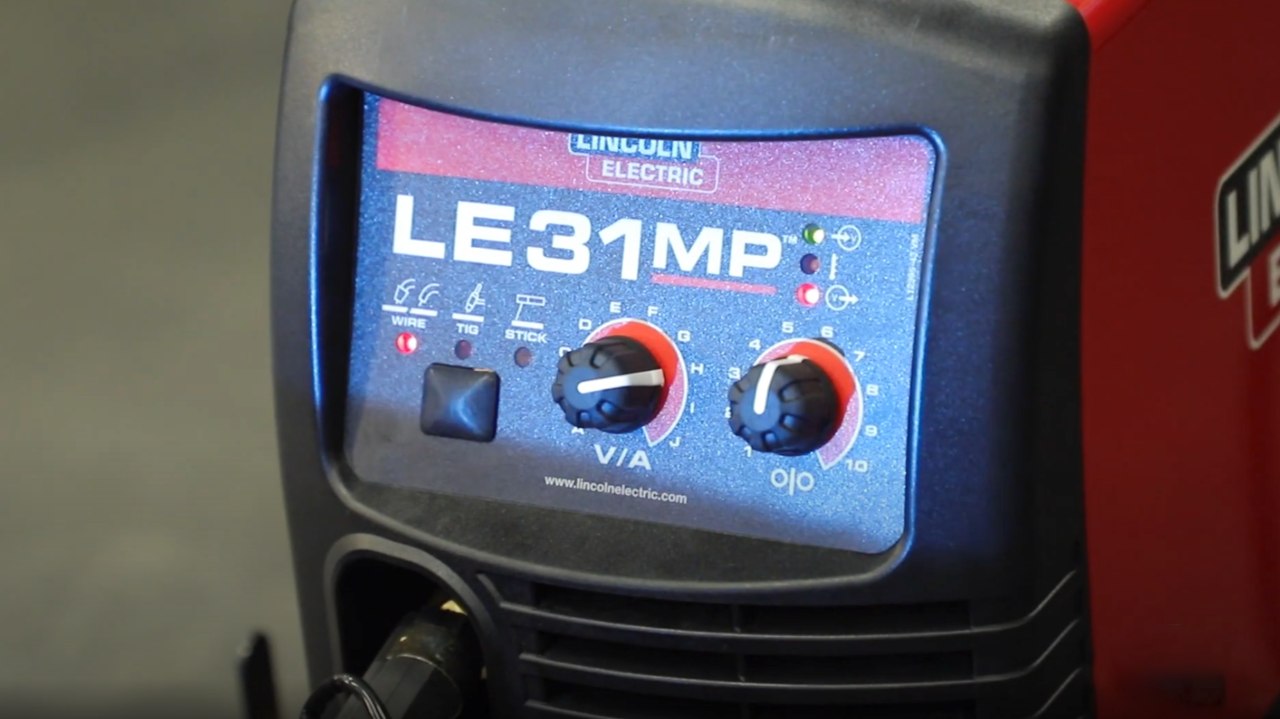 Include the TIG Torch
A multi-process welder will attract a certain customer base. But without a TIG torch, this welder loses a lot of its multi-function appeal. Adding it to the purchase, and watching the price rise, is not a great feeling. Lincoln would be better off including the TIG torch.
Improve Documentation
I had to do an undo amount of work to find the user manual (the "supposed" manual link on the product page circled me back to the product page again).
Once I found the manual with an internet search, the name LE31MP did not appear anywhere until the very end in one hard-to-read sketch. It was not very reassuring.
The confusion with multiple names for the same welder is a problem for Lincoln. But when they make it hard to find the manuals for a particular product, this is a red flag.
On top of that, the manual is not particularly well written and is hard to use at times. The welding settings chart is also not included. Lincoln needs to provide easy access to an online user manual for this welder, and someone needs to edit and improve the manual.
Move Switches to Control Panel
I love the simple control panel on this welder, but the on/off switch, and circuit breaker are on the back. Switches like this should be on the front for easy access, as found on some competing units.
Alternative To Consider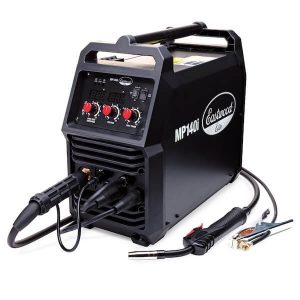 For those who like to comparison shop, consider the Eastwood Elite MP140i.
It costs less, and it incorporates a digital display. It also includes the TIG torch, plus it comes with a spot weld timer. Overall, the Elite MP140i offers excellent value for money.
Here is a summary of the differences between them:
Lincoln
LE31MP
Eastwood
Elite MP140i
Technology
Transformer
IGBT Inverter
TIG Torch Included
⛔
✅
Supports TIG Foot Pedal
✅
⛔
Duty Cycle
60% @ 95 Amps
30% @ 90 Amps
Built-in Spot Welder
⛔
✅
Digital Display
⛔
✅
MIG One Pass Thickness
3/16 in.
3/16 in.
RRP
$819.99
See Best Deal Here
Northern Tool
(free shipping)
$499.99
See Best Deal Here
Eastwood
(90-day returns)
Related: Top Rated Multi Process Welders
Conclusion
With multiple welding processes running on 120V, the LE31MP will appeal to DIYers, farmers, auto restorers, artists, etc. Anyone who needs a versatile, easy-to-use welder that fits a small shop budget will appreciate what this product has to offer.
For an entry-level multi-process welder, the 60% duty cycle at 95 amps stands out. It keeps you working, not waiting around for the machine to cool off.
When MIG welding, users find the arc easy to control, and the spatter is minimal. Stick welding also impresses users. But the scratch start TIG option is a bit harder to start and control. As a result, the TIG process with this machine takes some practice to use.
Also, be aware that this unit comes ready to MIG, flux-cored, and stick weld. If you want to TIG weld, you need to buy a torch and pedal. If you want to weld aluminum, you need to buy a spool gun. Of course, these added purchases add to your actual cost for this welder.
In summary, the Lincoln LE31MP brings a reputable brand name and a 3-year warranty to smaller shops. While affordable, you do pay for that security since it is not the lowest-priced unit out there. But it is a solid MIG and stick welder for those needing a capable multi-process welder.