Multi-process welders have become popular over the years as they offer convenience and have become more reliable.
However, finding one under $1000 can be a challenge with so many new options on the market.
We have taken a look at all the popular brands to offer you a selection of the best ones in the sub-$1000 bracket.
While there are many more available on the market, we believe our picks best serve the needs of most welders.
Let's take a look…
---
A Quick Comparison
Product
Image
Product
Details

Eastwood Elite MP200I

Spot weld timer

Dual-voltage input

Digital display

YesWelder MIG-205DS

2T/4T trigger lock

Dual-voltage power

MIG/TIG/flux/stick

Lincoln Electric LE31MP

120-volt convenience

MIG weld aluminum

TIG, MIG, stick, flux core

WeldPro MIG155GSV

Dual 120/240 volt input

2T/4T trigger lock

Includes regulatorb

Titanium Unlimited 200

MIG/TIG/flux/stick

2T/4T trigger lock

Includes TIG torch
Best Multi-Process Welders Under $1000
Here's a list of some of the best multi-process welders you can pick up for under $1000
1. Eastwood Elite MP200I Multi Process Welder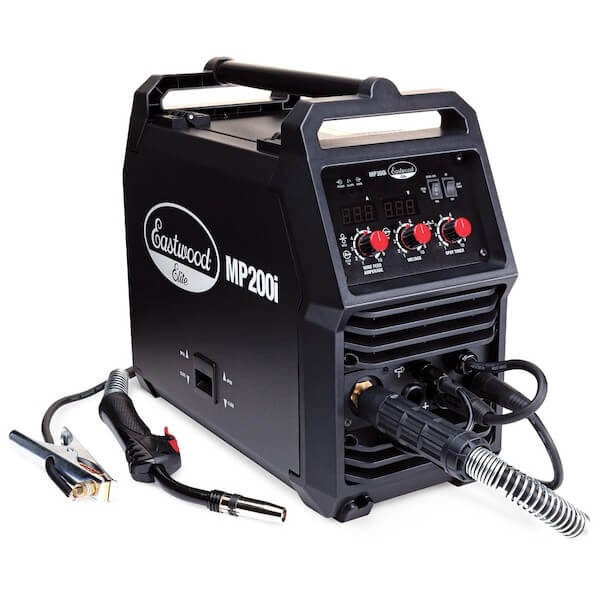 MIG, TIG and stick weld
Dual-voltage input
Spot weld timer
All-metal wire drive
Weighs 34 pounds
Pros
Can MIG weld aluminum
Includes gas regulator
Trafimet EP24 MIG gun
WP-17v TIG torch
Fits 4- and 8-inch spools
Optional spool gun
Cons
Scratch start TIG
Not footpedal-ready
Overview
The Eastwood Elite MP200i Multi-Process Welder is a 3-in-1 welder that lets you work 22 gauge sheet metal and will go all the way up to 3/8-inch steel plate. It's a dual-voltage machine that runs on either 120 or 240 volts. The MIG and TIG hit 90 amps and stick mode 70 amps on 120 volts. Stick mode will go to 170 amps on 240 and MIG/TIG processes reach 200 amps each.
This welder offers a great feature for sheet metal work. It's got a spot-welding timer that lets you duplicate factory spot welds on automotive and appliance projects. This feature lends an important professional detail to this type of project. Digital displays and infinitely adjustable settings dials give you precision control over your power levels. An optional spool gun lets you weld aluminum in MIG mode.
If you don't need this much power, want to save some cash or don't have 220-volt capability, you might be better served by the Eastwood Elite MP140i, also a MIG/TIG/stick machine but powered on 110-volt household current, able to handle steel up to 3/16-inch thick and with many of the same features. The Elite MP140i also includes the spot-welding timer.
---
2. YesWelder MIG-205DS Multi-Process Welder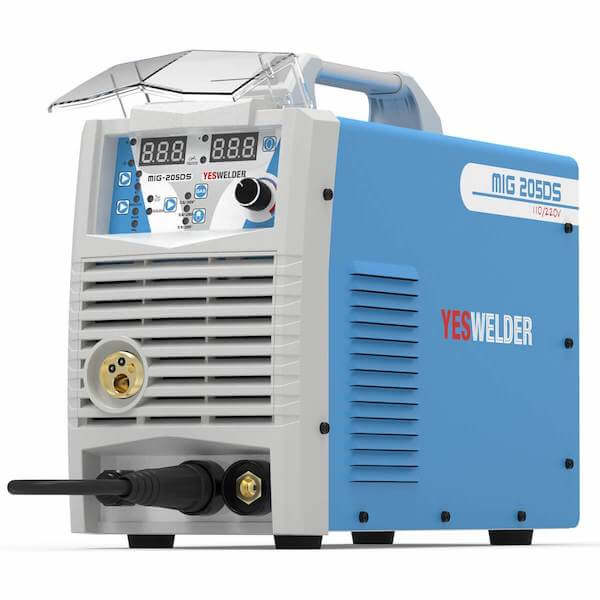 Compact size
Auto adjusting MIG arc
Flux core/TIG/MIG/stick
110V/220V dual-input
Trigger lock 2T/4T
Pros
Single button mode select
Digital displays
Flip-up cover
Lift start TIG arc
Light 33 pounds
Cons
TIG/MIG torches extra
Only takes 4-inch wire spools
No aluminum welding
Overview
The YesWelder MIG-205DS MIG/flux core/TIG/stick Welder features dual digital displays and dynamically modified arc control in MIG mode. This is called synergic settings or synergic arc control, and it modifies the arc settings while you weld to maintain good arc quality under
changing conditions. This machine has TIG, MIG, flux core and stick welding on tap, all chosen easily by a single digital button on the control panel.
One issue with the YesWelder MIG-205DS MIG/flux core/TIG/stick Welder as shipped is that it doesn't include a TIG torch (full review here), but it does come with a MIG gun and an electrode clamp for stick mode. The TIG mode is a true lift-type arc start. YesWelder designed this machine with a plastic dust cover that flips up to protect the digital control panel from the hazardous welding environment, a thoughtful feature.
The YesWelder MIG-205DS MIG/flux core/TIG/stick Welder is equipped with a 2T/4T trigger lock to enable making long welding runs without hand fatigue. It's not compatible with a spool gun, so you can't use the MIG for aluminum. Aluminum electrodes can be used to arc weld aluminum if you really want to.
---
3. Lincoln Electric LE31MP Multi-Process Welder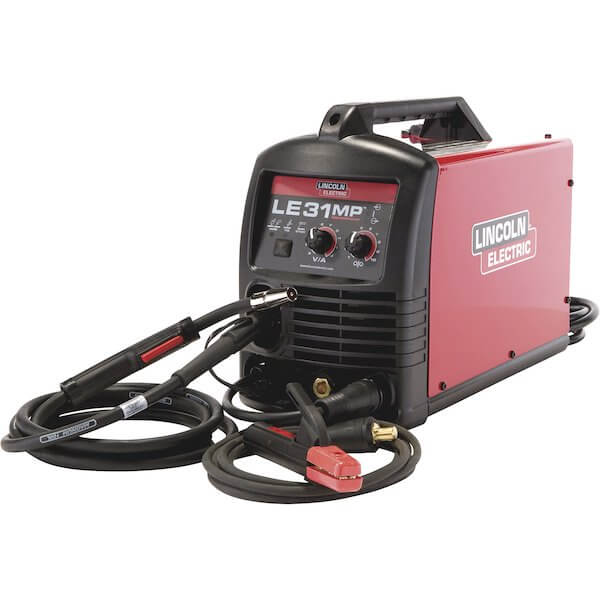 Solid aluminum wire drive
Convenient 120 volt power
Stick, MIG, DC TIG, flux core
Torch connections are brass
30-140 amps output
Pros
Highly portable MP welder
Can MIG weld aluminum
24 gauge sheet to 3/16-inch steel
Adjustable drive spring
Tension indicator on spool
Internal TIG gas solenoid
Comes with a regulator
Cons
Scratch start, not lift arc
TIG torch/pedal not included
Spool gun not included
Overview
The Lincoln Electric LE31MP Multi-Process Welder features an internal gas solenoid for the TIG process and also includes a regulator for MIG shielding gas. This machine features MIG, TIG, stick and flux core processes, all with the convenience of 120-volt household power. It comes with a solid aluminum, adjustable drive mechanism and accepts both 4-inch and 8-inch spools.
While the TIG process on this machine receives high praise from owners, the Lincoln Electric LE31MP Multi-Process Welder doesn't come with TIG equipment and you'll need to buy your TIG torch and heat control pedal separately (full LE31MP review here). It's not only the TIG process that owners like. Users offer similar praise for the MIG, flux and stick processes as well. This welder is a favorite in fabrication shops for quick work like tack jobs and tight work such as exhaust systems and building custom headers.
The Lincoln Electric LE31MP Multi-Process Welder comes with a 3-year warranty. Lincoln is one of the premier welding brands, seen just about anywhere there is welding going on. With an output range of 30-140 amps, you can work on 24-gauge sheet metal up to 3/16-inch thick steel plate. And with this machine, you can do it with any generator bigger than 4KW output.
---
4. WeldPro MIG155GSV Inverter Multi Process Welder
DC stick, MIG, flux core
30-155 amps output
Free of electromagnetic noise
Dual 120/240-volt power
24 gauge sheet to 3/8-inch steel
Pros
TIG-capable with additional parts
Comes with a gas regulator
2T/4T trigger function
Infinitely adjustable wire feed/current level
Includes stick arc electrode clamp
Cons
Only uses 4-inch, 2-pound spools
Some reports of wire feeding issues
Overview
The WeldPro MIG155GSV Inverter Multi Process Welder offers advanced features like infinitely adjustable heat level and wire feed speed control and automatic settings control that changes your settings dynamically as you weld to maintain favorable arc characteristics. On 120-volt power you can run up to 140 amps to reach 3/16-inch thick capability. On 240-volt power it can reach 155 amps, enough to get you welding 1/4-inch steel plate.
Although this welder can be set up to run as a TIG machine if you purchase a proper TIG torch, regulator and some argon, you're going to be scratch-starting the arc and there's no provision for a heat control pedal. With MIG and flux core, users love this machine's performance. The WeldPro MIG155GSV Inverter Multi Process Welder gets high praise for smooth welding and good penetration.
On the downside, the WeldPro MIG155GSV Inverter Multi Process Weldera only mounts the smaller 4-inch wire spools for MIG and flux core use. As a stick welder, this machine lets you run 6011 sticks with ease, as well as 7018 rods.The dynamic arc settings control system makes for a smooth and easy arc when stick welding.
---
5. Titanium Unlimited 200 Multi Process Welder
Digital display
MIG, TIG, flux core and stick
MIG gun and TIG torch
All-metal drive system
Dual 120/240-volt input
Pros
Only weighs 24 pounds
Spool gun-ready
24-gauge sheet to 38-inch steel
2T/4T Trigger Lock
Mounts both 2- and 10-pound spools
Cons
TIG process is scratch-start
Not footpedal-capable
Overview
Recently, Harbor Freight has added more American-made products and changed its tool offerings to a three-tier structure with inexpensive tools, better tools and "best" tools and quality competitive to famous brands. The Titanium Unlimited 200 Multi Process Welder is dual-voltage input capable, ready to run on either 120 volts or 240 volts. It can put out from 30 to 140 amps on 120 volts and up to 200 amps on 240-volt power.
The Titanium Unlimited 200 Multi Process Welder is in the middle of Harbor Freight's price structure and offers MIG/TIG/stick/flux-core, inductance setting to control MIG bead width and a digital display. It's got an all-metal wire drive and includes a TIG torch as well as a MIG gun. This welder only weighs 24 pounds and it's compact enough to get into pretty tight spots.
Although the TIG process is DC and not suitable for aluminum, the MIG portion of the machine is spool gun-ready and all you have to do is buy one and plug in for aluminum capability. It's a scratch-start TIG, but owners say it does a good job at TIG welding and it's also got a 2T/4T trigger lock to make those long bead runs less tiring.
---
Rounding It Up
As an affordable, professional-quality triple threat welder, the Eastwood Elite MP200i multi-process welder is our selection under 1000 bucks. With great MIG and stick performance, this machine can do whatever you need done in the shop, and it includes everything you need to get started except the gas supply. The ability to add TIG capabilities seals the deal on this high-quality machine.
We also like the YesWelder MIG205DS and the Titanium Unlimited 200 multi process welders as great choices for good value buys, both coming way under the $1000 mark. Each has the ability to get you up and welding fast, with more to offer down the road as your skills and needs dictate.
For a ready-to-go, proven professional-grade welder with the convenience of a big-name brand, with a nationwide service network and parts available in most communities, the Lincoln Electric LE31MP is your choice, but Harbor Freight also has a store near you somewhere, so the 200 does offer another alternative in this regard.
Related Guides