When you want a professional, clean weld, everyone knows TIG welding is hard to beat.
But the machines can be pricey, and the budget-friendly options often are too watered down.
Then there are options like the PrimeWeld TIG225X.
It comes with everything you need (except the gas), and you even can AC TIG aluminum.
Coming in under $1,000, it is worth a look for small to medium-sized shops that want to get into some serious TIG welding.
Quick Overview
What's Included
CK Worldwide 17 series Superflex tig torch with flex head plus CK Superflex hose and dinse connector
Ground clamp with 12 feet cable
Electrode holder with 12 feet cable
220v to 110v power adapter
Foot pedal amperage control with
Gas regulator
TIG torch consumables kit include #5 #6 #7 cups, 1/16″ 3/32″ collets, 3/32″ collet body, Grey tungsten electrode, 3/32″*175mm, short back cap, long back cap
Argon hose
Hand-hold mask and hammer brush
Torch switch
User manual
Technical Specifications
Welder Type
TIG, Stick
Stated Input Voltage
120V / 240 V
Output Amperage (TIG)
20 – 140A (120V)
20 – 225A (240V)
Duty Cycle (TIG)
40% @ max (120V & 240V)
100% @ 108A (120V)
100% @ 155A (240V, AC TIG)
Output Amperage (Stick)
20 – 120A (120V)
20 – 180A (240V)
Duty Cycle (Stick)
40% @ max (120V & 240V)
100% @ 76A (120V)
100% @ 139A (240V, AC TIG)
Current Output
AC and DC
Transformer Technology
IGBT Inverters
Weldable Materials
Steel, Stainless, Aluminum, Copper, Chromoly, Magnesium, Brass, Bronze
Stock Thickness
1/16 – 3/8 in. steel
1/16 – 1/4 in. aluminum
Power Switch
On Back
Foot Pedal
✅
Trigger Switch on Torch
✅
Electrode Holder ("stinger")
✅
Square Wave Technology
✅
TIG Pulse Frequency
Frequency: 0.5-200 HZ
TIG AC Balance Range
30 – 70%
Pre & Post Flow Control
✅
High-Frequency Start
✅
2T/4T Tigger Control
✅
Welder Dimensions (H x W x L)
22.24 x 11.80 x 27.76 inches
Weight
41 lbs.
Warranty
3 years
WeldGuru Rating
★★★★½
Price
Check Latest Price
Amazon
Pros
Runs on 120V or 240V input power
CK17 flex head torch and Superflex hose
20-225A of TIG output power
AC and DC TIG welding
Up and down slope settings
Base current control
2T and 4T trigger operation
Water cooler option
Now includes rocker style foot pedal
Portable
Square wave, inverter-based design
High/Low/Off pulse selection
Pulse frequency and width settings
AC balance (weld puddle cleaning)
High frequency starts
Finger switch for the torch
Pre and post flow gas control
Stick weld with the included stinger
Cons
No color display or screen to help with the many settings
One digital display for the amps, all the other settings done with a knob, can get confusing
Fans are on the loud side
Requires practice to determine the best settings for the many knobs used to set parameters
Alternatives in this Range
One size never fits all when it comes to welders, so it is good to have some options.
A couple of alternatives to the PrimeWeld TIG225X are the Eastwood TIG 200 and Yeswelder TIG-250P.
All three welders come with a stinger and can AC TIG weld. But there are some differences.
PrimeWeld
TIG225X
Eastwood
TIG 200
Yeswelder
TIG0250P
TIG Power Output @240V input
20 – 225A
10 – 190A
5 – 250A
Duty Cycle
40% @ 225A
60% @ 190A
60% @ 250A
Controls
12 knobs, 3 switches
4 knobs, 3 switches
2 blister buttons, 1 knob
Dual Power Input
✅
✅
⛔
Foot Pedal
Rocker
Rocker w/ Heel Rest
Psuedo Rocker
4T
✅
⛔
✅
Spot Mode
⛔
⛔
✅
WeldGuru Rating
★★★★½
★★★★½
★★★★
Price
Latest Price
Amazon
Latest Price
Eastwood
Latest Price
Yeswelder
Eastwood TIG 200
For those who don't do many "long" welds but want an easy-to-use TIG welder with a dual input power option, then the Eastwood TIG 200 might be your cup of tea.
Also, the control panel is dead simple and self-explanatory, and it's favorite among auto welders.
Yeswelder TIG-250P
Another popular model to consider is the Yeswelder TIG-250P. If you want a better duty cycle and more power, and don't care about having a 120V input option, then this Yeswelder offering may be more to your liking.
In addition, the control panel on this welder is also much cleaner and more intuitive to use.
What should you know before buying the TIG225X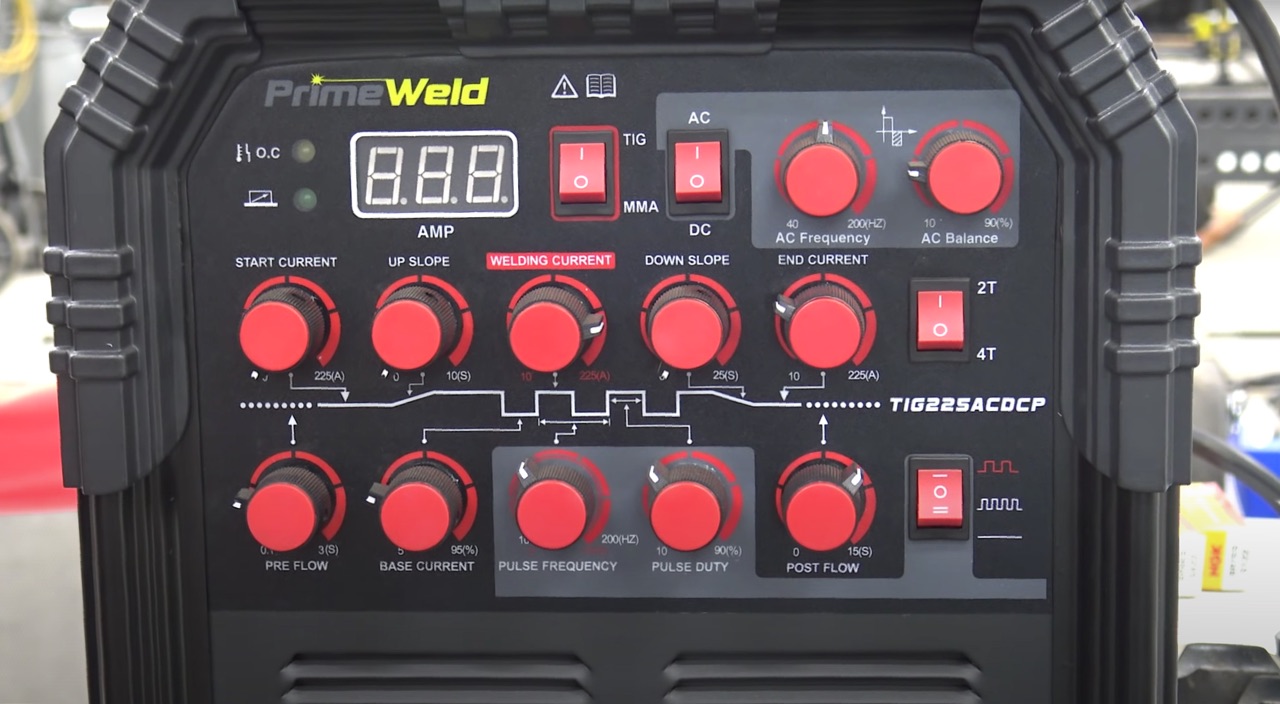 Control Panel
You do get lots of control with the PrimeWeld TIG225X welder. But it is done using knobs. So, you need to make sure each knob sits at the right setting, individually. There are no presets you can recall or anything fancy like that.
The only digital display in sight is for the amperage. Some assume that this digital display is used for all the settings. But it is not; it is only for the amps.
Consumables
The consumables that come with this PrimeWeld welder are not CK-branded. Some will want to upgrade the consumables for their CK17 torch. In general, it is not a bad idea to get some extra consumables when you order a new welder, whatever brand you prefer.
Portability
While this unit is certainly light enough to pick up and move, it is not the smallest welder you will find. It is the size of a medium-sized suitcase and weighs 41 pounds. So, you can move it around, but you won't want to carry it over long distances.
What makes The PrimeWeld TIG225X Great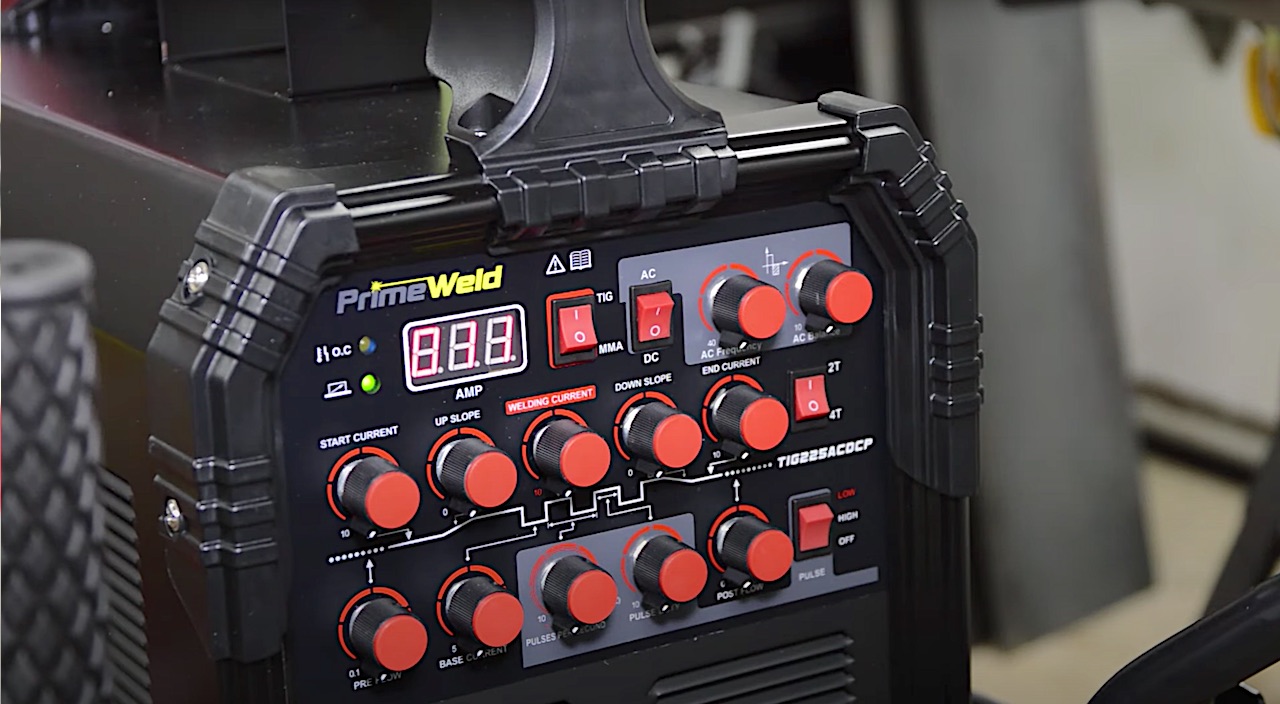 Dual Input Power Option
Versatility is key for most of us when it comes to tools. A welder that can use 120V and 240V outlets is far more versatile. This welder offers this feature and includes the necessary adapter to convert from a 240V plug to a 120V plug. So, you are good to go right out of the box.
Rocker Style Footpedal
This welder used to include a "lever-style" foot pedal, which gets mixed reviews from welders. One of the biggest complaints is this type of pedal scoots away from you as you use it.
But not anymore. They now include a rocker-style foot pedal, which is preferred by most welders. So, you can weld with the supplied foot pedal right out of the box and will not have to modify or replace it.
Control of the Welding Cycle
While I am not a fan of the knobs, props are due where they are due. You do have control over almost every step in the welding cycle.
That includes pre and post-gas flow settings, slope up and down controls, pulse control, AC balance, and more. It will take you some time to figure out how to get the best out of all these settings, but it is worth it to gain control of the welding operation.
You even get a choice between 2T and 4T trigger control. If you install out-of-position long welds often, the 4T feature can be your best friend. Your trigger finger will thank you.
CK Torch
Alright, I may have buried the lead with this one. But yes, you really get an authentic CK17 torch. Those who have been around welding for a long time know that CK has a great name for making good-quality torches. So, this is a surprise on a welder at this price point.
But you also get a Superflex hose. Again, nice surprise, and you will notice how much easier it is to move and flex this hose. That means it's easier to weld when you are not fighting the hose.
Stick Welding Option
For those welds that don't need to look pretty, you also get a stinger so you can stick weld. Some may never use this option, but stick welding does have its advantages, and it is nice to have the option when you need it.
Want some examples? When it's windy, you can still weld because there is no shielding gas to blow away. Got a "dirty" substrate to weld? Stick welding is far more flexible than TIG welding when the surface is not clean.
AC Balance
This is another surprising feature on a machine with a reasonable price tag. It means you can adjust the balance between the cleaning action and penetration of your weld. On aluminum, more control is always a good thing, and AC balance gives you an edge.
Water Cooling Option
For those who do a lot of TIG welding, you know the torch can get hot. But with the PrimeWeld TIG225X, you have the option to install a water-cooled torch. You may not need the option now, but it is nice to know in the future, if you do need it, it is there.
Conclusion
With a price tag far less than many competing TIG welders, you get an AC/DC TIG welder with the ability to stick weld as well. You can run on 120 or 240 volts and have a ton of control over your weld. But you will have to get used to the knobs and how to set them.
The upgraded rocker-style foot pedal increased the value of the PrimeWeld TIG225X. But one of the more surprising features is the genuine CK17 torch included with the welder. It also comes with a Superflex hose. So, you do get a quality torch.
In summary, for small to medium-sized shops, this TIG welder offers lots of features at a good price – it's one of the main reasons it made it onto the best TIG welders list. But for heavy-duty use, the duty cycle will be too low for industrial applications.