The YesWelder CUT-55DS may change your perception of high-priced, out-of-reach plasma cutters.
It offers interesting and useful features, a quality build, and a nice price.
Of course, a positive statement like that needs to be backed up. So, we assembled all the information on the CUT-55DS into this short, handy article.
You can review the data and draw your own conclusion. Just read on to find out if this tool fits your shop's needs.
Snapshot of the Yeswelder CUT-55DS
Included Items
Plasma Cutter
10ft Earth clamp
13ft Plasma Cutting Torch (AG-60)
Air Hose
2 (220V) nozzles
2 (110V) nozzles
4 electrodes
3 cups
110v to 220v Adapter
Air filter assembly w/ mounting bracket
Airline (to connect included reducer/filter to plasma cutter)
User manual
Technical Specifications
Machine Type
Air Cooled Plasma Cutter
Input Voltage
110V / 220 V
Output Amperage
10 – 55A (220V)
10 – 35A (110V)
Max Output Voltage
96V (220V)
94V (110V)
Technology
Inverter Based
Materials
Stainless steel, alloy steel, mild steel, copper aluminum, and other metal materials
Torch
AG-60
Arc Ignition
Non-touch pilot arc
Arc Ignition Mode
High frequency
Duty Cycle
60% (55A, 220V)
100% (35A, 110V)
Plasma Torch Lead Length
13 ft. (3 m)
Ground Cable Length
10 ft. (3 m)
Max Steel Thickness (clean cut)
1/2 in.
Welder Dimensions (H x W x L)
15.5 x 11.2 x 19.1 inches
Weight
34.25 lbs. (core unit ≅ 20 lbs.)
Warranty
1 year
Price
Latest Price on Yeswelder
(10% discount using code: WELDGURU10)
Pros
Runs with 110V or 220V input power
Can run on generator
Small and light enough to be called portable
It cuts up to 1/2 inch steel
60% duty cycle @ 55A (220V)and 100% @ 35A (110V)
High frequency, non-touch pilot arc
2T and 4T operation
Wire mesh cutting mode
A narrower 110V tip is handy for finer, more accurate cuts
Braided wire strap on ground
Steady output amperage for thin stock
20s post-cooling period to extend consumables life
Cons
Air-cooling is not as efficient as water-cooling at keeping torch from getting hot in your hand
No settings chart
The power cord obstructs the water trap, which can also bleed water onto an electric wire
Using 110V input, the dial still lets you go up to a 55A output, which trips 110V circuit breakers
Setup instructions could be better
Things to Know Before Buying the YesWelder CUT-55DS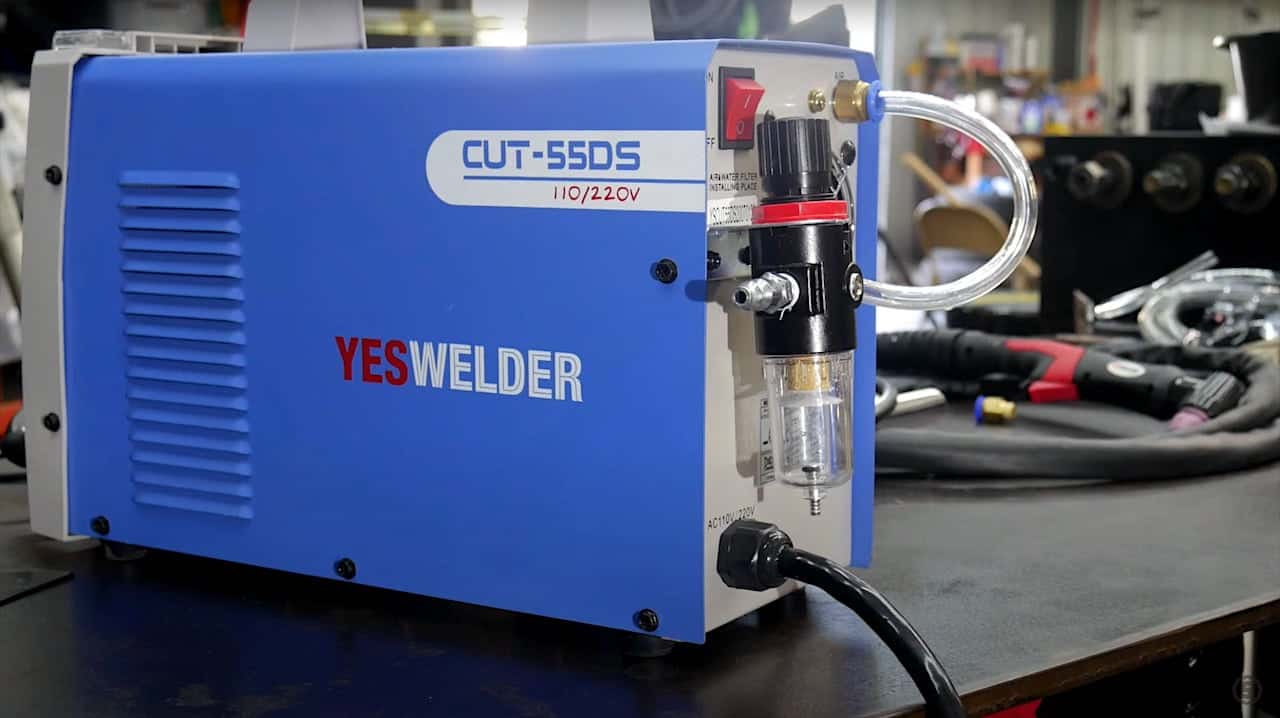 Stock Thickness
The printed material for the CUT-55Ds states it can clean-cut up to 1/2 inch thick steel and sever cut up to 3/4 inch (at 220V). This may be true, but you will be moving the torch pretty slow at the higher thicknesses.
Users find the unit cuts well up to 1/4 inch running on 220V. After that, as the thickness goes up, you need to slow your cut down noticeably. Running on 110V, the max you should expect is 12 gauge before you need to slow the torch head speed.
Air
While it may be obvious for most, it does need to be stated. You must provide an air supply and possibly some fittings to plumb air into the CUT-55DS.
The included air reducer also filters particles and removes water, which is great. But where it mounts on the back of the unit is too low. It just about hits the power cord and drains water on an electrical line. You may end up modifying the mount of the air reducer for these reasons.
Consumables
This plasma cutter uses different sized nozzles for 110V and 220V operation. You get 2 of each (4 total), so you will need to pick up some soon if you do not add replacement nozzles to your initial order.
Also, you may want to add AG-60 electrodes and cups to your order. You get enough to get started, but you will need more soon if you plan on making frequent cuts.
Dross
If you expect to retire your grinder, that is unrealistic. With any plasma cutter, including this one, you will need to deal with some dross (or slag). But it is less than with an acetylene torch, and a quick hit with a grinder usually cleans things up nicely.
Settings Chart
New users will notice the lack of a settings chart. So, plan on doing some trial cuts to establish the best amperage and air pressure settings for various metal thicknesses.
You can find some user-assembled charts in a couple of YouTube videos with some digging as an alternative. These can provide a good starting point if you are new to plasma cutting. An example is included below.
| Material Thickness | Amperage | Air Settings PSI |
| --- | --- | --- |
| .030″ or 0.8mm | 15A | 25 |
| 1/16″ or 0.63″ or 1.5mm | 25A | 35 |
| 1/8″ or .125″ or 3.2mm | 35A | 45 |
| 3/16 or .187″ or 4.7mm | 45A | 55 |
| 1/4″ or .250″ or 6.4mm | 55A | 60 |
| 5/16″ or .312″ or 7.9mm | 55A | 65 |
| 3/8″ .375″ or 9.5mm | 55A | 70 |
| 1/2″ or .500″ or 12.7mm | 55A | 70 |
Credit to Prana-Tech for putting this together, you see the full video here.
Manual
You should expect to watch a few YouTube videos on setting up and using this plasma cutter if you do buy it. The manual could be better and often does not always have all the needed information.
Features that Make the YesWelder CUT-55DS Great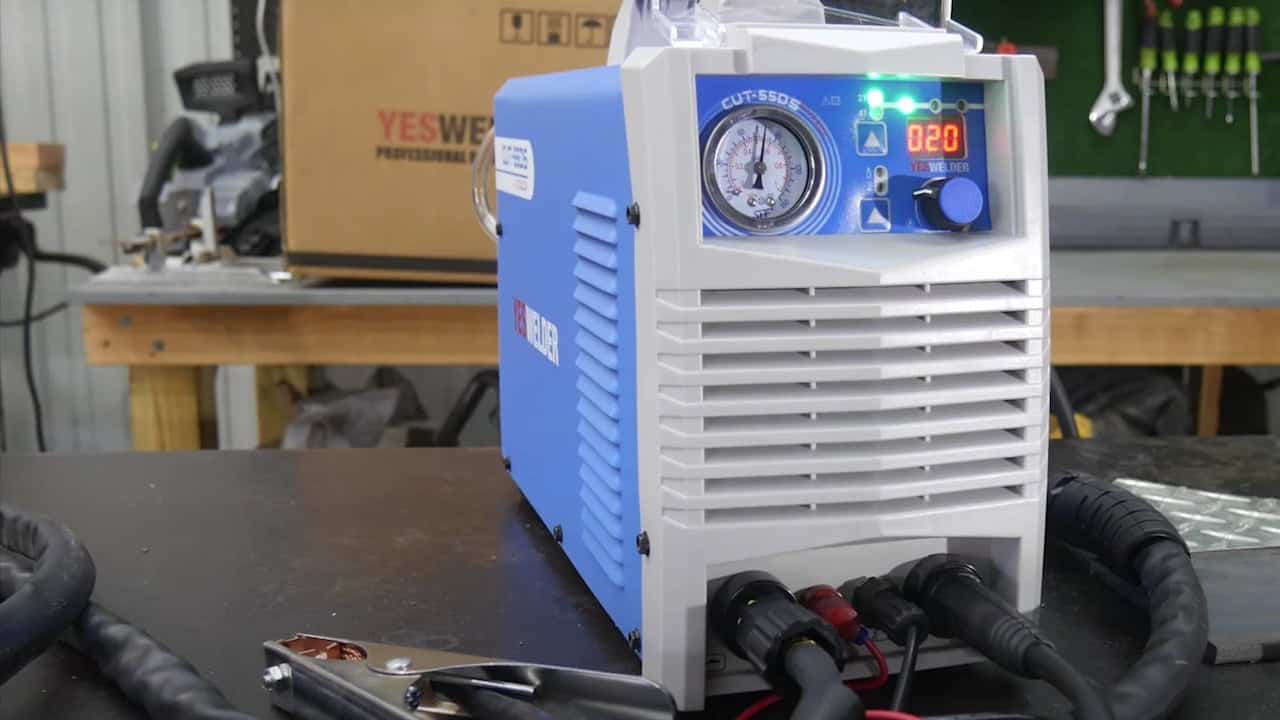 Power
You get more power than expected for the price, up to 55A of power output with 220V of input power. This allows you to clean-cut steel up to 1/2 inch thick and severe cut up to 3/4 inch.
Duty Cycle
A 60% duty cycle at full power (i.e., 55A) while running on 220V input power keeps you working (it is 100% at full power using the 110V input). This is higher than would be expected for an affordable machine.
The benefit is obvious. You have less downtime waiting around for the plasma cutter to cool after overheating so you can work again.
Portability
This unit is light and compact, meaning you can easily carry and transport this unit. The core unit only weighs about 20 lbs. Add the leads, and the weight is still just over 34 lbs. To make the job of moving it around even easier, an aluminum alloy handle is mounted to the top of the case.
Dual Power Input
With the CUT-55DS, when 220V is available, you have the full 55A this unit can pump out. Simply attach the included adapter and plug it into your 220V outlet.
But if you only have 110V available, no problem. The CUT-55DS can run on it. In fact, this plasma cutter can also run off of a generator. You have plenty of ways to power this tool.
Just keep in mind, at 110V, you have less cutting power, and you should not expect to cut anything more than 1/8 inch without slowing down the speed of the cut.
Non-touch Pilot Arc
Low-cost units usually require you to touch the piece to start an arc. But not so with the CUT-55DS.
You get a non-touch start. Get about 2mm from the piece and pull the trigger to start cutting. You have improved control during arc initiation for a more accurate, better cut.
But the HF pilot arc feature also helps you cut rough or dirty surfaces cleanly and with less slag. This allows you to be more accurate with your cuts while reducing warp in the piece. It also helps to extend the life of your consumables.
2T or 4T Operation
4T is not a feature you would expect to find in a "budget" plasma cutter. But the CUT-55DS includes it.
For those who may not know, 2T is the normal mode of trigger operation. Press and hold the trigger while you cut and release it when done. The press at the start is one touch, and the release at the end is a second touch, for a total of 2 touches.
But if you make long cuts, you have 4T mode as an option. That means you press and release the trigger to start (2 touches), make your cut, then press and rerelease the trigger (2 more touches) to stop the cut. This mode is much easier on your trigger finger for extended cuts.
Gas Flow Test
You have a button that allows you to flow air without pulling the trigger. Why is this good?
Because your air pressure drops when the air is flowing.
So, to set your air pressure accurately, you need to set it while it is flowing. This button allows you to do just that.
Clean Air
You get an air "reducer" in the box, allowing you to adjust the flow. But it also is a water trap and filter. Plasma cutters need clean, dry air to function properly.
YesWelder includes the reducer in the box, which helps make sure you get the best performance possible.
Extended Consumable Life
The CUT-55DS includes a couple of unexpected features to extend the life of your consumables. First, it runs air for 20 seconds after you release the trigger. This cools your trip after each use. It is a nice touch to have in an affordable plasma cutter.
But you also have a mesh cutting option too. The feature allows the unit to run more efficiently when cutting mesh, which starts and stops the cutting many times in one pass. Using this setting allows you to go easier on the torch consumables and the machine as a whole.
How Does the CUT-55DS Compare?
There are other similar plasma cutters offered at comparable prices. See the table below to see how the CUT-55DS compares to some of the more popular competing units.
Lotos LTP5000D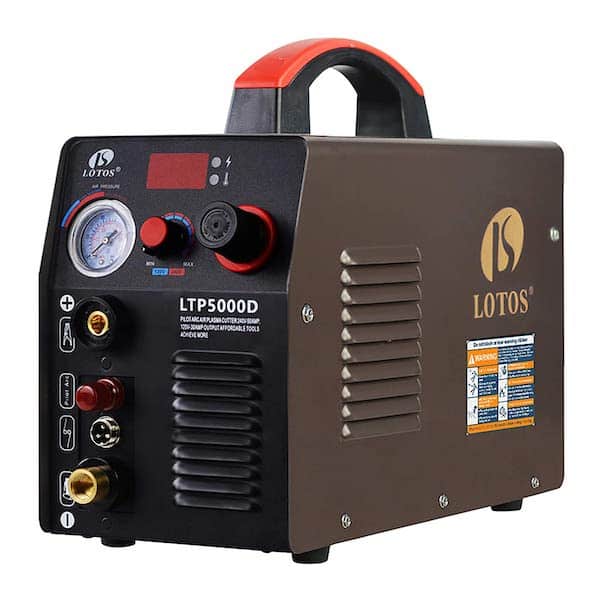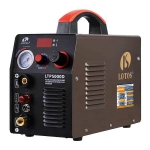 The Lotos LTP500D is a very popular plasma cutter in this price range and is also another great choice.
However, there are some key differences you should consider that I have highlighted in the table below:
YesWelder CUT-55DS
Lotos LTP5000D
Power (amps)
55
50
4T Trigger Control
✅
⛔
20s Post Air Cooling
✅
⛔
Mesh Cut Mode
✅
⛔
Gas Test Button
✅
⛔
Price
$399.99
(10% discount, with code: WELDGURU10)
See Latest Price
While the Lotos does lack some features compared to the Yeswelder, it's worth noting that there are a considerable number of good reviews on the Lotos LTP5000D that make it a good alternative.
Primeweld CUT50DP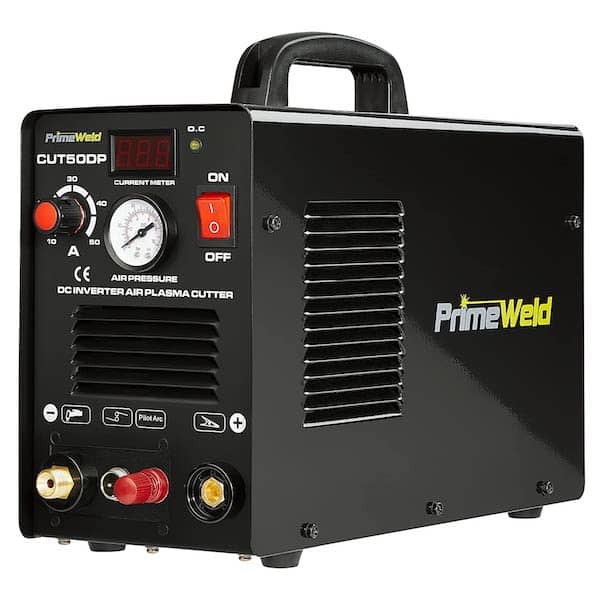 Primeweld is another popular and low-cost plasma cutting brand that comes in a bit cheaper than the Yeswelder.
However, the differences are similar to the Lotos, missing out on some features:
YesWelder CUT-55DS
Primeweld CUT50DP
4T Trigger Control
✅
⛔
20s Post Air Cooling
✅
⛔
Mesh Cut Mode
✅
⛔
Gas Test Button
✅
⛔
Price
$399.99
(10% discount, with code: WELDGURU10)
See Latest Price
If you want to save an extra $50 then you may want to consider the Primeweld CUT50DP. It's pretty similar apart from the differences mentioned above.
What Users are Saying about the YesWelder CUT-55DS
Read or watch a few reviews, and you will hear a common thread. You get lots of power for the money. Most users find the CUT-55DS cuts great up 1/4 inch but slows down for thicker stock.
For the DIYer, this is fine and covers most of the work they run into. It also fits right into many automotive, maintenance, or fabrication shops that do not regularly cut material over 1/4 inch thick.
But users are also consistent in noting this unit is not for industrial shops or heavy use. While the 60% duty cycle exceeds the expectations of many buyers at this price, it may frustrate those that need to cut thick stock for long periods of time.
Another glowing comment made by many owners, the inclusion of features like 4T, dual power input, and an HF non-touch pilot arc are not expected at this price. For this reason, words like "bargain" and "great value" often appear when you listen to actual users.
Claim 10% Off Your CUT-55DS
YesWelder has offered Weld Guru readers a generous 10% sitewide on any of their products. Meaning you can get about $40 off the CUT-55DS plus any extras you buy!
To claim this offer, go to the CUT-55DS product here, then enter the promo code: WELDGURU10 at the checkout.
Conclusion
The YesWelder CUT-55DS will meet or exceed most DIY shop needs. It will also fit into smaller automotive, maintenance, and fabrication shops that deal with mostly 1/4 inch stock or thinner and cut thicker stock (up to 1/2 inch) from time to time.
But when you add in the affordable price, the included feature set makes this plasma cutter a serious bargain. YesWelder even adds some nice touches to help extend the life of your consumables, again not expected in a "budget" plasma cutter.
You get a strong duty cycle given the cost. But the 60% rating will be too low for heavy users and industrial shops (as will the 1/2 inch clean cut limitation). However, for most small to medium-sized shops, the CUT-55DS covers your needs. Even better, it will likely fit your budget.
The inclusion of other useful features like 4T and an HF, non-touch pilot arc make this plasma cutter hard to ignore. You would be hard-pressed to find a unit with these features for the same amount of money.
In short, if you have been waiting to buy a decent plasma cutter due to the high prices, the CUT-55DS may be the machine for your shop.
Other Yeswelder Reviews
Also read: What gas do you use for plasma cutting?