Modern welders have plenty of choices when buying a new welder. And of course, they purchase a machine that best suits their needs.
So which welding units capture a frugal buyer's attention when they want more power to tackle thicker stock?
One that comes to mind, the Yeswelder MIG-250 Pro multi-process welder.
It puts out 250A of power and has a 60% duty cycle. Plus it can MIG, lift TIG, stick, and flux core weld.
That is a good start, but the price also grabs your attention. It costs less than just about any other comparable welder out there.
So, is it worth considering?
In short, yes. Read on to find out why, and whether or not you could benefit from owning this affordable, powerful welder.
Quick Overview of the Yeswelder MIG-250 Pro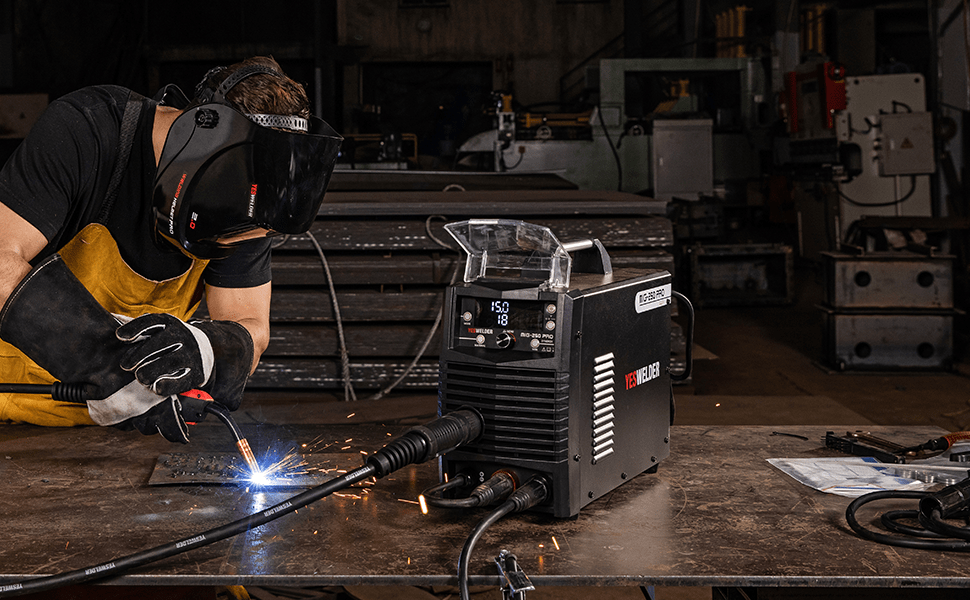 What's Included
10ft MIG Gun(with a Graphene liner)
Additional Teflon liner for aluminum wire
10ft MMA Electrode holder with cable
10ft ground clamp with cable
1 Additional .030″ & .035″ contact tip
W-type .030"/.035" roller driver
V-type .023"/.030" roller driver (.030"/.035" built-in )
U-type .035″/.045" roll driver
Dinse connector (35-50)
Gas hose
Brush
User manual
Technical Specifications
Welder Type
MIG, Flux Core, Stick, TIG
Input Voltage
220 V
Technology
Inverter
Weldable Materials
Mild & stainless steel, Aluminum
Duty Cycle (@104°F)
MIG: 60% @ 250A
TIG: 60% @ 220A
MMA: 60% @ 225A
Amperage
MIG: 30 – 250A
TIG: 10 – 250A
MMA: 20 – 225A
Torch Lead Length
10 ft. (3 m)
Ground Cable Length
10 ft. (3 m)
Mild Steel Thickness

(Single-pass)

24 ga. – 1/2 in. (up to 7/8 in. with multiple passes)
Aluminum Thickness
Not available
Wire Thickness
023"/.030"/.035" solid/SS wire
.023"/.030"/.035" flux core (manual setting)
.035" flux core( synergistic setting)
.035"/.045" aluminum wire.
Wire Feed Speed ("WFS")
79 – 590 IPM (2 – 15 m/s)
Wire Feed Speed Settings
Infinite between min. and max.
Wire Spool Sizes
4-in. and 8-in
Spool Gun Ready
✅
Welder Dimensions (H x W x L)
14 in. x 8 in. x 17 in.
Weight
34.25 lbs.
Warranty
1 year
Current Price
Check now on Yeswelder
(10% discount. Code: WELDGURU10)
Pros
Excellent value for the power
Can MIG, Flux-core, stick, and lift TIG weld
250A of power, weld up to ½ in. steel in a single pass
60% duty cycle at 220V
Decent quality MIG torch, rated for 250A
Additional Teflon liner for MIG welding with aluminum wire
Synergic settings, manual available if needed
Ability to tweak the synergic settings
Inductance adjustment to help control spatter
"Cold" wire feed button for easy, safe wire changes
2T and 4T methods
Setting for C100 gas
Spool gun compatible
Cons
Runs on 220V input power, only
Must convert metric units at times
Changing wire rollers is partially obstructed by housing
Power switch is in rear (annoying so some)
Continuous fan
Regulator is not included
DC TIG only (not for aluminum)
TIG torch is an optional extra purchase
Recommended settings run a touch hot
Single gas input only
What You Should Know Before Buying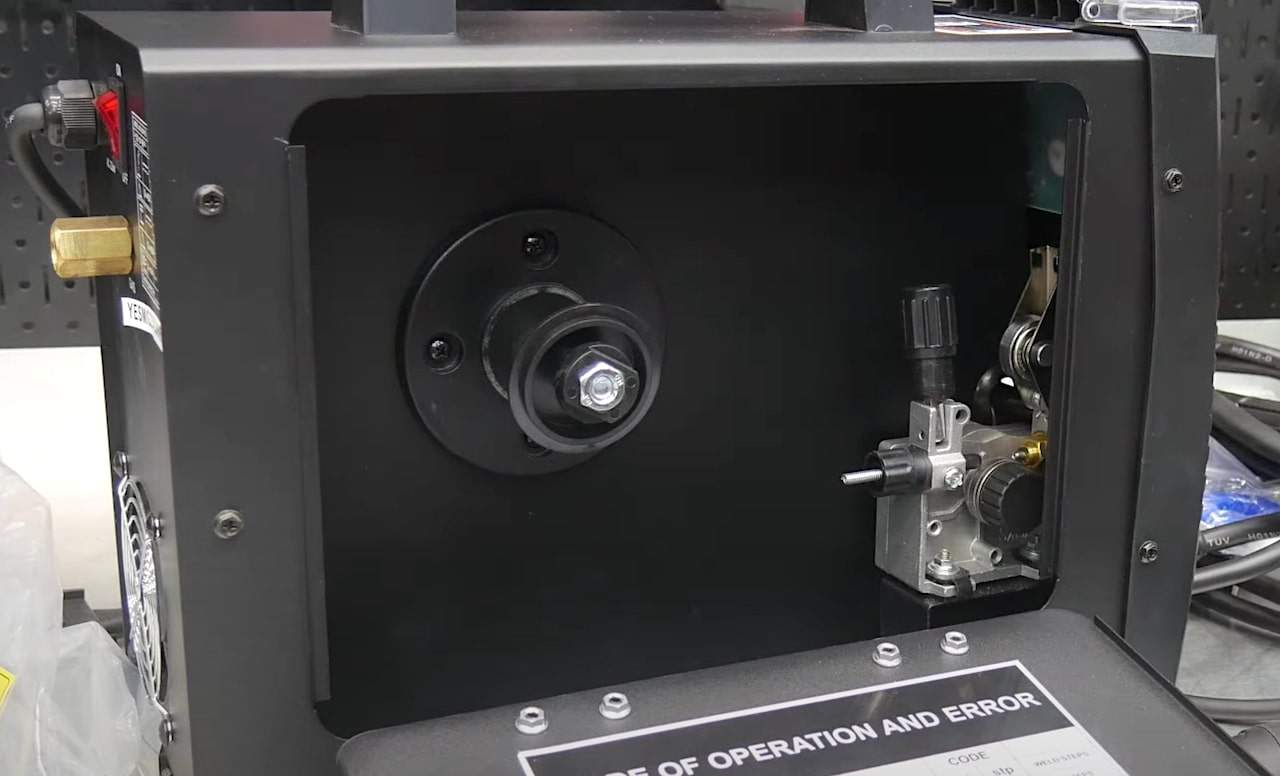 No Regulator
Low-priced welders must "cut corners" someplace. Right? Well, Yeswelder chose to exclude a regulator, they assumed you already have one.
But if you do need a regulator, this could obviously be an issue since there is none in the box when you buy the MIG-250 Pro. So, add a regulator to your purchase if you need a new one.
Metric Units
As you may have guessed by the price, this welder is manufactured offshore. But that brings an unexpected, minor inconvenience because of this; the units for this welder are listed in metric for some things.
It is not a huge deal. But if converting metric to English units drives you crazy, then this may not be your favorite option for a welder. However, it is a minor issue that can be addressed by U.S users. Many ended making their own cheat sheets to help with this task.
User Manual
Another issue resulting from this welder being made offshore, the manual is usable, but not the best.
Hard to comprehend sentences, paragraphs, and even whole sections happen in translation and at times it does get annoying. But after reading the manual a few times, you can piece together what they are trying to say.
Settings Chart
This welder does use auto settings, which eliminates the need for a settings chart. Right?
Wrong. Of course, you need a settings chart when using the manual mode. But you also consult the settings chart to set the amps that you must enter even in synergic mode.
Technically, that means you need a chart for every weld until you memorize the most used settings.
So, fortunately, Yeswelder now includes a chart along with the manual. It would be nicer if the chart was mounted on the inside of the wire compartment door, but at least you get one.
However, be warned. Almost every user has found the chart's settings run a little hot. So, you may want to keep that in mind to dial in your welds.
That said, with a little tweaking (more on how to do that later), users were more than happy with the results.
Consumables and Add-ons
When buying the MIG-250 Pro, keep in mind you need to pick up some consumables, too. None come with the unit, except for a few tips.
At a minimum, you will most likely have to pick up some wire and/or stick electrodes, depending on the welding you intend to do.
Also, you get a stick electrode holder in the box, but not a TIG gun.
If you want to TIG, you must purchase the torch separately. This will allow you lift TIG in DC only; AC is not an option with this welder.
Features that Make the Yeswelder MIG-250 Pro Great
Power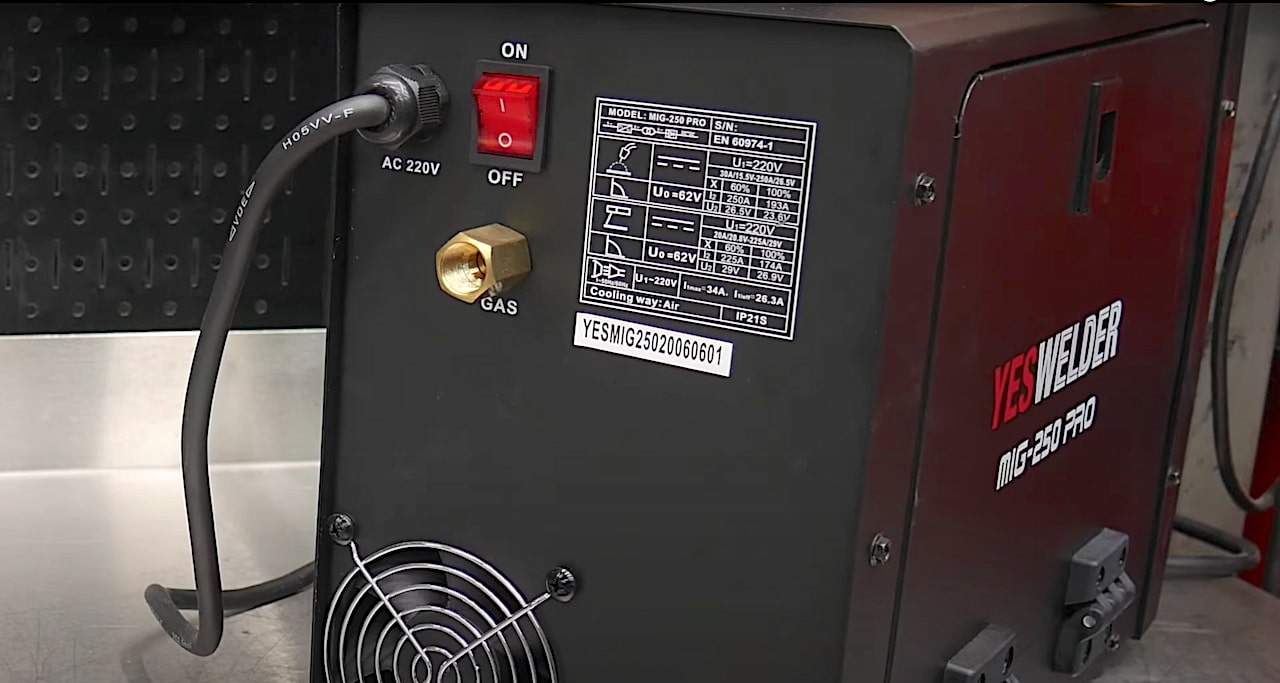 Welders that output 250A of heat get you into thicker stock, like 1/2 in., in one pass That is great for auto repair shops and maintenance shops that run into thicker stock at times.
However, welders in this price range often top out at about 200A and 3/8 in. material. So, as already mentioned, you get more brawn per dollar with the Yeswelder MIG-250 Pro.
You also have the option to go down to 30A for thin stock, and some users claim they have welded 24 ga. stock. While a unit like MIG-250 Pro may not be the "best" choice for thin stock, it is doable, and the flexibility is nice to have in one welder.
Duty Cycle
On coming across this welder, there is probably at least one person out there who thought, "So, you get ample power. But that must mean you sacrifice on the duty cycle."
Not so with the Yeswelder MIG-250 Pro. The duty cycle at 250A charts in at a respectable 60%. That means you get more time welding instead of waiting around for the machine to cool.
(For those who may not know, the duty cycle lets you know how long a welder can run before it needs to cool off. It rated over a ten-minute period as a percent.
For example, if a welder has a stated duty cycle of 60% @ 250A. This means it can run 6 minutes before it needs to cool for 4 minutes at 250A. As the amps go down, the duty cycle goes up.)
Synergic Settings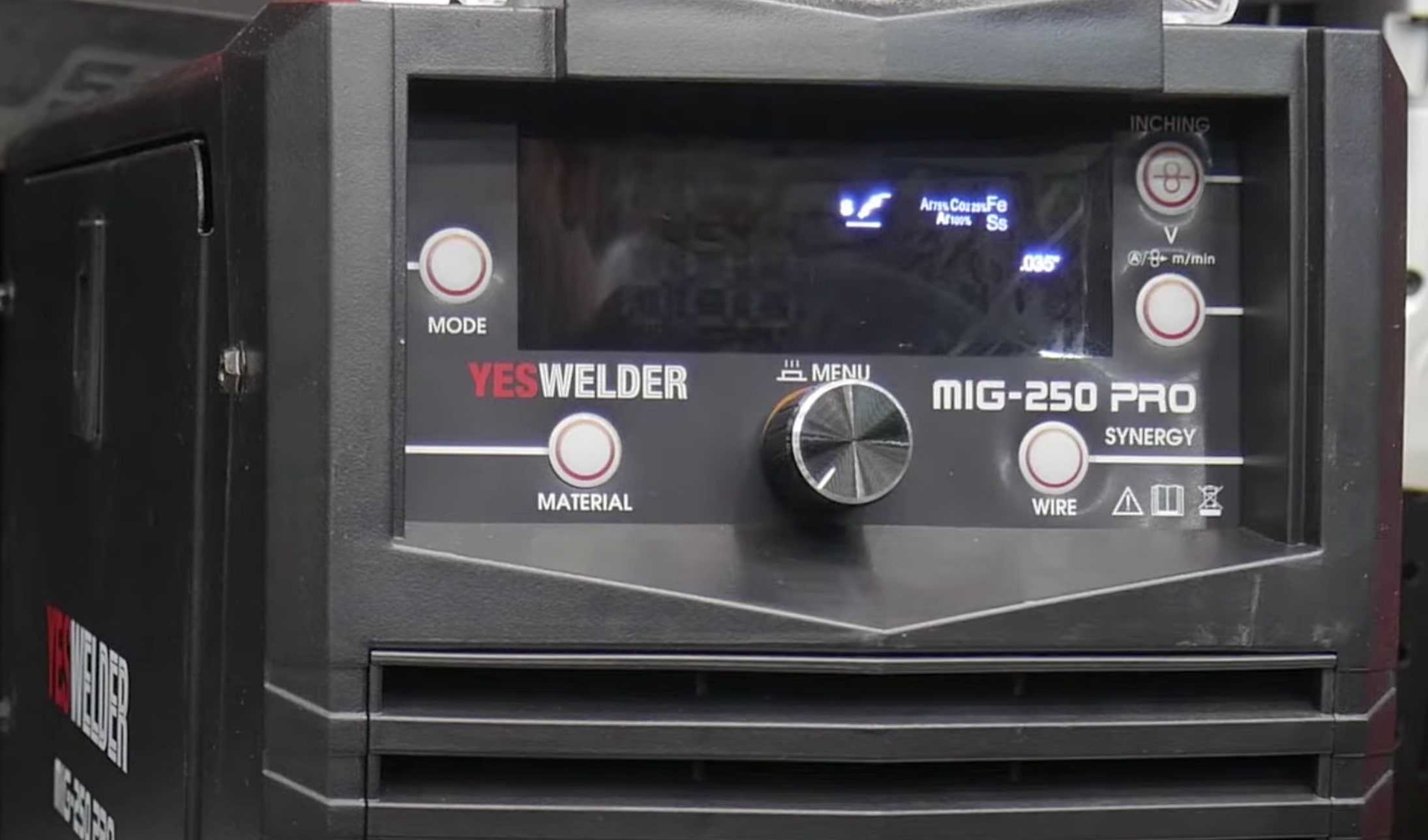 Welders want to weld, not turn knobs and press buttons on a control panel. So, many manufacturers now include synergic settings (i.e. also called "auto settings") to simplify and speed the process of setting your welder for a particular weld.
The MIG-250 Pro comes with this feature. Once you learn how to use it, setting your welder for a given task is fast and easy. It also allows you to have the settings adjusted specifically for things like using C100 gas and the wire size being used.
In short, to use the auto settings, you must set the wire size, welding process, and amps. The machine then sets the voltage and wire feeds speed ("WFS") automatically for you.
Voltage and WFS Trim
Another nice feature of the synergic settings, you can tweak them. To get that perfect arc, you can increase or decrease the auto settings built into the machine. Bump them up or down to get that heat just right for that unique weld you may need to do.
There is a slight learning curve at first, but once you get the hang of how to adjust your auto settings, you will be able to get the welder dialed in for each and every weld.
Also, users have found the presets run a touch hot. But having the ability to adjust the settings some helps to lower the heat if you do find an auto setting that is running hot.
Inductance Adjustments
The Yeswelder MIG-250 Pro also comes with the ability to adjust your inductance setting. If you are not familiar with this feature, it allows you to adjust the magnetic fields around your weld. You can tweak this setting from -10 to +10 from the preset level.
This is surprising on such an affordable unit, but if set correctly, optimizing the magnetic fields around your weld can reduce spatter and produce clean, professional welds. You normally find this feature on higher-end welders, but you get it with the MIG-260 Pro.
2T and 4T Option
2T is the standard operating mode most of the time. Pull the trigger to weld and let go when you are done.
But the MIG-250 Pro gives you another option, 4T.
For those who need to make long welds, the 4T option is probably of interest since it eliminates the need to hold the trigger once the weld is started.
Pull the trigger to start, then let go.
When you are done, pull and release the trigger again to stop. It is much easier on your trigger finger.
Price
Finally, this welder may be the biggest bang for the buck if you want power and a good duty cycle.
If you look around, you can find sales and deals that bring the kist price down even more. That includes the special offer you can get if you use the link in this article to buy.
So, it is no surprise to see this welder appearing on many "best of" lists. The feature to price ratio grabs a potential buyer's attention and it should.
For the price, you get lots or power and working time, not to mention your choice of welding processes, making this is a bargain.
MIG-250 Pro vs. MIG-205DS
If you are already considering a Yeswelder multi-process welder then you may have come across the more popular and cheaper option – the MIG-205DS.
These two welders from Yeswelder share similarities at first glance and they are sometimes confused. But there are differences. For clarity, the major differences between the two are:
MIG-250 Pro
MIG-205DS
Input power supply
220V
110V / 220V
Power output
250A
200A
Spool gun compatible
✅
⛔
Runs 0.045 in. aluminum wire
✅
⛔
Single-pass thickness on mild steel
1/2 in.
1/4 in.
Casing Color
Black
Sky blue
Usual Price
Check Latest Offer
(plus 10% discount. Code: WELDGURU10)
Check Latest Offer
(plus 10% discount. Code: WELDGURU10)
The bottom line is if you're looking for that extra power, would like to weld on aluminum and you know you'll always have access to a 220v plug, then for the sake of an extra $80 you will be far better off with the MIG-250 Pro machine.
We have done a full review on the MIG-205DS here if you want to know more.
What Users Say about the Yeswelder MIG-250 Pro
Of course, an affordable multi-process welder loaded with features like the Yeswelder MIG-250 Pro garners lots of comments on how this is a bargain. It should.
Features like synergic settings and inductance control are unexpected at this price. So, no surprise there.
But even more impressive are the number of comments by users about the quality welds.
New users are shocked they can learn to lay a decent bead, fast. And experienced users are surprised to find they can produce clean, professional welds.
Another consistent comment involved the Teflon liner.
Since you can only MIG weld aluminum with the MIG-250 Pro, the inclusion of a liner to reduce friction with aluminum wire is much appreciated.
It reduces birdnesting enough to make this welder a viable option for aluminum.
There are many other comments we could include, but for brevity, we will only add one other consistent comment.
This welder is powerful. It welds up to 1/2 in. one pass and the 60% duty cycle lets you get work done. You get lots of power, with a small price tag.
Claim 10% Off Your MIG-250 Pro
YesWelder has offered Weld Guru readers a generous 10% sitewide on any of their products. Meaning you can get about $50 off the MIG-250 Pro!
To claim this offer, go to the MIG-250 Pro product here, then enter the promo code: WELDGURU10 at the checkout.
Conclusion
If you only run on 220V and want power for thick stock, the Yeswelder MIG-250 Pro multi-process welder belongs on your shortlist. Not only does it deliver 250A, but it also comes with a 60% duty cycle at full power. To control all that power, you can use synergic or manual controls.
Plus, you can MIG weld aluminum and you have 2T and 4T operation as an option. Add the flexibility this welder gives you with the ability to MIG, TIG, stick, and flux-core weld, and you have an interesting welder. But at this price point, you have an option that is hard to ignore.
In short, the MIG-250 Pro offers a wide power output range for those who deal with a range of stock thicknesses. Plus it is easy to fine-tune your settings for the weld you are doing. This level of control lets you produce quality welds that surprise even experienced welders.
The MIG-250 Pro's power, flexibility, and price point combined make this welder a good fit for automotive shops, ranchers/farmers, maintenance shops, and serious DIYers, or anyone who needs 250A of power.
Related Reviews
Yeswelder TIG 225p Review – How Good Is It?
Yeswelder TIG-250P Review – Is it worth it?