The YesWelder Firstess CT2050 is a unique welder and a plasma cutter combo designed for hobbyist and DIY markets. It has a massive number of features, making it one of the most versatile machines on the DIY market today.
However, the CT2050 isn't flawless. Some of its features are limited, and it won't provide perfect welding or cutting quality.
There is a lot of hype about this YesWelder's model on the market, thanks to its highly-successful Kickstarter. Raising 3.2M dollars is no small feat.
While this machine is quite good for the money, such a successful marketing campaign can overshadow some drawbacks.
Summary of the YesWelder FIRSTESS CT2050
Technical Specification
Welder Type
AC/DC TIG, DC Stick, Plasma cutting
Input Voltage
96-265V
Output Current Type
AC/DC
Technology
IGBT Inverter
Amperage Output
Welding: 5-200A
Cutting: 12-45A
Duty Cycle
100%
Weldable Materials
Steel, Stainless Steel, Aluminum
Cuttable Materials
All electrically conductive metals
Weldable Mild Steel Thickness (Single-pass)
3/16″
Clean Cut Thickness
5/8″ (15mm)
Maximum Severance Cut Thickness
1 and 3/16″ (30mm)
AC TIG Frequency Range
20-250Hz
AC/DC TIG Pulse Frequency Range
0.2-200Hz
TIG Operation Type
2T/4T/Pedal
Weight
61 lbs
Price
$1999.99 RRP


Best Price Here




10% discount code: WELDGURU10



Rating Overview
Performance 4/5 – Yeswelder CT2050 performs well using most features, but arc quality decreases when working with low amperage output. However, its built-in air compressor performance makes up for it by making excellent plasma cuts without shop air.
Power 4/5 – While the CT2050 outputs up to 200A, it's capped at welding 3/16 inch steel. So, its power efficiency is either low or its actual maximum power output is below 200A. On the other hand, its plasma-cutting process offers immense power and severs thick steel up to 30 mm.
Features 5/5 – The pulsed AC/DC TIG and smart AC TIG make the CT2050 a great TIG machine. But the inclusion of a stick with advanced features and a plasma cutter with a built-in air compressor position the CT2050 as a unique gem on the market.
Portability 3.5/5 – While portable, hauling its 61 lbs body may tire you if climbing the stairs or crossing a large field to get to the worksite.
Price 4/5 – CT2050 was exceptionally cheap during its Kickstarter phase. But the price has significantly increased since then. While it still offers good value for the money, it'll burn a hole in any hobby welder's pocket.
User Satisfaction 4/5 – Most CT2050 users like its performance and versatility. But professionals are more likely to get into a crunch with the available features and welding processes.
Manufacturer Support 5/5 – YesWelder's after-sales customer support is friendly and usually quick to respond. They also have a Facebook community where you can discuss machine-specific use with other welders.
Overall Rating 4/5 – Only a few machines combine advanced TIG features with stick and plasma cutting. The integrated air compressor is a highly valuable feature, too. Buying a dedicated air compressor is a considerable expense for most people. So, it's no wonder the CT2050 became so popular in the DIY sphere.
Pros
Plasma cutter with built-in air compressor (rare on the market)
AC TIG for welding aluminum
AC/DC Pulsed TIG for better heat input control
2T/4T and TIG pedal support
Smart AC TIG helps newbies who haven't welded aluminum before
Supports E6010 electrode
PFC Technology ensures steady arc and low electricity consumption at 96-265V wide input range
VRD prevents electrical shocks when stick welding
High-quality TIG and plasma-cutting torches supplied
Heavy-duty ground clamp
TIG torch has variable amperage knob
Dual-fan for better heat dissipation
100% duty cycle at maximum amperage output for both 110V and 220V input
Blowback plasma arc start prevents HF damage to sensitive equipment
CNC table connectivity
Non-touch pilot plasma arc
Fast and powerful plasma-cutting arc
Large, bright LED display
Easy to use and setup
Portable
3-year warranty
Cons
You must disconnect all plasma-cutting leads before welding
No lift TIG
TIG torch head is not flexible
TIG pedal not included
Slight lag for plasma arc activation when using the built-in compressor
E6010 is a bit hard to start
Using DC TIG below 10A produces a high-pitch sound
Not truly "7-in-1," more like 3-in-1 (TIG, stick, plasma)
No front panel protection screen
Interface quirks are annoying such as having to cycle through all modes in a loop and the amperage changes back to default, forgetting your setting.
What To Know Before Buying the YesWelder FIRSTESS CT2050
While this is a very interesting machine, and many hobbyists and professional metalworkers love it, some negatives are worth pointing out.
Let's talk about the CT2050's cons to help you decide if this is a machine for you.
7-in-1 Is a Marketing Ploy
This isn't a 7-in-1 welder. It's a 3-in-1 machine that does TIG, stick, and plasma cutting. I won't hold it against YesWelder for trying to be innovative in their marketing, but counting AC TIG and DC TIG as two different processes is unheard of.
By that logic, ESAB, Hobart, Miller, and Lincoln can also call their machines 5-in-1, 8-in-1, and 15-in-1… You get the picture.
Even so, I understand YesWelder's need to point out the number of included processes. Otherwise, their model wouldn't have gotten the well-deserved attention.
Best Features of the YesWelder FIRSTESS CT2050
Now that we've discussed some YesWelder CT2050 negatives, let's focus on the positive side.
This welder/cutter has a lot of features. Analyzing each function would make this article too long, so I'll focus on those that'll make the biggest impact on your work.
Integrated Air Compressor
The built-in air compressor for plasma cutting is the most unique aspect of the CT2050.
There aren't many TIG, stick, and plasma cutter multi-process machines. Almost none have their own air compressor. So, the CT2050 is one of the most versatile welders/cutters on the market.
Buying a dedicated air compressor significantly increases the cost of any plasma-cutting setup. But you must also maintain, store, set up, and transport the air compressor.
It's a nuisance all around.
No one wants to use an air compressor. It's just something you must have to plasma cut or use other air-powered tools.
So, integrating it into the CT2050 makes the cutting process far easier for hobbyists working in the field.
Very Powerful Plasma Cutter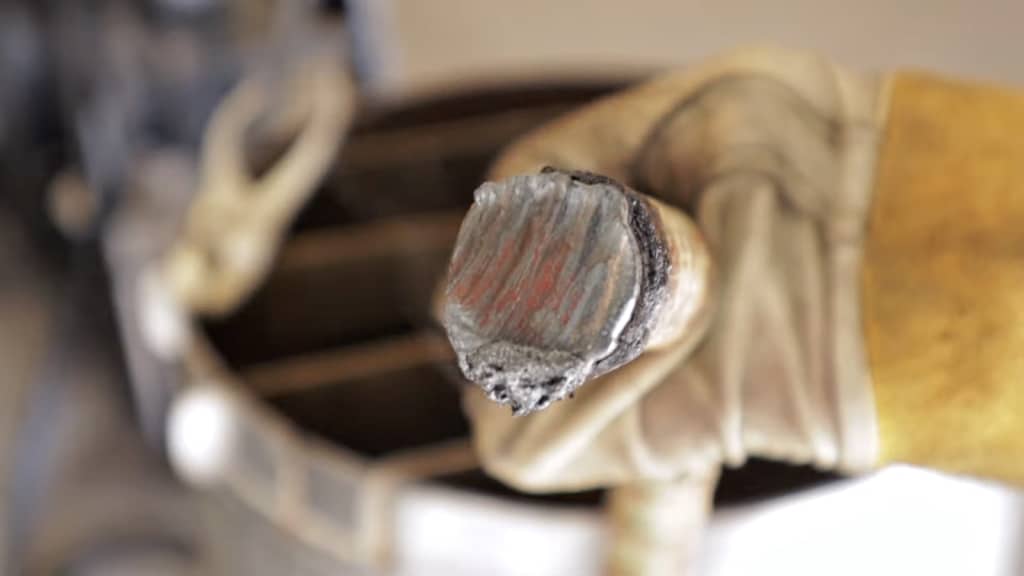 The CT2050 is one of the most powerful plasma cutters today, but you shouldn't expect the cut quality to match Hypertherm machines.
Still, the CT2050 provides the best cutting thickness and quality at this price, considering you also get a professional-grade TIG welder.
This beast of a plasma cutter can sever up to 30 mm thick steel. If you want a clean edge, though, you are limited to about 5/8-inch (15mm) thick steel, which is still excellent for the cost of the CT2050.
Pulsed DC and AC TIG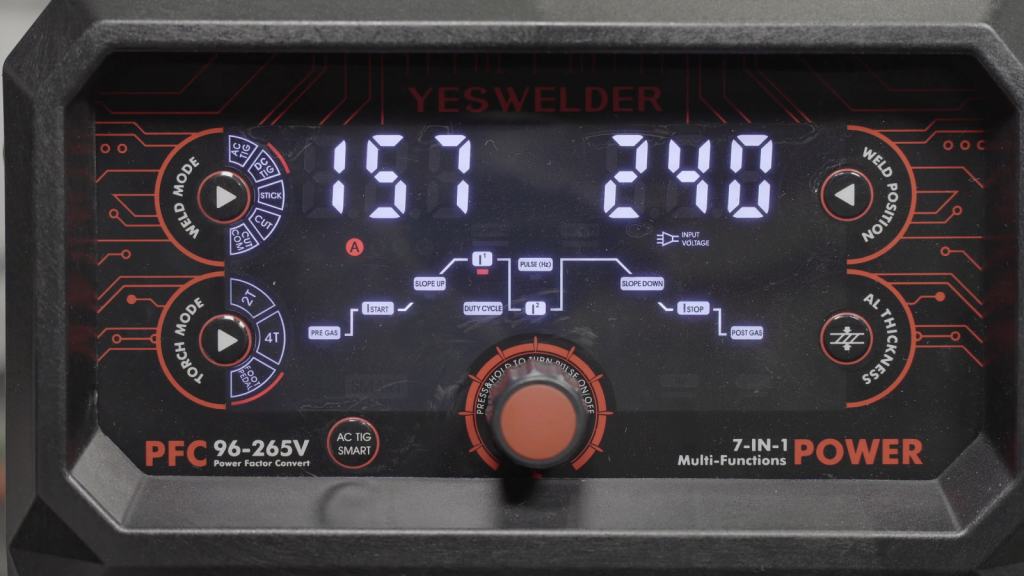 The CT2050 has significantly improved the TIG capabilities compared to the MP200 (the previous machine in the Firstess line). Adding the AC TIG and providing a highly customizable pulse waveform for AC and DC lets you weld thin stainless steel and aluminum like a pro.
You can adjust the peak and low (background) current, the duration of the peak current of each pulse, and the pulse frequency.
In addition, you can modify AC frequency to narrow or widen the arc and AC balance for more or less penetration/cleaning action on aluminum.
Smart AC TIG
YesWelder's new smart AC TIG feature can help you get started if you haven't TIG welded aluminum before. It automatically sets the parameters depending on the welding position (flat, vertical, and overhead) and the welded thickness.
Many high-end brands offer automatic settings for TIG, but most don't consider the welding position.
TIG Foot Pedal Support
Adding the foot pedal support enhances the CT2050's capabilities significantly.
Many hobbyist-grade multi-process welders only support 4T as a replacement for the foot pedal. But 4T can't provide the nuanced real-time control of heat input like the foot pedal.
The TIG foot pedal is a priceless asset if you weld thin gauge often.
Working on HVAC, auto body, exhaust piping, food storage tanks, and similar applications with sensitive and thin metals greatly benefits from real-time amperage modification to prevent warping and burning through.
100% Duty Cycle
YesWelder promises a 100% duty cycle when running the CT2050 at its maximum output using the 110V and 220V inputs.
While I trust their specifications, I wouldn't push this machine in a professional production setting.
You can push it occasionally, but this is still just a hobbyist machine.
So, you can use it in a professional environment, but I wouldn't count on it to survive 8-hour shifts day in and day out.
CNC Connectivity
You can use the CT2050 with a CNC table to significantly improve cut quality and offer precision cutting services in your shop.
Hobbyists can also use CNC to maximize their cut precision and remove themselves from the cutting process.
If the CNC table gudies the torch, you can't burn yourself or accidentally make a bad cut.
Excellent Build Quality
YesWelder has noticeably improved the production quality with the CT2050 compared to its other machines.
While the CT2050's price is relatively high, its build quality is similar to high-end brands.
The provided TIG and plasma-cutting torches use high-quality plastics, the leads are thick and long (13ft.), and the ground clamp can handle high currents without burning up.
The front panel features a large, easy-to-use LED display with an infinitely adjustable knob. The dual-fan cooling and many perforations ensure heat dissipation, allowing the 100% duty cycle.
You can use this machine in construction, and it'll likely endure harsh environments. Its plastics are flexible, and the metal casing isn't flimsy like many inexpensive brands.
The CT2050's ability to use integrated or standalone air compressors for plasma cutting sets them apart in the multi-process market. But they counted two air sources and AC/DC TIG as separate processes, and it worked to get the attention.
You Must Disconnect the Plasma Gear Before Welding
This requirement is not a con, per se, but be aware that welding with plasma leads attached can damage the machine. If you often switch between welding and cutting, this could significantly reduce your productivity.
Changing the gear takes a minute or two, so welding shops that weld and cut interchangeably might benefit from a separate plasma cutter.
High-Frequency TIG Start Only
While I almost always advocate using HF TIG to prevent tungsten inclusion in the weld, lift TIG is sometimes necessary.
Most hobbyists have nothing to worry about here. But if you run a shop with sensitive gear like CNC tables and computers nearby, HF start may interfere with some equipment.
Alternatives in This Range
I don't have a matching alternative for you because the CT2050 is, quite frankly, unique. But other plasma cutter/welder combinations do exist.
Still, most are either too expensive, lower quality than YesWelder's model, or lack some features.
Everlast PowerPro 256SI
The Everlast PowerPro 256SI is a more expensive alternative to the YesWelder CT2050 but without the built-in air compressor and dual-voltage support, however, it's aimed more at professionals.
Everlast's unit has 50A higher amperage output for TIG welding, but it's capped at plasma cutting 1-inch thickness.
While the PowerPro 256SI DC TIG can output as low as 5A, its AC TIG outputs 20A at the lowest.
That said, the PowerPro 256SI provides better arc quality and doesn't produce a "weird" arc with high-pitched noise at low amps like the YesWelder CT2050.
The PowerPro 256SI comes with a foot pedal, but it's the most basic pedal you can get. It would be better if they shipped it without one and reduced its price.
You'll probably have to buy a better pedal anyway, and YesWelder's foot control is larger and built better.
The Everlast PowerPro 256SI is a professional welder. Its arc quality is better, the settings have a larger fine-tuning range (i.e., the TIG pulse range is 0.5-250Hz, while YesWelder's is 0.2-200Hz), and it has a slightly better build quality.
So, if you are a professional and don't need an integrated plasma cutter, the PowerPro 256SI is a better choice.
Most hobbyists and DIY welders or small shops can save money on the machine and an air compressor by opting for the YesWelder CT2050.
While the Everlast's unit has better arc quality and adjustability, most people don't need to invest in a more expensive machine and a dedicated air compressor for plasma cutting.
Features
YesWelder CT2050
Everlast PowerPro 256SI
Input Voltage
96-265V
240V
Amperage Output
Welding: 5-200A
Cutting: 12-45A
Welding: 5-250A
Cutting: 20-60A
Maximum Cutting Thickness
1 and 3/16″ (30mm)
1″
Maximum Welding Thickness
3/16″
1/2″
Duty Cycle
100%
TIG: 60% at 250A
Plasma: 35% at 60A
E6010 Support
Yes
No
TIG Foot Pedal Included?
No
Yes
TIG Torch
Air-cooled
No Flex
Water-cooled
Flex-head
Built-in Air Compressor
Yes
No
Synergetic
Yes
No
Arc Stability
Very Good
Excellent
Weight
61 lbs
65 lbs
Warranty
3-Year
5-Year
Price
$1999.99 RRP


Best Price Here




10% discount code: WELDGURU10

$1925.00 RRP


Best Price Here



Final Verdict
While the CT2050 has a lot of hype behind it, it shouldn't be confused with a fully professional welder/cutter.
Instead, look at it as an excellent machine for hobbyists, DIY, and small shops.
It does have many high-end features, but they don't perform at the highest level.
Still, you are unlikely to feel this. Unless you etch test your welds or need to pass X-ray inspections, you don't need to worry about every feature working perfectly.
YesWelder's integrated air compressor significantly cuts costs and space for a dedicated one. Plus, a 100% duty cycle coupled with a wide range of functions lets you work all day. Just don't push it daily in a professional environment.
There are no substitutes for industrial machines for consistent daily production.
The CT2050 is currently the best welder/cutter combo for hobbyists. It supports 110V input, is easy to use, has a lot of power (especially for cutting), and includes high-end AC/DC TIG functions.
You are unlikely to find this much value from a reputable brand at a relatively low cost with a 3-year warranty elsewhere.
You can get 10% off the current sale price of the CT2050 by going through this link and using the discount WELDGURU10 – and yes, this works on top of any current promotion they are running.